Introducing: The Holthinrichs Watches DECONSTRUCTED — Ushering In A New Era For The Dutch Atelier
Rising as a Dutch force to be reckoned with, Michiel Holthinrichs has a handcrafted vision of the future
Michiel Holthinrichs has always been on a very personal path to horological enlightenment. Having trained as an architect, his method of watch design is marked by a fresh, studious approach. How it shows is in the way Michiel seems to have a deeper, more thoughtful agenda than a lot of small brands, and he doesn't shy away from polarizing designs. The pure otherness of Holthinrichs Watches has always resonated with me as we certainly have enough homage in this world. And by introducing the DECONSTRUCTED, Michiel is cementing his position within European horology.
True, I might be slightly biased, having one of his first Ornaments in my collection. Mine's a bespoke version, a highly personal and delightful amalgamation of his Ornament 1 and Ornament Raw. And while my collection can look like a revolving door of wristwear at times, Michiel's creation will always remain in my cabinet. And that is because it is different in shape, ergonomically brilliant, and a hybrid of traditional craftsmanship and 3D-printed futurism. By launching the DECONSTRUCTED, I have a suspicion that Michiel's atelier will only grow in strength while, crucially, remaining different from the norm.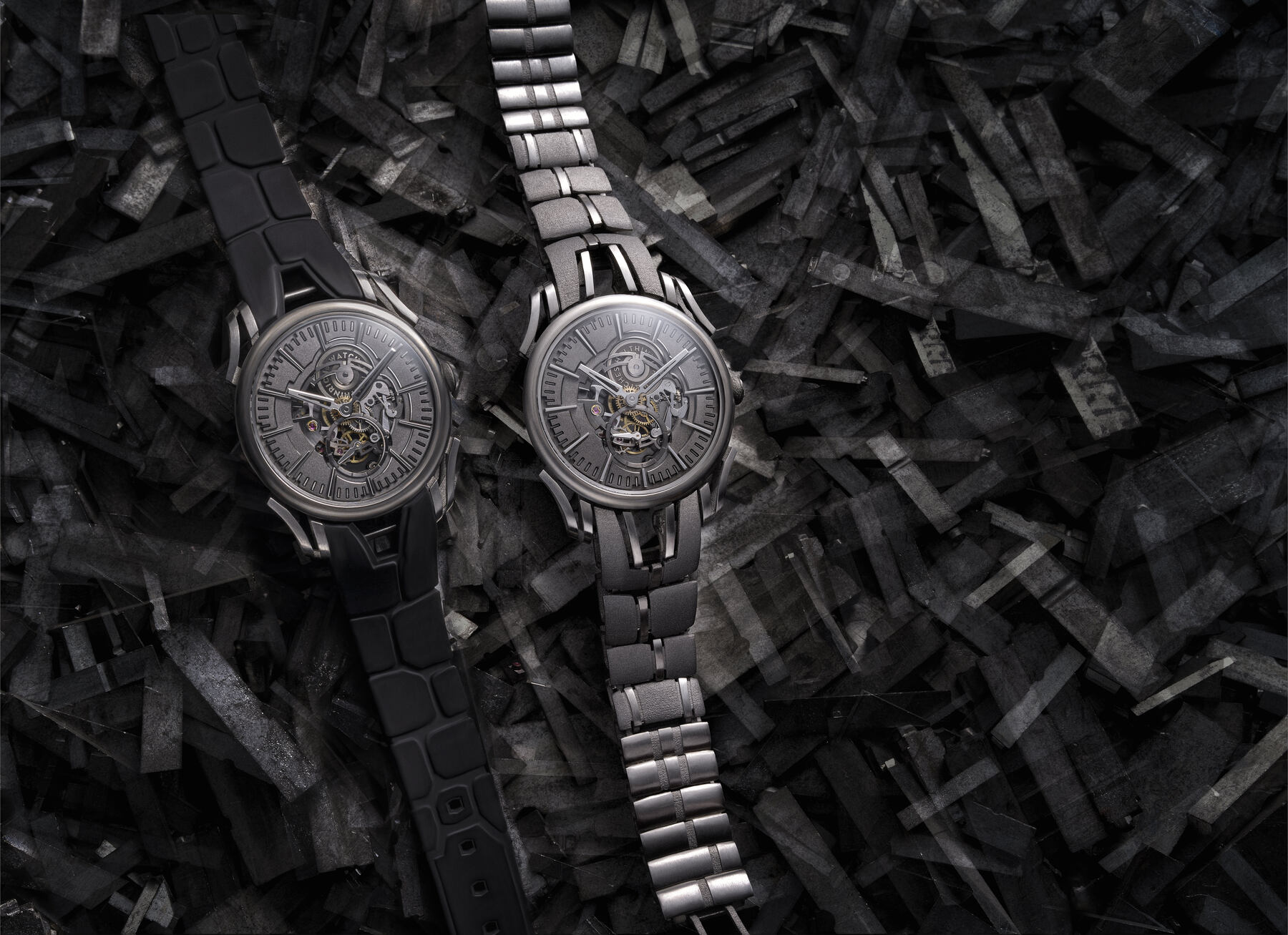 The meaning behind the DECONSTRUCTED
Just like the Ornament series before it, this will be a highly bespoke watch for each buyer, but this one comes with a big change. In total, 50% of the watch is Dutch made, but the movement is designed and developed in-house. There is a faint trace of a base Peseux 7001, but that's only the gear train. Holthinrichs produces 75% of the HW-M01 caliber's parts, and the skeletonized dial with its layered, "deconstructed" construction is 100% Dutch. For me, this is worth applauding and sets a bespoke tone. Why? Well, we all know the allure of "Swiss Made," but being part of the Fratello team, I consider myself part Dutch. And the pure man-hours and resources it takes to design an in-house movement are staggering for a small brand like Holthinrichs. It also means that Holthinrichs is tiering up to manufacturers like Grönefeld with a base price of €35,000 for the DECONSTRUCTED.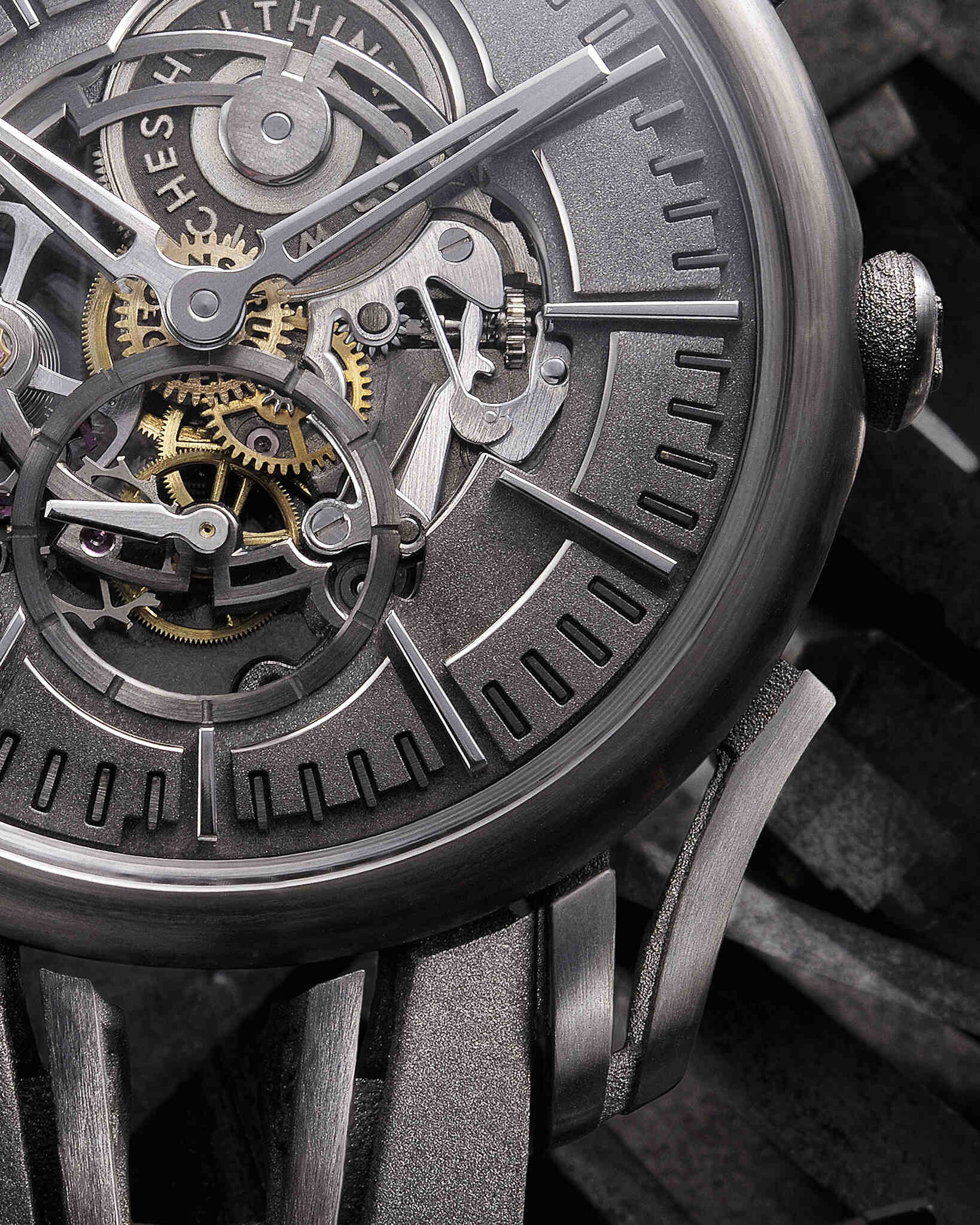 Another architectural inspiration
Why is DECONSTRUCTED (yes, in capital letters) the name of the game? Well, because the watch is inspired by Deconstructivism. This is a movement of postmodern architecture that appeared in the 1980s. It mainly takes its name from the impression of the fragmentation of a constructed building. An absence of obvious harmony, continuity, or symmetry can characterize this, which, to be fair, is well put. But I feel that there is both harmony and symmetry within the DECONSTRUCTED's industrial-looking skeleton dial. The Deconstructivism name is a portmanteau of "deconstruction" and "Constructivism," but the first impression of the watch is one of evolution. There are still traces of the first Holthinrichs models, with the design drawn laterally into a more extreme vision. There is still a well-rounded case with no bezel, boasting skeletonized lugs and a 38.5mm size. But that is where the similarities end.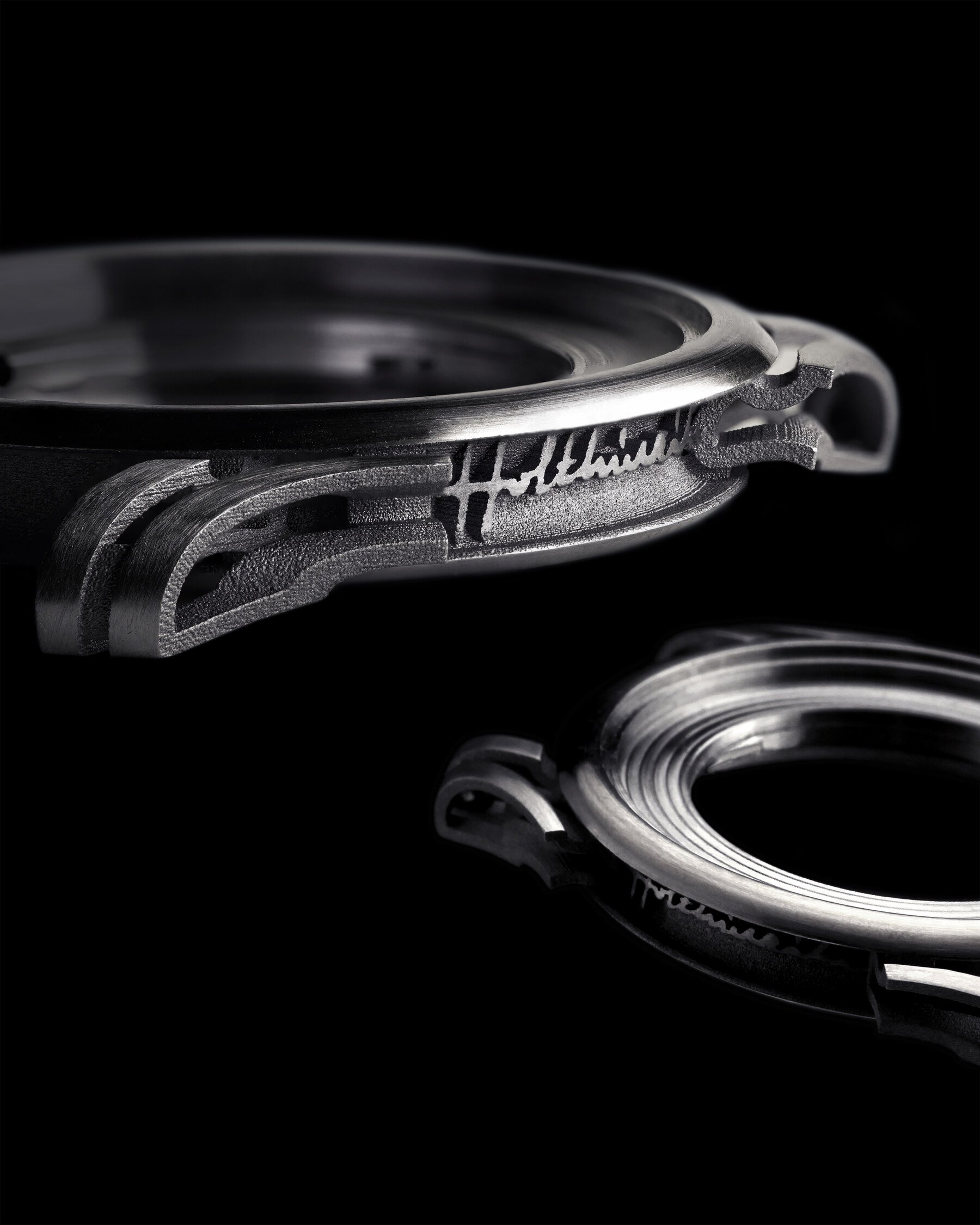 Titanium brings a darker tone of lightness
Any Holthinrichs piece is deceptively light for a mechanical watch due to the slim case and 3D-printed technique. The sides are seriously scalloped, while the sweeping lugs are cut away, skeletonized with the raw, unfinished steel visible on the inside. With the DECONSTRUCTED, we see Grade 5 titanium for the first time, which will make this a feather-light watch. The dial itself is intense in its layered appearance, displaying a focus on contrasts between frosted dark flat surfaces and hand-polished anglage. This is done in black rhodium, echoing the darker tone of titanium and creating an amphitheater with the Decon movement at center stage.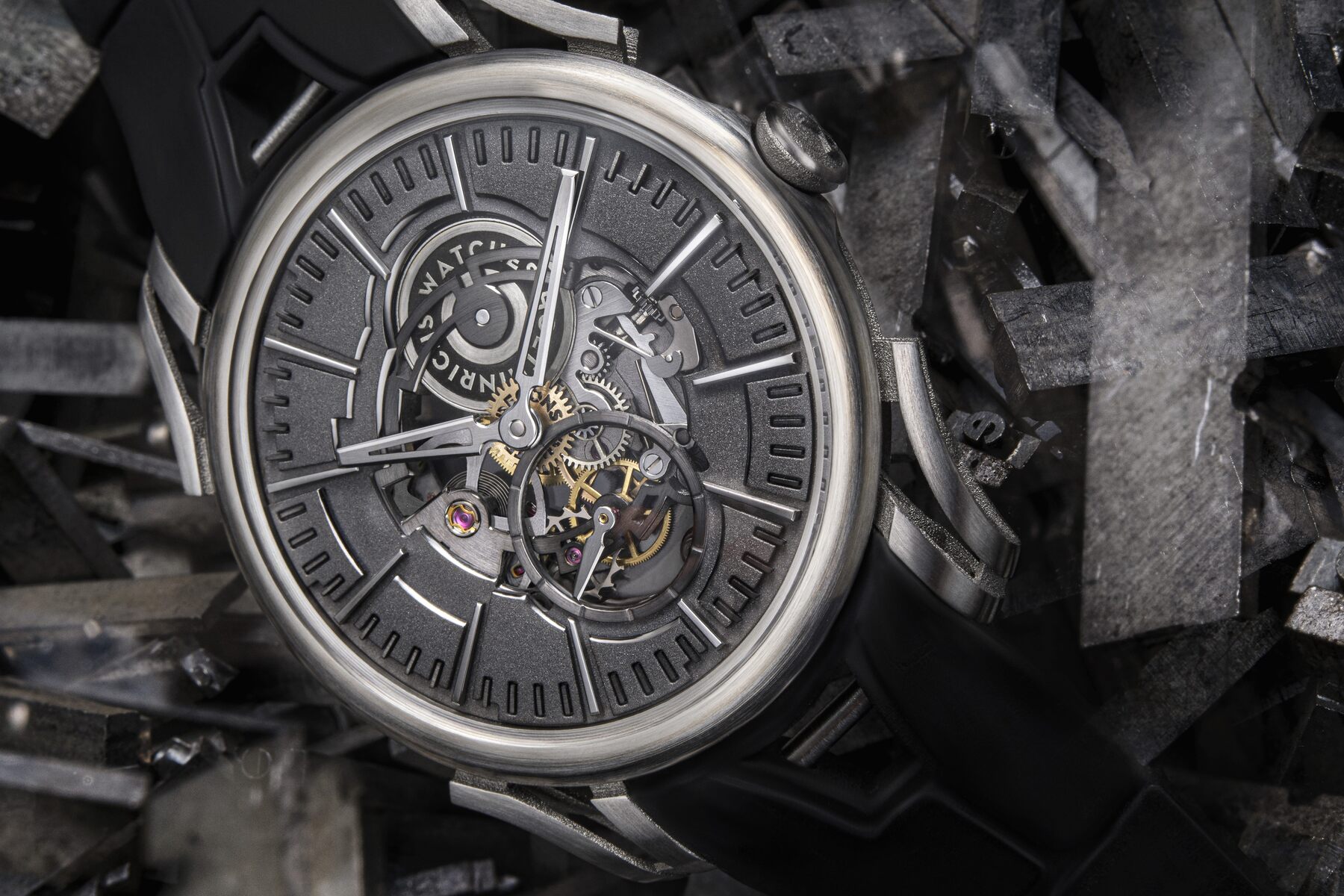 Pulling the eye towards the center are slim, sloped, polished stainless steel baton indices that intersect the outer minute track. This in itself seems castellated but is made up of charmingly asymmetrical wedge sections. This simply adds to the myriad of detail, while the hands have a skeletonized, flat-tipped sword design. These are endowed with a sharp bevel on all sides, while seconds are shown on a seemingly floating register at 6 o'clock. An open-worked, brushed chapter ring with five-second notches encircles a solitary pointer. In total, the complex dial is composed of 25 separate parts and endows the face of the watch with a rich depth.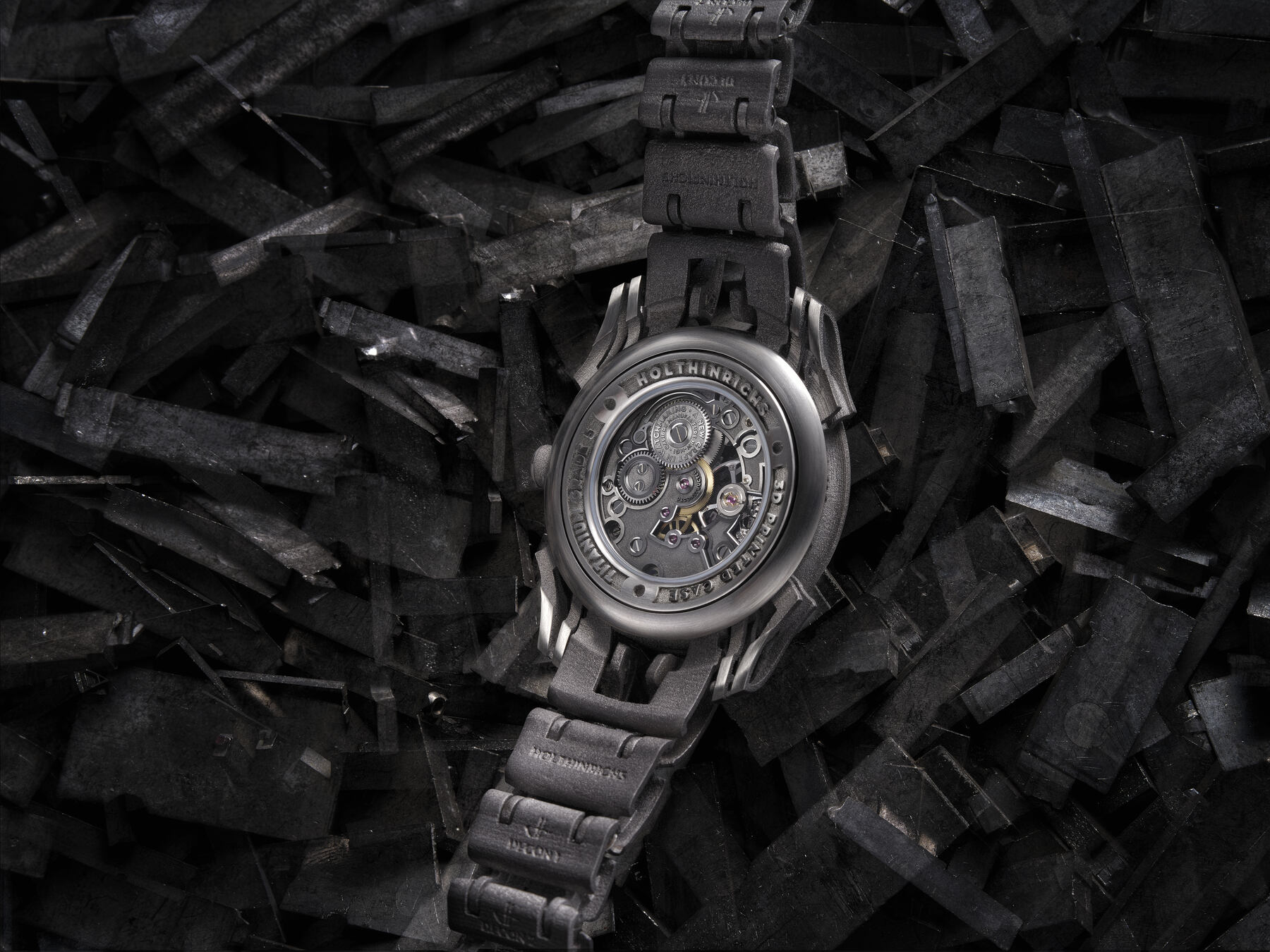 The HW-M01 Decon caliber
One of the reasons the dial of the DECONSTRUCTED looks so good is the central peek at the HW-M01 movement. With 3/4 of the parts made in-house, that qualifies as a big deal. Within the Decon vision, it gets your immediate focus both at the front and rear of the titanium case. Turning it around, you witness the bold industrial chic of the encircling text on the case back, 3D printed within a circular-brushed surface. The movement is a superb blend of three main finishes, with a remarkable skeletonized, weight-saving mass of just four grams. While at the front we have an amphitheater of shapes and gears with a "Holtintrichs Watches" legend on the barrel cover, the back is all about the bridgework.
There is perhaps a Grönefeld touch about the contrast of frosting and broad frames on the bridges, accentuating the skeletonization. This is framed again by sleek anglage on all edges. The bold aesthetic works in perfect juxtaposition with the rough parts of the case that, frankly, don't look like anything else. It takes a studied design process to integrate and show the high-tech but rough work of the 3D printer. This is especially true when most collectors buying at this price point are not known for their avant-garde taste. That is why the Holthinrichs DECONSTRUCTED carves its very own niche and is all the better for it.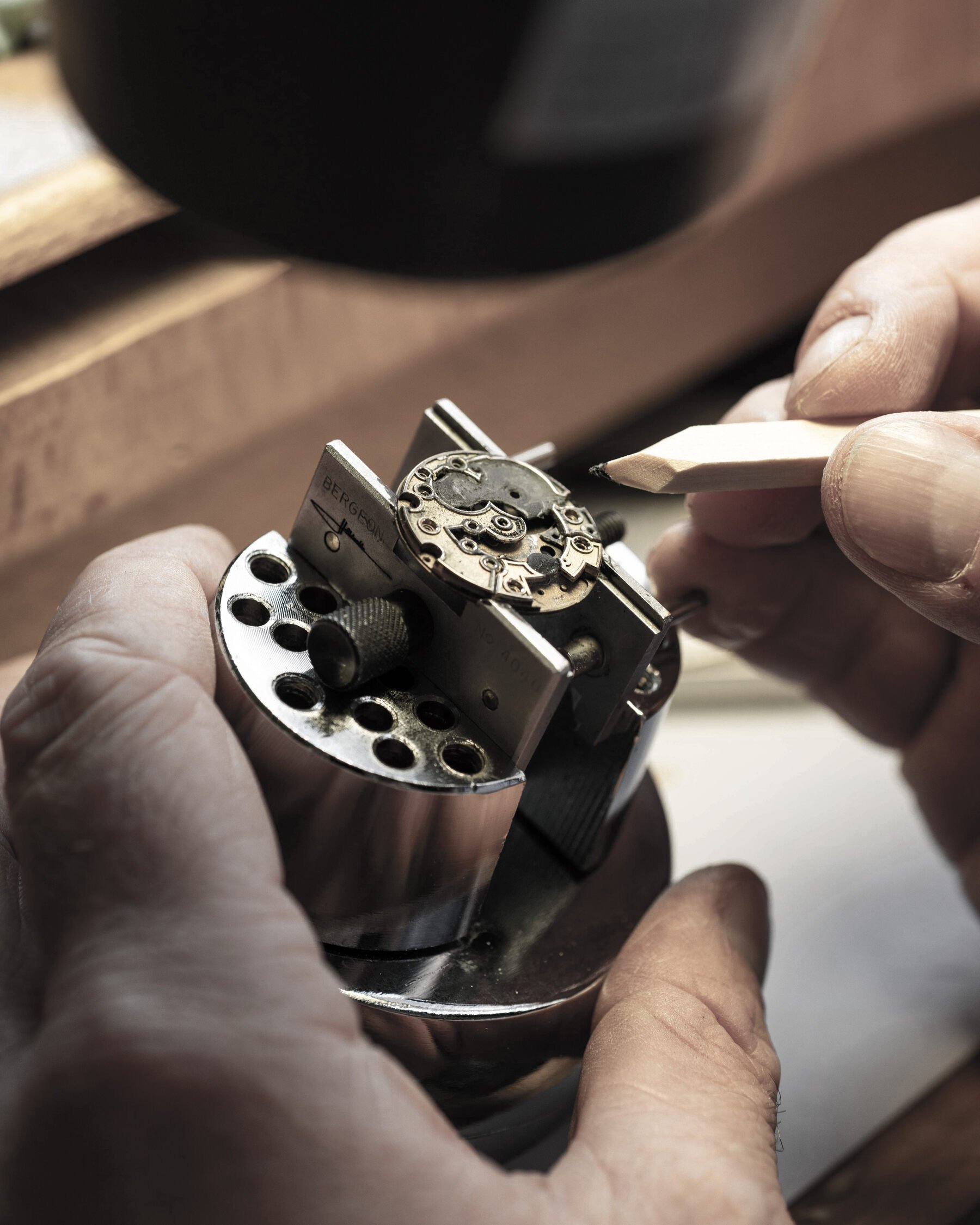 My thoughts
With a projected 18-month order and build period, the Holthinrichs DECONSTRUCTED is an investment in time and funds. But to be honest, the handcrafted values within make you see why. There is an immense charm in the contrast between industrial-tech 3D printing and polished craftsmanship. The architectural connection is tangible and makes the watch stand on its own, especially when considering the work Michiel and his team have put into the strap and bracelet. Sure, €35K is big-budget horology, but the exposed details of the watch and movement give it a reason to be. It's almost like industrial masters Urwerk did a traditional three-hander, but then again not. And that is the main draw of the piece. It is incredibly difficult to categorize, and in my eyes, that is a mark of greatness. To me, "quirky" and "brilliant" are synonyms, and the DECONSTRUCTED proves my point.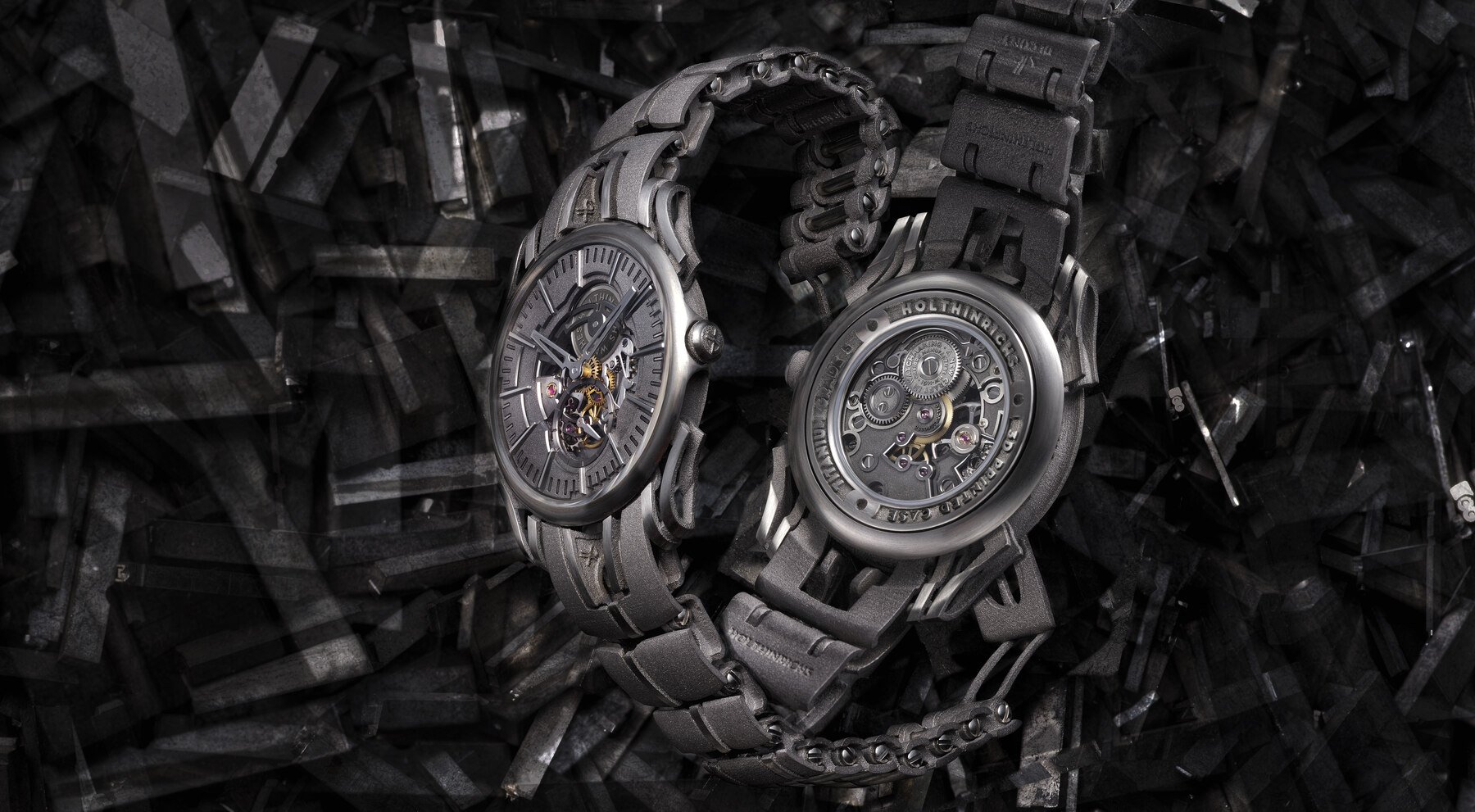 Rubber strap or industrial-chic titanium bracelet?
Sure, you can order your 38.5mm DECONSTRUCTED watch with a normal leather strap. I, however, am all for the alien look of the rubber strap. The sleek strap is an asymmetric take on alligator scales with V-shaped 20mm case-hugging, tapering to 16mm at the titanium buckle. Personally, I'd go for this tough-looking yet supple treatment, if not the slightly mad-looking bracelet. This is also 3D-printed titanium and will perhaps be the most polarizing piece of a deconstructed puzzle.
It looks like a type of otherworldly exoskeleton. And it will definitely feel and look like no other bracelet you have seen, turning up the industrial vibe to the max. Sure, with its fully exposed rear and rough-metal butterfly clasp, it might take the concept a step too far. But maybe that's exactly what we need, and the design and concept are simply fascinating. Have a closer look at the Holthinrichs Watches homepage while I harbor an intense wish to try that titanium bracelet on for size.
So, my fellow Fratelli, are you trying in vain to categorize the Holthinrichs DECONSTRUCTED? I was too, but I've already given up. For me, this is a massive plus, but let me know what your thoughts are in the comments.
Find me and follow me: @thorsvaboe
Watch specifications
Dial
Skeletonised base plate with applied segments, frosted top finish, and handmade high-gloss anglage in black rhodium. Stainless steel sloped high-gloss hand-polished baton indices, semi-detached open-worked and brushed small seconds ring with high-gloss bevel.
Case Material
Skeletonized 3D-printed Grade 5 titanium with contrasting raw and brushed finish
Case Dimensions
38.5mm diameter, 6.95mm thickness excluding crystal, 9.8mm including crystal
Crystal
Double-domed sapphire crystal in front with inside AR-coating
Case Back
Flat sapphire crystal within a titanium frame
Movement
In-house-developed HW-M01
Strap
Integrated rubber DECON design with 3D-printed Holthinrichs buckle / 3D-printed titanium DECONSTRUCTED bracelet with integrated quick-release system
Functions
Time only (hours, minutes, small seconds)
Price
Starting at €35,000 ex. VAT