Strap Check: My Bespoke Holthinrichs Ornament On A Beige Kaufmann Alligator Strap
A soft tonality that brings out the hand-finished heart of the matter
The Strap Check series is a favorite of mine as I am an unrepentant strap-a-holic. If I look down at my wrist, chances are that the watch I'm wearing is on one of four or five straps that I like to swap around. It is by far the easiest way to renew a watch while keeping one's collection small and focused (despite how much I struggle with the latter). Some straps, however, find their forever home, and in this case, that is true for a Kaufmann alligator strap on a very special Dutch watch.
I could easily name my bespoke Holthinrichs Ornament "The One", the watch that I will never sell. It is one of my more expensive pieces, but that's not the reason. I got it to mark a big birthday in 2020, and no, it wasn't 30 or 40 (though I still feel like I'm 32 in my head!). My Holthinrichs Ornament was ordered after an evening at Michiel Holthinrichs's first atelier in Delft with too much glüwein and good company. That's where I first met RJ, Gerard, and Jorg in 2019 before I started writing. The fact that you can meet up and discuss a design with a talented watchmaker like Michiel is the reason why I love small brands.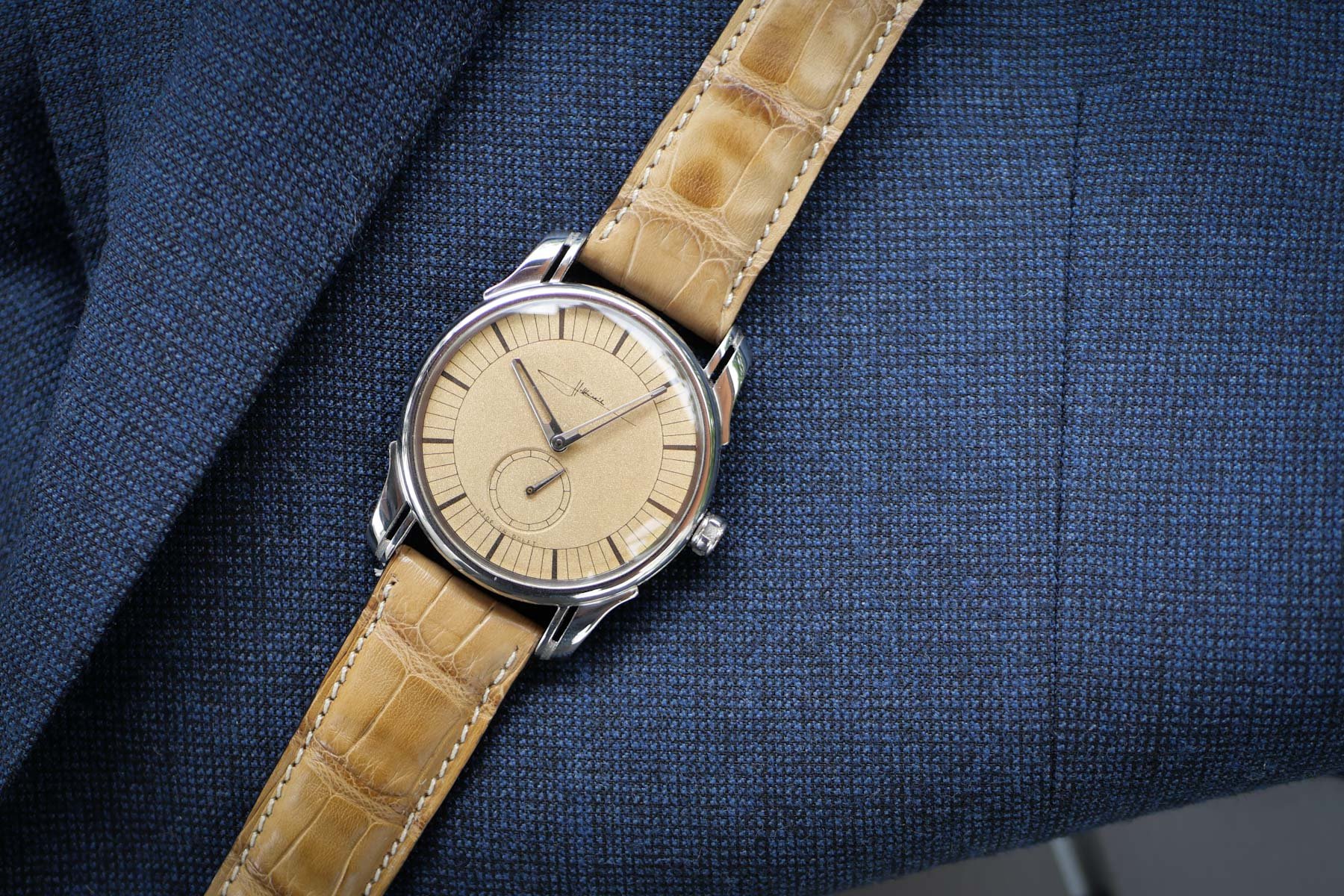 The watch and its perfect strap
The Holthinrichs Ornament seems to be the perfect juxtaposition of traditional craftsmanship and a modern, architectural touch. Its case is 3D-printed, and in fact, the platinum version is the only 3D-printed platinum watch case in production today. Though I say "in production", it's worth noting that any Holthinrichs is a made-to-order piece. My polished steel case belongs to the gray or silver-dialed Ornament, but I twisted Michiel's arm to make me a one-off. The polished 38mm case holds the textured, 18K-gold-dust-infused dial of the Ornament Raw. For me, it's a contrasting marriage made in horological heaven. The Art Deco-styled dial is pad-printed, with the sweeping Holthinrichs signature at 12 and small seconds at 6 o'clock. The case itself is a hand-polished and skeletonized design, leaving rough metal inside the open-worked, scalloped sides and lugs.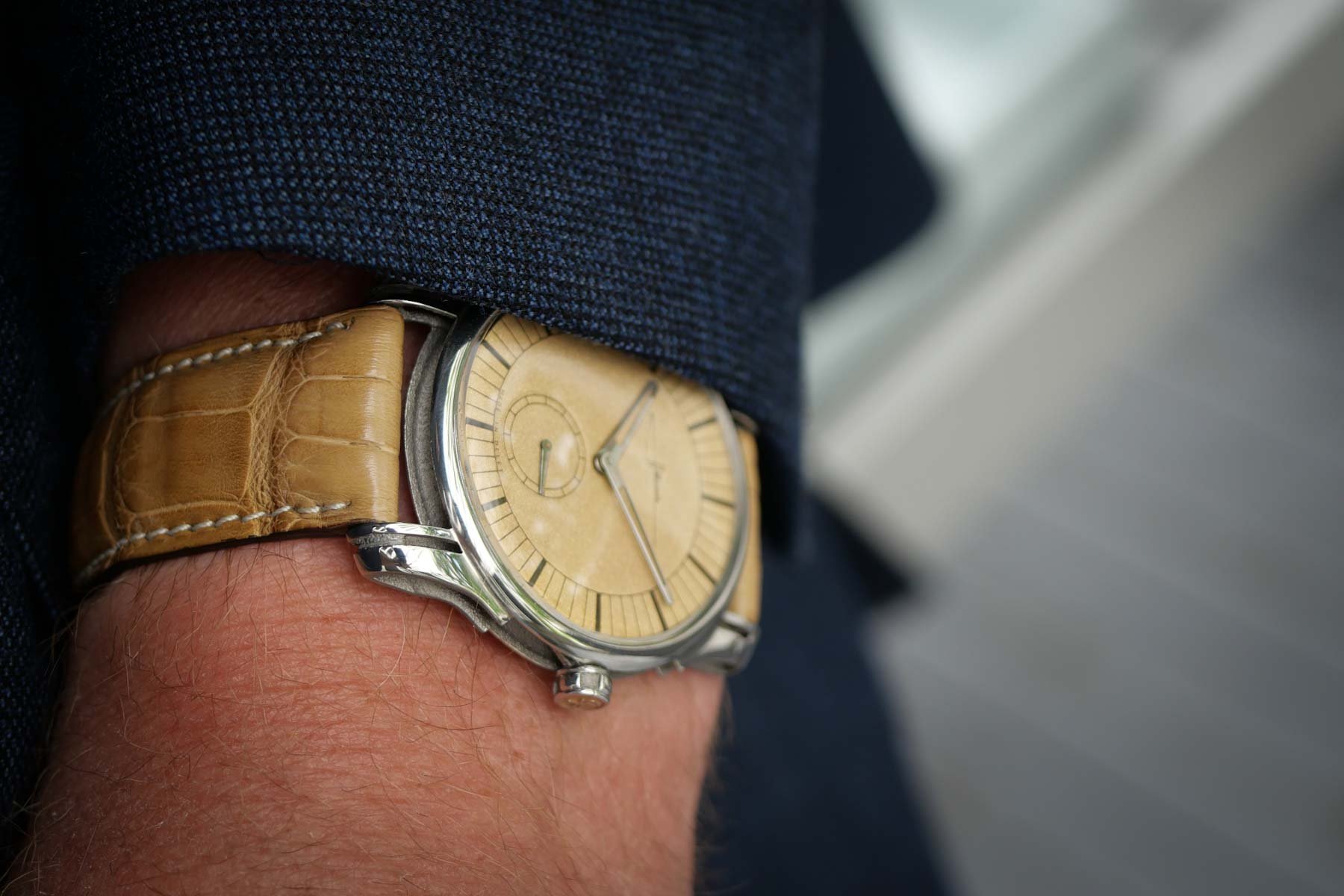 A Swiss inspiration
I tried several straps on the Holthinrichs, among which was an Italian blue leather strap for last year's Geneva Watch Days. It was then that the Ferdinand Berthoud boss had such a long look at the watch that I forgot I was wearing a €280K marvel and almost walked off with it! But although that was a memorable moment, I always end up refitting this beige alligator strap from Kaufmann. The understated look and its dark-painted edges work so well with the hand-polished steel case. But the idea wasn't mine.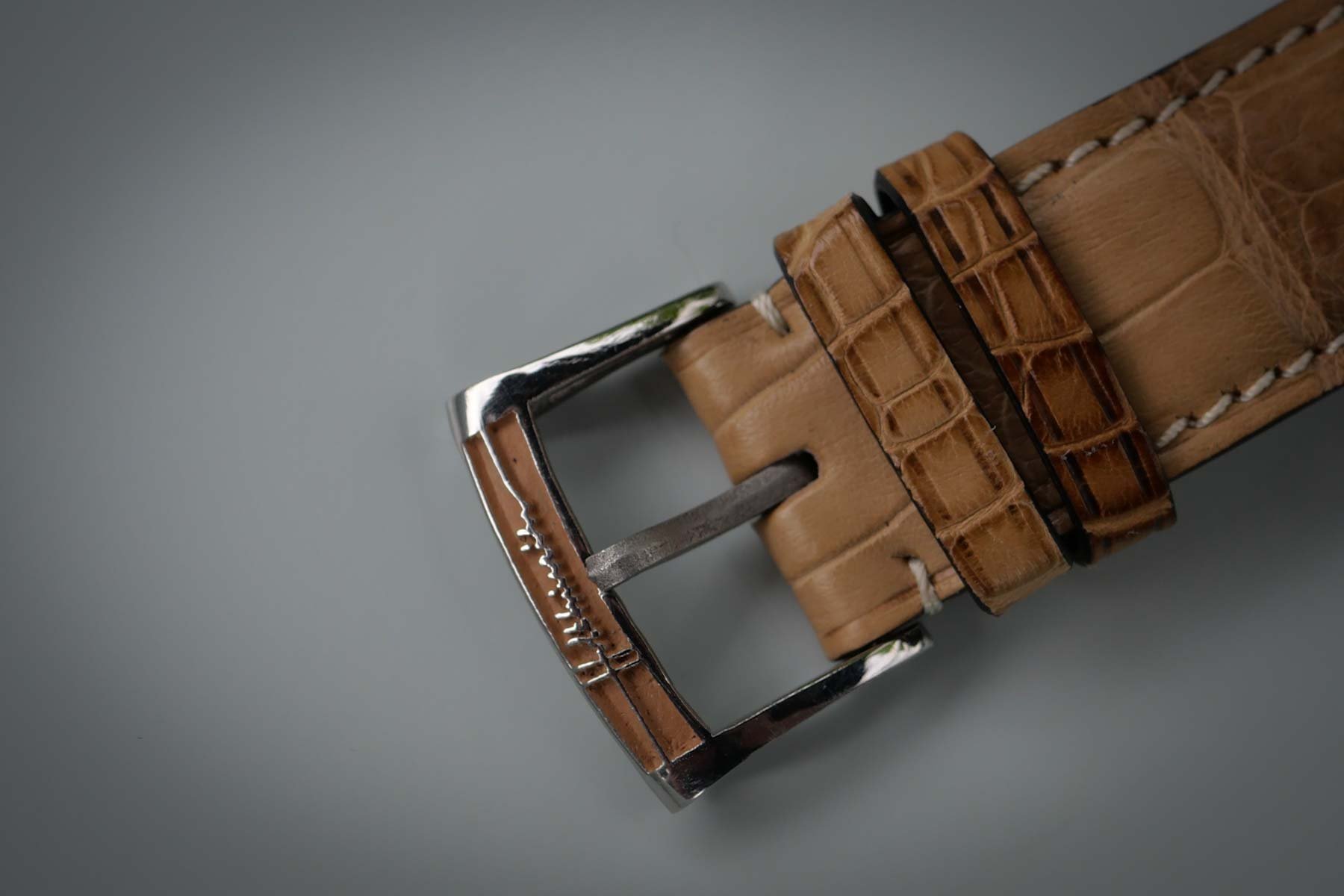 An image of a Laurent Ferrier with a beige dial and a tonally matched croc strap was my inspiration. There is a classic beauty and understated charm that underlines the quirky nature of the Ornament. And that mix of formality and unusual cool is the key to my personal taste, so it feels like a part of me, also a tad contrarian.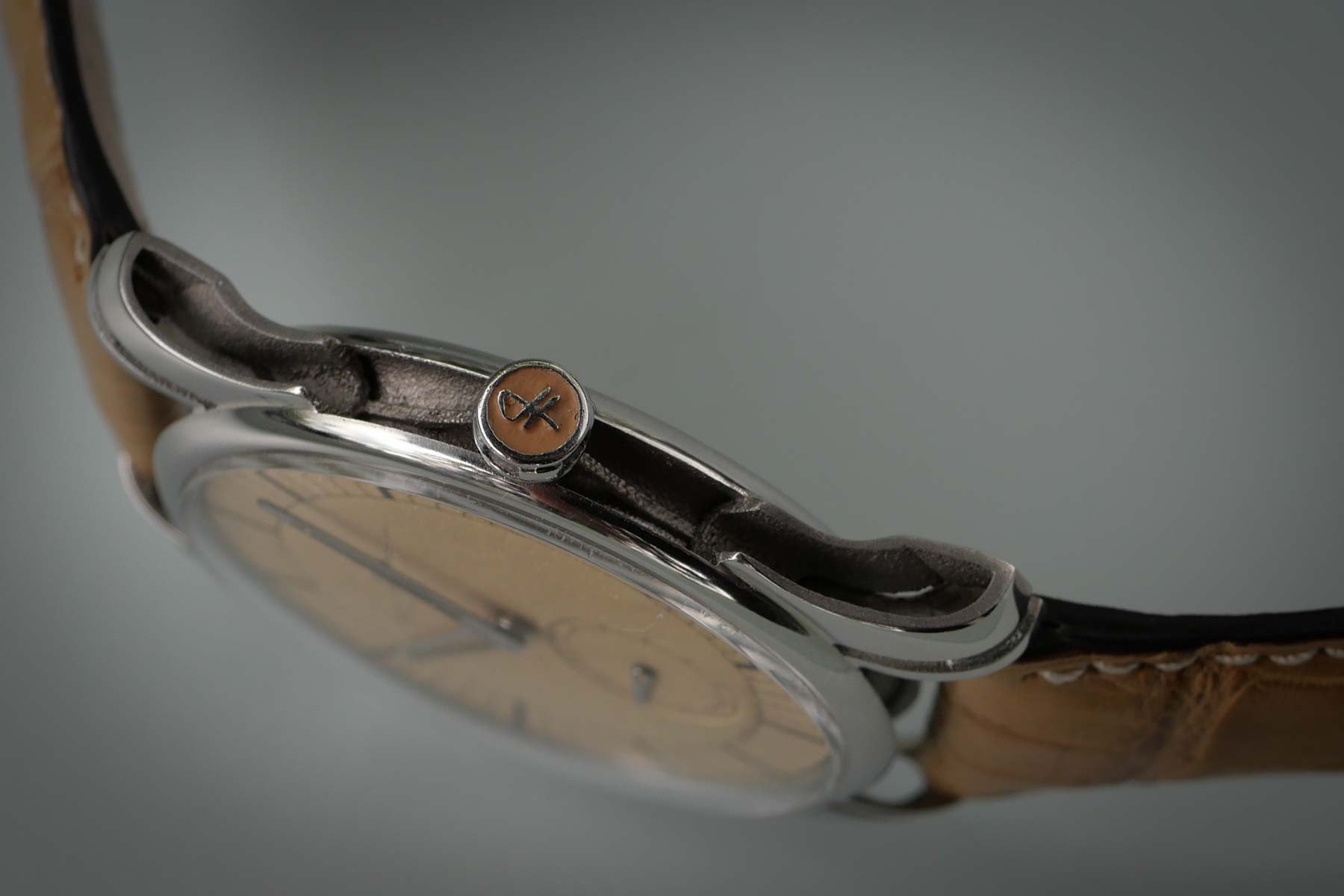 Nothing comes close
The soft nature of the strap and the color-matched Holthinrichs buckle spell love. I'm not big on fidelity when it comes to watches, and I love new acquisitions. But this watch isn't going anywhere. I'm happiest wearing this with a nice shirt or a Merino wool jumper, but mostly because it doesn't look like anything else. A 20mm strap might seem wide for a 38mm case, but have a look at those dominant lugs. They are soft-shaped and skeletonized, curving gently downward. They make the Ornament wear quite large for its 38mm size, so the 20mm lug width is a perfect choice.
I've tried a dark brown strap, suede straps, you name it… Everything pales in comparison to the creamy beige of the Kaufmann. Turn the watch around to see the off-white smooth leather lining of the strap, and the display back will make you want to wear it upside down.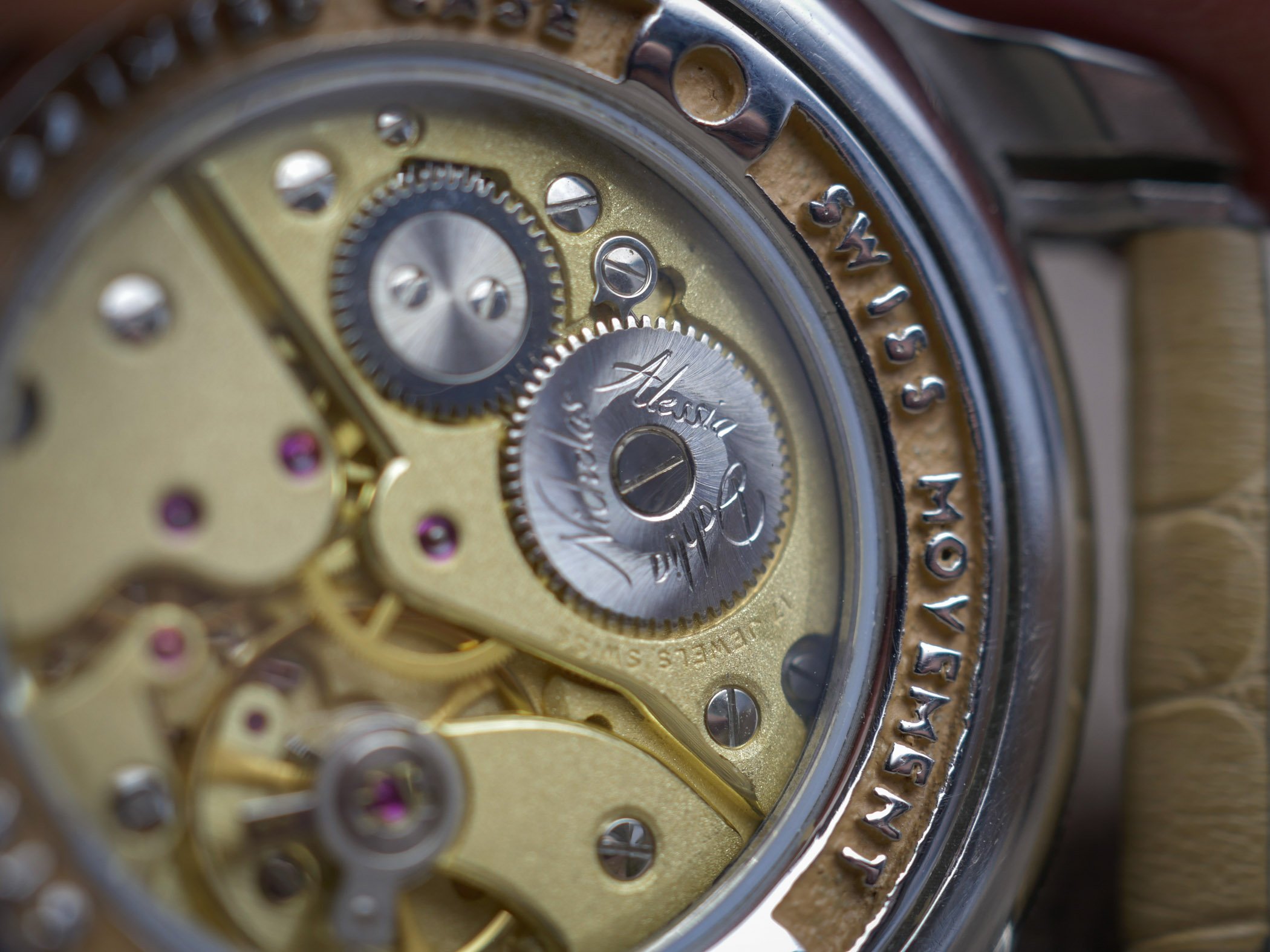 The Peseux heart of the matter
The movement is based on the legendary hand-wound Peseux/ETA 7001 caliber, customized with a very personal touch. The movement is gold plated, with hand-applied anglage on the bridges and a special Easter egg. The ratchet wheel is micro-engraved with the names of my wife and two children, yet another feature making this one-of-a-kind.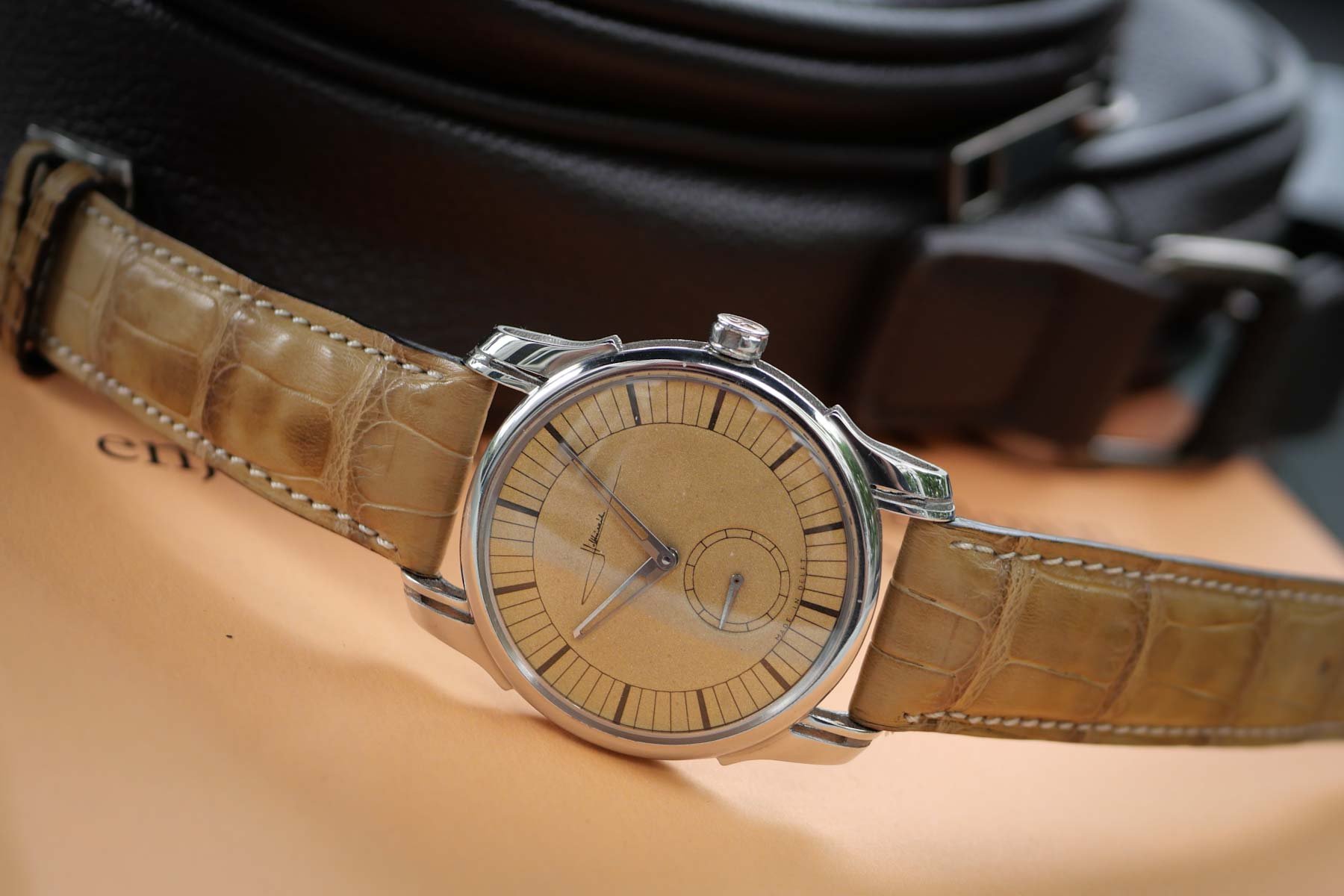 Why anyone would pay double this for a price-pumped and mass-produced Submariner is beyond my comprehension. But that's for another story. The Peseux caliber and the 3D-printed case contribute to a remarkable weight of just 45 grams on this strap. So this might be dress-cool, but it's incredibly comfortable. The Kaufmann strap alone is a big spend at about €200 but will make any of your dressy or vintage watches feel pretty special. Have a look at Kaufmann here. You'll find the Holthinrichs Ornament starting at around €7,100 from Holthinrichs Watches.
Am I right to love the beige-on-beige tonality of the alligator, even if it's wrong in our sustainability-focused world? Let me know what you think, Fratelli, and tell me about your favorite strap combo these days.