Introducing: The Corum Bubble 47 Central Tourbillon × Label Noir — A Buoyant Return Of The Superdome
Forget small-watch chic; this is maximalism at its stealthy best
The massively domed Bubble legend by Corum seems to exist in a time vacuum, and I respect it; what can I say? Nothing except a dome-topped MB&F or bling-fest Jacob & Co gets close to the mad side view of the Corum Bubble. Would I wear the new Bubble 47 Central Tourbillon? Maybe not. It depends on the actual size. I've got neither high hopes nor the requisite fat wallet, but that's beside the point.
Not that my shirts would fit it either. Imagine commissioning all your shirts anew with one extra-wide cuff to accommodate this amphitheater of gears. Maybe it's all worth it, but with a new stealthy look and a central tourbillon, it'll cost you. Impressively, such an expressive shape has survived within the Corum lineup since 2000. But just how big is the Corum Bubble 47 Central Tourbillon × Label Noir? Surely those two digits are not the actual size?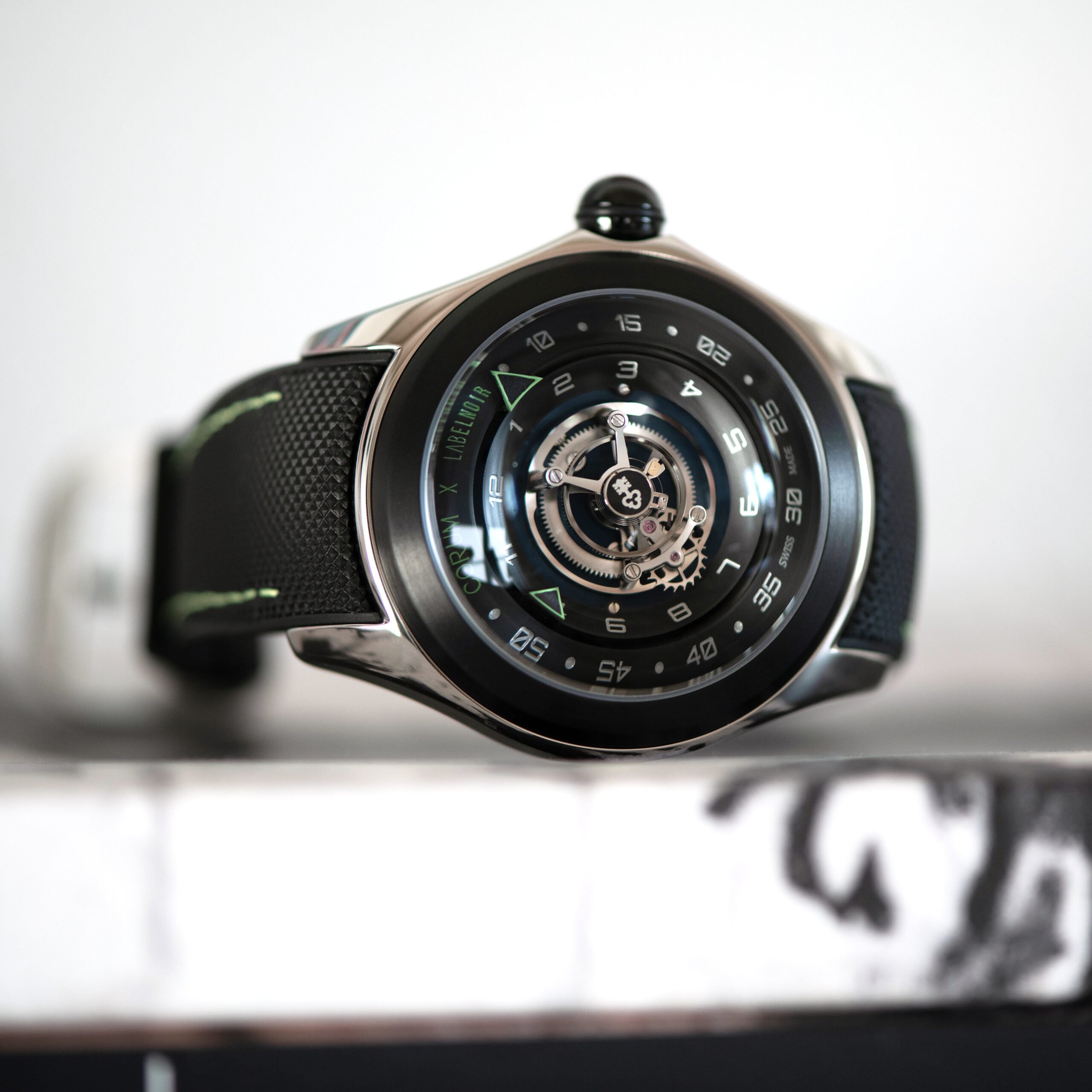 The Bubble backstory
That's an unintended pun, but the Bubble, though in a dark guise here, is very much about fun for the wrist (and with almost nothing in common with Rolex "Bubble Back," to be clear). This is the opposite of, well, many watches. Let's start with the measurable elephant in the room, the size. I was hoping to be wrong, but no, the double-digit number means the diameter. Yes, it is a giant 47mm with a non-too-discreet 19.6mm height. It almost makes the monstrous Rolex Deepsea Challenge look normal, and that says a lot. But let's get back to that later. This Corum is a charming stayer with a 22-year history. Since Severin Wunderman came up with the mad 44mm original topped by a colossal chunk of domed sapphire, it has evolved. For many fans of the 68-year-old La Chaux-de-Fonds brand, the Bubble is Corum's signature model.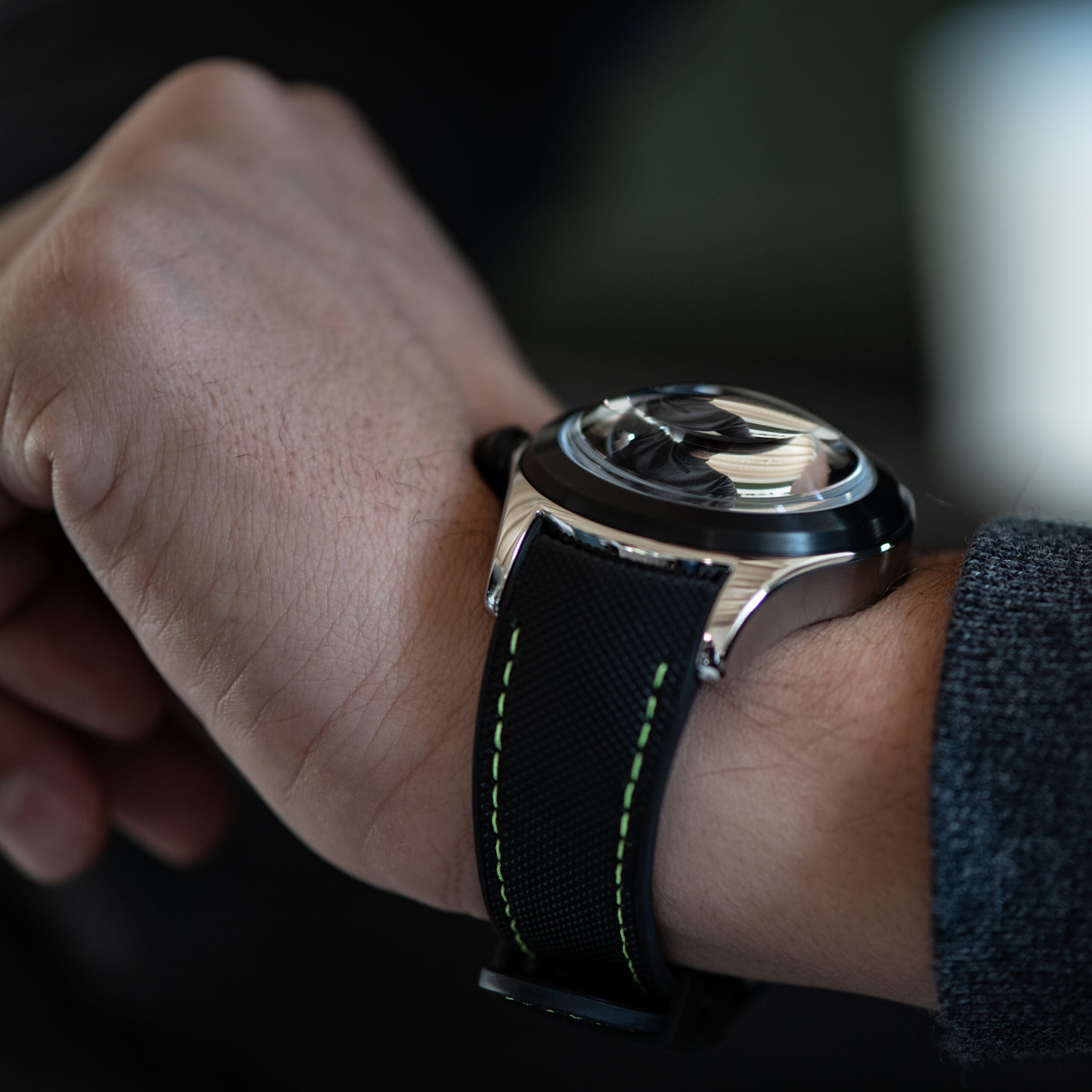 A domed amphitheater
The Bubble has become, as Corum puts it, a theater stage, perhaps even warranting its 47mm size. Far from the often marine-inspired Admiral collection, the Bubble exists in a sphere (no pun intended) of its own. We're used to seeing it with massive sword hands and wildly exuberant displays of colors and shapes, but this? It is a pièce unique to the Macau Masters of Time event, and it gives me a reason for hope. Even though the storied Bubble currently only comes in a 47mm whopper size, here's hoping for smaller versions like Corum has made in the past. Because this is a return to form, albeit large, and I feel drawn into the domed abyss of MB&F/URWERK-like industrial chic.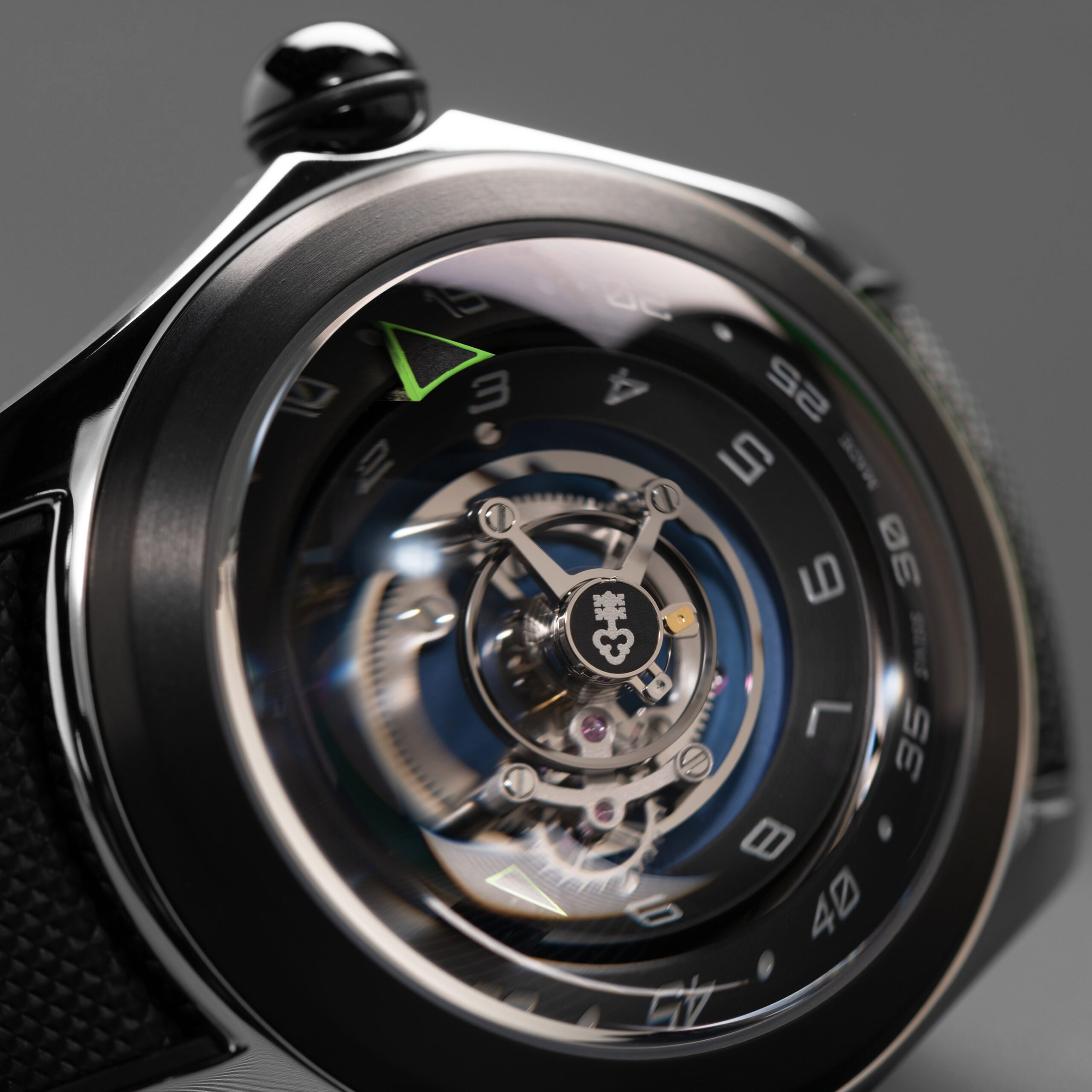 Flirting with the dark side of cool
So why would I fancy a crazy-big one-off piece with an unattainable tourbillon? Well, the weight of this giant piece of Haute Horlogerie should be decent for a start. It comes in a mission-cool ADLC-treated (Anamorphous Diamond-Like Carbon) Grade 5 titanium case on a fabric strap. The domed sapphire helps the complex beast achieve a 100m depth rating, and have a look within the evocative dome. The distraction meter peaks by the twirling nature of a central tourbillon set on a dark stage. This is enlivened by the features of the Geneva-based customization brand Label Noir. Deep black, acid green, and gray and matte tones with judicious textures make for a techy visage.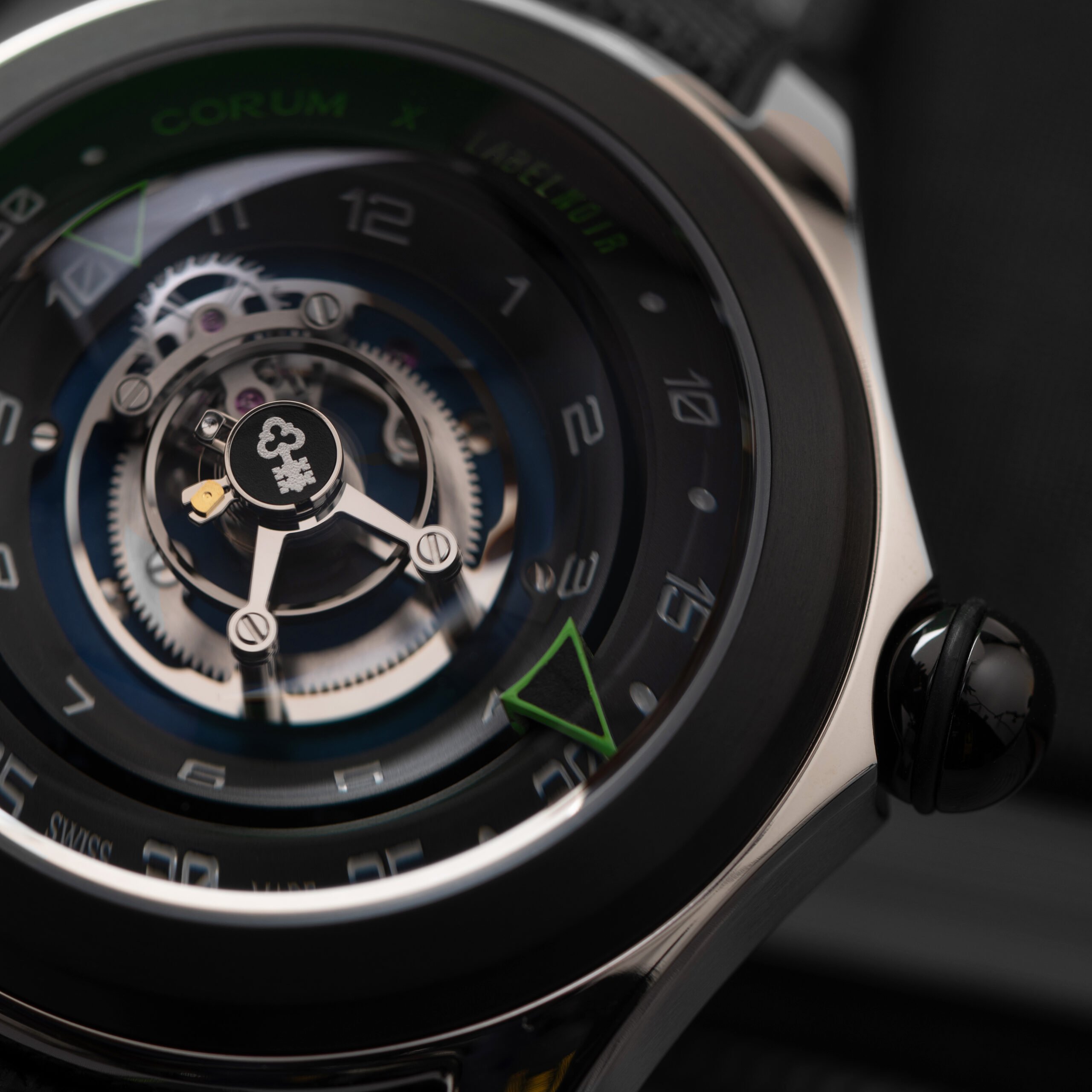 Next time, shrink it for me, please
The Corum Bubble 47 Central Tourbillon × Label Noir gives me mixed feelings of love and frustration. I admire the chutzpah of Corum to release a madly large piece of wristwatchism in our days of understated retro smallness. The design is modern and astute rather than frivolous, driven by the caliber CO406. Here, it allows for a delightful central tourbillon surrounded by a time display that looks like it's straight out of an alien spacecraft. Its execution is both future chic and restrained if you ignore the size. I hope that watch fans in Macau will applaud its boldness and generate enough feedback to inspire a diameter-preference survey at Corum. Gentlemen (and ladies) of the Corum board in La Chaux-de-Fonds, listen: this monochrome marvel set into a 40–42mm case sans tourbillon can be your biggest success this decade. But for now, readers, if any of your wrists are big enough, then travel to Macau with CHF 95,000 in your virtual wallet.
So, Fratelli, does the size scare of the Corum Bubble 47 scare you, or did you think it was a typo? I'm not one to judge, and I like the design a lot. Shall we start a petition for a 40mm version?
Find me and follow me: @thorsvaboe