Introducing: The Fratello × Aquastar Deepstar II Limited Edition
An ice-blue dial along with other changes bring a new look to a versatile favorite
We're thrilled to announce the Fratello × Aquastar Deepstar II Limited Edition, an exciting new collaboration available in the Fratello Shop on February 15th at 15:00 CET. This is the first time that Aquastar has worked with a partner to create a bespoke watch since the brand's resurrection in 2020. We couldn't be prouder, and we hope you'll like this unique and versatile diver.
In my mind, the best collaborations arise organically. Instead of sitting down, picking a brand, and deciding to do a watch, it's far better when the finished product stems from real inspiration. The Fratello × Aquastar Deepstar II Limited Edition is the result of such a process, and I love it!
The 2021 Aquastar Deepstar II
We have to head back to March 2021 when Rick Marei, the creative force behind Aquastar, Aquadive, Tropic, ISOfrane, and Synchron, shot me an image on WhatsApp. He shared a picture of a dark blue dial in a familiar '60s-style skin-diver case. However, something was different from the typical Aquastar Deepstar chronograph that he had released a year earlier.
This time, the watch had its "big eye" sub-dial on the left, and the pushers were missing from the side of the case. What was this thing? Rick explained to me that the Deepstar II was, in his mind, a plausible next step from the original Deepstar chronograph had Aquastar continued with its design ethos past 1967. It made sense because there was a simpler three-hand automatic dive watch with the same no-decompression bezel. Still, this slightly simpler watch didn't win me over until I got my hands on it months later.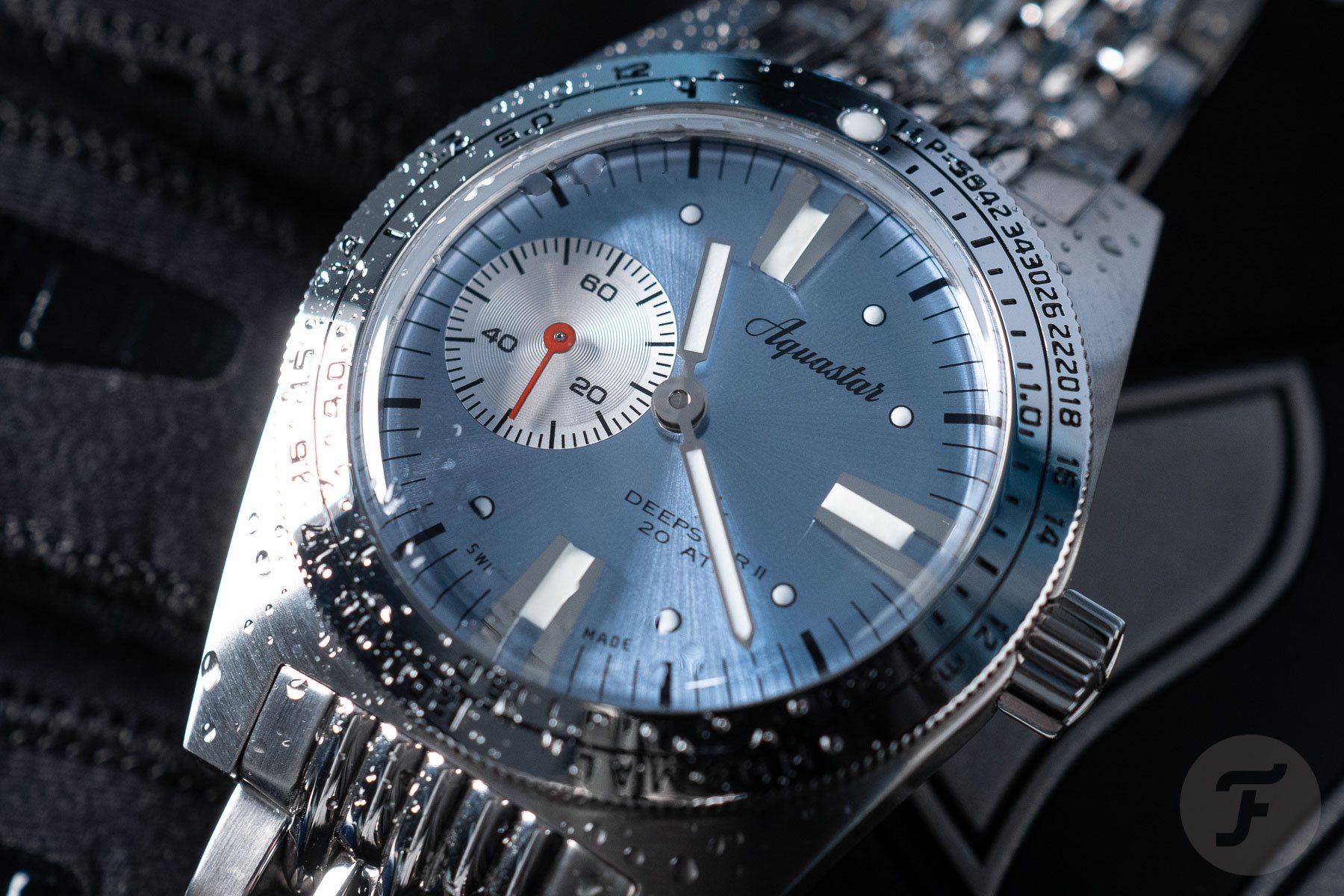 The origins of our latest collaboration
The Aquastar Deepstar II was a hit for me from the second I opened the box and placed it on my wrist. The 36.75mm case fits perfectly along with the supple beads-of-rice bracelet. All the charm from the chronograph was still present, including the polished bezel and applied indices along with the lovely cursive "Aquastar" script on the dial. Yet the watch instantly felt more wearable and suitable for everyday use. I wasn't alone in my thoughts as the watch sold out within hours across three initial colorways. Soon after receiving it, though, I had a thought.
I reached out to Rick and shared my enthusiasm about the Deepstar II. I waxed on and on about the wearability and even mentioned that the watch worked well on my wife's wrist due to the size and jewel-like details. It was then that I asked whether he'd consider working with Fratello and incorporating a lighter-colored dial. After all, most of the Aquastar releases to that point had used darker colors. He was game, and thus, the Fratello × Aquastar Deepstar II Limited Edition seeds were planted.
I had a similar call with Robert-Jan after speaking with Rick, and we were soon off and running. There were quite a few hues in the mix for the Fratello × Aquastar Deepstar II Limited Edition. In the end, though, we opted for the color that best complements all the wonderful details of this model.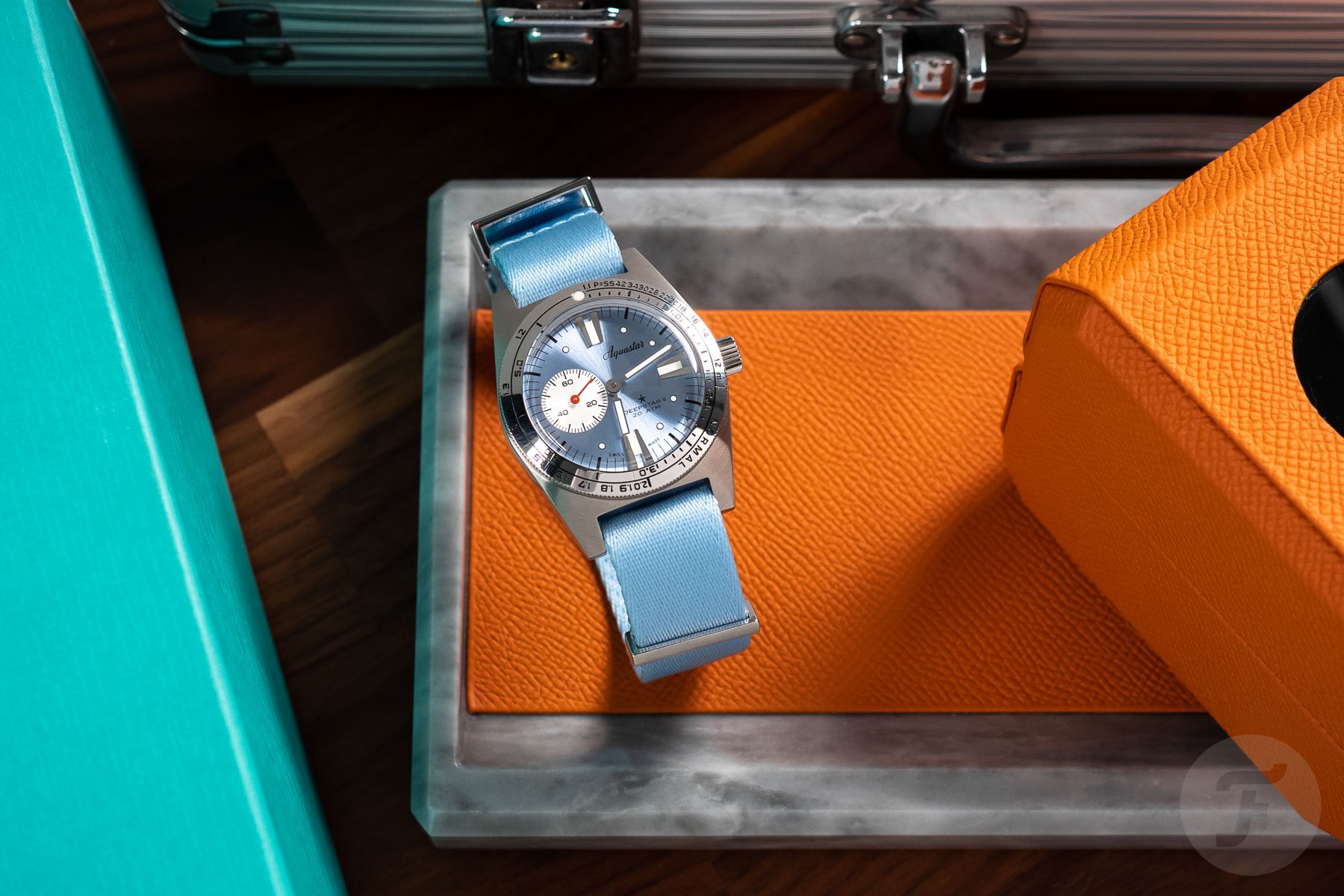 Ice blue for the Fratello × Aquastar Deepstar II
The Fratello × Aquastar Deepstar II Limited Edition has a sunburst dial in ice blue, which is complemented by a red hand on the small seconds sub-dial. Light blue may be incredibly popular today, but the tone wasn't chosen simply to adhere to current trends. In my view, this color should stand the test of time because it works so well with the overall design. Another distinct difference in our limited piece is the white Super-LumiNova instead of the "old radium" lume from prior models. This helps lend a more modern feel and should also satisfy those who desire a fresh look.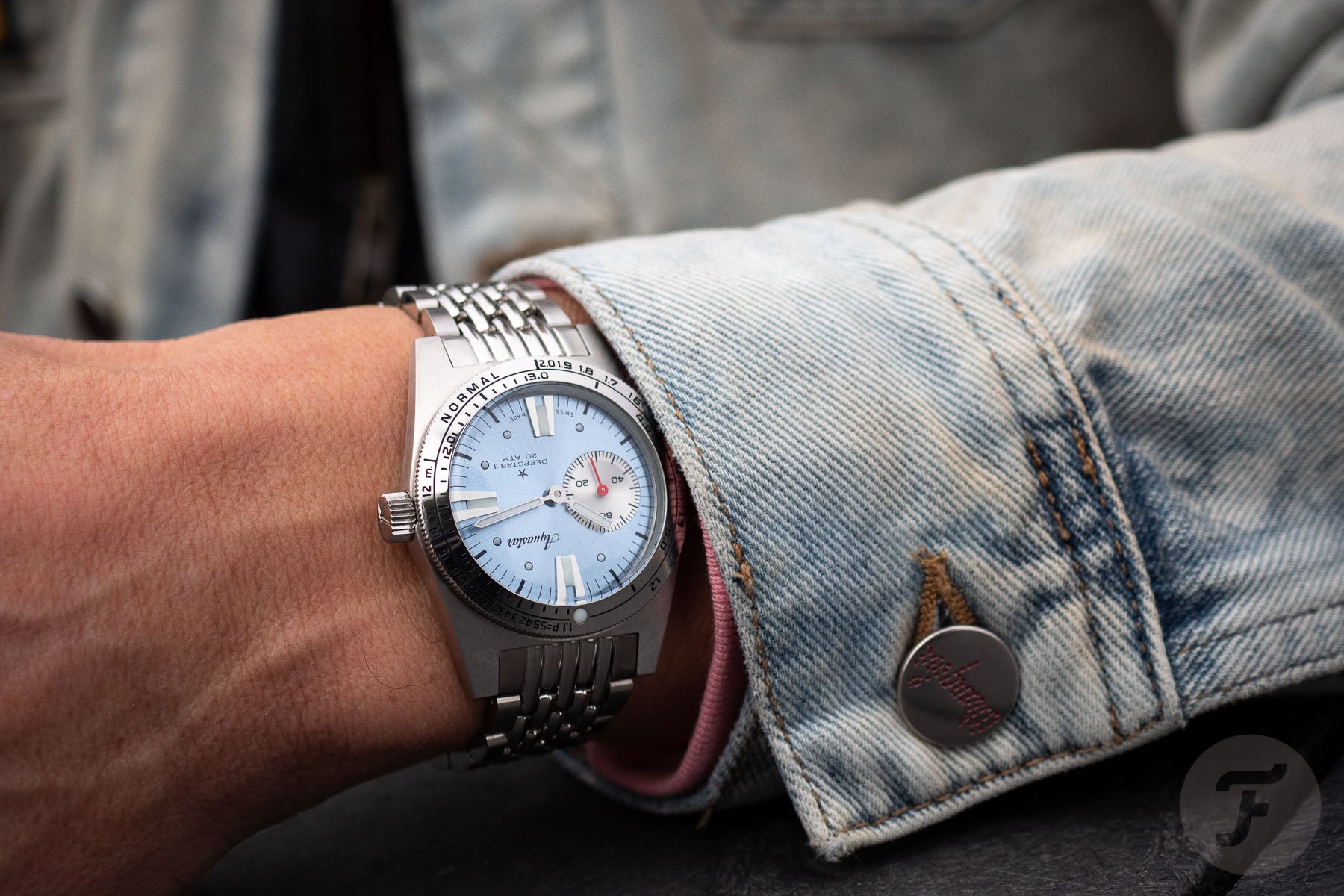 Seeing our creation in person — it's beautiful!
On a recent trip to Fratello HQ, I was finally able to go hands-on with the Fratello × Aquastar Deepstar II Limited Edition, and my feelings were identical to those when I first saw the original model. This watch really feels cohesive and, once again, could easily work for daily use. When mounted on the bracelet, it's sporty but can pair with everything from casual to dressier ensembles. On the included ice-blue seatbelt NATO strap, the watch takes on an easygoing and approachable look.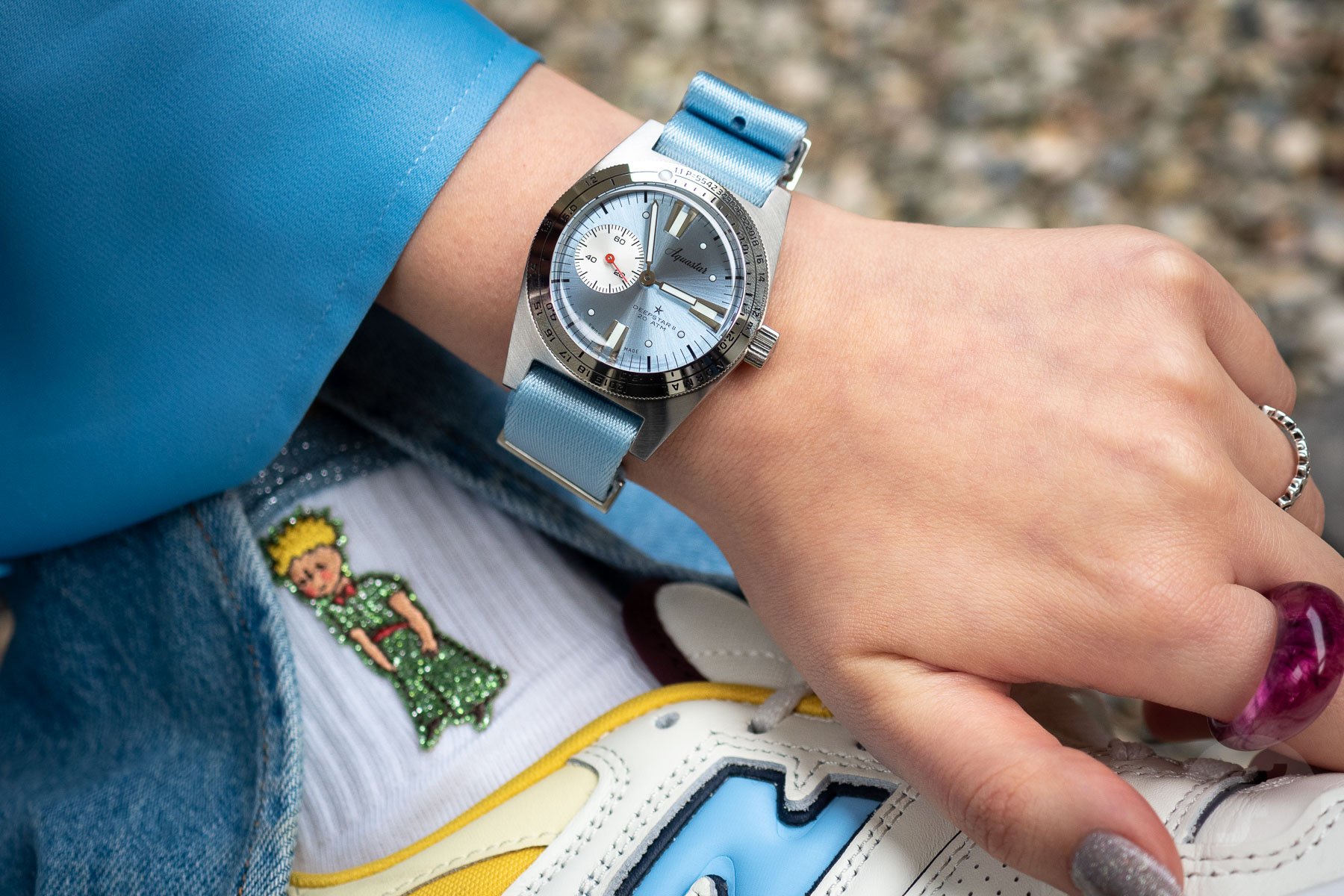 A versatile everyday watch
Spec-wise, everything else on the Fratello × Aquastar Deepstar II Limited Edition is consistent with what fans have come to enjoy so much about Aquastar's 2021 model. This means a 36.75mm diameter with a 46mm lug-to-lug and a 13mm thickness, including the crystal. The robust Sellita SW290-1 movement is back again, and the date stop has been eliminated. Additionally, the watch has a bidirectional external bezel, a signed screw-down crown, and domed sapphire crystal with an antireflective coating. Finally, this watch is water resistant to 200 meters, making it suitable for all activities.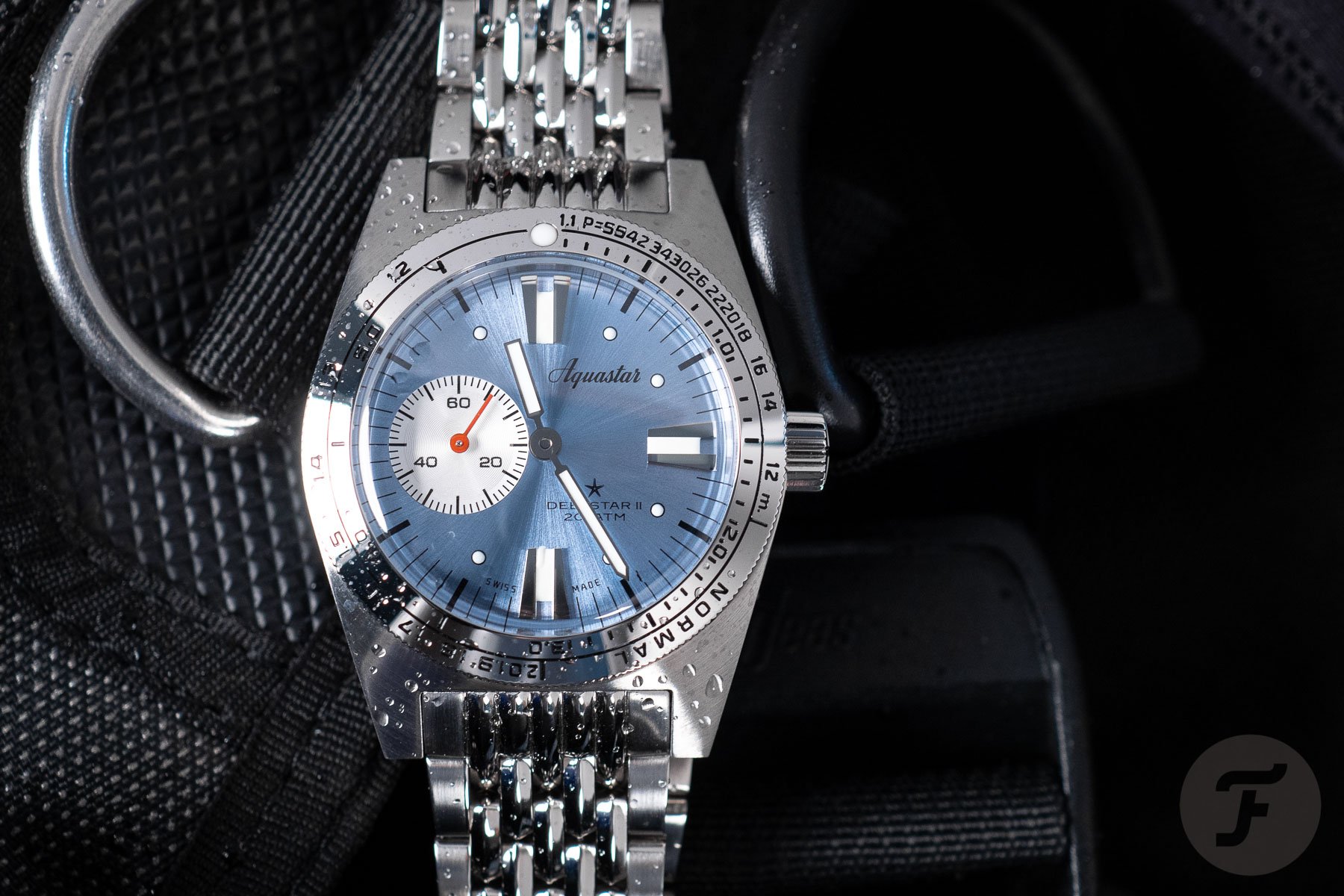 Just 50 pieces of the Fratello × Aquastar Deepstar II Limited Edition
The Fratello × Aquastar Deepstar II Limited Edition is limited to 50 pieces in total. The first 25 pieces will be available from the Fratello Shop on Wednesday, February 15th at 3:00 PM CET, and the other 25 pieces will be available directly from the Aquastar website. An introductory price of €1,549 (excluding VAT) is available for the first week only. Make sure you act fast because from Wednesday, February 22nd, the price will increase to €1,915 (excluding VAT). I really enjoyed seeing this project come to fruition, and it was a pleasure to work with Rick. We're honored that he agreed to work with Fratello as the partner for the first-ever Aquastar collaboration.
Let us know what you think of the result in the comments!
Watch specifications
Model
Fratello × Aquastar Deepstar II Limited Edition
Dial
Ice-blue sunburst dial with white Super-LumiNova
Case Material
316L stainless steel
Case Dimensions
36.75mm × 46mm × 13mm (including crystal), 19mm lug spacing
Crystal
Domed sapphire with antireflective coating
Case Back
Stainless steel case back with Aquastar engraving
Movement
Sellita SW290-1 — automatic winding, 28,800vph frequency, 31 jewels, 38-hour power reserve
Water Resistance
200 meters / 20 ATM
Strap
Stainless steel beads-of-rice bracelet with signed safety clasp and ice-blue seatbelt NATO with signed pin buckle
Functions
Time, bidirectional no-decompression external diving bezel
Price
€1,549 excluding VAT (for residents within the EU, local VAT rate will be applied)
Warranty
Two-year international warranty
Special Note(s)
Limited edition of 50 pieces