Introducing: The Hautlence Sphere Series 1 With Twirling Hours
Another TV-screen-shaped creation by Hautlence that straddles the border between mechanics and art
Hautlence is back with one of its famous TV-screen-shaped designs. But Hautlence wouldn't be Hautlence if what we're watching on that TV weren't equal parts mechanical mastery and artistic aptitude. The brand itself calls this new Sphere Series 1 a playful watch. But when I look at it, I'm immediately impressed by the sheer complexity and technical know-how that went into it.
Reading through the press release for the Hautlence Sphere Series 1, my mind was dazzled by so many technical terms. If you're looking for an explanation of exactly how this watch works, then I suggest you take a look elsewhere. For example, Balazs already wrote an excellent article on the Hautlence HL Sphere 01 in 2019. In it, he goes over a little bit of the brand history and discusses the complexity of the movement, which also features a jumping sphere for the hours. Today, I'll simply go over the basics and describe what this watch is all about in my own words.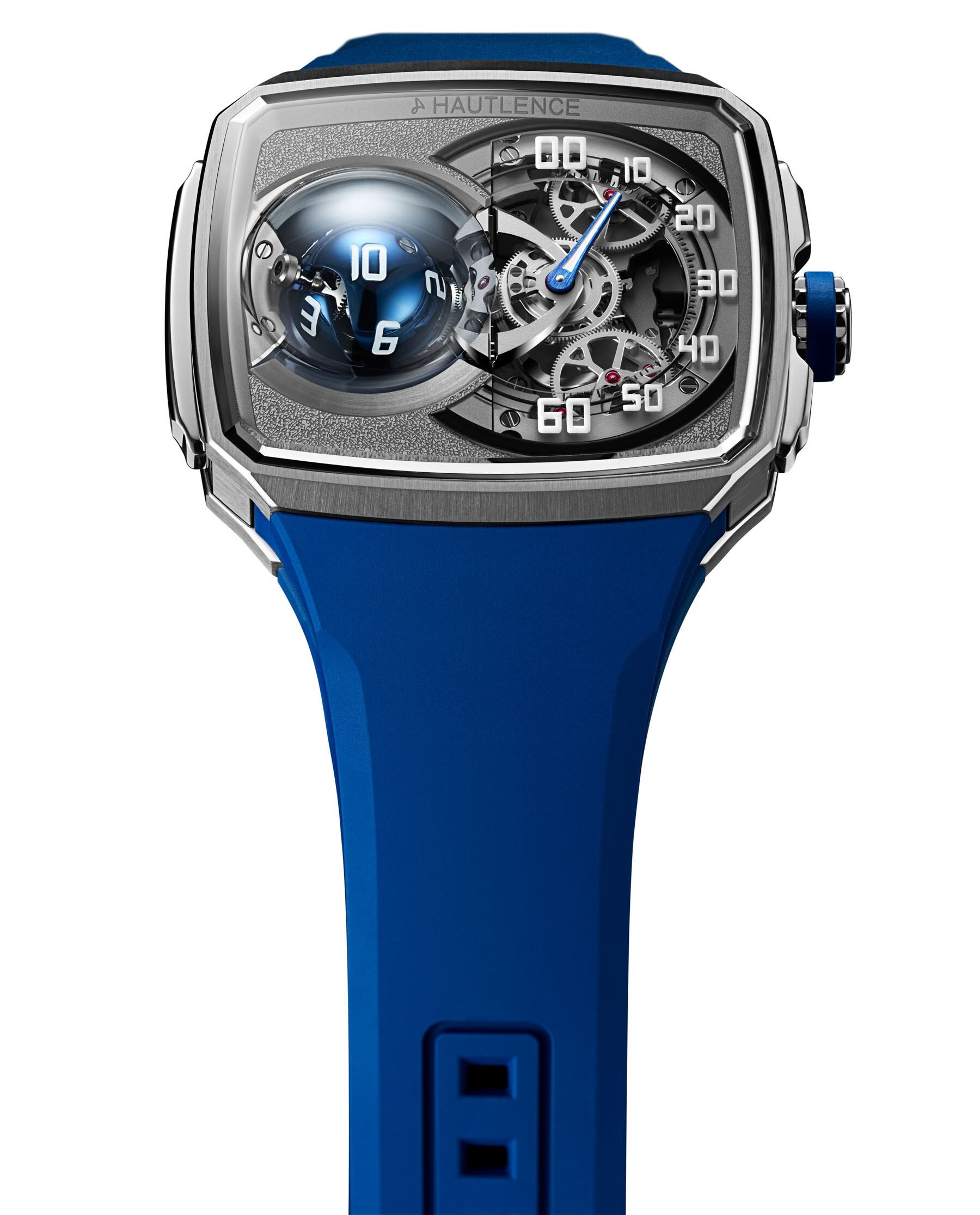 The Hautlence Sphere Series 1
Anyone who's seen a Hautlence watch before knows that the brand is famous for the TV-screen-like shape it uses for many of its watches. Obviously, the Sphere Series 1 is no exception. The stainless steel case measures 50.8mm from left to right and 43mm long. The thickness stays just under 11mm, and the dome in the beveled sapphire crystal, right above the sphere, protrudes just 1mm. The crown has a blue rubber ribbon that matches the rubber strap that the watch comes on.
All that rubber isn't for nothing. The Sphere Series 1 is not only impressive on the inside but also very capable on the outside. For example, it's water resistant to 100 meters, so you don't have to be careful when you're close to any source of water. But that rubber ribbon on the crown also comes in handy when you're winding the hand-wound A80 manufacture movement. This movement was fully developed, designed, and produced by Hautlence watchmakers.
The A80 holds a power reserve of 72 hours and runs at a 21,600vph frequency. The hairspring was manufactured by Hautlence's sister company Precision Engineering AG, and it is visible through the exhibition case back. What you will also see there is the skeletonized barrel with the mainspring inside.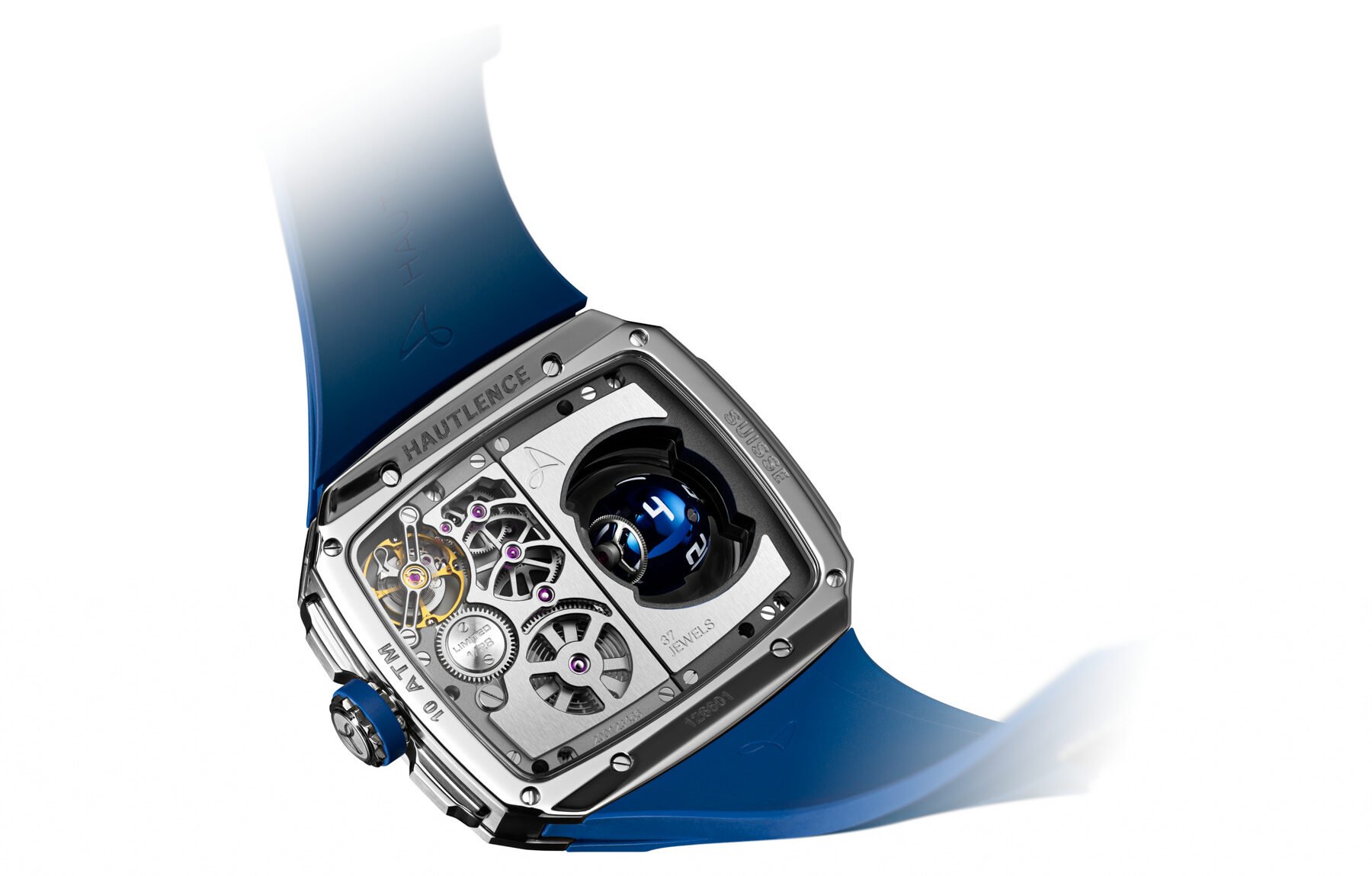 A blue bingo ball
But the thing that probably attracts everyone's attention when they look at this watch is that shiny blue marble. It's engraved with 12 numerals and tells you exactly what hour it is. It has three axes of rotation and jumps — or twirls — from hour to hour. The sphere is made of two titanium parts that have been polished and treated with a blue PVD coating. It's visible both through the front and the back of the Sphere Series 1, and it reminds me a bit of those balls they use when you play bingo.
Right next to the sphere, you'll find the 180° retrograde minute dial. But this is not your average retrograde dial; this is a speed-regulated retrograde dial. The minute hand is slowed down by the gear train to ensure that it doesn't cause excessive shocks to the movement when it returns to zero. The applied numerals on the sapphire retrograde dial are made of Globolight, a ceramic-based material that's charged with Super-LumiNova. It's white in daylight and has a blue glow in the dark.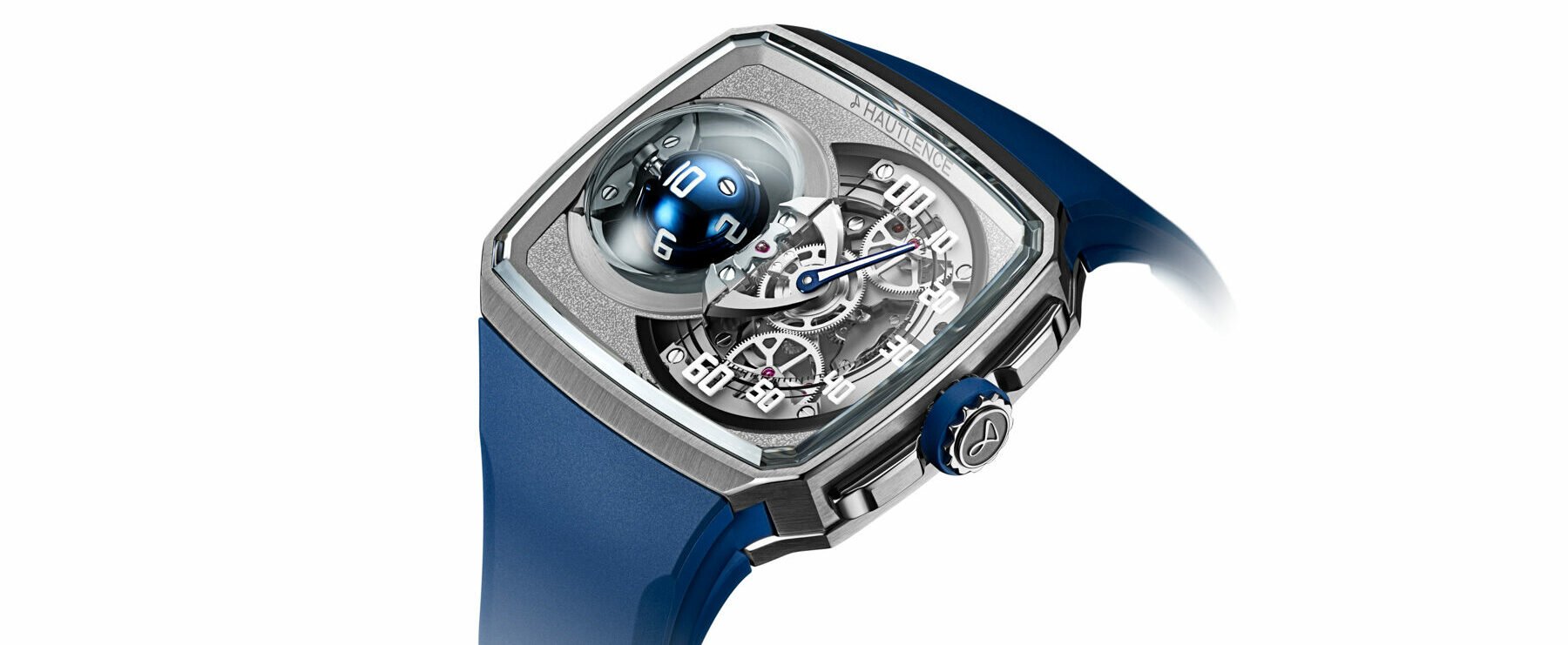 Final thoughts
To be honest, I'm not sure what to think of the Hautlence Sphere Series 1. It's definitely not my cup of tea when it comes to the design. Mechanically speaking, though, it's all very impressive, and that three-dimensional sphere is a real showstopper. Ultimately, I think it's just a bit too much of an "apparatus" for my taste.
Only 28 pieces will be made of the Hautlence Sphere Series 1, and one of them can be yours for CHF 66,000. For more information, check out the official Hautlence website.
Let me know what you think of this new creation by Hautlence in the comments below.
Watch specifications
Dial
Base dial: skeletonized and rhodium-plated brass with a frosted finishing / Intermediate dial: sapphire with applied minute numerals in Globolight / Hour sphere: polished Grade 5 titanium with blue PVD treatment, engraved hour numerals with white Super-LumiNova filling / Minute hand: satin-finished Grade 5 titanium with blue PVD treatment and white Super-LumiNova
Case Material
Stainless steel with satin and polished finishes
Case Dimensions
50.8mm (diameter) × 43mm (length) × 11.9mm (thickness including small dome)
Crystal
Sapphire with antireflective treatment, beveling, and dome
Case Back
Stainless steel with sapphire exhibition windows
Movement
Hautlence A80 — manual winding, 21,600vph frequency, 72-hour power reserve, 37 jewels, spherical hours and retrograde minutes
Water Resistance
10 ATM (100m)
Strap
Blue rubber with stainless steel buckle
Functions
Time only (spherical jumping hours and retrograde minutes)