Introducing The Isotope GMT 0º Terra Maris — A Cool Collaborative Vision Of A Traveler's Watch
A guest post by Vincent Deschamps
Isotope is a brand that most of you will not be strangers to. Fratello's own Rob has written about the Goutte d'Eau Compressor Diver, and Jorg has enthused over the Hydrium collection. The design of the former is something that feels familiar, as we have all seen compressor-style divers before. The design of the latter, however, introduced something unfamiliar, bold, and resolutely cool. It was a stripped-down diver with vibrant colors and unique design elements. Isotope then released its GMT 0º, a refreshing take on the traveler's watch. Even more recently, the brand brought out the super-limited-edition Terra Maris. Today, we'll take a brief look at this intriguing release.
The Isotope GMT 0º Terra Maris constitutes a logical continuation of the brand's development of its own design language. Isotope transitioned from taking a fresh look at compressor-style divers (I highly recommend you read Rob's write-up) to inventing a whole new design language using the Lacrima shape. Here, we see this in the GMT disc and the shaped arrow that points to the numerals on it. This shape takes its name from the teardrop-like ceiling lamps by Italian glassblowing master Paolo Crepax. Isotope continued developing the Lacrima shape that we also saw on the Hydrium series that Jorg reviewed here.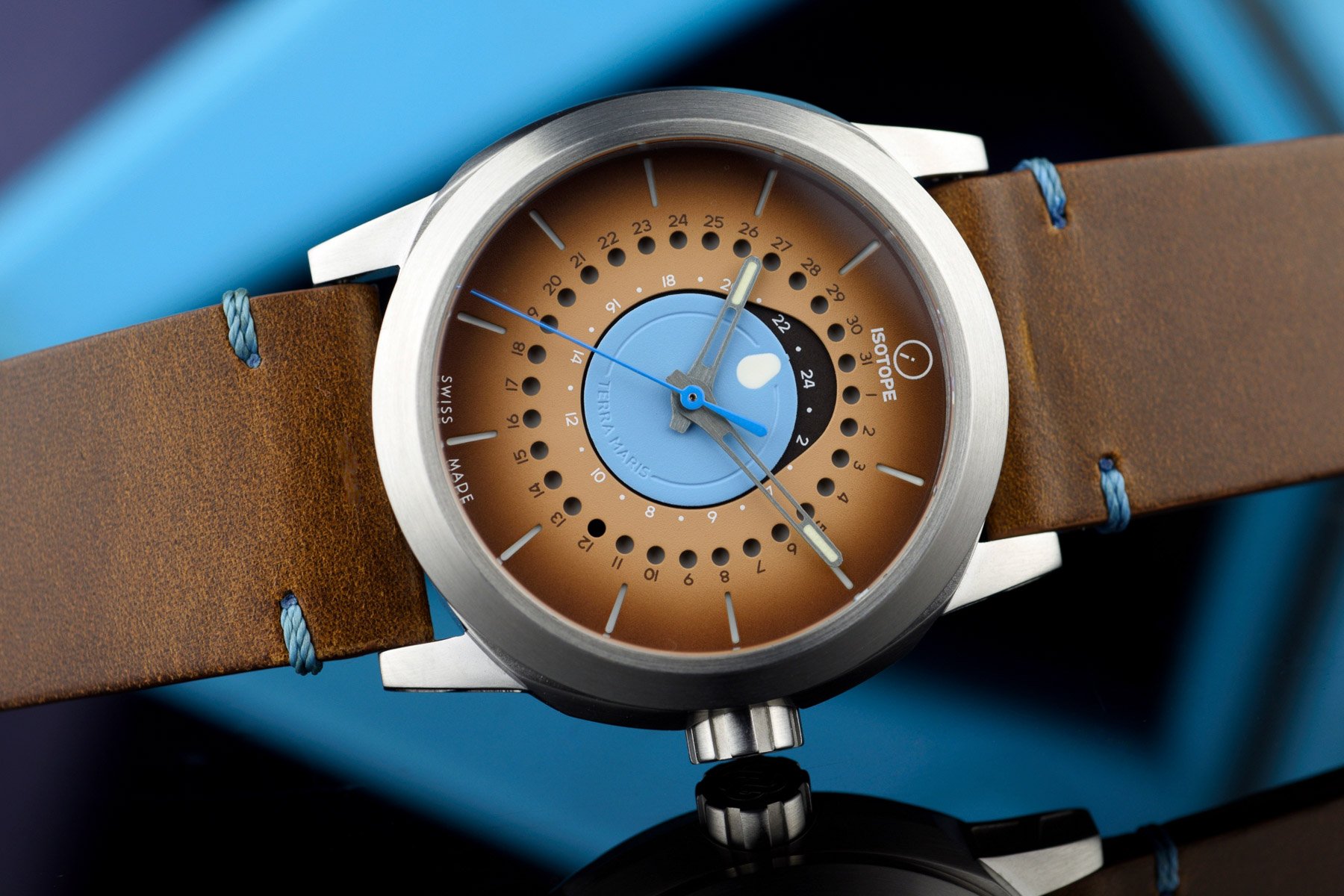 Isotope GMT 0º — The brand's first GMT watch
GMT watches have been around for nearly seven decades now. We all know the famous Rolex GMT-Master line, which was a trailblazer for travel watches. At some point in their development, it's common for watch brands to make their way into GMT watches. Such is the case here with Isotope. The brand, however, wanted to do something different and present a new way to look at the time in two time zones. This is not from a mechanical standpoint, however, as Isotope still used a tried-and-trusted movement. Rather, it's in the way that the watch shows the GMT hour and how the wearer reads it.
Isotope chose to use its already-iconic Lacrima shape to display the GMT time. The brand replaced the typical GMT hand — which normally reaches a 24-hour scale on the dial or bezel — with a teardrop-shaped disc located in the center of the dial. Isotope also decided to indicate the date as a red dot that appears in one of 31 tiny circles around the pinion, rather than a numeral in a perfectly framed window. The latter design element is not new per se. It is nicely integrated into Isotope's geometric design language, though. What you get is a combination of new aesthetic rules that results in a rather unique final product.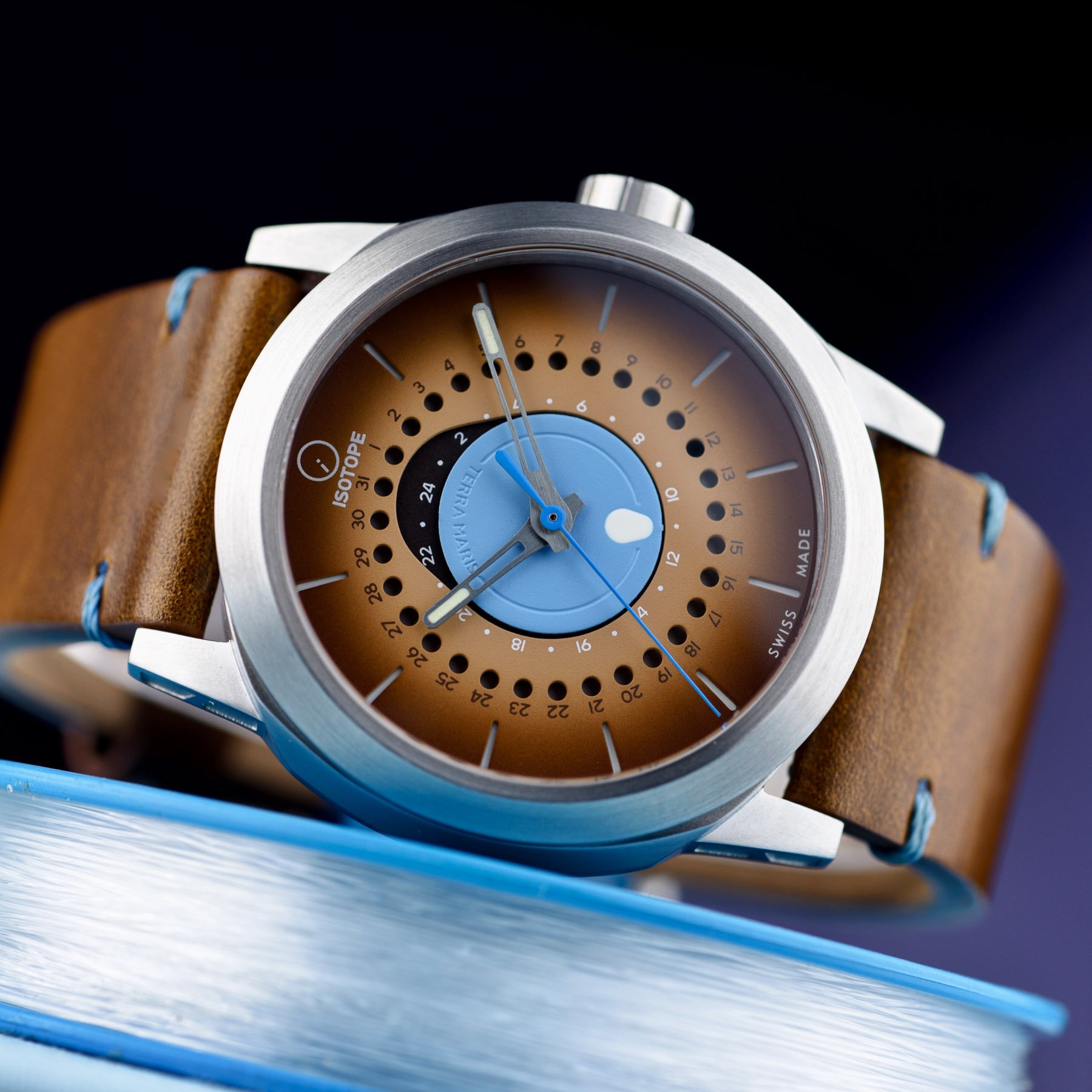 The limited-edition Terra Maris
Having designers from a variety of industries — fashion, architecture, automobile — collaborate with watch brands has been somewhat of a thing in the past few years. Whether it be TAG Heuer × Porsche or Seiko × Rowing Blazers, what comes out of these projects are unique-looking watches from brands we already know. It's as if we are re-discovering — or are being invited to rediscover — something we have seen before but from a new perspective. Not all of these collaborations, however, will be collectors' cups of tea. The ideal scenario would be that the brands (or designers) that work together somehow align.
Working with Miguel Seabra
In the case of Isotope and watch-journalist Miguel Seabra, this type of collaboration makes sense, and the result falls within the brand's new catalog quite neatly. There are two important things you should know about the Terra Maris limited edition. First, Isotope founder José Mendes Miranda and Seabra were brought together by the fact that they are compatriots living in the same timezone. Second, Seabra wanted to infuse the watch with elements of his home — the coastal region of Cascais in Portugal where land (Terra) and sea (Maris) meet. This inspired Isotope's designer to use two dominant colors on the dial — reddish-brown for the land and light blue for the sea.
What's more, the Isotope GMT 0º Terra Maris is not only a good-looking watch. It's also a well-made timepiece that packs some great features. Let's start with its dimensions. The watch measures 41.5mm in diameter and 44.7mm from lug to lug with a reasonable height of 14.2mm. The case is made of stainless steel and features an entirely brushed finish. The crystal is of the domed sapphire variety, and the Terra Maris packs a very capable 200 meters of water resistance. Inside beats an automatic Swiss-made Landeron GMT movement with a 4Hz frequency and a 40-hour power reserve. Last but not least, the watch comes with a stainless steel bracelet and brown leather strap, both measuring 24mm at the lug ends and 22mm at the clasp.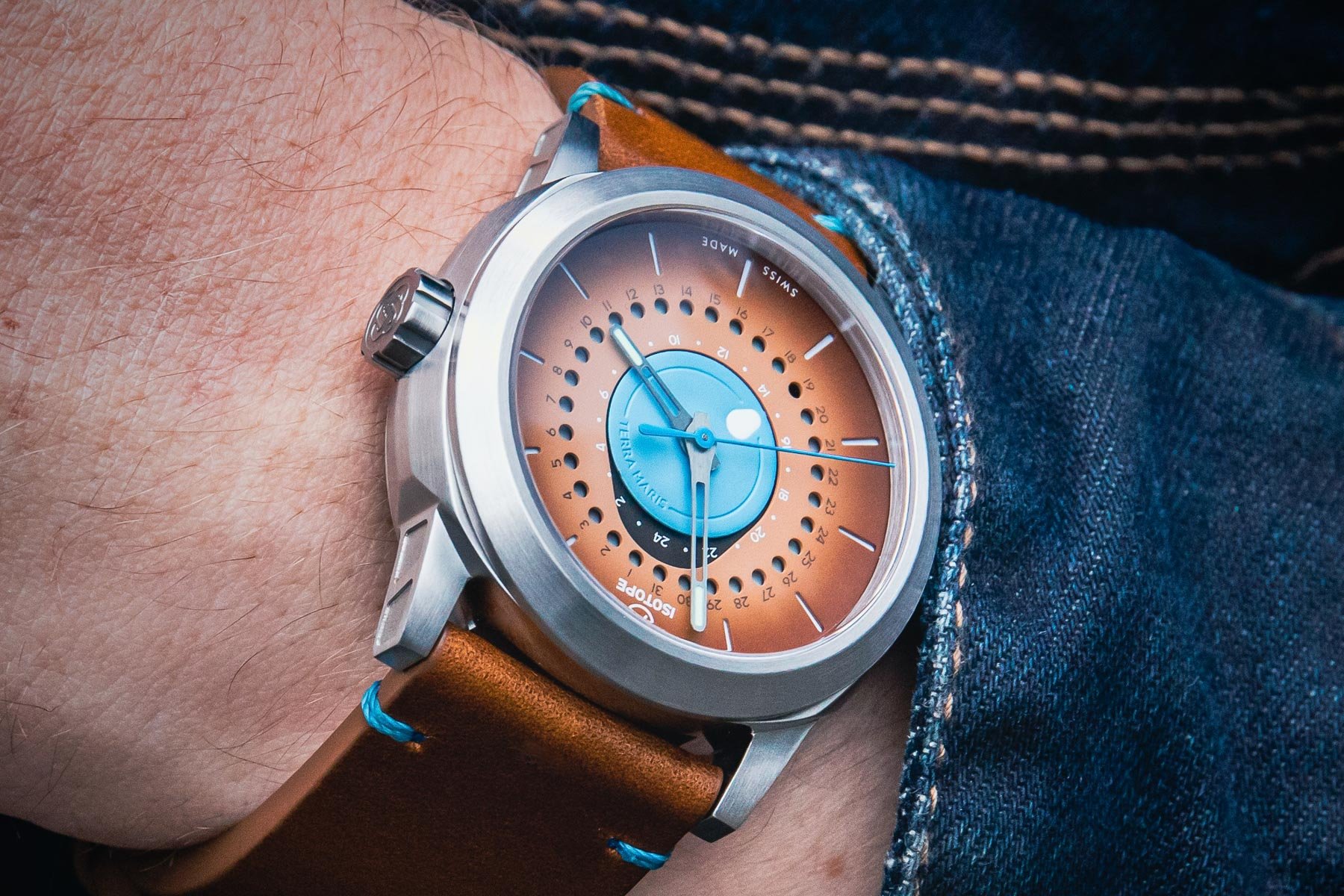 Final thoughts
The design of Isotope watches may not be for everyone. One could even speculate that Isotope's founder, José Mendes Miranda, did not intend to design watches for everyone. I, for one, am a sucker for a solid GMT watch, but I tend to gravitate more toward classic designs. This makes me lust over Isotope's Compressor Diver just a little more than the GMT 0º Terra Maris. However, I can appreciate the fact that Isotope offers a refreshing take on an iconic genre of watches while preserving what makes the brand unique. What is surprising to me, however, is that this 49-piece super-limited edition is priced at about €1,300 — officially £1,030. This seems reasonable for a watch that looks so different and that is, on paper at least, a true tool watch. For more information, check out the Isotope website.
What do you think of the latest offering from this eclectic brand? Let us know your thoughts in the comments below!