Introducing: The Lebond Siza — A Remarkable Debut From A New Spanish Brand
A special timepiece conceptualized by award-winning architect Álvaro Siza that explores the crossroads of architecture and watch design
A watch as a design object is a tricky concept. As timepieces are highly functional instruments for practical purposes, they should predominantly be comfortable and usable. Having said that, we have seen plenty of brands explore the boundaries of what watches can look like and do. But what if you try to incorporate another art form into this endeavor? The new brand Lebond, based out of Barcelona, operates at the crossroads of watch design and architecture. Lebond's first release is the remarkable Siza. It is named after the legendary 89-year-old Portuguese architect Álvaro Siza, who conceptualized this watch by taking inspiration from a pool that he designed in the 1960s. The result is quite stunning.
For me, watches are about form and aesthetics first and foremost. I have had a fascination with design from a young age. Whether clothing, shoes, architecture, cars, or watches, shapes and looks have always fascinated me greatly. It is why I pursued a career in design roughly two decades ago. During my time working in the graphic industry, I tried a couple of times to find a job in architecture. There is simply something fascinating about architecture that has always intrigued me. I view it as the ultimate combination of functionality and aesthetics. Making a space look remarkable and keeping its functionality in mind are more than just two separate conditions on a checklist. The combination of both translates into different emotions. So what happens if you incorporate architecture into watch design? The Lebond Siza proves it's possible, and it truly resonates with me.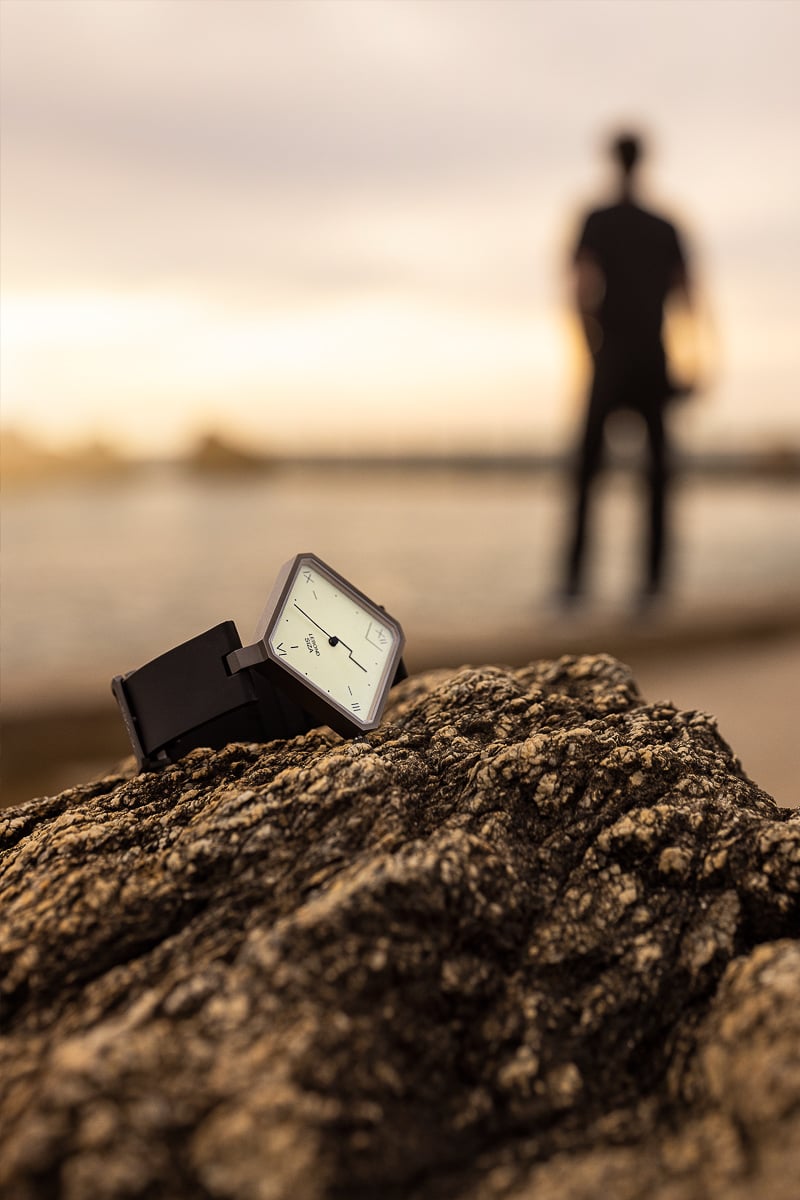 The idea behind the Lebond brand
Lebond is definitely not the first watch brand to incorporate influences of architectural design into its watches. Almost two years ago, I wrote an article about watches designed by industry outsiders. I touched upon combining unique aesthetics with the technique and practicality of wristwatches. The Junghans Max Bill watches are a great example, although there was so much to Bauhaus than just architecture. Indeed, the Bauhaus philosophy is a great example of shared design in multiple categories, and seeing how that style could be used for watches and architecture is quite amazing. In the article, there are more examples from Hermès and NOMOS. And readers added Jacob Jensen as well as another great example.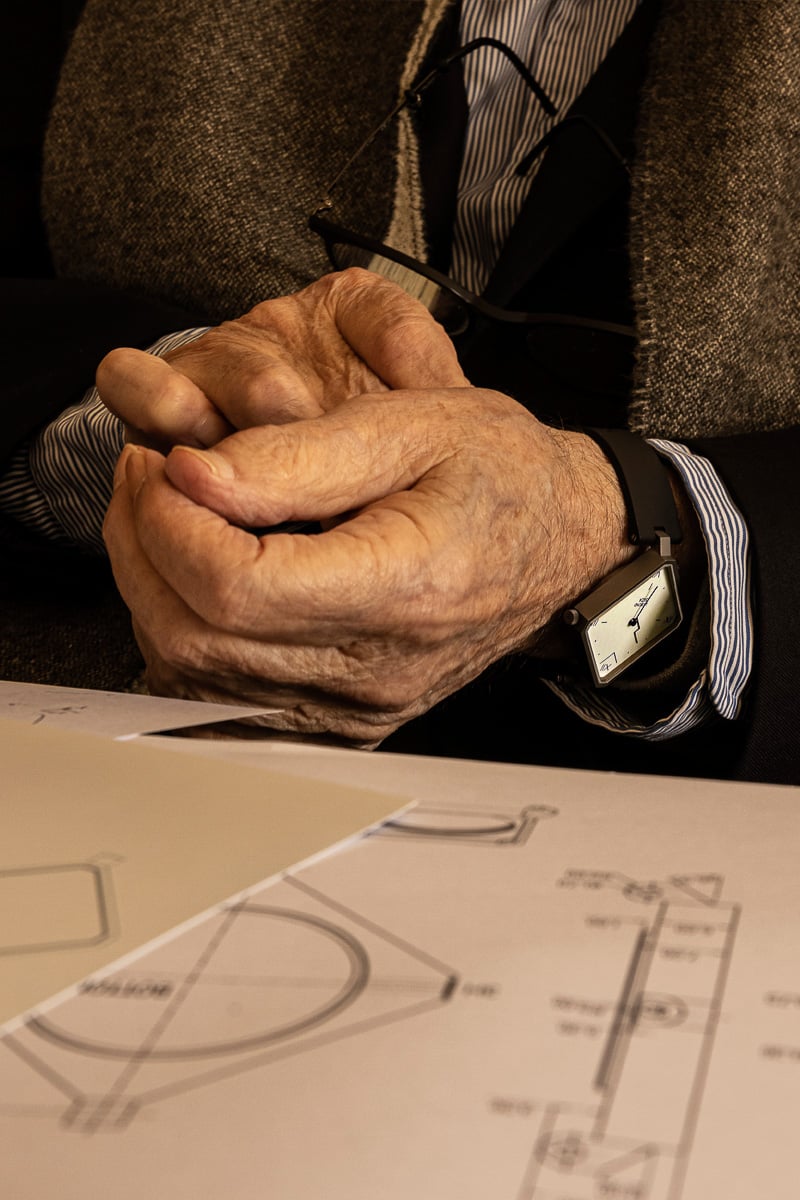 So there is definitely room for a crossover between the two disciplines that leads to interesting results. And at first glance, the new Lebond Siza is another watch that explores that same territory. But the approach is unique. The brand is set up as a platform for watch and architecture enthusiasts by Asier Mateo, himself an architect by trade. And besides working with architects for the watches, he collaborates with people for all the different aspects. Renowned Portuguese architectural photographer Fernando Guerra took the pictures for the first project.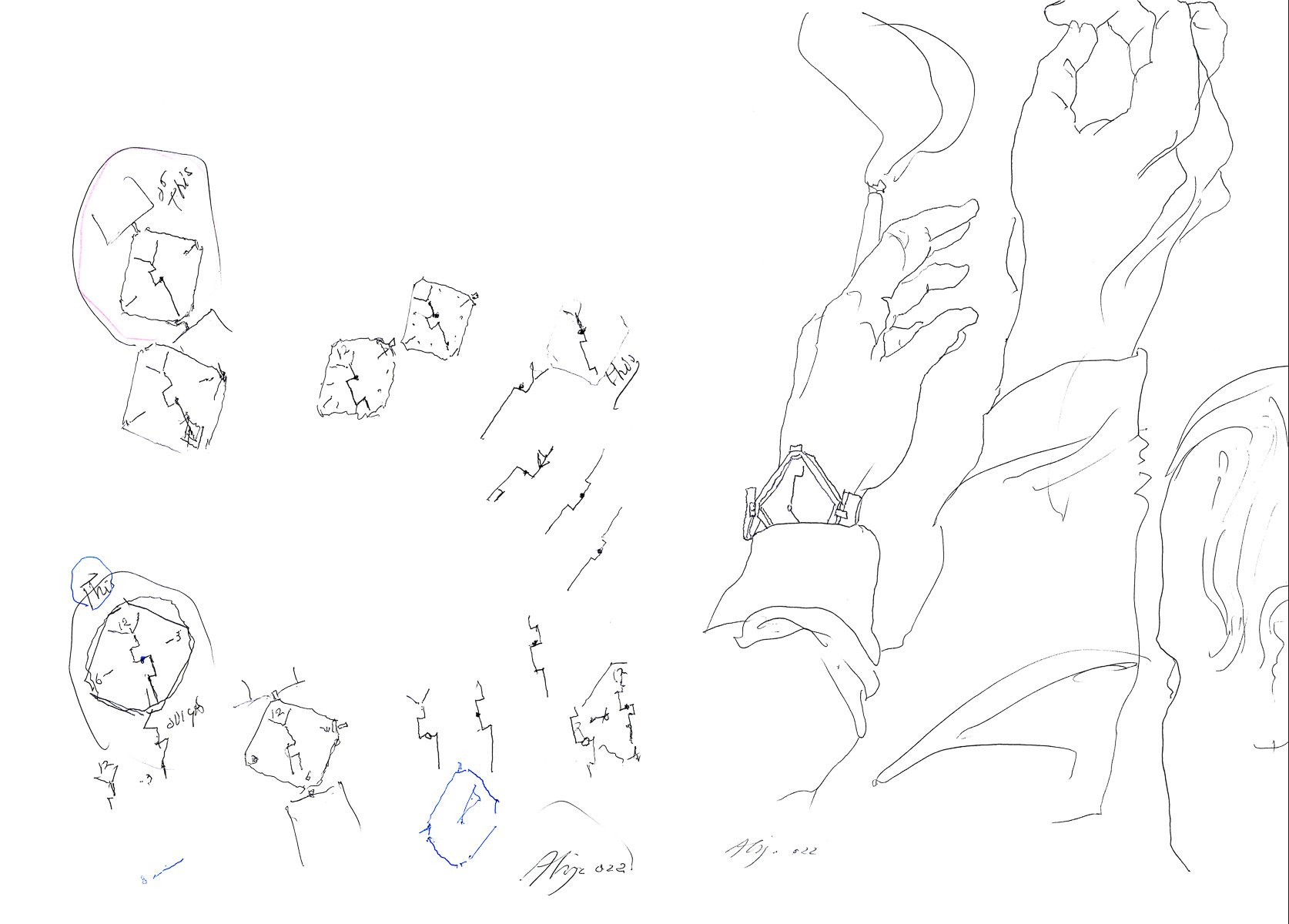 As said ith Lebond, Mateo aimed to collaborate with architects on special timepieces inspired by their architectural works. For the execution, Mateo uses the expertise and tradition of Swiss watchmaking to come up with the best results. The first result is the lovely Lebond Siza, designed by 89-year-old (!) architect Álavaro Siza.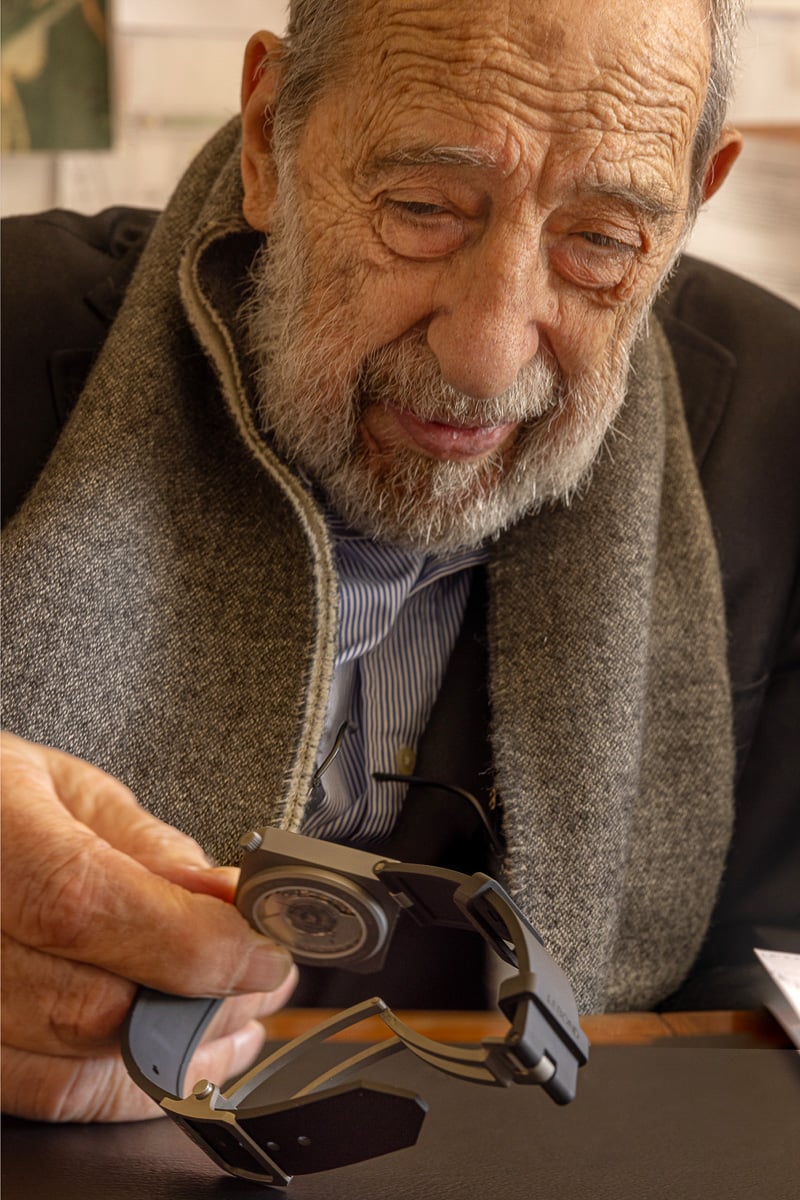 The Lebond Siza was inspired by an architectural work
So what's the story of the watch? Álavaro Siza is a world-renowned architect whose career started back in the 1950s. He has designed a great number of buildings, mostly in Portugal. But his works can also be found in Spain, Brazil, Argentina, Germany, and the Netherlands. He is considered one of the greatest architects of this day and age. In 1992, he won the Pritzker Architecture Prize, which is considered the Nobel Prize of architecture.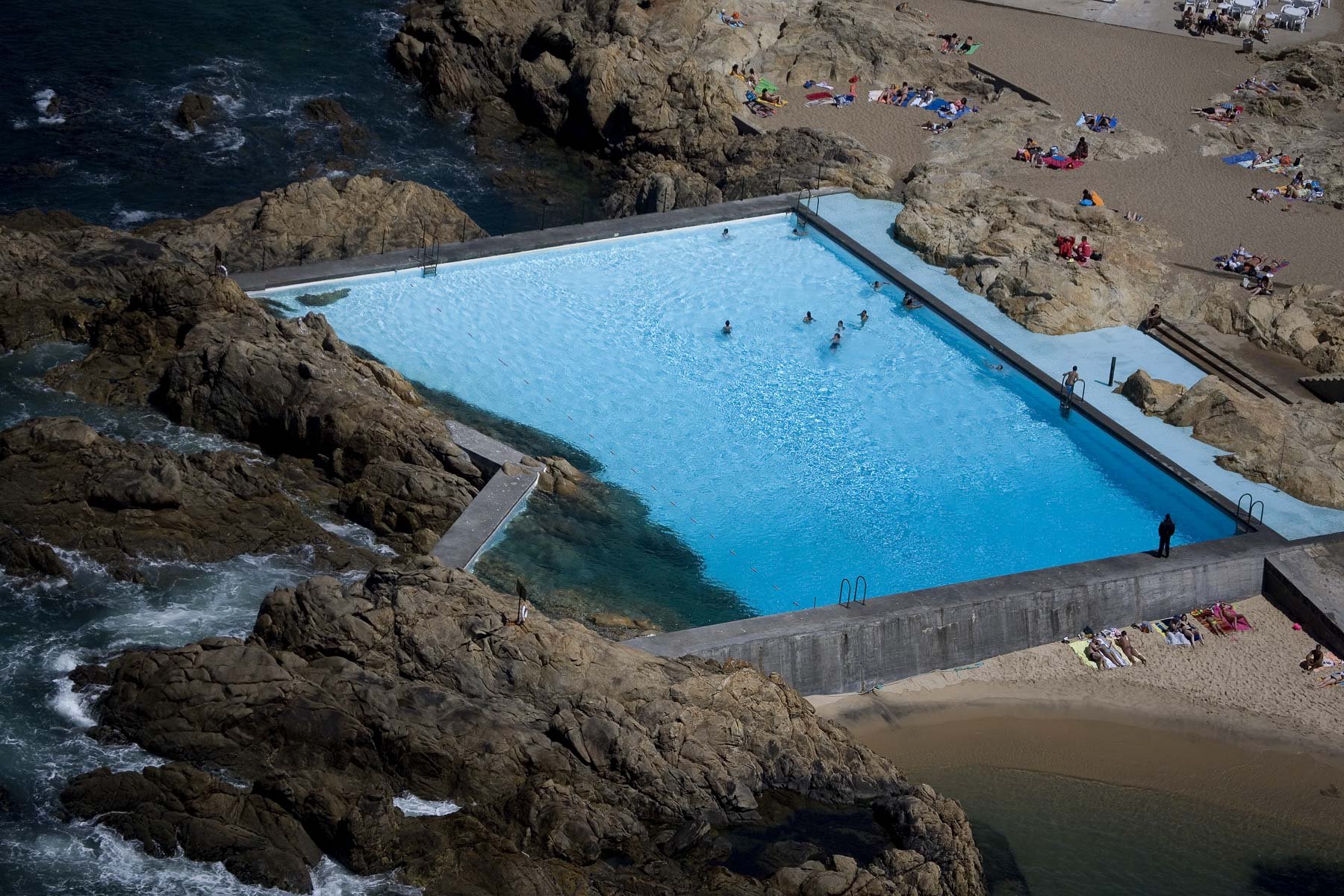 For this new watch, Siza drew inspiration from an architectural work that he created in 1966. The Leça Swimming Pool is a complex created on the natural rocky coastline of Matosinhos, a small town to the north of Porto in Portugal. It was one of the first solo projects that Siza created, and the multifunctional complex is still as remarkable now as the day it was opened to the public. Siza tried to preserve as much of a large portion of the existing rock formations as possible. As a result, the pool is worked into its surroundings, creating a pleasing contrast between the rough terrain and the straight lines of the pool. But it's the shape of the pool that inspired the new timepiece.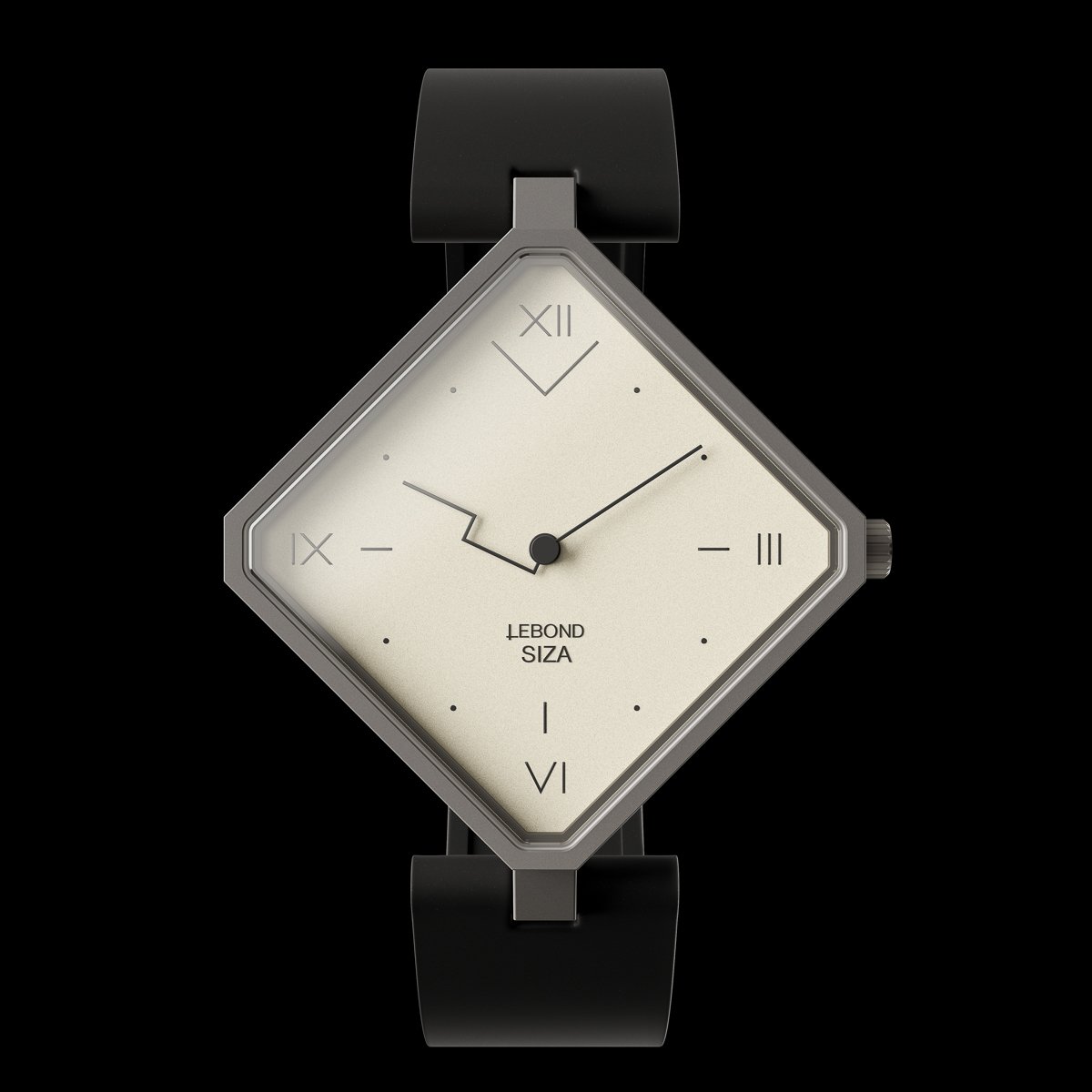 A case that is far from the usual
As you can see, the shape of the pool is not symmetrical. As a result, Siza had to revisit his work to make it into a working case design. He created a square shape, but instead of just using that as the watch case, he turned it to create a diamond-shaped one. The Grade 5 titanium case measures 41.5mm in diameter, 8.8mm thick, and 49.5mm from tip to tip. It has a matte sanded finish and features small lugs — or protrusions — at 12 and 6 o'clock, connecting to an 18mm-wide black rubber strap. The case also has a 50m water resistance rating, so it should not be a problem to go for a swim in the pool it was inspired by.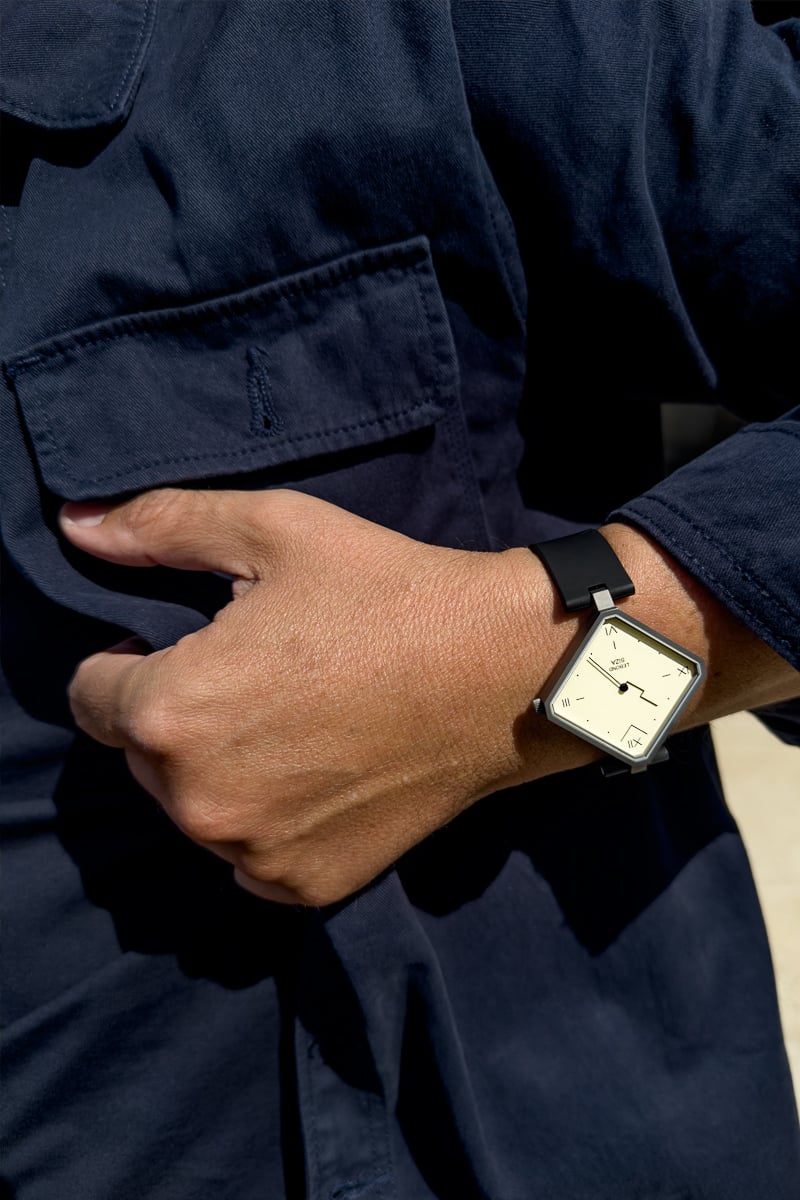 Looking at the watch, you can see that Siza optimized the pool design to make it better suited to a watch case. He flattened all four corners to soften the overall shape and to integrate a crown at 3 o'clock. Additionally, the lugs or connection points for the strap are just as wide as the flattened corners, creating something that feels natural despite its unusual overall shape. As you can see, the sapphire crystal also has the same flattened corners. It covers a matte lacquered light beige dial with matte black printed numerals, markers, and a black handset.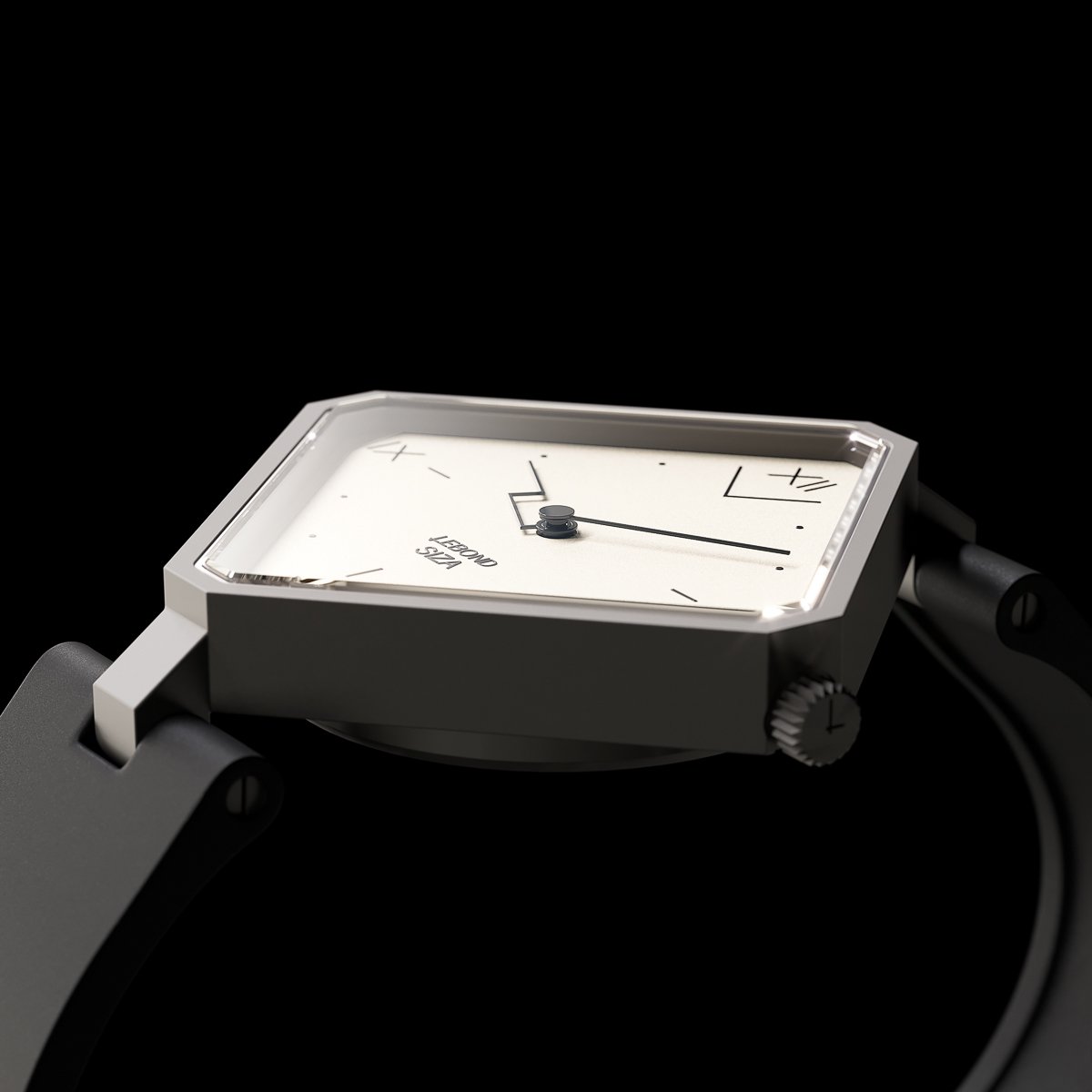 A minimalist watch with a traditional movement
This black handset was inspired by Siza's minimalist restroom signs that he used for a great number of projects. As you can see, the hour hand has a distinct shape, whereas the minute hand is more traditional. But the combination of the two works very well with the dial design and the case, and the result is a watch that is far from traditional. Both the case and dial design are rooted in Álvaro Siza's architectural style. As such, I greatly appreciate this new timepiece. Even more specifically, I love that it refers to an earlier project of his to create a great link to his work.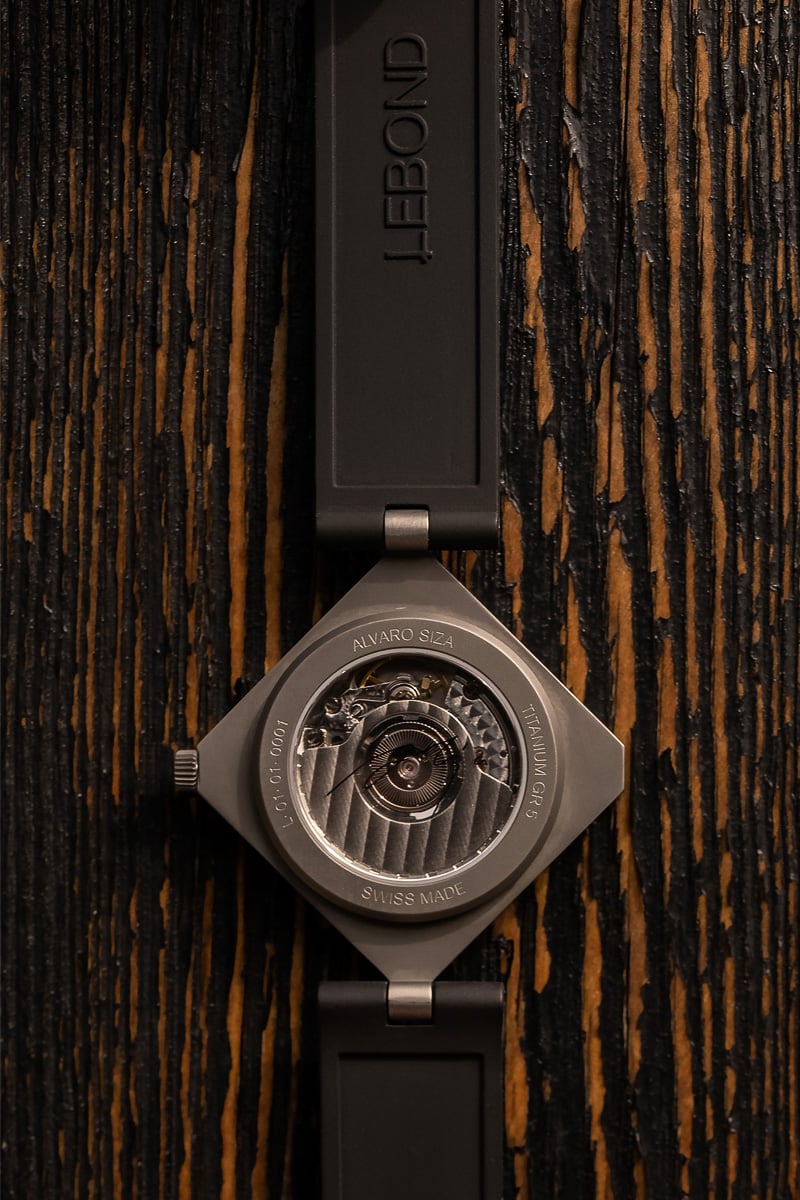 Inside the diamond-shaped case, Lebond uses a Top Grade version of the ETA 2892-A2 with an elaborate finish. The automatic movement operates at 28,800vph, has 21 jewels, and provides a 50-hour power reserve. This slightly modified version loses the seconds hand and date window to only show the time in hours and minutes, fitting Siza's minimalist design approach. The movement is visible thanks to a sapphire display case back that also features Álvaro Siza's signature in black.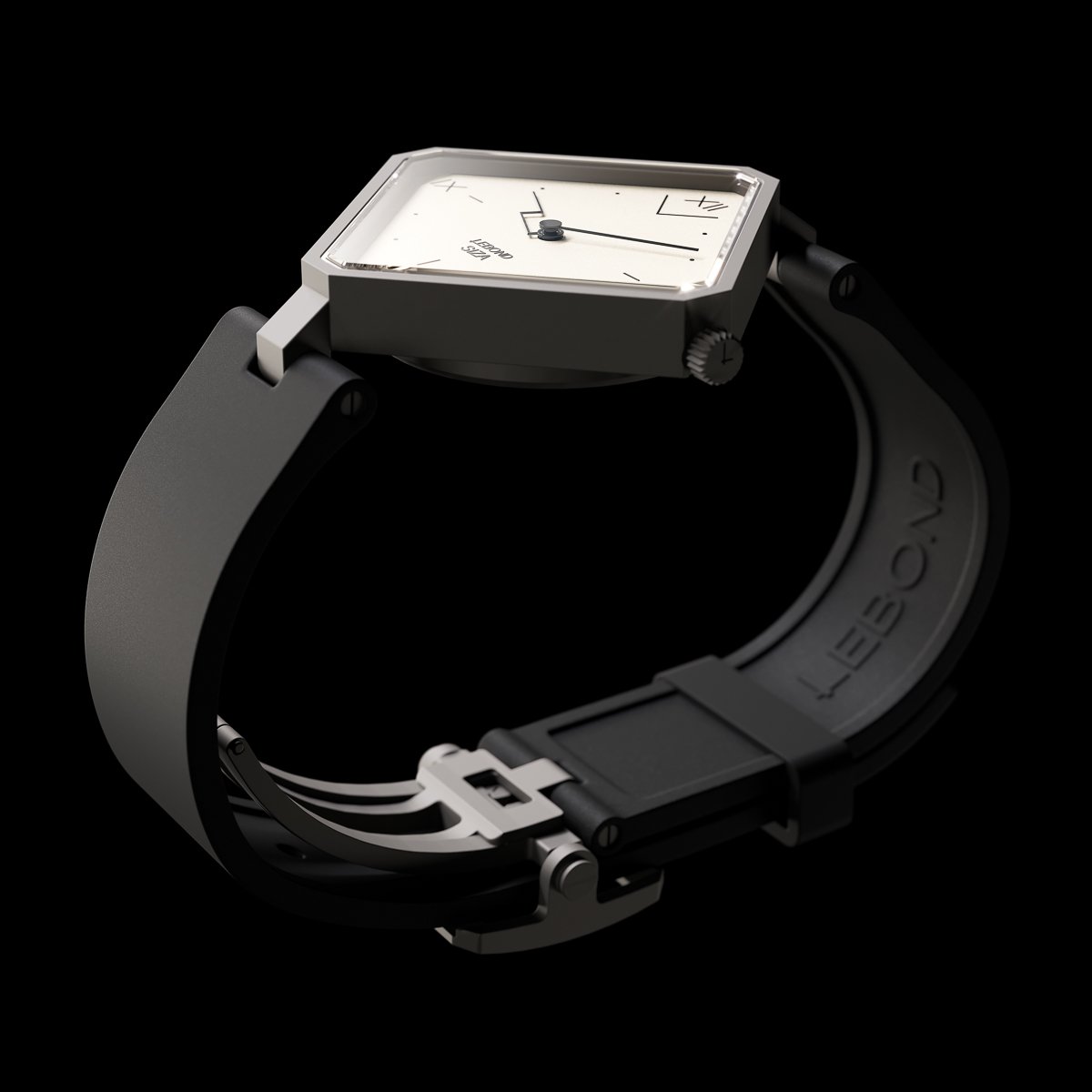 A remarkable timepiece for the true enthusiasts
As mentioned, the watch comes fitted with an 18mm black rubber strap. This features a Grade 5 titanium deployant clasp in the same style as the case, with the blades of the clasp made of stainless steel. It completes a watch with a standout design inspired by one of Siza's early works. I truly love how this watch is not just a (new) design made by an architect, as so many have done before. Rather, the watch draws direct inspiration from one of Siza's works, essentially linking it to actual architecture.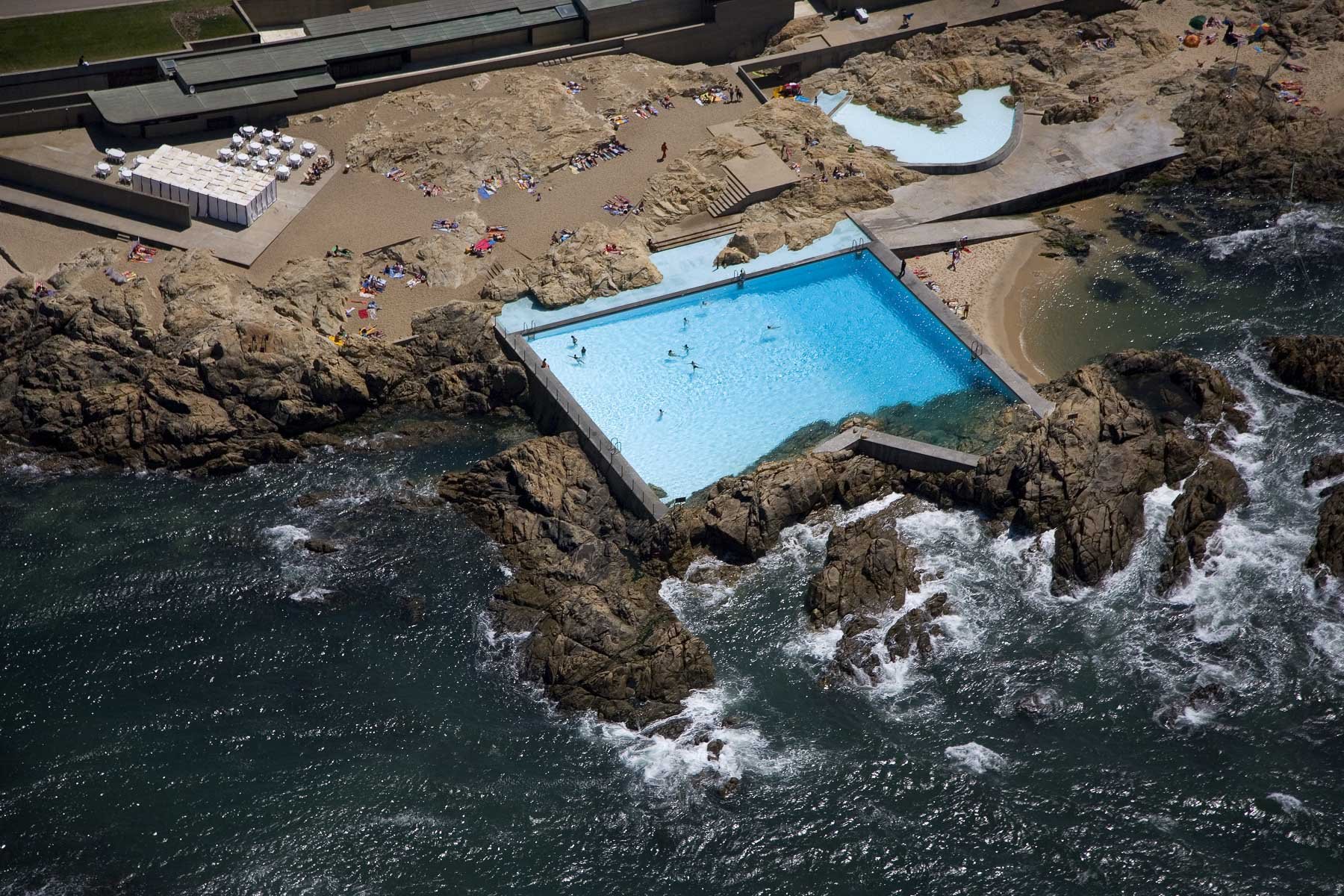 I am curious to find out what the Lebond Siza looks like in real life and how it wears. It is not your everyday shape, and the looks are an acquired taste. But I do greatly respect what Asier Mateo is trying to do with Lebond. Clearly, this is not a brand for the masses but a niche brand for people who love both watches and architecture and appreciate when both worlds come together. Hopefully, this vision will become a full-fledged series of watches by different architects.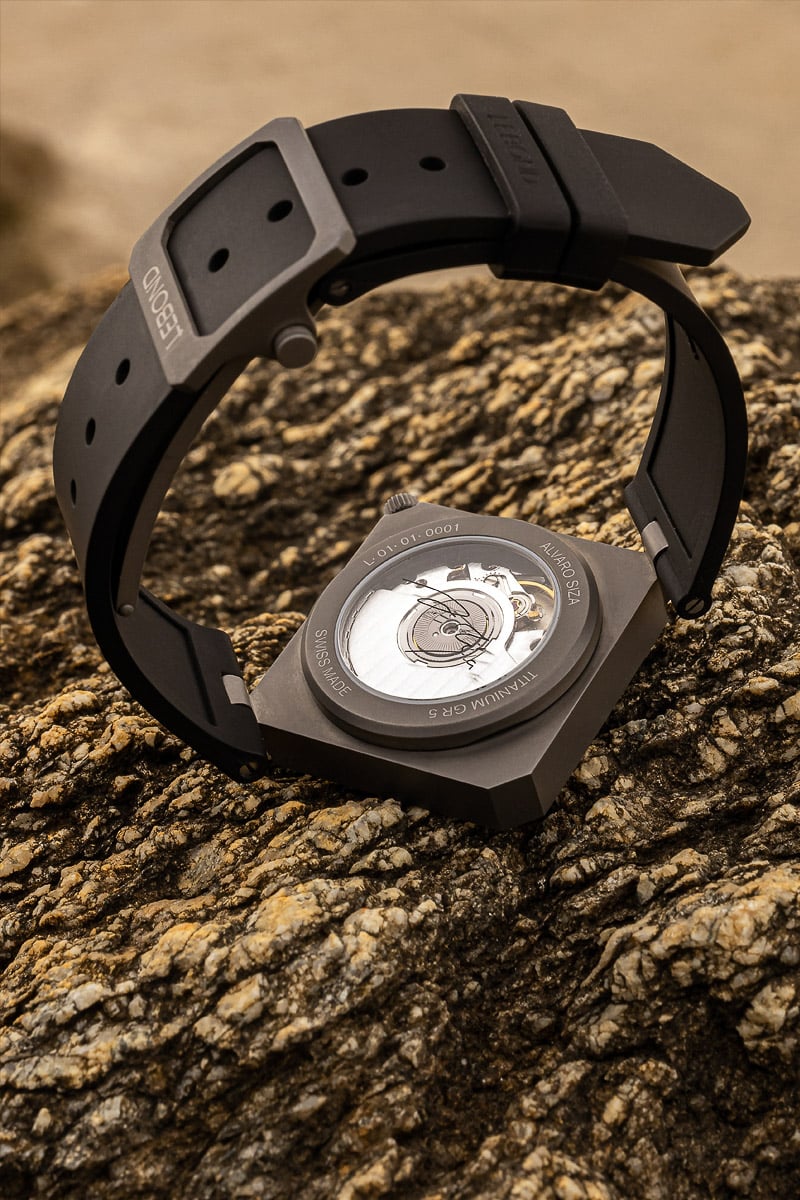 If you are in the market for one of these Lebond Siza watches, they will be available for €2,700 excluding taxes. It's quite a substantial amount of money for the first release by a new brand. But as I said, this is not a watch for everyone. It's a true passion project created by and for people who are deeply passionate about architecture. I would love to learn more about this lovely timepiece and get a chance to go hands-on with it. It's not every day that we see a watch created by one of architecture's greatest living legends, and I am here for it!
For more information, visit the official Lebond website. All pictures by Fernando Guerra.
Watch specifications
Dial
Lacquered matte light beige dial (RAL 9001)
Case Material
Grade 5 titanium
Case Dimensions
41.5mm (diameter) × 49.5mm (length) × 8.8mm (thickness)
Case Back
Display back with sapphire crystal
Movement
ETA 2892-A2 — Top Grade, elaborate finish, 28,800vph frequency, 50-hour power reserve, 21 jewels
Strap
Black rubber strap with a deployant clasp in Grade 5 titanium
Functions
Time only (hours and minutes)
Price
€2,700 excluding taxes