Industry Crossover: When Architects Design Watches, What Do We See And Learn? Junghans, NOMOS, Movado, And More.
When industry outsiders have a go at watch design, the results can sometimes be quite stunning.
Watch design is without a doubt one of the hardest forms of design to master. Watches are small objects and come with a long list of aesthetic and technical requirements. In its essence, the watch's design always has to be serving the wrist of the wearer and the movement that powers the watch. That combination of aesthetics and technique makes watches fascinating, to begin with. But what happens when industry outsiders get involved in the art of watch design? Time to check out some of the creations from renowned architects and find out if we can learn from them.
For me, watches are about aesthetics first and foremost. No matter how impressive the movement is, if the watch's design does not move me or at least intrigues me, it's game over. The other way around, I tend to be a lot more forgiving. However, I have to say that it's always a fine balance between technique and design. I have had this fascination for aesthetics from a young age. Eventually, it led me to work for a design agency for 12 years. There I learned very quickly that every design comes with a lot of restrictions. The biggest challenge is not to let these restrictions dictate the creativity of coming up with new designs. Within the world of watches, technical restrictions are often the main challenge to contend with.
A tough crowd to please
But let's not forget that we, as enthusiasts are also a very tough crowd to please. There seems to be very little space between "seen it before" and "new and different but weird." Thankfully that has not kept brands like MB&F, Urwerk, and Ressence from really pushing the design envelope. Over the years, we have also seen many architects and product designers have a crack at designing a watch. But their conceptual approach to design has not always led to great appreciation from watch fans. But there are definitely great exceptions. That's why we decided to come up with a list of famous architects and product designers that have designed some remarkable watches.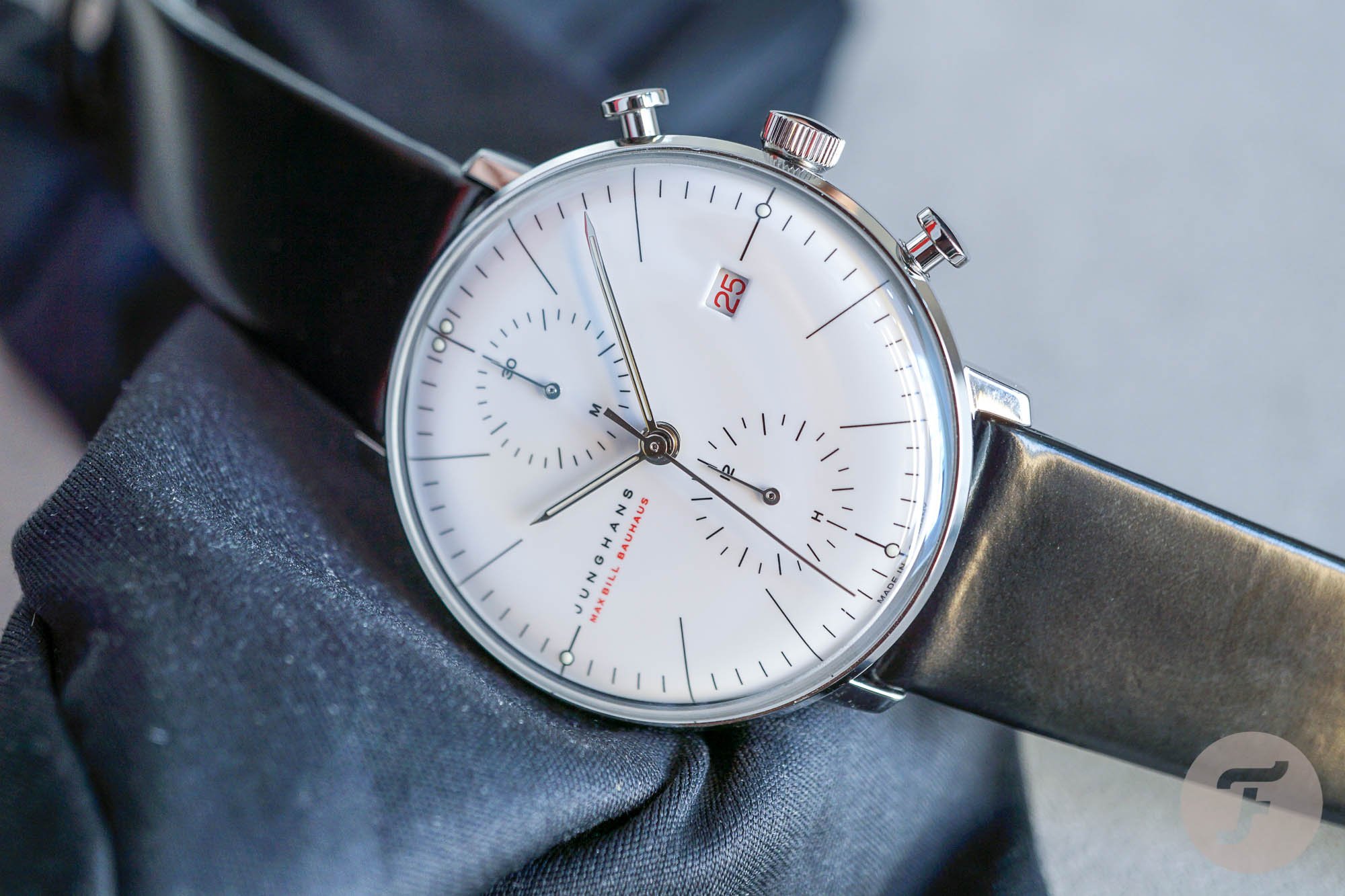 Max Bill — Junghans Max Bill
Of course, the Junghans Max Bill collection was always going to be the number 1 on this list. There is no better example of integrating a non-watch-originated design style into the world of watches. The Bauhaus movement had a huge influence on the stylistic developments in art, architecture, graphic design, interior design, industrial design, and typography from the 1920s on. The Bauhaus style focuses on combining aesthetics and everyday function — perfect for watches. To do so, Bauhaus designers would use simple geometric shapes like rectangles and spheres. The use of color was simple and used to emphasize the shapes of a design.
While Max Bill is often credited as a Bauhaus designer, he actually studied at the Bauhaus School of Design for just two years. From 1927 to 1929, he studied at Bauhaus in Dessau, the second of the three school locations. In his work that came after, he was not so much extending the world of Bauhaus by introducing new designs but rather re-interpreting the Bauhaus principles taught to him. Bill liked creating works based on mathematical and geometrical abstractions characterized by clarity of design and precise proportions.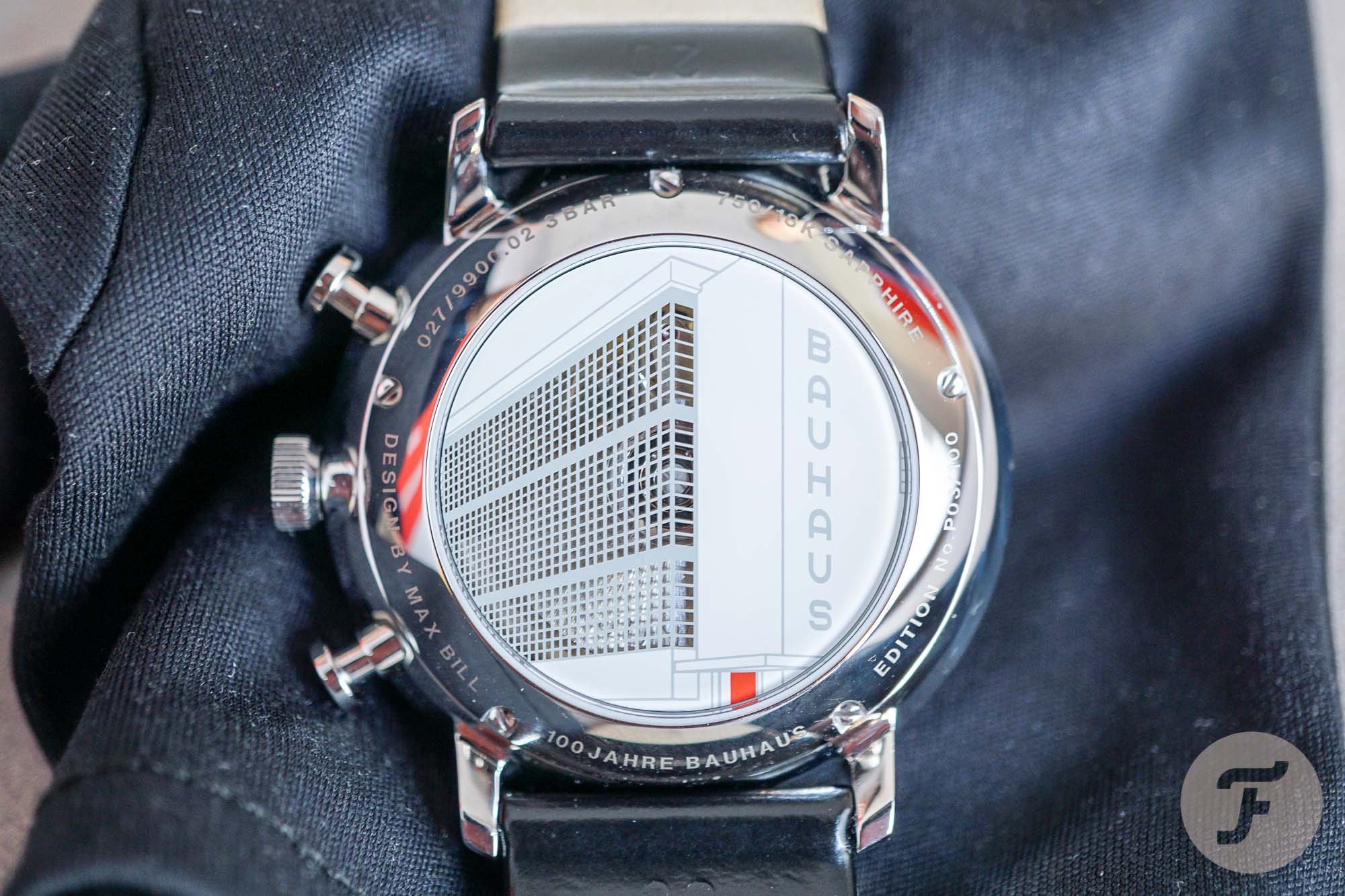 Form as part of function
Two aspects are perfectly represented in the work he did for Junghans. Nowadays, mostly refer to the Junghans Max Bill watches as the perfect manifestation of that style. But he started out designing a series of kitchen clocks for the brand, with the first one released in 1956. By that time, Bill had founded the Ulm School of Design along with Inge and Otl Aicher. Together with some of his students, he took up the task of designing these wall clocks. Do check those out as well because they haven't lost one bit of their impact. In 1961 Max Bill and Junghans introduced their first watch together. The Junghans Design 84/3963 is the first and the perfect example of how Bill's design style fits watches perfectly. Tomas wrote a great in-depth article about his vintage 84/3963.
But maybe even more impressive was his Junghans Chronoscope, as it combines modern minimalist design with a chronograph watch. Something that not many brands/designers have pulled off as effectively as Bill. As you can see in the pictures, the design looks simple, but it is very cleverly designed. The principles of clarity and proportion are evident and give the watch its main targeted feature: functionality. But with all their functional intentions, the Max Bill watches are charming, modernist, and the perfect style statement. Six decades after the first Junghans Max Bill watch was first released, the design hasn't lost any of its power.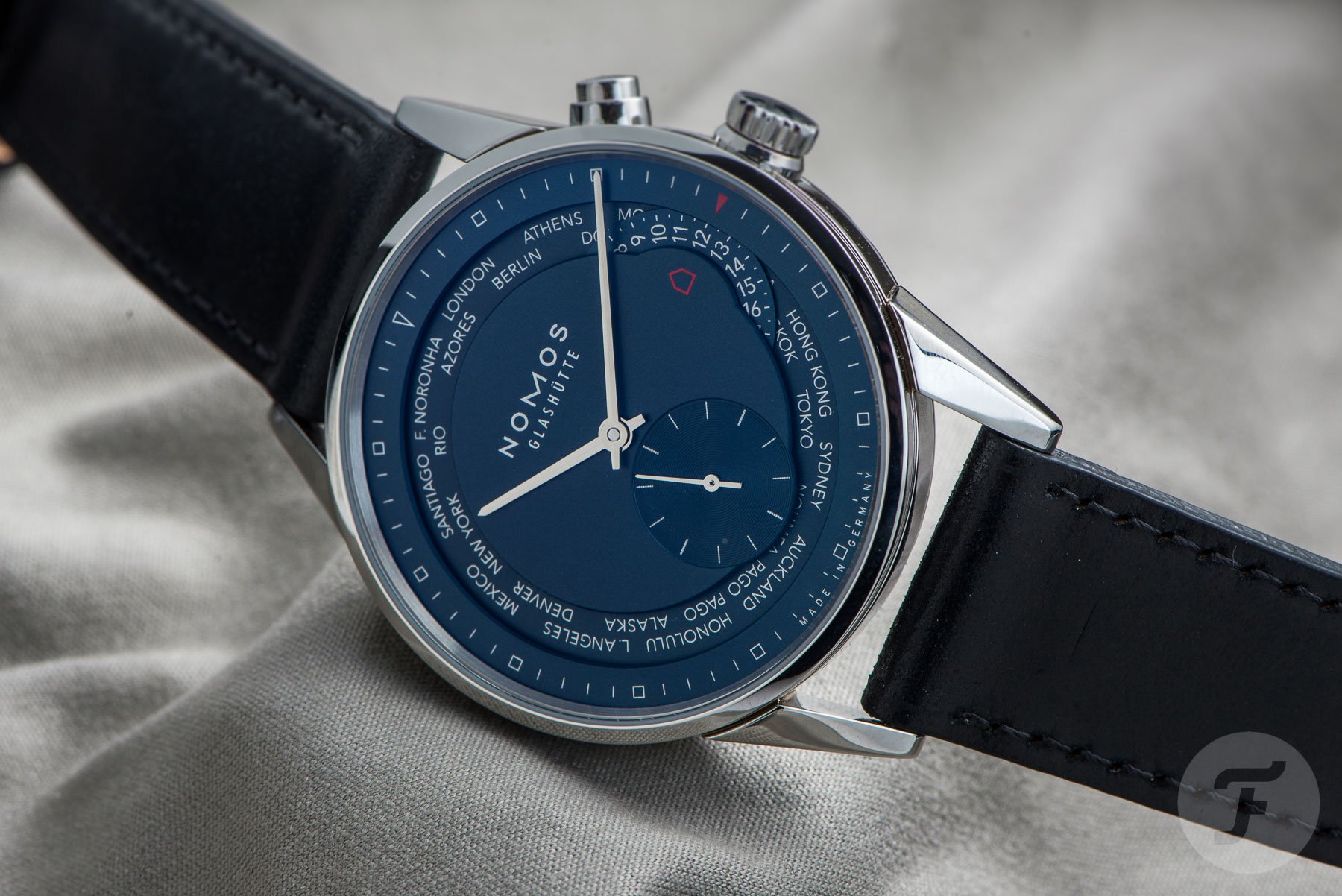 Hannes Wettstein — NOMOS Zürich World Time
From the Junghans Max Bill to NOMOS one must only take a small step. The brand from Glashütte in Germany is the brand that creates some of the best minimalist watches inspired by the Bauhaus principles of design. One of my favorite NOMOS releases and an all-around Fratello team favorite is the NOMOS Zürich World Time. But to truly appreciate that watch, we first have to take a step back and focus on the regular NOMOS Zürich Automatic. For the regular Zürich, NOMOS asked Swiss industrial designer Hannes Wettstein to develop a case design.
Wettstein was a self-taught designer who has created a great variety of designs. He always combined functionality with a great awareness of the latest stylistic development in the world around us. He became famous for designing the lightweight, stackable chair by the name of Juliette for Baleri Italia in 1987. But bis body of work holds a great variety of industrial designs ranging beyond furniture. Wettstein was a firm believer in functionality rather than decoration.  He designed his first watches for Zürich-based watch brand Ventura. Some of you will know that Ventura released an iconic watch in 1989 designed by Danish designer Flemming Bo Hansen. Wettstein was a big fan of the watch, and as a Zürich-native, it only made sense that he worked for Ventura. In 1996 Ventura released the Wettstein-designed series of V-Matic models with mechanical movements and revolutionary hardened titanium cases.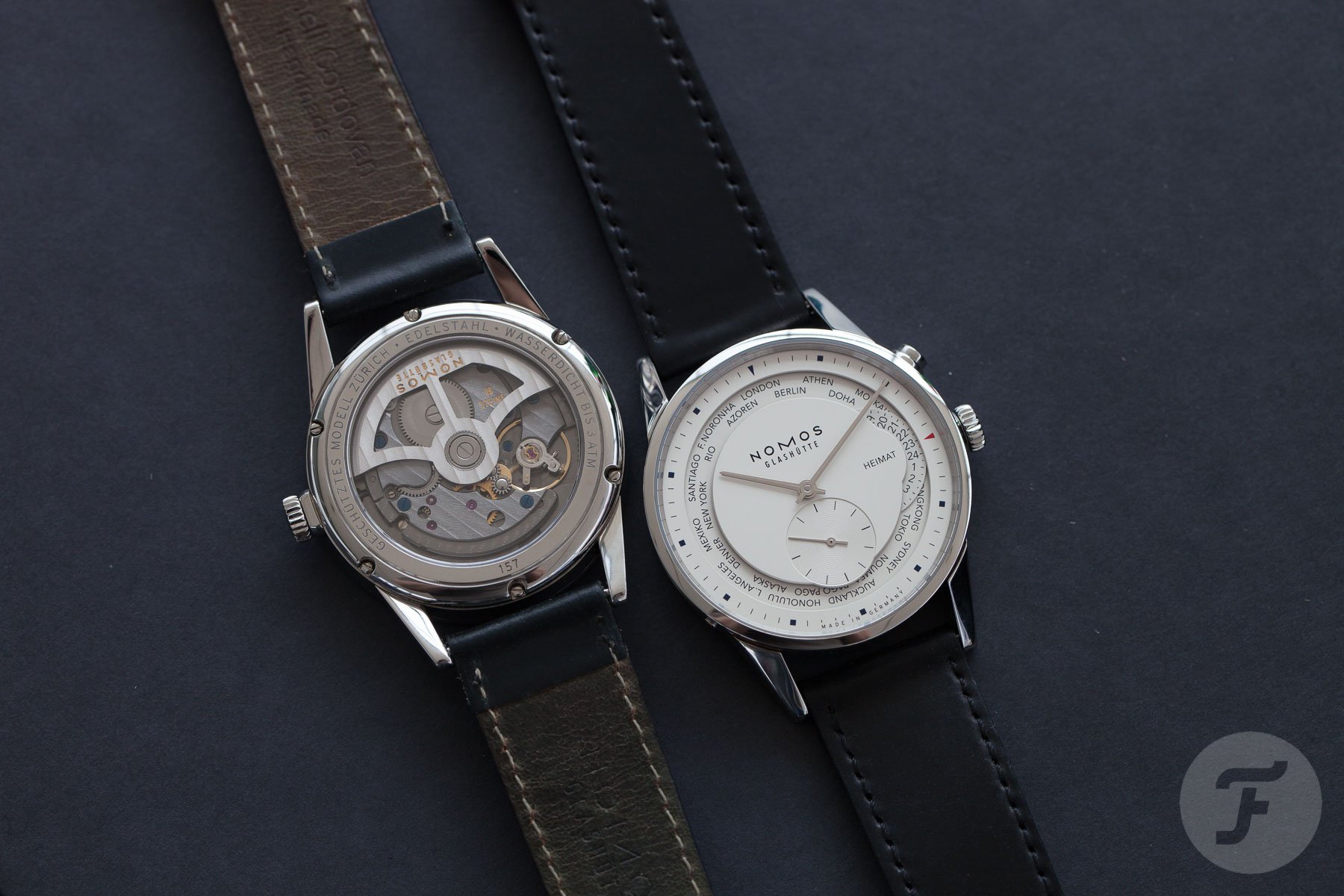 A design full of detail
Not long before he passed from a long fight against cancer in 2008, Wettstein and NOMOS worked on designing a case for the brand. Wettstein created a case that perfectly respected the NOMOS brand identity and combined it with his own intricate designs. The case shape looks simple and round at first glance. But if you look closer, you will see a small space between the lugs and the thin bezel. Additionally, the lugs might seem straight, but they curve inwards ever so slightly. Another great detail is the slightly tapered shape that marks the transition from the case to the crown. Overall a simple yet brilliant design.
The watch was named Zürich in honor of Wettstein and therefore is the perfect reminder of his legacy. The NOMOS Zürich World Time combines Wettstein's amazing case design in 40mm with NOMOS' brilliant world time complication. This complication shows the world time and 24-hour display that can be operated by the press of a button. The result is a great combination of great looks and the ultimate functionality. With the GMT function as my complication of choice and the way in which the brand executed it in this model, it's no surprise that this is by far my favorite NOMOS.
Nathan George Horwitt — Movado Museum Watch
What happens if you are an industrial designer and your most famous design is actually a watch? Does it make you an iconic watch designer? It's what happened to American designer Nathan George Horwitt. Russian-born Horwitt moved to the United States with his parents when he was just a child, just after the turn of the 20th century. After his studies, he made a career for himself in advertising rather than in design. But in the late 1920s, he founded The firm of Design Engineers in Manhattan. That's when he started his industrial design career. One of his most famous designs is the Beta chair that he designed in 1930m and is part of the permanent collection of the Brooklyn Museum.
In 1946 he designed a watch with a simple black dial without numbers, hour markers, or logo. The only thing present on the dial was a single dot at 12 o'clock. Horwitt explained that the dot was there to symbolize the sun at high noon. This referred back to the ancient sundials that indicated time. For all his designs, Horwitt was inspired by the minimalism of the Bauhaus movement. A year after he unveiled the watch, Vacheron Constantin adopted the design for a watch dial in 1947. The company, Vacheron & Constantin-Le Coultre Watches, Inc., produced the 33mm watch with a white gold case and a black enamel dial.
Unauthorized Movado releases
But it was soon followed by Movado, who released their version of the watch in 1948.  At the time, the watch was not known as the Museum Watch, though. That came in 1959 when the Museum of Modern Art in New York selected the first model to be part of their permanent collection. And then the rest is history, you would think. But that's not the end of it. It's commonly known that Horwitt was not happy with Movado's choice to copy the original design. But Horwitt didn't get the patent for his design until 1958, so technical they did nothing wrong. But the brand actually bought the rights in 1975 from Horwitt for a ridiculous sum of $29,000. Movado created numerous versions of the watch, and it soon became the brand's biggest icon.
Some versions that Movado made in the 1970s are sought after by collectors because they are powered by Zenith movements (see pictured). As Movado and Zenith were part of the same company, they often shared movements. Mike wrote an article about the Movado Museum Watch as part of his series Wrist Game, Crying Shame. I actually really loved the Movado Museum Sport Edition in 39mm from the mid-nineties. First off because it brought the original Museum Watch to modern times, and secondly, tennis player Pete Sampras was the brand ambassador for that specific watch, and I loved watching him play. Today you can buy various Museum Watches from Movado that prove that the initial idea is still as strong and iconic as it was seven decades ago.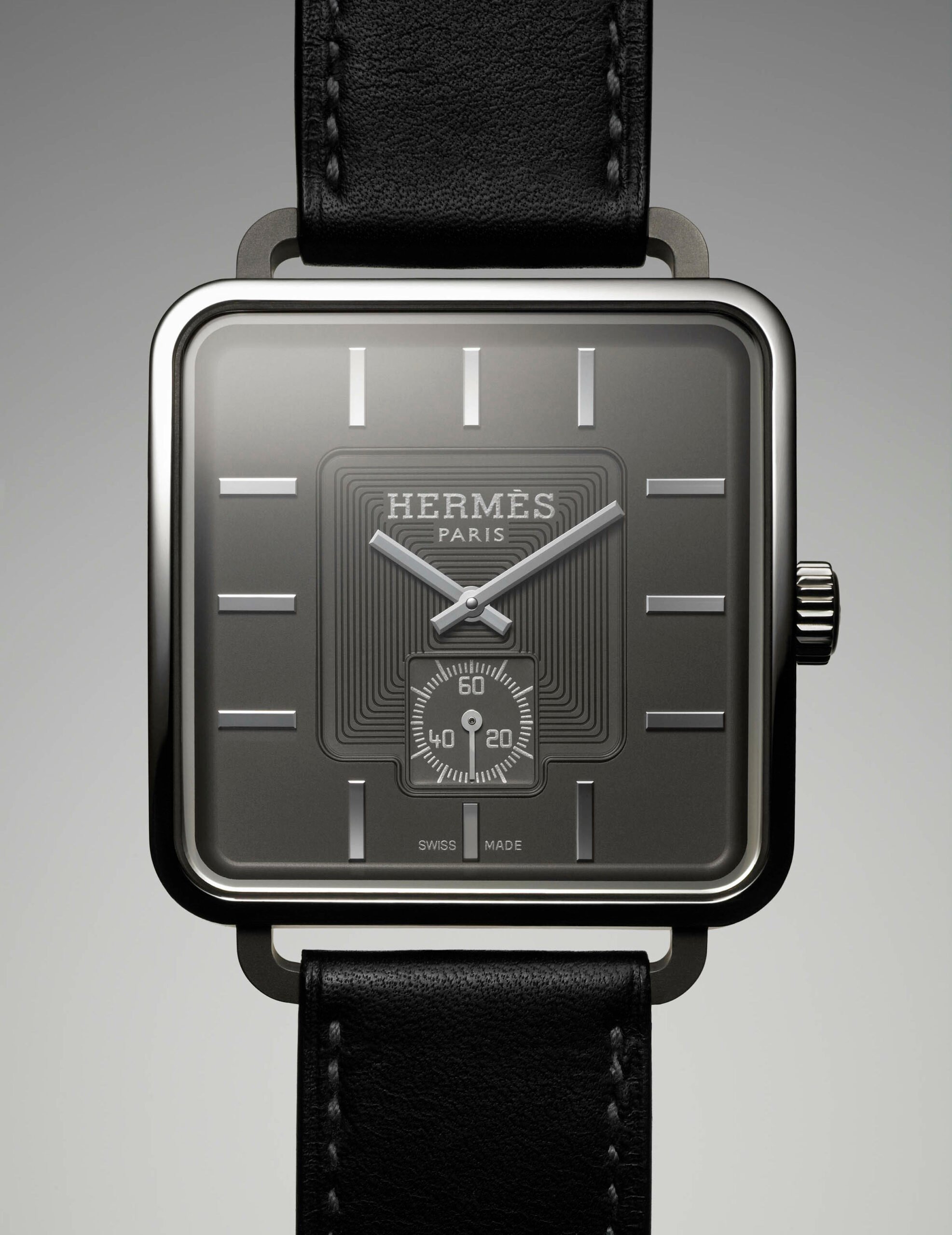 Marc Berthier — Hermès Carré H
Hermès is one of those brands that I follow closely for their remarkable designs. Often they ask renowned designers to create new watch designs, and the results are often remarkable. My favorite Hermès line of watches from recent years is, without a doubt, their The Arceau L'heure de la Lune series. First introduced in 2019 and continued in 2020, it showed that Hermès could create a fresh take on a traditional moonphase complication. Another great example is the Dressage L'Heure Masquée from 2011. They are perfect examples of how Hermès can push the boundaries in design and create new takes on traditional watch complications.
In 2006, however, the brand's CEO Jean-Louis Dumas asked French architect Marc Berthier to design a watch for the traveling stylish gentleman, or dandy if you will. Berthier is a famous French architect and designer whose body of works stretches across five decades. He was in charge of the architecture for the famous Galeries Lafayette in Paris, designed furniture with famous brands like Magis from Italy, and created a rubber-wrapped Tykho Radio for the French brand Lexon. When asked about his craft in an interview with Surface Magazine, he answered that he went from being an architect to a designer. But as a result of this switch, architects consider him a poet because of his design-based thinking. But when he is amongst designers, he is still considered an architect. This diversity has led to great results with the Hermès Carré H as a prime example.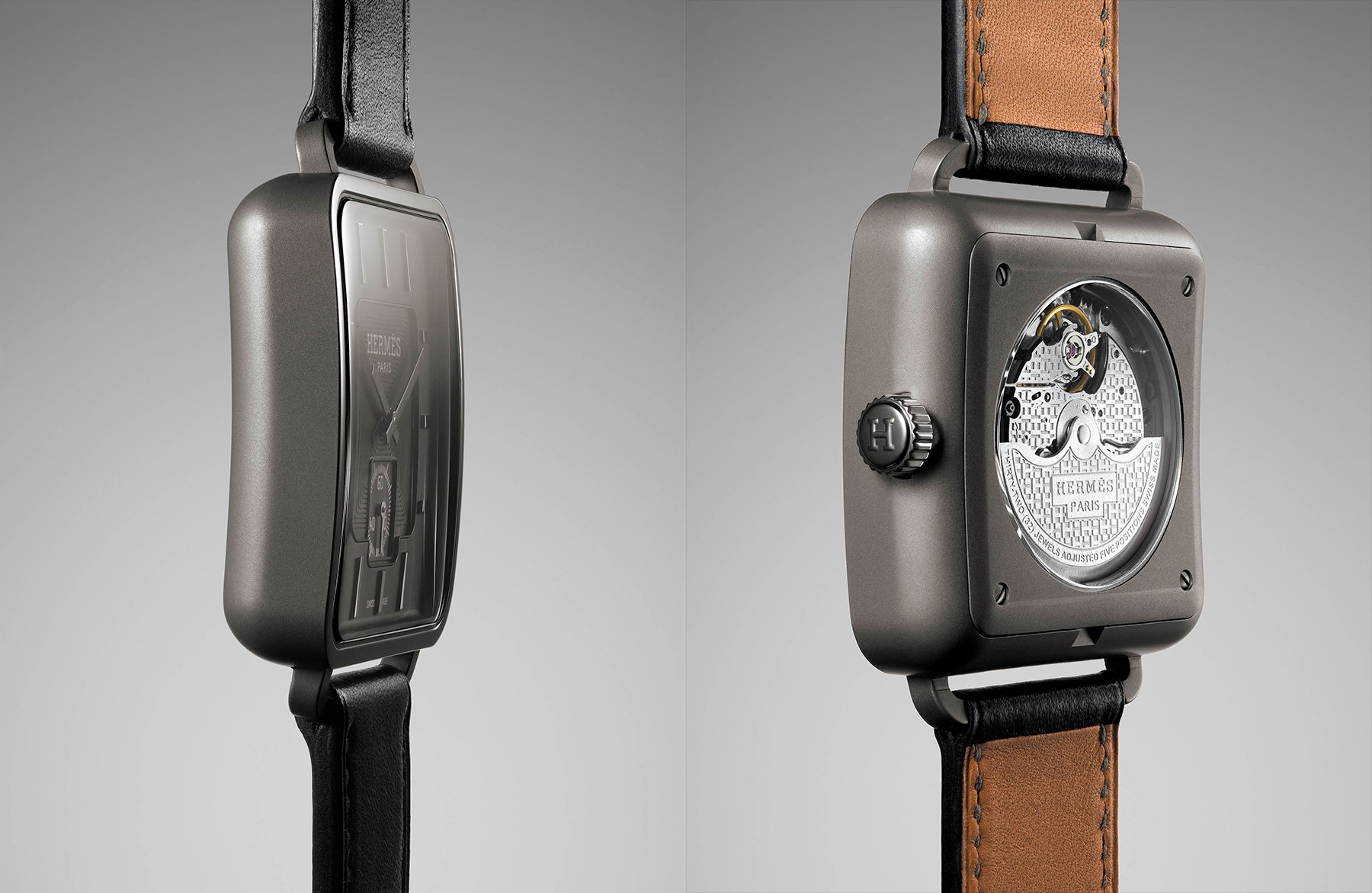 The first take
First designed in 2006, it wasn't until 2010 that the Hermès Carré H was actually released. The remarkable thing about the watch is that it has many intricate details that give a new take on the first impressions you might have. The watch is a square 36,5mm watch — hence the name Carré (French for square) — that has rounded corners. It results in an elegant domed shape with a curved sapphire crystal. Additionally, the dial also slopes downwards. It's something we do not often see with square watches. The case is made from lightweight titanium, and combined with the curved case back; it makes it very easy to wear.
The watch's dial looks very simple, but once again, don't your eyes deceive you. While the overall design almost reads like an architect's floor plan, the ingenious placement of the hour markers creates symmetry while at the same time being functional. Inside the case, you will find the Girard-Perregaux GP3200 automatic caliber finished in typical Hermès fashion with a pattern made out of Hermès H's. In all its simplicity, this design is an absolute stunner. In 2018 Berthier and Hermès released an updated version of the Carré H that is less conceptual and less spectacular. Personally, I'd rather have the original version and reach for the upper levels of dandyism.
Marc Newson —  Ikepod Hemipode
The last watch on this list is a personal favorite of mine. The Ikepod Hemipode is high on my wish list because of its brilliant design. As most of you will know, Ikepod was the brainchild of Australian designer Marc Newson and his business partner Oliver Ike. The two started Ikepod in 1994 with Newson as the creative mastermind. He made a name for himself with furniture and interior design. The most famous is, without a doubt, the Lockheed Lounge chair that became a design icon and is heavily sought-after.
But Newson was not a stranger to watches. He actually studied jewelry and sculpture at the Sydney College of the Arts. At age 23, he designed his first watch called the Pod. In his work, Newson always searches for flowing shapes and symmetry. And that's also what he tried to incorporate in his design for Ikepod. Released in 1998, the most famous watch he designed was, without a doubt, the Hemipode. I could have opted to add the Ikepod Horizon to the list as it's a far more conceptual and design-focused watch. But it's interesting to see how Newson coped with the challenge of creating a regular watch while still incorporating his design philosophy.
Trouble finding symmetry
The design of the Hemipode reflects Newson's overall vision of product design. It is centered around simplicity and seamless, fluid, and organic shapes. The round curvy case, the symmetrical design of the dial, and the integrated strap are typical of Newson's design beliefs. Its monocoque design can be opened from the front and features an off-center display case back on the rear that reveals the movement. Newson also perfected the silicone strap he'd introduced on the Ikepod Seaslug because he wanted people to enjoy wearing the 44-mm watch.
The Hemipode is powered by the caliber LJP 8206, a modified version of the Valjoux 7750. Instead of using the movement as the heart of the watch and building the case around it, Newson modified the movement to fit the symmetrical design he was aiming for. He removed the day of the week indicator and replaced it with a date dial to achieve this. Newson further modified the movement by removing the 12-hour counter from the chronograph and replacing it with a 24-hour GMT hand. This resulted in perfect symmetry on the watch dial, bringing Newson's watch vision alive. Newson's persistence led to amazing results with the Hemipode. But it also came with the side note that the Hemipodes are notoriously tricky to service, and replacement parts are extremely difficult to find. If you are willing to take a chance, you will enjoy a brilliantly designed watch.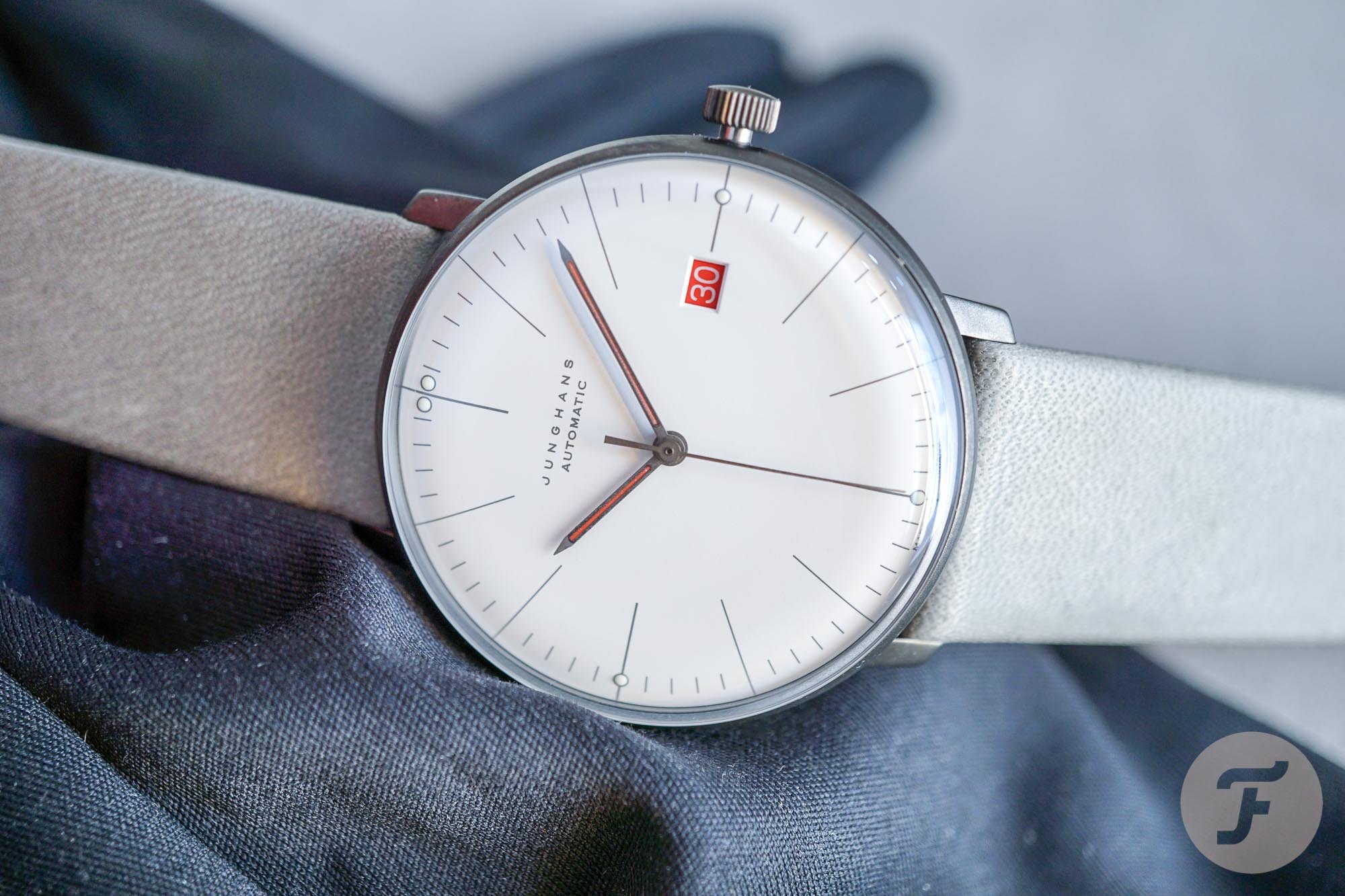 Final thoughts
If there is anything that stands out after discussing these five examples of watches designed by industry outsiders, it's that the functionalities of a watch always need to be at the center of your design. As soon as your start playing around with the basic functions and standard layout to achieve your design goal, the mountain a designer must climb will become increasingly higher and higher. Just take Newson's persistence in creating symmetry. The symmetry wasn't part of the Valjoux 7750. It got him into a world of trouble realizing his design vision.
Additionally, the fundamentals of modern minimalist design will greatly help create a watch that perfectly combines aesthetics and functionality. It's no surprise that three of the five watches on this list are inspired by the Bauhaus movement. Granted, I could have chosen many different designs. But these are some of the best and most iconic because they work. They show that integrating a concept into the classical constraints watch design is not only a necessity but can also lead to some amazing results without being too conceptual or too far removed from what is considered the norm. As such, these watches have pushed boundaries to become part of the norm.
What do you think of these particular watches? Are there any others that should have made my list? Make sure to let us know in the comments below.