Introducing: The New Grand Seiko SBGX353 Skyflake
Now in a 34mm case and equipped with a 9F quartz caliber
Three years after the 2019 introduction of the original Skyflake (SBGA407), Grand Seiko has announced its spiritual successor. The new Grand Seiko SBGX353 Skyflake comes in a 34mm Elegance Collection case and is powered by the brand's 9F61 quartz movement. Stripped of its Spring Drive power-reserve indicator, the beautifully textured dial is allowed to truly shine in an uninterrupted and more balanced manner. This release will be welcomed by those who prefer smaller-cased watches, as well as by Grand Seiko fans who enjoy the brand's excellent, carefree, yet uncompromising quartz movements. Could this icy dial be the first sign that summer is coming to an end? As the colder seasons approach and temperatures begin to fall, the smaller, more elegant dress watch finds its prominence over sportier models.
Undeniable as it is that a 34mm case fits better under a shirt cuff than a 41mm case, the global trend towards smaller-sized watches is well underway. Grand Seiko as a brand is no stranger to the smaller or "classically sized" watch. Now we see the brand reintroduce fan-favorite dials in smaller-cased watches. It's a very clever move, which also carries across to its most popular cases. Recently, we saw the new 36.5mm 44GS case introduced for the 55th-anniversary SBGW289. However, this latest release is all about the dial, inspired by the blue tone of the sky reflected in the snow as it falls around the Shinshu Watch Studio.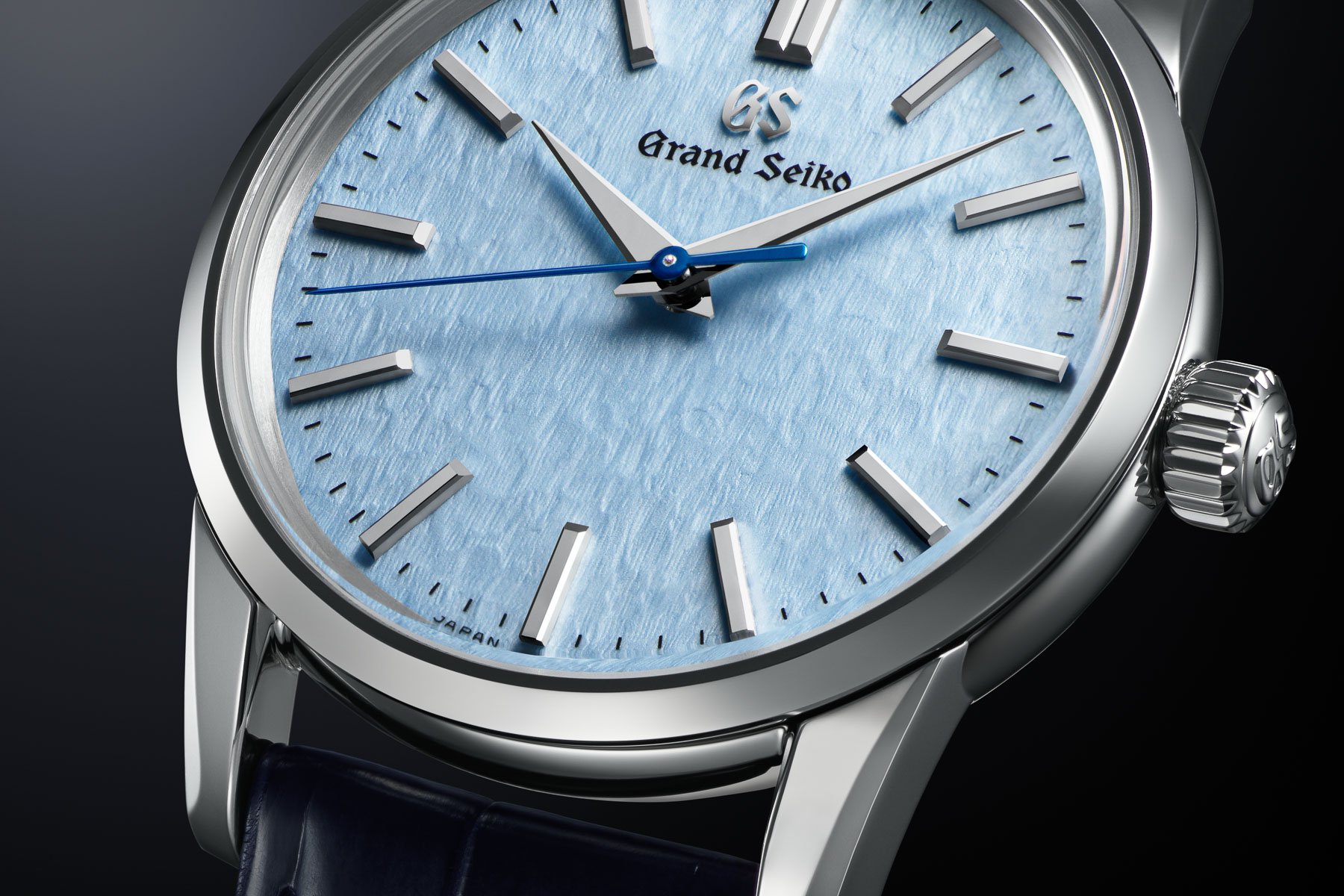 The new Grand Seiko SBGX353 Skyflake
"Honey, I've shrunk the Skyflake!" This is what at least a couple of designers at Grand Seiko in Japan may have told their wives after returning home from a long day at the office. Seriously, though, a shift from 41mm to 34mm is no small thing. But with the larger size covered by the 41mm model, this 34mm addition is a welcome expansion to the catalog. But that's not all that's changed on the new SBGX353. If you look closely, you'll notice that, as opposed to its bigger, older brother, the new Skyflake also has no date and a totally different movement. Symmetry lovers rejoice! Due to the new Skyflake's quartz diet, it has also slimmed down by a not-insignificant 1.1mm. This means that you'll not only enjoy a smaller case with the same beautiful dial, but you'll also have a slimmer and more symmetrical watch.
Maybe it's just me, but I have a real chip on my shoulder about power-reserve indicators on Grand Seiko dials. I just feel that a brand that makes some of the most incredible textured dials out there shouldn't waste a millimeter of dial real estate on a power-reserve indicator, especially when it could be placed conveniently on the back of the watch. It seems that Grand Seiko sees things my way too. Recently, we've seen more and more clean dials from the brand, and I, for one, really appreciate it. In particular, I appreciate that Grand Seiko offers them in addition to the previously released models, not in their stead. The quartz movement inside the new SBGX353 is Grand Seiko's 9F61. This means that the watch will deviate by an average of ±10 seconds per year.
The presence of a non-mechanical movement also translates to a more affordable price point. If you ask me, that's a win-win!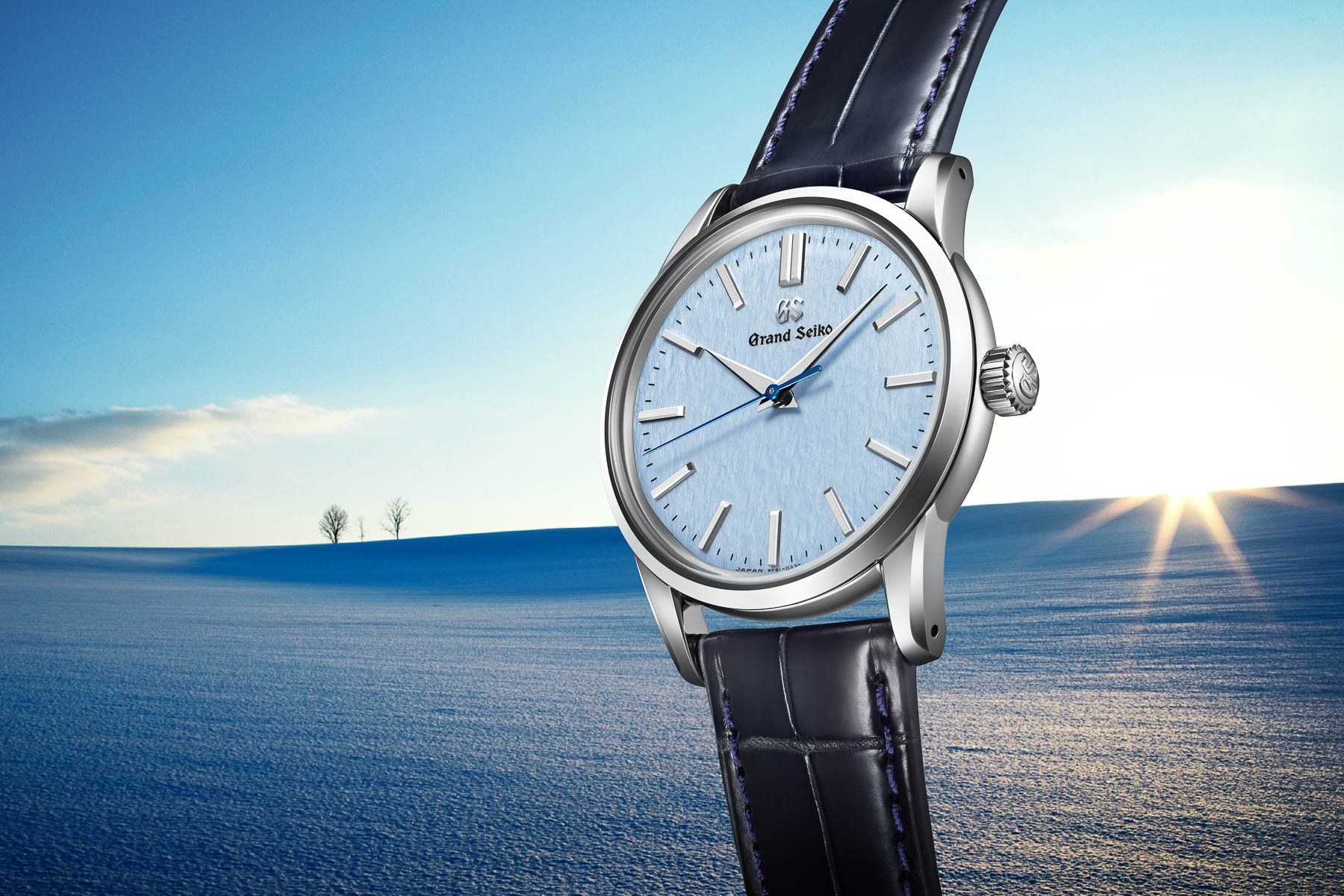 Final thoughts
Sure, quartz is not for everyone. But in my book, Grand Seiko is one of the brands whose quartz movements get more than just a pass. This is because the brand doesn't just throw in any old quartz caliber. Instead, Grand Seiko takes pride in its battery-powered movements, finishing them to the same high degree as their mechanical counterparts. The SBGX353 also features diamond-cut markers with a unique double-marker at 12 o'clock. It's water-resistant to 30 meters and features both a screw-down case back and an AR-coated sapphire crystal. This means that it's as durable as it is lovely.
This new Skyflake can be yours for a very reasonable €3,900. It will be available in December 2022 through Grand Seiko boutiques and authorized retailers worldwide. For more information, please visit the Grand Seiko website.