Introducing: The New Hamilton Khaki Field Expedition
From fields to mountains and anywhere the path less traveled may take you
Long has the Hamilton Khaki Field Mechanical reigned supreme as the go-to understated, affordable, and classically styled field watch. The line has seen iterations in many different forms, from automatic to quartz models, titanium cases, chronographs, day-dates, and many other options. There are a total of around 64 references in the Khaki Field lineup. Now, the brand introduces the latest addition to its signature collection — the Hamilton Khaki Field Expedition. Available in both 37mm and 41mm sizes and three different dial colors, the Expedition brings added functionality never previously available in the Khaki Field line. Additionally, a few aesthetic changes have been implemented to both the dial and case. In looking to offer an adventurer's watch, Hamilton selected its most versatile flagship. The idea was to take the "rugged and reliable" concept of the Khaki Field line and incorporate an analog navigation tool.
Though most modern explorers and even us humble hikers will be equipped with navigation in the form of our smartphone's GPS connectivity (or even a standalone GPS device), a non-battery-powered backup is always a good idea. It's similar to wearing a mechanical watch while scuba diving or a chronograph while driving laps on a track. You don't exactly need it, but it's a nice feeling to have the option available. Plus, should push come to shove, it's always best to be able to find your way home. And something as simple as a compass bezel, paired with some basic navigational skills, could (in an extreme scenario) spell the difference between life and death. But before I give you a brief lesson in using a compass bezel, let's take a look at the new Hamilton Khaki Field Expedition.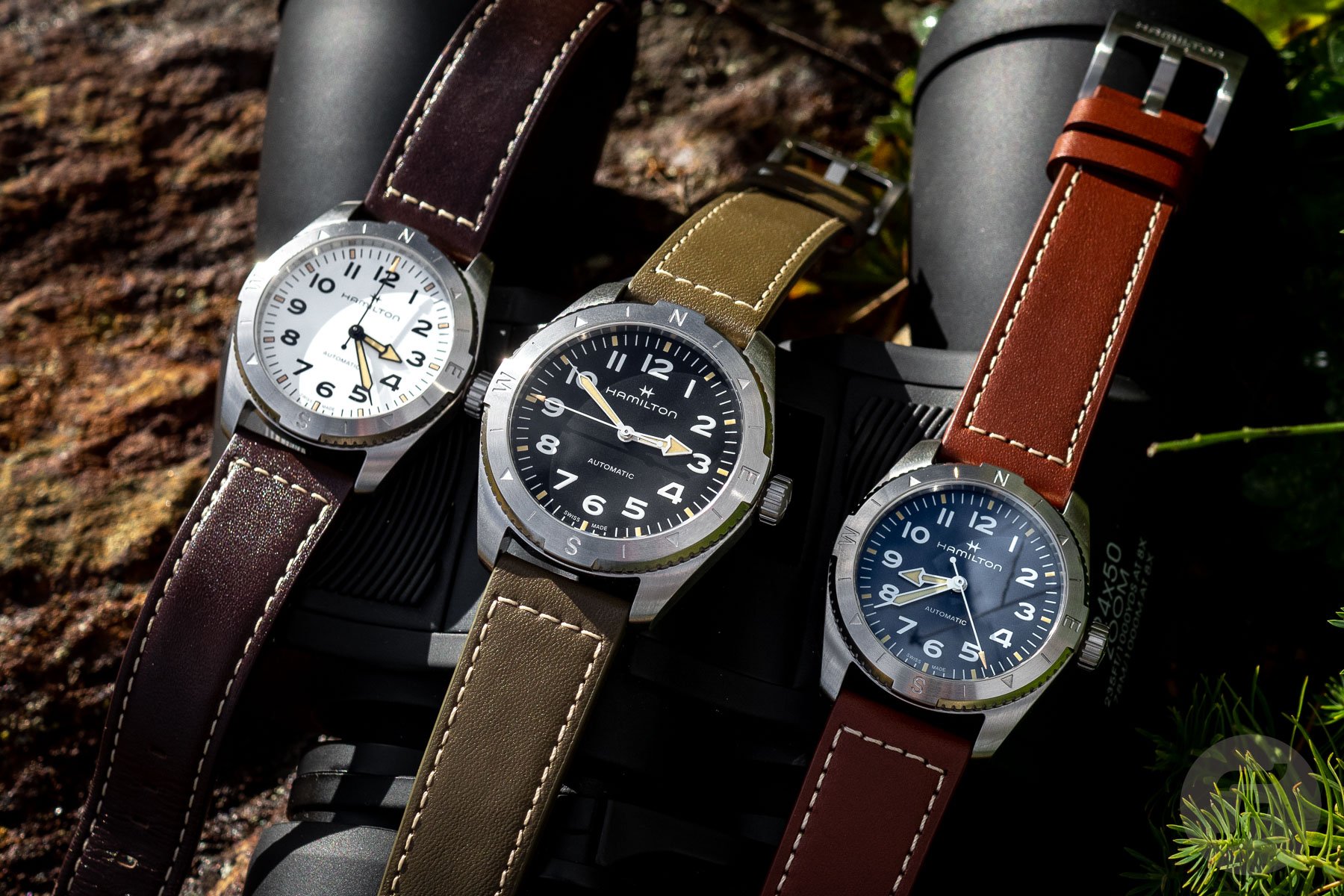 Hamilton Khaki Field Expedition
Starting with the specs, the new Hamilton Khaki Field Expedition models come in 37mm and 41mm case sizes, both of which have a 20mm lug spacing. These are 10.45mm and 11.5mm thick, respectively. Both sizes feature three dial color options — black, blue, and white. All three colorways have the same beige color for the lume markers, hands, and on the seconds hand's tip.
The hands and numerals are white on the dark dials and black on the white-dialed model. Instead of a traditional syringe hand, Hamilton opts for a new arrow hour hand, likely for ease of use with the watch's navigation function. These watches also do away with the distinctive 13–24 hour markings synonymous with the Khaki Field line. However, their absence provides better legibility and a less cluttered dial. A newly implemented AR-coated sapphire crystal adds to the legibility.
The fully brushed stainless steel case has also been completely redrawn for these new models. They do away with the curvier lines of the Khaki Field Mechanical and Automatic and opt for a more squared-off profile. An all-steel bidirectional bezel features the four cardinal points of the compass on protruding tabs with grippy, downward-sloping knurling between them.
The signed crown also has a new look, matching the chunkier feel of the case and bezel. It screws down into the case, as does the transparent case back, allowing a 100m water resistance rating. Inside, the reliable Hamilton H-10 automatic caliber boasts 80 hours of power reserve, and its Nivachron hairspring provides added antimagnetism.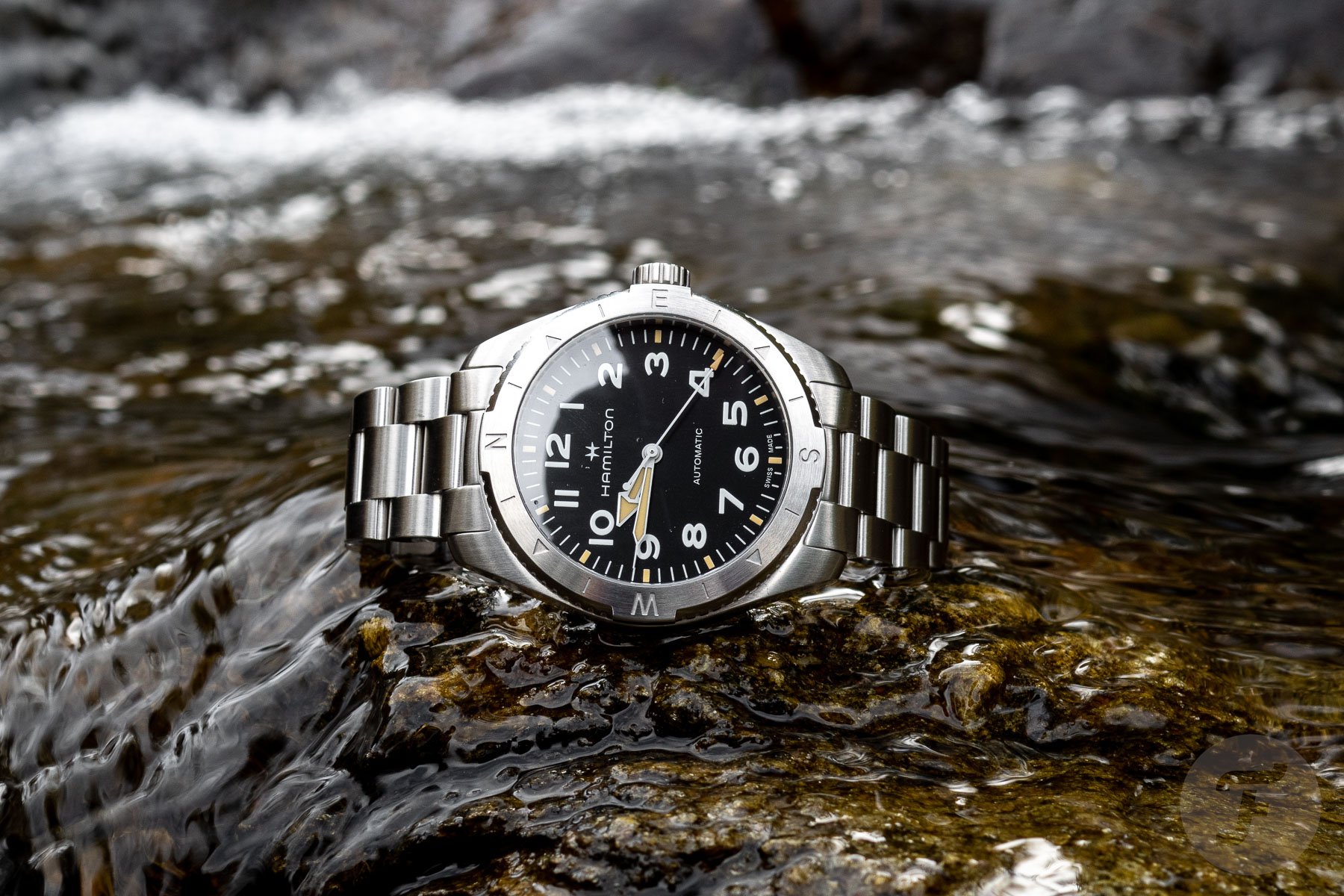 Compass bezel navigation for dummies
So, you have a watch with a compass bezel. Maybe it's one of the new Hamilton Khaki Field Expedition models (good choice!). But how do you use the thing to get yourself out of a pinch? Okay, you've left the comfort of your carpeted, artificially lit, elevator-access office building. You're feeling adventurous. No more contributing to the permanent imprint in your office chair. It's time to get out into nature. You kit up and set out (admittedly, you're in way over your head). Look at you! You're the spitting image of Caspar David Friedrich's Wanderer above the Sea of Fog. But, of course, you take a wrong turn and get lost. Did you pack a solar charger for your phone? A GPS unit? Sat phone? No? Well, your smartphone is dead, and your nonexistent sense of direction is sure not getting you home.
But don't worry; not all hope is lost, remember? You're wearing your Hamilton Khaki Field Expedition!
But how exactly do you use the compass bezel to navigate? It's simple. If you're in the Northern Hemisphere and not in a low-altitude area South of the Tropic of Cancer (if you don't know what that means, don't worry; you're probably good), all you have to do is the following:
Keeping the dial level with the floor, point the hour hand toward the Sun. If it's a cloudy day, you might as well make yourself comfortable, think of your loved ones, and wait for dehydration or, I don't know…grizzlies? Next, turn the bezel to set the South marker to the halfway point between the hour hand (still pointing in the Sun's direction) and the 12 o'clock marker. The North marker will now be pointing you (roughly) in a northern direction. Now, get to walking!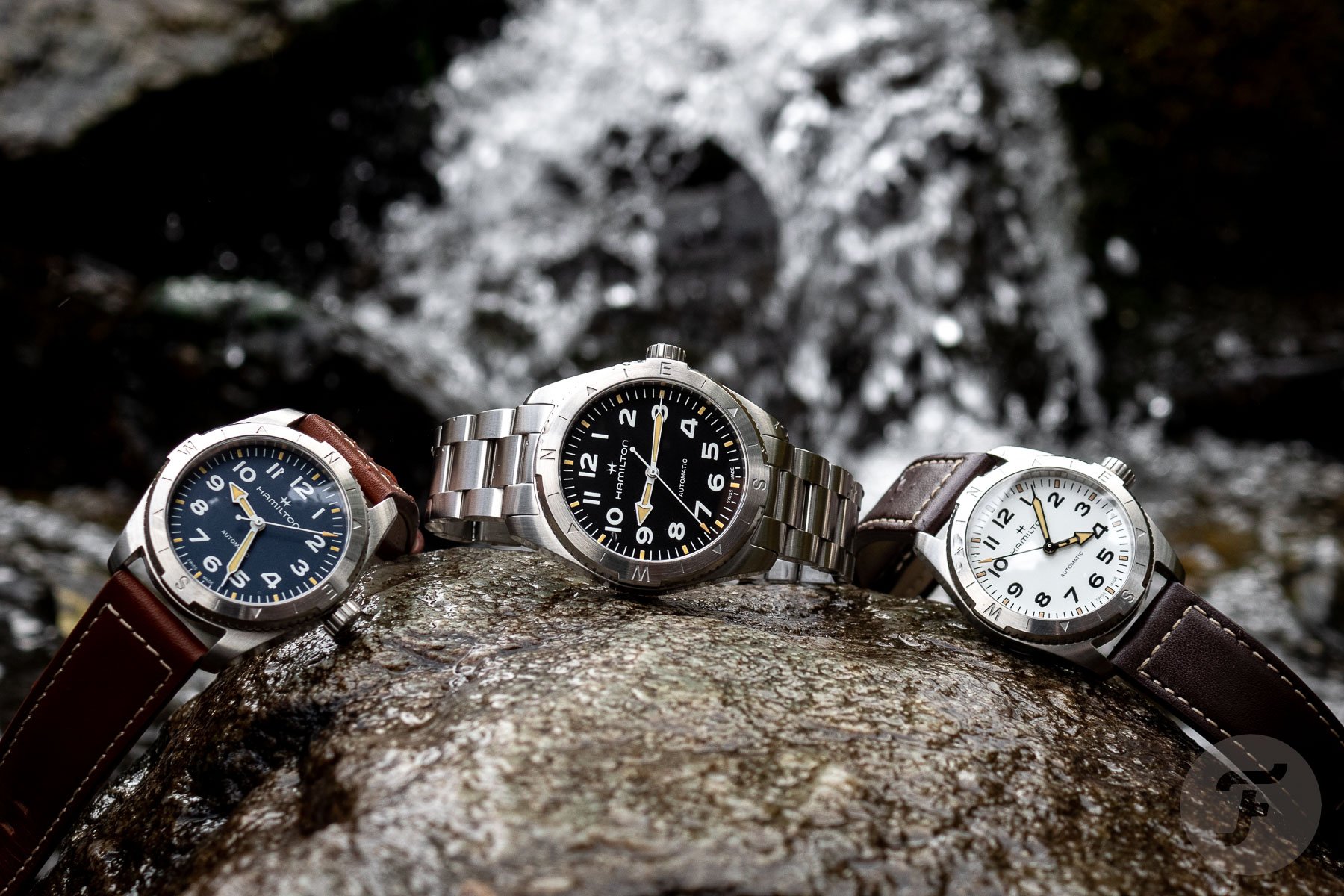 Final thoughts
Let's hope none of us find ourselves in that situation. But if you do, a compass bezel might be your ticket out. For now, it adds a great new look to the latest Hamilton watch. It's an absolutely solid release. With its fully brushed case, decent water resistance, matte dial, Super-LumiNova, and generous power reserve, the Khaki Field Expedition is certainly a great option for anyone looking for a capable Swiss tool watch. These will be made available on leather for €1,115 and on a three-row stainless steel bracelet with a foldover clasp for €1,195. Regardless of the case size, these prices remain the same.
The 37mm version with a black dial on a green leather strap would be my pick. Which would be yours? Let us know your thoughts on this latest Hamilton release in the comments below.
Special thanks to Kriss Turic for lending a hand with the photography for this article.
This is a preferred-position post. Learn more.