Introducing: The New Swatch Bioceramic WHAT IF? Collection
Taking us to a parallel horological universe
It is the start of the 1980s, and the executives of Swatch are deciding whether to launch their first watch in a square or round case. In a photo of Swatch's prototypes from 1981, we can make out a square option being considered. But in the end, they chose to focus on the more common round watch face designs. Swatch went on to have a massive influence on the history of Swiss watchmaking. But today, the brand looks back and considers the alternative. Today it introduces the Swatch bioceramic WHAT IF? collection.
Swatch has now released this new collection to riff off the design path that the watchmaker may have gone down if history had gone a different way. Even Swatch's video advertising of the WHAT IF? collection features a puzzled Swatch executive making the fateful decision to choose a rectangular watch instead of the original Swatch model. We are excited to introduce this new collection today and provide a first impression.
The Swatch Bioceramic WHAT IF? collection
The WHAT IF? is a square watch with a quartz movement in Swatch's bioceramic material used in the popular MoonSwatch series. The square watch measures 33mm by 33mm and comes in four different colored cases and straps: black, gray, green, and beige. All color iterations except the beige have pale dials, with the beige having a striking blue dial. Each dial design is also slightly different. One features slender and elegant Roman numerals—another only a double minute and second track. Then there's a classic one with simple bar markers, and the blue dial has a mix of both bold numerals and markers. Not a bad selection!
Let's first take a look at some of the features. The watches have color-matched straps. These have an integrated design and are made of Bioceramic, a first for Swatch. The watch's hands feature lume for nighttime readability. At 3 o'clock, you'll find a day-date calendar window. Each WHAT IF?'s battery cover features a dial from one of the four first 1983 Swatch watches created. Swatch says this is the watch brand paying tribute to the 40th anniversary of the original GENT watch.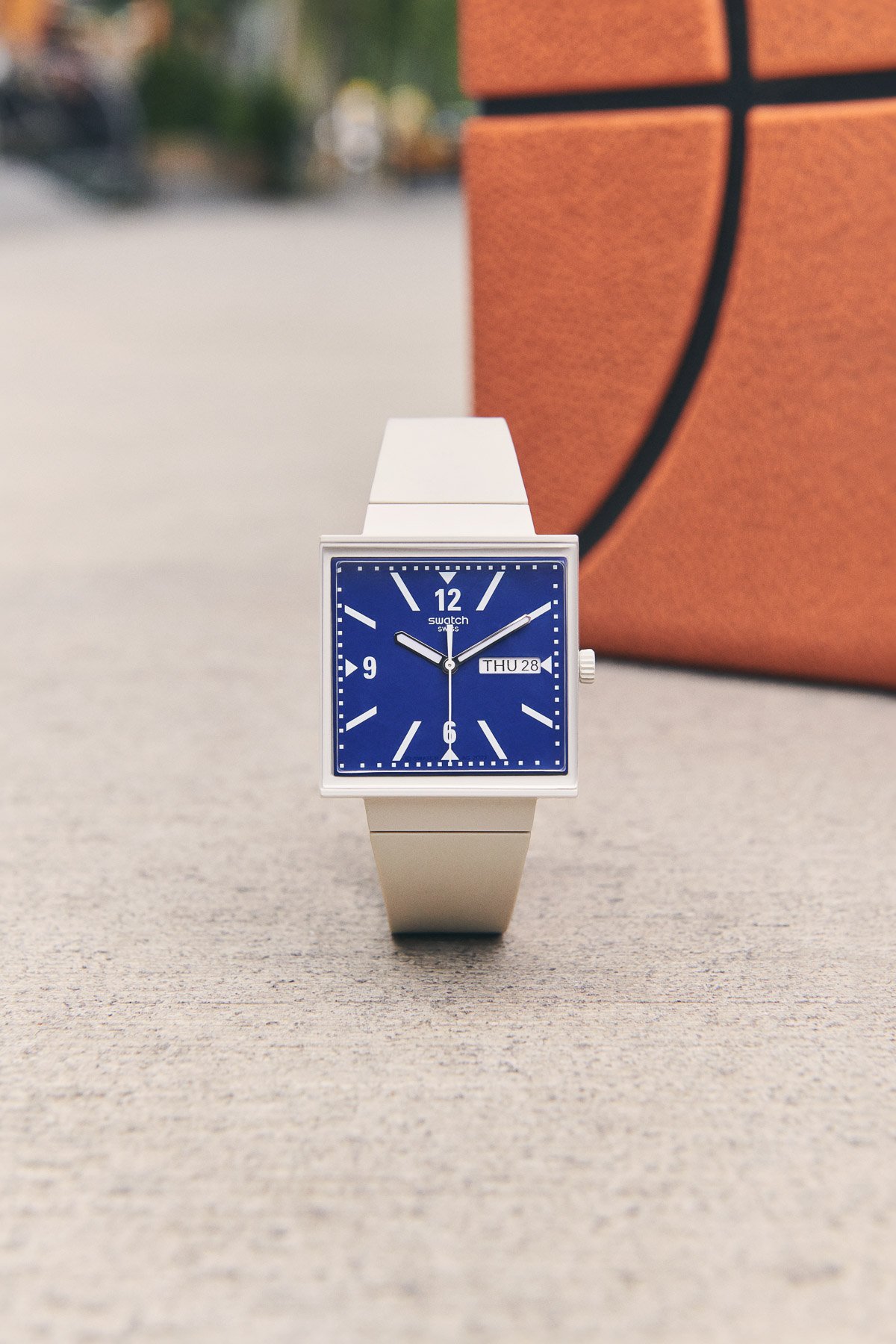 Fun and fearless?
Swatch says these watches: "dive headfirst into uncharted waters, break free from the norm, and embrace a life full of fun and zero regrets." With a 2-bar water-resistant rating, I would not recommend zero-regret swimming with this watch. What I would do, though, is wear it for the fun design, which is indeed quite striking. You know these are watches that will draw a second look.
Additionally, the day-date mechanism on the quartz movement is pretty useful, and the chic aesthetic of the watches would make them quite adaptive to different settings and contexts (as long as it doesn't involve watersports). Swatch is renowned for playful designs, with a long history of fun, funky, and some truly out-there watches. What I do find surprising in a sense is these watches are pretty traditional in some respects; the WHAT IF? watches, for example, remind me of the Nomos Glashutte Tetra series. And that is not a bad thing! The Tetra, in my honest opinion, is a fantastic (albeit underappreciated) watch.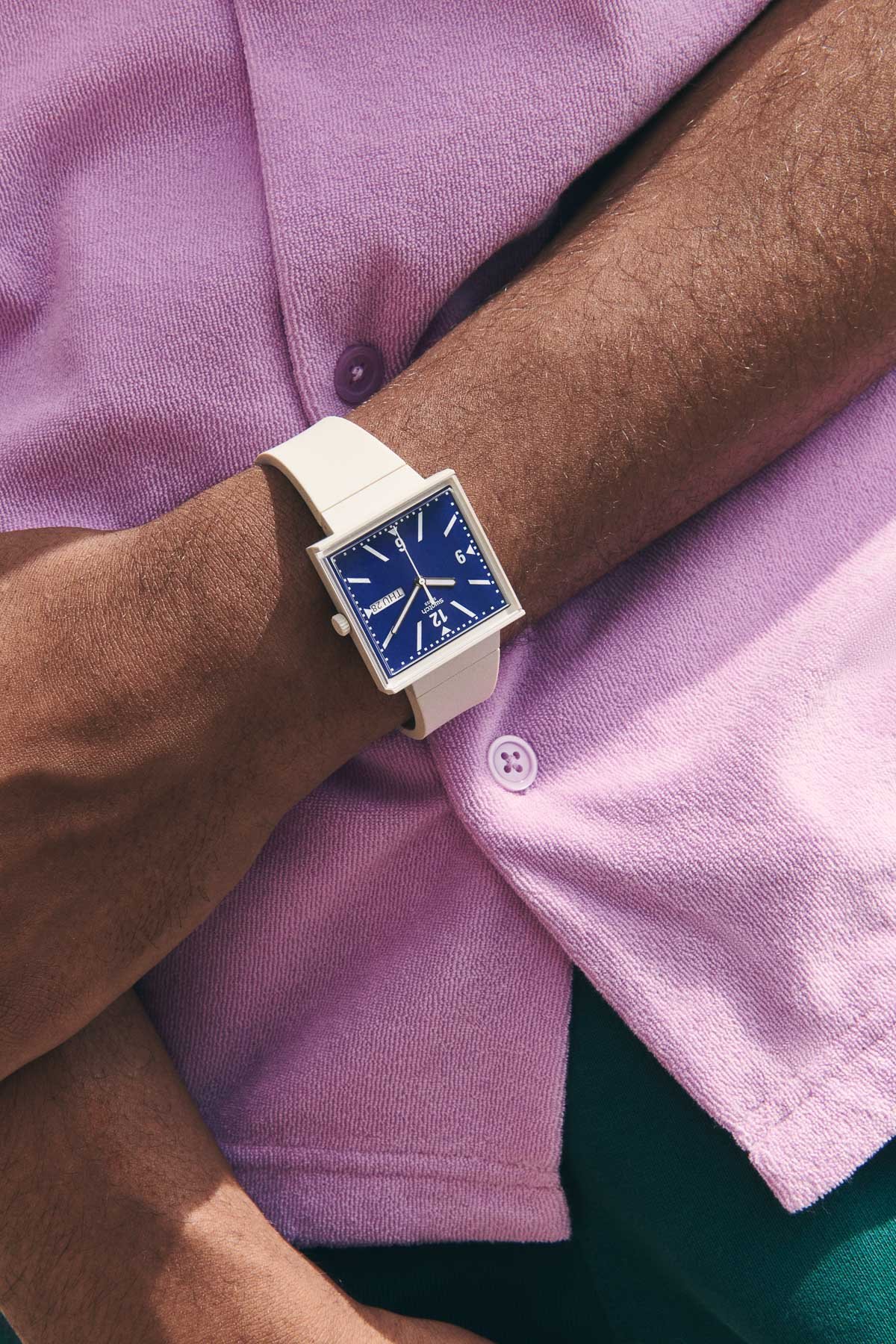 Final thoughts
It will be interesting to see how the public reacts to this new release from Swatch; somehow, I don't see it developing the same levels of hype as the MoonSwatch series. But I do personally prefer these designs to the MoonSwatch, because this somehow feels closer to the brand's original DNA. The pricing on these watches is €105. For more information, check out the Swatch website.
But what do you think of the new Swatch Bioceramic WHAT IF? collection? Would you say it's a smash hit in the making? Would you buy one for yourself?