Introducing: The New Urwerk UR-230 Eagle
The brand's latest avant-garde creation takes off with a new case design
Today, we'll take a look at a new release from one of the watch world's more intriguing brands, Urwerk. The new UR-230 Eagle brings a newly designed case that promises a very different tactile experience. Don't fear, though, it still won't be mistaken for anything but an Urwerk.
Unfortunately, it has been several years since I've been hands-on with an Urwerk watch, but I can still recall the last time. It was all the way back in 2020 at Geneva Watch Days, and I was enthralled with these incredibly unique watches that somehow worked on my slim wrist. Urwerk watches are never shrinking violets, but they're also not some sort of hot mess. They're technical-looking pieces and often remind me of animals, spaceships, or instruments. I dig them…a lot. So when news of the new UR-230 Eagle broke, I raised my hand and volunteered to cover it.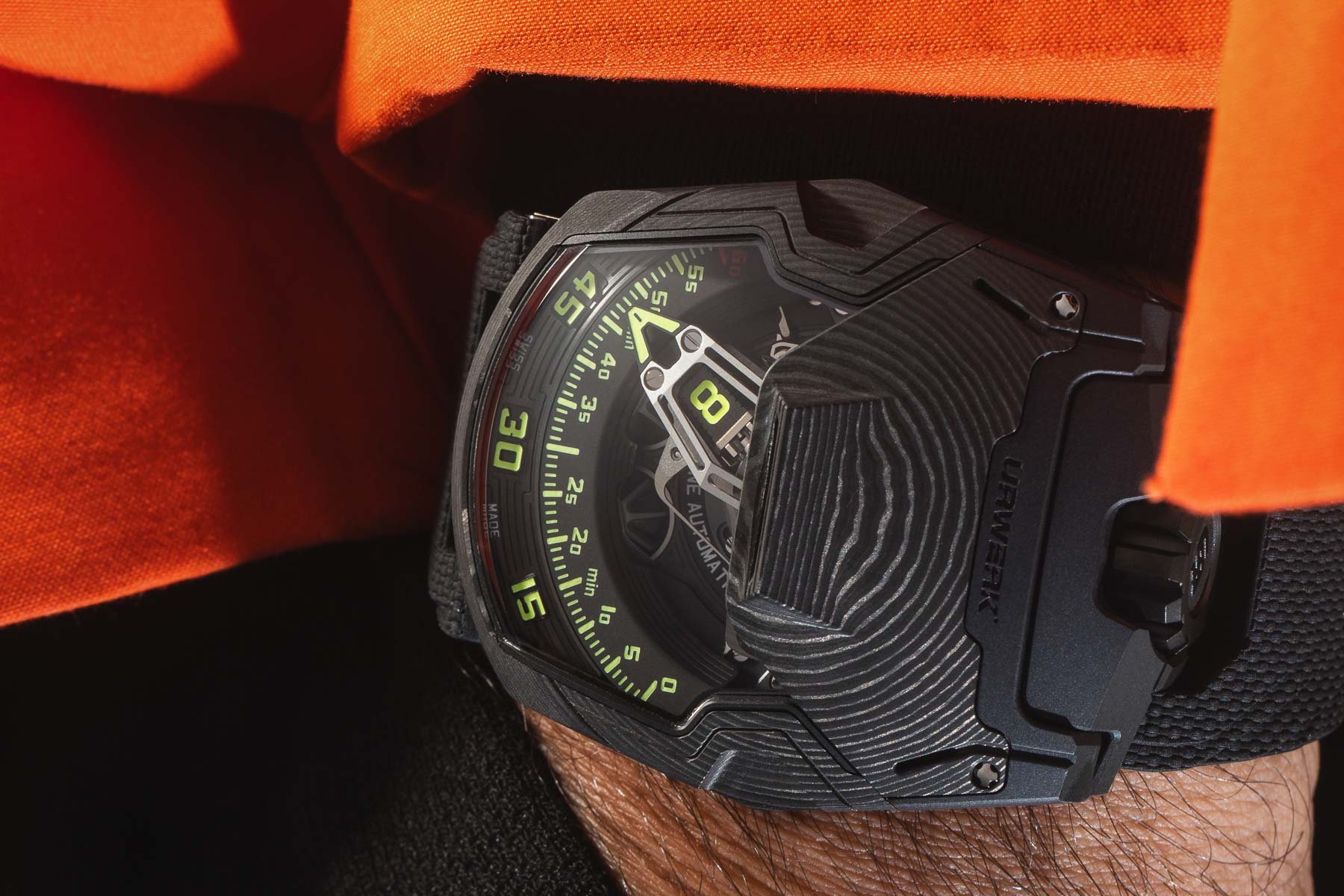 The Urwerk UR-230 Eagle
One look at the UR-230 Eagle makes it clear that this is an Urwerk creation. The brand's characteristic "trapeze-shaped" case is on display, yet it's somehow different. CTP (Carbon Thin Ply) is evident as the case material, but this time, it's also used on a pivoting cover that allows this watch to be called a half-hunter style. I suppose that's appropriate for an eagle! Importantly, the watch does look familiar, but Urwerk tells us that the case shape is revised, somewhat softened, and slimmer. It is meant to evoke the looks of a bird of prey.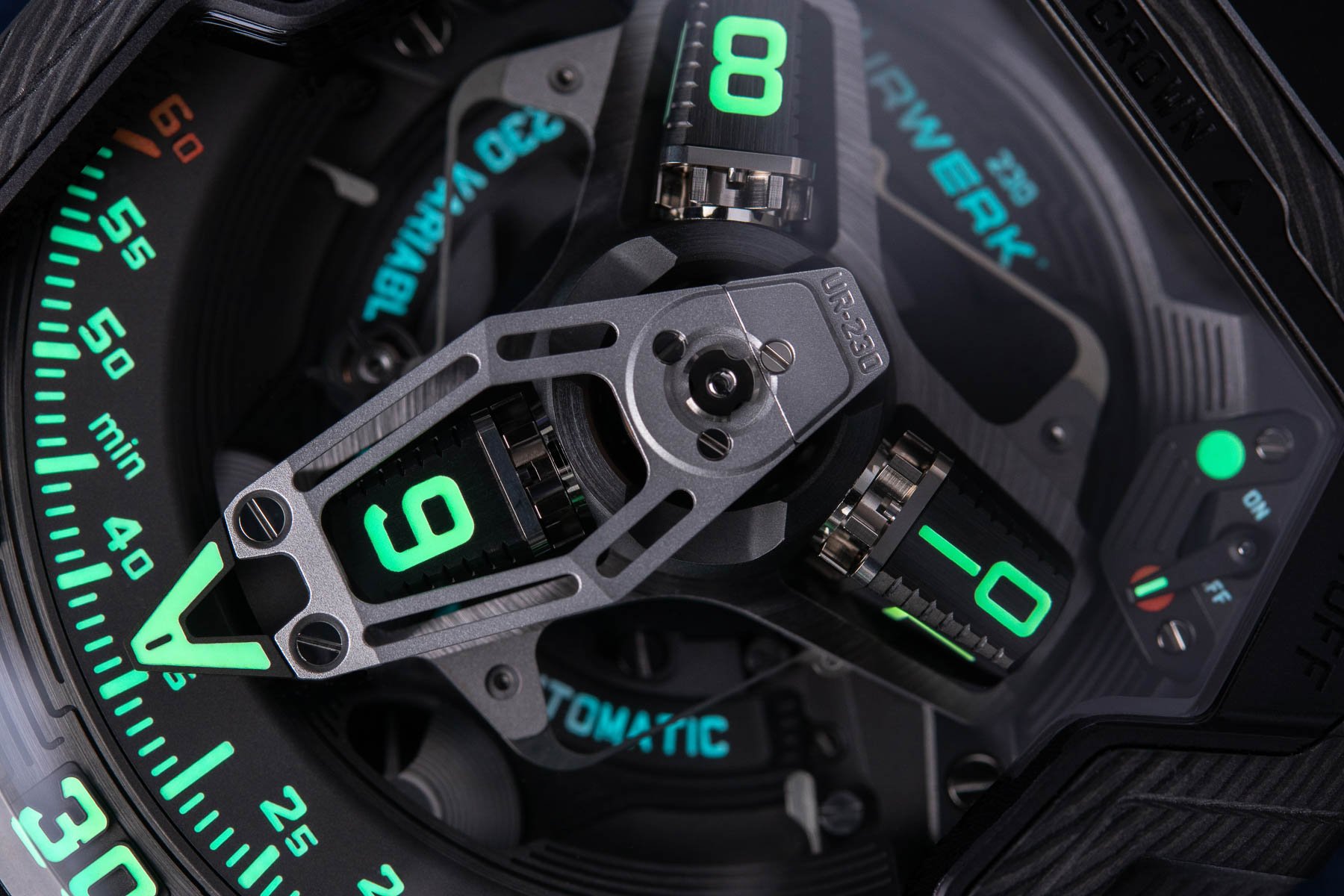 The UR-230 Eagle comes in at 44.81mm wide and 53.55mm long with an 18.38mm thickness. The entire case is made of CTP (318 layers if you're counting). Therefore, it's a noticeable piece on the wrist. But it truly becomes noticeable when the cover is lifted to expose the UR-7.30 automatic movement with its hallmark wandering hours. Essentially, each of the three arms is on a carousel, and each contains four hours. The entire carousel rotates, and while it displays the hour within a 3D aluminum hand, this hand moves along the minutes display at 6 o'clock. The aluminum hand acts as a retrograde and returns to zero at the end of 60 minutes while also advancing the hour. This is a classic Urwerk complication, but it never gets old.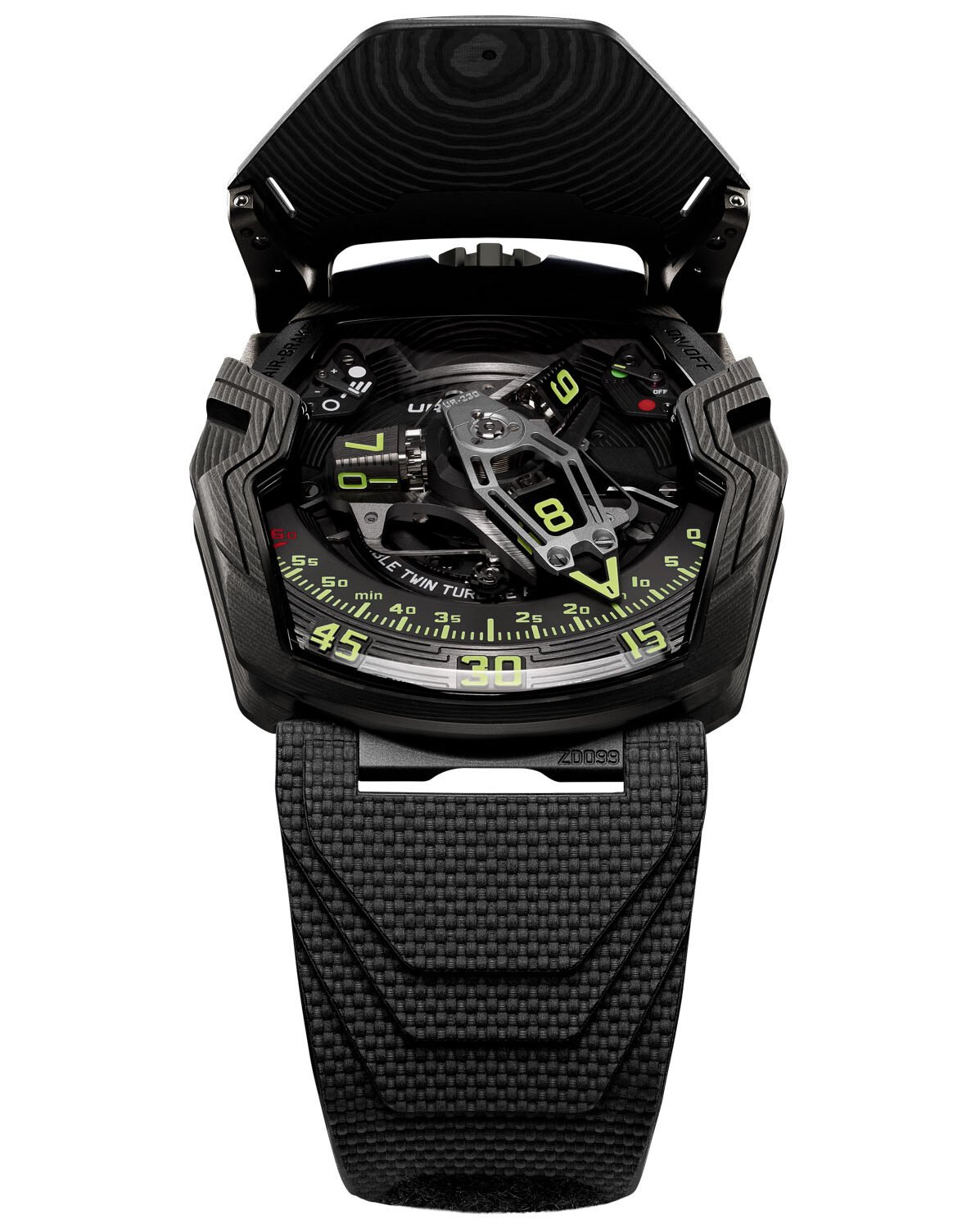 Technical innovations
As mentioned, the UR-230 Eagle contains a cover over the upper portion of the sapphire dial. It's not quite a simple hinged lid, though. I've read through the PR material, and it seems that Urwerk built a type of damping system into the flap. It raises to a 90-degree angle, and when the user wishes to close it, the cover slowly closes so that it rests quietly and securely on top of the crystal. It's supremely nerdy stuff and reminds me of the hydraulic air brakes on the '50s Mercedes-Benz 300SLR!
Urkwerk is also debuting a dual-turbine system (visible via a sapphire window on the case back), and each turbine has an interesting function. The first one acts as a shock absorber for the automatic movement. The second is referred to as an "air brake" and controls the amount of airflow that feeds the winding system. There's even a knob on the case back to modulate this. Alternatively, it is possible to turn off automatic winding altogether and switch the watch to manual with an additional knob. Overkill? Perhaps, but it's this type of innovation that collectors love to discuss and share.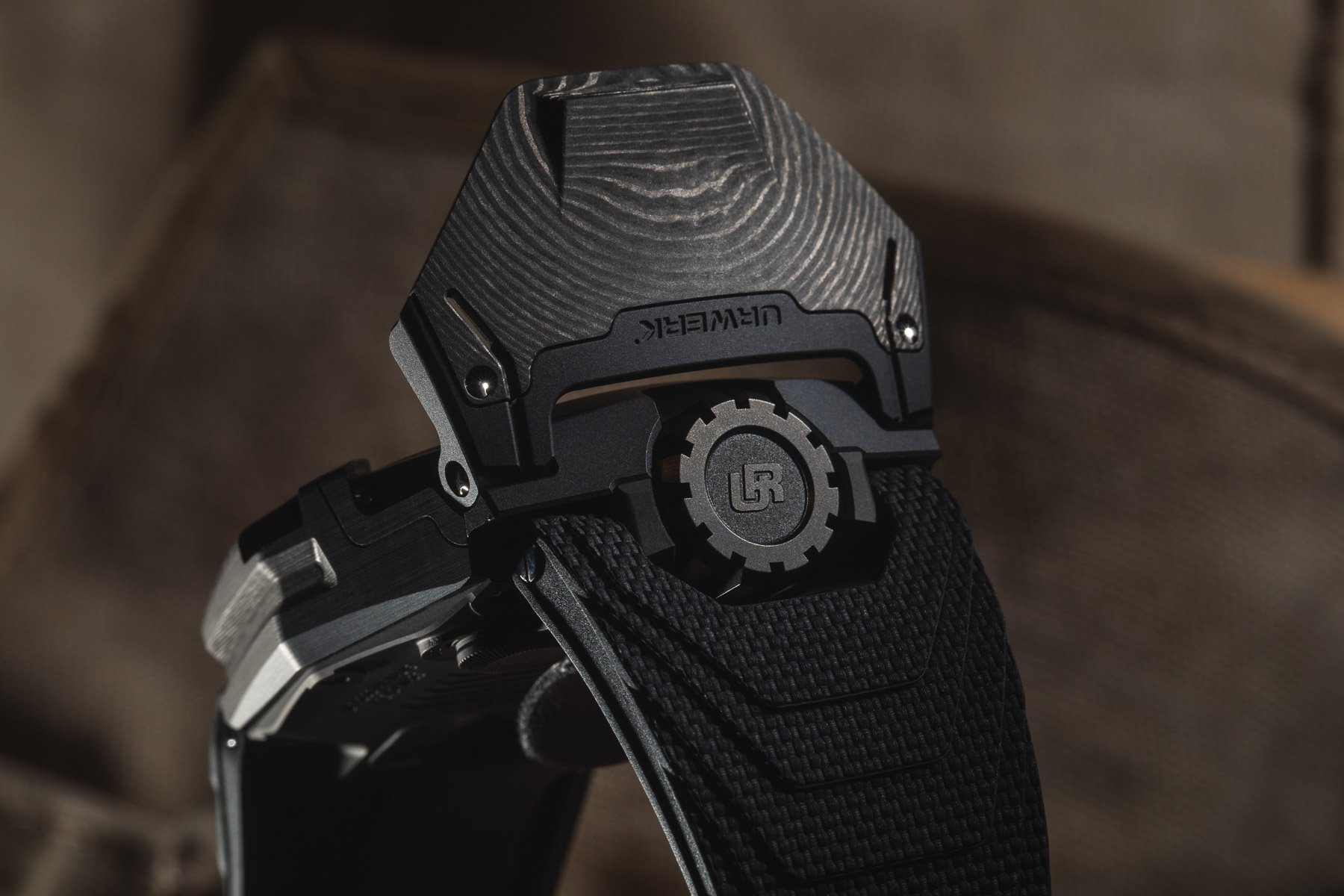 Other details
Urwerk's new UR-230 Eagle has a 3 ATM water resistance rating and a power reserve of 48 hours. It is accentuated by a Vulcarbonised black rubber strap with a DLC buckle and Velcro fastening. So, even if this is not a hardcore tool watch, it certainly will have a tactical feel.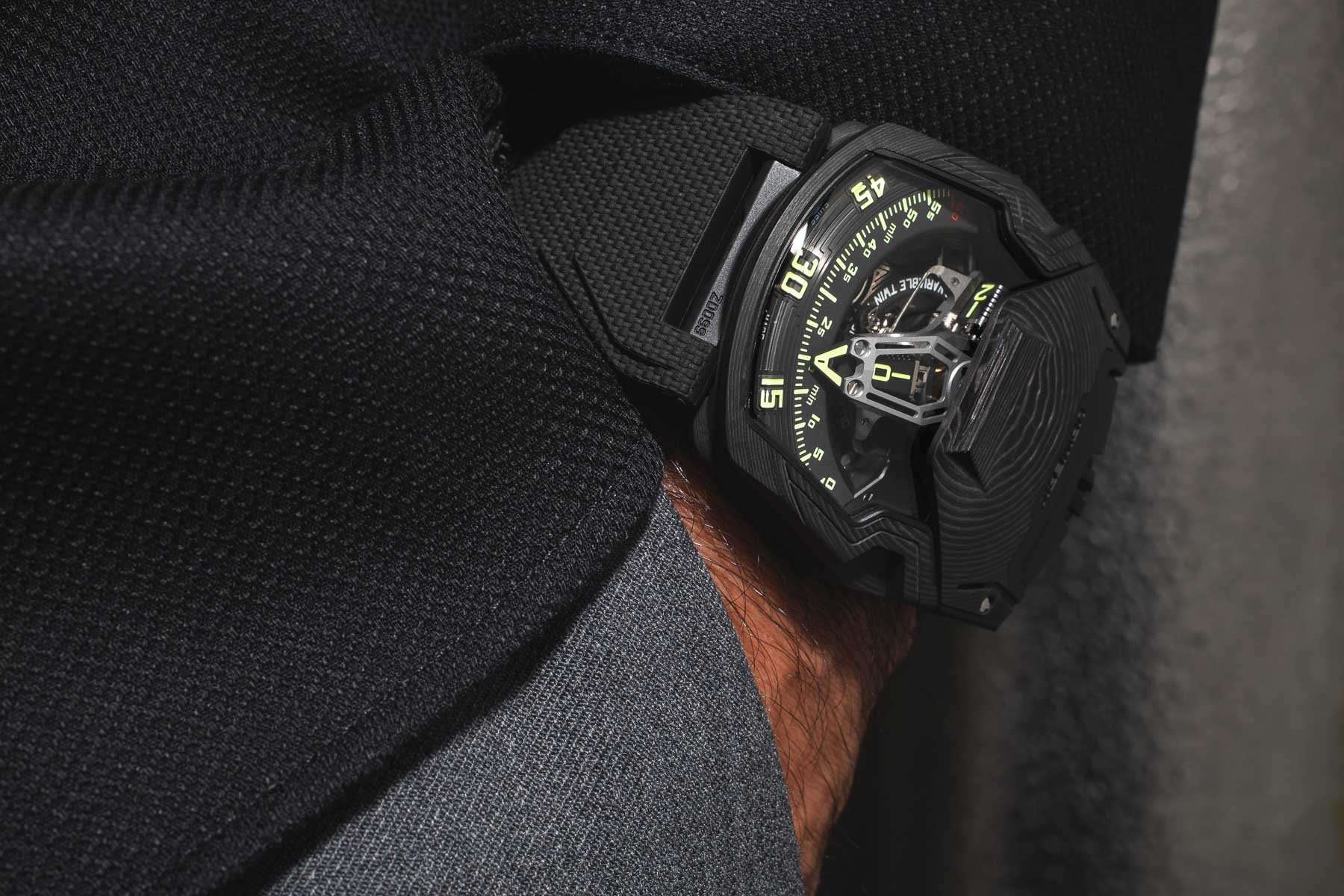 Pricing and availability
Unsurprisingly, the new UR-230 Eagle is not inexpensive. If you're in the market for one of the 35 pieces, prepare to spend CHF 180,000. That's not a surprising amount considering past releases from Urwerk, and we're guessing that rabid fans will happily add one. After all, with its new case design and distinctive half cover, it's different from previous models. As for me, I love what the brand does as far as creating truly specific technical features. In a way, a brand like Urwerk is akin to one of the supercar makers. Perhaps the items are not for every day, but I am sure they feel incredibly special when they are used.
For more information on the new UR-230 Eagle, visit the official Urwerk website. Feel free to also let us know what you think of the technical creativity in this piece.
Watch specifications
Case Material
Black DLC-treated titanium and Carbon CTP (Carbon Thin Ply) – 318 layers
Case Dimensions
44.81mm (width) × 53.55mm (length) × 18.38mm (thickness)
Case Back
Black DLC-treated titanium with sapphire display windows
Movement
Urwerk UR-7.30 — automatic with manual-winding option, 28,800vph frequency, 48-hour power reserve, 50 jewels,
Strap
Vulcarbonised© rubber, "Kiska" reference with black DLC-treated buckle; Velcro© fastening
Functions
Wandering hours on a satellite complication, retrograde minute hand, automatic winding status indication (On-Off)
Warranty
Two years plus additional two years with online registration
Special Note(s)
Limited edition of 35 pieces