Introducing: The Ressence Type 3 EE — An Impressive Oil-Filled Eucalyptus-Green Pebble For The Wrist
Not only striking on the outside but also very advanced on the inside
Choosing to buy and wear a Ressence watch is already somewhat of a statement. The brand's unconventional way of presenting the time on your wrist, in combination with its very clean design language, is different from any other watch out there. But if you'd like to take it one step further, you can choose to get a Ressence in one of the striking colors the brand offers. For example, what about this new and super smooth eucalyptus-green version of the Type 3?
Although most Ressence watches begin as white, gray, or black versions, the brand is certainly no stranger to using bright and colorful tones on its dials. Look, for example, at the brushed blue Type 1° Round and the sage-green Type 8 S that debuted earlier this year. And if you'd really like to go all out, then the colorful Type 8 C in collaboration with Alain Silberstein or the Type 3 MC in Ferrari red might be more to your liking. The eucalyptus-green Type 3 EE that comes out today is also colorful but certainly a little more understated than those last two examples. Let's take a look.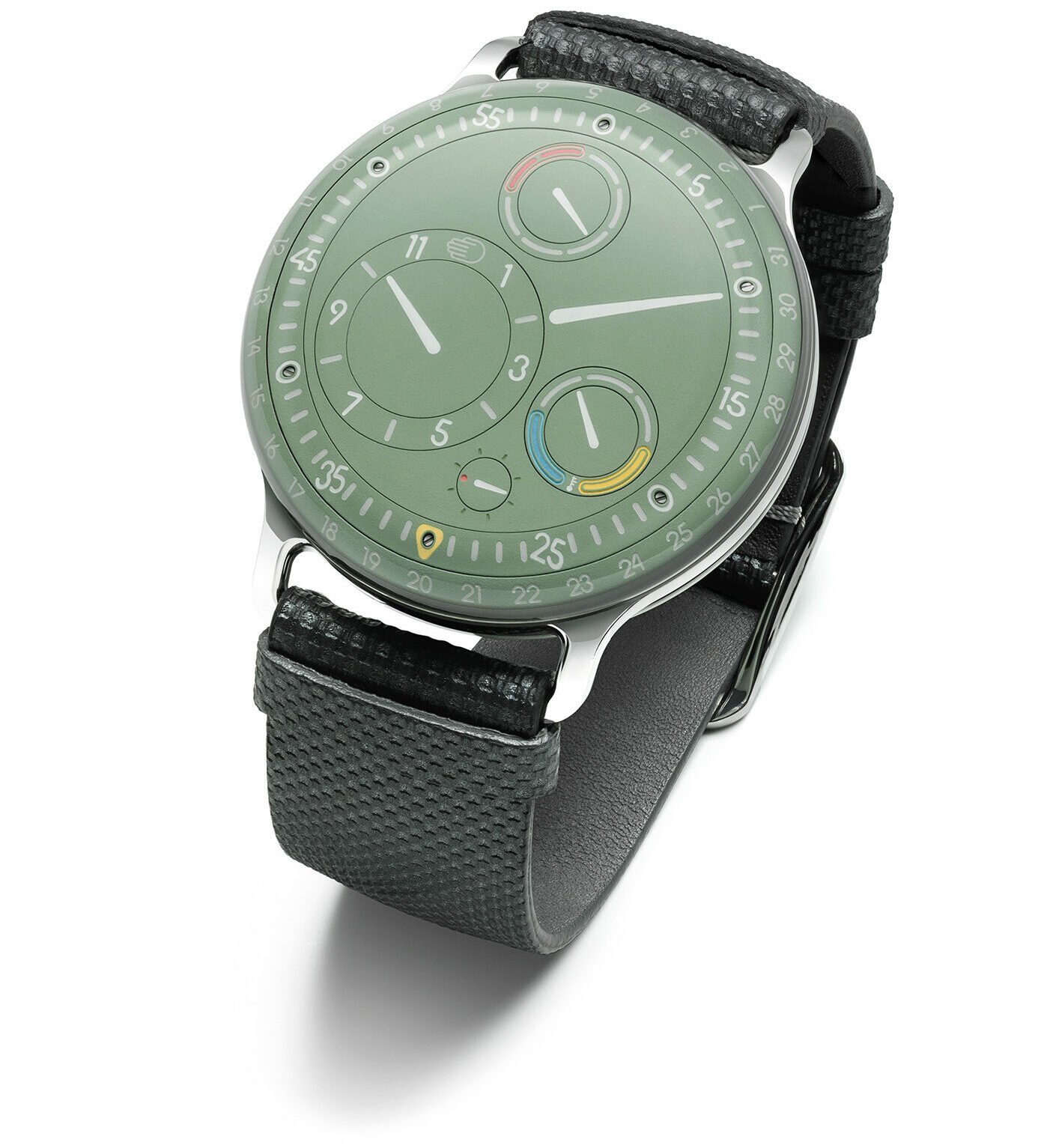 Oil-filled and magnetically conducted
But before we take a look at that new color, let's quickly go over the Type 3's most important features. At the model's introduction in 2013, it was the world's first first oil-filled mechanical watch. That oil is there to enhance the readability of the Type 3's pebble-shaped dial from almost any angle. It's good to know, though, that the highly modified automatic ETA 2824 movement inside is completely separate from the oil-filled chamber on top. That's because, other than the ROCS (Ressence Orbital Convex System), the movement wouldn't be able to function when drowning in oil.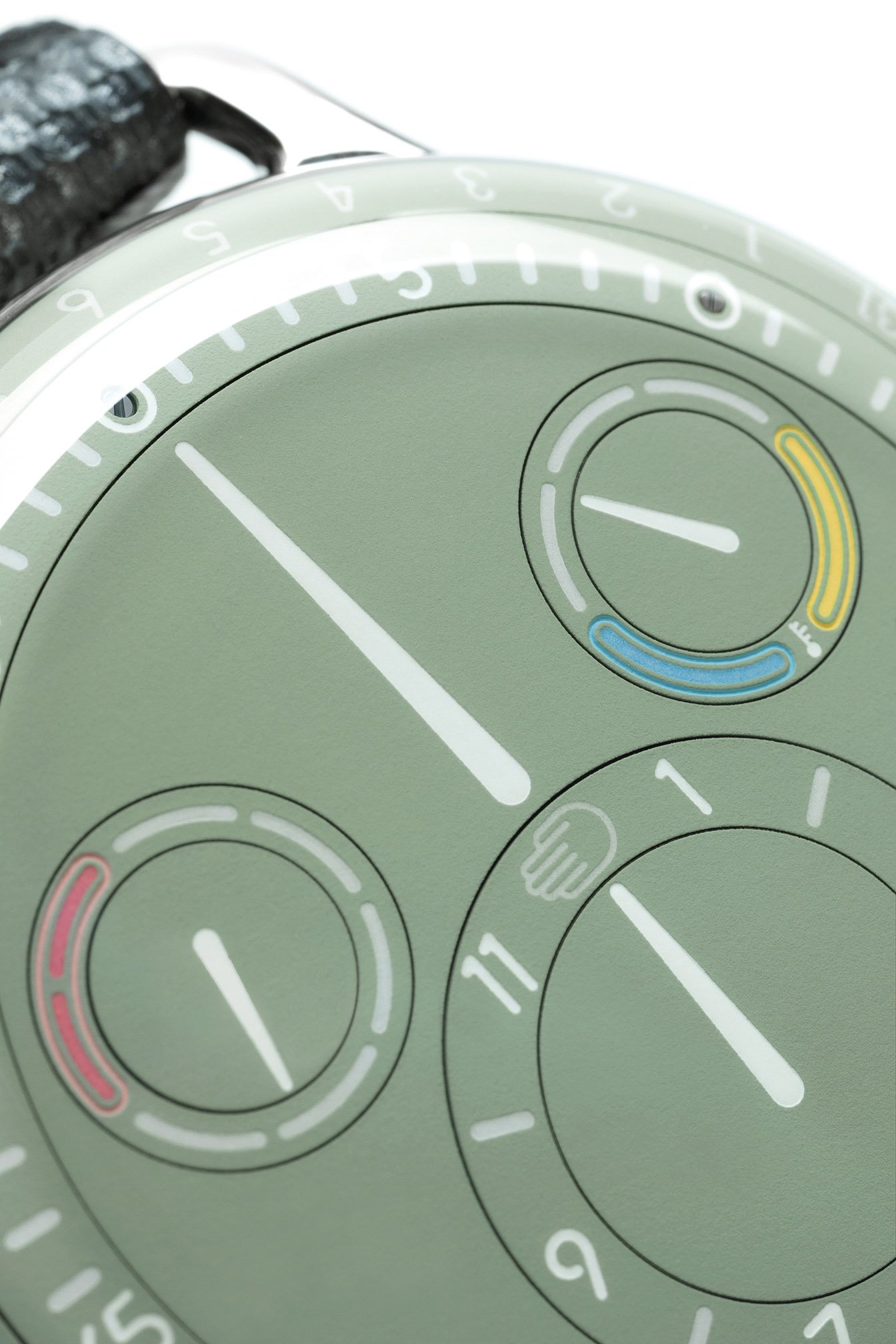 However, the two have to be connected somehow. Otherwise, how would you know what time it is? That's where the Type 3's magnetic transmission comes in. It conducts the caliber's motions toward the ROCS module, which, in this case, is made of Grade 5 titanium. I'm still impressed by how those magnets don't mess with the movement's timekeeping. In addition, as oil tends to change its volume depending on the temperature, the Type 3 also features a bellow system to compensate for those temperature changes. As you can see, the Ressence Type 3 is a very advanced piece of engineering.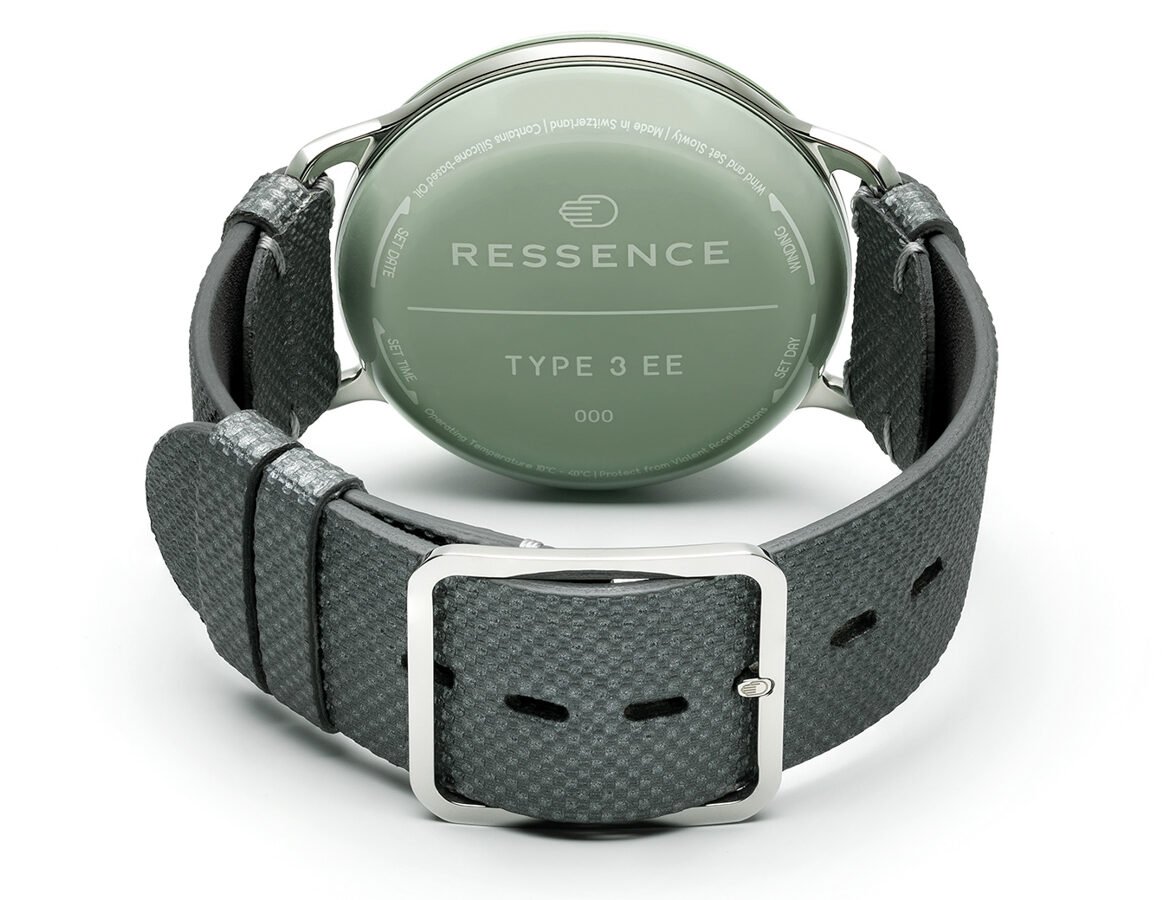 A striking "pRessence"
But in addition to those impressive internals, the Type 3 also has a striking appearance. And that hasn't changed for this new eucalyptus-green version. Its 44mm polished Grade 5 titanium case is 15mm thick and weighs 78 grams in total. The lugs, which almost look like wire lugs, have a 22mm spacing and attach to a dark gray honeycomb leather strap. Both the front and back of the watch got that eucalyptus-green treatment, hence the double "E" in the reference. Other than the metallic sage green of the Type 8 S, this eucalyptus green is more matte and non-reflective.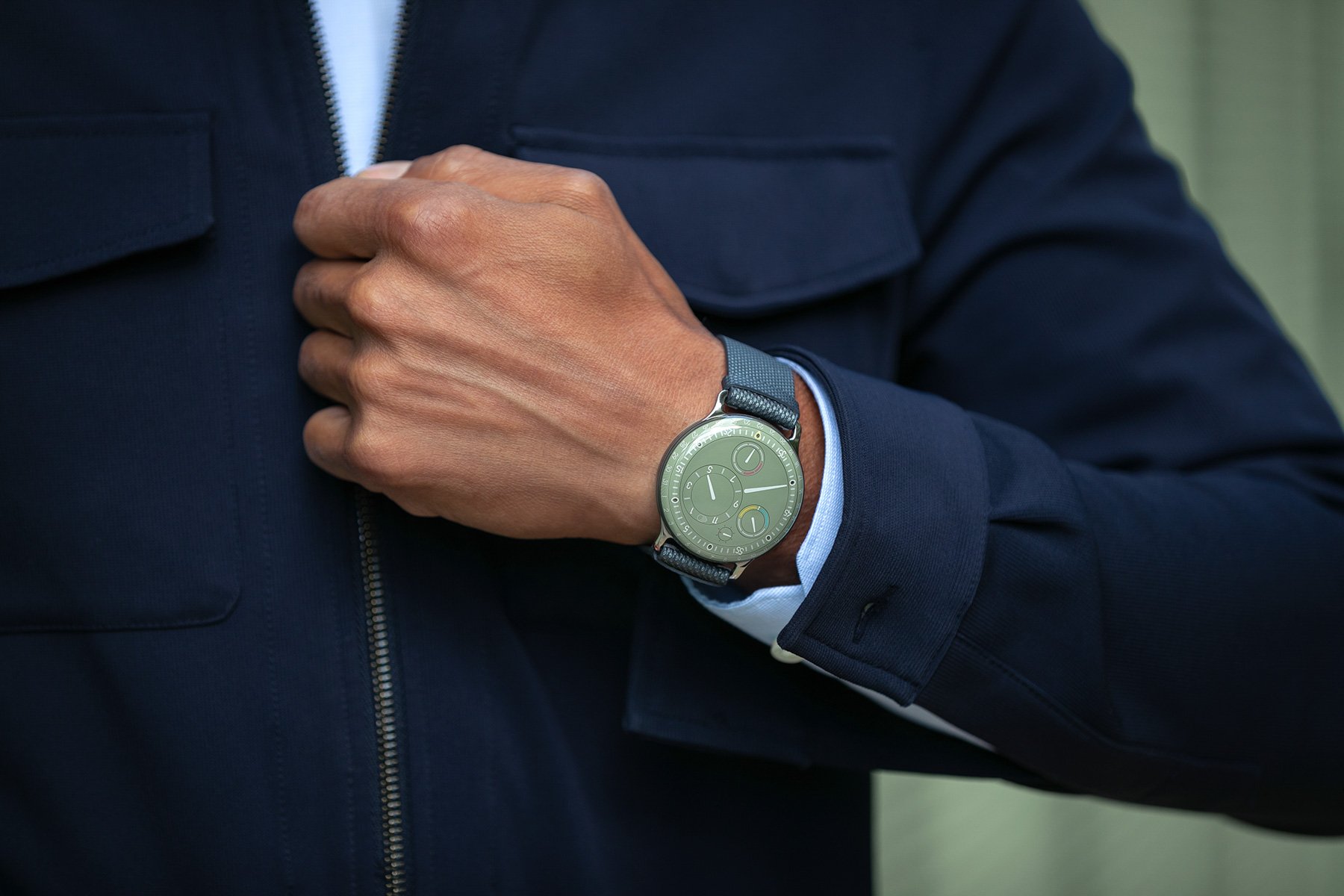 It's a sophisticated kind of green, one that does stand out but isn't overly flashy. Admittedly, I haven't seen the watch in person yet. But based on the wrist shots provided by Ressence, this is certainly a colorful watch but one that isn't out of place in a more formal setting. The red, yellow, and blue pastel accents on the dials for the running seconds, day, date, and oil temperature fit in nicely. I mean, there's certainly a lot going on on the Type 3's dial, but it still feels balanced and not too busy. The fact that the hour disc contains fewer numerals than before also helps in that regard.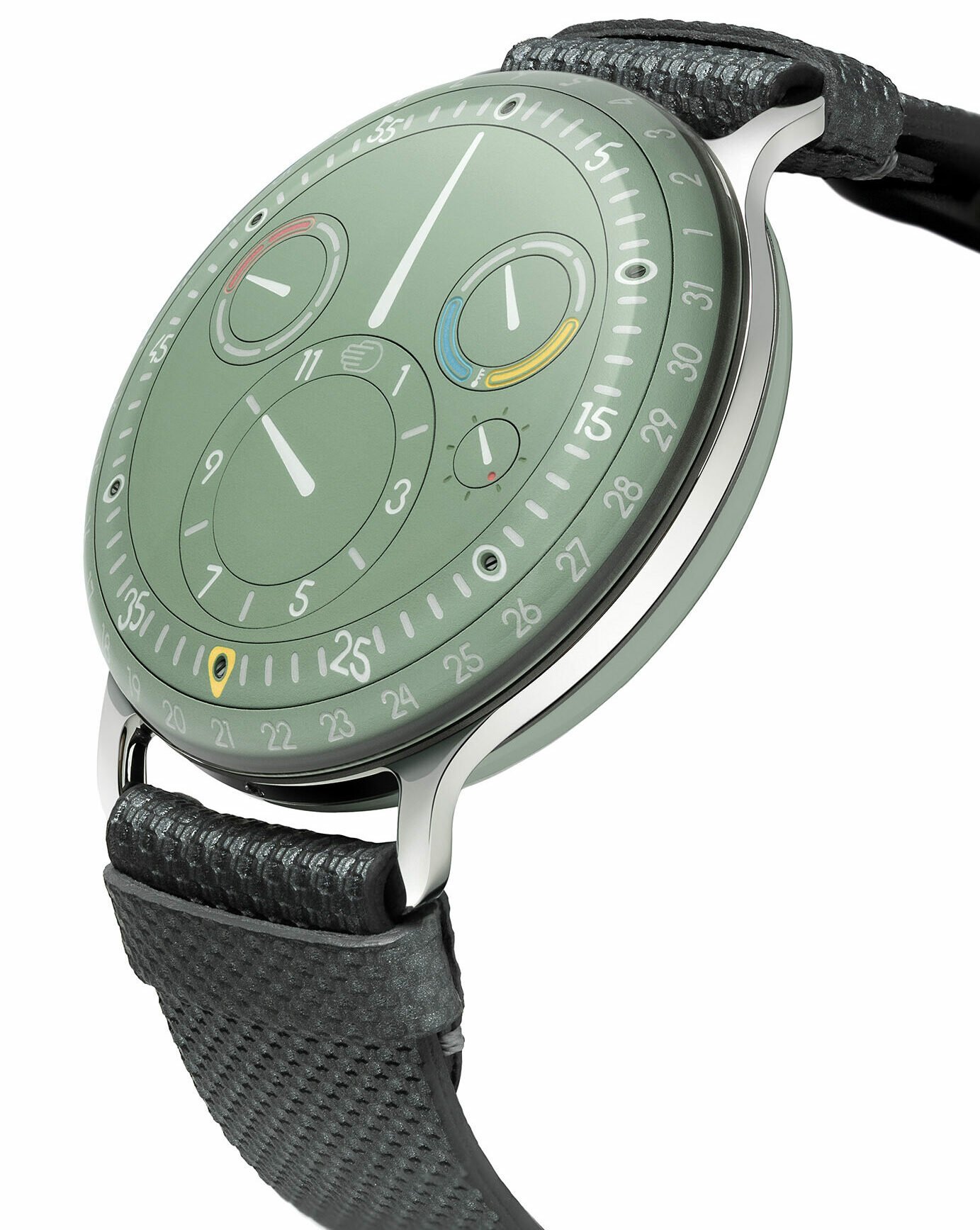 Final thoughts on the Ressence Type 3 EE
I've said this many times before, and I'll say it again: I really like Ressence's quirky designs. Besides being different on the outside, the brand's watches are also very advanced on the inside. That's a combination I very much admire. The prices of the watches are the one thing that's holding me back from buying one, though. I'm not saying it's too expensive for what it is, but the prices are quite far away from what I usually spend on a watch. That's also the case here with the Type 3 EE in eucalyptus green. It'll be available as of October 2023 for CHF 38,200.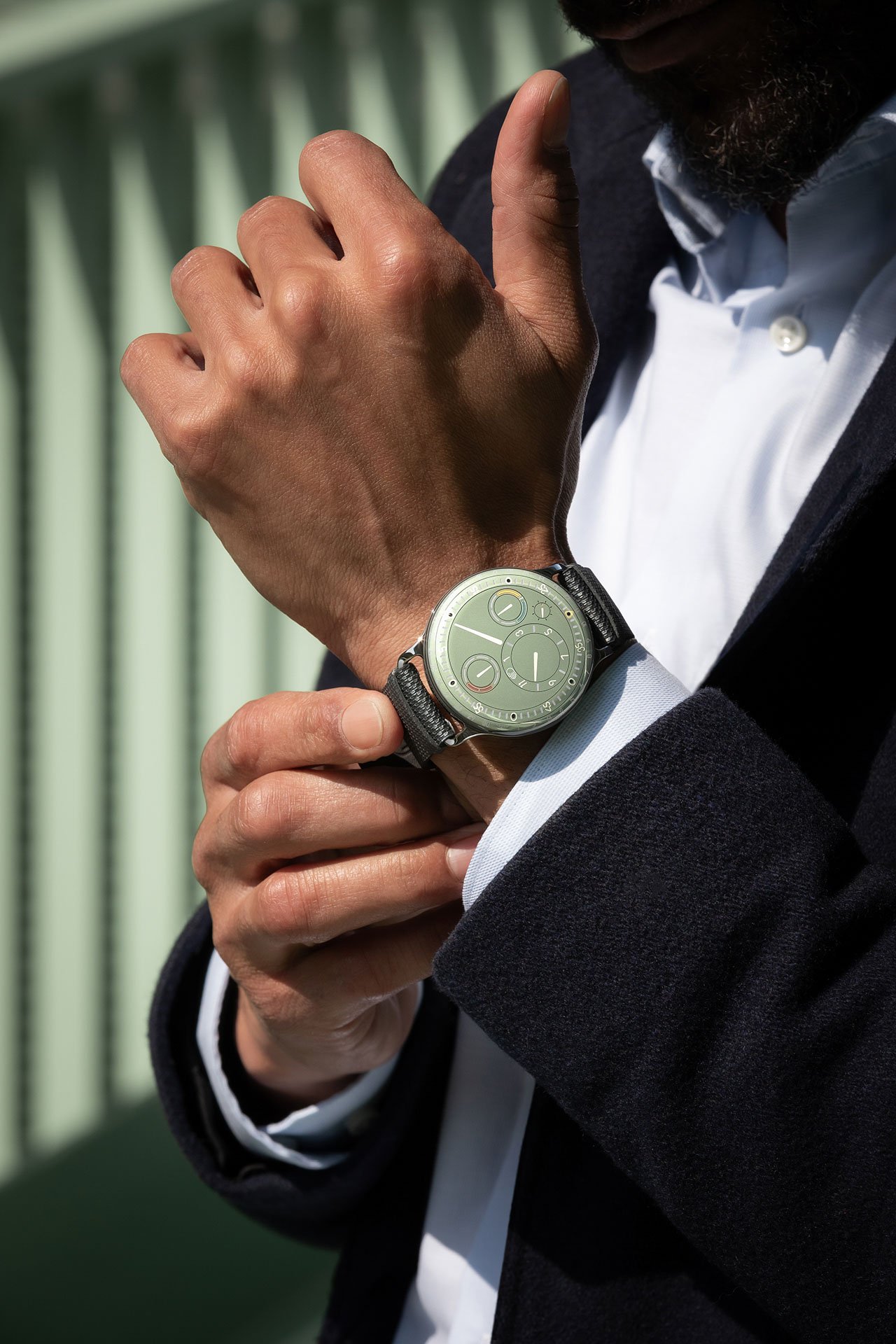 The other thing is that I'd love to see a Ressence watch with a smaller case. I know Ressence's founder Benoît Mintiens has this wish high up on his list. But it's also something that requires a lot of research, development, and, most of all, time. Until then, I will certainly keep enjoying the brand's new releases from afar, just like this beautiful eucalyptus-green addition to the Type 3 collection. For more information, please check out Ressence's official website.
Let me know what you think of this new Ressence Type 3 EE in the comments below.
Watch specifications
Model
Type 3 EE (Eucalyptus)
Dial
Convex Grade 5 titanium dial (125mm radius) with four eccentric biaxial satellites inclined at 3°(hours), 4.75° (week days and thermal gauge), and 6.25° (stabilizer). Engraved indications filled with green Super-LumiNova.
Case Material
Grade 5 titanium
Case Dimensions
44mm (diameter) × 15mm (thickness)
Case Back
Grade 5 titanium
Movement
Patented ROCS 3 - Ressence Orbital Convex System - driven by the minute axle of a specially customized ETA 2824/2 caliber. Case back winding and time setting, magnetic transmission, and compensating bellow system for the oil (7 bellows).
Water Resistance
10m (1ATM)
Strap
Honeycomb strap (22/22mm) with a pin buckle in Grade 5 titanium
Functions
Hours, minutes, running seconds (180"), weekdays, date, and oil temperature
Price
CHF 38,200 (excluding taxes)