Introducing: The TAG Heuer Carrera Plasma Tourbillon Nanograph
Living up to the Techniques d'Avant-Garde name
When I think of a diamond-encrusted watch, I tend to think of AP, Patek, or even Rolex, achieved in a traditional way, using techniques borrowed from jewelry. But this diamond-encrusted TAG Heuer Carrera Plasma Tourbillon Nanograph turns this idea on its head. Introducing new-to-the-industry methods, this Carrera completely redefines the diamond-set watch. Unapologetically modern, this piece reflects the brand's passion for the avant-garde. It truly lives up to the TAG Heuer name — for those who might not know, TAG stands for "techniques d'avant-garde". The Oxford Reference Dictionary defines it as a "term used in the arts to denote those who make a radical departure from tradition". And simply looking at this watch, it's not hard to understand why that applies. But just looking at the watch doesn't reveal the finer details and techniques used to achieve this unique result.
The first model TAG Heuer chose to demonstrate these new techniques is the brand's most iconic, the Carrera chronograph. If you think back to the '60s and '70s, it's hard to see much of those watches in this one. Yet the DNA of the classic model still shines through in the overall shape, the hands, and the dial layout. If the original Carrera is Anakin Skywalker, this watch is Darth Vader, minus the heavy breathing. Even its name — Carrera Plasma — sounds like that of a sci-fi baddie. Wrapped up in a hyper-modern black suit, its intricate machinery is exposed in an elegant manner and refined beyond what is necessary. This watch represents a high note in terms of ambition. The watch itself is objectively impressive, and unlike anything TAG Heuer (or almost any other watch brand) has done before.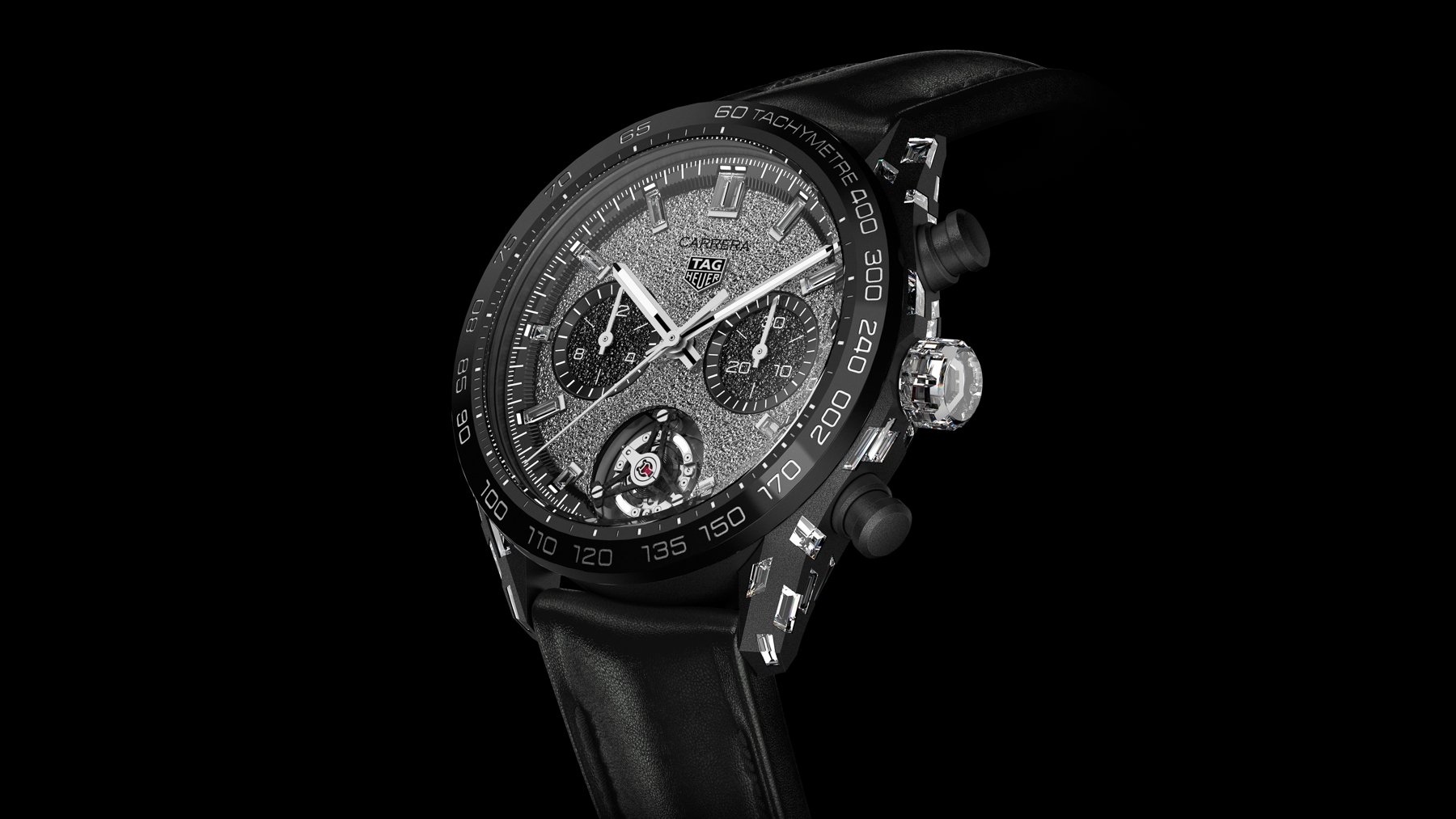 The TAG Heuer Carrera Plasma Tourbillon Nanograph
In a brilliant clash of materials and techniques, the 44mm sand-blasted anodized aluminum case is light enough to host the 48 lab-grown diamonds (4.2ct in total) without making for an overly heavy watch. Surrounding a domed sapphire crystal is a black ceramic tachymeter bezel. It features a polished finish, which contrasts the matte aspect of the metal case. Under the crystal itself, you find a shimmering polycrystalline diamond dial, complemented by the baguette-cut diamonds set in the white gold indices. On the right side of the case, you'll find two DLC-coated steel pushers. And between said pushers is something that one might even call the veritable pièce de résistance. It is a crown made entirely of lab-grown diamond. Weighing 2.5ct in total, it comes courtesy of Capsoul, a pioneering start-up in the field of diamond design.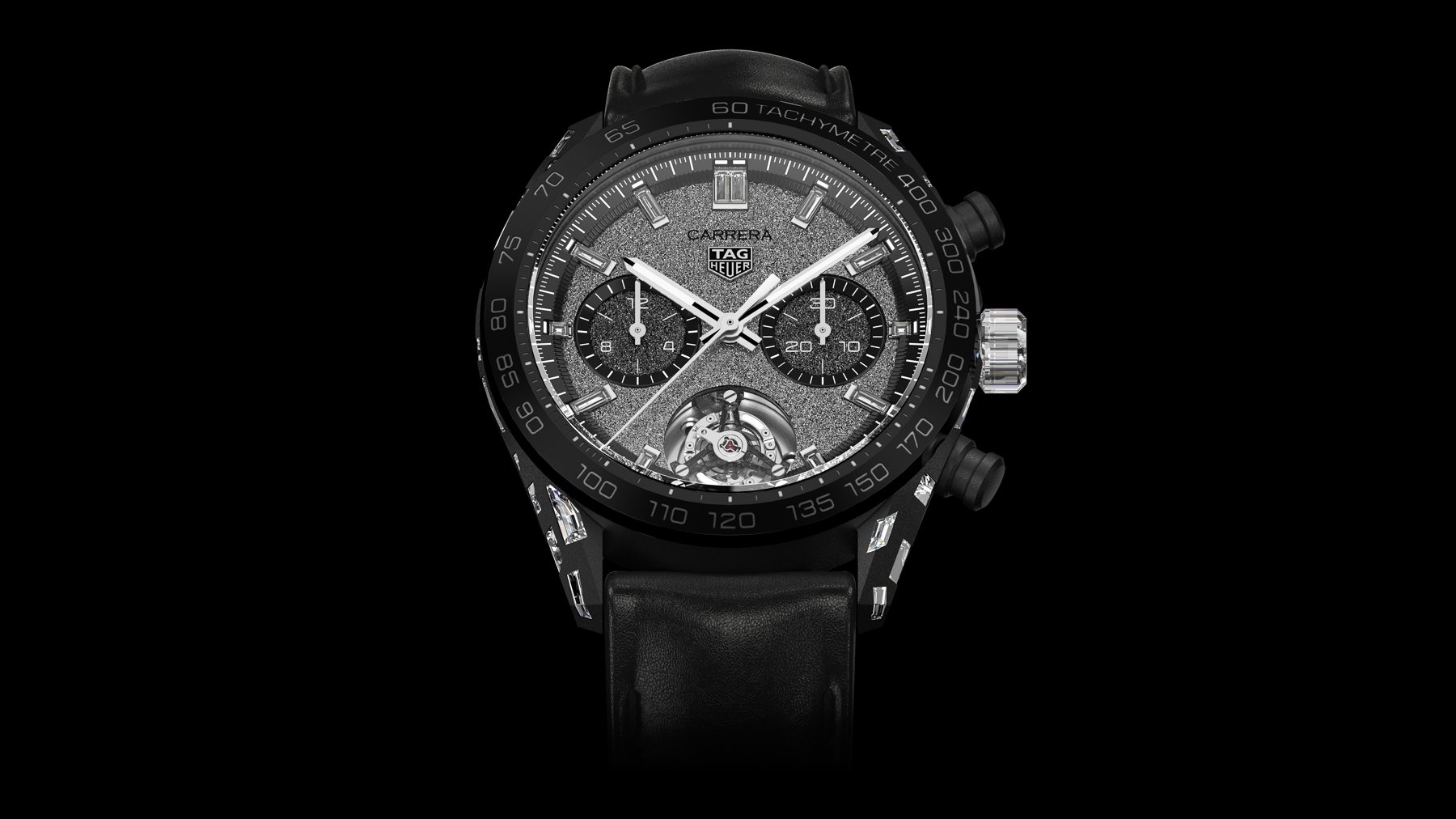 I implied that one could label the admittedly impressive diamond crown as the highlight of this watch. But, admittedly, that would be doing the dial a disservice. The stunning polycrystalline dial is created via a technique that involves a specially manufactured dial plate and a number of individual crystals that are grown together into one element. In the process, a unique texture emerges on the dial's surface. The dial's sub-registers have a contrasting black polycrystalline diamond plate. They are topped with polished rhodium-plated hands for perfect legibility. Inside the watch, the COSC-certified HEUER02 Tourbillon Nanograph movement beats away. Thanks to its carbon hairspring, created through a similar process as the lab-grown diamonds that decorate the case of the Carrera Plasma, it has a high degree of magnetic resistance. Visible through the dial is the movement's tourbillon cage, which will continue to turn the movement's entire 65-hour power reserve.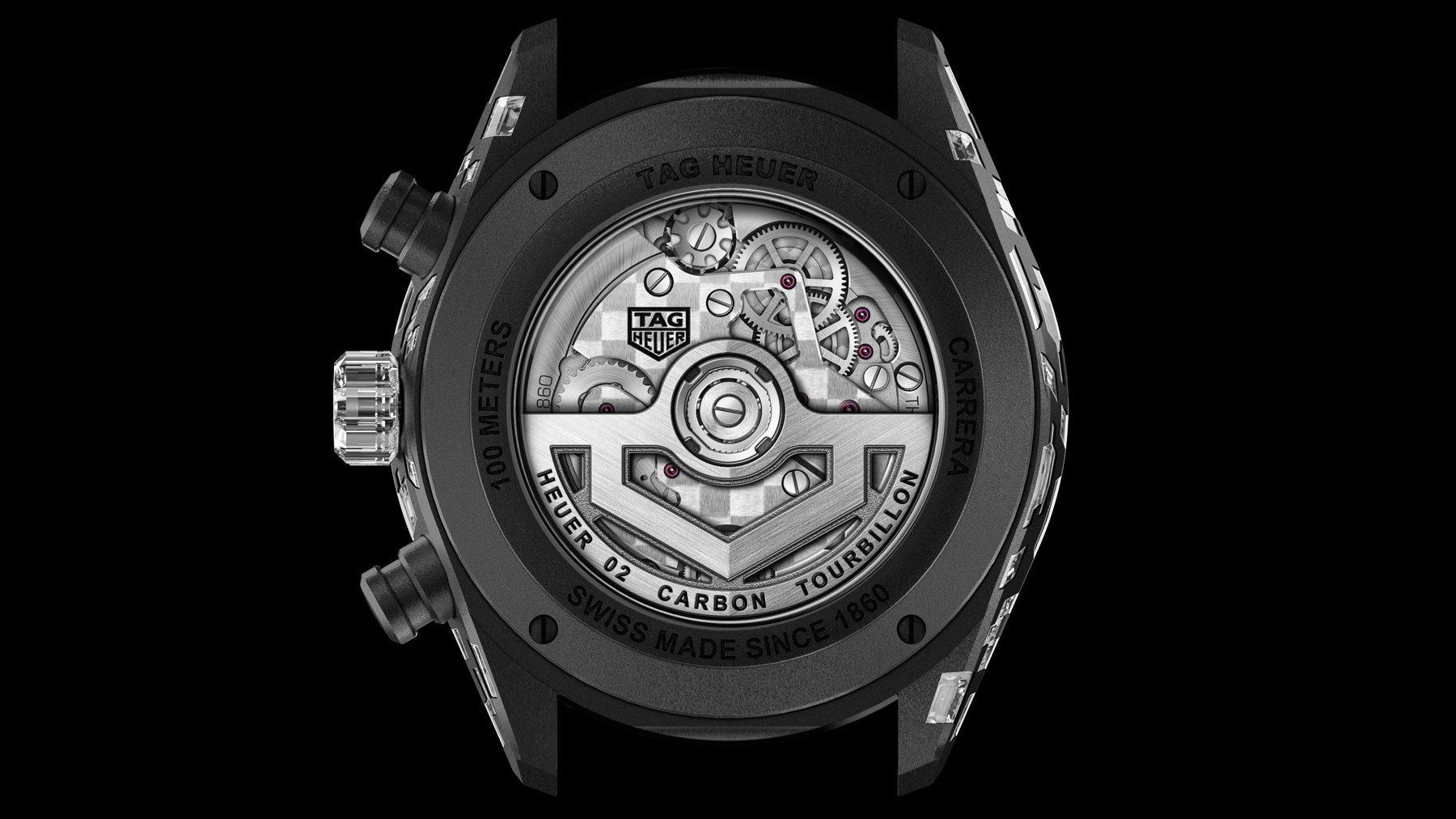 Final thoughts
This watch comes on a black leather strap with black stitching and a black ADLC-treated grade 2 titanium clasp. I must say, it really rounds off the Carrera Plasma's overall sleek, striking design. "So, what's the total diamond carat weight of the watch?" you might ask. The answer is 11.7 carats! But if anything, this watch proves that a diamond-set watch doesn't have to look like a traditional piece of jewelry. Instead, the avant-garde nature of its design brings it beyond the norm and introduces a new eye-catching concept. Personally, I never thought I'd like a diamond-studded watch, but the TAG Heuer Carrera Plasma is doing an excellent job in helping change my mind.
For our complete coverage on other novelties from Watches & Wonders 2022 — including more from TAG Heuer — head on over to our WAW2022 overview page here.