Introducing the Tiffany CT60 Watch Collection
Tiffany & Co is probably not the first brand that comes to mind when you are out there looking for a new watch to buy. Watch collectors will associate Tiffany & Co with rare Rolex and Patek Philippe watches with the name of this world wide chain of jeweler stores signed on the dials. From now on, that will hopefully chance with the launch of the Tiffany CT60 watch collection.
At the end of February, I was able to have a sneak preview and introduction of the Tiffany CT60 collection in London. Up until the arrival in London, I was fully unprepared and only knew about the then actual Tiffany & Co watches that could be categorized as fashionable watches, but had little to do with serious mechanical watches. Of course, I did some homework and read about the story that US President Franklin D. Roosevelt received a watch in 1944 that he gave to his son-in-law, who [sort-of] re-gifted the watch in 1945 again to the President, including an inscription on the case back.
The introduction of the Tiffany CT60 watches took place in the beautiful Tiffany & Co boutique in Old Bond Street, their Flagship store in London.
The new Tiffany CT60 collection was presented to me personally by Mr. Nicola Andreatta, Vice President, General Manager Tiffany & Co Swiss Watches SAGL, who has an impressive track record regarding the watch industry and with whom I could discuss the new collection on an almost watch-nerd level. Something you wouldn't not expect from Tiffany & Co, or at least I didn't. Some of Tiffany & Co's vintage museum pieces were exhibited in the boutique, which gave a perfect overview of their horological time-line. The history of Tiffany & Co goes back to 1847 actually and not long after, they became the first retailer in the United States of America to carry Patek Philippe watches. To give an example how serious they were about watches, Tiffany & Co built a four-story manufacture at Geneva's Place Cornavin to have everything concerning watchmaking under one roof.
Today's Tiffany CT60 collection – CT stands for Charles Tiffany, 60 for the so-called "New York minute" – grabs back to that watchmaking spirit. The CT60 collection is based on the watch presented to President Franklin D. Roosevelt. However, only one of the watches actually comes close to that calendar watch, the CT60 Calendar watch, limited to only 60 pieces in 18 carat rose gold. Word is that there will be another – even lower quantity – CT60 Calendar watch in white gold later on.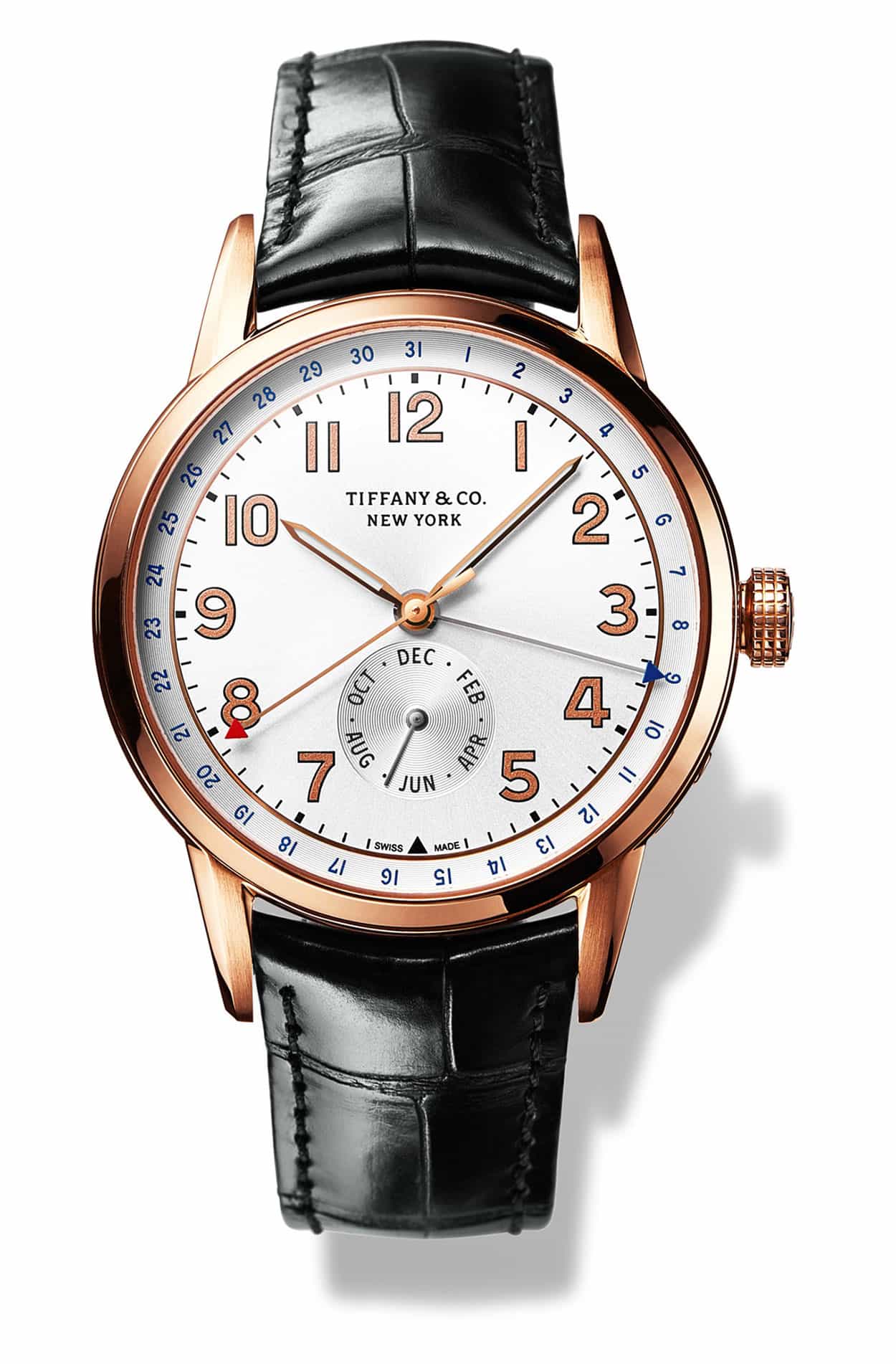 The Tiffany CT60 Calendar watch will have a price tag of $19,000.- USD. The movement is based on a Dubois Depraz (caliber 5933) and indicates time, date and month.
You could say that this Tiffany CT60 Calendar timepiece is the flagship of the collection, even though it only comes in a limited edition. Besides the CT60 Calendar, there is a 40mm CT60 3-hand piece that features a date aperture at 6 o'clock and comes in various configurations. These models start at $4250.- USD for a stainless steel model on a leather strap. The 18 carat rose gold Tiffany CT60 with a strap retails for $10,000.- USD. The stainless steel models will also be available with a stainless steel bracelet, which brings the price to $5250.- USD.
I was happily surprised when I tried the model with the stainless steel bracelet. Designing, developing and producing a bracelet is not something to take lightly, I've noticed over the years. A lot of watch brands don't get it right which results in having either an ugly, flimsy or uncomfortable bracelet. Or a combination of all three. Not with the Tiffany CT60 bracelet, they did a wonderful job. You can find some photos of the models with bracelets below in the image gallery.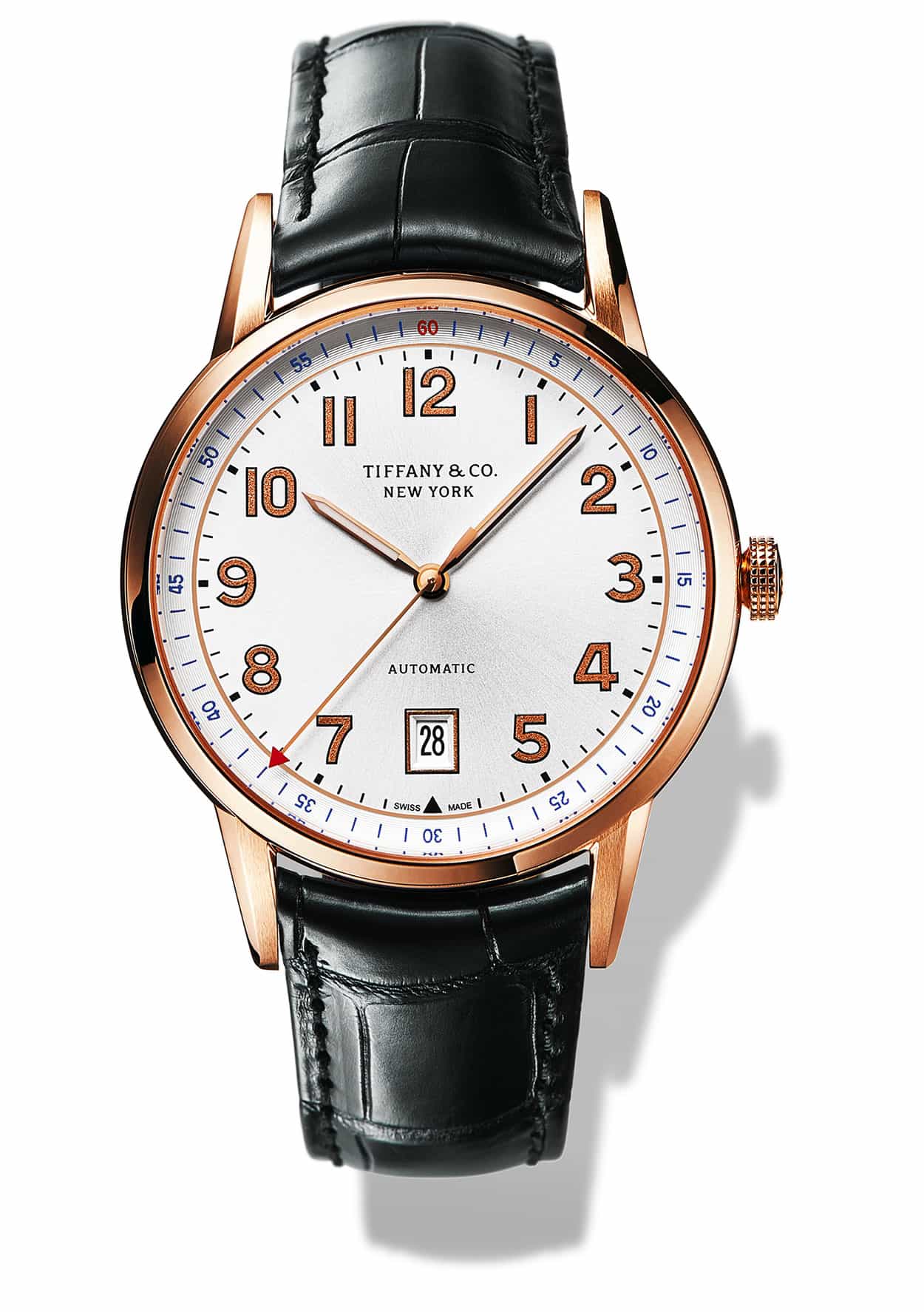 My personal favorite however, is the Tiffany CT60 Chronograph in 42mm. I am a sucker for chronograph watches and this classic looking Tiffany CT60 watch was just stunning in the flesh. I love those classic 1940s and 1950s chronographs but they are just not wearable for me personally due to the size. Modern chronographs in 42mm often lack real character, or at least that 1940s and 1950s spirit and are more sports watches than classic and elegant timepieces. The Tiffany CT60 Chronograph fits perfectly between the 40mm 3-hand timepiece and the limited edition CT60 Calendar watch. Prices start at $6750 USD for a stainless steel Tiffany CT60 Chronograph and go up to $15,000.- USD in 18 carat rose gold (on a leather strap).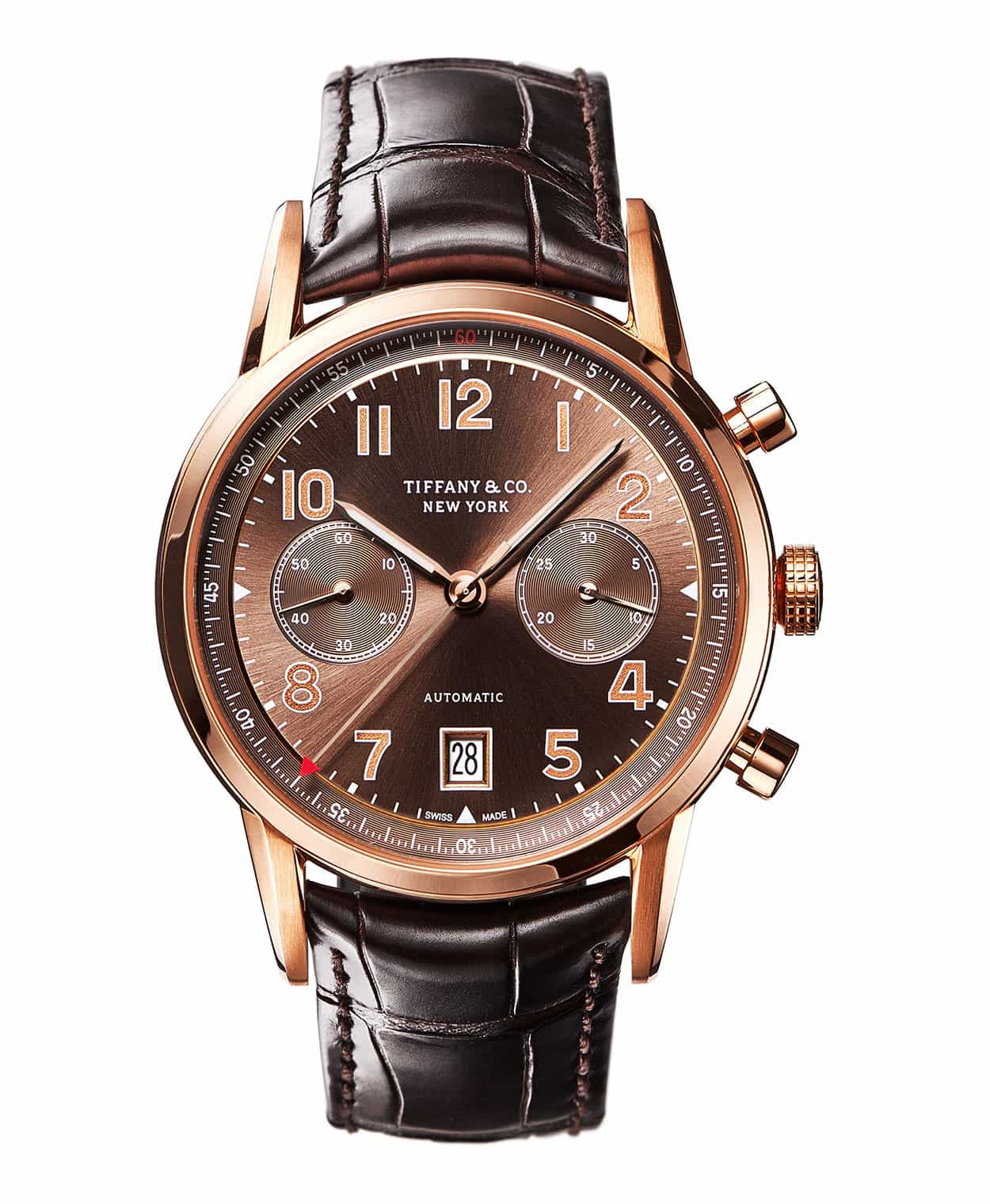 The Tiffany CT60 Chronograph in gold with brown dial is just breath taking. The photos I quickly took with my iPhone don't do the watch justice, but you are able to see the nice finishing on the case for example. The 42mm case has a beautiful combination of polished facets and a matt brushed case. Not shown on the photos, but the case back has a sapphire crystal fitted so you can enjoy the inner workings of the watch. In this case, it is based on a La Joux-Perret movement.
All Tiffany CT60 watches are made in Switzerland in the Tiffany & Co workshops where they work with carefully selected suppliers. As of today, all watches will be delivered to the Tiffany & Co boutiques world wide. I was told that the watches will only be available through their boutiques, including their e-boutique of course.
What I didn't show in this article are the 34mm versions of the three-hand model, which are considered to be ladies watches. Also, and not part of the CT60 collection, is the East-West timepiece (quartz movements only).
In my opinion, the biggest challenge for Tiffany & Co is to get men into their boutiques to have a look at their watches. When shopping for a watch, the Tiffany & Co boutique is not top of mind right now. As they are not available elsewhere (and thus also can't be compared to other watches side-by-side), Tiffany & Co need to come up with an attractive campaign to draw the attention of men and get them into their boutiques or go to the on-line boutique.
More information can be found at Tiffany & Co on-line.