Introducing: The Yema Yachtingraf Tourbillon Mareographe
A wildly unexpected release celebrates the brand's 75th anniversary
Well, we can certainly put the new Yema Yachtingraf Tourbillon Mareographe in the "Things We Didn't See Coming" category. After all, Yema is a recently reborn successful player in the affordable retro space. When we hear the word "tourbillon," affordability is nowhere on the radar, but there is some semblance of approachability here. Shall we have a look?
During the early part of my vintage-chronograph-collecting cycle, I stumbled across Yema. Well, that's not entirely true. Enablers like Fred Mandelbaum were instrumental in exposing me to these previously unheard-of brands and, shortly thereafter, helping me deplete my bank account. Yema made some intriguing watches and, in a way, followed the Heuer formula of offering brightly colored tool watches with a variety of functions. Chronographs, divers, and regatta timers were just some of the fun pieces. They were also more affordable, and when the brand was resurrected several years ago, the formula continued. That's why today's Yema Yachtingraf Tourbillon Mareographe watches were such a surprise when I double-clicked on an email from the company.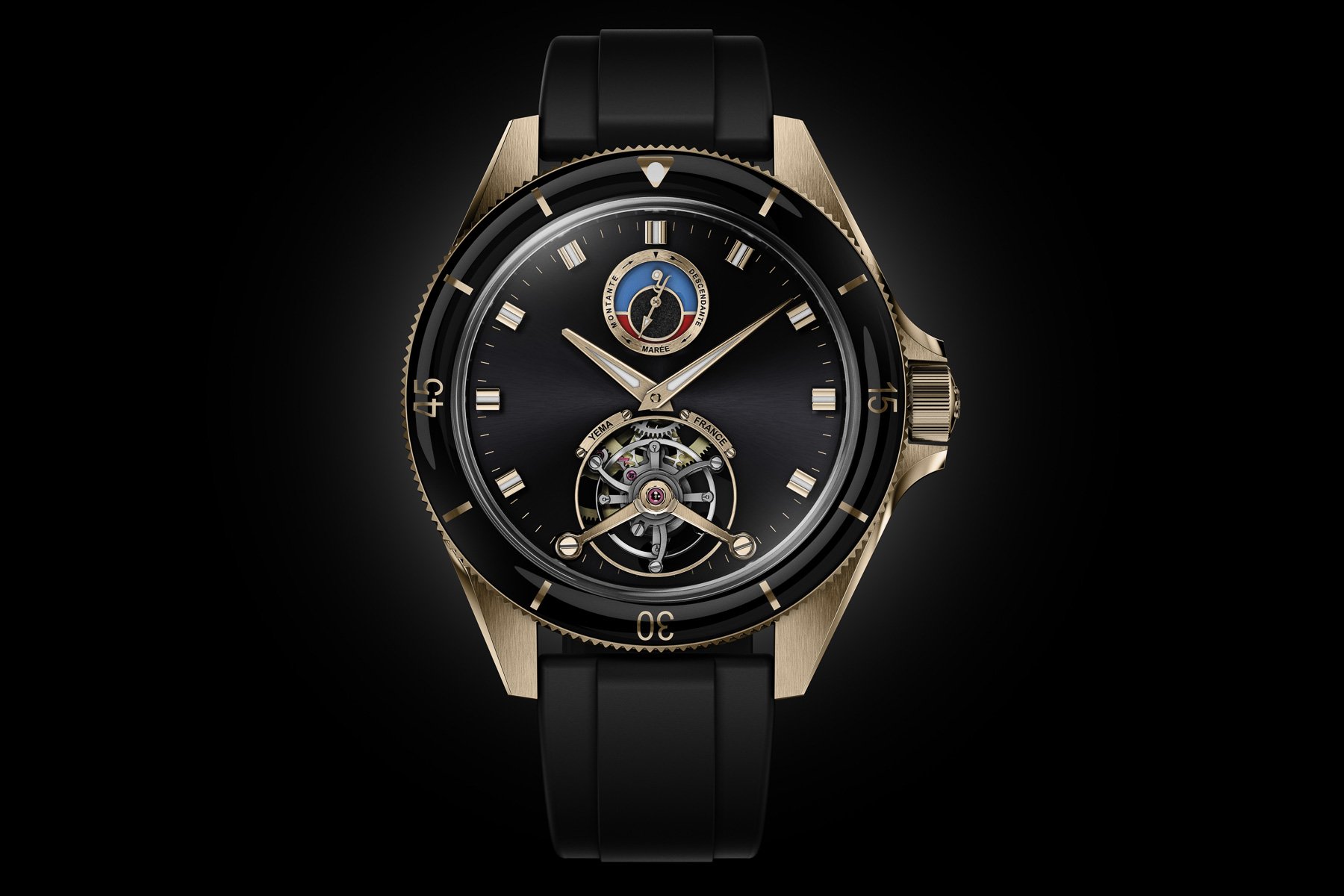 The Yema Yachtingraf Tourbillon Mareographe watches
The reason for the Tourbillon Mareographe watches is clear. It seems that Yema is celebrating a special birthday — number 75 to be exact! As a result, we have been treated to something quite special in the form of two tourbillon-equipped watches. Normally, I'd question this move, but the watches look cool and are in keeping with Yema's push to more in-house movements. As we'll see, the pricing is also reasonable for what they offer.
The Tourbillon Mareographe is available in either a bronze or stainless steel case, with 75 numbered pieces of each. The watches are 42.5mm wide and 14.5mm thick (including the 2.2mm domed sapphire crystal). Each has a domed sapphire 60-minute dive bezel and a water resistance rating of 100 meters. Yema chose to fit the watches with 20mm black FKM rubber straps and matching deployant push-button clasps.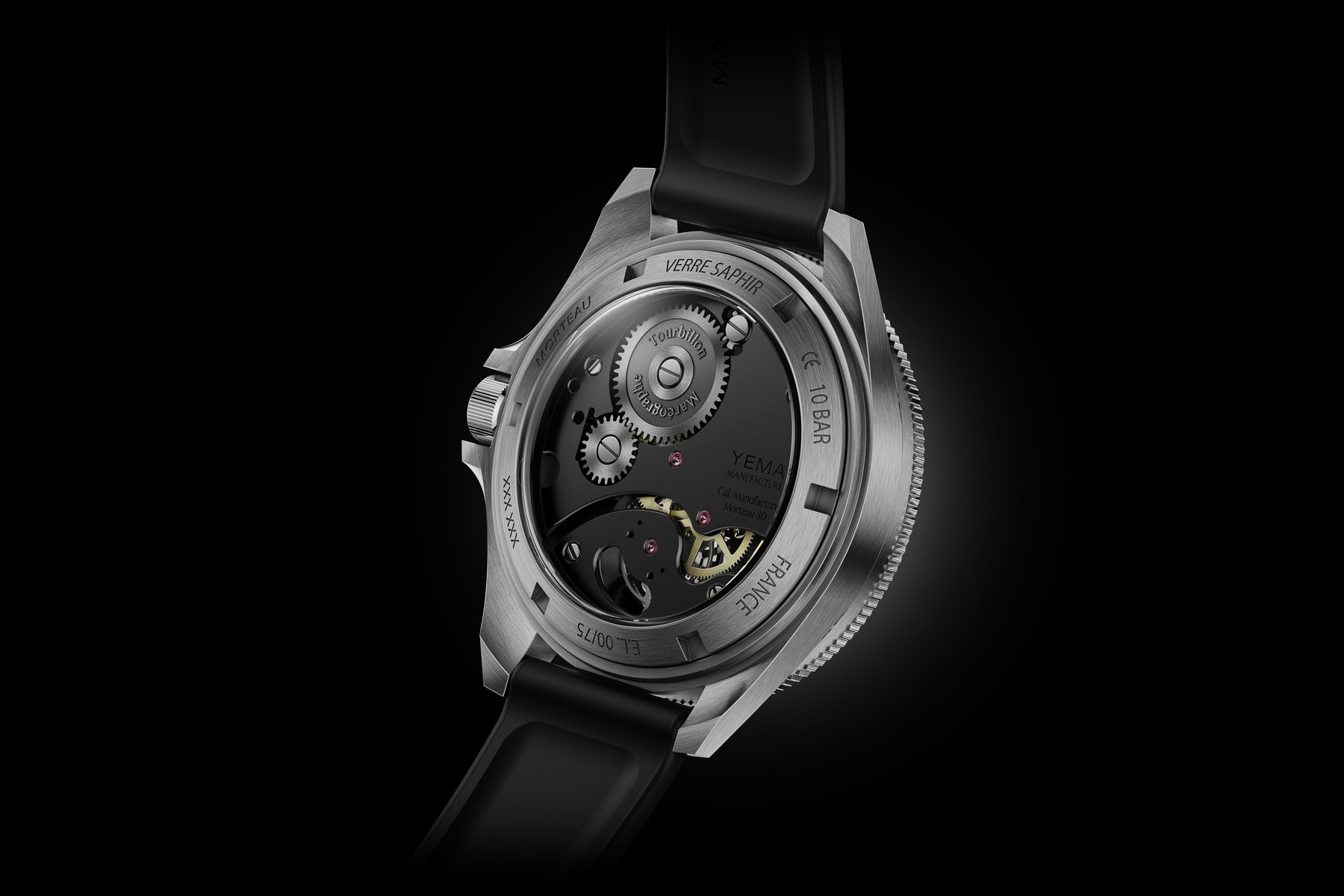 The tourbillon movement is the star of the show
Naturally, the movement is the highlight of the Tourbillon Mareographe, so let's spend some words on this impressive unit. Yema enlisted the help of watchmaker Olivier Mory, who has created movements for a variety of smaller brands. He also has an impressive history working for some of the largest Swiss watch companies. The result of his work is the CMM.30, which is partially manufactured (other components are made in Switzerland) and fully assembled in the Yema workshops in Morteau, France. The hand-wound movement is impressive on paper, packing 105 hours of power reserve and an accuracy of -3/+7 seconds per day. It's visible through the display case back and, of course, the dial.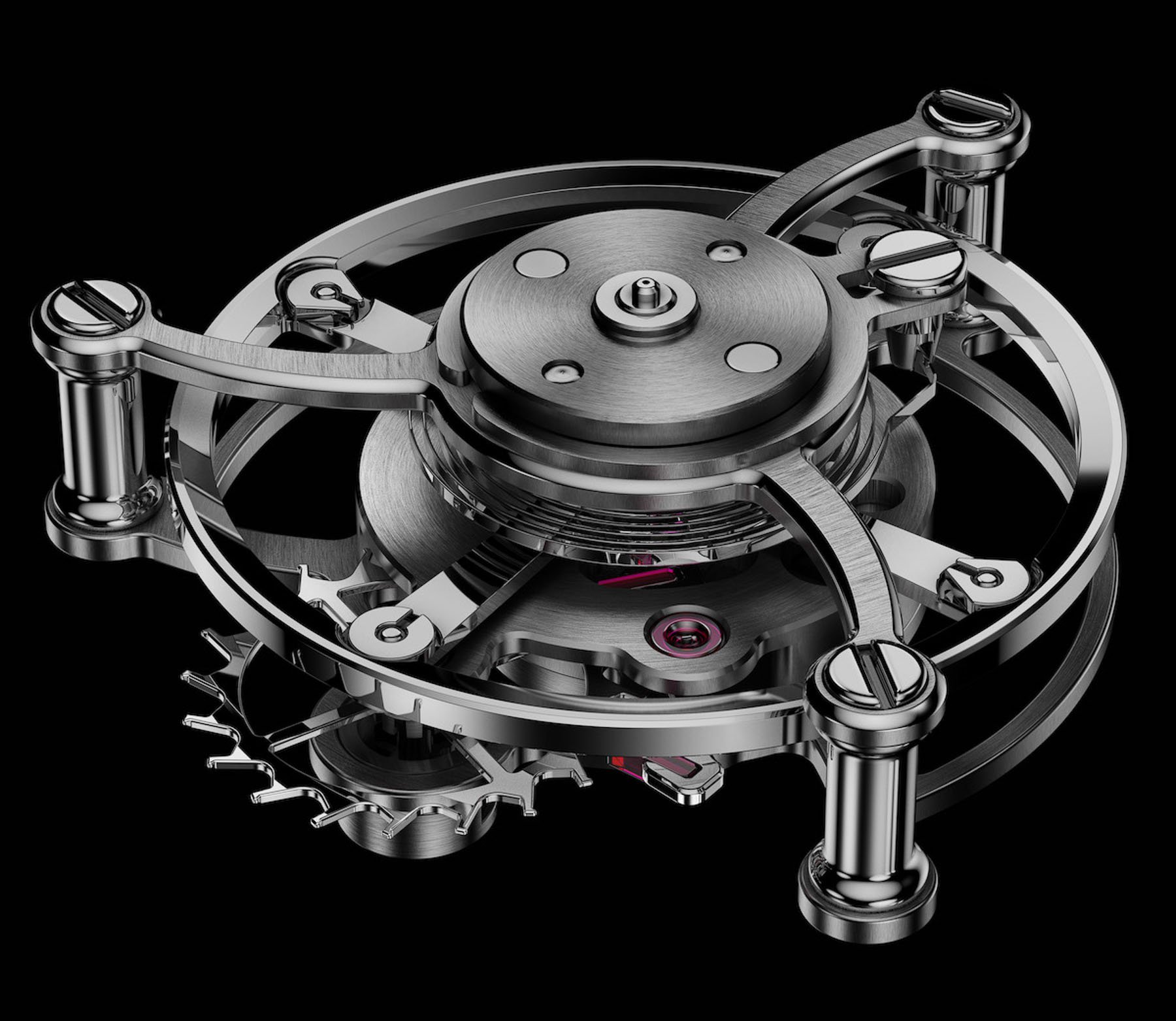 To obtain its name, the Yema Yachtingraf Tourbillon Mareographe features a tidal indicator below 12 o'clock. Essentially, the small hand traverses its sub-dial every 12 hours, 25 minutes, and 15.79 seconds. In half that time, it moves between high and low tides. The reason for this odd time length is related to the Moon's orbit around Earth, which takes 29.54 days. This creates a lunar day of 24 hours, 50 minutes, and 31 seconds. The cycle on the watch's tidal indicator is aligned to this lunar cycle and can be set to local time. Finally, the CMM.30 has shock resistance to forces of up to 5,000 g and is antimagnetic to 2,000 gauss.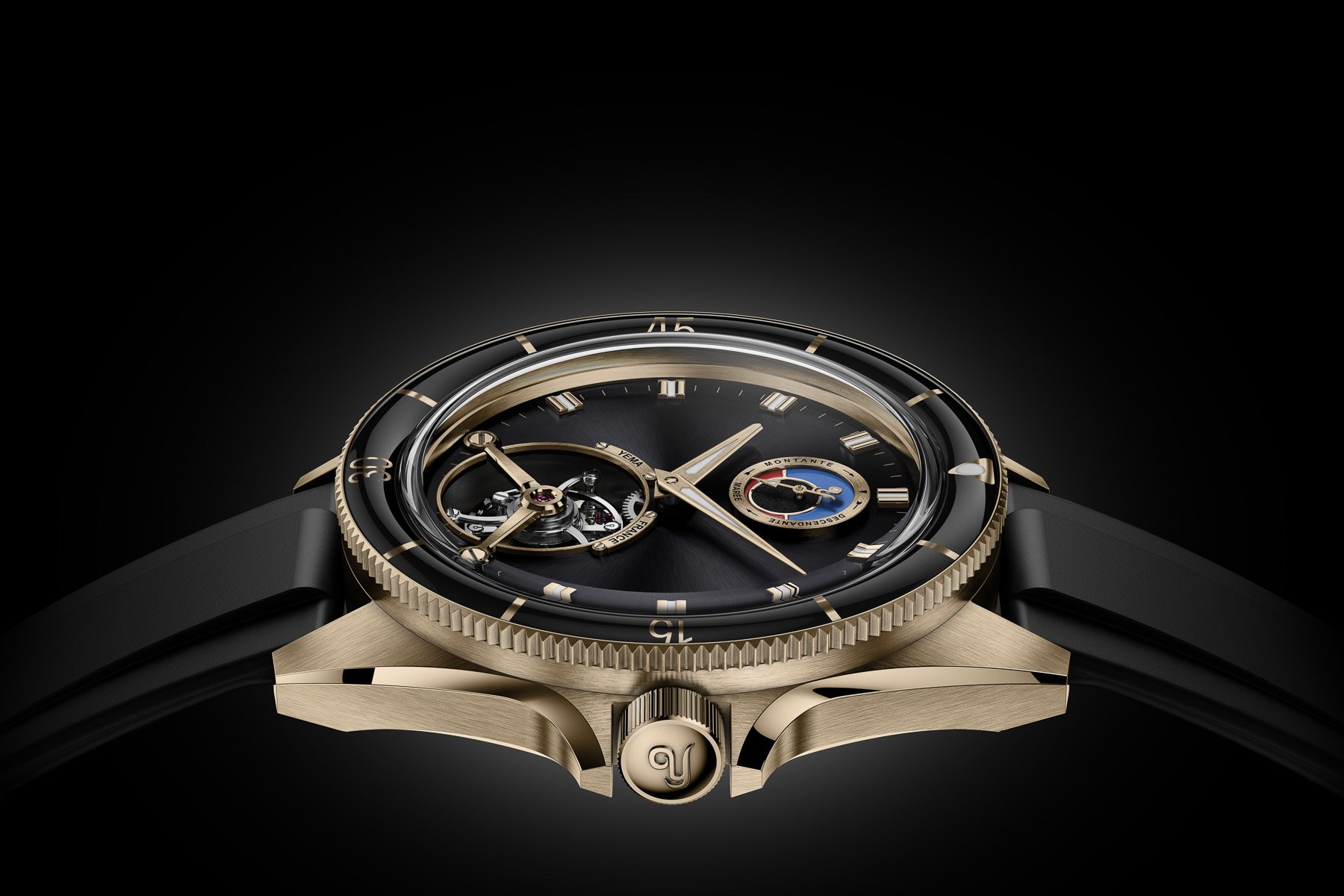 Integrating the tourbillon into a pleasing design
Tourbillon-equipped watches were a hot topic when I was growing up in the '90s, and I feel like they were the highest order of watches. Nowadays, some people see the tourbillon as off-putting, showy, and disruptive to an otherwise nice dial design. Typically, I agree with the latter position, although seeing one work in person can be a mesmerizing and hypnotic experience. When I first read the headlines of the new Yema Yachtingraf Tourbillon Mareographe, I rolled my eyes. However, I took a closer look, and I actually dig these watches. Perhaps the irony of a Yema diving tourbillon is part of the reason, but I like the looks!
Yema chose very typical lumed hands and indices on a black sunray dial. There is no central seconds indication because the tourbillon rotates every 60 seconds within its cage. The Mareographe sub-dial itself features the typical Yema blue and red within either a brushed stainless or bronze surround. This is echoed in the hardware around the visible tourbillon. I think that Yema showed an impressive level of restraint by integrating the Yema name onto one of these surroundings instead of using a printed font on the dial. It's a pleasing look overall and one that other, far more expensive brands should follow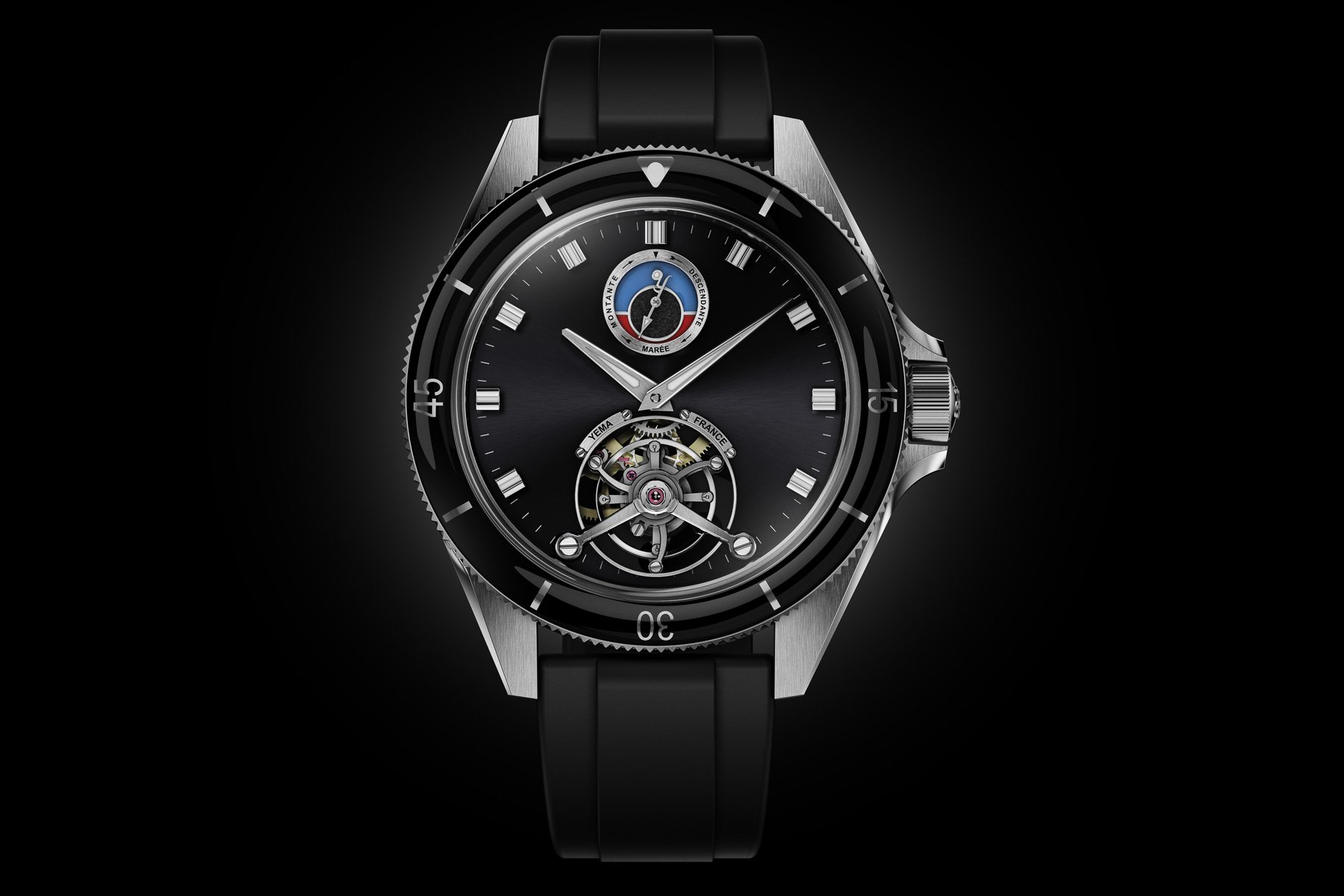 Pricing and final thoughts
The Yema Yachtingraf Tourbillon Mareographe is an oddly refreshing release with an equally pleasing price. In either guise, it retails for US$9,990 (excluding taxes) and is available for pre-order on the official Yema site. The watches will begin shipping in January 2024. A five-figure price tag isn't throwaway money, and I suspect that these pieces will take some time to fully sell, but I think it's a really cool and attractive option to ponder. It's incredibly hard to cross-shop or compare a watch like this to the usual suspects such as the Rolex Submariner. No, these pieces are decidedly in the more eccentric category and will find homes in the collection of those who simply want them. That's not a bad thing, and it's likely Yema's intent anyhow. The fact that it's a usable watch for most activities only makes it that much more attractive.
Does this release speak to you? If it does (or doesn't), sound off in the comments.
Watch specifications
Model
Yachtingraf Tourbillon Mareographe
Reference
37.33.66.SN.U6 (Steel) / 37.33.66.ZN.U6 (Bronze)
Dial
Sunray black with with applied markers coated with Super-LumiNova and a blue and red Mareographe sub-dial
Case Material
Stainless steel or bronze
Case Dimensions
42.5mm (diameter) × 14.5mm (thickness)
Case Back
Stainless steel or bronze screw-in with sapphire display window
Movement
Yema CMM.30 — hand-wound tourbillon, 21,600vph frequency, 19 jewels, 105-hour power reserve, 19 jewels
Water Resistance
10 bar (100 meters)
Strap
Black 20mm FKM rubber with push-button deployant clasp
Functions
Time (hours, minutes, small seconds via the rotating tourbillon), tidal indicator, 60-minute dive bezel
Special Note(s)
Limited edition of 75 numbered pieces of each model. Shipping in January 2024.