Introducing: Two Smokey Bear Watches From Vero Watch Co.
"Only you can prevent wildfires"
"If there's smoke, there's fire." Smokey Bear — the wildfire prevention mascot of the United States — stands prominent in the mind of every American child that's been camping. Introduced to the public in 1944, Smokey Bear is one of the United States' longer-lived mascots. He's been teaching us about wildfire prevention and safe campfire etiquette for generations. Now, Vero Watch Co., champion of the modern American field watch, is celebrating Smokey Bear's 79th birthday with a pair of special watches.
Vero is based in the Pacific Northwest of the United States. Though maybe not quite as much of a tinder box as, say, where I live in Northern California, in recent times, nowhere in the American West is exempt from wildfires. We've been relatively spared this year, thankfully, so it's a good year to celebrate Smokey Bear. Vero collaborated with the U.S. Forest Service, Smokey Bear's handlers, on these two watches, and 10% of profits will support the agency. Historic images of Smokey show him with his trademark hat and fire shovel…but no wristwatch. However, press materials from Vero clearly show Smokey with a watch on. I like to think he was gifted one for his long life of service.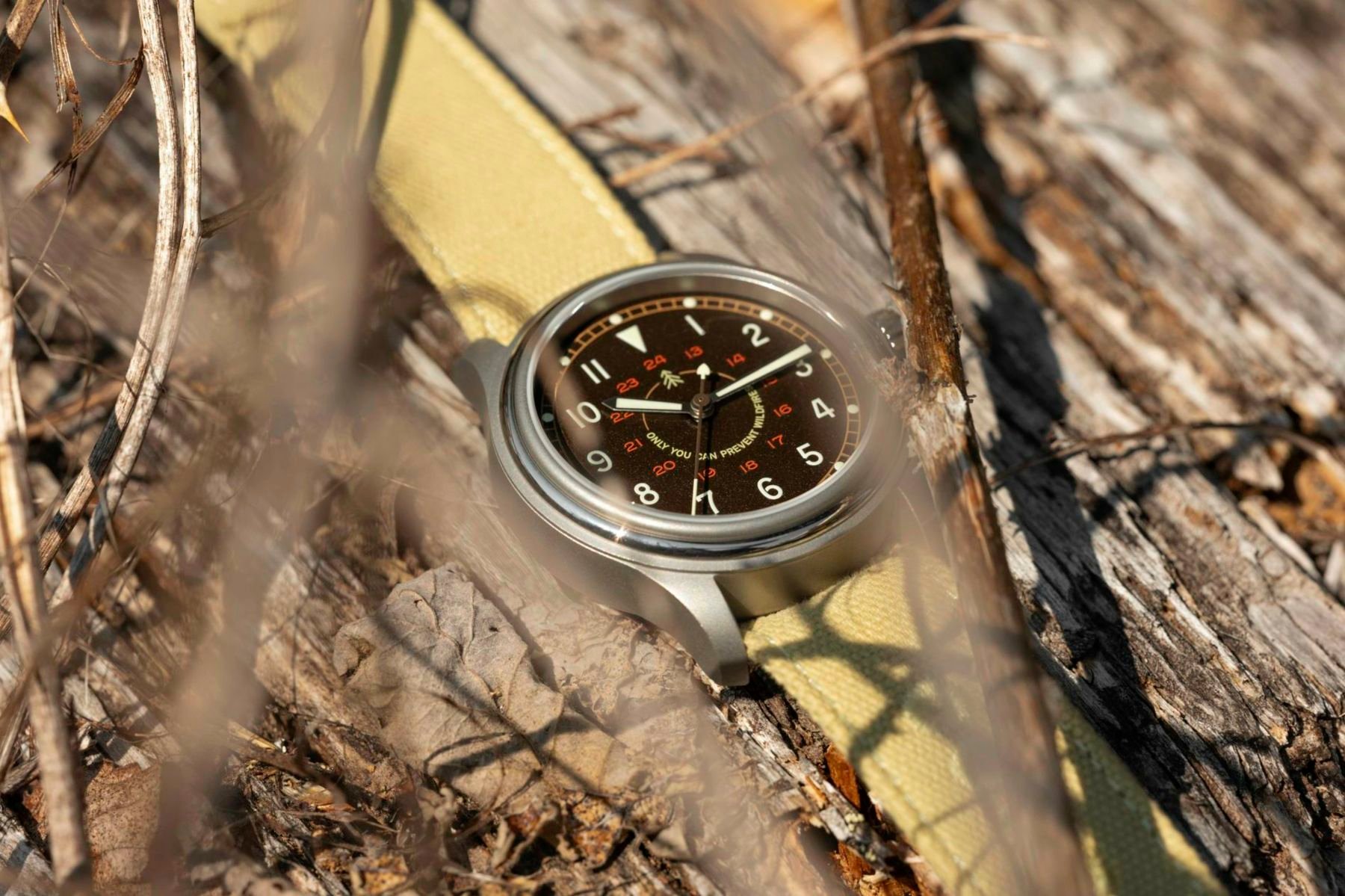 Smokey '44 and Smokey '64
The two watches are very similar and share the same specs. However, their looks differ, with each based on the design of field watches from a different decade. The first, Smokey '44, is the more vintage-looking one of the two, featuring modified cathedral hands, seriffed numerals, and yellowed fauxtina. It also is the only watch to feature Smokey's likeness on the dial, at 12 o'clock. The Smokey '64 is more contemporary, with sword hands and sans-serif numerals. Both watches feature Smokey's iconic shovel head as the counterweight for the seconds hand.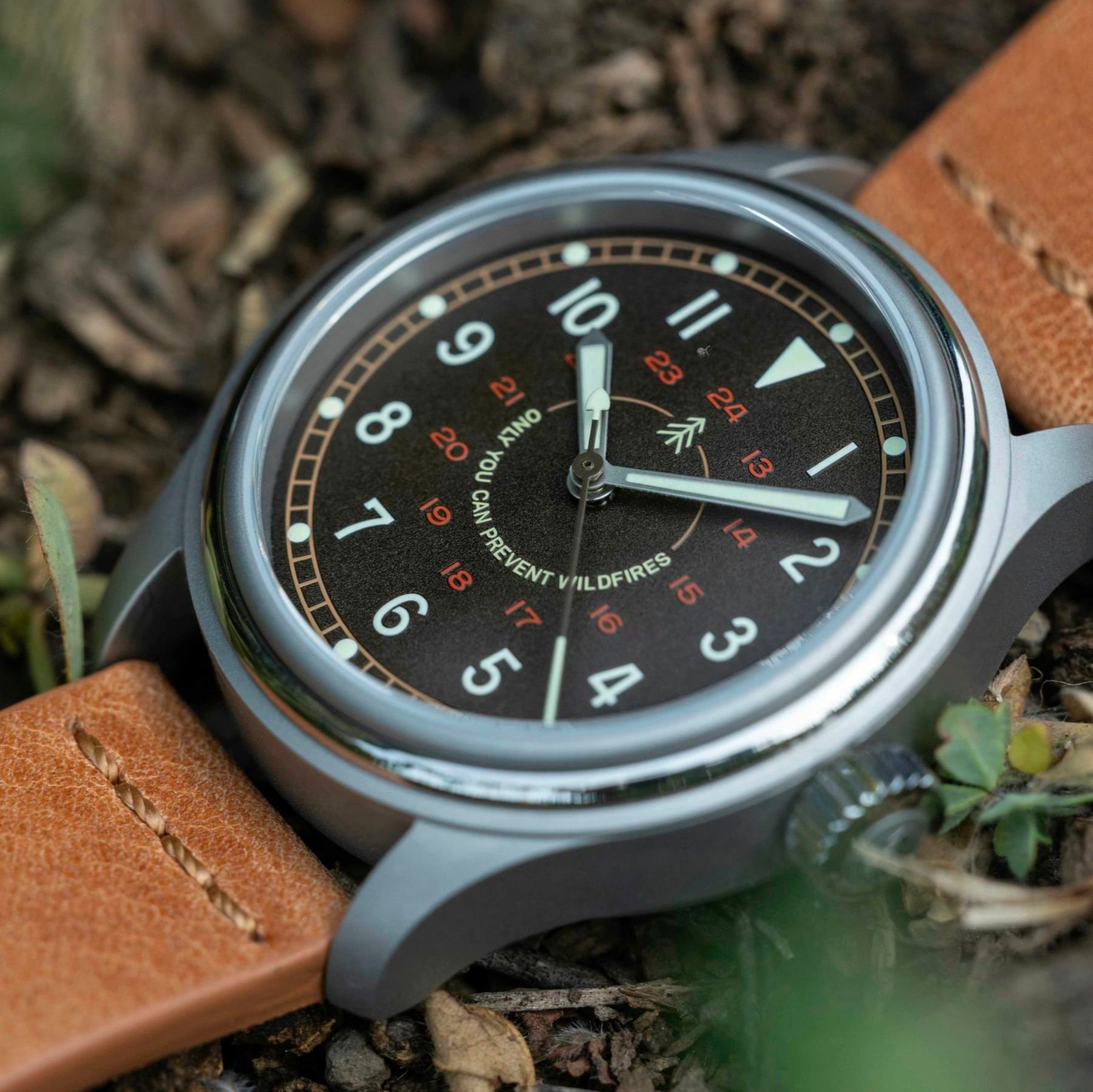 Also, both watches employ a rich brown dial. The fine texture reduces reflection and increases readability. It matches surprisingly well with the red, orange, and white printing on the dials, really leaning into the vintage vibe. Each dial features a rendition of Smokey's catchphrase (though he's had many). The Smokey '64 has "Only you can prevent wildfires," while the '44 simply states "Only you." Call it the Mandela effect or a shift in messaging, but I clearly remember the Smokey from my childhood saying, "Only you can prevent forest fires." Regardless, shared between the two versions is a 24-hour track in red on the inside of the dial, securing their status as field watches.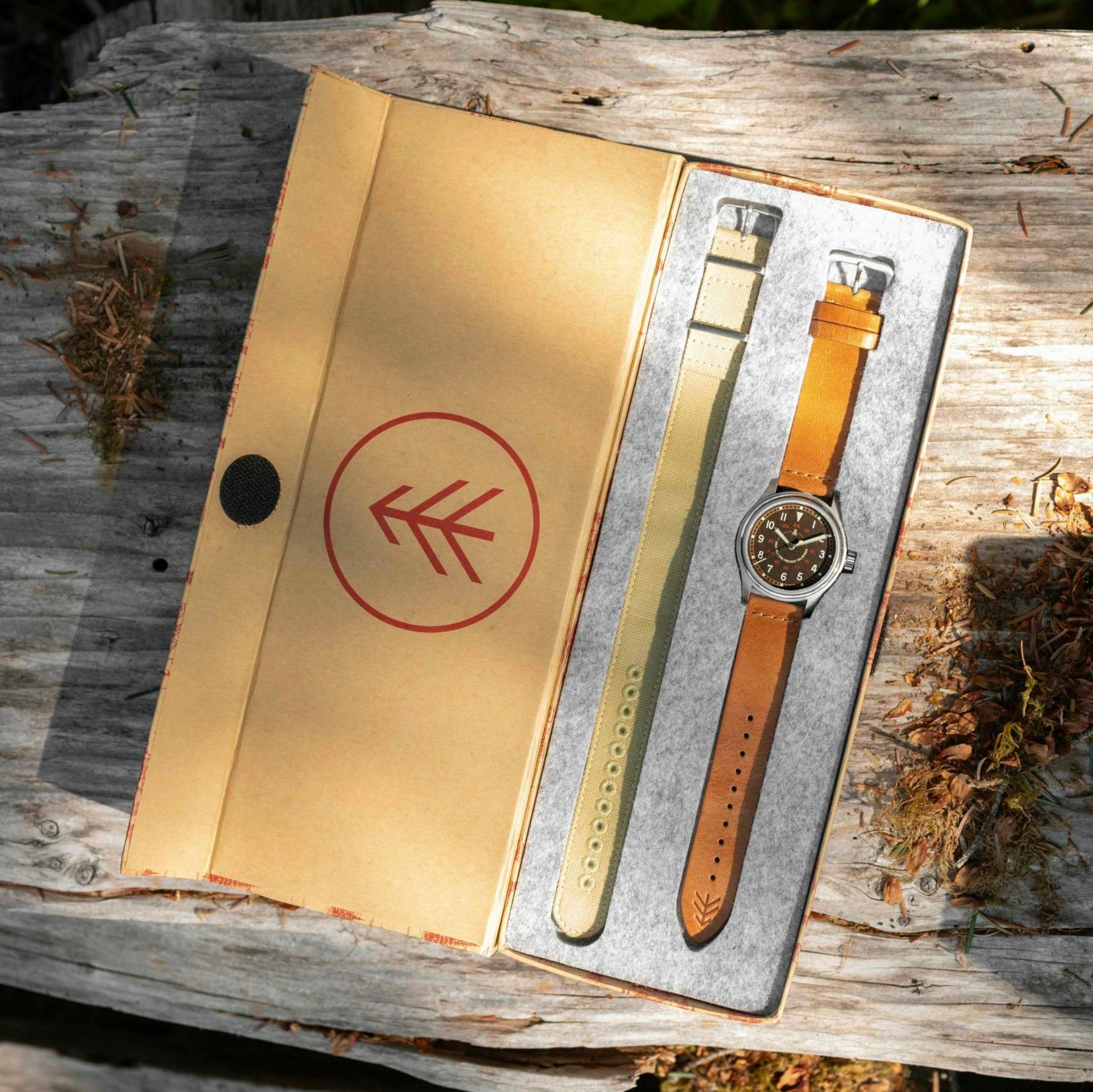 Good-looking, bona fide field watches
Vero's Smokey Bear watches are field ready. The brushed stainless steel cases have screw-down crowns and sapphire crystals and are water resistant to 120 meters. The indices and hands are illuminated with Super-LumiNova for low-light legibility. And while the watches look sharp on their leather straps, also included are canvas straps for true field-watch capability.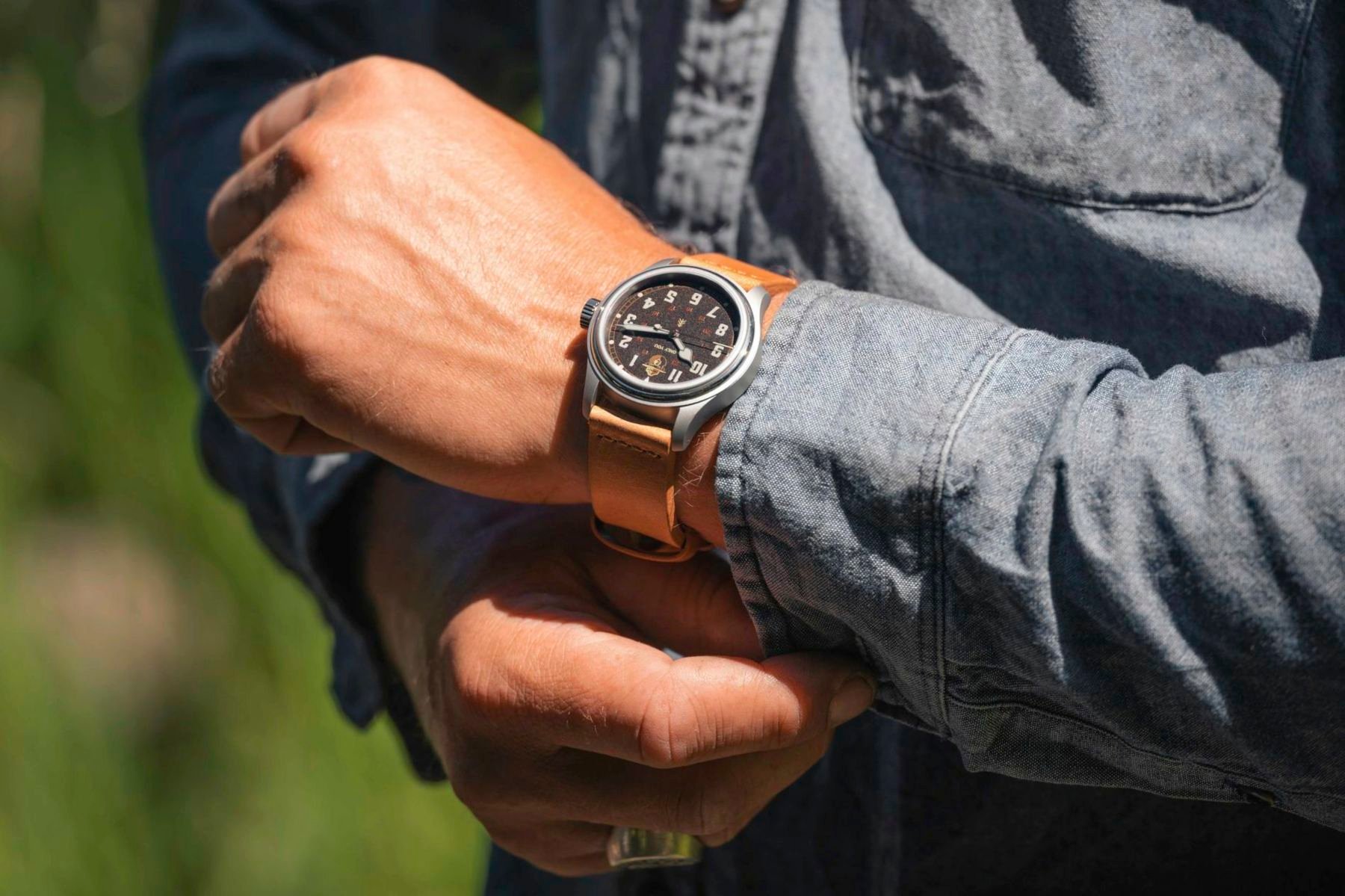 And these watches should wear exceptionally well too. Their 38mm case diameter combines with a 12mm thickness, a 46mm lug-to-lug, and a common 20mm lug spacing. Inside both versions ticks a Seiko NH38A automatic movement with a 41-hour power reserve. The case backs are solid steel, boldly engraved with "Only you can prevent wildfires," except the "o" in "you" is replaced with Smokey's likeness.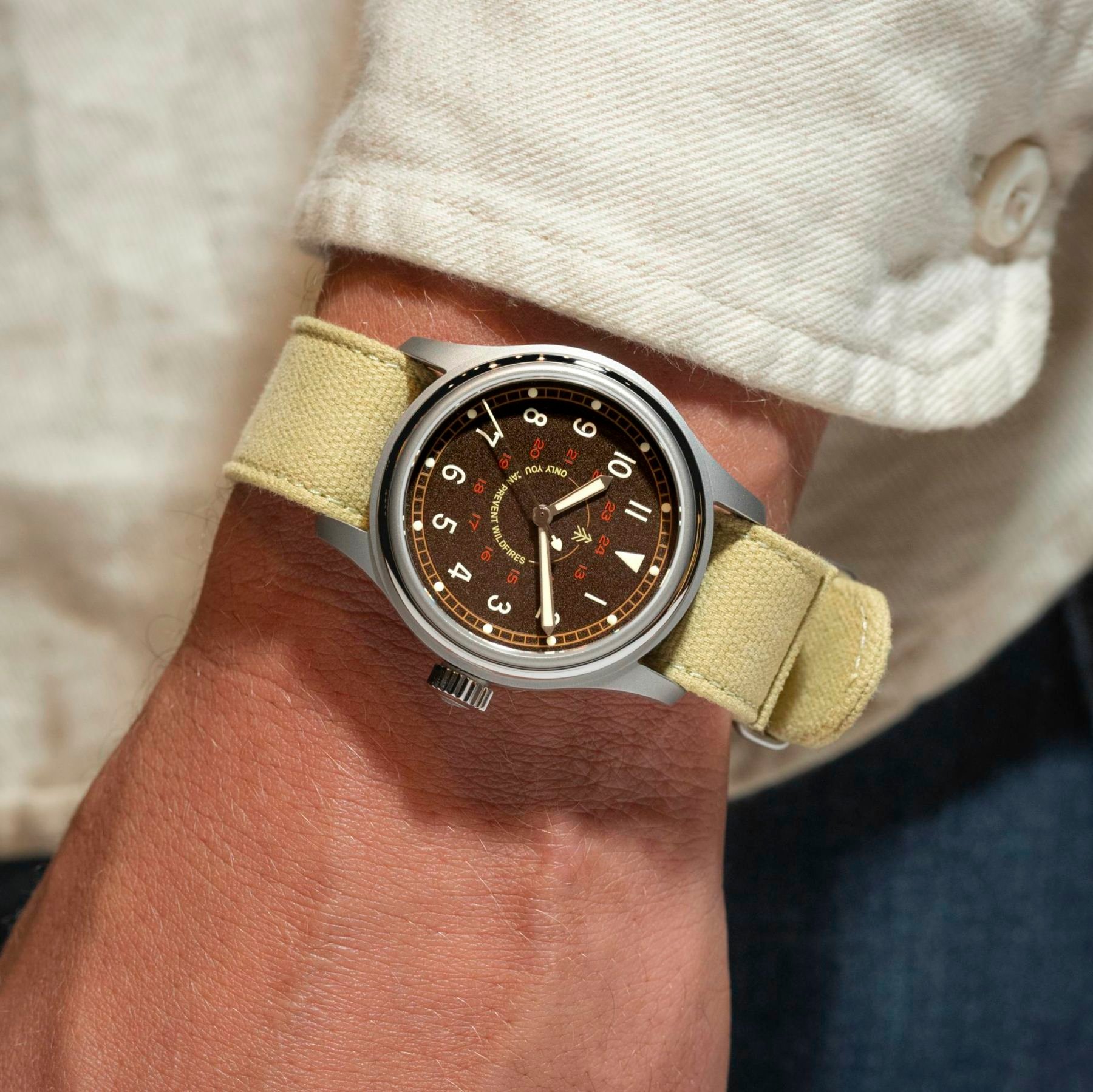 Smokey Bear: beloved but dated
And we all believed that message too. I can't imagine how many vigilant children tested the patience of their parents every camping trip as they grilled them on their fire-safety protocol. But it worked. For the better part of a century, the United States faired fairly well in the way of wildfires. These recent mega-infernos fit for B-movie destruction flicks were unheard of until recently. So what happened?
Perhaps Smokey has become the beloved elderly relative at family gatherings that nonetheless says some things that make everyone a little uncomfortable.
Well, aging infrastructure, urban development further into wild areas, and half a century of a buildup of fuels on the forest floor combine into the perfect storms we're seeing today. Maybe Smokey did too good of a job. Because we did prevent forest fires, but fire has always been a part of the Western American ecosystem. And low-intensity forest fires did the work of consuming dry fuels on the forest floor without destroying the established, fire-hardy trees in the landscape. A "just say no" approach to forest fires led to a buildup of fuels that, when they do catch fire now, burn with such intensity that nothing is spared from the destruction.
So maybe these watches are presented to Smokey as a retirement gift. Perhaps Smokey has become the beloved elderly relative at family gatherings that nonetheless says some things that make everyone a little uncomfortable. But really, maybe we, the camping public, can still keep doing our part to prevent forest fires by making sure our campfires are fully extinguished, just as Smokey asks of us. Because if there were ever a time an errant spark or unattended fire posed a catastrophic risk, it's now. And though Smokey is completely anti-fire, thankfully, the U.S. Forest Service and state and regional fire departments are not. They now employ prescribed, controlled burns to manage fuel loads in our forests. And that is how you prevent wildfires.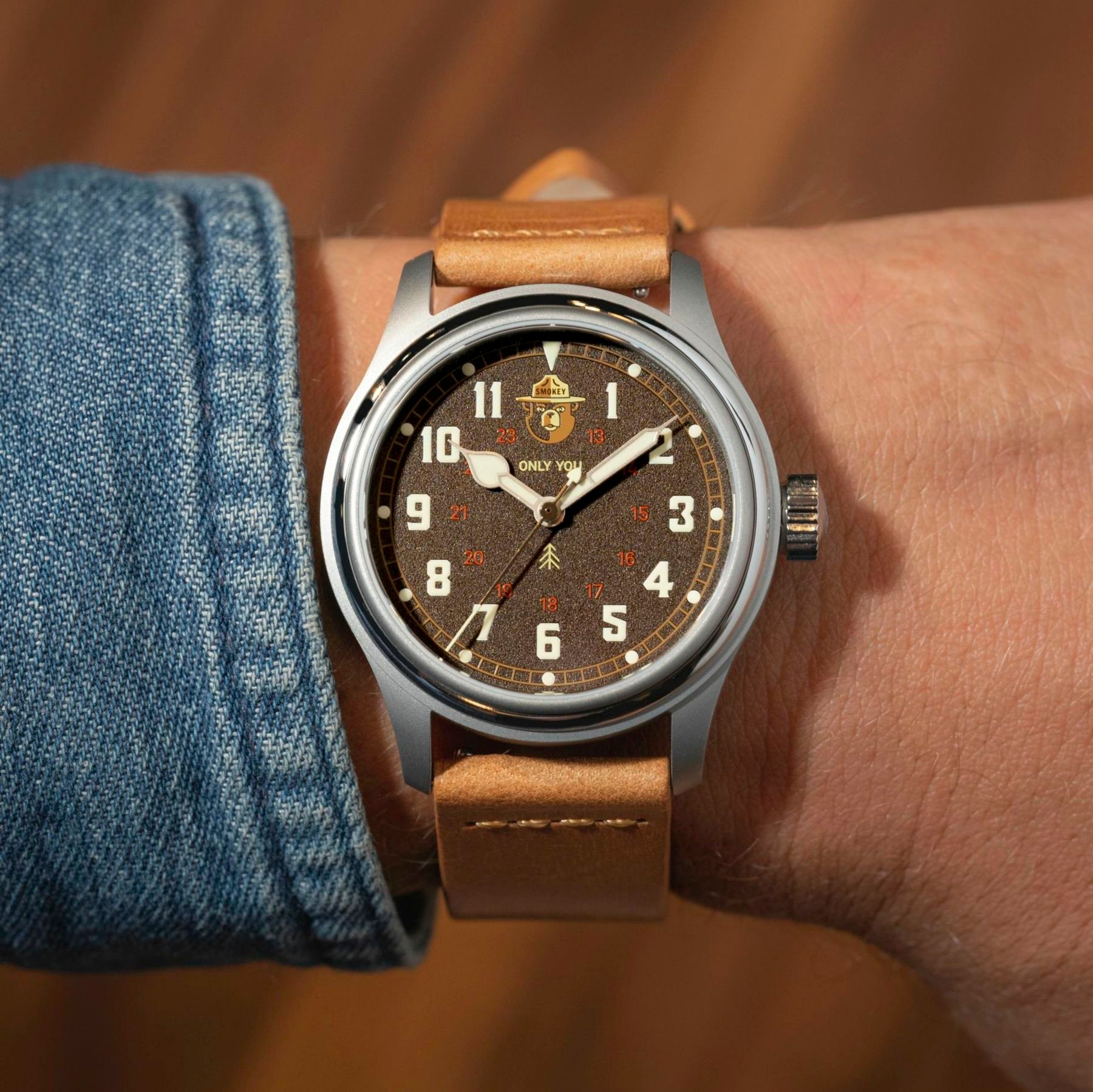 Thanks, Smokey Bear
And, while I'm on my soapbox, let me say thank you to the people in the U.S. Forest Service and state, local, and volunteer fire services for all the incredible work that they do. Being evacuated for wildfire is a difficult experience (I know). But coming back to an intact home is a blessing. So, thank you. And thank you, Smokey Bear, for instilling in all of us the dangers of fires and the preciousness and precariousness of our forests.
The Vero Watch Co. Smokey Bear Watches are available on the Vero website for US$450. Once again, 10% of profits go toward the U.S. Forest Service.
Watch specifications
Model
Official Smokey Bear Watches: Smokey '44 and Smokey '64
Dial
Brown with fine-grain texture and painted luminous indices
Case Material
Stainless steel
Case Dimensions
38mm (diameter) × 46mm (lug-to-lug) × 12mm (thickness)
Case Back
Solid stainless steel, engraved
Movement
Seiko NH38A — automatic winding, 21,600vph frequency, 41-hour power reserve, 24 jewels
Strap
Both leather and canvas straps, 20mm width
Functions
Time only (hours, minutes, central seconds)