Italians Styled Japanese: Bvlgari Octo Finissimo Sejima And Aluminium Sorayama Limited Editions
The Swiss watch manufacturer with Italian roots explores modern Japanese art
For Geneva Watch Days 2022, Bvlgari surprises us with two new models designed by two famous Japanese artists. Architect Kazuyo Sejima and illustrator Hajime Sorayama used Bvlgari's Octo Finissimo and Aluminium models as their canvases.
It is not unusual for watch brands to dedicate special editions to celebrities. But it's not so often that brands invite people outside the watch industry to actually design watches. If highly respected artists receive the opportunity to apply their skills and style to the design of watches, this promises results that excitingly differ from what we're used to. In this case, we even face a culture clash between a brand that proudly showcases its classic Roman heritage and a distinctly modern form of Japanese art. It is a combination that arouses one's curiosity, is it not?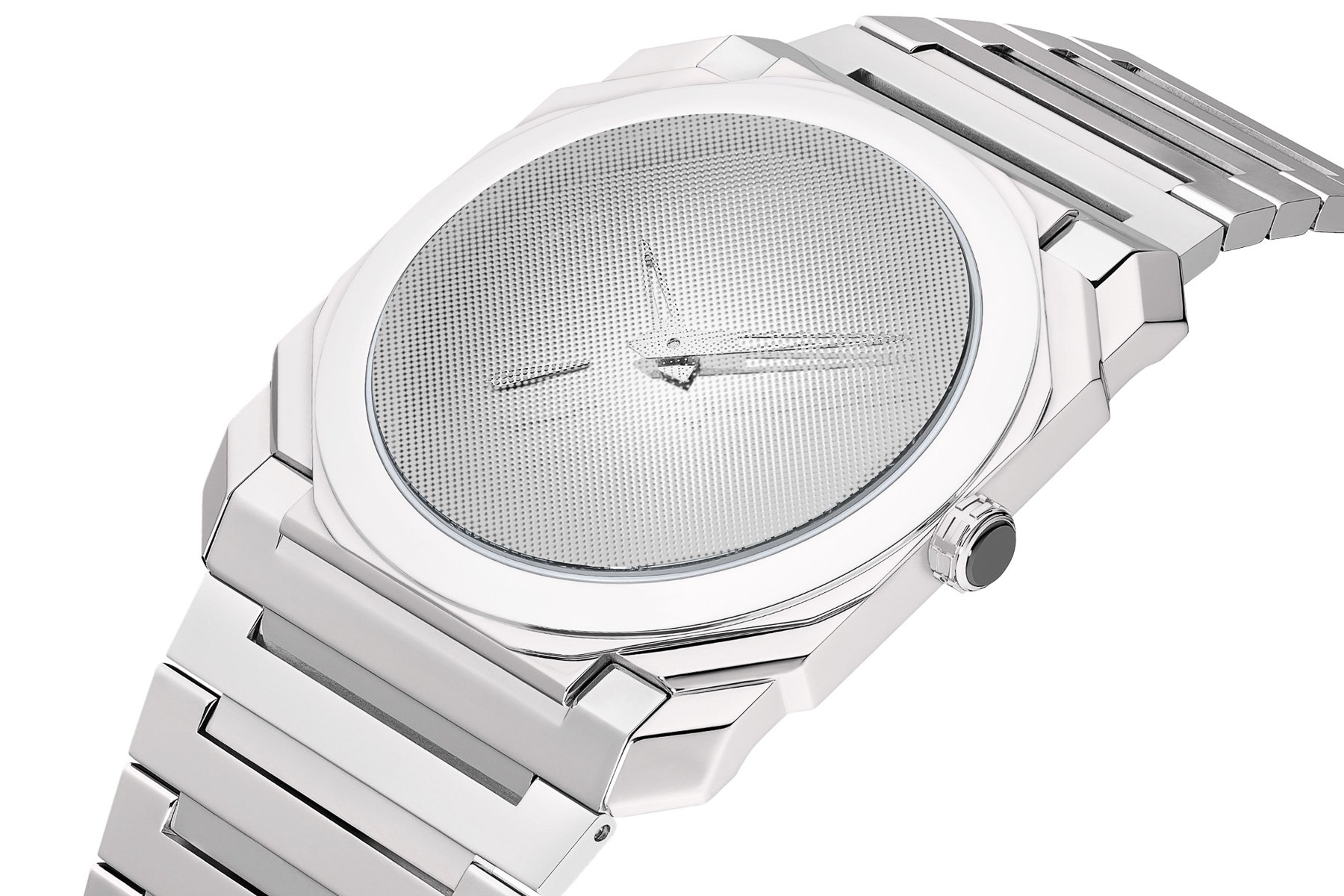 Octo Finissimo Sejima Edition
My very first impression of the Octo Finissimo Sejima Edition was, "Oh, that's just great! An even shinier version of the Octo Finissimo with a crystal that makes it almost impossible to read the time." However, there is more to it — a lot more!
This edition of the well-known Bvlgari Octo Finissimo has been designed by Kazuyo Sejima, a famous Japanese architect. Together with Ryue Nishizawa, she founded the Tokyo-based architecture firm SANAA. In 2010, the two were awarded the Pritzker Architecture Prize, which is frequently referred to as the Nobel Prize of architecture.
Kazuyo Sejima has developed her own interpretation of camouflage design. This is not the common type of camouflage pattern that you know from military or hunting clothes. Kazuyo Sejima's camouflage design works with highly reflective, semi-transparent surfaces that mirror the environment around them. In this way, her objects meld with their surroundings and thus visually disappear. She has designed the Sumida Hokusai Museum in Tokyo and a high-speed train in this way, for example. Now that you are aware of this background, take another look at the Octo Finissimo Sejima Edition. It absolutely represents Sejima's style!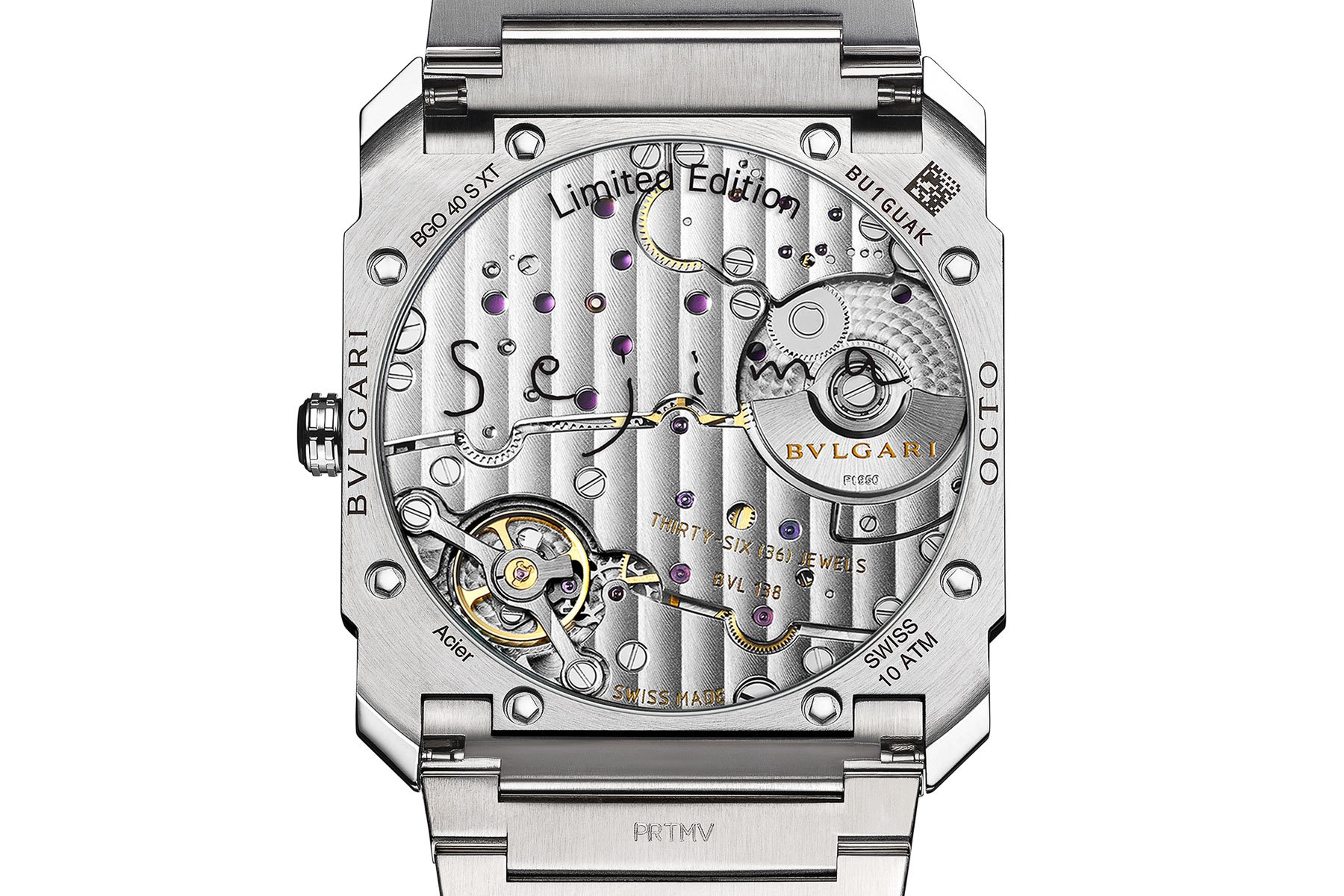 The closest relative of the Octo Finissimo Sejima Edition is the Octo Finissimo S with a silver dial that Jorg reviewed here. The Sejima Edition has the same case dimensions of 40mm in diameter and 6.4mm in thickness. It has the same signature integrated bracelet and the same BVL 138 caliber. If you want more details about the Octo Finissimo and how various editions of this ultra-thin watch feel on the wrist, check out the story about my journey to acquire one of them.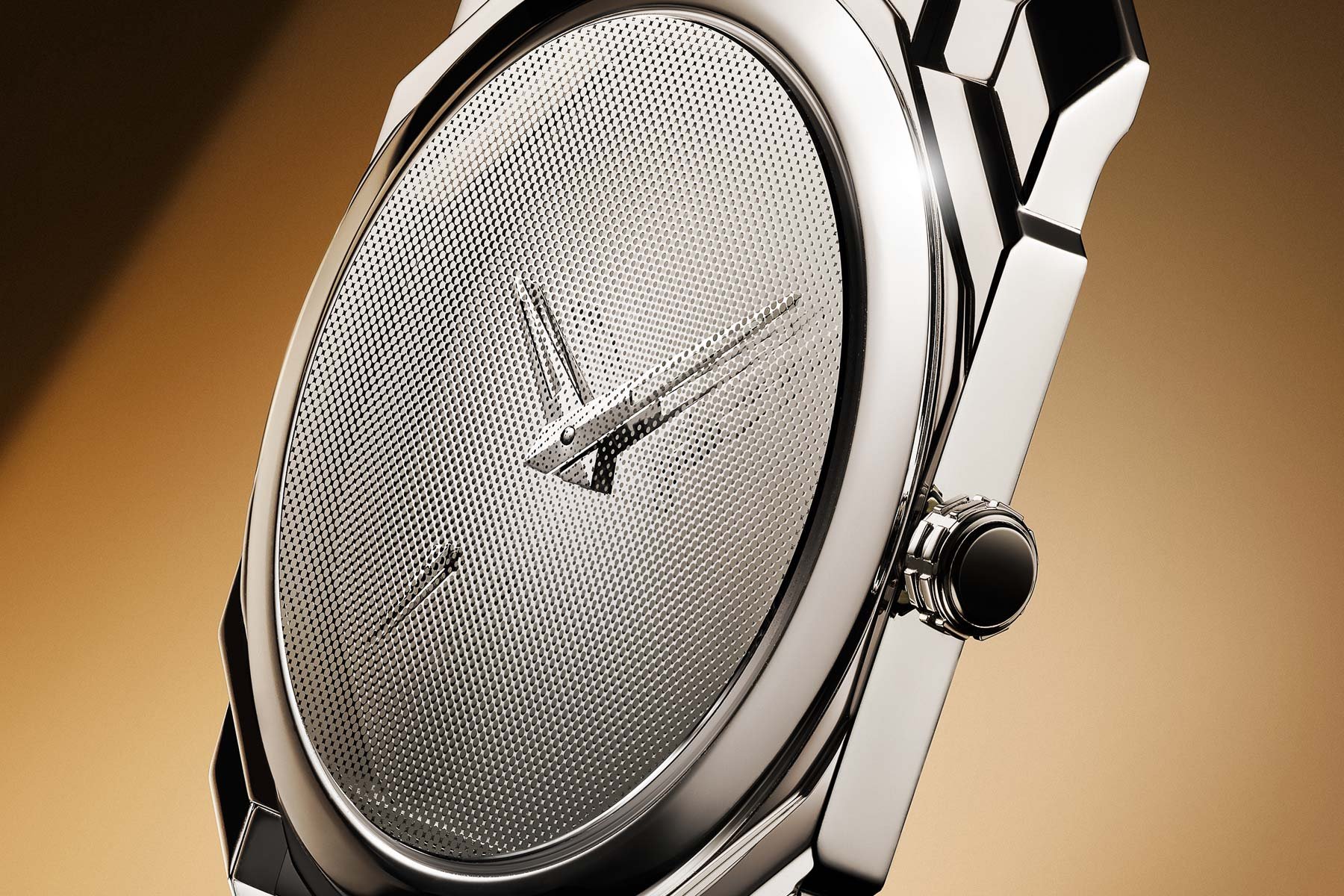 What is different in the Octo Finissimo Sejima Edition?
A pattern formed by tiny metalized dots covers the inside of the sapphire crystal. On the one hand, these dots reflect light falling on the crystal. On the other hand, they slightly obscure the dial. The entire dial is mirror polished, and there are no indexes. This dial is a perfect mirror except for the hands. The dot pattern on the crystal partially obscures the hands without reducing the mirror effect. Hence, it is even harder to identify this Octo Finissimo as a watch than the Octo Finissimo S with a silver dial. This watch will not appear like a watch, but rather, like a bracelet. It will not be easy to read the time from this dial. Sejima decided that the overall appearance was worth the tradeoff between readability and style. The Octo Finissimo Sejima Edition is primarily a piece of art and only secondarily a time-telling instrument.
All surfaces of the case and the bracelet of the Sejima Edition are polished. As a result, this Octo Finissimo loses a bit of its structured appearance. The alternation of brushed and polished surfaces that watch enthusiasts often regard as a sign of advanced design and manufacturing disappears. Instead, we receive a mirror-like object winding around our wrists. That's not necessarily bad, though, and this edition is definitely a rather special one.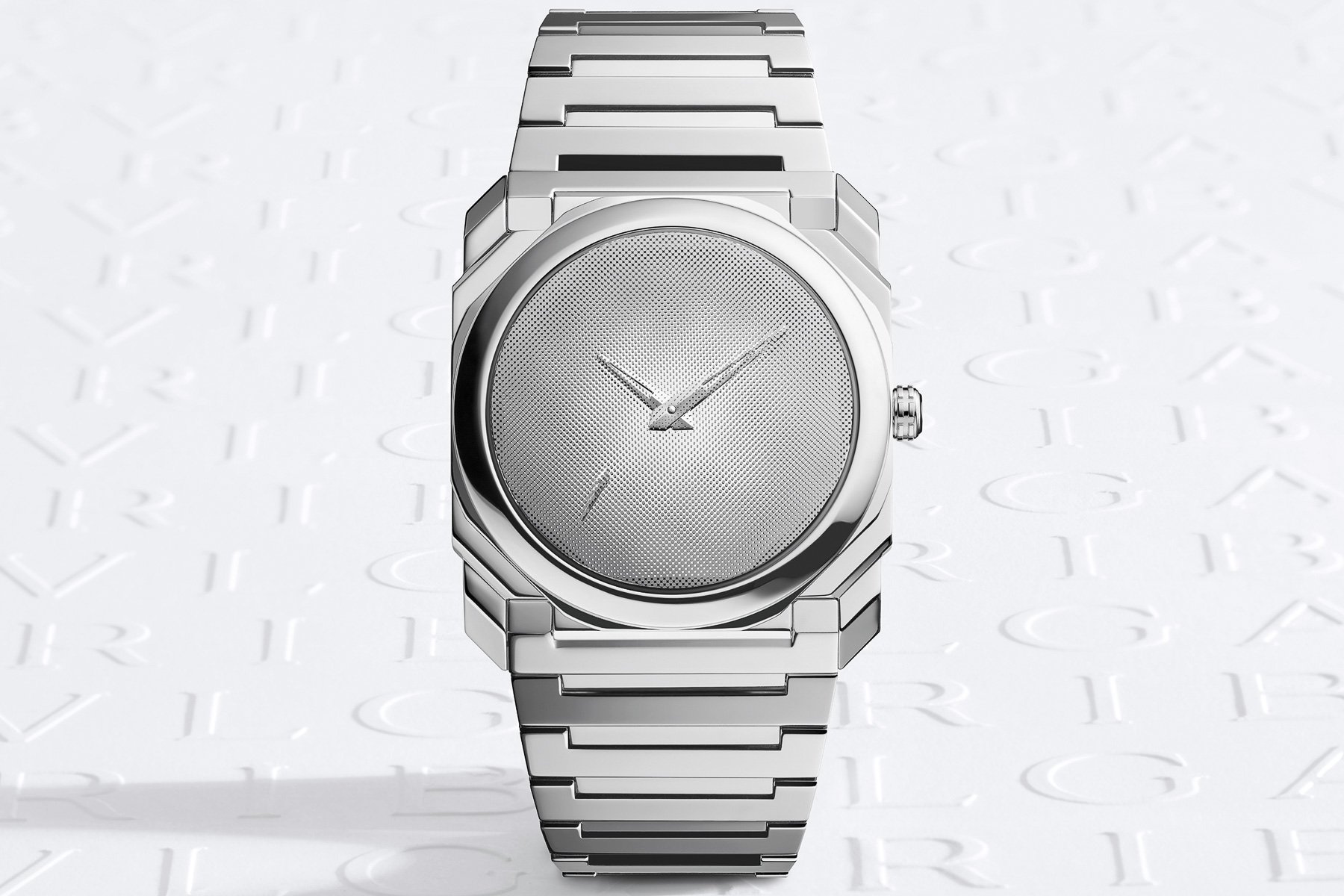 What does it offer you?
The surfaces of the Octo Finissimo's case and bracelet are not as even as those on other objects that Kazuyo Sejima has designed. Therefore, it will be interesting to see if the Octo Finissimo Sejima Edition will meld with its environment when worn. This is one of the occasions where I really lament not having a hands-on experience with a watch.
What is certain is that this watch offers you the opportunity to carry a piece of art or even a piece of architecture designed by one of the most famous architects of our time on your wrist. The Octo Finissimo Sejima Edition will be limited to 360 pieces and will come in a special steel box with mirror surfaces matching the watch's design.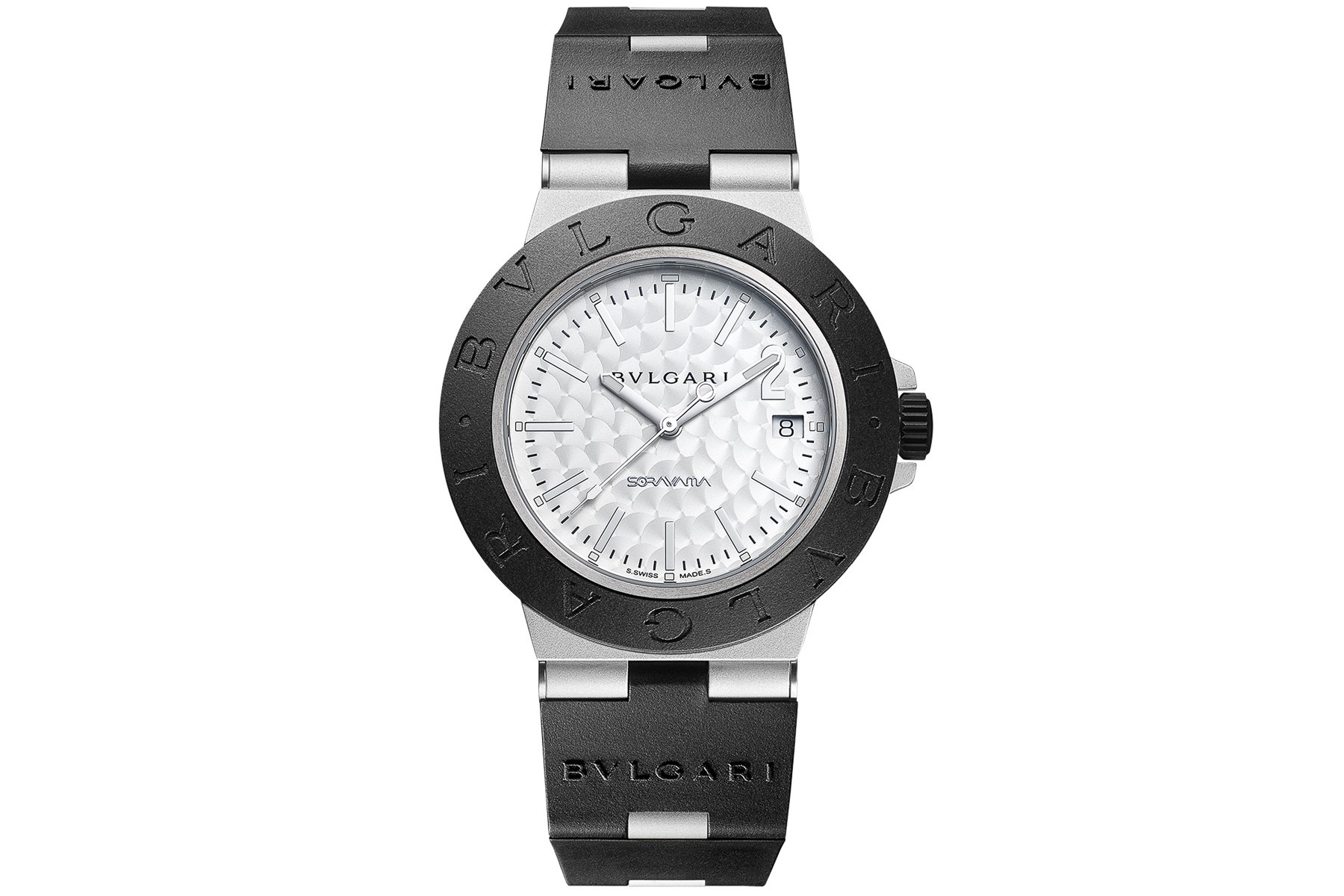 Aluminium Sorayama Special Edition
Even if you think you don't know Japanese artist Hajime Sorayama, you probably do. I bet you have seen his illustrations of sexy androids made of shiny, mirror-polished steel parts emulating the shape of a female human body (and if you haven't, google them when the kids aren't around). The contrast between the familiar, attractive form and the cold, hard material these androids are made of creates the tension and fascination of Sorayama's drawings. Furthermore, Sorayama often depicts them floating in hostile environments, which are definitely not ideal for an intimate encounter.
The Aluminium Sorayama Special Edition possesses everything that identifies Bvlgari's entry-level family of watches. We see the signature aluminum case, a bold black "BVLGARI BVLGARI" signed rubber bezel, and hinge-type lugs as well as a black rubber strap with aluminum links. The case back and the crown are made of black PVD-coated titanium. The watch comes in the standard 40mm size and is driven by the BVL 192 caliber, a modified Sellita SW-330.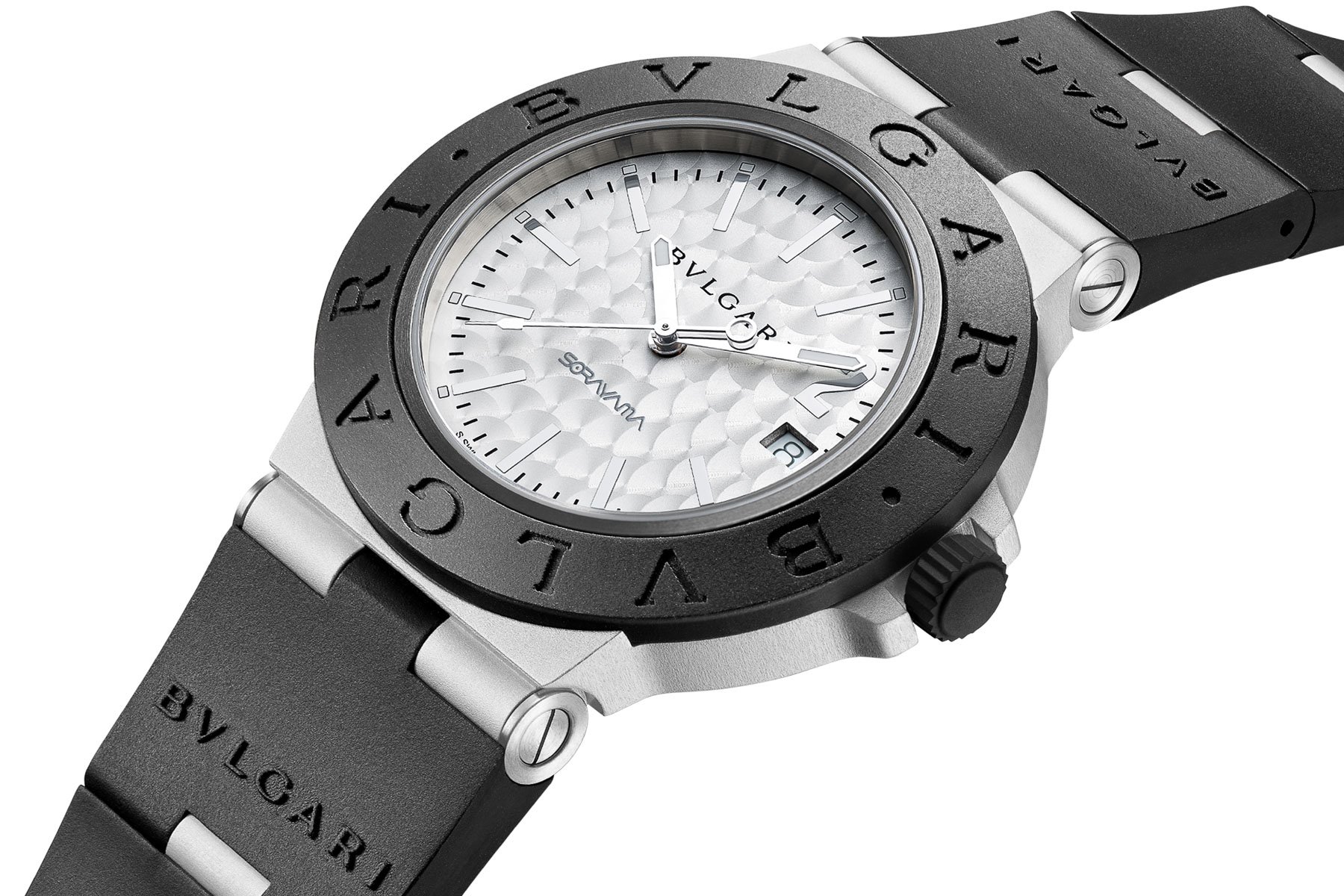 What did Sorayama change?
The most eye-catching difference between the Sorayama Special Edition and a standard Bvlgari Aluminium is the dial. Bvlgari doesn't disclose whether it is made of aluminum, but it looks as if it is. A pattern of circular graining reminds one of the looks of aluminum plates. The surface of the plane Spirit of St. Louis, which was the first to cross the Atlantic in a nonstop solo flight, inspired Sorayama to create this design. The hour index at 2 o'clock is a number, while all of the others are batons. The number two is Sorayama's lucky number due to his birth date — February 22nd, 1947 (Japanese Showa year 22). Finally, his logo, which represents his name in stylish Latin letters, is printed on the dial and engraved into the case back.
You can easily differentiate the Aluminium Sorayama Special Edition from other models of Bvlgari's Aluminium family. With its extraordinary surface structure, the dial not only adds visual appeal but also makes this watch appear more distinguished than the standard models. Unfortunately, the date window ruptures the circular pattern and unbalances the entire dial. This watch would look better without a date. What kind of impact the date window will have when wearing the watch remains to be seen. The Aluminium Sorayama Special Edition is limited to 1,000 pieces.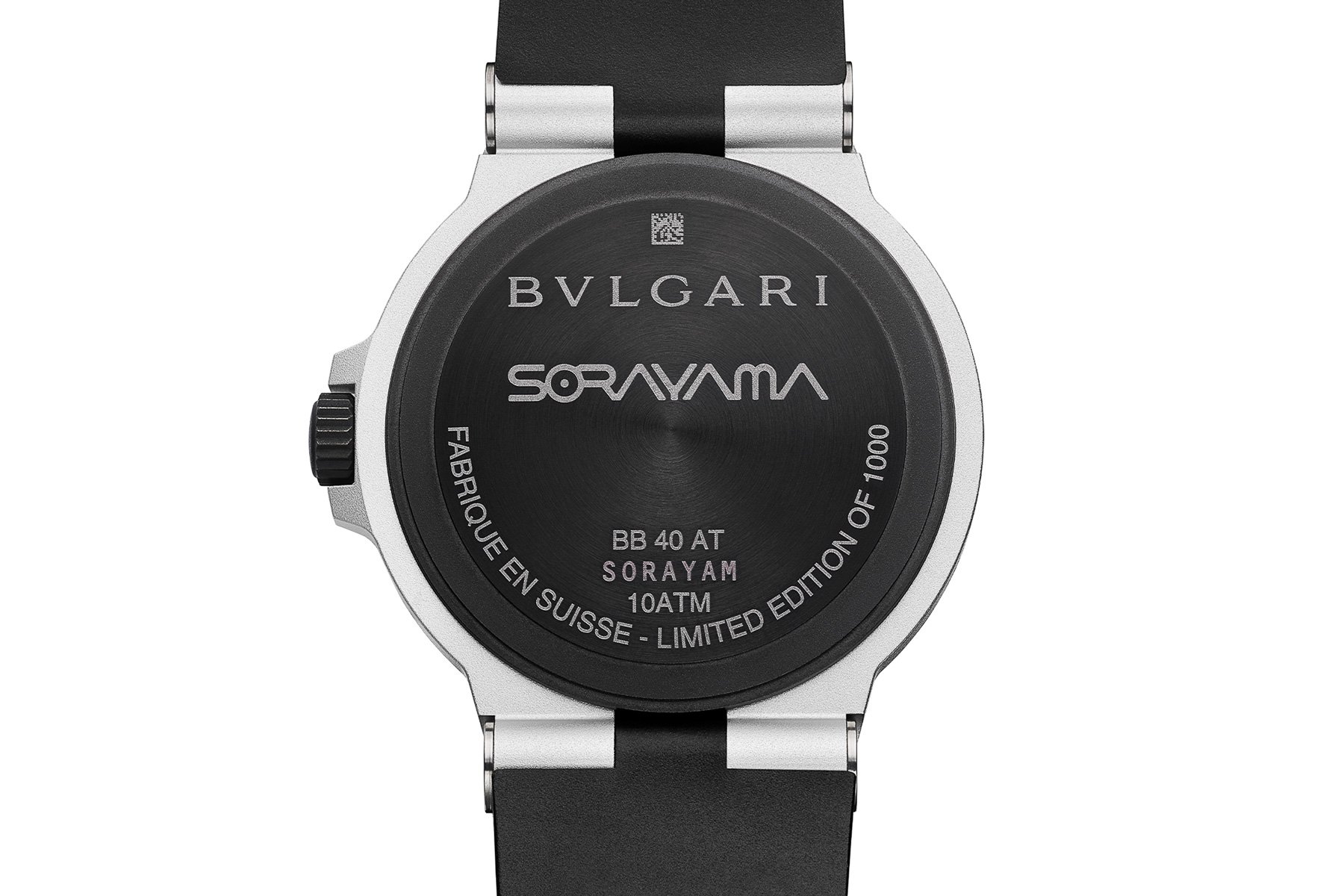 Overall impression
These two watches represent an interesting move by Bvlgari. While the brand cultivates its Roman provenance, these watches don't employ classical Italian artistry but modern Japanese art. It seems that Kazuyo Sejima and Hajime Sorayama really designed these Octo Finissimo and Aluminium models. When brands dedicate special-edition watches to celebrities, they often sparingly involve them in the design process. Here, you get the chance to own a genuine piece of art from one of these artists packaged into a Bvlgari watch.
Although these novelties clearly are an Octo Finissimo and an Aluminium, at the same time, they are distinctly different from the standard models. These watches can easily be identified as the special editions they are, and they are both tightly connected to the artists who designed them. That could make them attractive to these artists' fans, even if those fans are not watch enthusiasts.
At the time of publication, we are awaiting pricing info from Bvlgari. As soon as we receive it, we will be sure to add it here.
What do you think about these two new models from Bvlgari? Do you welcome some fresh design ideas? Or do you think that artists should stick to their art instead of trying to apply it to watches? Let us know in the comments! And for more information, visit the official Bvlgari website.