Why I Bought The Bvlgari Octo Finissimo S
The almost forgotten Genta design, resurrected as a symbol of the Italian lifestyle
We who write for Fratello are passionate watch lovers like you. But our writing bears the risk of persuading ourselves to fall in love with one or the other watch or even follow one of the current trends in design. Next to the inescapable vintage trend and the continuously evolving diversity of structured dials in all imaginable color hues, the unbroken demand for what has been named "luxury sports watches" also haunts us Fratello editors in our dreams.
Very few of these sports watches are indeed appropriate companions for really sporty situations. Many are too valuable to risk smashing against sports gear or on the ground when our enthusiasm gets the best of us. Others are plainly uncomfortable for sporting activities. Most of the watches in this category are made of metal. While steel is the favorite metal in watchmaking today, almost any other metal could be used as well, and the brands don't tire of trying out new applications and combinations of materials. While rubber or silicone would be a more suitable material for straps on watches of this type, more-or-less integrated steel bracelets are what many of us are lusting for.
Not that I didn't already have a watch in this category within my collection. I'm not going to unsettle you by presenting the definition of an addiction, but, you know, I felt like I needed another one.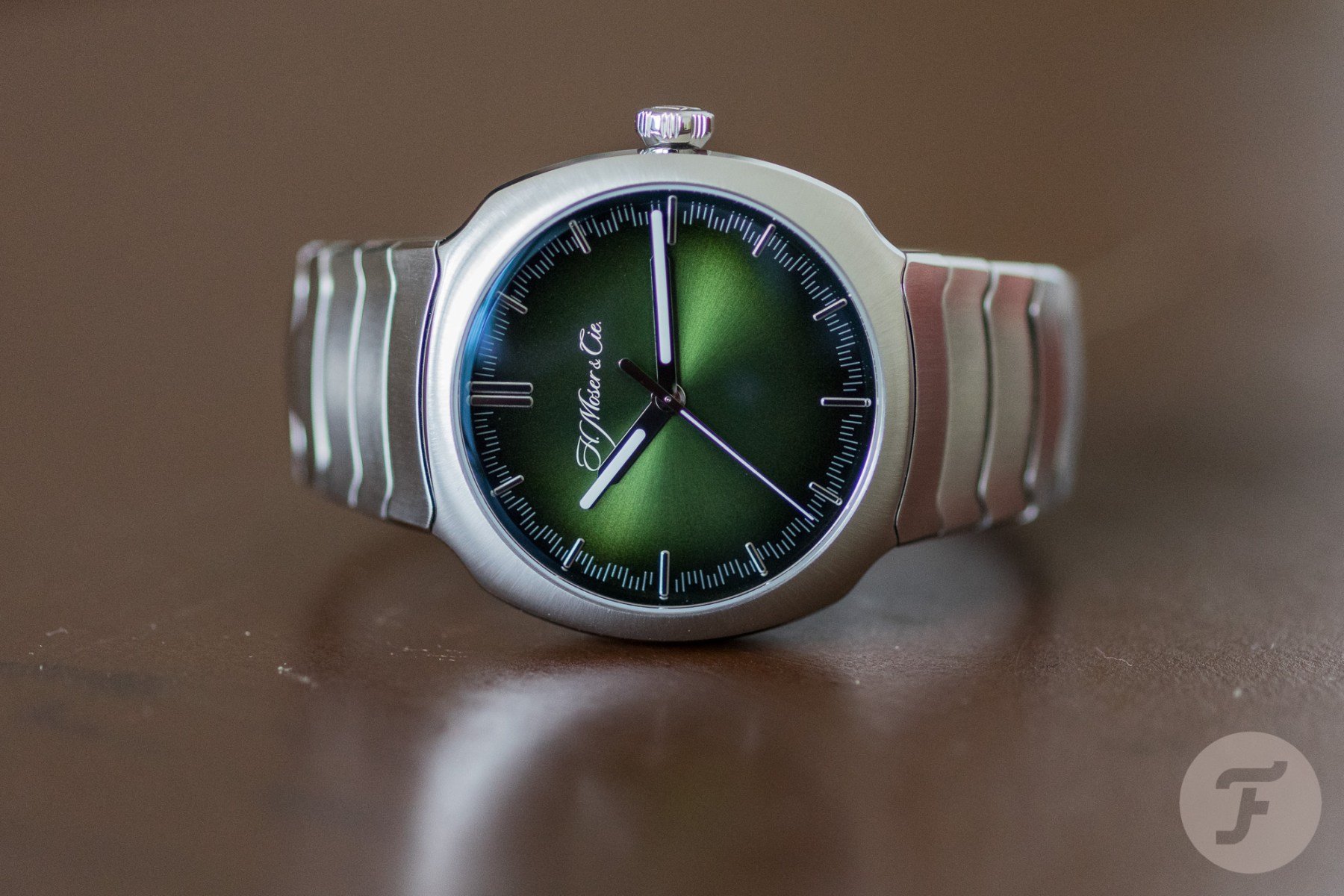 Making a choice
My shortlist consisted of the H. Moser & Cie. Streamliner Centre Seconds, the Bvlgari Octo Finissimo, the Omega Speedmaster Calibre 321 in steel, and maybe, the Citizen The Citizen Caliber 0200. The Streamliner Center Seconds currently is only available with a green dial, which isn't attractive to me on this watch. The Speedy is not really available at the moment. The Citizen was not yet on the market. While I had feared that I might not be able to cross any of these from my must-have list, the decision became rather easy.
But there are several different executions of Bvlgari's Octo Finissimo, even if you concentrate on the three-hand models.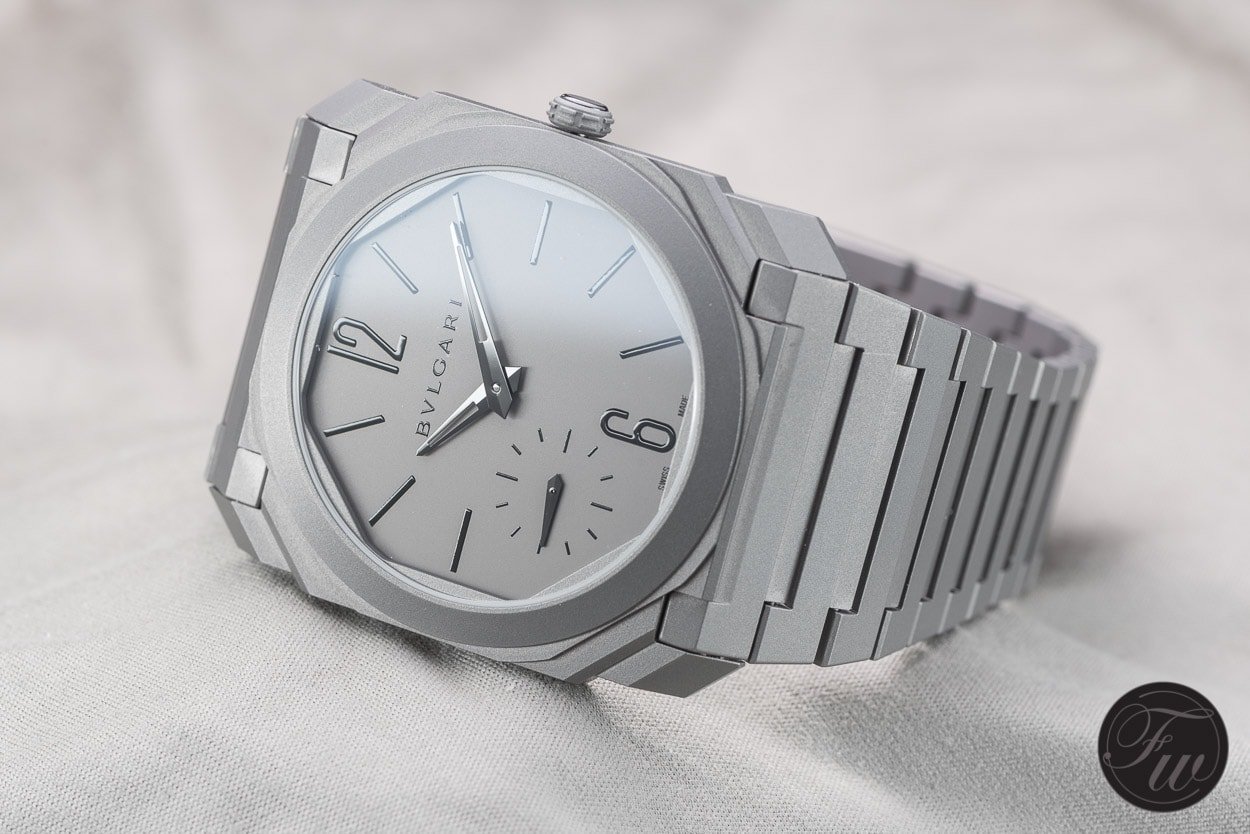 Which Octo Finissimo?
The version made of titanium was the first Octo Finissimo I tried on my wrist. But that model somehow didn't arouse any enthusiasm in me. This is strange. I love titanium. It is not uncommon that a watch catches my attention for the simple fact that it's made of titanium. But here, it doesn't work for me. This model appeared rather dark, even almost stealthy, to me. I don't consider this a bad characteristic at all. But this didn't suit the Octo Finissimo in my view. Usually, I associate titanium with extraordinary ruggedness. The Octo Finissimo, on the contrary, is rather delicate, which might cause this nagging feeling of contradiction.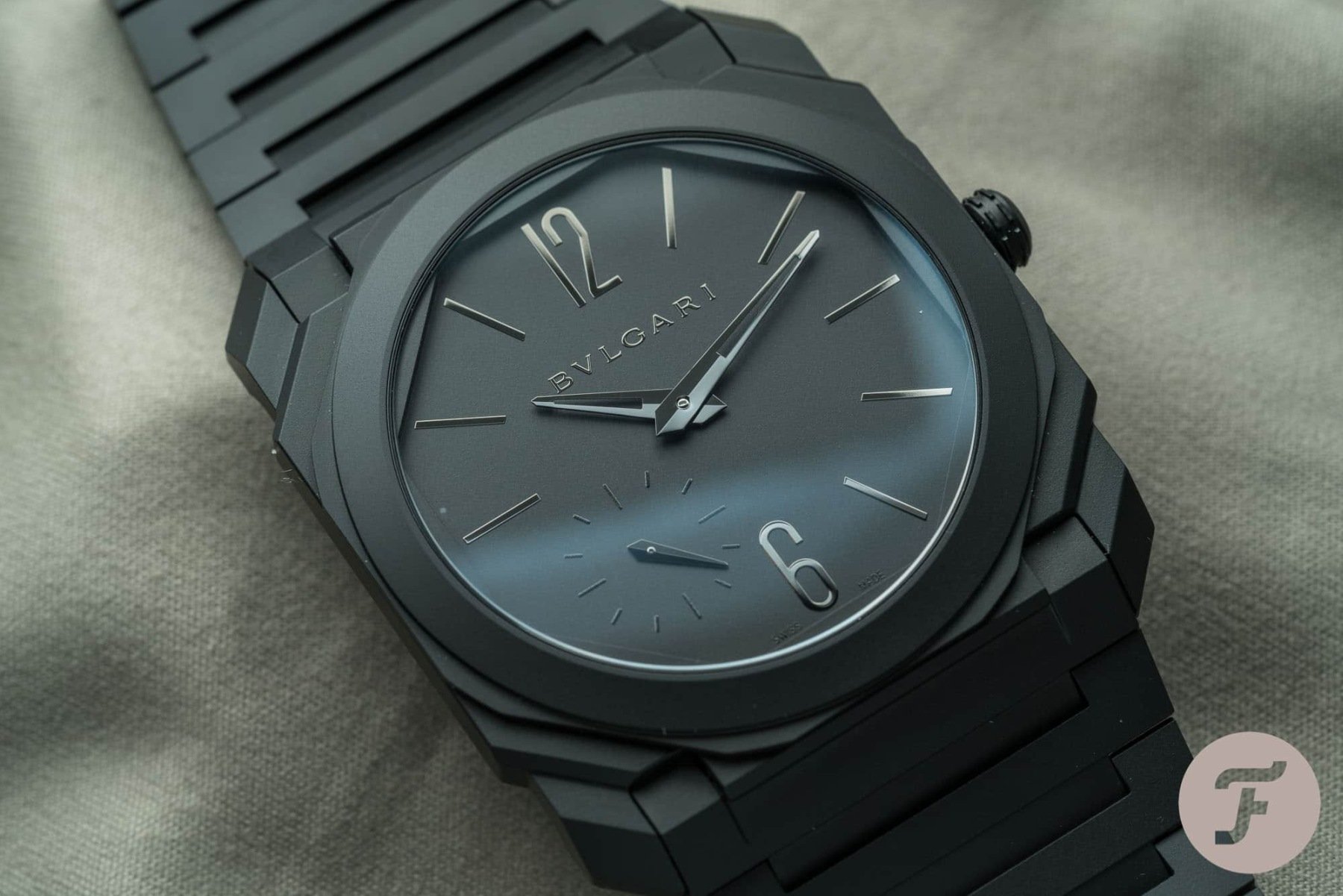 The ceramic version left me with a similar feeling. In fact, this matte ceramic execution looks like a blackened version of the titanium model. I find it more consistent than the titanium version because it pushes that stealthy look without any contrasts even further. But it wasn't what I was looking for.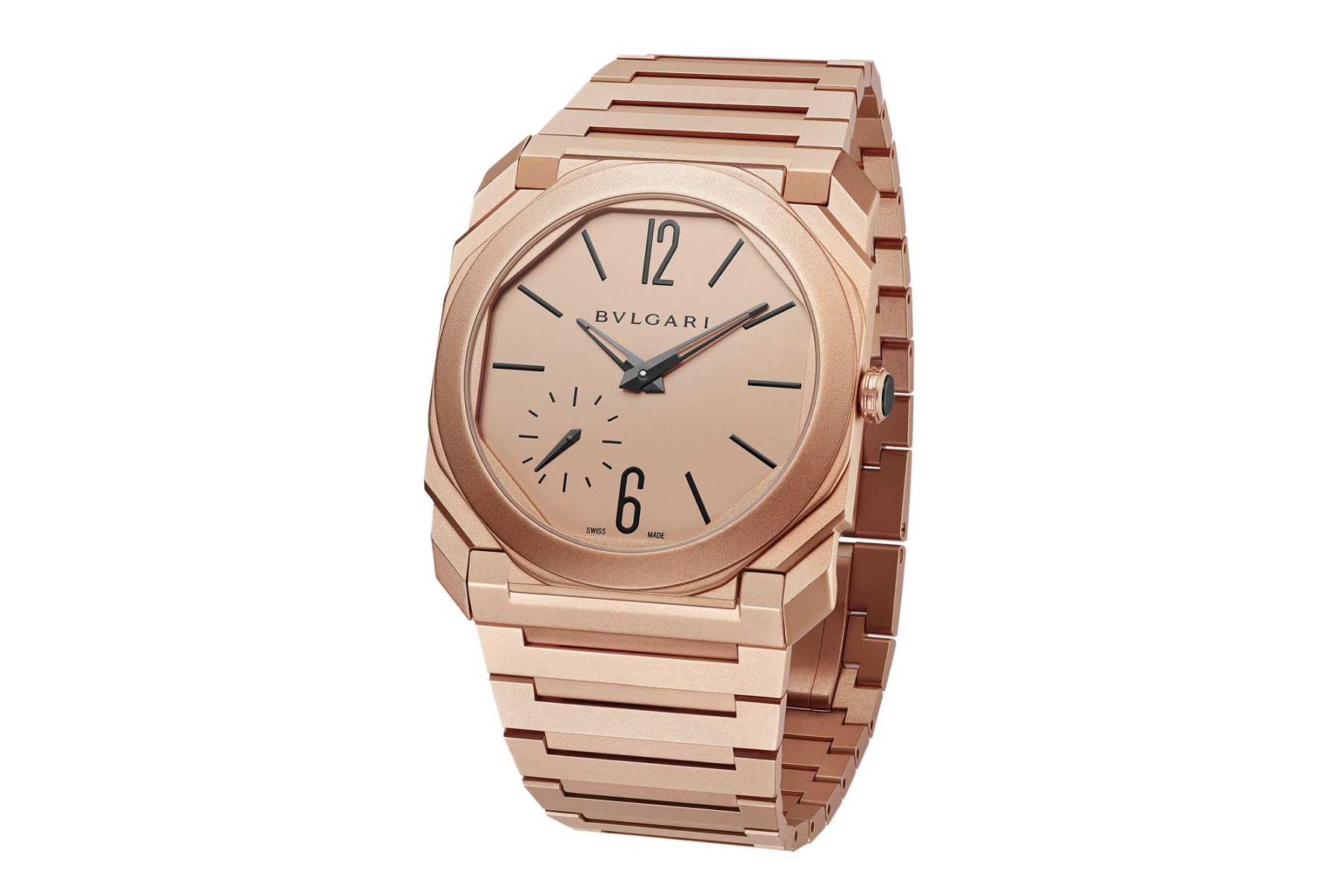 A visit to the Bvlgari boutique
In spring, when the shops opened after the winter shutdown, I went to the Bvlgari boutique in Hamburg. Luckily, they had all current steel models there and even the version in rose gold from 2018. So I could directly compare the different executions of this watch.
First, I tried the golden Octo Finissimo.
First, I tried the golden Octo Finissimo. I still am reserved towards watches in yellow, red, or rose gold. I tend to perceive them as flashy, especially if they expose broad polished surfaces. If there is even a solid gold bracelet on such a watch, that just appears excessive to me. But the Octo Finissimo is exceptional in this regard as well — all of its surfaces are sandblasted. When I had that watch on my wrist, it took me a moment to associate a material that the look of this watch reminded me of. The guess I felt most comfortable with was timber! This watch was intriguing. But it certainly wasn't what I was looking for, and it cost significantly more than I had planned to spend.
So I returned to the model that ignited my wish for a Bvlgari Octo Finissimo: the version in satin-polished steel.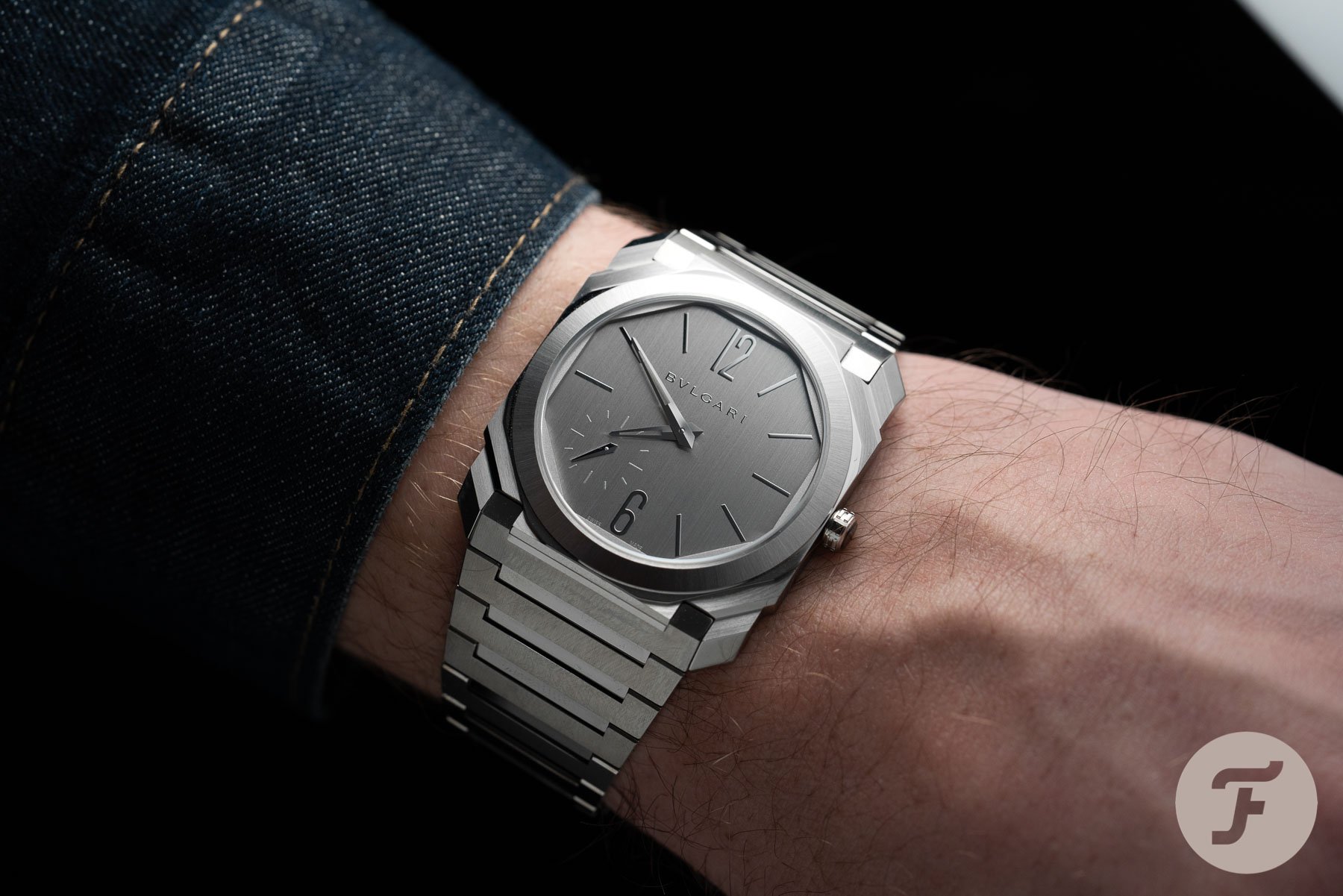 Which dial color?
The Octo Finissimo S, the version in satin-polished steel, currently is available with dials in black, blue, and silver. But it's not only the color that is different among these dials. Also, the surfaces of these dials have differing finishes. The black dial has a finely grained structure, the blue dial has a sunray finish, and the silver dial is vertically brushed. Before describing my impressions of these different dials, I need to state that I greatly appreciate that Bvlgari is offering truly different dials here and not just the same dials in different colors.
The silver dial perfectly coalesces with the case and the bracelet.
Originally I thought I would prefer the silver dial. Therefore I couldn't resist any longer and tried that one next. On my wrist, this watch did not evoke the excitement I had expected. I went to a large mirror and tested the overall impression. To my surprise, already from a short distance, this model looks as if it had no dial at all. The silver dial perfectly coalesces with the case and the bracelet. That's impressive. But wearing a watch without a dial felt to me like wearing just a fancy bracelet, a piece of jewelry. No, that was not my watch. On the other hand, it could be the perfect choice if you're actually looking for a bracelet that tells the time without being clearly identifiable as a watch at first sight.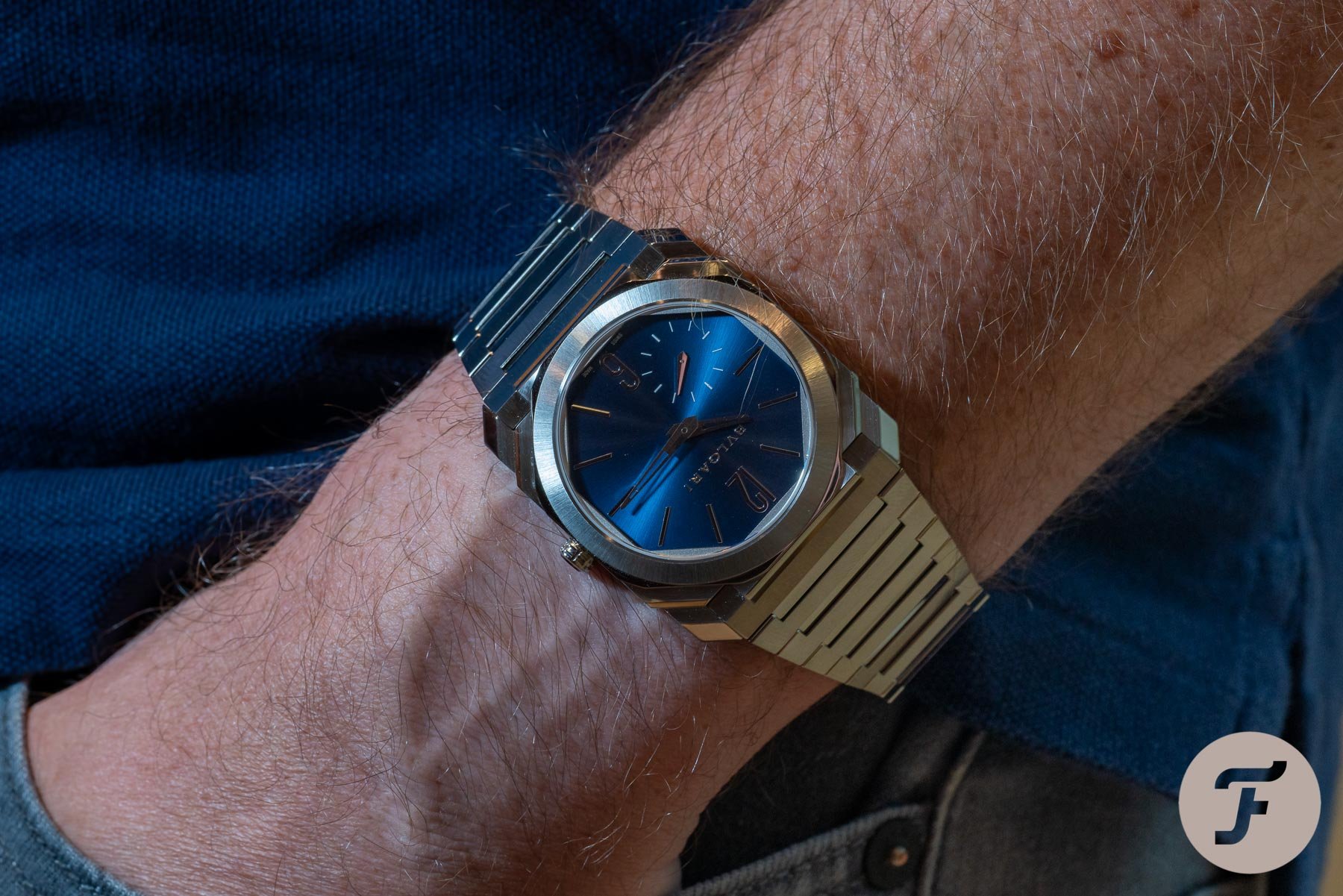 Blue always works!
Then I picked the one with the blue dial. The image I have chosen to depict this watch conspicuously shows what disturbs me on this model. The sunray finish of the dial tends to create intense shades. I love it if a watch dial plays with light to always yield new impressions. But here, it steals the show. It distracts from the case and the bracelet. The case and the bracelet are what the Octo Finissimo is all about and what distinguishes it from any other watch. Sacrificing this unique look to a fancy dial is a disgrace, in my opinion.
So I had only one possible option left. That made me nervous. What if it wouldn't work for me either? That would have meant that I couldn't buy an Octo Finissimo. And I wanted to have one! Wanting to buy a watch but not being able to do so would feel like going for a Rolex! 😉
But I was lucky.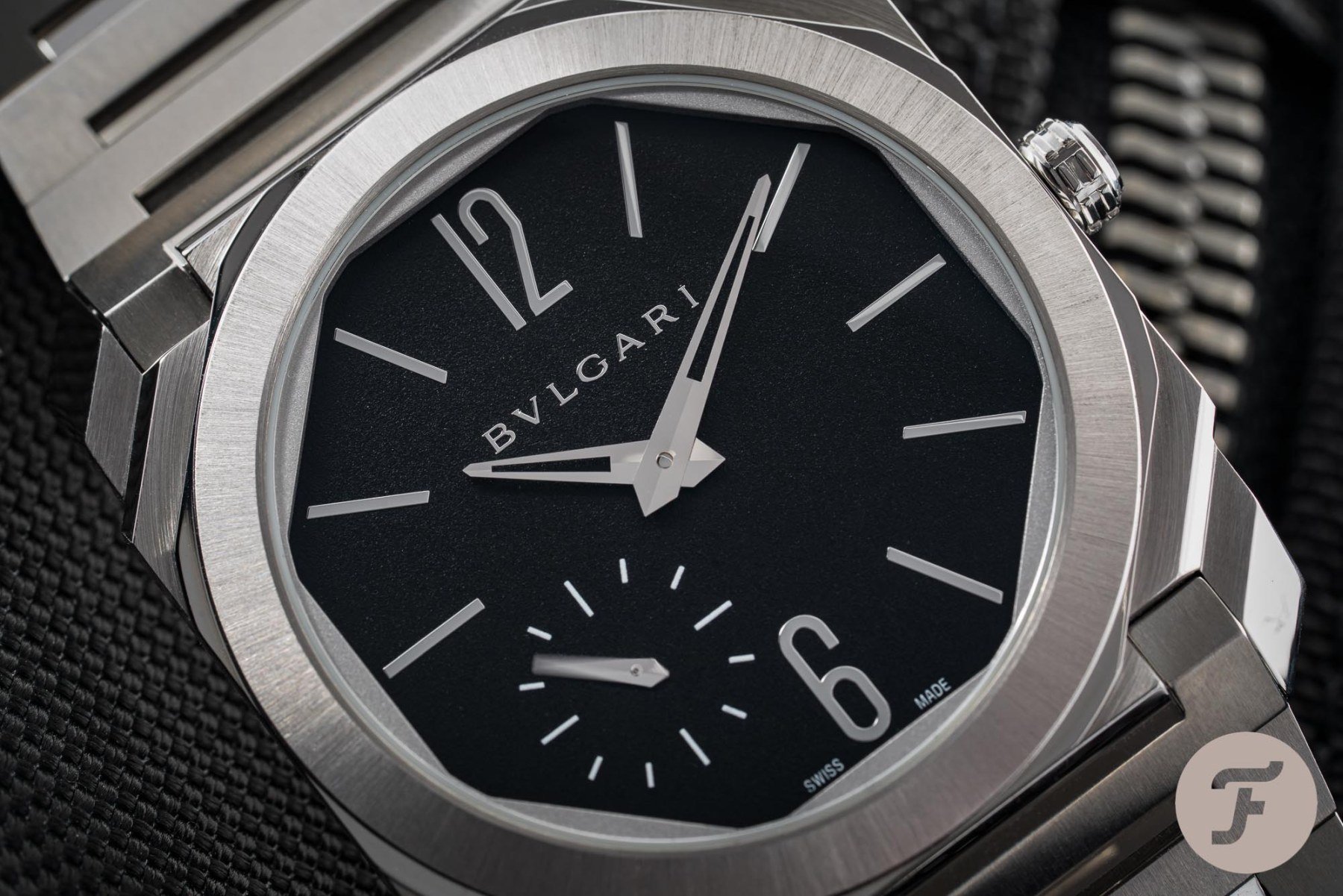 My preferred option: satin-polished steel with a black dial
Among the Octo Finissimo models with satin-polished steel case and bracelet, the black dial is the least exciting on its own. The vertically brushed silver dial and the blue dial with a sunray finish both are more elaborate and look more interesting. But that's exactly what turns this grained black dial into the perfect companion for the complex case and bracelet.
This doesn't mean it would be boring to look at this black dial. There is a fine structure on its surface. And here, the signature Arabic numerals at 12 and 6 o'clock stand out best. Also, the modern hour and minute hands contrast best against this dial version. But there's yet another detail that speaks for the black dial. All Octo Finissimo models carry a black ceramic inlay in their winding crown. This black detail on the crown obviously matches best with a black dial.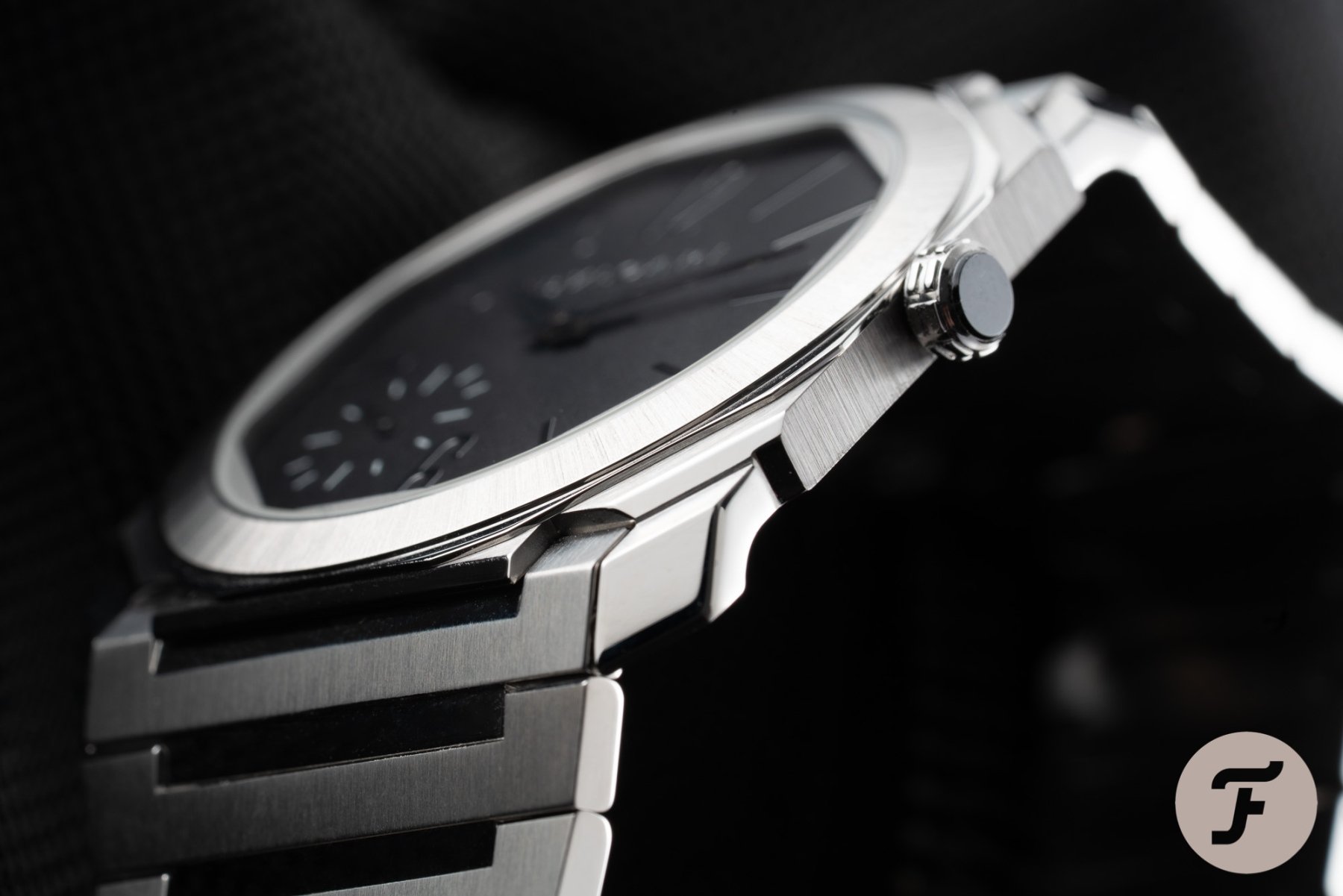 Five reasons that still make this watch extremely attractive to me
The most important message here is this: the Octo Finissimo is still absolutely attractive to me. It doesn't become boring. I didn't get used to its look or even have got enough of it.
This watch is about complexity. I knew that I was attracted by the complexity of watch movements. I found out that complexity in a watch case doesn't leave me unimpressed either.
The Octo Finissimo pushes the idea of an integrated bracelet to the limits. This isn't just a unique bracelet pleasantly integrated into a special watch case. The case and bracelet of the Octo Finissimo form a perfect union.
The profiles of the case as well as of the bracelet are very slim. When wearing the Octo Finissimo, I sometimes need to check that it's still on my wrist because you don't feel it's there. That's regardless of weight. After putting it on your wrist, you notice it. But then you immediately forget it. The flatness obviously plays a role here. But the ratio of weight between watch head and bracelet is also very well-balanced.
The Octo Finissimo is unique. It looks clearly different from any other watch.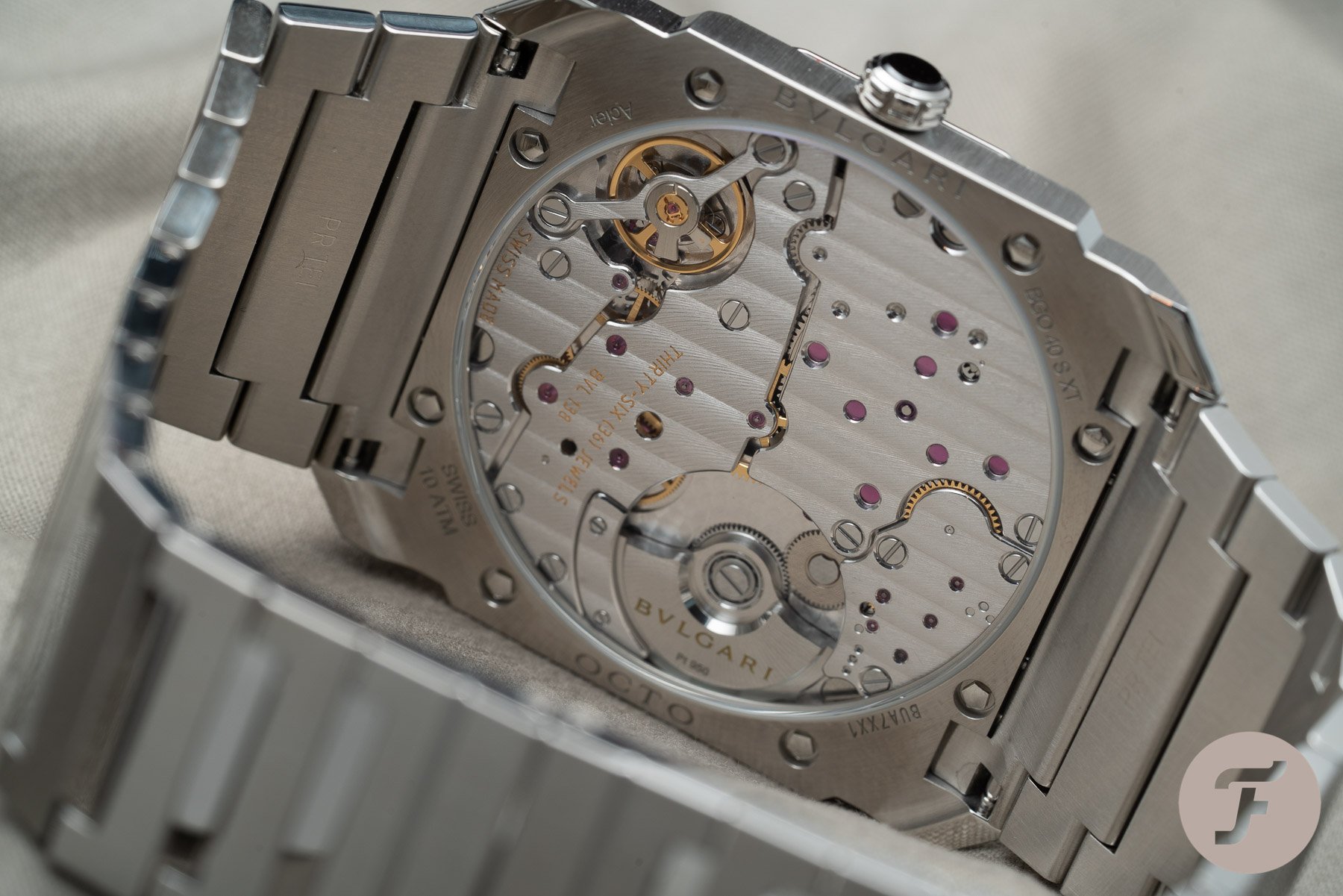 There is even more to it: caliber BVL 138
Turn around the Octo Finissimo and enjoy the sight of Bvlgari's caliber BVL 138. What you notice first is that the case only forms a narrow margin around the sapphire display window. The designers have really tailored the case around this movement. This certainly affects the width of the complete watch, but it also affects its height.
This caliber is the thinnest automatic movement ever built.
It is the movement's height of only 2.23mm that determines the thickness of the ultra-thin Octo Finissimo. This caliber is the world's thinnest automatic movement — one of Bvlgari's world records. An ultra-thin watch movement is a complication in itself. There are virtually no tolerances anymore.
Wide bridges cover most parts of the movement. They are pleasantly decorated with a narrow wave pattern that continues across their entire surface. The only visible components are the balance and the micro-rotor. No high-end hand-finishing has been applied to the movement's parts. But it nevertheless has an attractive design. Caliber BVL 138 delivers 60 hours of power reserve, which is comfortable in this day and age.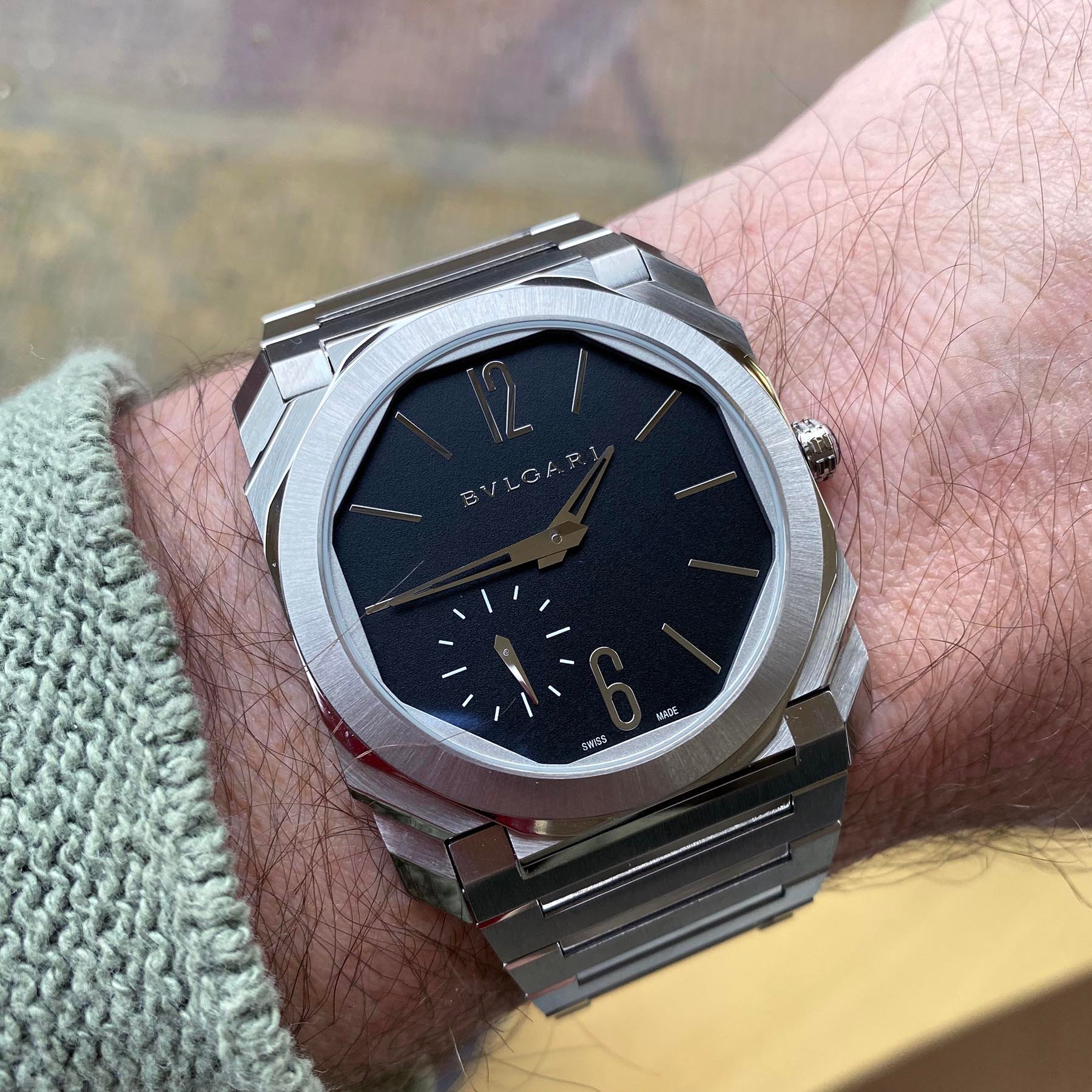 Wearing the Octo Finissimo
I already mentioned that the Octo Finissimo is absolutely comfortable. In fact, on the wrist, it's downright imperceptible. On the other hand, this means that you don't feel a hefty chunk of preciousness on your wrist. If this is what you're looking for, the Octo Finissimo will not satisfy you. This watch is elegant. It definitely is no sports watch. Even though it is often attributed to the popular category of steel sports watches, and despite its screw-down crown and 100m water resistance, it actually belongs to an entirely different league. Nonetheless, keep in mind that a square watch at 40mm both is and wears bigger than a round 40mm watch.
This watch may cause reactions.
I took the Octo Finissimo with me on my summer holidays. It was my fancy accessory for special dinners at distinguished restaurants. One night I ended up in a pretty weird kind of party in a public open space with a big and quite manifold group of people. As it was a hot summer night, I had rolled up the sleeves of my shirt. My watch was noticed. Some even addressed me concerning my watch. Not in an aggressive or deprecative way, but rather, they quite appeared bewildered to me. So, obviously, this watch may cause reactions. As very few people are watch enthusiasts like us, these reactions will not be compliments exclusively. But, as the Octo Finissimo clearly is no Rolex, at least no one tried to steal it from me. I consider the Octo Finissimo to be bold but not loud.
Setting the time
I regularly swap the watch on my wrist. To make sure that each of my watches receives appropriate wrist time, I like to choose a watch I feel I haven't worn for a while. I occasionally force myself to pick a recently neglected piece, which lets me rediscover what originally made me buy it. This often causes me to fall in love with a watch all over again. As I don't store my watches on winders, this habit requires me to frequently wind a watch and set the time.
The BVL 138 caliber doesn't have a hacking seconds feature.
I find setting the time of the Octo Finissimo a bit annoying. There are only hour indexes. There is no minute scale. Moreover, at 6, 7, 8, and 12 o'clock, numerals and the small seconds subdial replace these indexes. Therefore, there are only a few moments when you can set the watch precisely. The BVL 138 caliber doesn't have a hacking seconds feature. Pulling the crown does not stop the watch. You can halt the movement by slightly moving the crown counterclockwise without really turning it. You find this realization in several high-end watch calibers. It's not a design flaw. It's just a bit old-fashioned. But the combination of these characteristics can make setting the time of the Octo Finissimo a bit cumbersome.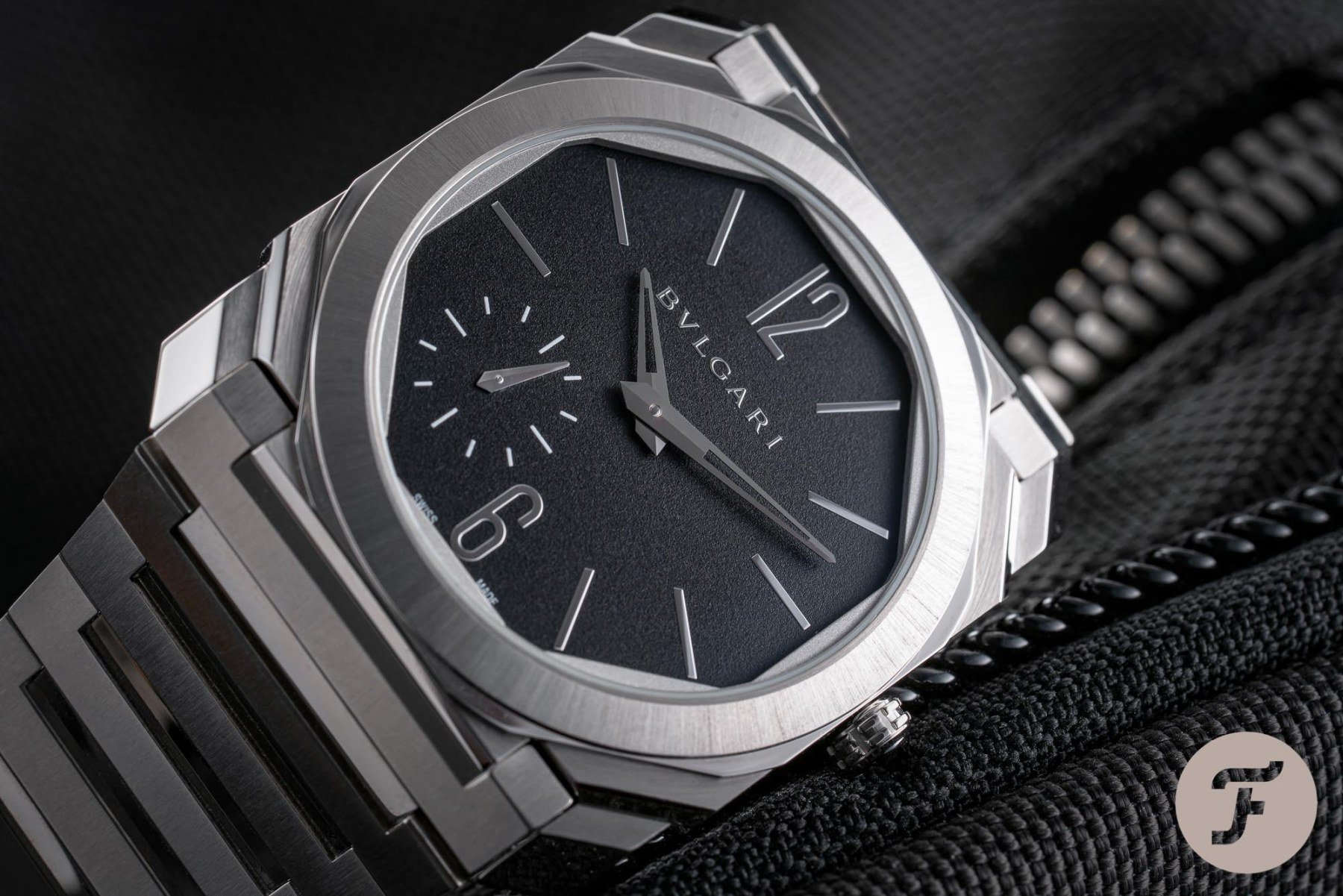 Concluding thoughts
Every time I put the Octo Finissimo on my wrist, it impresses me. That may sound sentimental. Maybe it is. But what more could you ask of a timepiece that cost you a considerable amount? The regular price of the Octo Finissimo in steel currently is €12,300 or $12,200. That's a lot of money. If you compare this price to the prices you need to pay for other popular steel watches on bracelets — especially given the current hype — it nevertheless appears quite fair indeed.
Head to Bvlgari's homepage to find all currently available models of the Octo Finissimo.