One Year With The Omega Speedmaster Calibre 321 — Would I Buy It Again?
...and is it worth the wait?
When Omega showed me the 39.7mm Speedmaster Calibre 321 reference 311.30.40.30.01.001, I wasn't left with much to think about. I knew I needed it. And so it happened that a year ago, I received the message that mine was ready.
I picked up the Speedmaster Calibre 321, had it resized for my wrist and started wearing it. One year on, it's time to assess whether what was certainly one of my easiest buying decisions was also one of my best…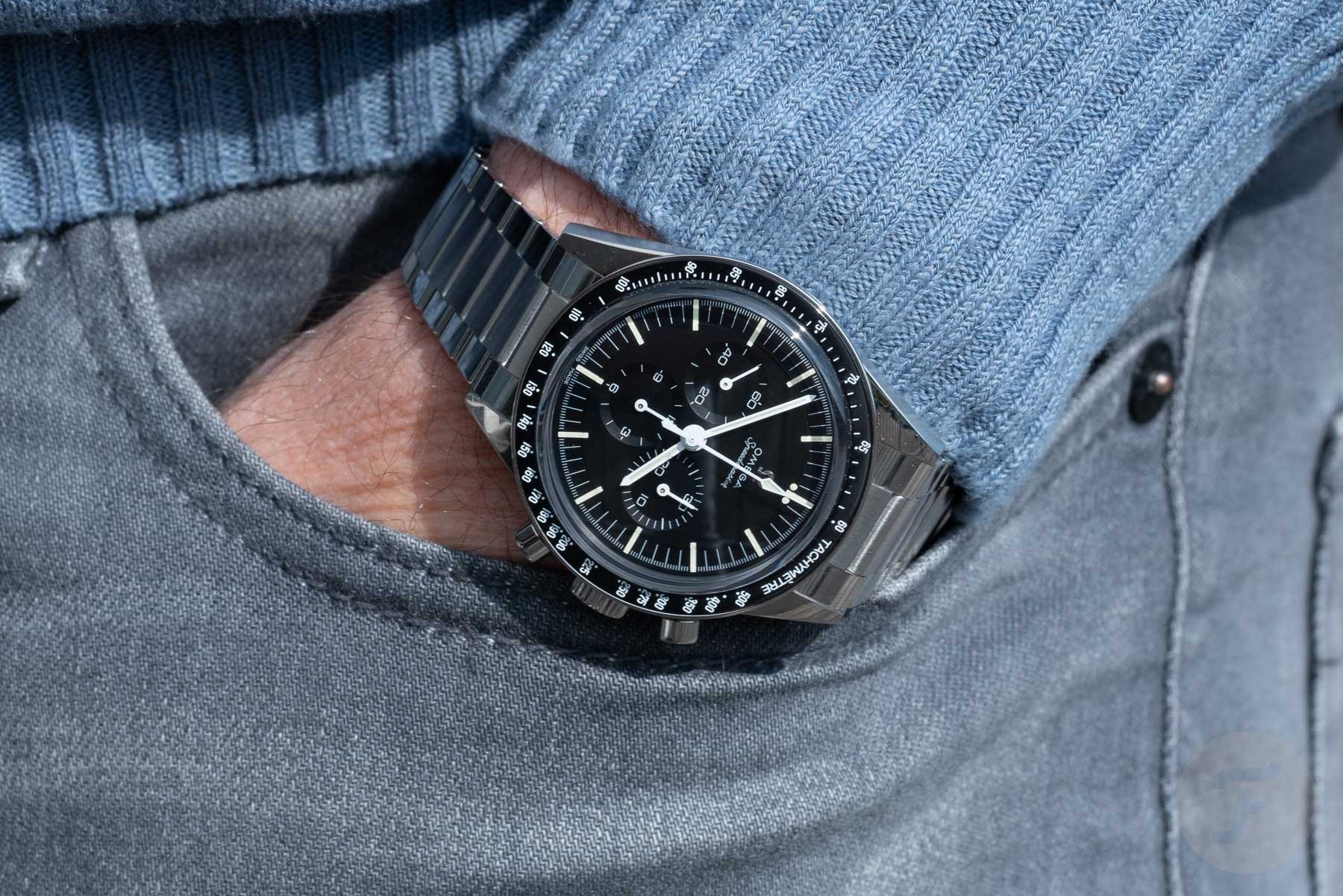 I've done a video about this watch and written a hands-on review, but I thought it would be interesting to have a proper look back at my ownership of this watch. Am I still as enthusiastic as I was a year ago? Do I still think it would have been nicer to have an aluminum bezel inlay and a Hesalite crystal instead of a ceramic bezel and sapphire crystal? And what about perhaps the most discussed topics — the price and the watch's limited availability? How do I feel about these things? With a retail price of €14,000/$14,100, this watch doesn't come cheap. To most people (myself included) 14K is a lot of money. But was it money well spent? Would I buy the Speedmaster Calibre 321 39.7mm in steel again? Let's find out.
Speedmaster Calibre 321 reference 311.30.40.30.01.001
I bought my very first Speedmaster back in 1999. It was a 145.012 that also has the famous caliber 321 movement. Back then, it wasn't that much of a big deal, but I was certainly aware of the history of this movement and the fact that it was a column-wheel chronograph. I always maintained hope that Omega would bring back the caliber 321 movement, and 10 years ago, during a visit to Omega in Biel, I even asked the former Omega CEO about it. I was told it wasn't possible because Lémania was with Breguet at the time.
When Omega's current CEO Raynald Aeschlimann showed me the new Speedmaster Calibre 321, I was in awe. He did it! He did the impossible! The 321 was back where it belongs! And not only that, the watch that brought it to market was pretty awesome as well. About one year earlier, the new 321 was introduced in the platinum Speedmaster Professional with an onyx dial and meteorite sub-dials. Unfortunately, at nearly 60K, it was out of my price range.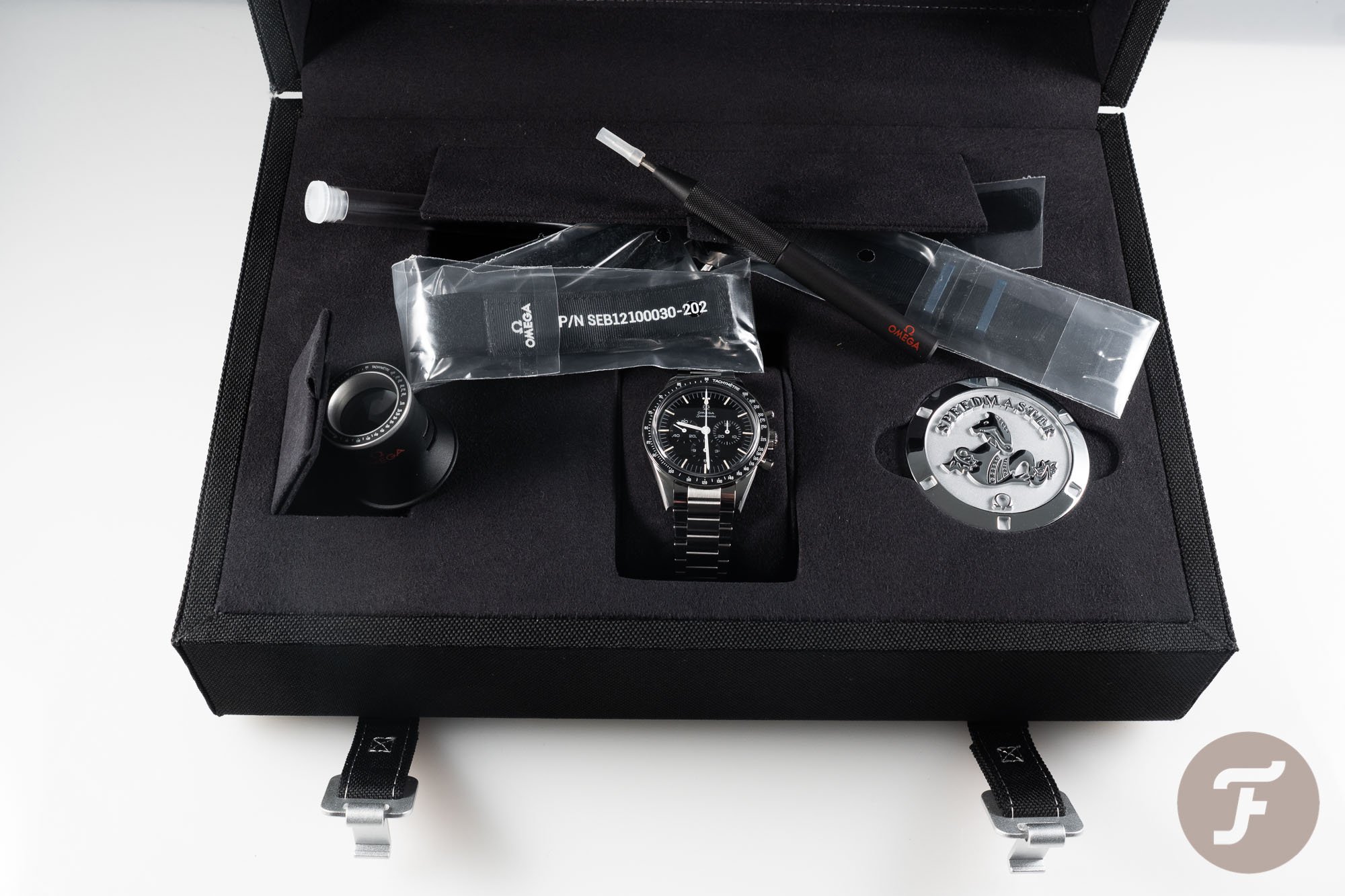 The big Speedmaster box
But in all honesty, I prefer my 18-karat Speedmaster Professional Moonshine over the platinum Moonwatch with caliber 321. And I also feel that the caliber 321 movement and this steel 39.7mm diameter Speedmaster "Ed White" is a better fit, historically speaking, at least. The Speedmaster Calibre 321 has only one reference: 311.30.40.30.01.001, and it comes in the big black Speedmaster box that was also part of the previous Speedmaster Professional Moonwatch package.
…a pretty useless but cool-looking Speedmaster medallion…
Not anymore though, the new Speedmaster Pro Moonwatch comes in a smaller version of this box. I know some of you complained about this box, being the same as the regular Moonwatch box, but since I didn't have that one yet, I was happy enough with it. As you can see in the picture above, the Speedmaster Calibre 321 comes with a loupe, two additional straps, a changing tool, and a pretty useless but cool-looking Speedmaster medallion.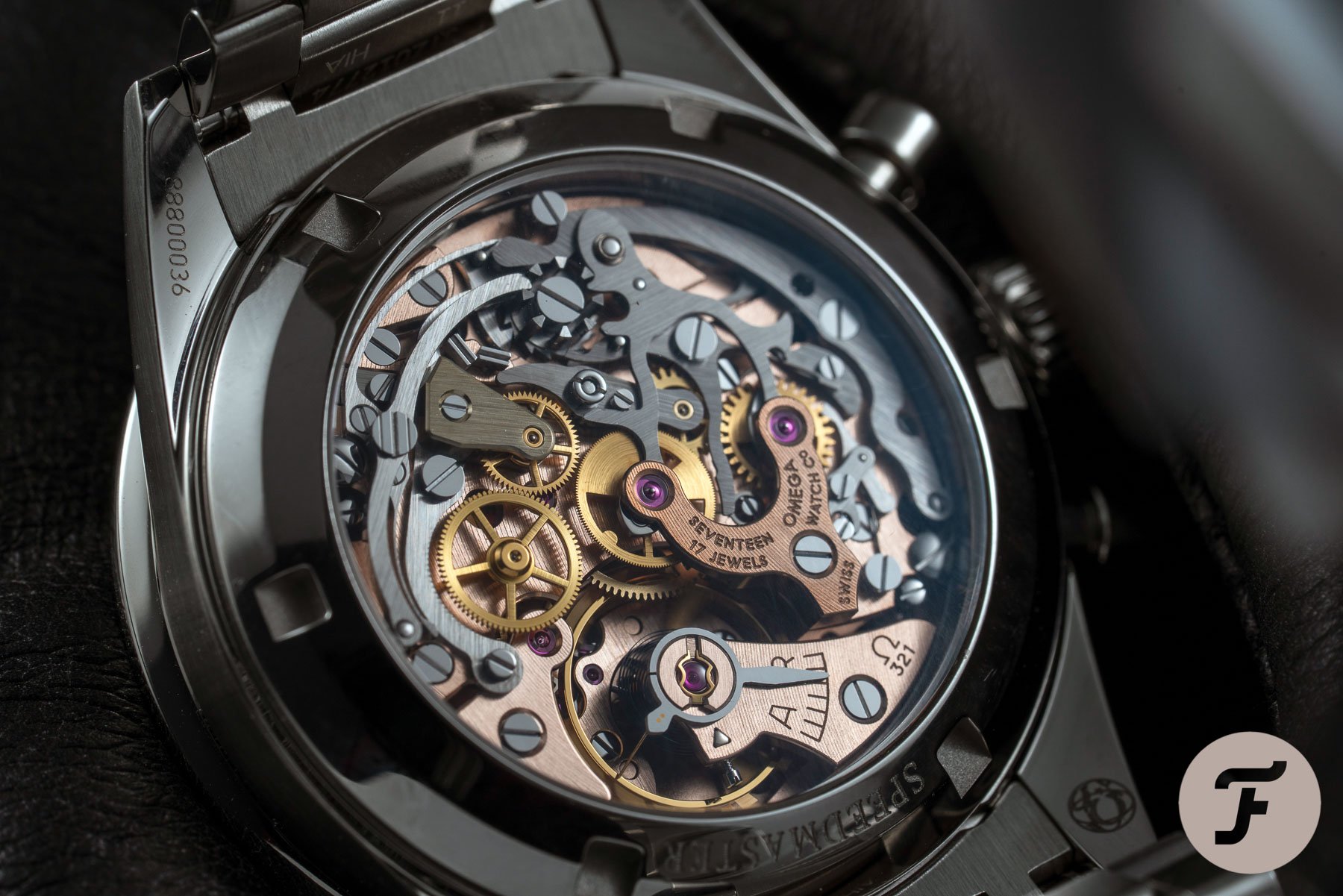 Twice the price of a standard Moonwatch
But, this is not our typical hands-on review where we discuss all the different aspects of the watch. This article is about owning the Speedmaster Calibre 321 for a longer period, and how I feel about it. Did I make the right decision to buy it?
I've received this question from many people, even from those who already put their names down for one. One person even contacted me two days before he was due to collect his. Even at that point — at the eleventh hour — he wanted to know if I thought it was really worth spending so much money on. The question is tricky enough, but it becomes harder still following the release of the new Speedmaster Professional Moonwatch with caliber 3861. I discussed this topic in the below video, in which I explain all the differences between the new Moonwatch and this Speedmaster Calibre 321.
Calibre 321 atelier
And not only that, you can buy a normal Moonwatch and something else for this budget. Or two standard Speedmaster Professional Moonwatch models in steel. Of course, I wasn't swayed by that possibility because the 321 predated the latest Moonwatch update, but, as far as I see it, the Omega Speedmaster Calibre 321 is a different kind of animal entirely. It is made in a different way and has the iconic caliber 321 inside. That, above all else, is what you're paying for.
For these watches, there's a special area inside the Omega manufacture…
Most other Omega watches (with some rare exceptions, like the De Ville central tourbillon, for example) are produced in this industrialized way in the manufacture in Biel, where the watches simply move from workstation to workstation. At each workstation is a technician that performs a specific task. And in the end, the watch is completely assembled and is ready to be checked, certified, and boxed. But not for the Speedmaster Calibre 321. For these watches, there's a special area inside the Omega manufacture, where watchmakers are working on a single Speedmaster Calibre 321 from start to finish. This workshop — or atelier — is where the Speedmaster Calibre 321 comes to life. As you can imagine, this way of production is more time-consuming and thus more costly than the industrialized manufacturing process.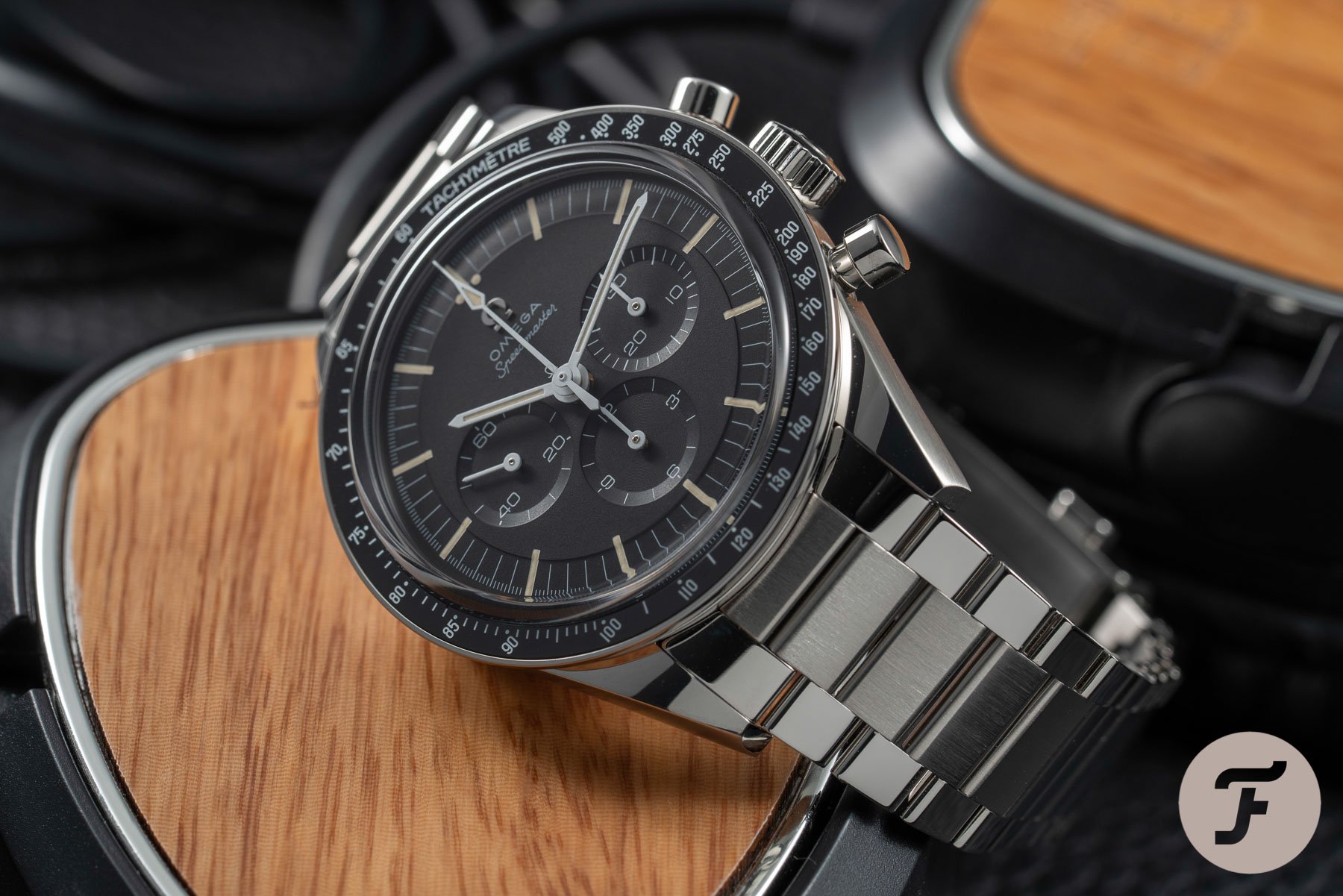 Low production run
Besides the special workshop where this watch is being made, you also pay a premium for the caliber 321, of course. Omega estimated a production between 1,000 and 2,000 movements per year, but I can hardly imagine the brand hit that target in 2020. Only a few Speedmaster Calibre 321 watches made it into the wild, although in recent months I have been getting more messages from people able to collect their order (and are excited about it!). In the pre-owned market, they're hardly seen, and luckily, I also don't see them ending up that often in the grey market. But if they do, they are being offered for more than the retail price. I am not a fan of these watches ending up with the wrong people, like we've seen so often in the past with LEs, steel Rolex watches, and the Nautilus, for example.
Not only because this movement was used in the watches that were actually worn on the Moon
But, I also feel it is better to see them offered for retail or more, than that they are being offered with a steep discount. The caliber 321 movements are also shared with the platinum Speedmaster Professional Moonwatch, but I think those numbers are very low. It is this movement, which is also known as the Lemania 2310 and shares about 50% of the same components with caliber 321, that speaks to one's imagination. Not only because this movement was used in the watches that were actually worn on the Moon by Apollo astronauts, but also because the Lemania equivalent of caliber 321 has been used by Breguet, Roger Dubuis, Vacheron Constantin, and Patek Philippe. Watches at a completely different price level, but with basically the same column-wheel chronograph movement.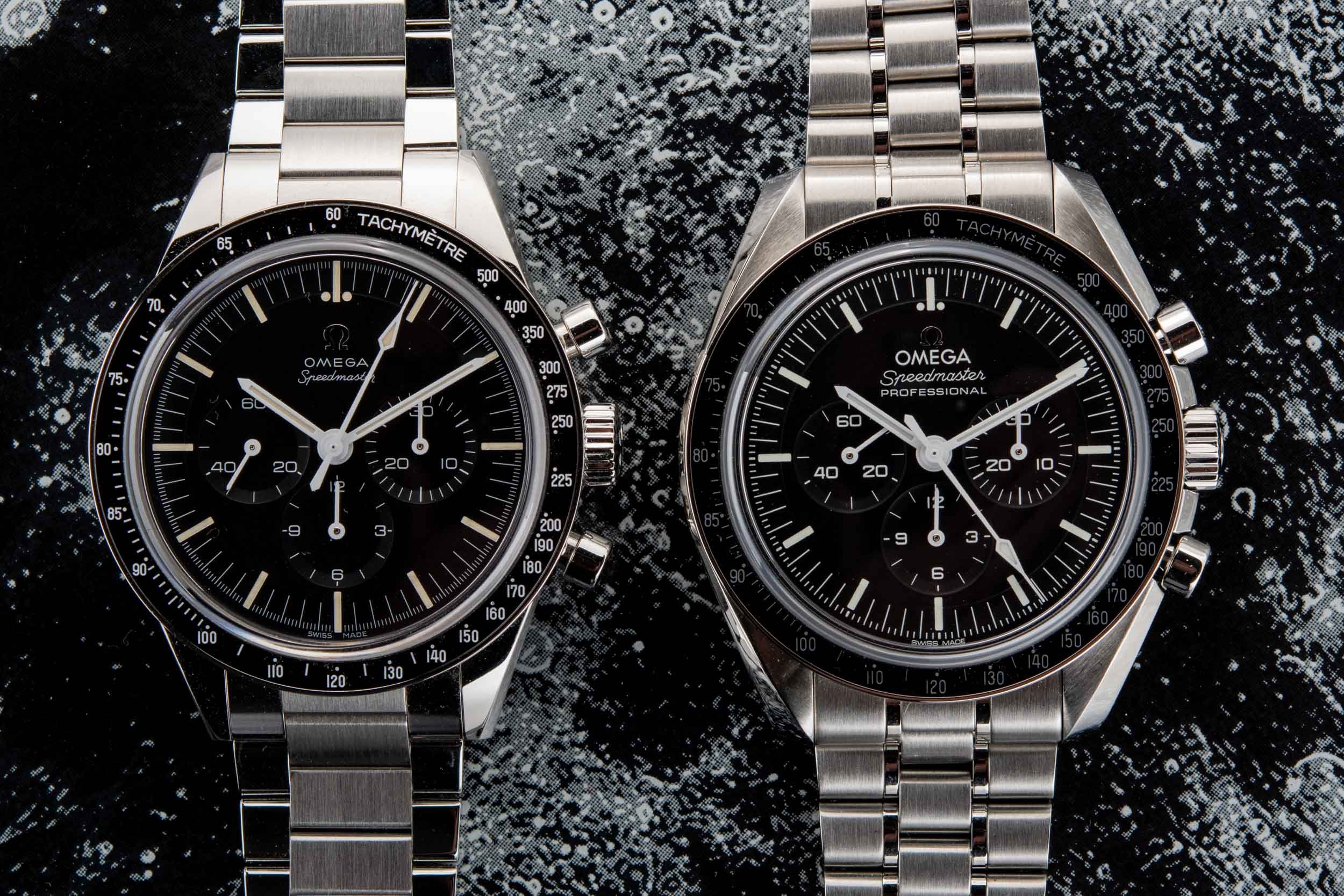 Not your only Moonwatch
If I have to make a choice between this Speedmaster Calibre 321 or the current Speedmaster Professional Moonwatch, I might go for the new Speedmaster Professional Moonwatch. It is not that I don't think or feel the Speedmaster Calibre 321 is worth the money, but just that the Speedmaster Professional Moonwatch offers extreme value for money. The Speedmaster Calibre 321 is a watch that shouldn't be your only Moonwatch in all honesty, but something you can see as the crown to your collection, for example. It wears very different from the standard 42mm Moonwatch, and not only because of the size. A very important aspect is the flat link bracelet on this Speedmaster Calibre 321, which is incredibly comfortable and beautifully finished. I sometimes make the remark to my colleagues here that the watch wears a bit like my Royal Oak 15202. You're constantly aware you have something special on your wrist, and it wears incredibly comfortable as well.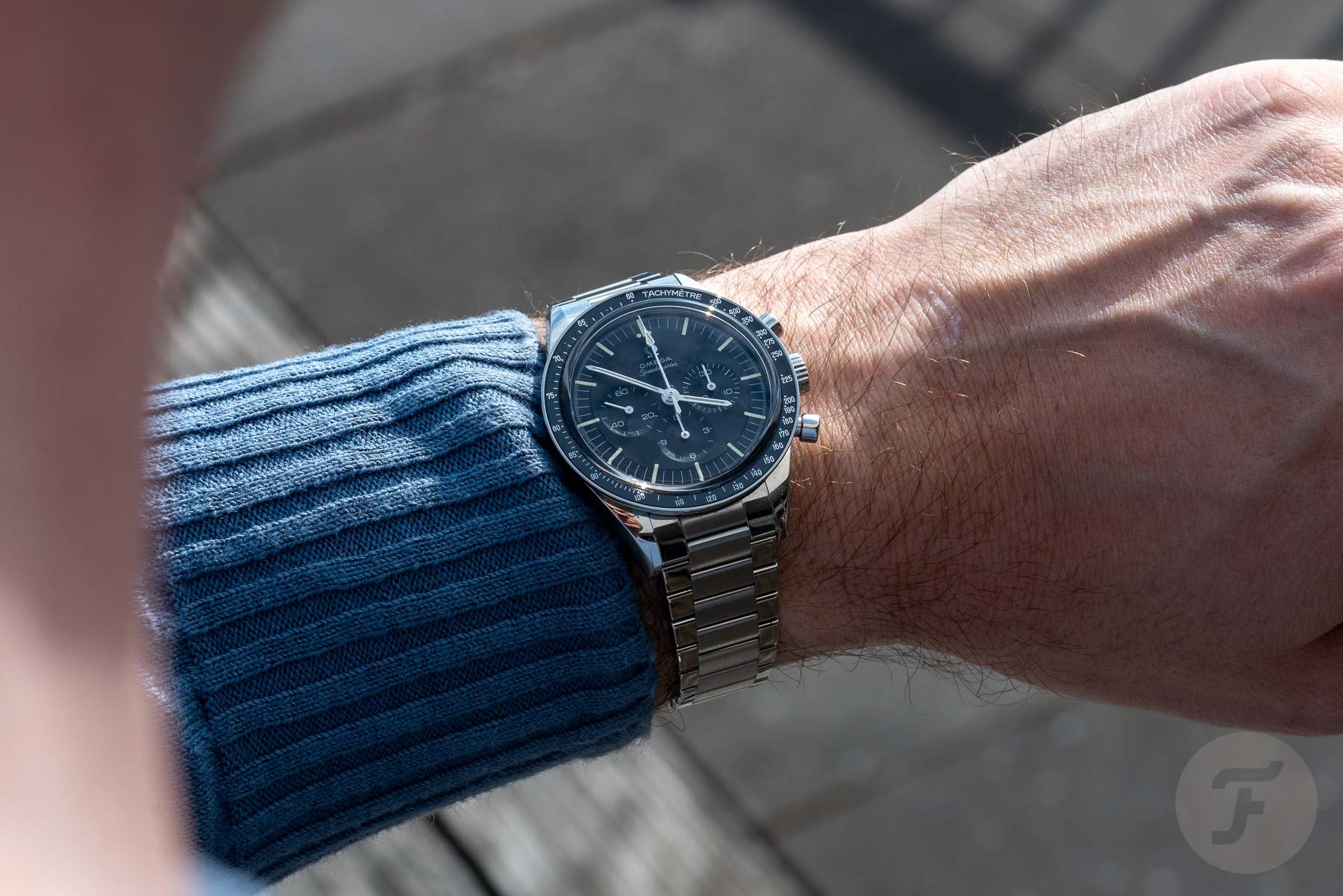 The Speedmaster Calibre 321 for everyday use
In this one year of ownership, I have worn the Omega Speedmaster Calibre 321 a lot. My doubts about the sapphire crystal and ceramic bezel disappeared quickly. Not only because of practical reasons, as I started to wear this watch almost on a daily basis. But also because I think that if Omega would have fitted a Hesalite crystal and an aluminum bezel, it would have been a complete copy of the original Speedmaster 105.003 "Ed White" from the 1960s. I don't think it was the intention to create exactly the same watch or recreate something vintage. But instead, a vintage-inspired watch that has some modern practical features for everyday use. The sapphire crystal, two actually, also add some weight to the watch.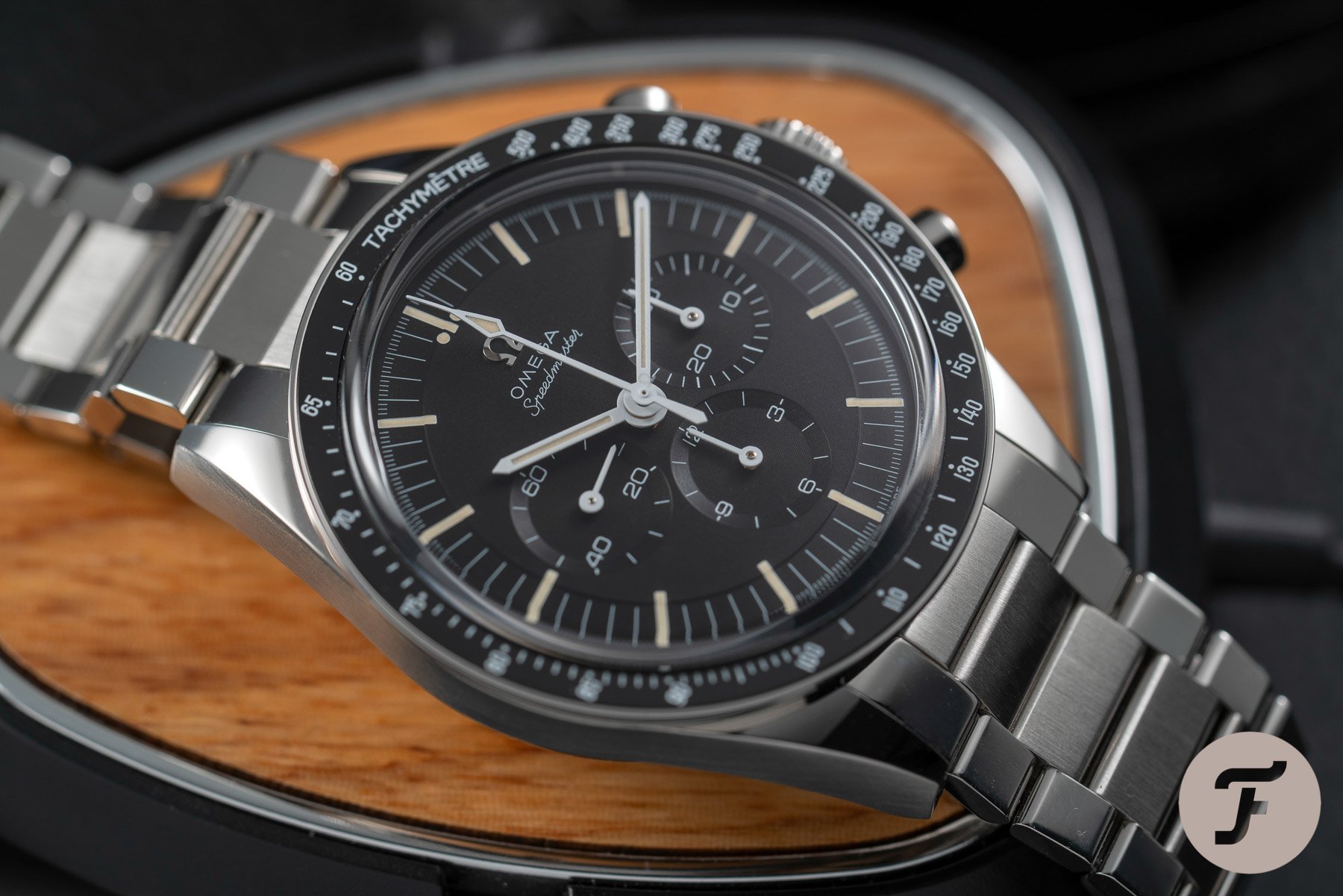 All the details of the case, dials, and hands are things I find myself admiring when wearing this watch. The faux-patina on the hour markers and hands seem to also have worried a few people, but it comes across more yellow-ish on pictures than in real life. Also, people who picked up theirs let me know afterwards their doubts about this completely disappeared. I never felt it was a topic, to begin with, but perhaps because not everyone had or has been able to see this Speedmaster Calibre 321 in the flesh. Really, it is no issue.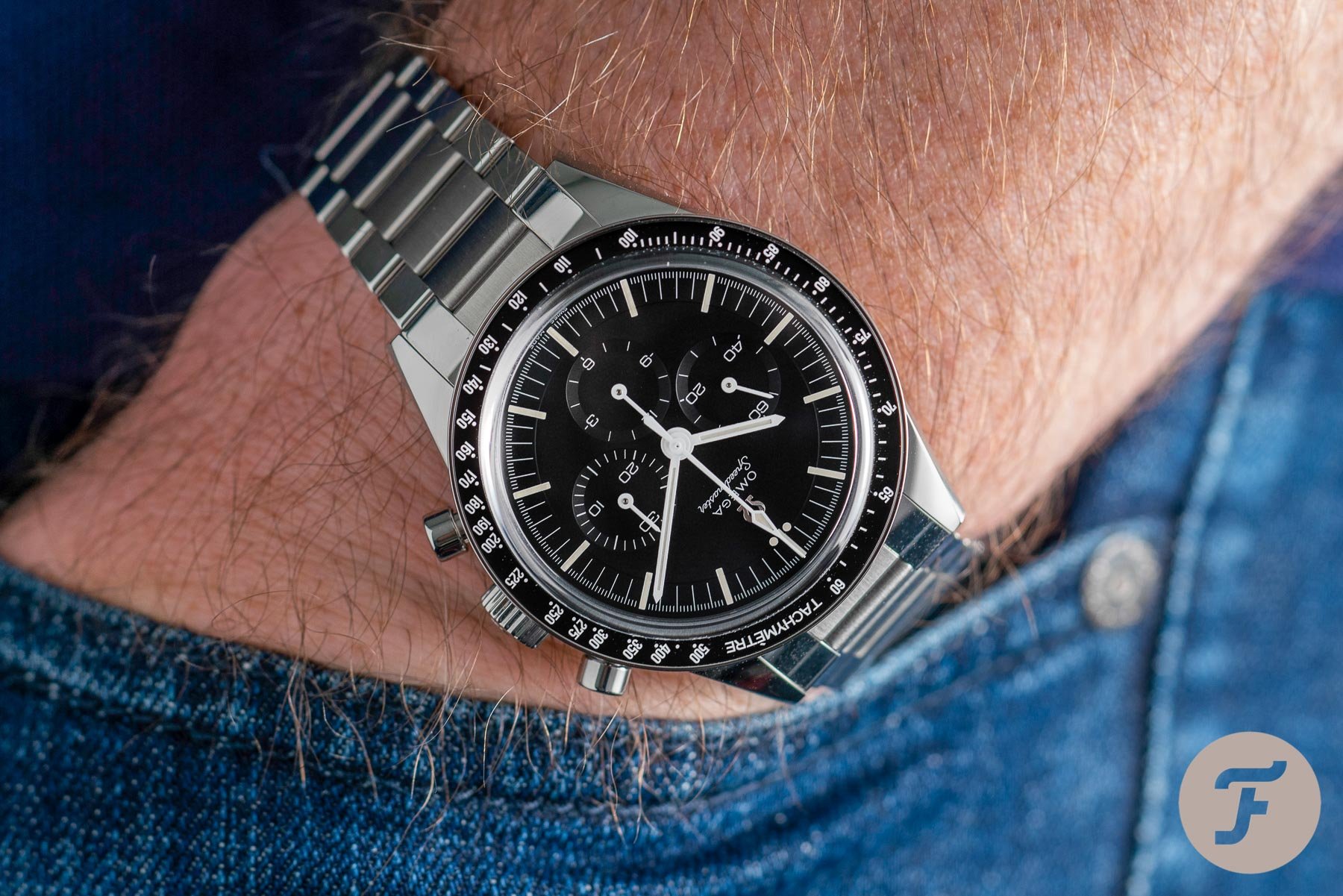 Incredibly comfortable
What I also quite enjoyed about this watch, is the comfort. I already touched the topic on the bracelet and its comfort, but the case diameter of 39.7mm definitely adds to that as well. I have two other straight-lug Speedmaster, the other Moonwatches are all 42mm with lyre lugs. My wrists measure 19cm in size, but the dimensions of the 39.7mm Speedmaster Calibre 321 fit me very well. I have been asked to put the watch on a leather strap on multiple occasions, but I never did. I also never tried the velcro and NATO strap that come with this watch. Why? I simply never felt the necessity or urge to do so. I have plenty of 19mm straps, but this steel bracelet is so incredibly comfortable and nice looking, that I simply don't want to.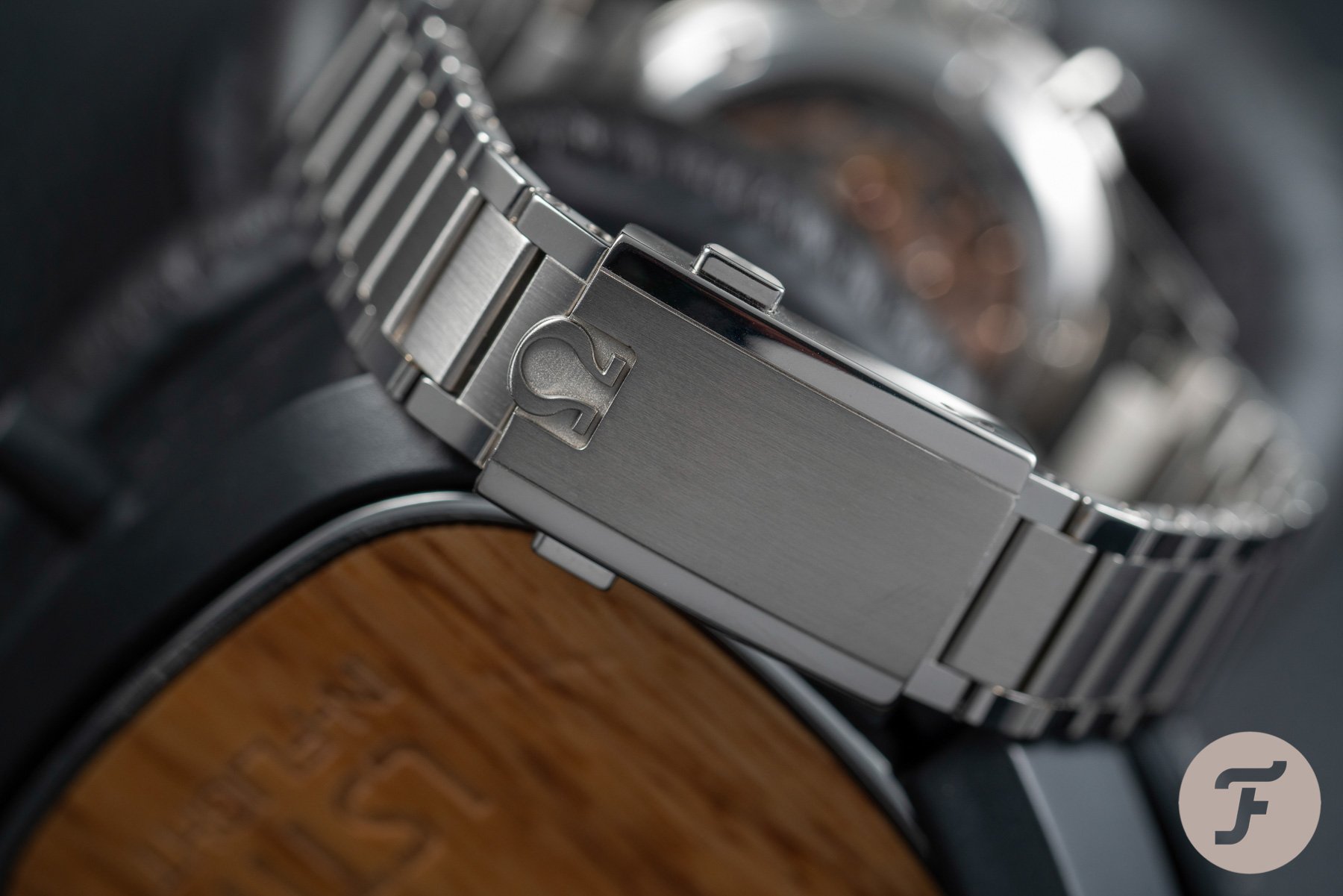 The clasp has no quick adjustment system, you just need to move up or down a hole. It is very easy to do with a toothpick, and you can extend or shorten the bracelet in steps of 1/3rd of a link. Sure, it is a pity there is no easy adjustment system, also given the price tag of this watch, but on the other hand, it might have resulted in a large clasp. And truth to be told, I never changed it in the last 12 months.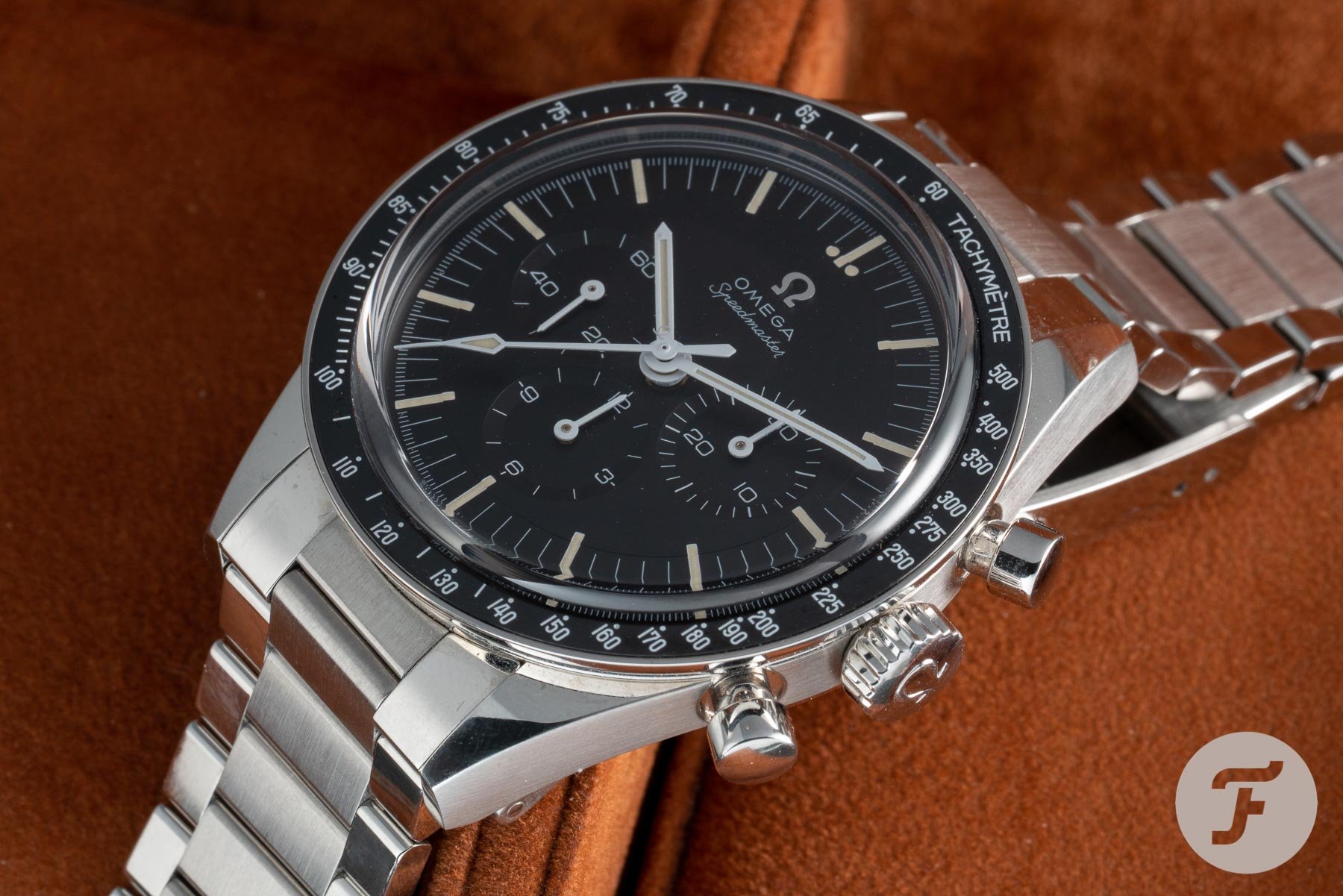 Would I buy the Speedmaster Calibre 321 again?
Would I buy this watch again knowing what I know now and have experienced so far? In fact, I would. The price increased a little bit since I purchased it, but the Omega Speedmaster Calibre 321 is worth it to me. It is a different watch than the Speedmaster Calibre 321, and the level of detail and the caliber 321 movement are simply stunning. I acknowledge that there's also a bit of emotional value in this watch for me, but in the end, that's most important anyway. I made a remark above about the 42mm Speedmaster Professional Moonwatch with caliber 3861, which is half of the price of this Moonwatch with caliber 321.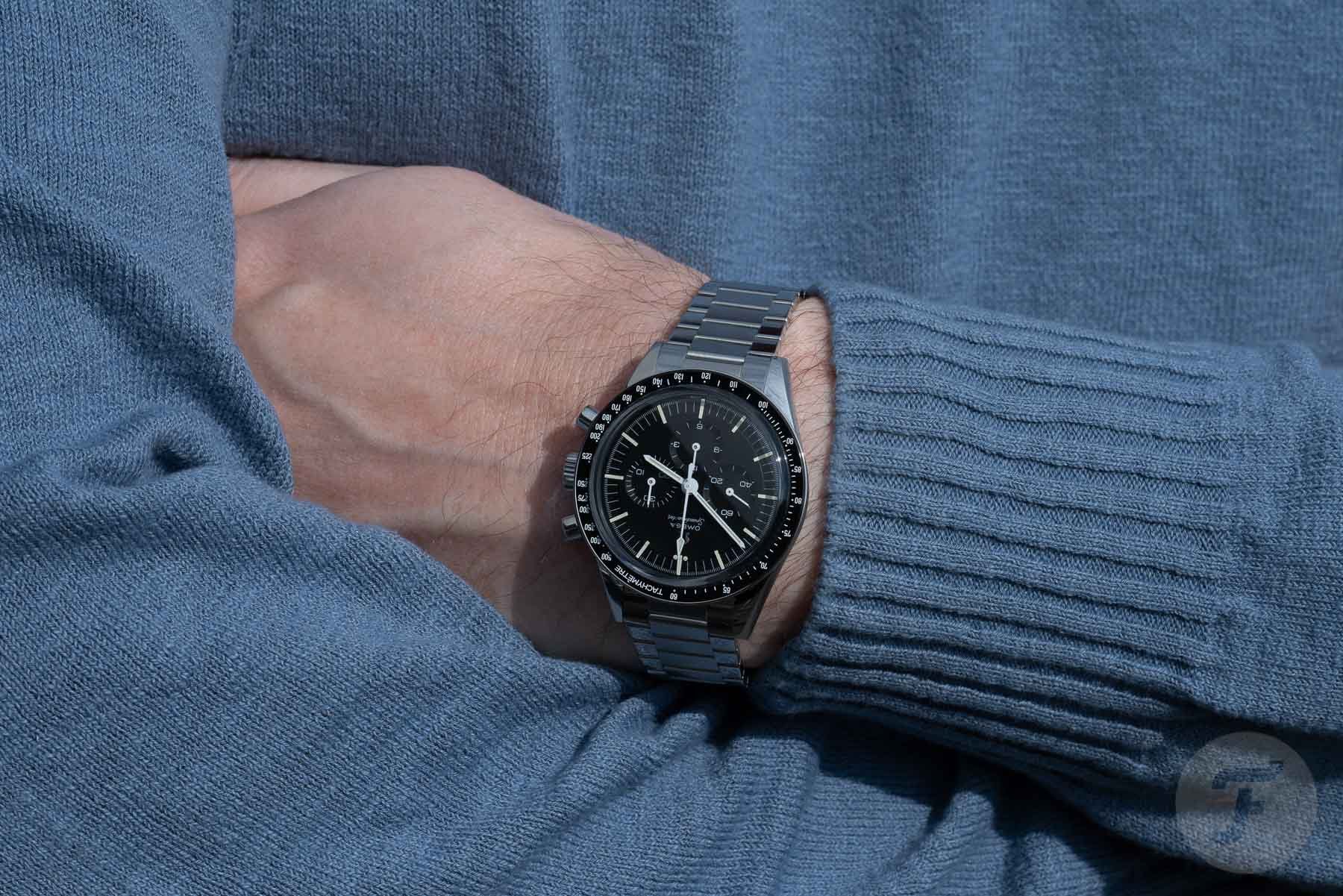 If I had no Speedmaster yet and had to make a choice, I'd go for the caliber 3861 Moonwatch. But, that's not the case. I am a Speedmaster collector and I have my standard Moonwatch models and variations already. So this Speedmaster Calibre 321 is the cherry on the cake for me. And that's actually how one should see this watch, in my opinion. Luckily, I didn't have to wait long, but I know the wait-list for this watch is long. Very long. But in my opinion, it is worth it. More information can be found on the official Omega website.
Watch specifications
Model
Speedmaster Calibre 321 39.7mm steel
Reference
311.30.40.30.01.001
Dial
Black with step, Super-LumiNova applied markers and hands
Case Material
Stainless steel
Case Dimensions
Diameter: 39.7mm, Height: 13mm, Lug width: 19mm, lug-to-lug: 47mm
Crystal
Domed sapphire, with laser-engraved Omega logo in the center
Movement
Calibre 321, hand-wound chronograph movement with column-wheel mechanism, ticking speed: 18,000vph, jewels: 17, power reserve: 55 hours, Sedna gold plated finishing
Water Resistance
50 meters/5 ATM
Functions
Time, Chronograph, Tachymeter
Special Note(s)
Produced in a very limited quantity