Hands-On Omega Speedmaster Caliber 321 Review (Including Video)
The stainless steel Speedmaster with caliber 321 is here!
Here it is (finally), the hands-on Omega Speedmaster Caliber 321 review. Exactly six months after its release date (January 7th), I picked mine up at the new Omega Boutique in Biel.
We recently touched upon this watch in our Sunday Morning Showdown section, where Jorg and Ben sent this Omega Speedmaster Calibre 321 in steel and the Rolex Daytona 116500LN into battle. If you haven't read it yet, please go check it out.
A few days later after the publication of that article, I was able to pick up the Omega Speedmaster Calibre 321. I received the message that my watch was ready to be collected and I realized that I would be one of the lucky guys to receive it so early. I've been wearing the Speedmaster watch for a week now, and I think it makes perfect sense to share my thoughts on it with you. Completely biased of course, as it is my personal watch (which I paid real money for, by the way).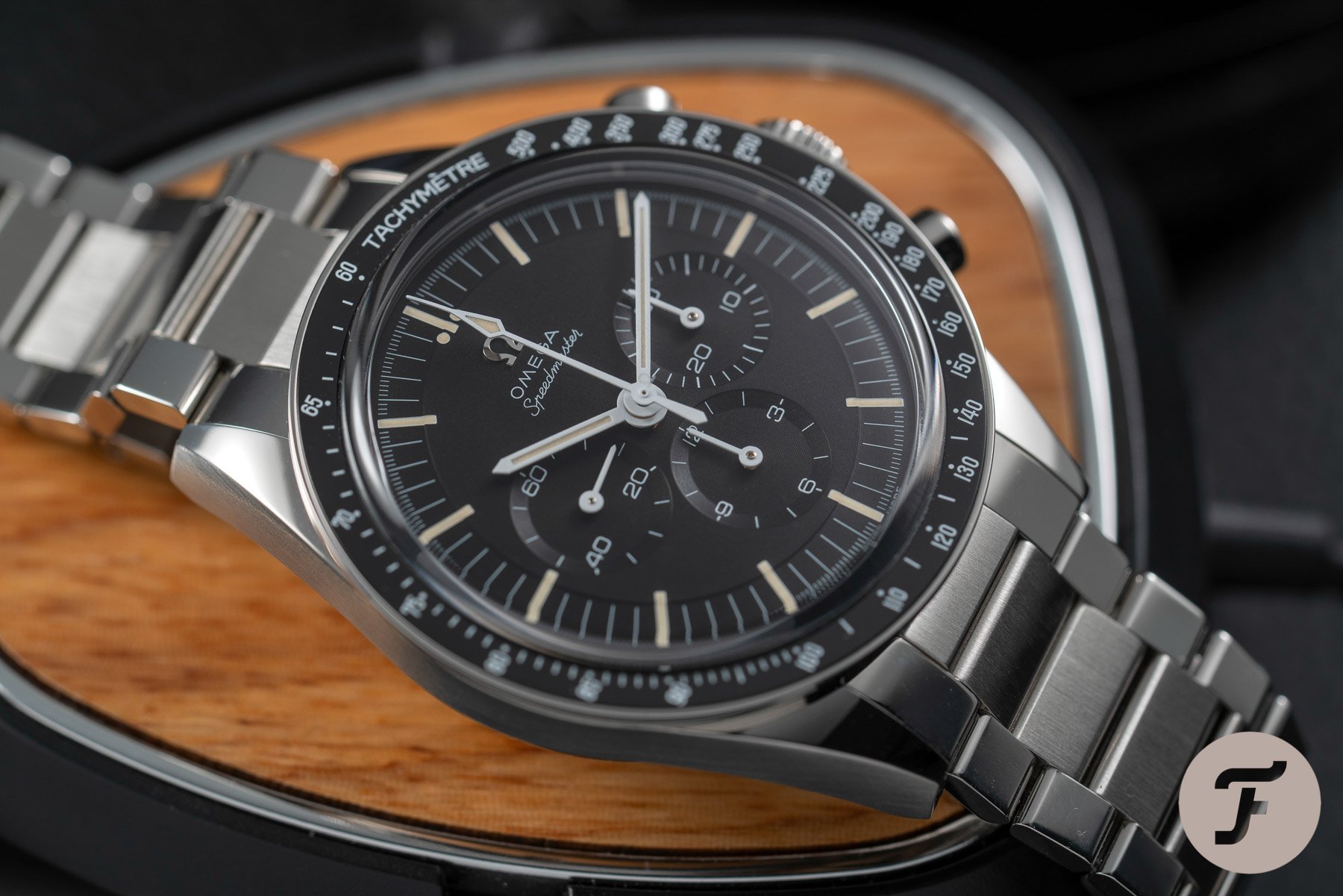 Omega Speedmaster Caliber 321
My first Speedmaster was powered by a caliber 321. I purchased that watch back in 1999. That was the piece that ignited my love for the Speedmaster. I would even go as far as to say that without that watch, there wouldn't be a Fratello nor a #SpeedyTuesday, and I would still be working in Information Technology. As I became more interested in the Speedmaster series and started collecting them, one of my dreams was to see the return of the caliber 321 in a modern Speedmaster. Other Speedmaster enthusiasts shared this thought with me, more than once, but Omega communicated that the rights of the caliber 321 resided with Breguet.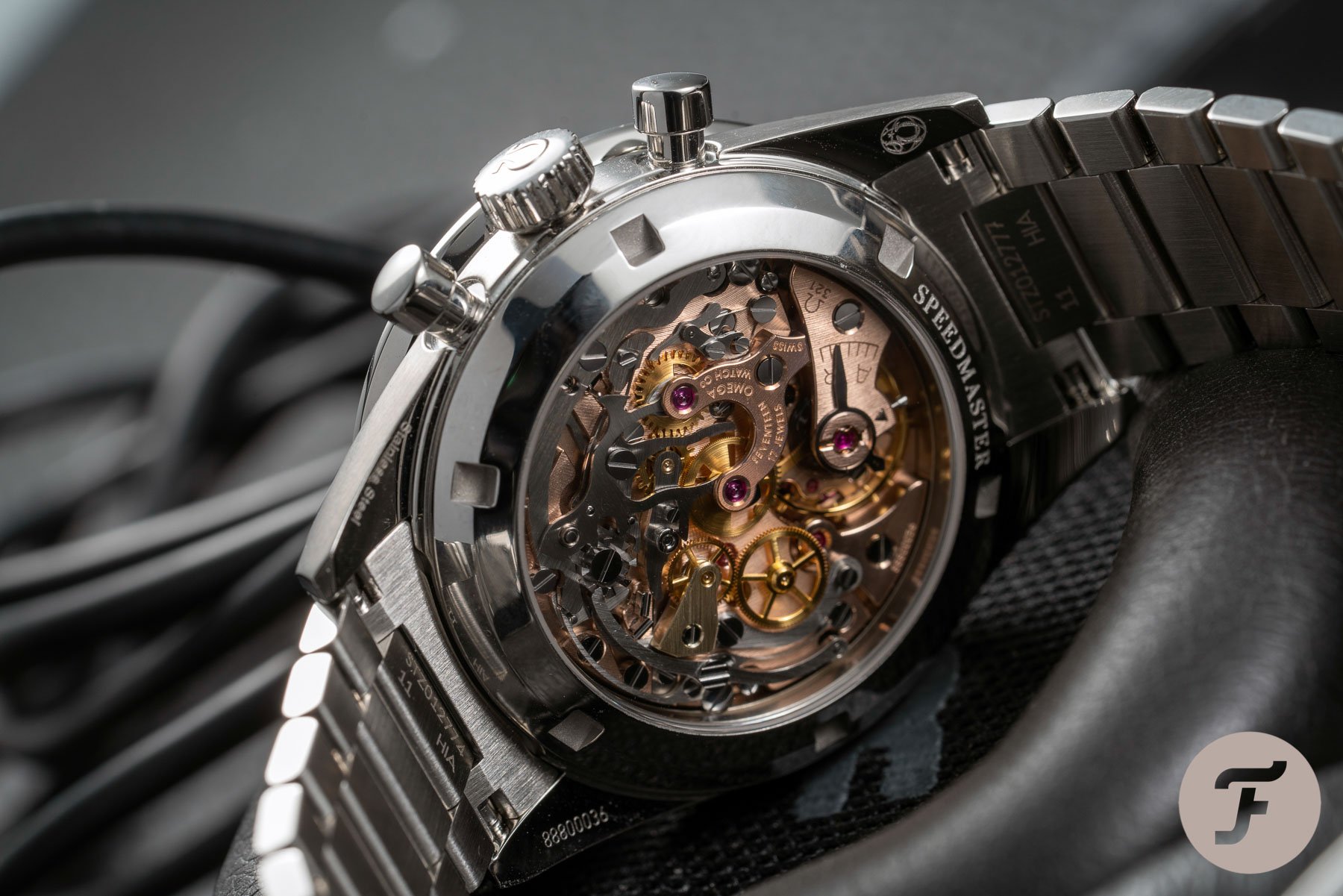 Return of the 321 movement
If you're wondering how that came about, it is quite interesting. Ironically, it is entirely to do with timing. Back in 1992, Breguet bought Lémania. Another six years would pass before the Swatch Group acquired Breguet in 1999. Despite the two brands being under the same ownership, their properties remained distinct. As such, there was no sign of a return of the caliber 321 to Omega.
That was until last year, in early 2019. Behind the scenes, Omega's CEO Raynald Aeschlimann, and his team had been working on the return of the caliber 321. An iconic chronograph movement that was used in the Speedmasters that were on the Moon and on the wrists of astronauts was about to make its comeback.
Omega Speedmaster Caliber 321 Platinum
During the first Speedy Tuesday event of 2019, the reveal of the new caliber 321 took place. The Speedmaster enthusiasts were the first to see the news, even before the press received the information (the way it should be done). One of the biggest questions was in which Speedmaster watch the caliber 321 would be used. Omega was silent about it but did mention it would be first available in a watch made of precious metal. A few months later, on July 21st, the Speedmaster Cal 321 in platinum was introduced, with its onyx dial and lunar meteorite subdials. You can read our hands-on review of that watch here.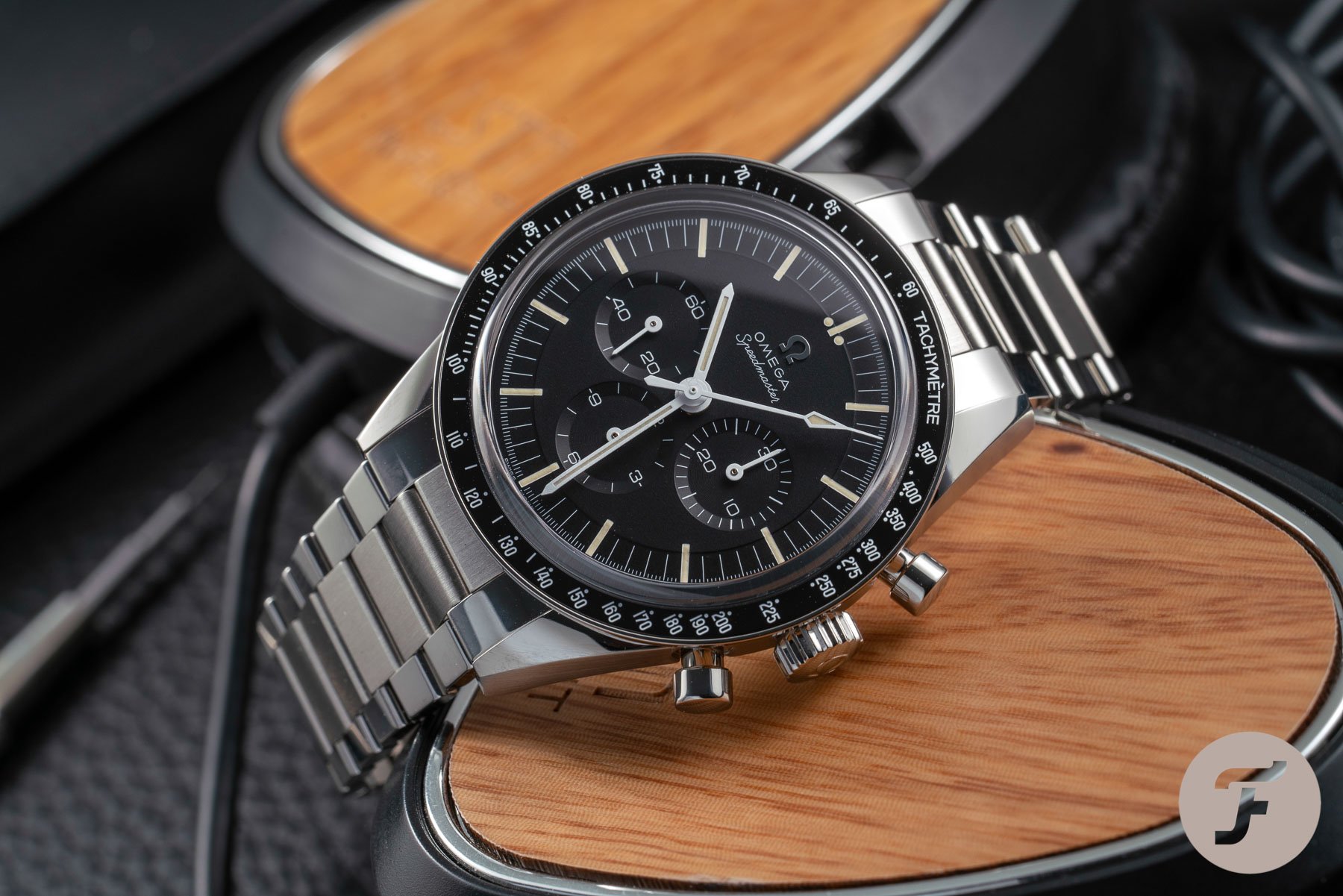 Speedmaster Caliber 321 311.30.40.30.01.001
Those who paid attention during the initial introduction of the caliber 321, could have guessed what the new steel Speedmaster Calibre 321 would be. It has been explained into great detail how Omega used the Speedmaster 105.003 that was on Gene Cernan's wrist during Apollo 17. So here it is, the Omega Speedmaster Caliber 321 with reference 311.30.40.30.01.001 that finds its inspiration from reference 105.003 that was used on the Moon. This watch is also called the "Ed White", as White was the first to use this watch during a spacewalk in 1965. More about that here.
Video with background information
One of the first things we (Bert and I) did, was to shoot a video on this Speedmaster Caliber 321 with some background information. I want to keep this review as hands-on as possible, but I noticed it is easy to get sidetracked by all the interesting information about the movement, the history of the Speedmaster, and its relationship with Space, and so on. If you are interested in that, please watch the Omega Speedmaster Caliber 321 video that we published on YouTube last weekend.
"105.003" Case
The case of the new Speedmaster Calibre 321 ref. 311.30.40.30.01.001 measures 39.7mm in diameter and 13mm in height. It is the exact same case body as used on the first three generations of Speedmaster watches — the so-called straight lug case. It is different from the previously released First Omega in Space and the Speedmaster '57 60th anniversary, as these watches have a facet on the lugs. The lug width is 19mm and the lug-to-lug distance is 48mm.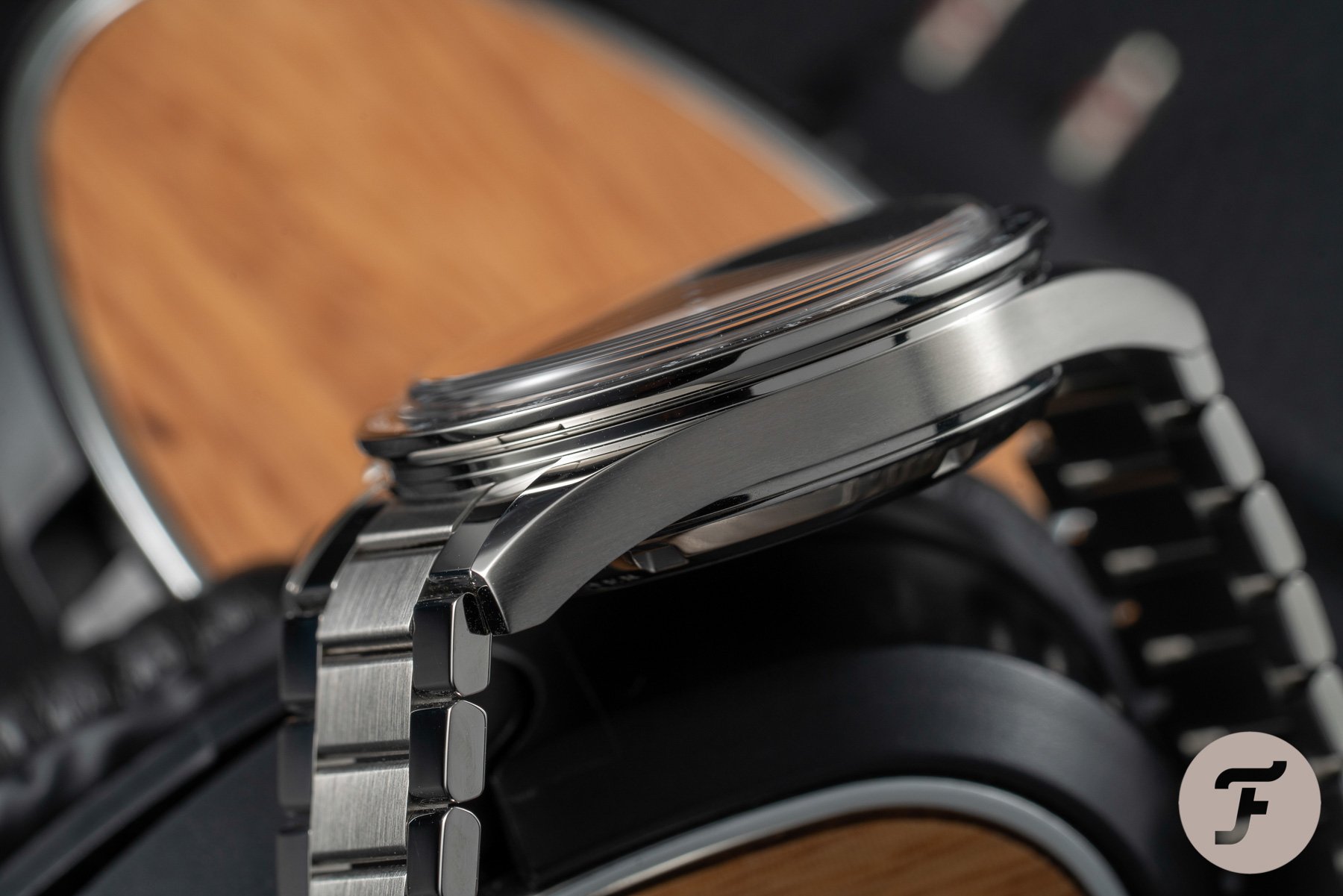 Most of my Speedmaster watches have the 42mm Professional case, so this 39.7mm wears a little bit smaller. What I love about this watch is that it is simply like having a brand new 105.003.
…the same look and feel as the original 105.003.
I love vintage Speedmasters, especially how they all age so nicely (and individually). But it is also very pleasing to have a brand new Speedmaster on the wrist, with the same look and feel as the original 105.003. The watch is readable at night, and the bezel is made of ceramic (with a white enamel tachy scale), which will be difficult to damage. Let's also not forget about the beveled case back, which stays true to the original shape. For this update, however, it has been blessed with a sapphire crystal.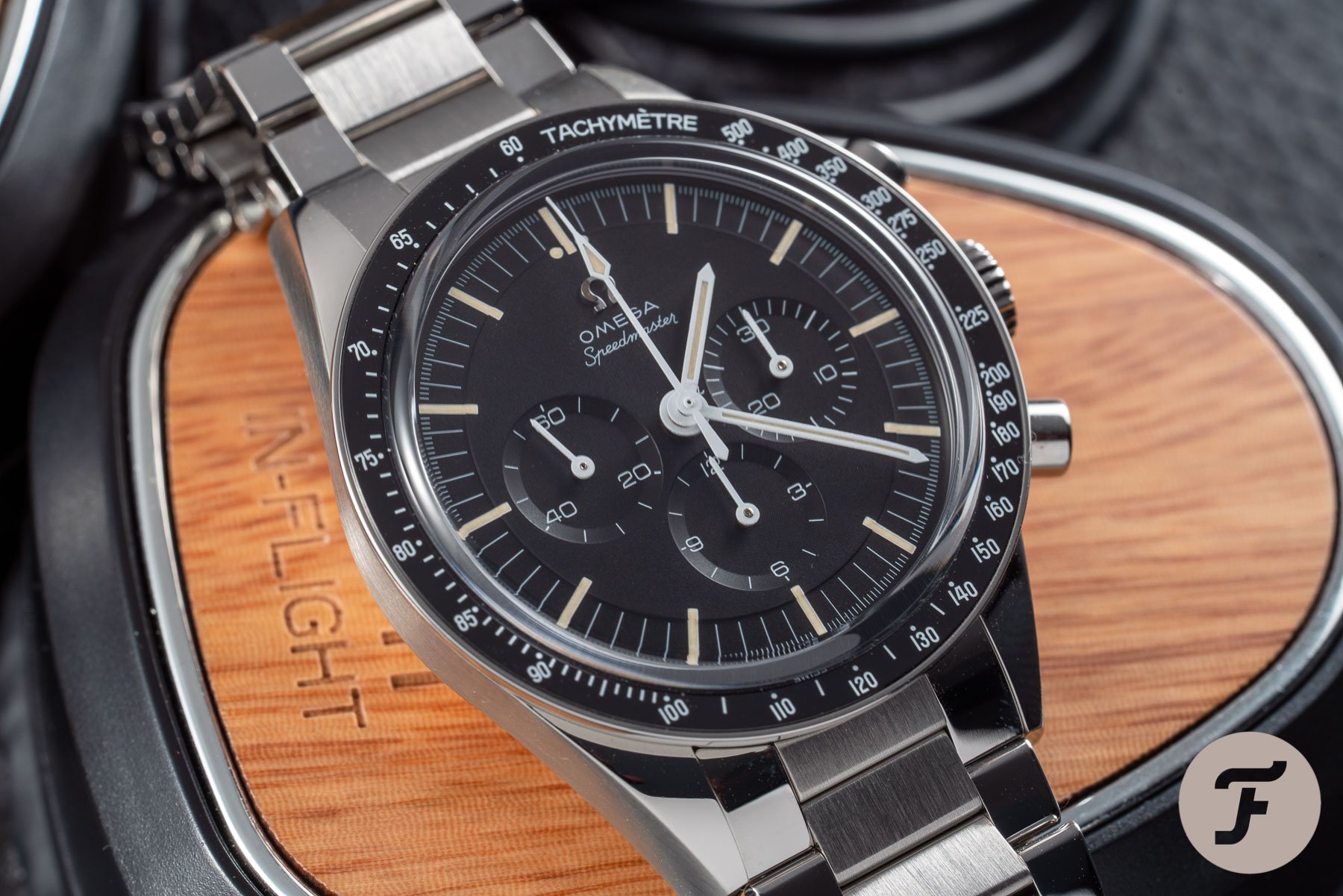 Dial and Hands
Omega knows how to do these re-editions right. The step dial in this Speedmaster Cal 321 311.30.40.30.01.001 is spot-on. It has the applied logo, of course. I had to grab a loupe, but the sub-dials have the circular grain pattern and long "S" and "r" in "Speedmaster" are true to the original 105.003. The only thing that seems to be different is the aligning of "Swiss Made" below the 6 o'clock hour marker. The index line of the 29th second aligns with the left part of the letter "D", whereas the 105.003s have this a bit more aligned to the right. Minor thing. Oh, and do you see the Omega logo engraved in the sapphire crystal? Awesome!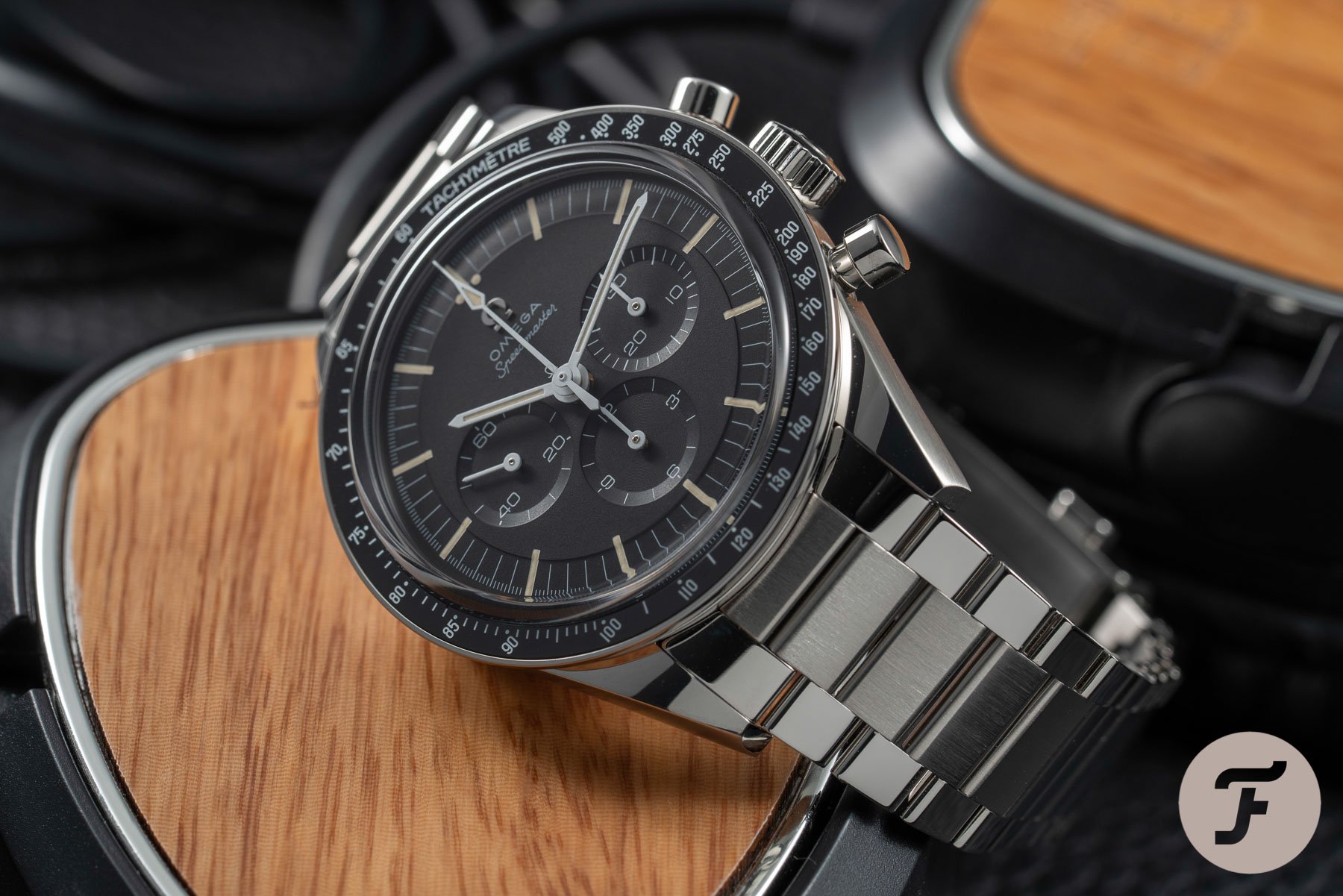 No Faux
Personally I have no issues with a bit of faux patina on the dial or hands, but some of you do. This Omega Speedmaster Caliber 321 comes with a very subtle color of Super-LumiNova. It isn't white, but surely not yellow enough to be faux patina. I would say it has a bit of an ivory color. Although the high-res images may show too much cream tones for some of you. In the flesh, on the wrist, it doesn't reach those levels of yellow.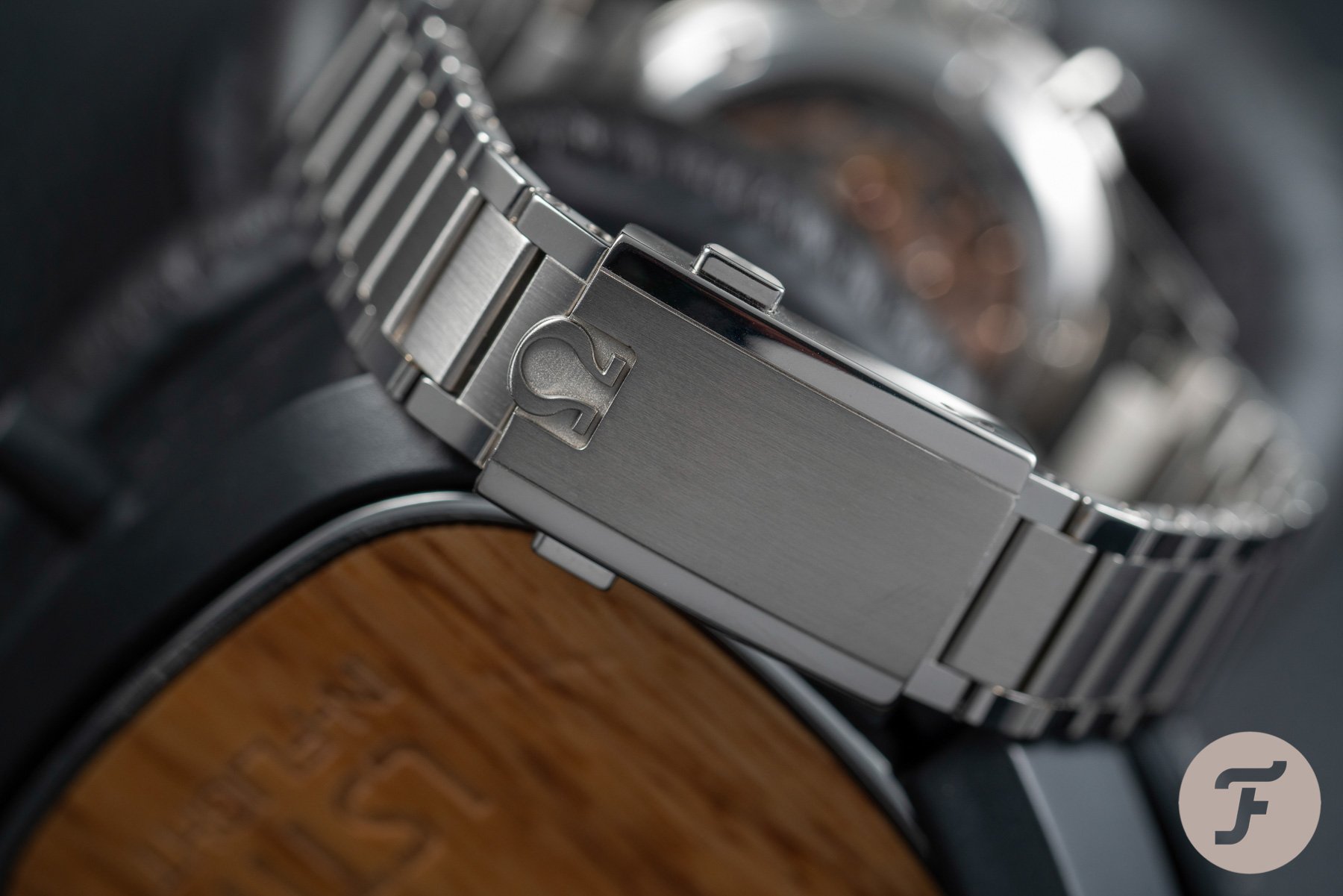 Speedmaster Caliber 321 Bracelet
Now, most of this watch's comfort comes from the magnificent bracelet. Just wow. In the clasp, you'll find the reference STZ013537 engraved. Aside from the clasp, it looks like my vintage 1039 bracelet. The links taper to 15mm at the clasp (the clasp itself is 17.6mm wide.). It is super comfortable and easy to adjust. You can change it with 1/3rd, 2/3rd, or add/remove an entire link.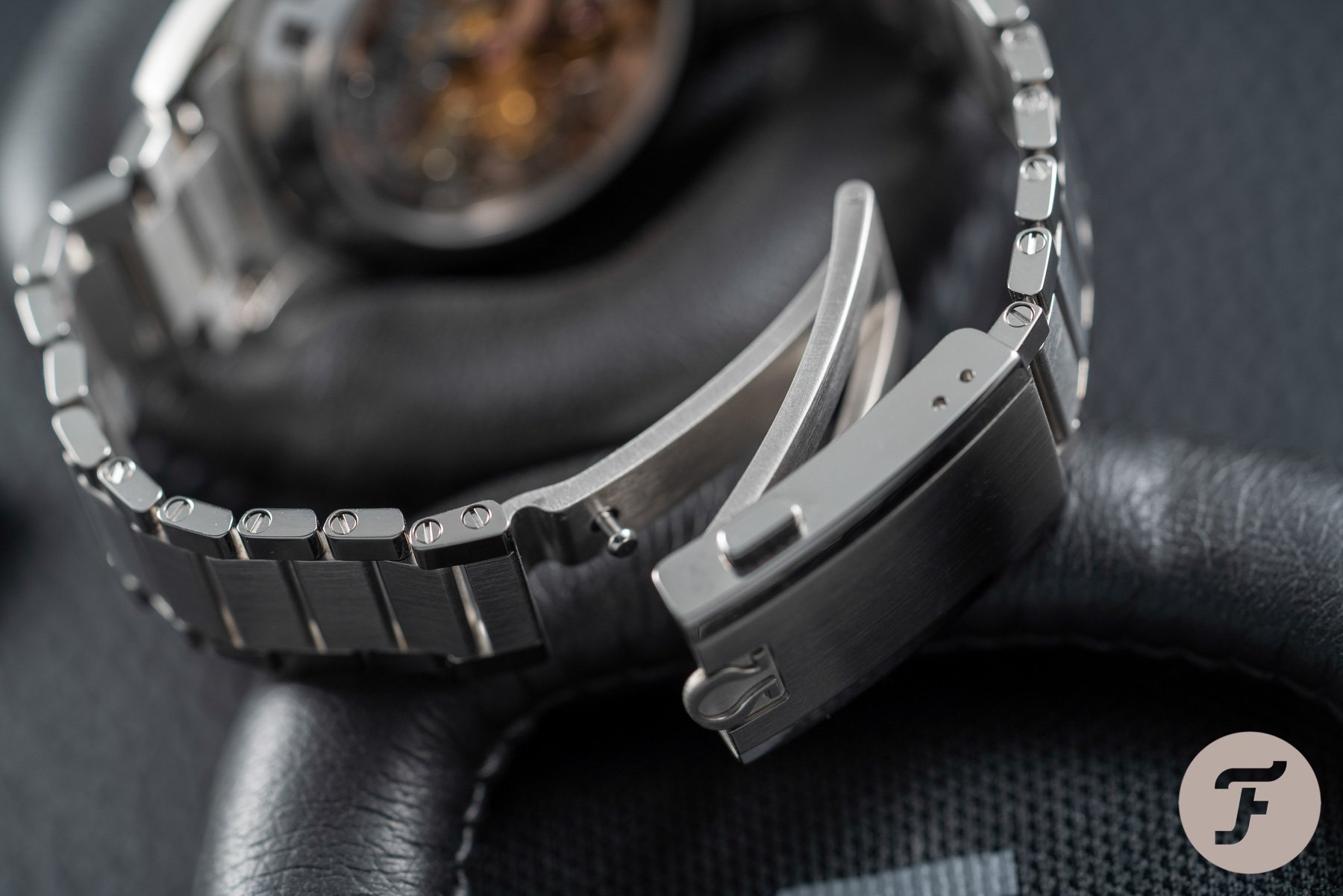 The links use screws, so you can do it yourself, with the right amount of patience and the correct type of screwdrivers. If you feel uncomfortable resizing it yourself, please let someone in the boutique do it for you. On the clasp, there are two pushers for releasing it. Aside from my bracelet on the gold Speedmaster Moonshine, I think this is the best Speedmaster bracelet in steel yet.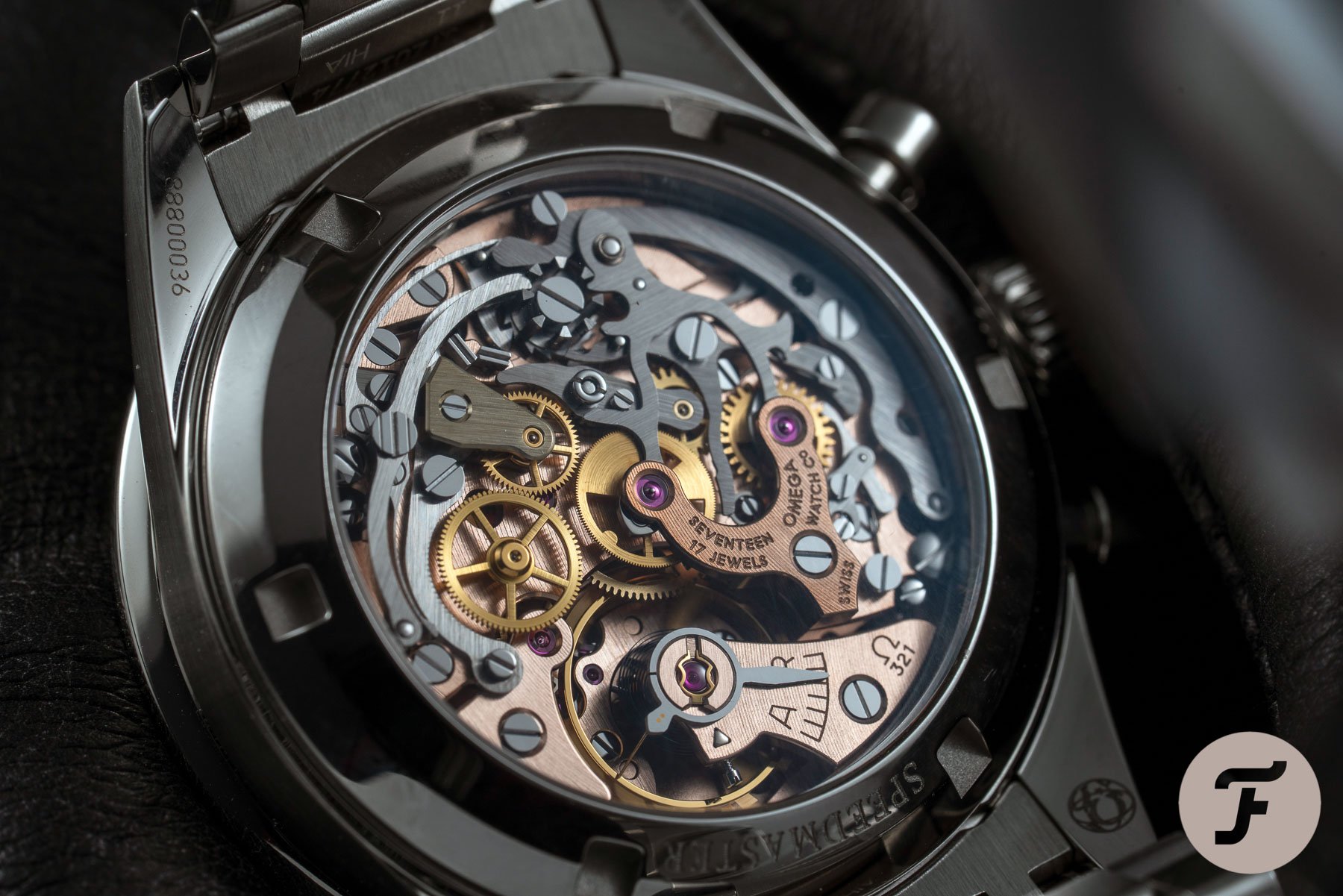 The Caliber 321 Movement
For many, this is the main attraction of this watch — Omega's caliber 321 chronograph with column-wheel mechanism. I've written about it many times before, including in regards to this new caliber. In our video (above), you will see and hear more about it as well. The finish is simply amazing, and the Sedna gold PVD treatment really makes it look good. What else can Omega do besides putting a sapphire crystal there? This movement needs to be seen!
And yes, it is not a Master Chronometer certified movement and it isn't as accurate as the new caliber 3861, but if you are looking for that, this watch is not for you. I did some home testing and found the delta to be impressively tight (2 seconds) with an X rating (mean daily rate) of +8 seconds across five positions. I can live with that. Let's check the performance after a few weeks again. Omega's average precision tolerances for non Chronometer/Master Chronometer watches are between -1/+11 seconds per day. This also applies to the new caliber 321 movement.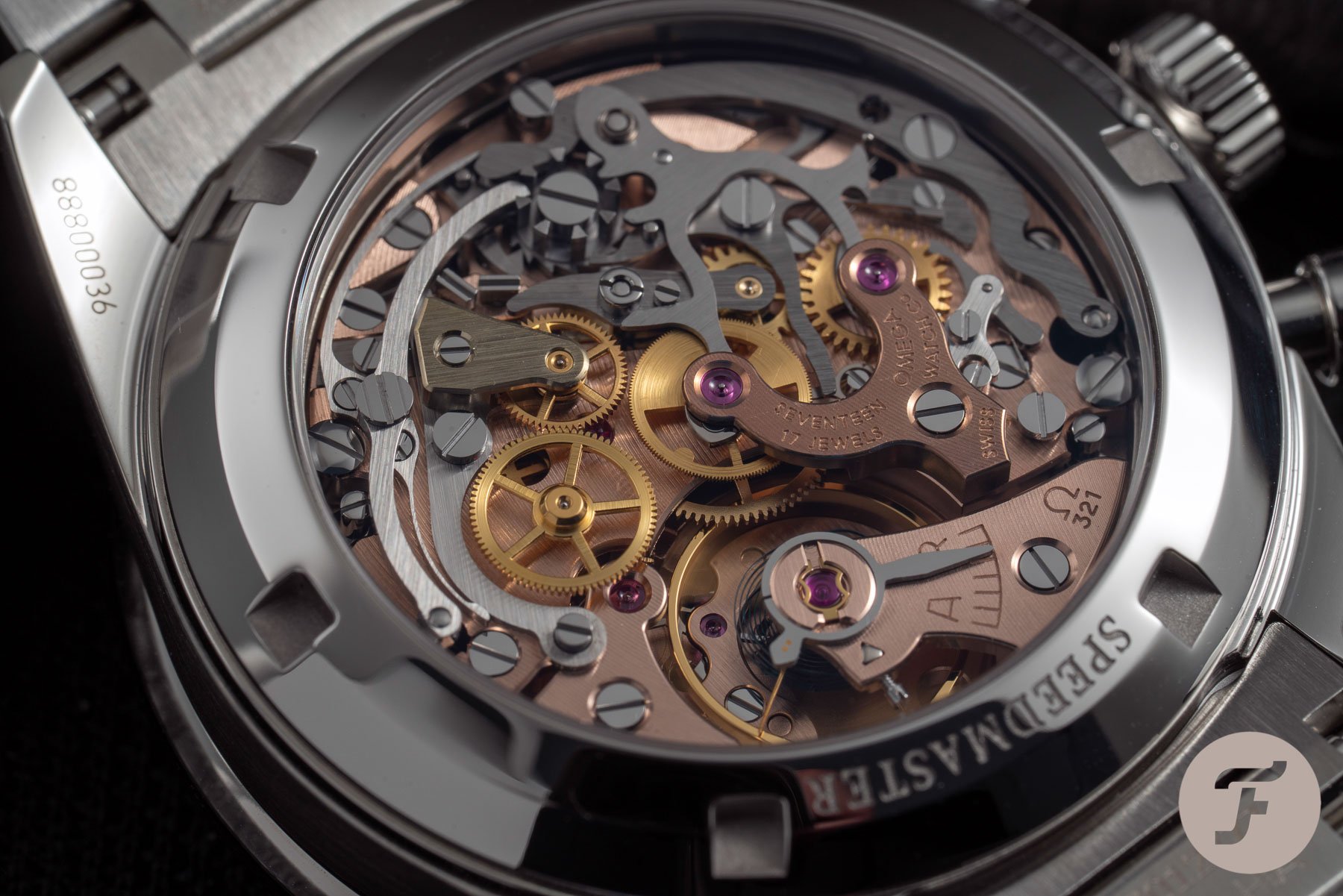 But I care too little about that with a watch like this. Using this movement again is a milestone for Omega and shows how much the brand respects its customers and Speedmaster enthusiasts. For me personally, it is a dream come true.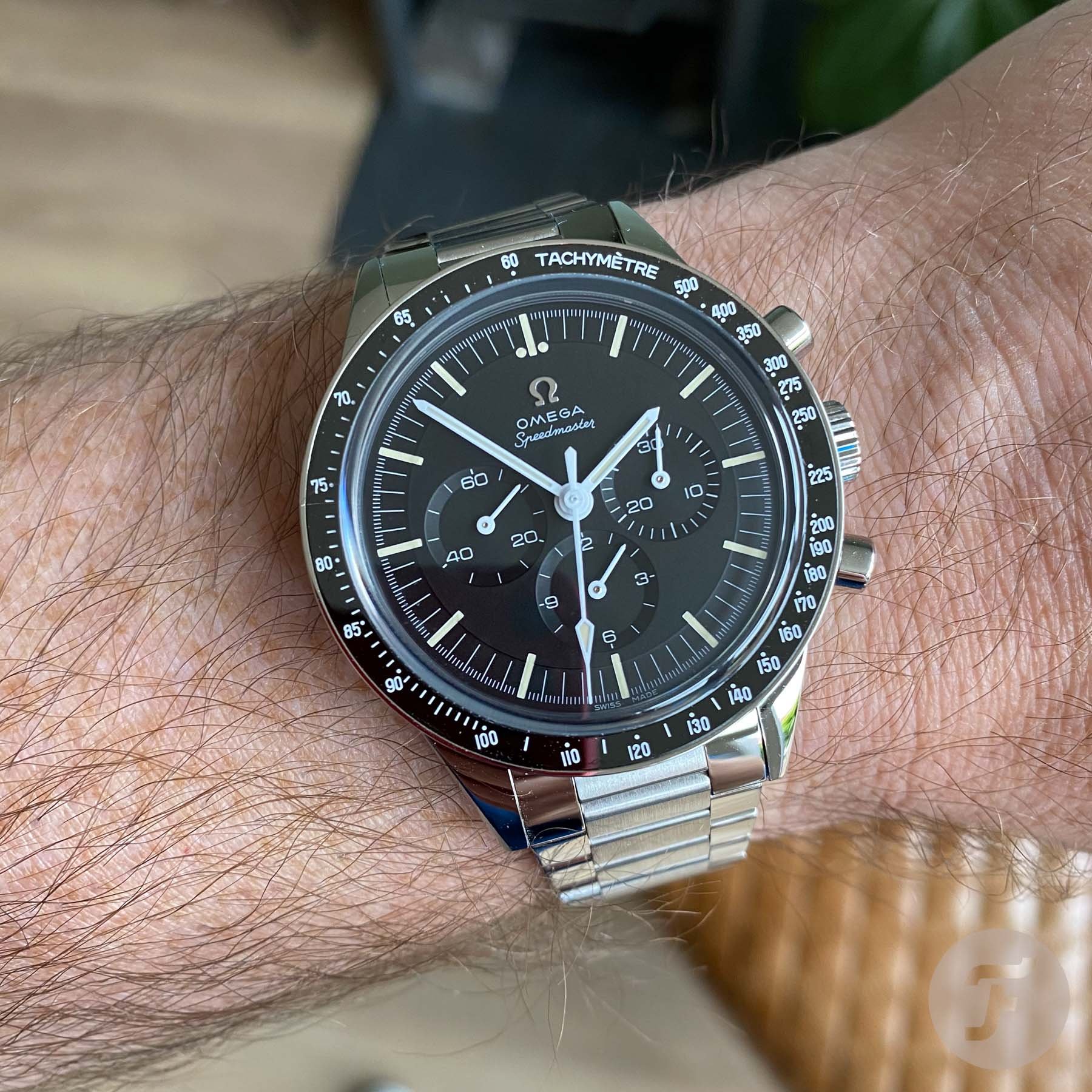 On the wrist
As I mentioned above, the feel of this watch on the wrist is amazing. It is super comfortable, due to the size and the expertly constructed bracelet. But let's not forget about its looks. It is like having a brand new 105.003 on the wrist and, in fact, it is just that. If we can just forget for a moment this Speedmaster Caliber 321 watch has been modernized with Super-LumiNova, a ceramic bezel, and a sapphire crystal. The winding of the crown is smooth as butter and much "easier" than on any of my other Speedmasters using caliber 861, 1861, or the 3861. Operating the pushers feels like my old caliber 321 from 1968. As Mike always says "nice action on the pushers". That definitely applies to this watch.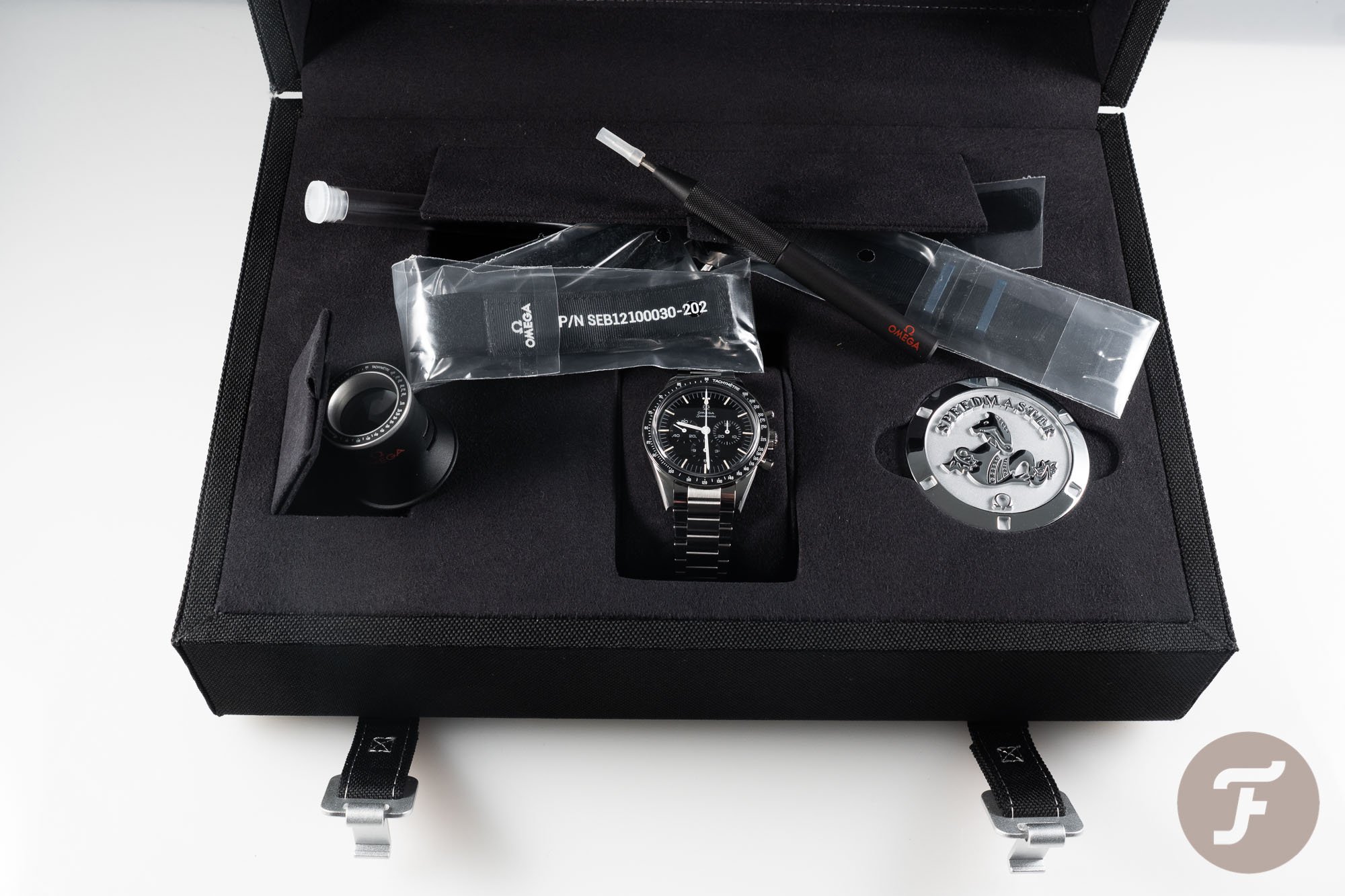 Presentation box
I purchased this watch in the new Omega boutique in Biel, which is a pretty darn nice one. In one of the lounges, they opened up the box, and inside was the Speedmaster Caliber 321 in steel. What a feeling! This watch was presented to me in the large Omega Speedmaster Moonwatch box. You know the one. Omega has used it since 2014 for its new Moonwatch models. It is also the box used for the Speedmaster Cal 321 in platinum.
…I am happy with this box…
Some people expected something different, but when I noticed the platinum comes in this large Moonwatch box, I had a feeling that it would also apply for the steel Speedmaster Caliber 321. Well, the good thing is, I don't have a Moonwatch younger than 2014.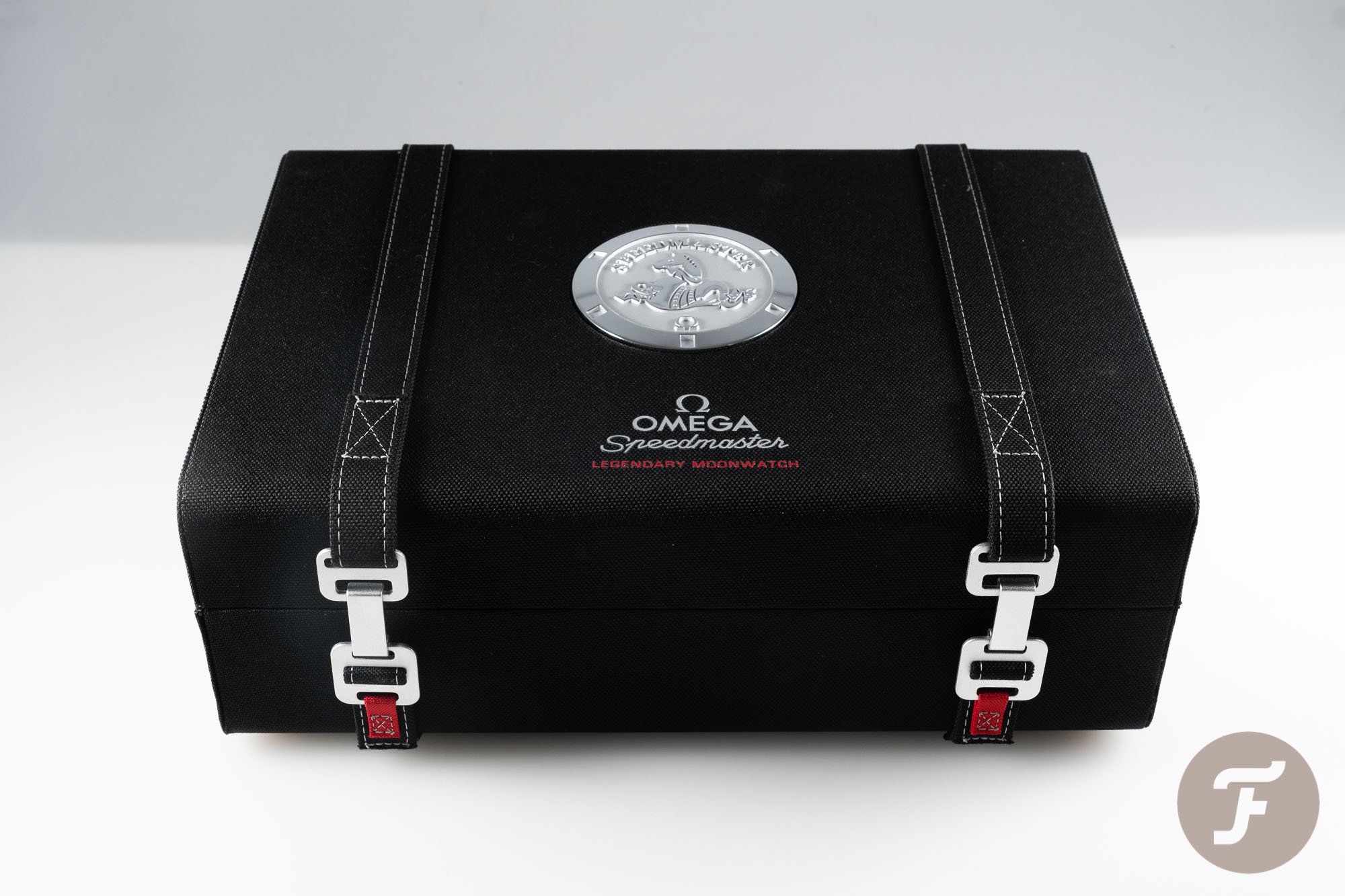 So I am happy with this box, as I now finally have it. And let's not forget, the large Omega Speedmaster box is pretty awesome. In the box, you'll find two additional straps, a strap changing tool, and a loupe. The papers and instruction book as well as a book on the Speedmaster are included.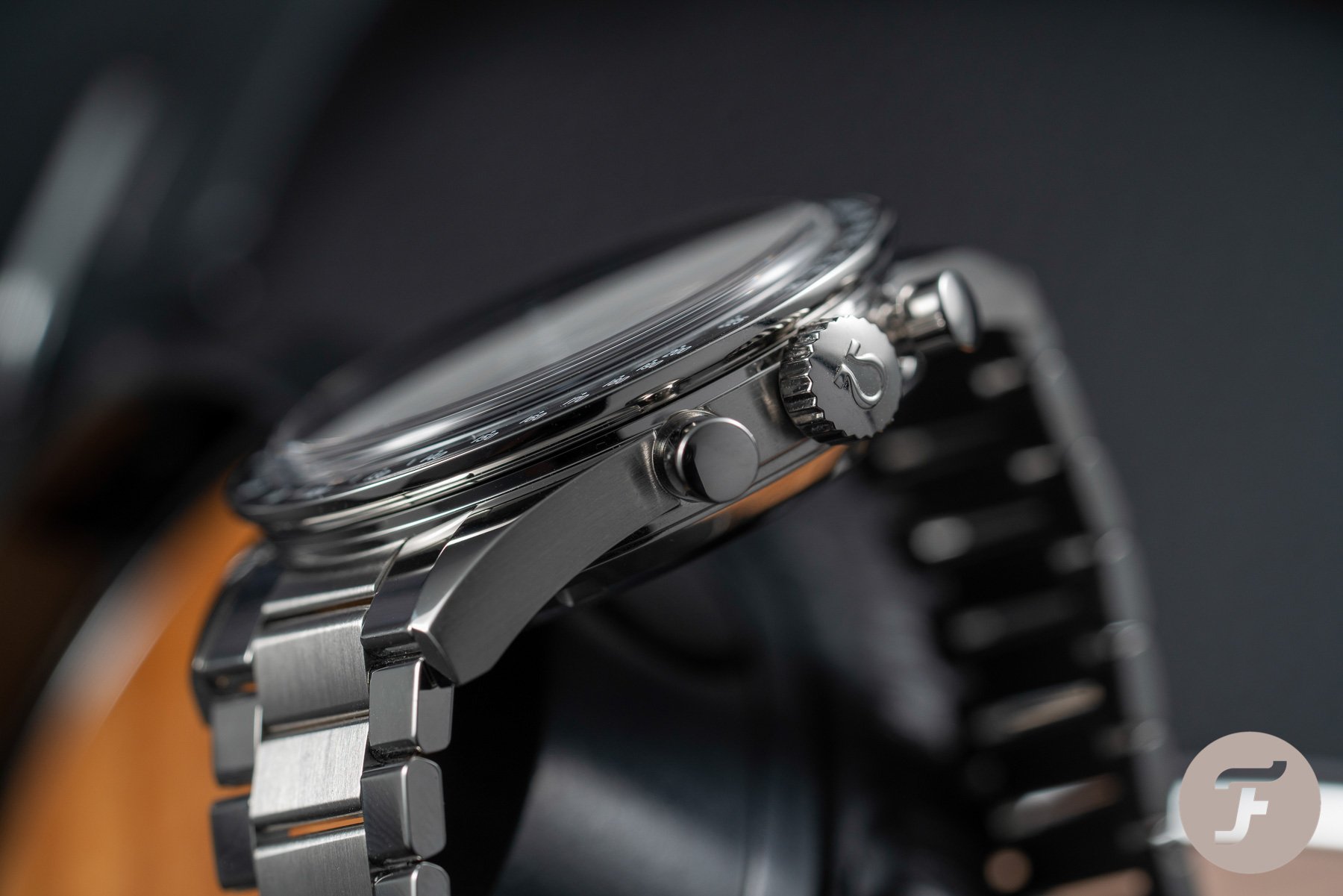 Elephant in the room
So, the one thing that I didn't mention yet, is the price of this watch. It is, quite understandably, a hot topic amongst Speedmaster fans. The retail price of the Speedmaster Caliber 321 311.30.40.30.01.001 is €13,300. That's a lot of money, and, indeed, much more than the €4,700 of a standard Moonwatch. But, these are different watches. While the standard Moonwatch is produced according to Omega's industrialized manufacturing process, this new Speedmaster Calibre 321 is assembled differently. Omega needs to industrialized its manufacturing, in order to produce around 750,000 watches a year. I have seen the Speedmaster Cal 321 workshop in Biel, and it is very different from the rest.
In this workshop, movement parts arrive and delivered to one watchmaker for assembly. This watchmaker is then responsible for assembling the entire watch. It does not go from workstation-to-workstation, where different workers take care of different tasks. That kind of accountability counts for something in this industry.
Alternatives for the Speedmaster Cal 321
But does it explain the price? I don't know. But what I do know is that I've been told on various occasions that the watch is just very costly to produce. I am fine with that, as I knew this upfront before I put in my order. If you don't want to spend this money on a new hand-wound Speedmaster, then the standard Speedmaster Professional is there. A perfect watch that is — in my opinion — still a bargain. Finding a vintage 105.003 in good condition is not an easy task, and certainly not for the price tag of the new Speedmaster Calibre 321. You will find a 105.012 or 145.012 with caliber 321 though. Buy what you like, I would say. I am happy with the new Speedmaster Caliber 321 and to me, it is worth every penny.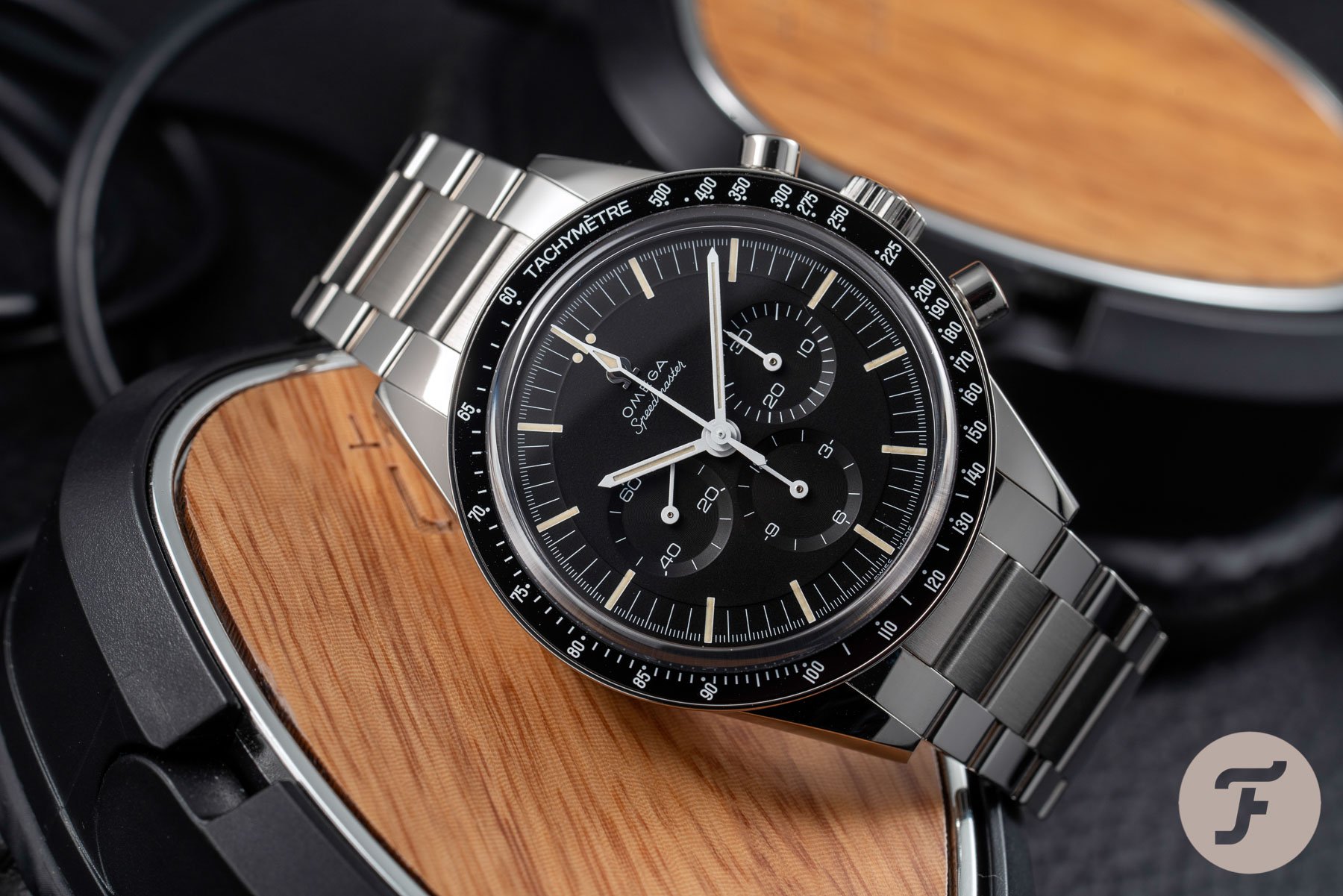 Speedmaster Caliber 321 Availability
Omega is going to produce between 1,000 and 2,000 321 movements per year. This output will be split between the steel and platinum Speedmaster watches. The number of steel Speedmaster Calibre 321 watches will be definitely higher than the platinum ones, of course. This year, also due to Covid-19, I can imagine that the production is not up to speed yet.
…caliber 321 is back!
Omega is slowly starting to deliver the watches now (July) and it might take quite a while before you will receive yours. But, if you are on the list, you will get the call eventually. Patience is key here, and I do know how that feels, from previous orders. What I can promise you, is that you will love this Omega Speedmaster Caliber 321. The caliber 321 is back! More information can be found on Omega's website. Find all Speedmaster articles on Fratello via this link.
Watch specifications
Model
Speedmaster Calibre 321
Reference
311.30.40.30.01.001
Case Material
Stainless steel
Case Dimensions
Diameter: 39.7mm, Height: 13mm, Lug width: 19mm, lug-to-lug: 48mm
Crystal
Sapphire, with laser-engraved Omega logo in the center
Movement
Caliber 321, hand-wound chronograph movement with column-wheel mechanism, ticking speed: 18000vph, jewels: 17, power reserve: 55 hours, Sedna gold plated finishing
Water Resistance
50 meters / 5 ATM
Strap
Stainless steel bracelet
Functions
Time, Chronograph, Tachymeter
Price
€13,300 (including 21% VAT in The Netherlands)
Warranty
Five years international warranty
Special Note(s)
Produced in a very limited quantity