It's A Great Time For Chronograph Lovers — Five Great Big Brand Choices For Under €10,000
If you're looking for a great everyday chronograph, the options have never been better
The chronograph is easily one of my favorite watch types. Unlike a diver or field watch, the chronograph is a tough one to master. There's lots of info on display and the wrong design choices can lead to a visual mess. And then there are the movements; buyers LOVE to talk specifications. Thankfully, the big brands now offer some really compelling choices.
With watches, we often talk more about what we don't have instead of pausing to examine the current landscape. We say things like, "that's great, but," or, "I wish brand X would have done such and such instead." Honestly, the complaints now border on the ridiculous because, at the risk of sounding crazy, I think we are currently in the midst of a golden period for watch design (and options). That sentiment definitely applies to the chronograph. Finally, after years of enduring overpriced 7750-powered timepieces across so many brands, we have the option of all sorts of in-house or at least proprietary calibers. Furthermore, finishing, design, and auxiliaries like bracelets have never been better. Here are five great options under that magic €10,000 mark worth a look.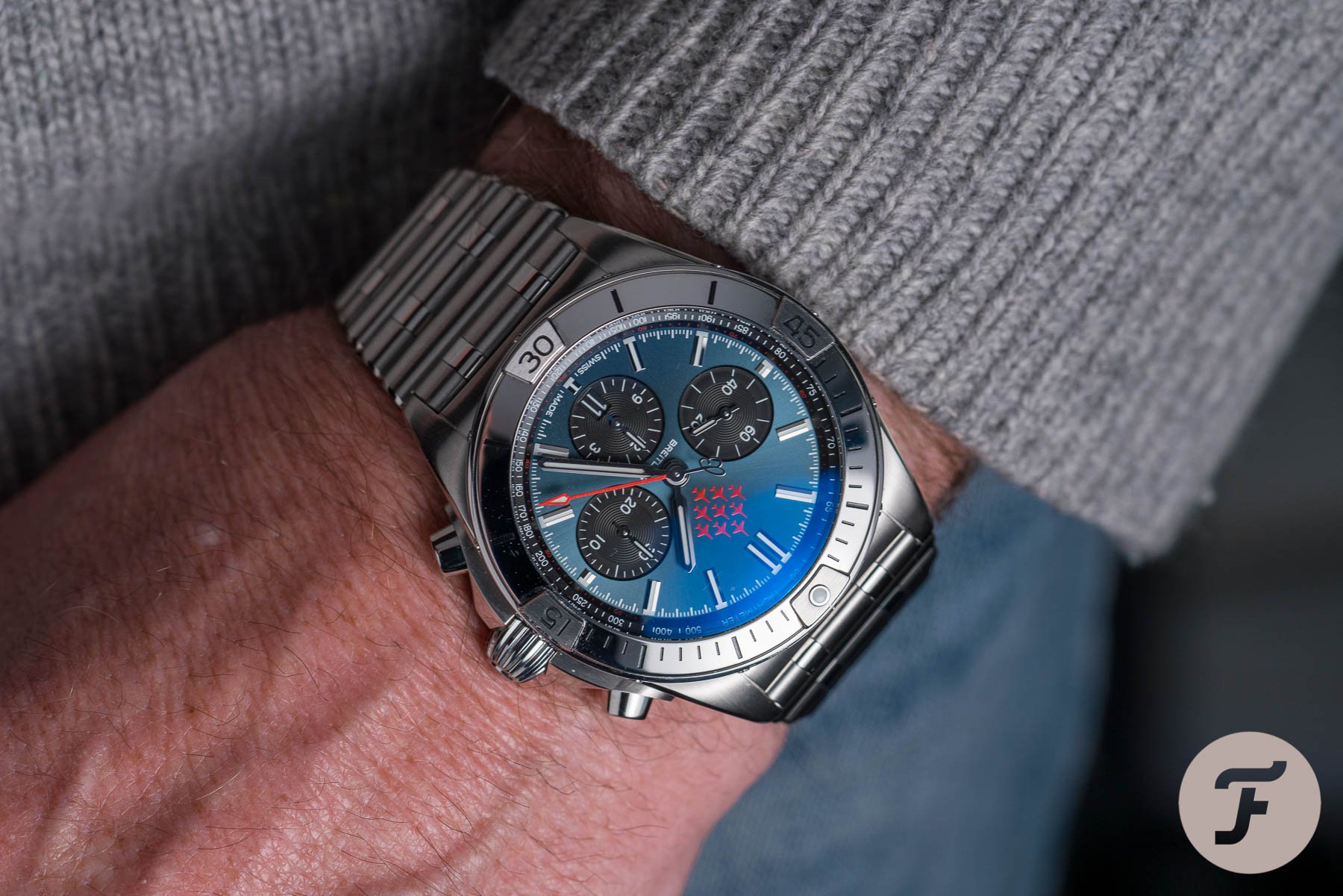 Breitling Chronomat B01 42
Last year, just after the kickoff of everyone's favorite dinner table discussion, Breitling gave us the entirely new Chronomat series of chronograph watches. These pieces were just the latest step in the Breitling reinvention and, wow, are they good! Firstly — and it was apparently not a gimme at the Breitling HQ — the legendary rouleaux bracelet is back and it is oh-so-good. Next, the Chronomat looks back on the '80s Schneider era versions and this means that touches like the rider tabs on the bezel made the cut. In top form, these pieces come with the manufacture B01 automatic caliber and that means a chronometer certification plus 70 hours of power reserve.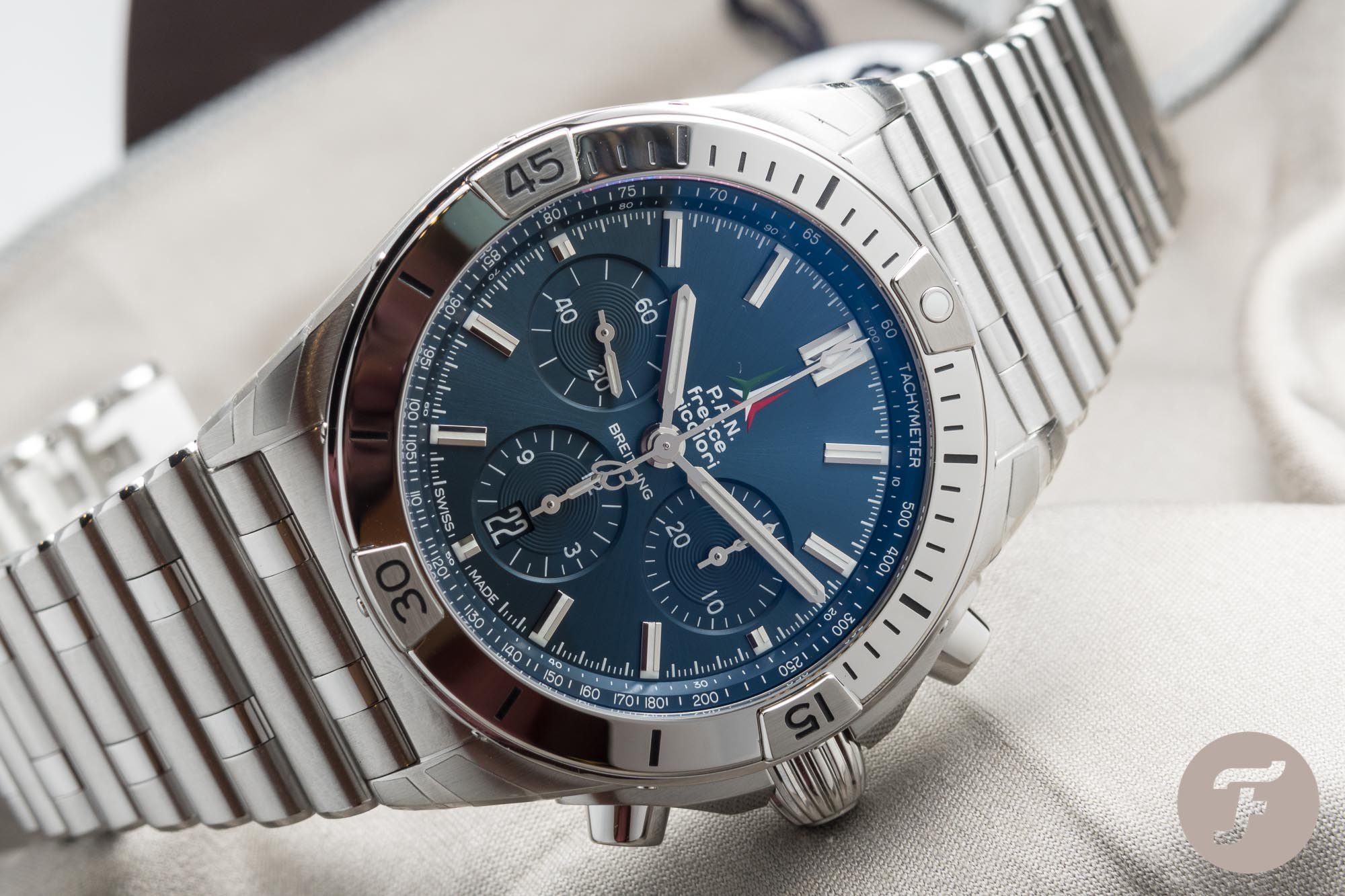 Dimensions of around 50mm lug-to-lug, 42mm diameter, and 15.1mm thick make for a solid, but surprisingly wearable everyday watch. It even has 200 meters of water resistance. I was never able to wear most Breitling models, but these even fit my tiny wrist. The Chronomat starts at €7,900 in steel and Breitling makes loads of colors. I like the darker hues, but the salmon dial is a killer. You can see and read about Ben's Tricolori version and the Red Arrows edition (shown above) n Fratello — both are unfortunately sold out.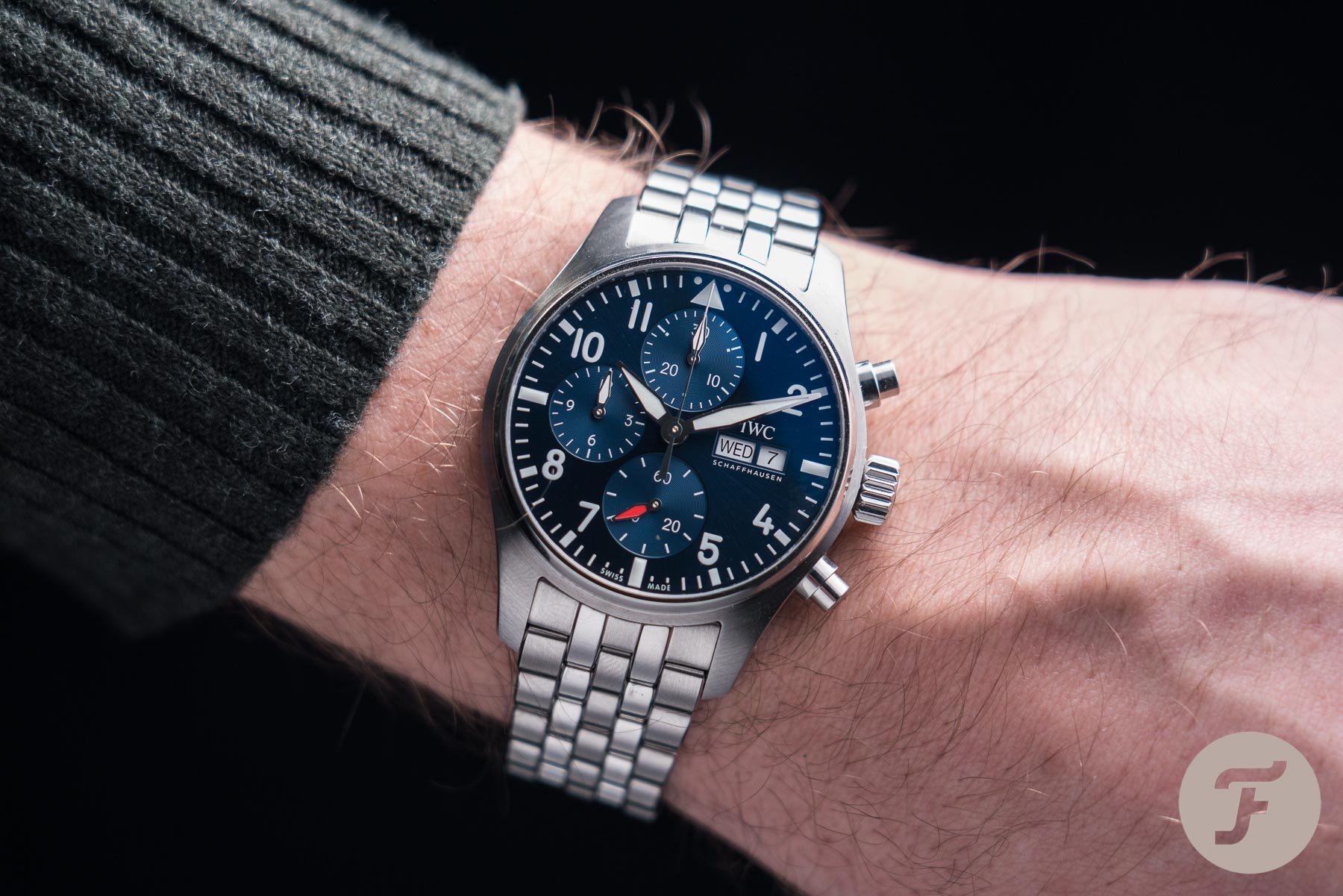 IWC Pilot's Watch Chronograph 41
IWC is a brand that I rarely discuss. Over the past 20 years or so, IWC's watches have simply been too big for me. Plus, reliance on robust, but relatively inexpensive off-the-shelf movements left me with questions about thebrand's asking prices. Things are changing, though, and thankfully for the better. A perfect example is the new Pilot's Watch Chronograph 41 that Rob reviewed just a few short months ago.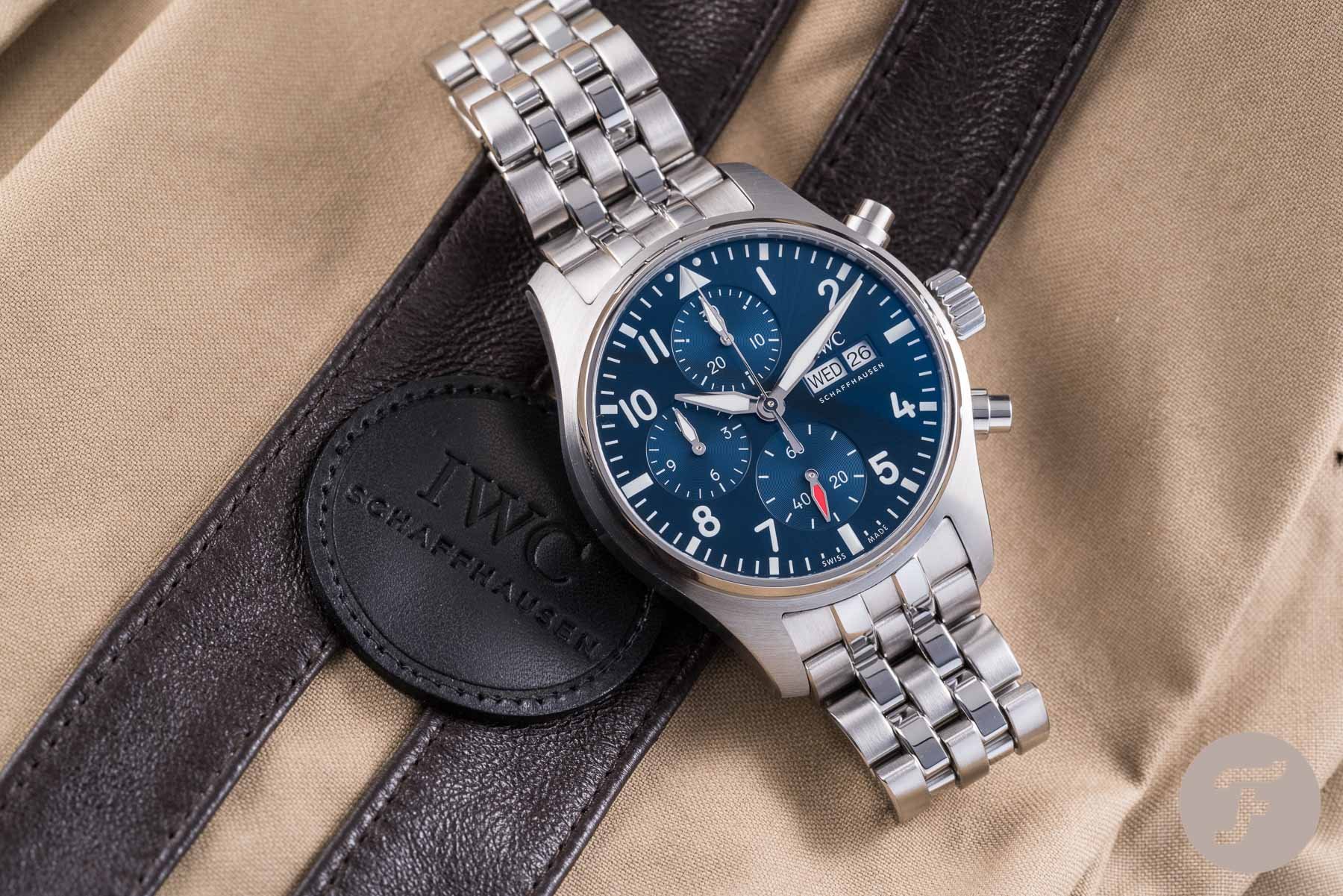 This watch keeps the 7750-ish 6/9/12 sub-register format, but there's actually a new in-house automatic 69385 caliber inside the 41mm case. It's not a world-beater with 46 hours of power reserve, but it contains a column wheel, runs at 28,800vph, and allows this IWC to compete without reservations. This one is 14.5mm thick, has a 50mm lug-to-lug, and a truly comfortable bracelet. For €7,600 on the bracelet, there are even some nice dial color options such as green or blue. Oh, and this chronograph also brings a 100 meters of water resistance to the table.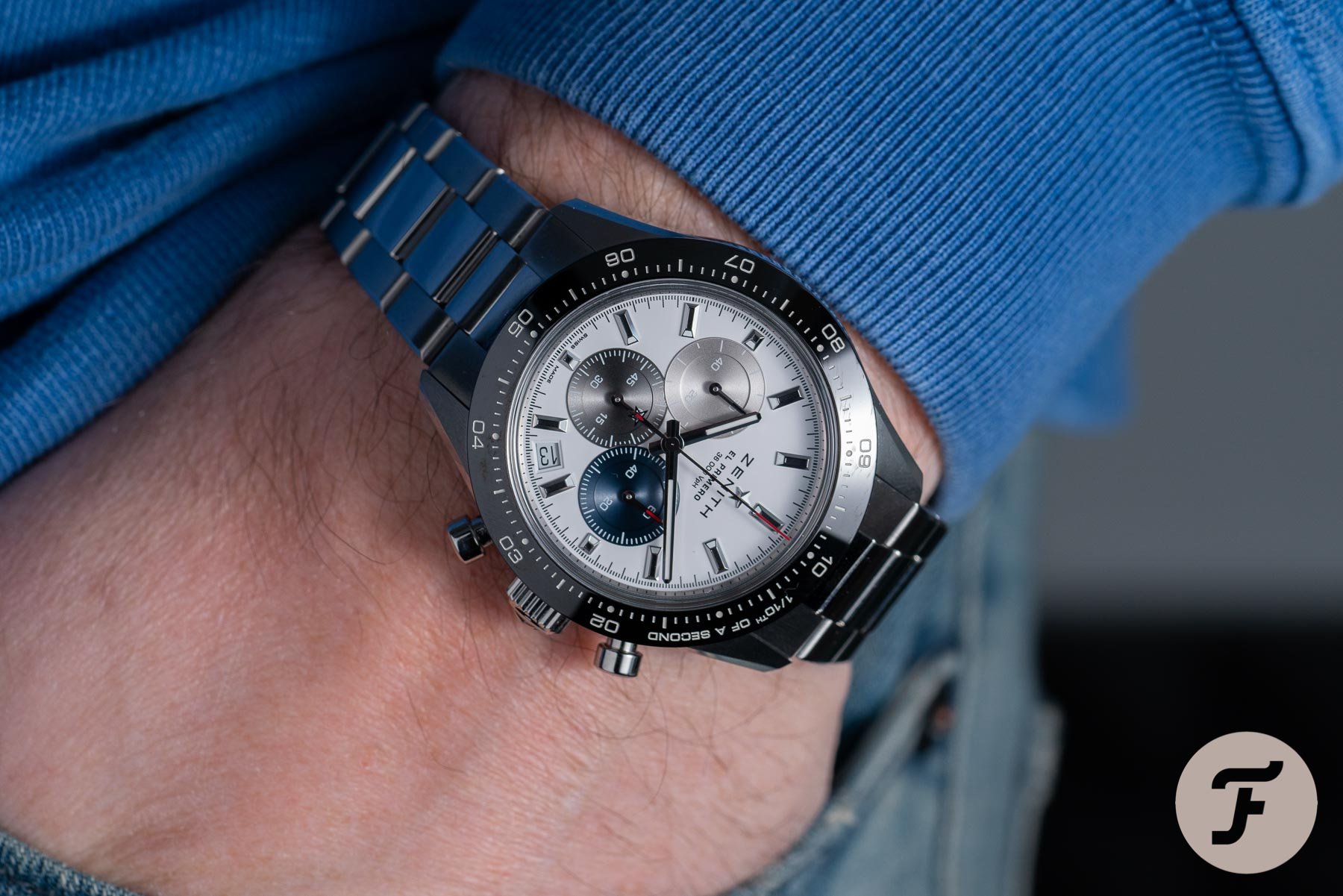 Zenith Chronomaster Sport
Mea culpa, mea culpa. It's time for me to repent because I take back my earlier criticism of the Zenith Chronomaster Sport. When this watch was released earlier this year, I (along with many others) bemoaned its uncomfortable resemblance to a certain Rolex chronograph. There's no denying this fact, but I now feel that there's enough differentiation because of the very Zenith color scheme and the unique movement. Plus, when a Daytona is simply not available, it almost ceases to exist in my mind. I've really started to fall for the anthracite, light gray, and blue scheme that Zenith has used for decades. These watches take those colors and pull them off in a really upscale-looking package.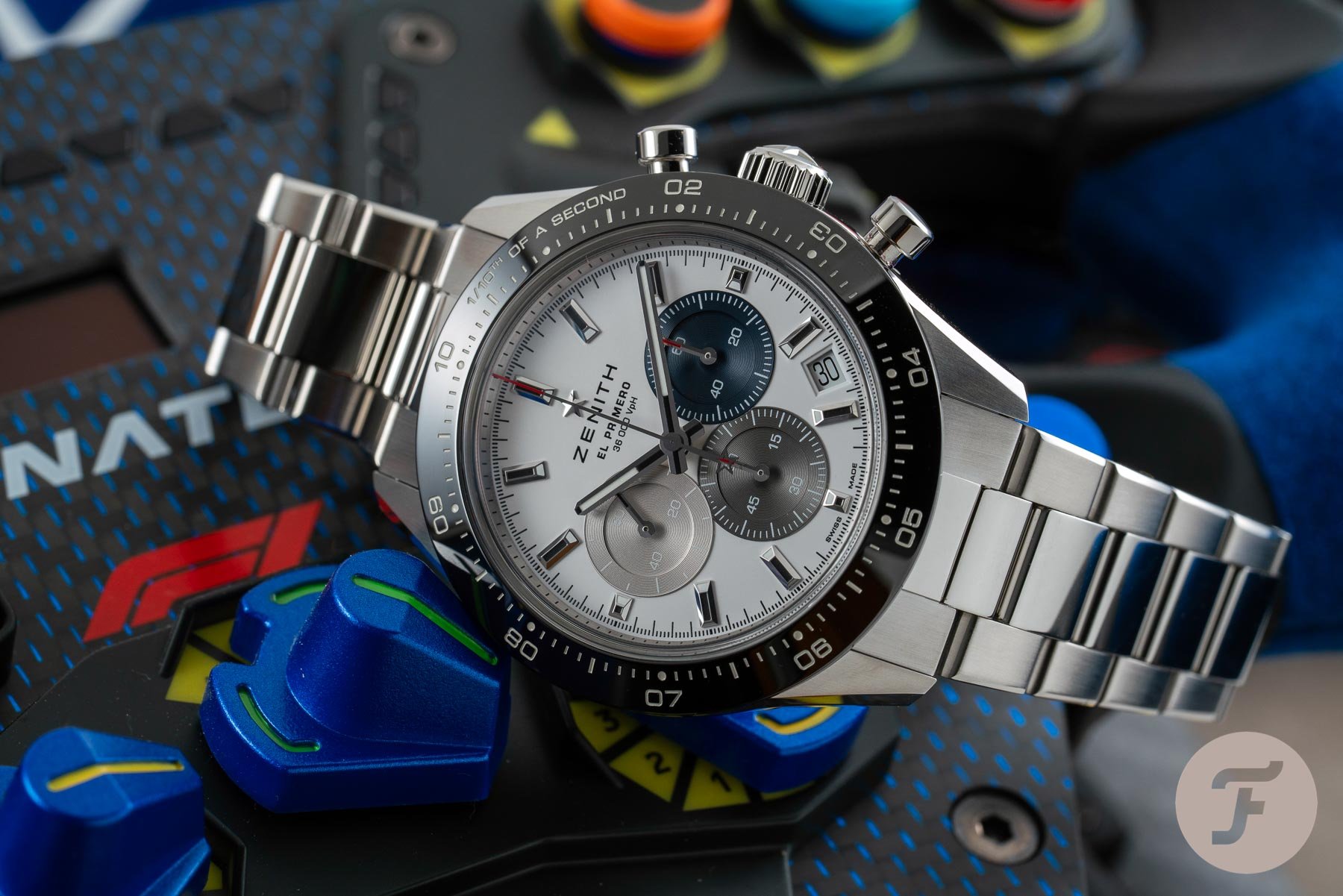 Movement-wise, the new El Primero 3600 has an amazing feature where the central chronograph hand moves around the dial every ten seconds. The wearer can actually measure to 1/10 of a second and this is all while maintaining 60 hours of power reserve. On the downside, there is no hour counter. At €9,700, these 41mm chronographs are just 13.6mm thick, lug-to-lug of 46.8 mm, and boasts a water resistance of 100 meters.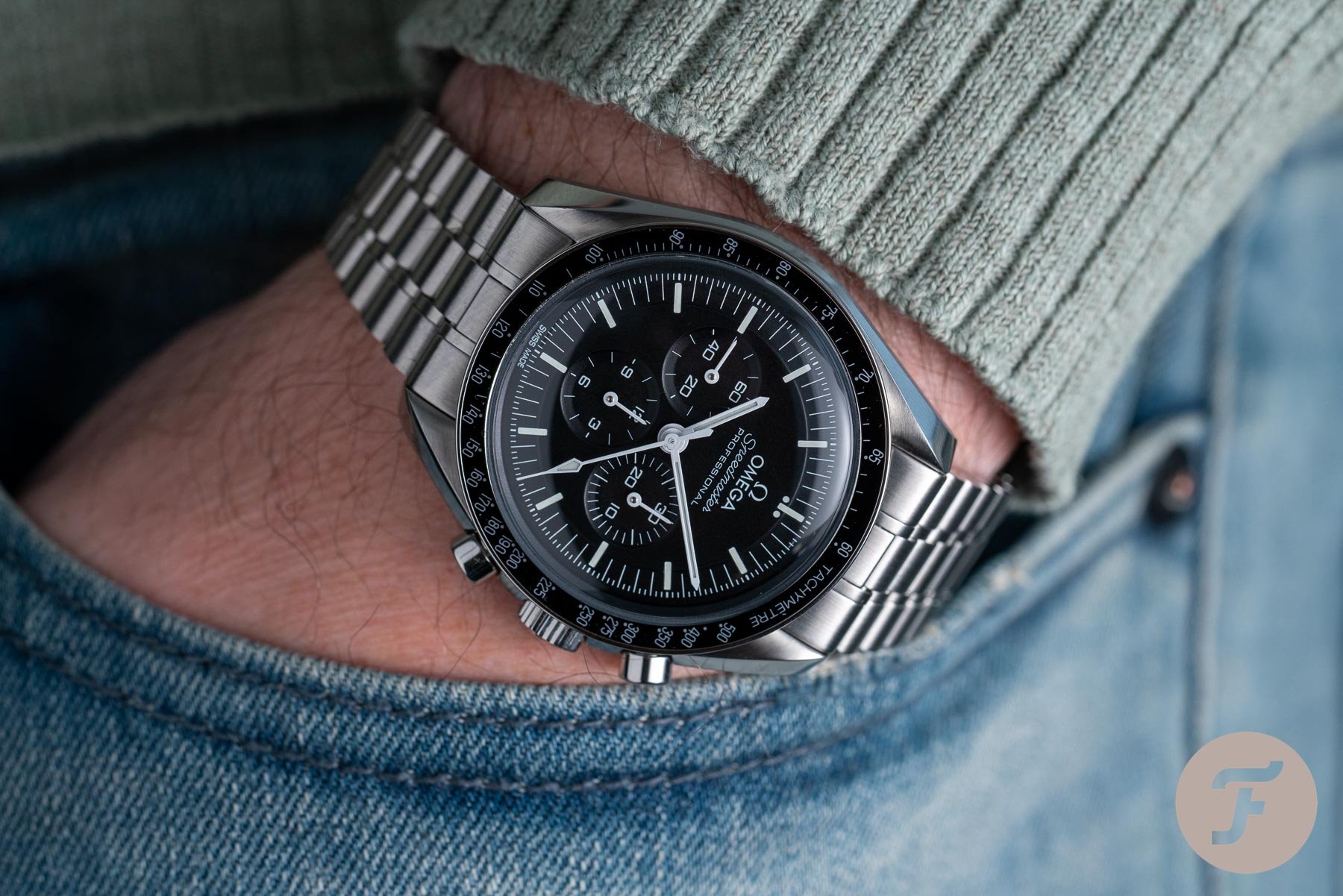 Omega Speedmaster Professional
Hey, did everyone forget about one of the best chronograph models on the market? We didn't, although it feels like January was already a long time ago! To refresh your memories, Omega launched its newest Moonwatch and brought some well-deserved updates and upgrades. No matter whether one opts for the sapphire or Hesalite model, a new manual wind Master Chronometer 3861 movement is here.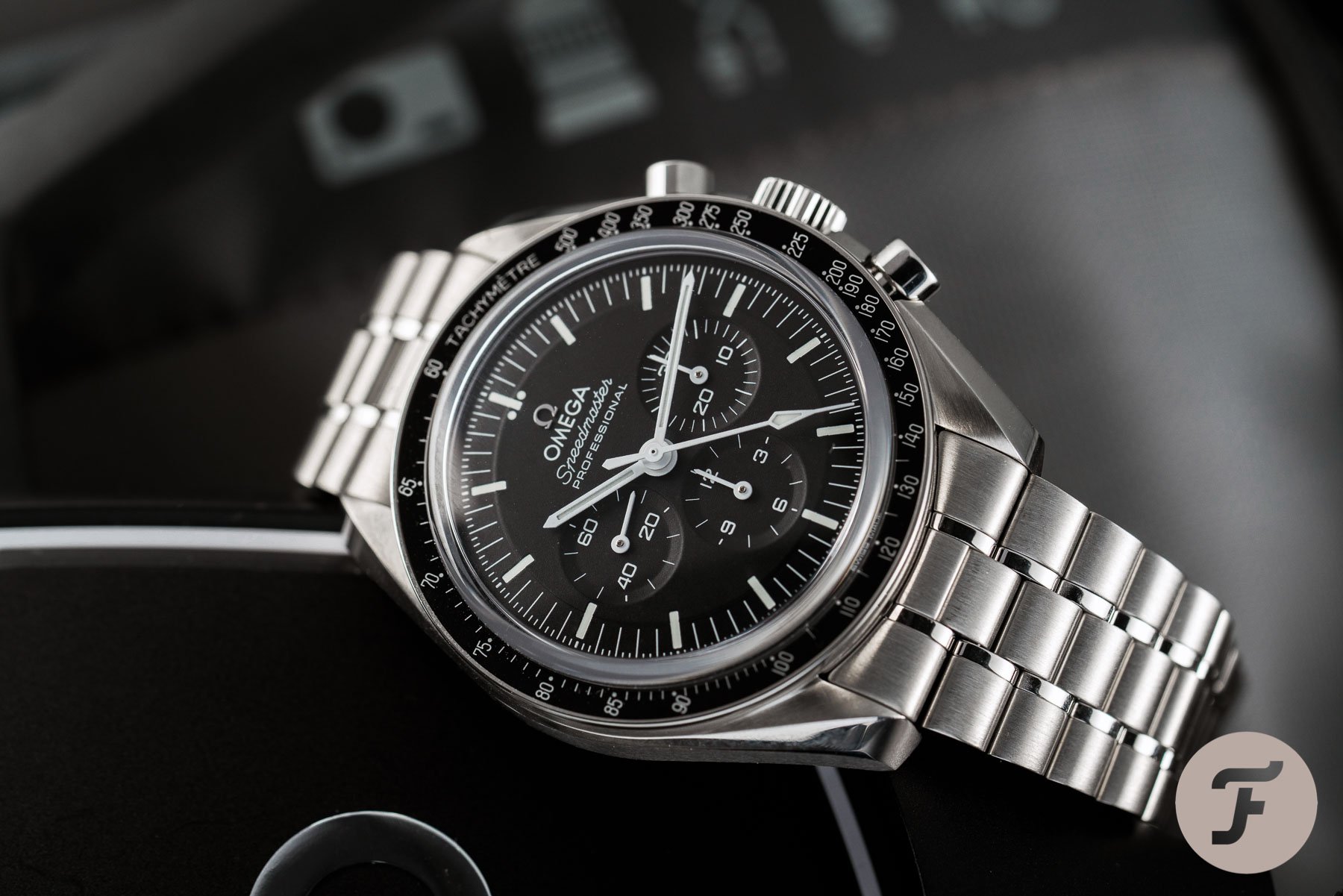 Omega also gave the people what they wanted with fabulous new bracelets, step dials, and cases recalling Pre-Moon models. The 42mm watches have 50 meters of water resistance, which should be good enough for most recreational tasks. At €6,100 with Hesalite and on a bracelet, the Speedy still represents one of the best deals around. It's an icon and, best of all, it's available.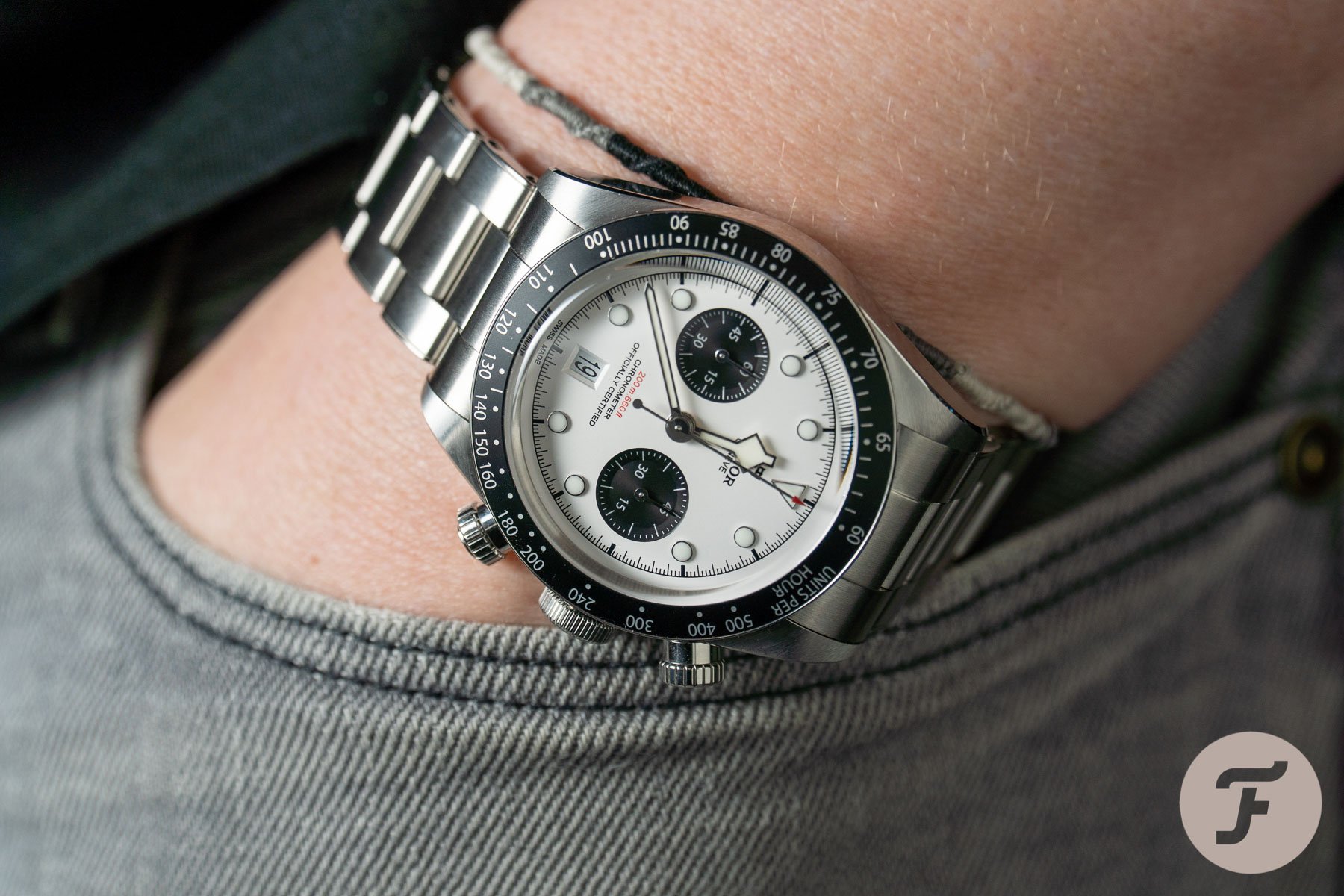 Tudor Black Bay Chronograph M79360N
We round off our list of some of my favorite chronograph models available today with a Tudor. That's fairly notable because I haven't loved a lot of the brand's multi-handed offerings as of late. Tudor started well for me with their Heritage chronographs, but I wasn't a fan of the Fastrider series and the initial Black Bay chronos were not to my liking.
With the newest steel Black Bay Chronograph models, though, I see real improvement. First, these 200 meter, 41mm diameter watches are thinner than before at 14.4mm. They still use the Breitling B01 movement, but Tudor adds a silicon hairspring and changes a sub-register counter to 45 minutes versus 30. On the styling front, things improve mightily with either panda or reverse panda looks and a black bezel insert. In my view, they just look classier than their predecessors. Best of all, on a steel rivet bracelet, these Tudor pieces start at just €4,840.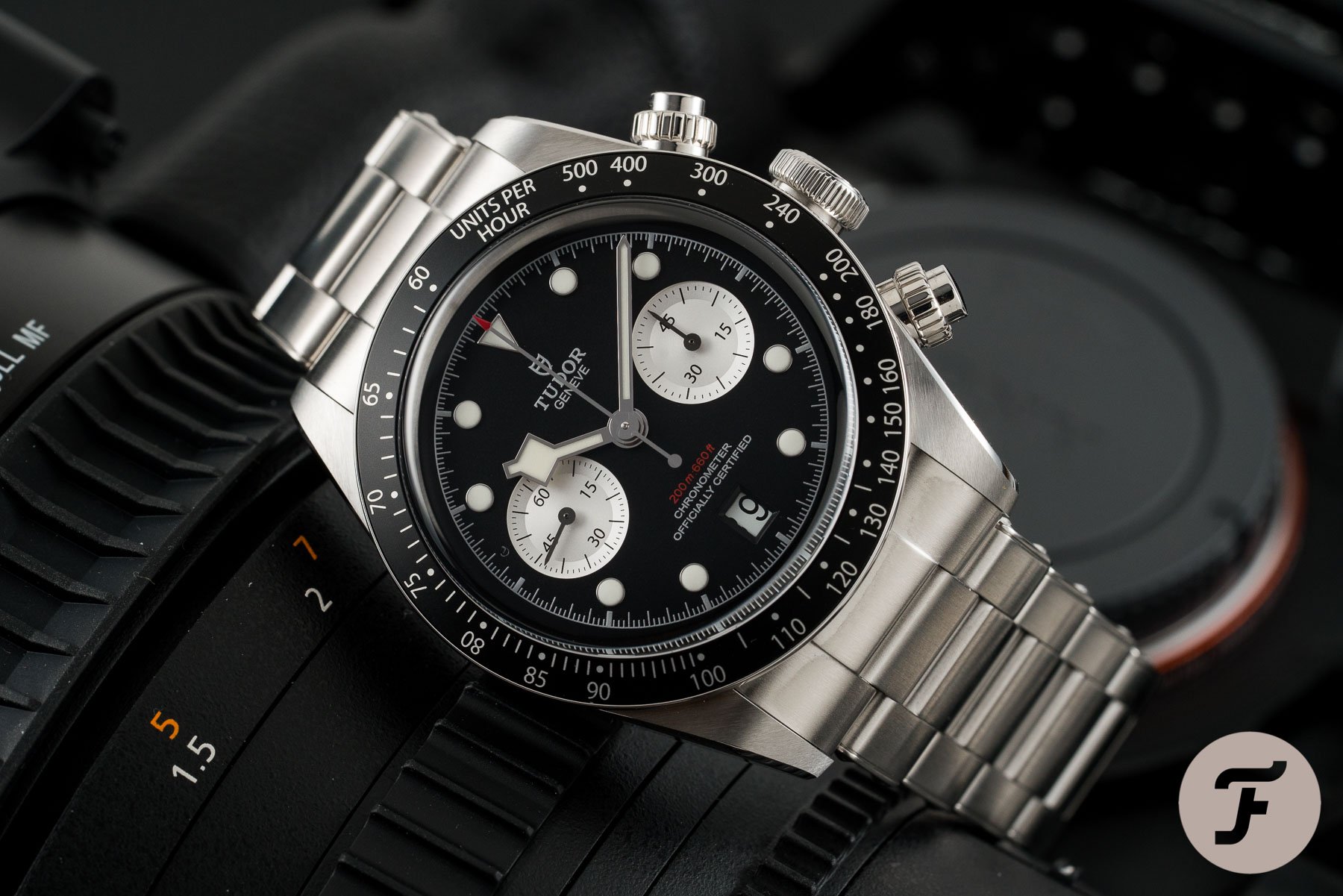 Final thoughts
As I said, I now feel that we are spoiled with good choices when it comes to the almighty chronograph. For under €10,000, there are some genuinely great pieces out there: especially when we compare offerings to five or ten years ago. What did I miss? What are you considering for a classy everyday chronograph these days? Let us know in the comments below.