The Allure of Japanese Independent Watchmaking: Part One — Naoya Hida
It's all about the dials: Naoya Hida's art doesn't need laquer to shine
As soon as we mention Japanese independent watchmaking, from microbrand to Haute Horlogerie (please message me the Japanese translation, someone), you will get immediate associations to the dial art of Grand Seiko, so strong is their brand in 2021. The rise and expansion of GS as a separate brand has only just opened our eyes to Japan's more hidden horological offerings. So while you might think it's about the dials, as with many crafts emanating from the Land of the Rising Sun, there is a deeper meaning, even for a Self-Confessed (should that be Obsessed?) dialaholic. If dials were music, the discs from Japanese top indie watchmakers are like vinyl records for the soul, emitting the soft tones of a classical string orchestra.
Some dials are engraved, some pad printed, but you won't find faux-tropicalized dials, with the vintage creamy lume expected of today's zeitgeist. These are dials infused with centuries of Japanese culture, like a time-telling zen garden, with lacquer surfaces glassy to the touch or Hand-Engraved numerals. Japanese dials might be finished by the ancient art of extracting sap from the Urushi tree for lacquer layers, their depth beckoning you like the siren call of a mermaid. And believe me, I would happily smash my boat on the rocky reefs of the Japanese shore if only to possess an eight-layered maki-e infused Urushi lacquer dial. But Japanese independent watchmaking is so much more than Gloss-Colored flash, and here are the intrinsic details of Naoya Hida & Co to prove my point with metalworking finesse.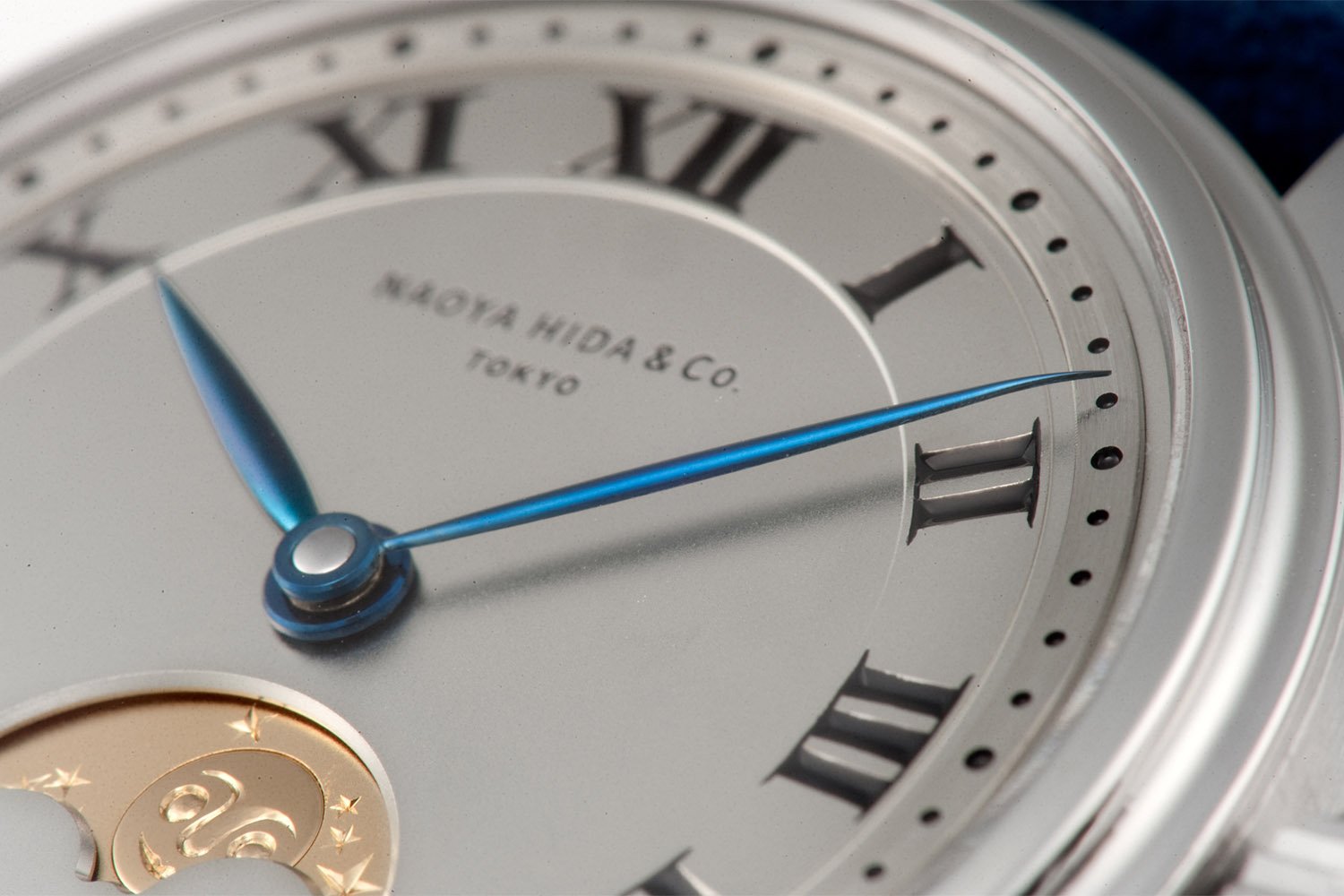 Naoya Hida & Co.
If you feel the term Haute Horlogerie to be over-touted, for Naoya Hida & Co it fits, perhaps as it reminds me of its namesake Haute Cuisine. Like the perfect sauce by a top Michelin chef, it is about reducing the best ingredients down to the essence of taste and classical design. At ten or twelve watches per year we can safely use the term microbrand, but at $16,100 the debut NH Type 1B transcends this more budget-focused genre, causing confusion and delight in equal measure.
Naoya Hida makes magic happen, though with a matte whisper rather than the dazzle of deep gloss. For the uninitiated expecting colorful hypnotism a la Grand Seiko, jaws drop at his engraved metal dials, housed in the eloquence of a simple 37mm case. In its fourth year of operation, Naoya Hida & Co. only complete around a dozen wristwatches per year, but you might well find it both worth the wait and the cost of pure craftsmanship. After enjoying a 20-minute YouTube review by one of his pre-eminent ambassadors, Mark Cho of The Armoury, my respect for the obsessive execution of Hida-san has only grown.


A Japanese F.P Journe?
There are many reasons why his releases sell out in a few days, despite remaining hidden within the niche of Japanese neo-vintage or Vintage-Inspired watches. Whichever term I might use, I do love watchmaking that is difficult to pigeonhole. I'm getting the vibe of early F.P.Journe with a minimalist touch. This is particularly fitting as Naoya Hida, within his years in sales and marketing for the watch industry, helped launch Journe as a brand in Japan. Hida-san with his team of two is simply a small Atelier, a title with the purity of purpose that befits the understated design within his 37 case millimeters. The common thread within the base models is an unassuming Japanese sensibility, clean lines, and intricate metalwork in 904L steel.
The Japanese embrace the classicism of Philippe Dufour, F.P Journe, and have opened our eyes to their previously well-kept secret Grand Seiko — the latter opening up the world's eyes to an unbound focus on details and execution, as in our story on the SBGY 007.
The face behind the watches
You will be sold after a mere five minutes of watching Nayoa Hida talk about his personal collection. His enthusiasm is tangible. From describing his unexpected love for the Seiko Giugiaro "Ripley", he runs the gamut to Ebel, Vacheron, and Patek. Watching it twice I'm left with a warm feeling, even after the countless nuances lost in translation.
…it only takes a slightly trained eye to get the time and thought behind the quiet minimalism.
You wouldn't guess from the formal and downplayed elegance of Hida-san's output, but his past encompasses 29 years in the watch industry. Mostly within import and sales of Swiss timepieces starting at Desco von Schulthess. Focusing on Breguet, Vacheron, and JLC, Naoya Hida also put F.P. Journe on their upwards trajectory in Japan. He helped launch the brand in 2004 — all the while nurturing a wish to make his own mark on the scene. This materialized in 2019 with his first inaugural piece, the NH Type 1B. At a price of $16,100, it was a serious investment on the merits of an unlacquered metal dial Steel-Cased three-hand watch. But it only takes a slightly trained eye to get the time and thought behind the quiet minimalism.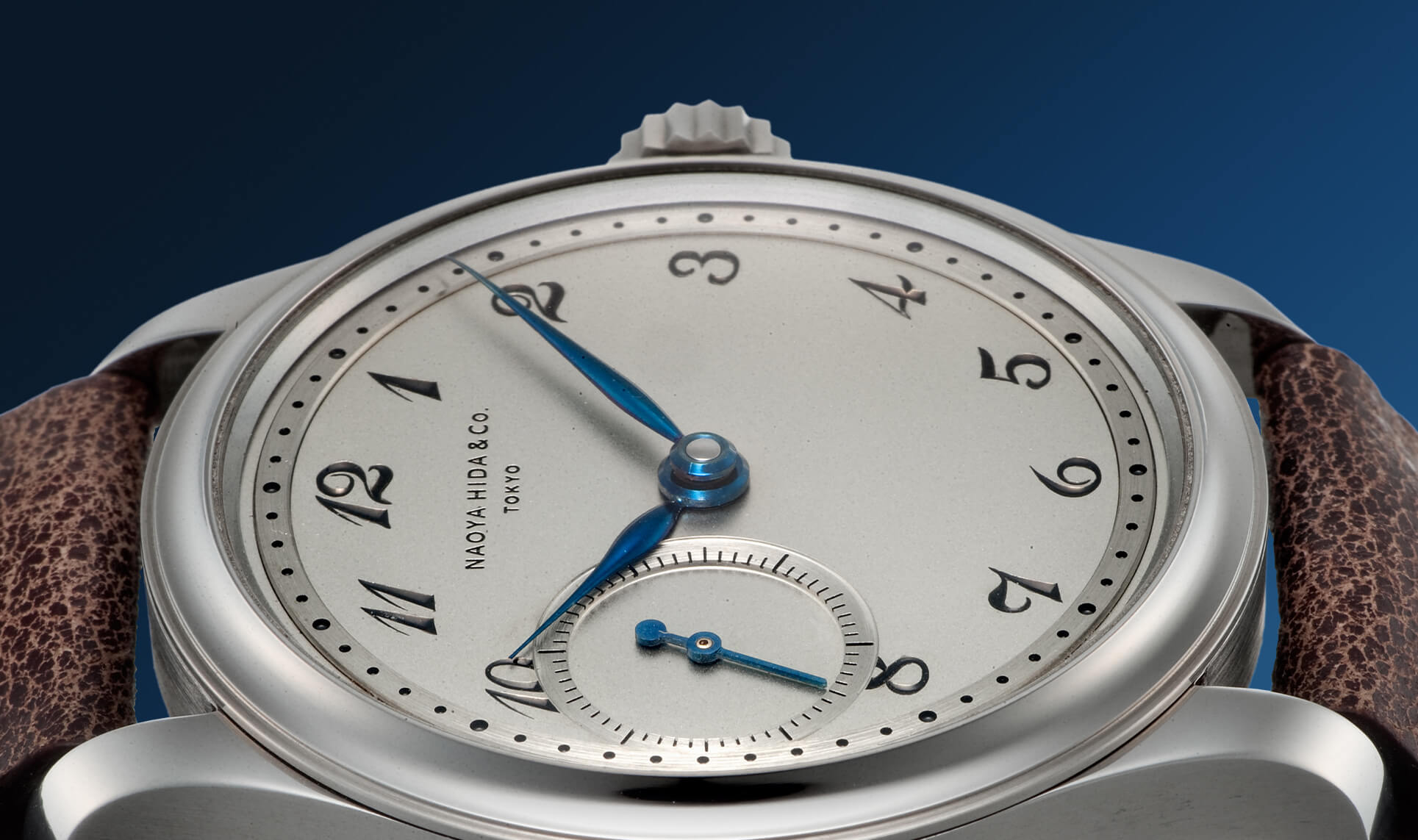 The Naoya Hida & Co Type 1B (and the revised 1C)
For a seasoned collector, a tad over $16,000 might seems steep. Notably if comparing the price alone to say an in-house powered Grand Seiko at half the price. How can metal engraving compete, when Zaratsu case finish and dial lacquering takes eons to master on a basic level? Compare a Jaquet Droz automaton-inhabited masterpiece to the Hand-Crafted beauty of the Greubel Forsey Hand Made 1. It is about time and thought. Imagine the time it takes to hand finish a mere 12 watches per year. Like abstract art, there is something deeply meaningful about simplicity created with the eye of a perfectionist.
Translate this to the world of abstract art. You might scoff at a canvas with a black square in the center and a red dot in one corner. This is about the time, the thought process, and the feelings behind the brushstrokes. Even if you might struggle to compare it to a figurative Cezanne. Tangential similes notwithstanding, the Type 1B was as strong a debut as you can have. One word that constantly pops up with the associated fear of over-usage is Balance, the other one is Proportion. And the Type 1B is a master of both, setting the tone for Hida-san's next two references
Classic influence, modern ambitions
Setting the tone is a textured dial in German Silver. It is set in a 37mm case with a rather slim 9.8mm thickness, in the hard-to-machine but warm 904L steel. Wearing a similarly curved lug 37.7mm French tool watch today, I know this is proper Goldilocks territory for wrist comfort. The 1930-50 inspiration is clear, in dimensions and in the fancy sweep of traditional typeface for the numerals. Most external components are made using to-the-micron tools from Japanese manufacturer Roku-Roku Sangyo. The Patek-style logo and brushed, simple chapter ring for the minutes are machine engraved, then lacquer filled. The swoopy Arabic numerals are hand-engraved, creating a delicate touch of depth, filled with black lacquer.
My favorite detail in the 1B would be the oversize small-seconds chapter ring. This is brushed like the minutes, recessed and barely kissing the outer edge of the dial. It does this while cheekily lopping off the top of the 8. Beautifully Heat-Blued Feuille hands are machined from solid before hand-finishing, adding a cheerful pop against the grainy dial. The tip of the minute hand is hand curved, to align perfectly against each Laquer-Filled dot on the track. Framed by a  curvy-stepped bezel it's as simple as it is timeless. The brushed case seems a bit workmanlike with no beveled chamfers, but it is simply reduced to a calm perfection.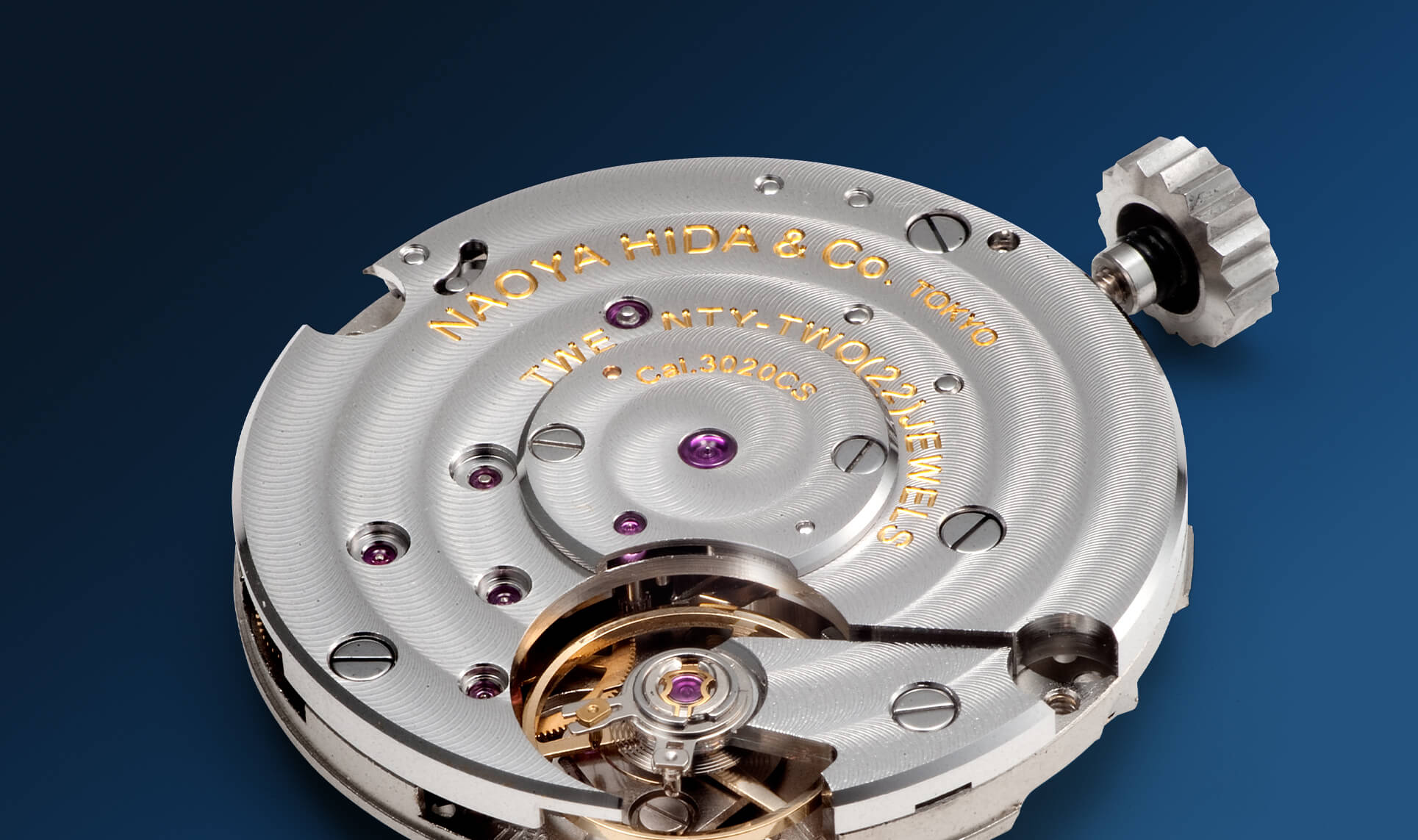 An unlikely caliber choice
I do sense the question of movement choice hanging in the air, elephant-shaped as it were. So, why the ubiquitous Valjoux 7750? The robust and timidly decorated NH caliber 3019SS is carefully chosen for deeper reasons than what you think. Hida-san has no plans for a chronograph. By removing the chronograph parts from this large movement, the small seconds at 9 o'clock remain. This looks proportional and further than usual from the center – making for a balanced dial. Did I use the word obsessive before? The barrel and balance bridge is reworked, with a tweak to the winding mechanism creating a period-perfect winding click. Without using the words Sum and Parts, I think I might be getting to you.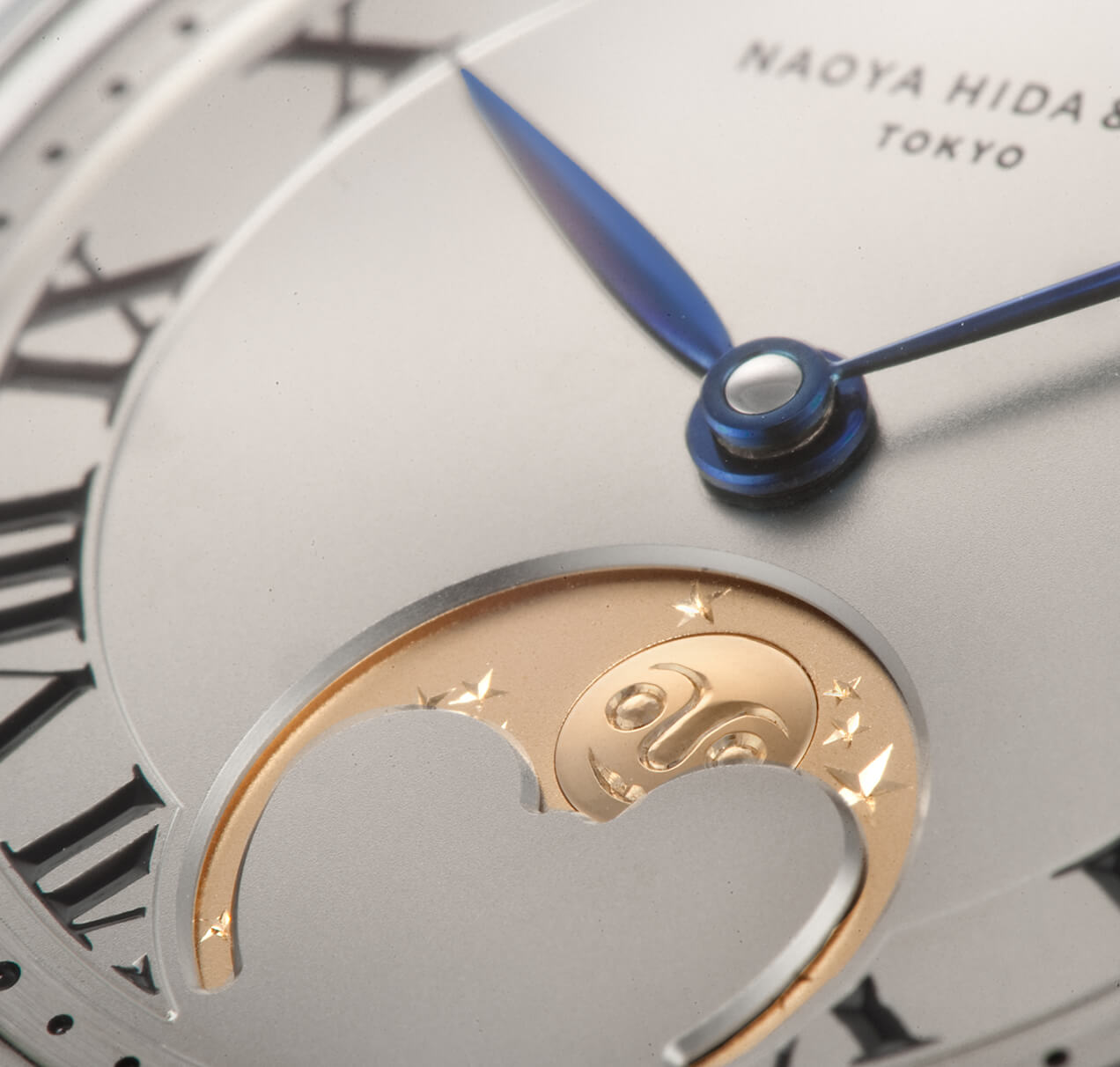 The Naoya Hida & Co Type 3A Moon Phase
If the Type 1B or tweaked Type 1C be too minimalist for you, there is a more modern 2A. For the complication lovers, there is Hida-san's top-tier reference, the Type 3A Moon Phase. Recognizably set within the same 37mm Naoya Hida & Co 904L steel case, this is a more elaborate piece of wristwear. For $24,000, you get an extensively modified Valjoux 7751 movement. Quietly spoken, it still packs punch with its 18K gold engraved moon phase disc at 6. And I do love the touch of a traditional Cloud-Shaped aperture framing the golden theater.
Underlining the traditional appeal is a recessed hour track with Roman lacquer-filled numerals. Flame-treated blued hands match Hida-san's favored blue leather strap, making this an understated investment in strictly limited Japanese craftsmanship. A studied choice for a few select wrists eschewing the lure of Big Brands.