Jaquet-Droz The Bird Repeater
Pierre Jaquet-Droz' mechanical work focused on two main themes: automatons and birds. If the androids presented during the Automates & Merveilles exhibition are the most popular, the majority of those built by Jaquet-Droz during this period were automatons staging superb birds, sometimes adorned with real feathers and often whistling.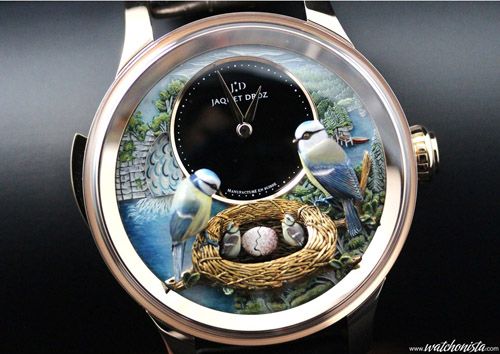 So, birds were Pierre Jaquet-Droz's automaton demonstration key thread in the courts of European kings. These watches or these automatons staging birds were also the main product Jaquet-Droz exported towards China, already. He was a precursor in many regards, technical, commercial and marketing. Today, the brand Jaquet-Droz presents a key watch in its new history, a synthesis of its glorious past, technical as well as of scenographic.
Read the entire article on this Jaquet-Droz Bird Repeater over at Watchonista.