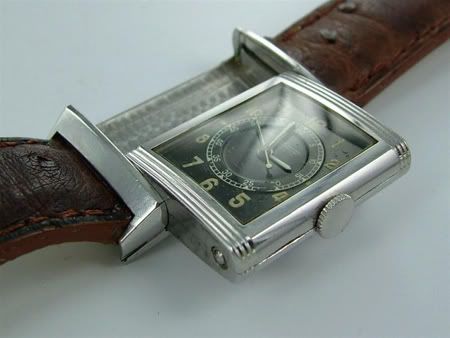 The story goes that after a polo match in India, some British officers challenged their friend Cesar de Trey to create a watch that was able to resist the serious beatings caused by polo sport. Once back in Europe, Cesar de Trey (businessman) shared the problem with Jacques-David LeCoultre, who creates the Reverso watch in association with Jaeger. The Reverso watch was patented in 1931 (the 4th of March to be precise) and was originally designed by Rene-Alfred Chauvot.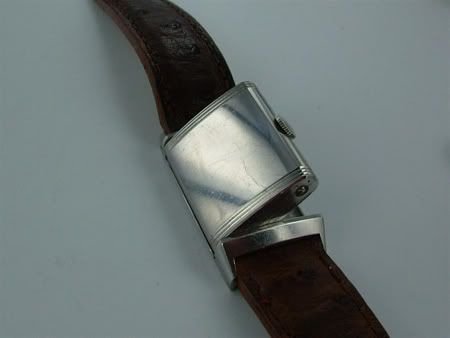 Almost 80 years later, the Jaeger-LeCoultre Reverso is still going strong and it is one of the classic watches that can also easily be referred to as a cult watch. The rectangular shape, the Reverso mechanism, the inhouse movement and the magnificient designed Jaeger-LeCoultre logo on the dial makes this a watch you can identify as being a JLC Reverso from a 100 yards distance (with a grain of salt). However, this isn't a watch for show-offs. It is far too elegant and delicate to be recognized by the heavily suntanned Nikki Beach-type of jet setters.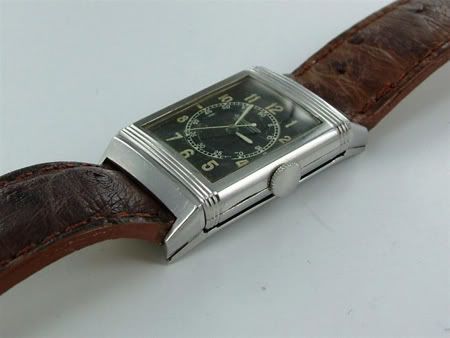 For the watch enthusiasts or collectors, a vintage Jaeger-LeCoultre Reverso as shown above is probably a welcome addition to their collections. I found one at ClockWise, a watchstore in a small harbour town in The Netherlands. Clockwise has a very impressive bricks 'n' mortar shop, but a webshop as well. A reliable address for your wristwatches, repairs and services
This 1930s handwound Jaeger-LeCoultre Reverso is in good running order and for 5750 Euro (including a one year warrantee) it is probably a solid investment as well. For this kind of money, you can also buy a new one. But so can your neighbour 😉 So if you really want something special, take a look at this vintage timepiece.
Personally, I wouldn't use it for polo or any other kind of sports activity. Although it was meant to resist hard knocks, my guess is that the mechanic movement, case and crystal suffered big time during these polo activities. I can see myself buying a Jaeger-LeCoultre Reverso in the far future, the brand's history (and especially this model's) and the fact that I will 'need' a decent dress watch some time, makes this type of watch very desirable. Perhaps even a (red) gold one, for when I am old. 40something 😉

Robert-Jan Broer, born in 1977, watch collector and author on watches for over a decade. Founder of Fratello Watches in 2004.

Latest posts by Robert-Jan Broer (see all)