Keeping It Simple — The Zodiac Super Sea Wolf ZO9210 "Reefline"
A guest article from Eric Gregoire
The recently relaunched Zodiac Super Sea Wolf line has made a big splash in the watch world. To say such a thing is similar to declaring the Pacific Ocean a pretty large body of water — an obvious understatement. Zodiac's heritage reissues have certainly struck a nostalgic chord with a large segment of the watch-buying public. These vibrant and cheerful timepieces have connected with many harboring a deep-seated desire to own and wear something fun. This is in contrast to — or perhaps because of — the gray gloominess of our times. If there is any single constant that could account for the success and enthusiasm towards these pieces, it would undoubtedly be their bold use of color. Bright and vivid combinations are a consistent theme throughout the lineup. This leads to watches that don't just "pop" on the wrist, but that explode in a frenzy of youthful exuberance and downright fun.
These highly distinctive and vibrant color schemes lend themselves well to the appellation of nicknames for many models. The refreshing green accents of the ZO9243, for example, have resulted in many enthusiasts dubbing it the "Mojito". The predominantly white-and-orange ZO9270 is appropriately now called the "Creamsicle". Perhaps the most famous of the batch is the daringly different, unapologetically brash, pink-and-green ZO9269 "Watermelon". But in contrast to many models in the Super Sea Wolf line, the ZO9210 has yet to receive its own endearing moniker. Perhaps this is because the ZO9210 takes a slightly more sober stylistic approach. This watch, with its subdued and understated aesthetic, represents a drastic departure from the bold designs of its brethren.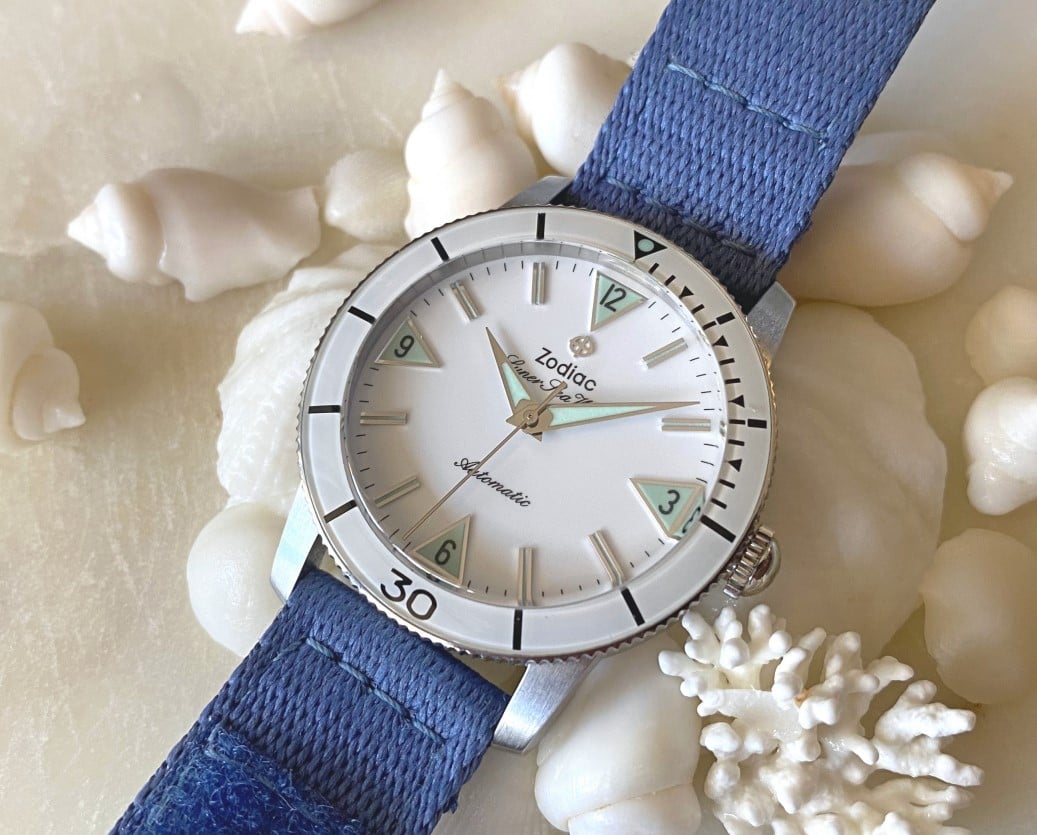 Minimal palette — Maximum effect
Even with its more toned-down approach, the ZO9210 is still quite capable of provoking an emotional response. This is especially true when seen for the first time. Simplicity in design always carries the risk of coming across as boring or mundane. This particular timepiece, however, is so different from other watches. This Super Sea Wolf demands to be noticed and appreciated.
Despite its limited color palette, the ZO9210 is able to inspire a wide range of interpretations. It's similar to viewing impressionist paintings by accomplished artists. For some, the snow-white dial and the blue canvas strap are reminiscent of a towering glacier floating in the sea. For others, these same colors conjure up images of puffy white cumulus clouds in an infinitely blue sky. There is no right or wrong when it comes to impressionistic interpretation.
There is, however, an essence to the watch that can be found in its roots as an ocean-dwelling dive tool. I believe it is this essence that links it so closely with water-bound imagery. There are those who have witnessed the deep blue waves of a reef as they crest into frothy white caps. They have seen how these waves, just before crashing, briefly reveal a glimpse of the aquamarine water. Those who have seen this would easily recognize these aquatic themes that so thoroughly saturate the ZO9210, and instantly understand why many have begun to call this watch the "Reefline".
Only the basics
One can describe any watch through its stats, a list of cold, hard numbers meant to convey relevant information about a timepiece. The Zodiac Reefline is no different, as it does boast some impressive figures. Among them are 200 meters of water resistance and a 40mm stainless steel case. It has a sapphire crystal, a screw-down crown, and the proprietary 26-jewel STP 3-13 automatic movement. Yet, the real story of this watch is not in what it possesses. Rather, we find its essence in the things that it lacks.
"Perfection is achieved, not when there is nothing more to add, but when there is nothing left to take away." — Antoine de Saint-Exupéry
In many ways, the Reefline is a case study in minimalism, serving as a reminder of what is truly important. Perhaps the most obvious omission is that of a date window. Some might bemoan its absence, but many dive watch aficionados appreciate this detail and the cleanliness it brings. In order to carry out its most primary function, a true dive watch shouldn't be cluttered with a date complication. Its seconds hand is also simple, unencumbered by embellishment, and the crown stands unguarded at the 3 o'clock position. The bezel features plain black printing on white — the very euphemism for simplicity itself.
This minimalism also extends to the palette, with teal touches on the dial and an ocean-blue strap. The use of color gives the watch an almost rudimentary look, that some might find even cartoonish if not for its expert execution. In essence, it is a dive watch in its most distilled form. This leads the wearer to an important revelation — that less can, in fact, be very much more.
The perfect balance
Despite being a tiny machine small enough for the wrist, a watch can contain a dizzying number of components. All these parts must be constructed, finished, and colored, and come together in the end to form a cohesive whole. But it's the story of how this happens that determines whether or not a particular timepiece will emotionally resonate with an individual.
Perhaps the most striking element of the Reefline is the overabundance of white that greets the wearer. So overwhelming is the white color, that it is reminiscent of blacked-out watches in reverse. The white dial and bezel present an ultra-austere aesthetic that runs the risk of coming across as bland and unfeeling. Yet Zodiac has avoided this through the use of both subtle and bold design choices to bring this watch to life.
There has been some criticism surrounding the decision to release the Reefline on a not-so-subtle blue Velcro canvas strap. It's in contrast with most other Super Sea Wolf models that come fitted with a three-link or five-link bracelet. I admit to initially being a bit disappointed with this choice, but it didn't take long to realize that it was the right move. The deep blue canvas imparts a casual youthfulness while paying homage to the Super Sea Wolf's marine sports heritage. It also brings balance to a timepiece that might otherwise appear as cold and sterile as a fluorescent bulb-illuminated operating room.
A closer look
The entire stainless steel top case is wisely finished with brushing, with no trace of polish on any surface. This prevents shiny metal from drawing attention, allowing the dial and bezel to take center stage where they rightfully belong. The signed screw-down crown and the thin knurling around the bezel are the two places polish can be found. Despite the smoother finish on the edge of the bezel, it remains easy to grasp and rotate through its 120-click unidirectional revolution around the dial. The glass cap of the bezel gives it a candied appearance, echoing the Bakelite found on some of the original models. It has become a signature look on many offerings in the Super Sea Wolf line.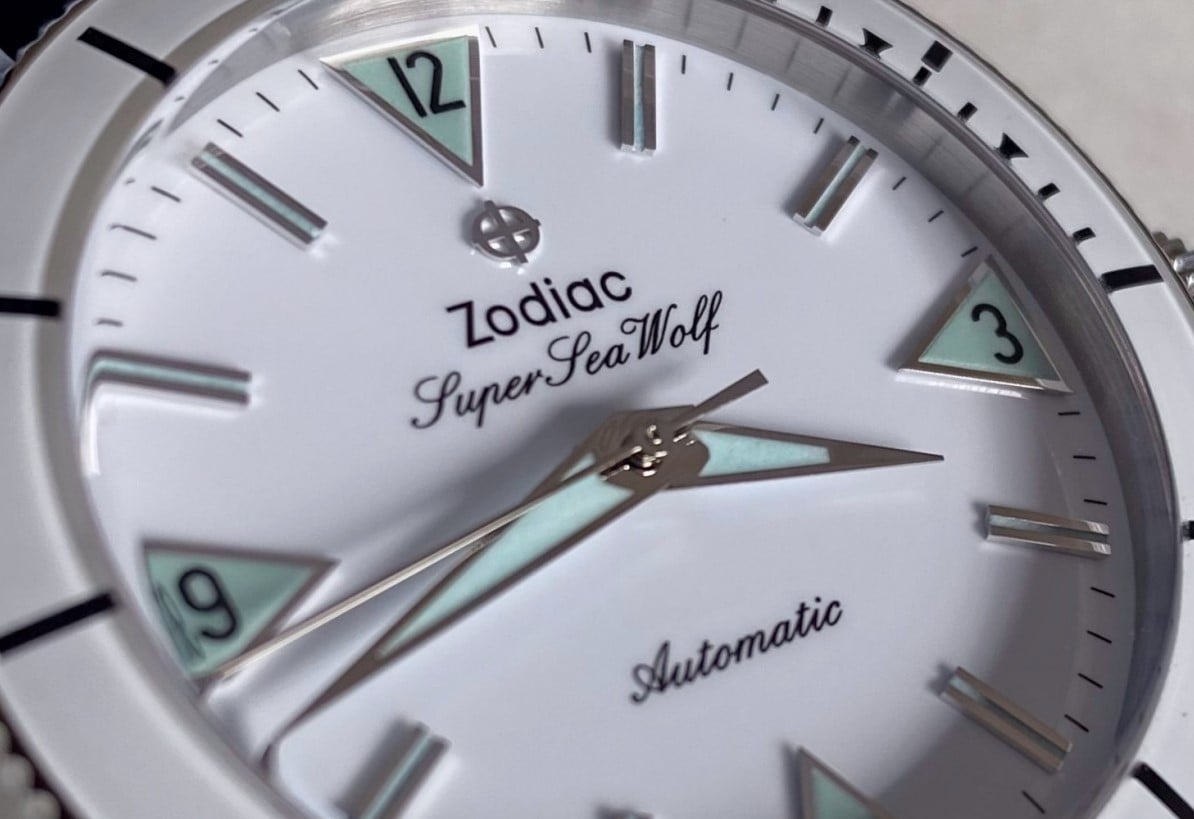 While the design has plenty of lovable aspects, the real star of the show is the dial. It manages to not only catch the eyes but also captivate them as they take in every detail. When using a matte color for a dial, there's a risk it will appear cheap, like a thin disk of plastic. Yet the lacquer-like finishing gives the Reefline's dial a depth and substance charmingly reminiscent of vintage porcelain. The dial reveals four triangular indices at three, six, nine, and twelve. The dauphine hour and minute hands mirror their shape, with all elements sporting matching C3 Super-LumiNova. Polished applied batons fill in at the intervals, featuring a subtle pinstripe in the same seafoam lume. This unifies all of the elements on the dial into a thoughtful and cohesive whole. The polish also provides intermittent pops of sparkle when the light catches the indices just right.
The case back features less elaborate engraving than other Zodiac Super Sea Wolf models. It's in keeping with the ethos of simplification that seems to run throughout the Reefline. Rounding out the package is the simple, signed clasp, with the same Super Sea Wolf inscription as the case back. It's the type of simple hardware that would look right at home if spotted on sailing or surfing equipment.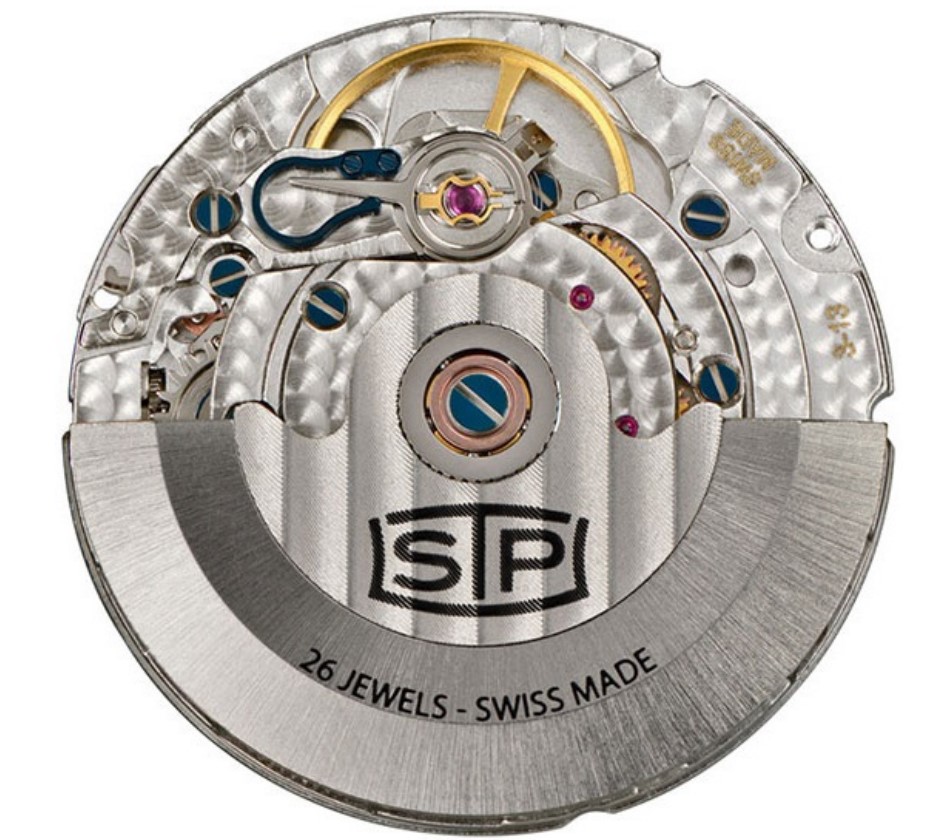 Movement matters
The automatic Caliber 3-13 inside is an ETA 2824-2 clone, with the addition of one extra jewel and a swan-neck regulator. It features hacking capability and 44 hours of power reserve. But if there are any shortcomings in the Reefline's execution, they would most likely lie in the movement itself. It is a product of Zodiac's parent company, the Fossil Group. Since its introduction, reports of unreliability have hounded this 26-jewel automatic ETA 2824-2 clone. Unfortunately, the situation became a big enough issue that some microbrands which had previously utilized the movement have stopped doing so.
It is possible, however, that the reports are the result of difficulties in the early stages of production. It is also equally possible that STP has since resolved the quality-control issues with the 3-13 caliber. The two watches I have owned which utilize this movement have thus far performed reliably and accurately.
Back to the beginning
Introduced at the Basel Fair in 1953, the original Sea Wolf and the Blancpain Fifty Fathoms are known as the first commercially available dive watches on the market. They were also the first dive watches to utilize a rotating timing bezel. Relaunching such a historically important timepiece is an endeavor that no watch brand should take lightly. Thankfully, it appears that Zodiac has risen to the occasion. Despite being reissues of watches from decades ago when rotary phones and beehive hairdos were the norm, every model in the rejuvenated Super Sea Wolf line still manages to appear fresh, modern, and best of all, very unique. The Reefline accomplishes the difficult task of straddling two horological worlds; it doesn't take its design so seriously that it can't be a fun watch, but it's serious enough in its execution to also be a fine timepiece.
Final thoughts
After having owned many watches over the years, both modern and vintage, from numerous manufacturers and at many different price levels, sometimes a timepiece comes along that, for some reason, just makes you smile. A watch that, at first glance, can appear cold and simplistic, slowly reveals its warmth and charm after a few weeks on the wrist. A watch like this can lead one to discover that sometimes more can be achieved through subtraction, not addition.
Within the zen-inspired school of aesthetics, there exists the concept of shibumi. It places a great deal of importance upon achieving austerity and simplicity through the twin attributes of absence and omission, both of which form the centerpiece of the Reefline's design. At its heart, the shibumi ethos teaches us that by removing all that is unnecessary, whatever is left is the essence of purity.
Maybe I am overthinking things. It is just a watch after all. But sometimes even a watch, when done just right, can become so much more than just the sum of its parts.
About the author
Eric Gregoire is a long-time collector and frequent writer on all things horology. His latest book, Eternal Srings: An Introduction to the World of Mechanical Watches is available exclusively on Amazon here.