#TBT Kelbert Date Counter Chronograph
with Landeron 185 caliber
Another watch brand you might be successfully ignoring.
Unexpected meeting with Kelbert
I have skipped on Kelbert multiple times in the past, even though I clearly remember spotting some of their watches over the years. Especially these fitted with Valjoux calibers. Why? Difficult to say – something else always piqued my interest more. I ended up with the Kelbert chronograph only after I started looking for Landeron 185 watches with unusual calendar style. It was during a time I was digging into different date mechanisms and this one particularly resonated with me for it's understated opulence.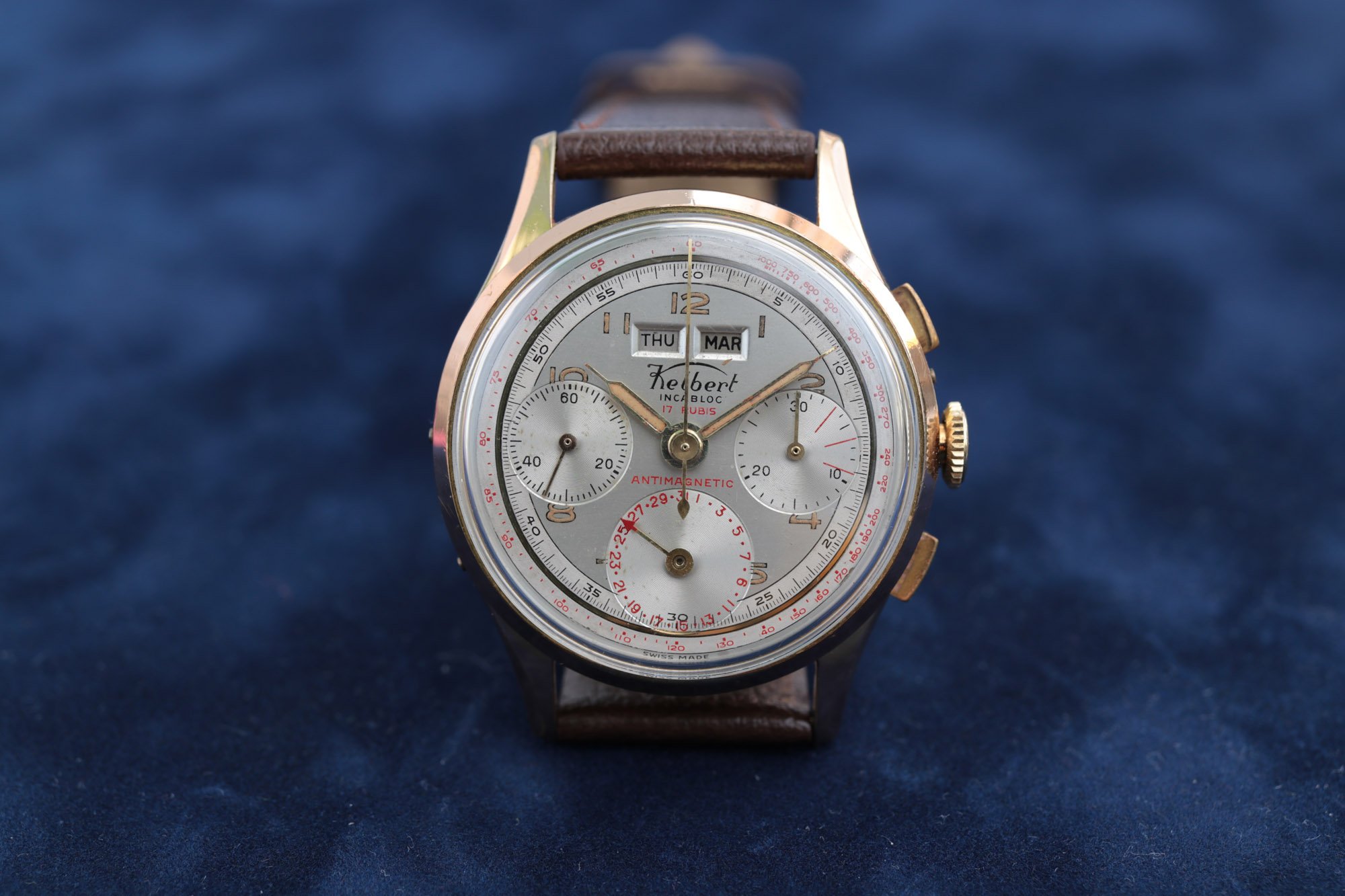 Surprising date design
When you look at the dial, it doesn't differ much from a typical tri-compax chronograph with counters for seconds, 30 minutes and 12 hours. So, what is all the fuss about? If you focus on the sub-dials again, you will see that the bottom sub-dial is slightly different. It does not count hours but days!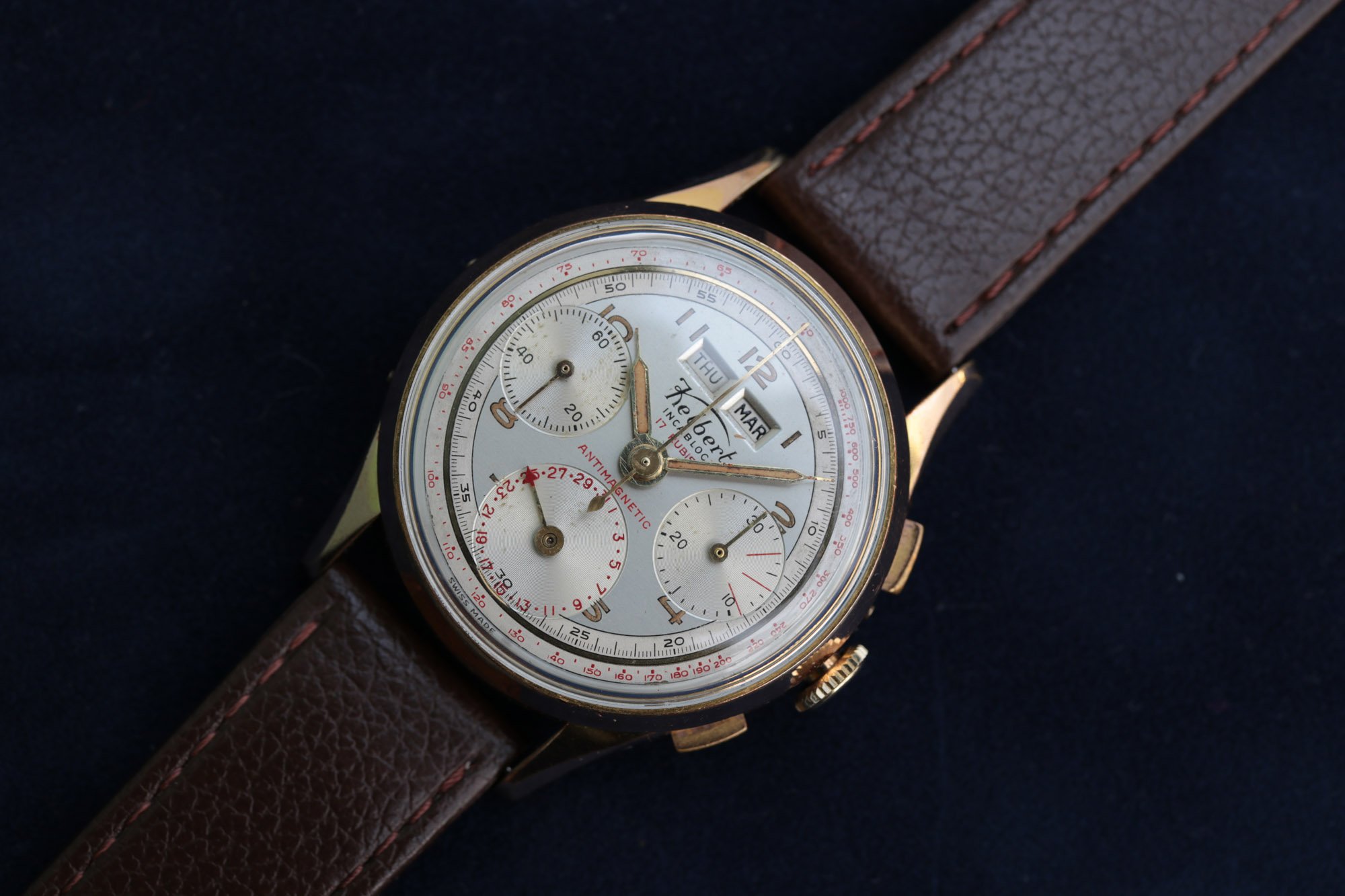 Showing the date versus counting the date
We all know date wheels as a relatively mainstream. As for an additional central hand pointing to the day printed around the outer track close to the watch case, this feature was pretty typical in small diameter watches around the 1940s across many watch brands. But displaying the date the way Landeron 185 does it, you don't come across that every day. I call it Date Counter Chronograph. Why? The reading of the dial is identical to a typical tri-compax chronograph design with one small difference – bottom sub-register counts the date numbers instead of the hour numbers. Simple. I hope you appreciate the stylistic and logic behind the Date Counter name. Sure, it is irrelevant from a technical perspective, but nice for vintage watch nerds trying to put precise descriptive name on every single specialty of the watch.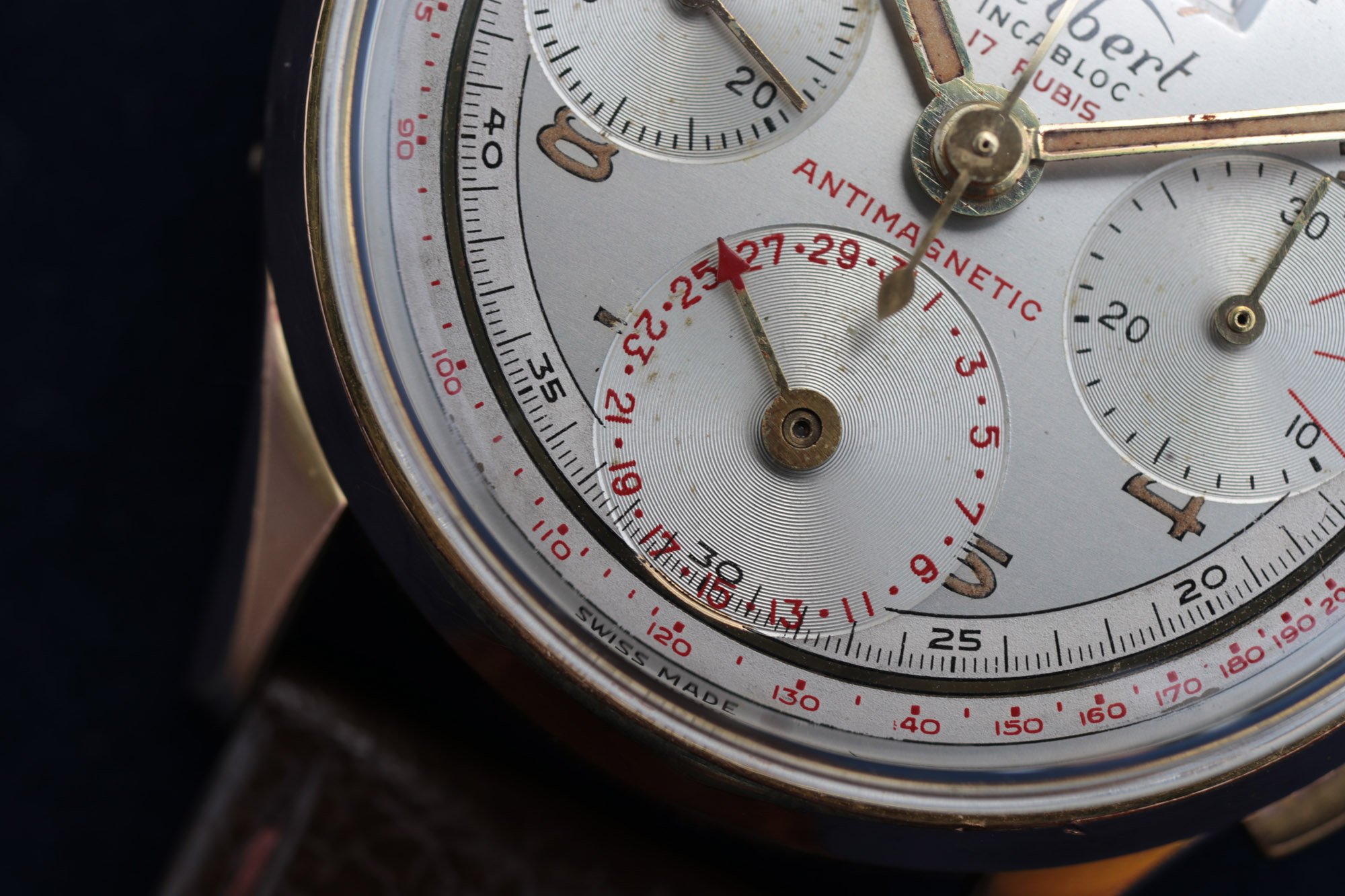 Counting dates
Back to the design. Another little detail that might help you to spot this caliber sooner when scrolling on Ebay might be the slightly bigger diameter of date counter. It has around 10 millimeters, that is maybe 2 mm more in comparison to the minutes and seconds counters. What actually looks like very flat design gets visual layers after only a few seconds of focusing on the dial. Thanks to the larger diameter and very clean spacious design, the date counter looks a bit more dominant. At the same time it is not in striking or disturbing contrast with the duo of other sub-dials. I've thought about how this Kelbert would look like if the date counter was done in reverse panda style several times.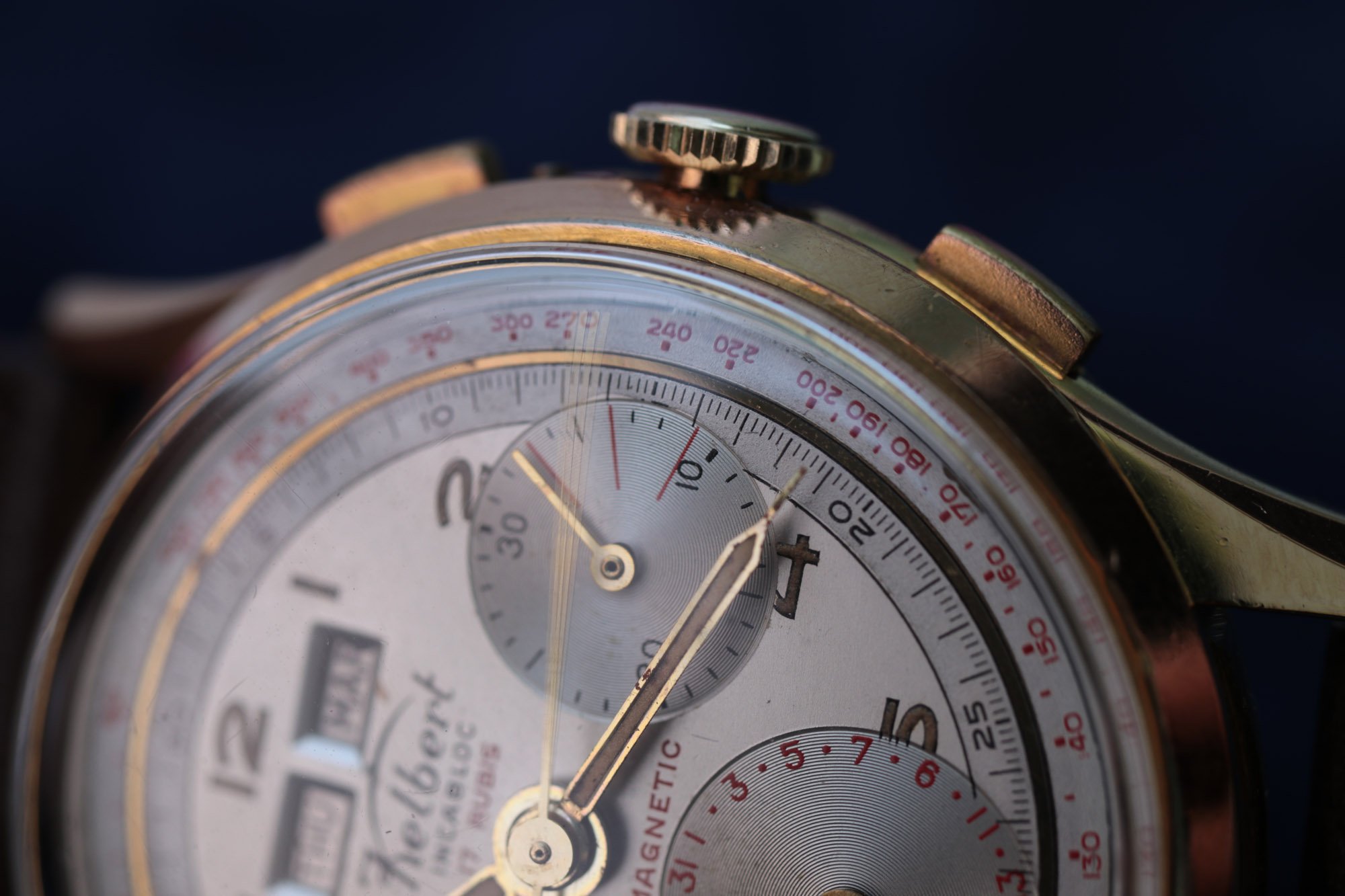 Little big details on Kelbert date counter
Another distinct feature? The arrow hand. It has the same thickness as the mini-minute and mini-second hand, but with a considerably wider central disc. I would say it is double in size. The outer day counter track showcases very nice Arabic numbers for odd days with the even days marked as dots in between. The red tip is a very nice detail, complementing the red numbering. Yet I have to admit that I've caught myself internally lamenting that there is a bit too much red going on in the dial.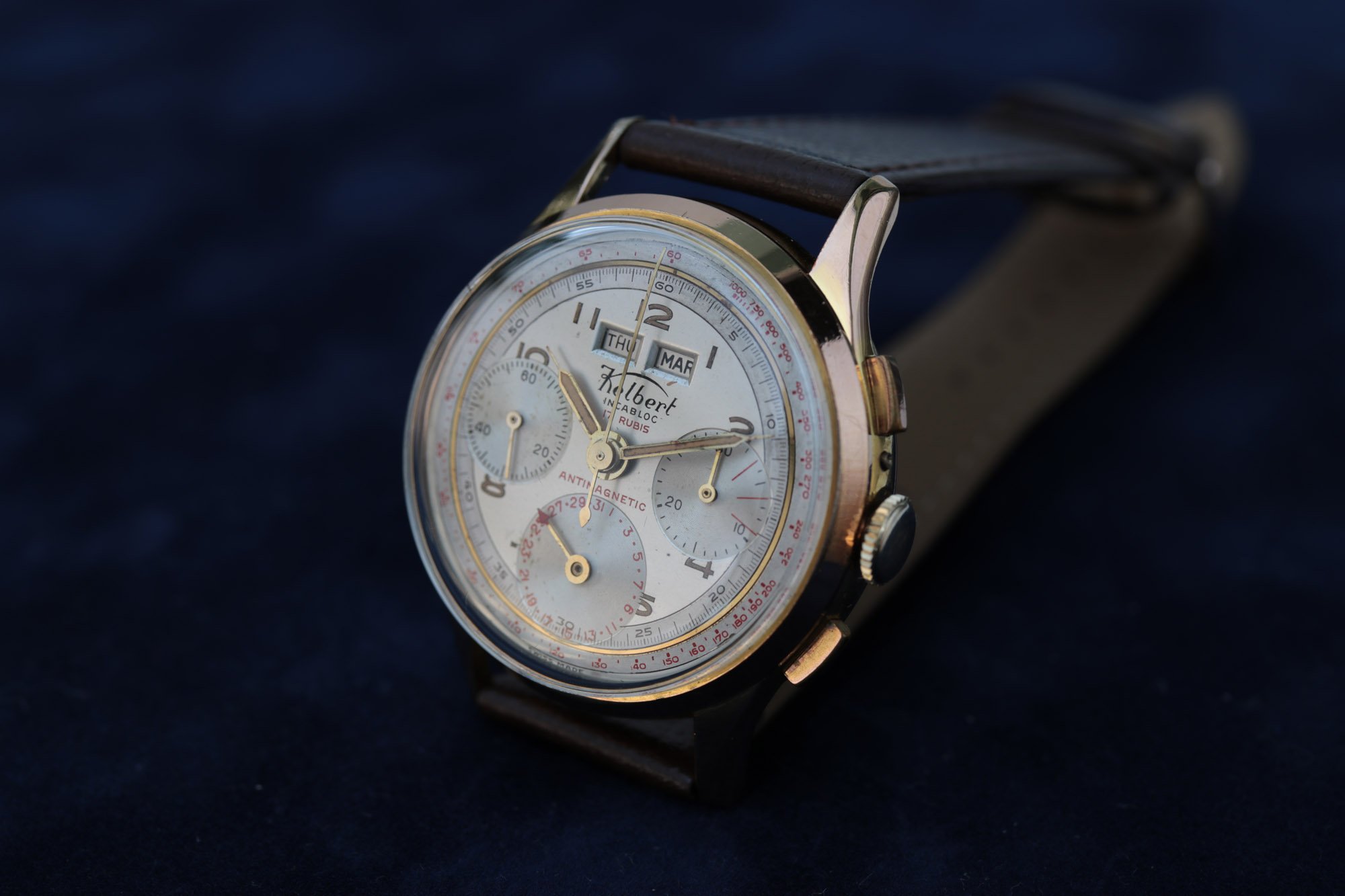 Golden problem
I have an issue with gold. Definitely a personal issue, not an issue of the watch. Upon any given random watch selection morning drill when I happen to intuitively grab the Kelbert it always goes like this: I put the watch on my wrist and something just doesn't feel right. I always feel like I'm not old enough to wear it yet, waiting for the watch to give me a signal that I can actually wear a gold (gold-plated) watch. I try to fight my golden problem by focusing on the mostly half cut Arabic numerals that give the watch a sportier look.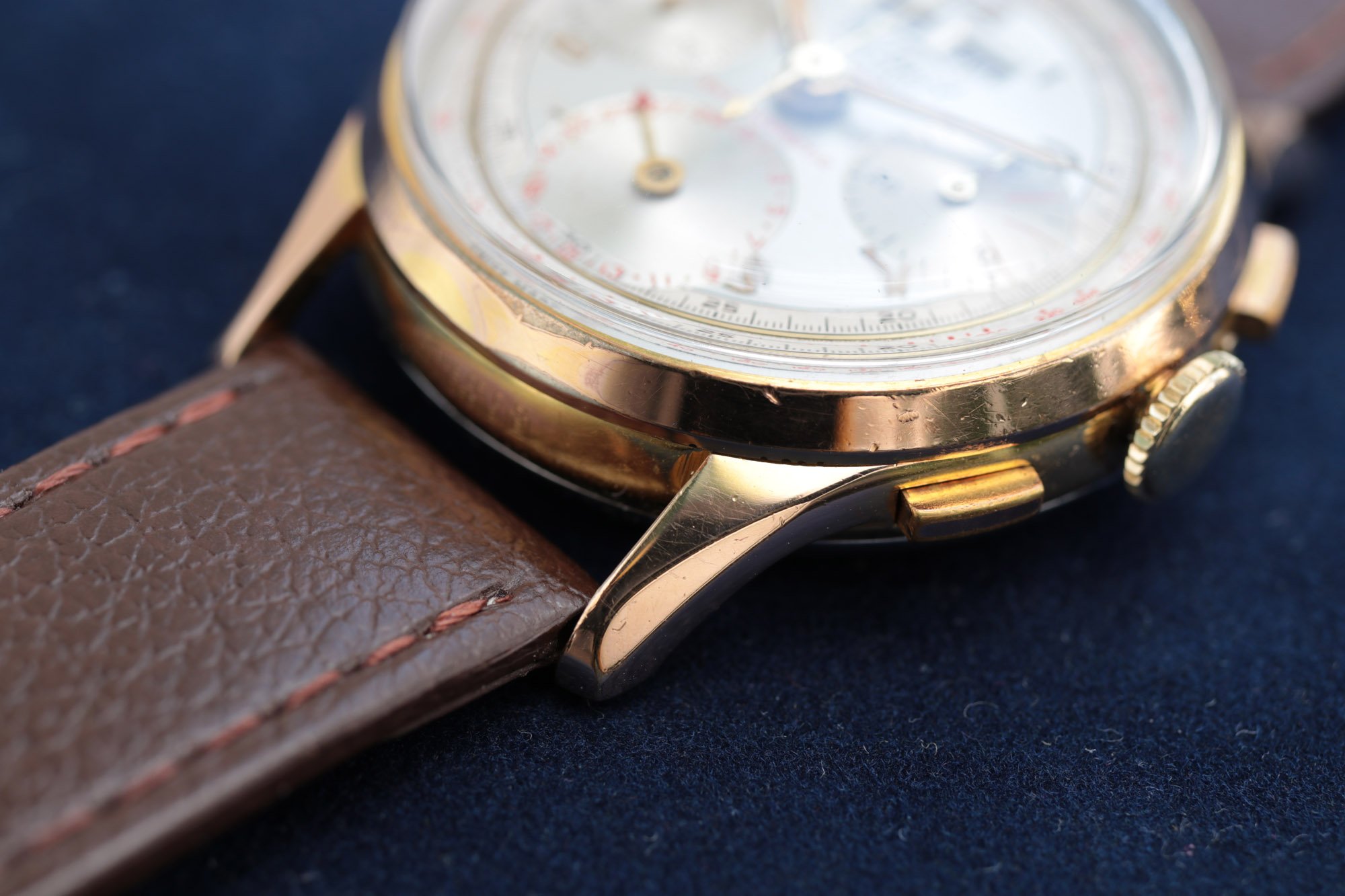 Usually, instead of going wherever I am supposed to go in the morning, I end up with a magnifier on my eye eagerly studying how the central hands are about to be eaten up by super tiny fragments of rust. Curious to see how this micro-fight will evolve over the next 50 years. My morning check up continues with excited sighs over the still original and quickly fading luming on hands. Notice that they have been adopted a lovely pale-yellow tone patina. It's only after this routine that I feel ready to leave the house – with or without the Kelbert on my wrist.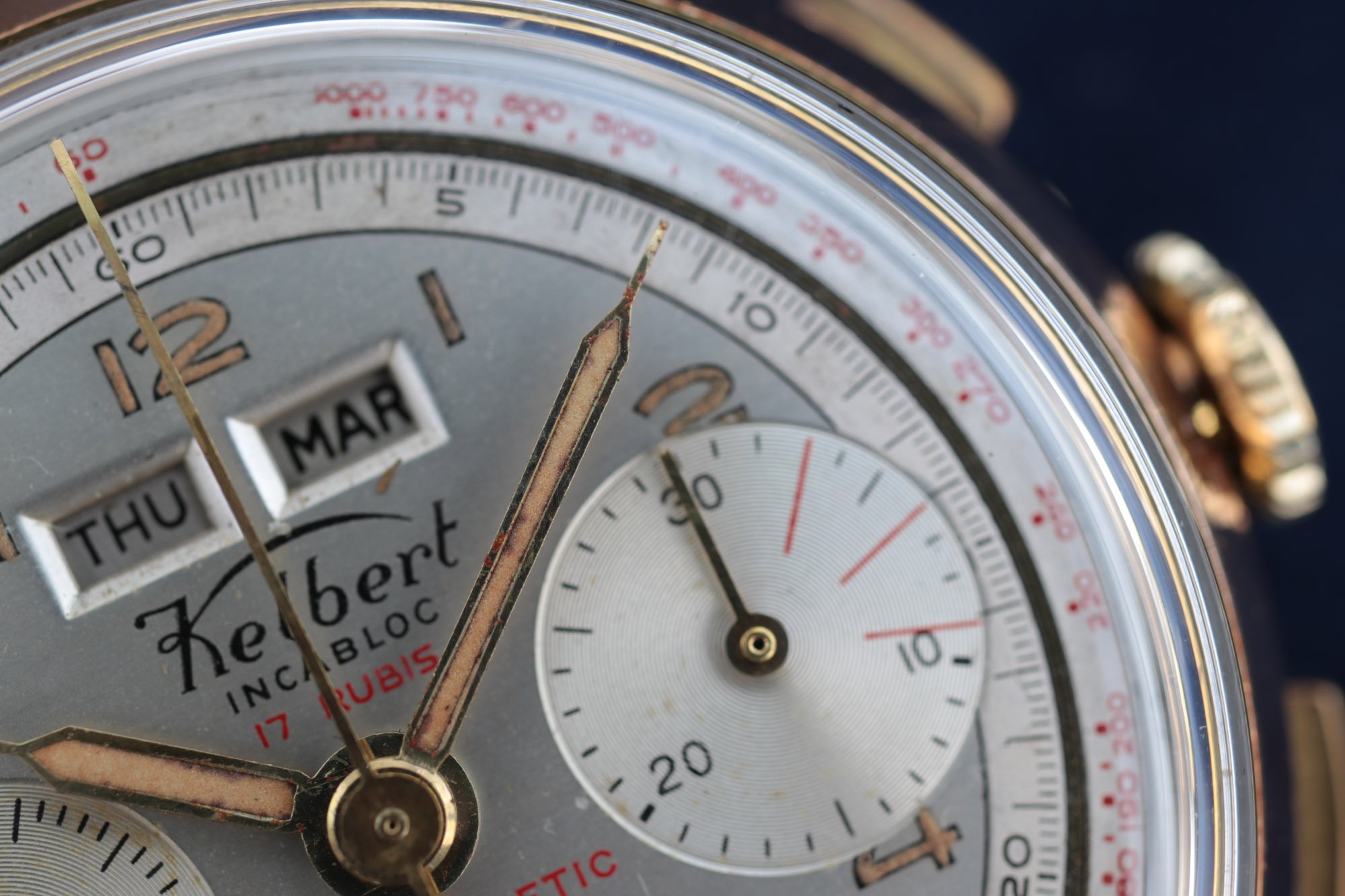 Kelbert logo
I understand the time period the company logo comes from, but I have to say I don't like it. I don't intend to say that the logo makes or breaks a watch – far from it. But look at Wittnauer for example. It's worth elaborating upon because back in those days plenty of beautiful, visually simple brand logos were born. But the Kelbert logo seems too shabby, superficial and disproportionate. Simple typography would get the job done better.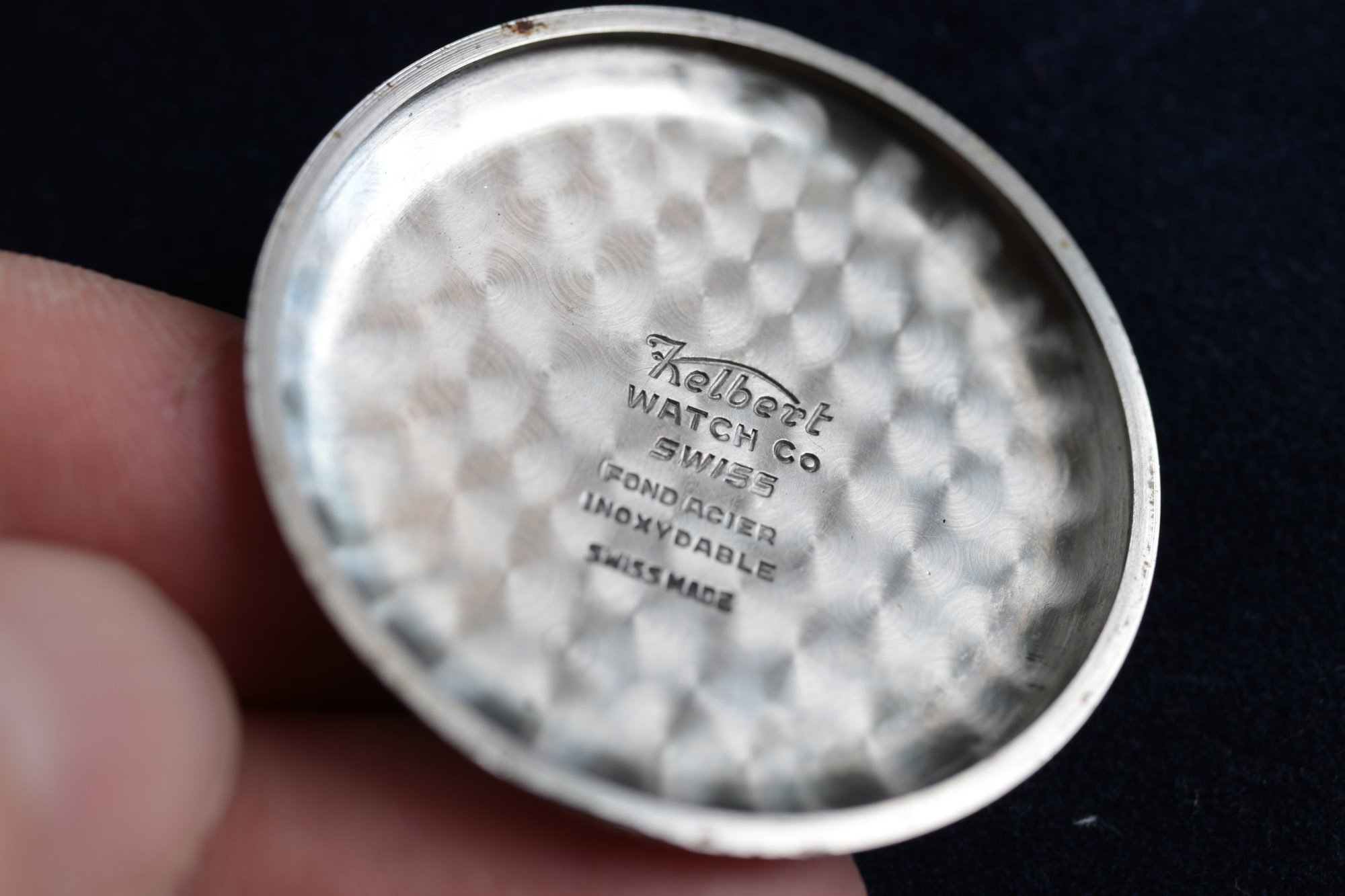 Premium address
The Kelbert Watch Company was founded in 1938 and resided on 608 Fifth Avenue New York, as visible on adverts. It imported Swiss watches with QXO code names engraved on the movements. Most of the Kelbert chronograph watches, this one including, is triple signed on the dial, the movement and the case back. You will find a variety of Kelbert logo printings as well as a variety of adverts promoting their watches. If you don't like this date counter, you can look around for their watertight chronographs that are highly valued due to their well-built cases and classy Valjoux calibers. Although they do not come up for sale often, all the more worth looking at.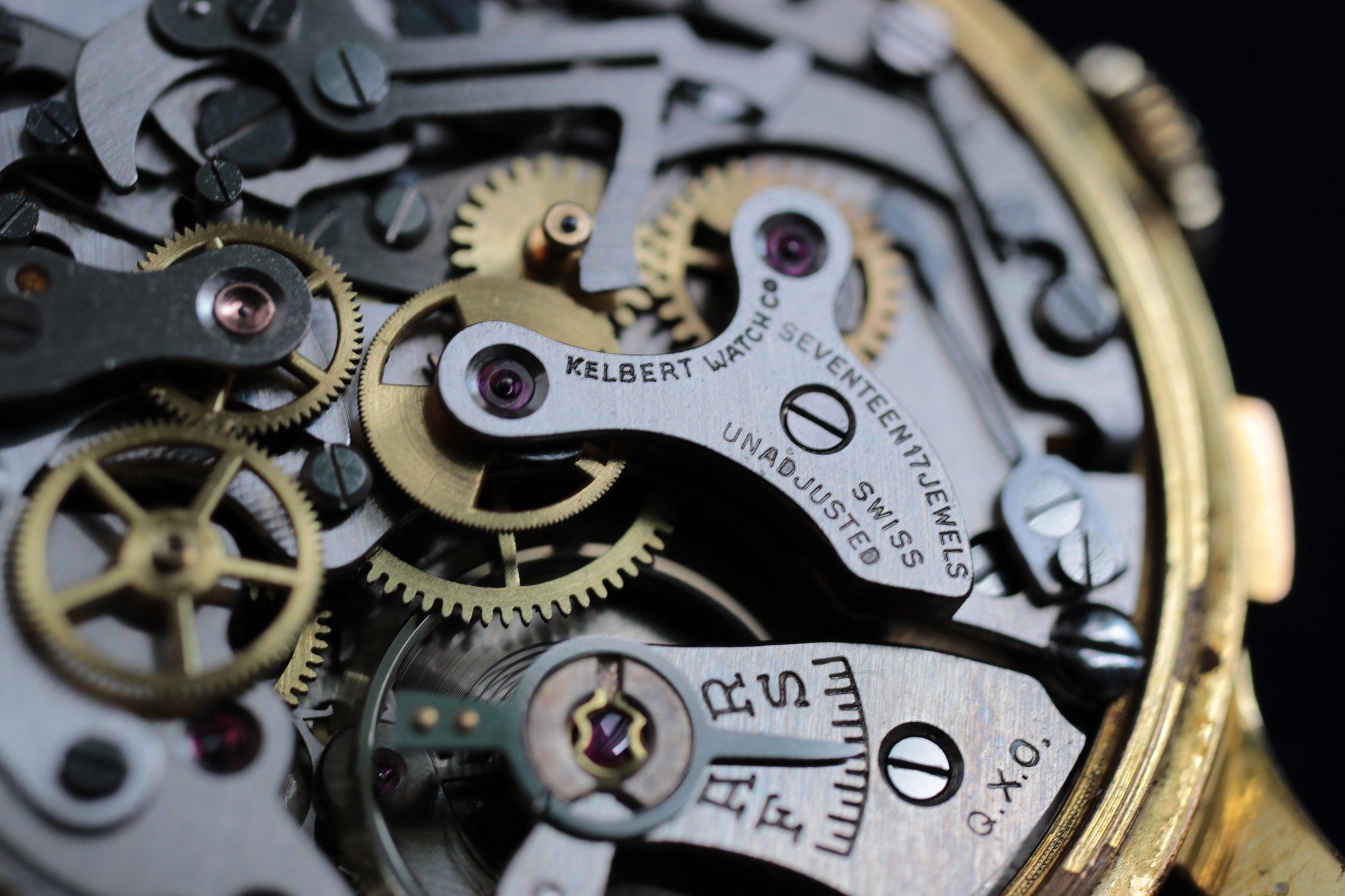 Setting up the calendar
No surprise here – just three calendar pushers fitted in the side of the case. What is worth pointing out is that pressing the pushers feels healthy and easy. Major disclaimer! If you like this date counter chronograph style, there are other models around with the same dial composition but with the date set through a revolving bezel and crown. Double rainbow, I know, but I haven't been lucky enough to purchase one yet.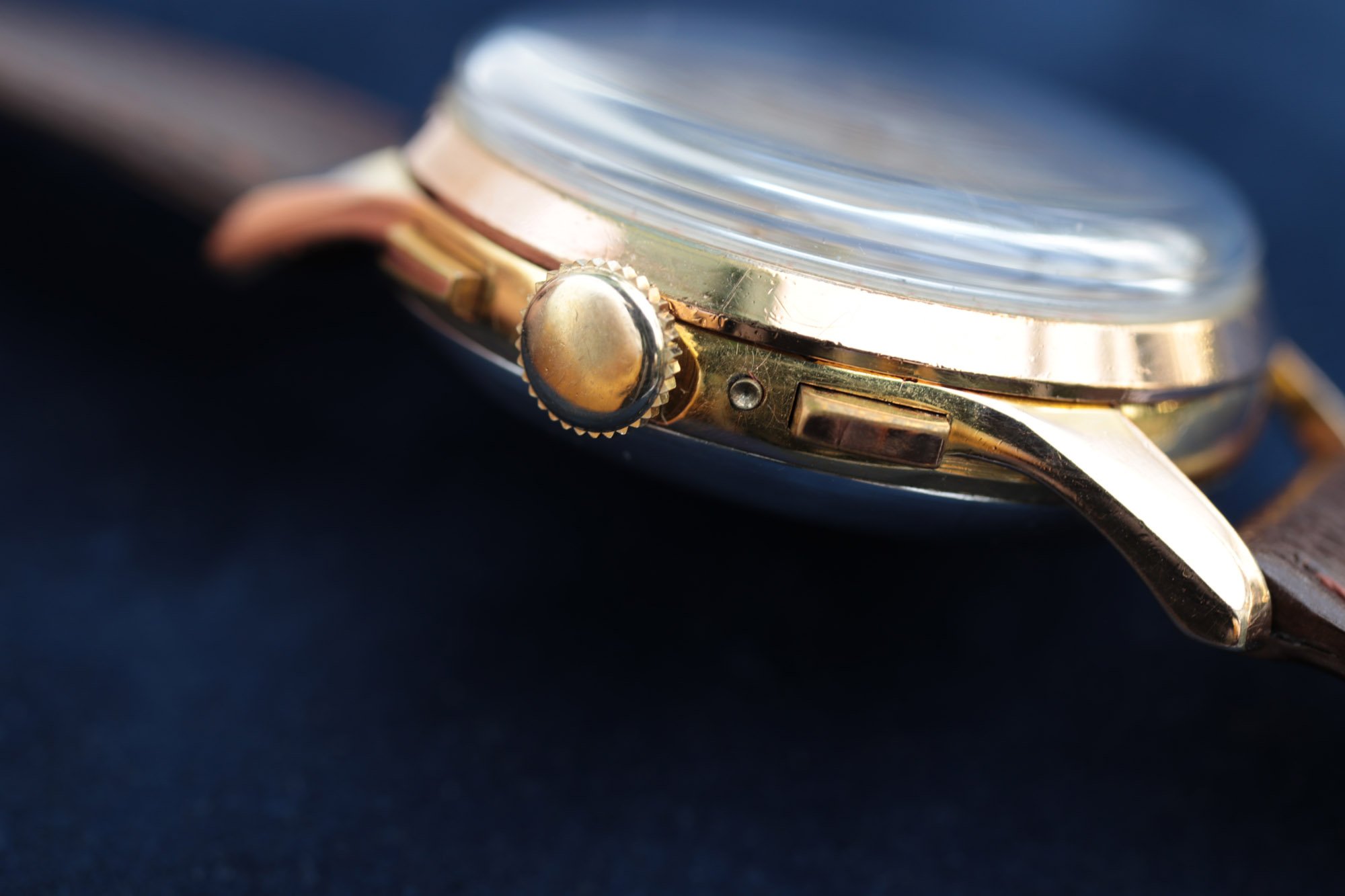 Playing with the chronograph
If I told you that setting the calendar gives me great satisfaction, I wouldn't apply the same sentiment to the chrono. Time keeping and chrono timing are always accurate and reliable, yet that feeling of pressing the start / stop pusher is somehow underwhelming. You press the button, but get the feeling of not being sure you really pressed it. The click is short, flat and not very confident. But again – it is an average quality Landeron movement and I did not buy it because of chrono functionality. I got the watch because of the unusual date counter that adds a nice touch of variety to my date watches collection.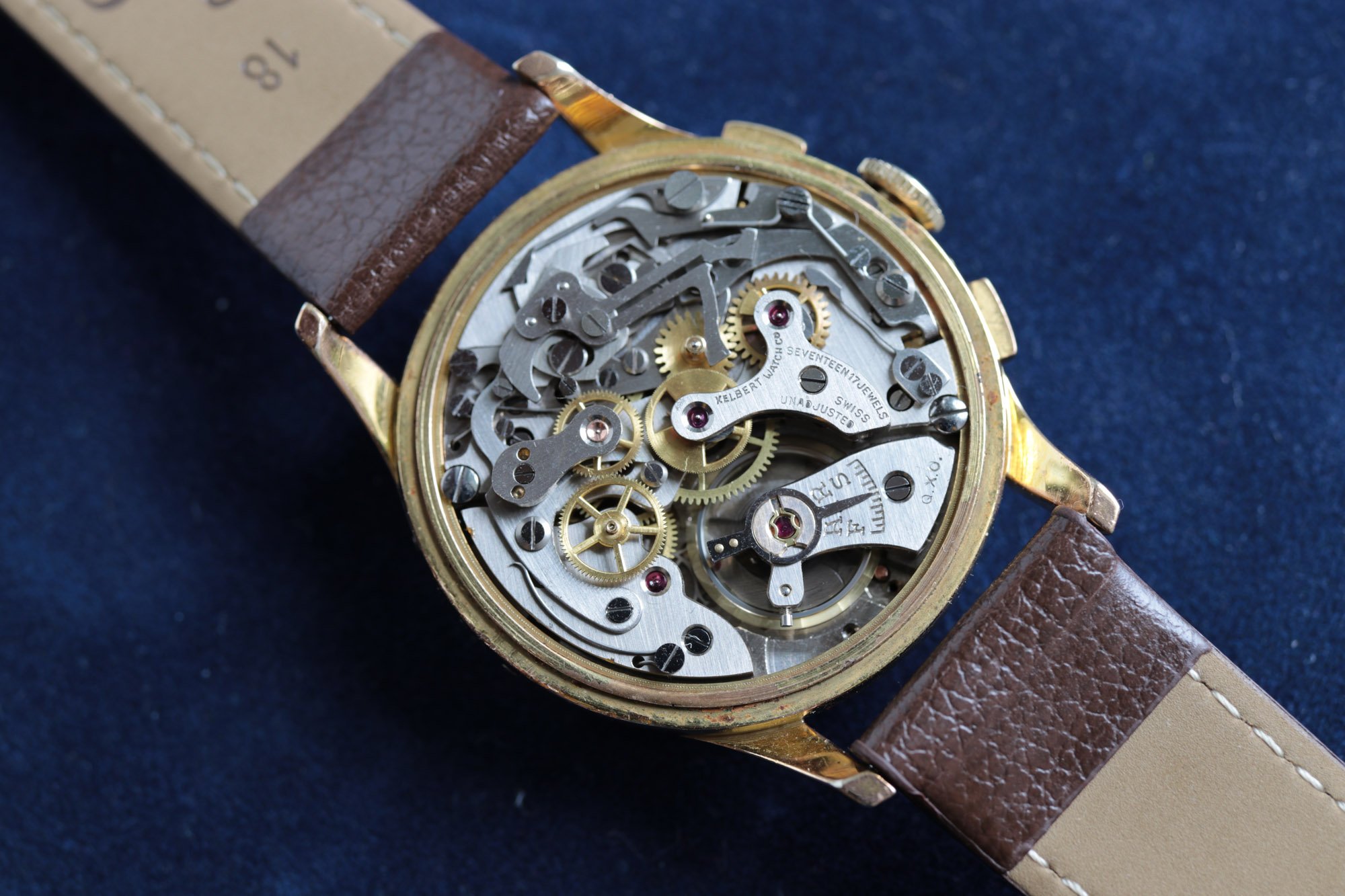 Expectations
Obviously, you can get a Landeron 185 caliber not only with Kelbert watches. I have previously seen some nice stainless steel Bucherer or Titus sold online featuring this caliber. They don't pop up very often, but you can stumble upon them from time to time. I would be very careful with the selection though as most of them come with beaten dials. And if you agree that the most interesting part of the watch sits under the plexi at 6, I would rather wait and invest more into getting a piece in pristine dial condition. Some 600 euros to 1000 euros might get you just that.