Laventure Automobile Chronograph With A Proprietary Movement — Marking A Huge Leap Forward For One Of The Industry's Most Promising Brands
This is what a game-changing release looks like...
Well, he's done it. He's only gone and done it. With Laventure's fifth release and fourth new model family (following the Marine, Sous-Marine, and Transatlantique lines), Clément Gaud has blasted through the theoretical ceiling that holds back so many new independent brands. The inclusion of a (green) proprietary movement in this exciting new chronograph is something I'm very glad to see. It elevates a brand that few criticized aesthetically to a whole new level technically. But what does the Laventure Automobile Chronograph mean for the future of the brand? Allow me to look back before we look forward…
The last article I wrote about Laventure was, in many ways, the most critical. While I adored the Marine II as a watch, it raised a troubling question in my mind. Try as I did, I couldn't escape the dawning realization that the brand had reached a crossroads.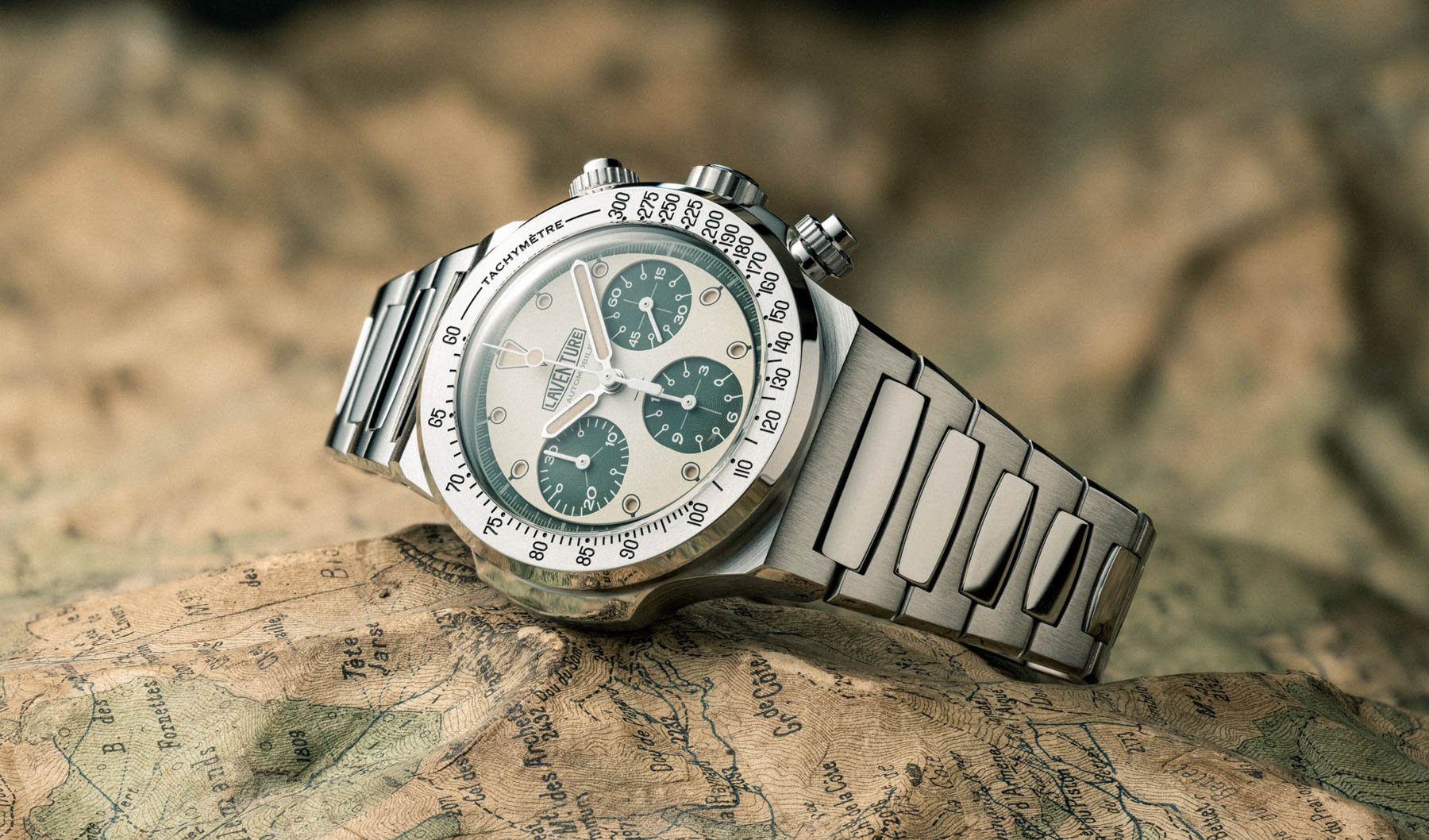 With the release of the Transatlantique (the first Laventure I didn't buy myself and one of my biggest watch regrets), I had side-eyed the burgeoning prices. When the Marine II dropped, I came out and said what was on my mind: the brand either needs to make this precious-metal-dialed model the top end of the catalog and follow it up with a more accessibly priced release, or it needs to mortgage everything on a direction-changing release, invest in movement manufacture, and work its way through the gears to align those to-die-for aesthetics with a beating heart worthy of them.
Clément Gaud, founder, designer, and everything to the brand, chose the latter. And, boy, I'm glad he did.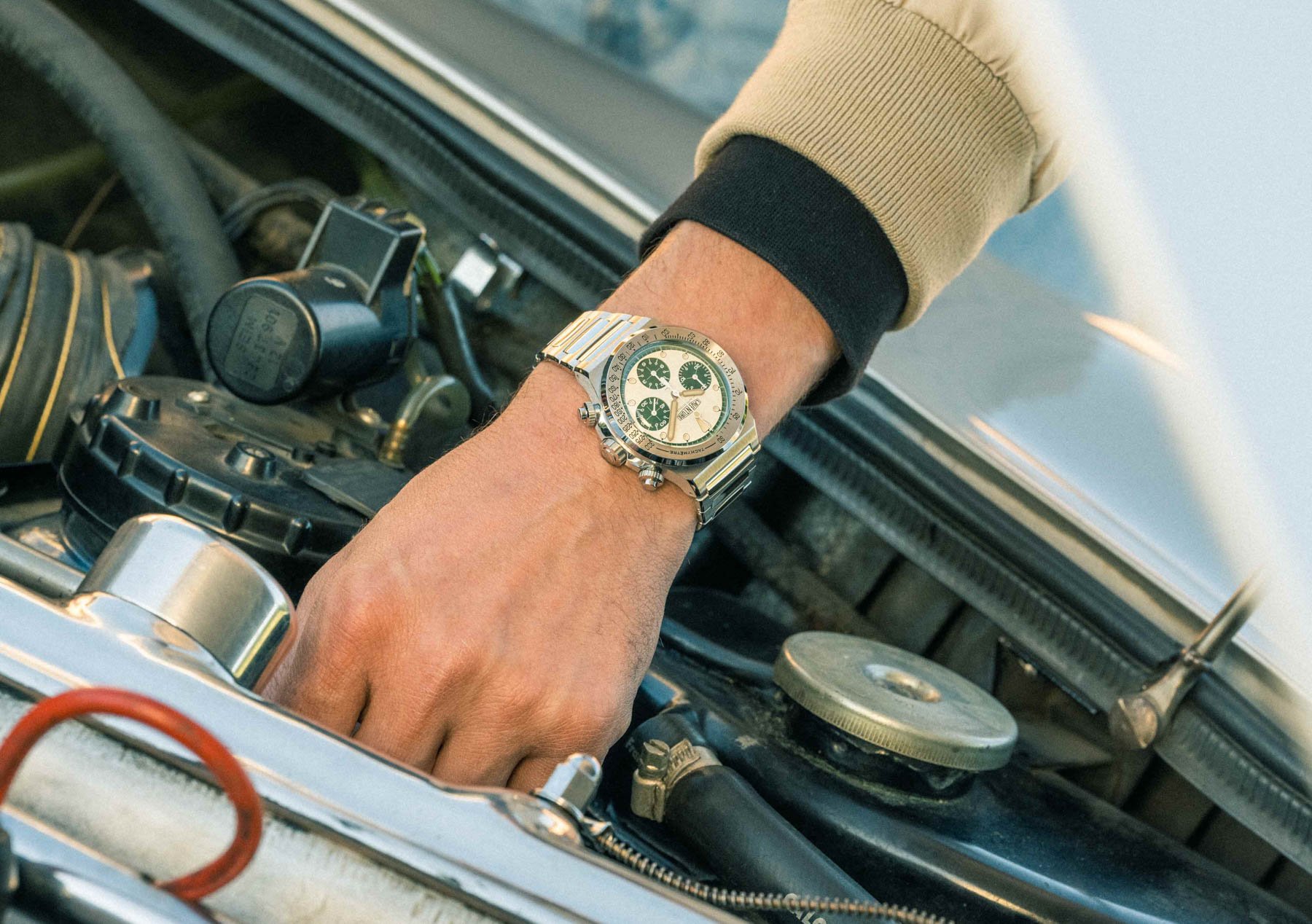 The sky is now the limit
As some of you may remember, the last model release by Laventure — the sumptuous Marine II with its solid 18K gold dial — was a difficult one for me to review. I loved the watch, but I found myself concerned by the price, which pushed the "basic" movement models (powered by Sellita) close to €5,000. In that article, I made a couple of musing statements that I'd like to drag out of the archives for your analysis below, as they turned out to be somewhat prescient:
"I would not be surprised for Laventure to respond to the points in this article by really upping its movement game. With something proprietary, for example, the conversation would suddenly turn from how there are cheaper watches with the same movement to how there is nothing quite like a Laventure in the sub-10K sphere (which I would regard as the top end of the next phase in brand development)."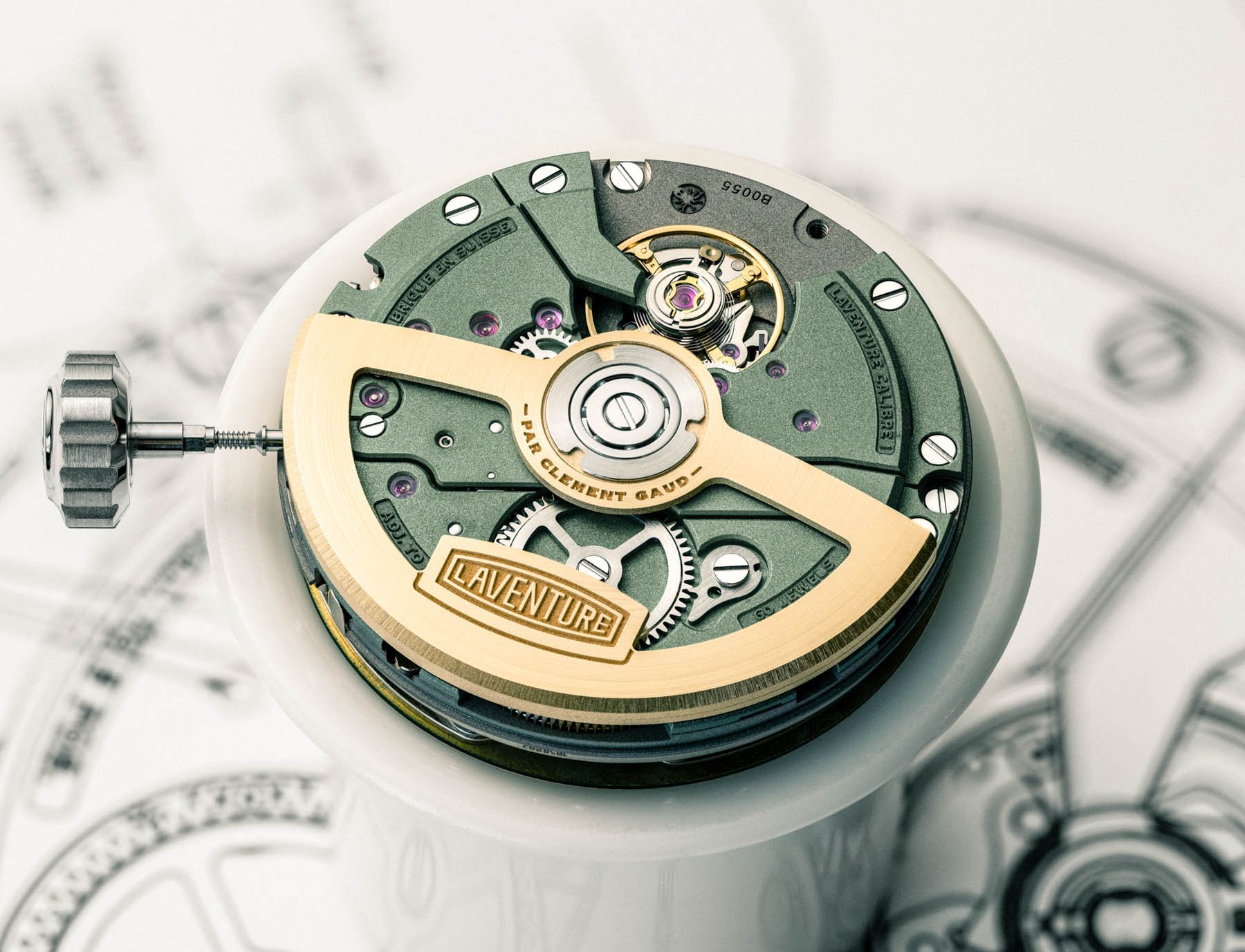 It turns out that there was nothing to worry about. This was Gaud's plan all along — to springboard the brand into a totally new price bracket (and possibly tap into a new client base) after pushing the basic models as far up the food chain as he felt he could reasonably do, incrementally improving the material quality of each release as he did so.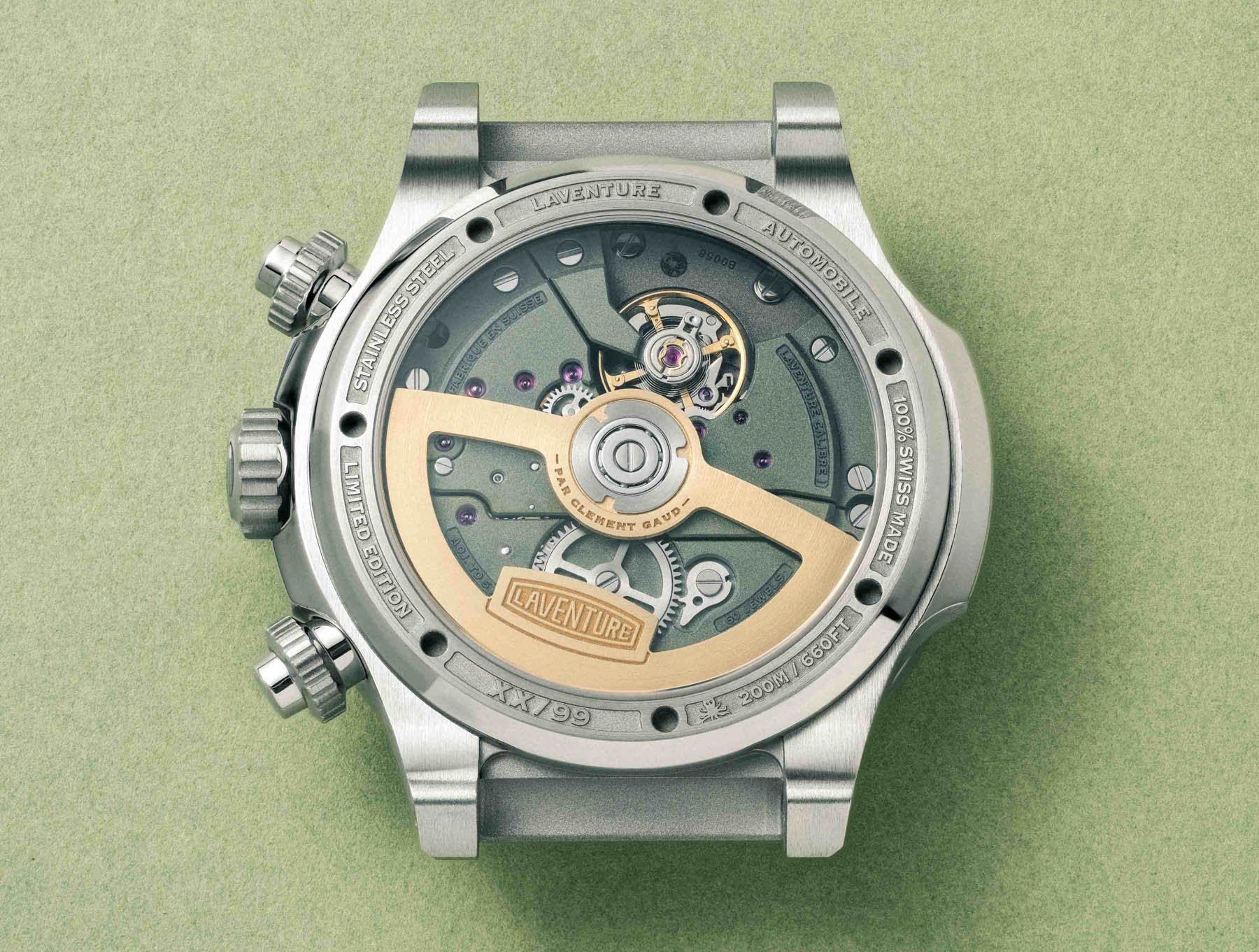 The gloves are off
Now that he's in unchartered territory, things could be about to get really fun. But let's not pretend Laventure is out of the woods yet! This seminal release is very important to the brand's existence and success long term. The Automobile Chronograph needs to sell out. If the 99 pieces sell out fast, that's great, but that isn't the most important thing. It's clear that a massive amount of money has been poured into the development of this proprietary caliber (these things do not come cheap), and it looks clear to me that Gaud is mortgaging not just the brand's future but also everything he's thus far earned from the brand's past on this drop.
The big if…
If this watch sells, Laventure has done it. It has completed the microbrand level entirely, and it moves, undisputedly, into the rank of small independent. Its previous wares will become classics. Their secondary market prices will soar, given that the retail price benchmark for a Laventure will now rest at around €10,000. The brand can (and surely will at some point) re-release the Transatlantique in different colors. Perhaps the Marine/Marine II and Sous-Marine models will receive a do-over too.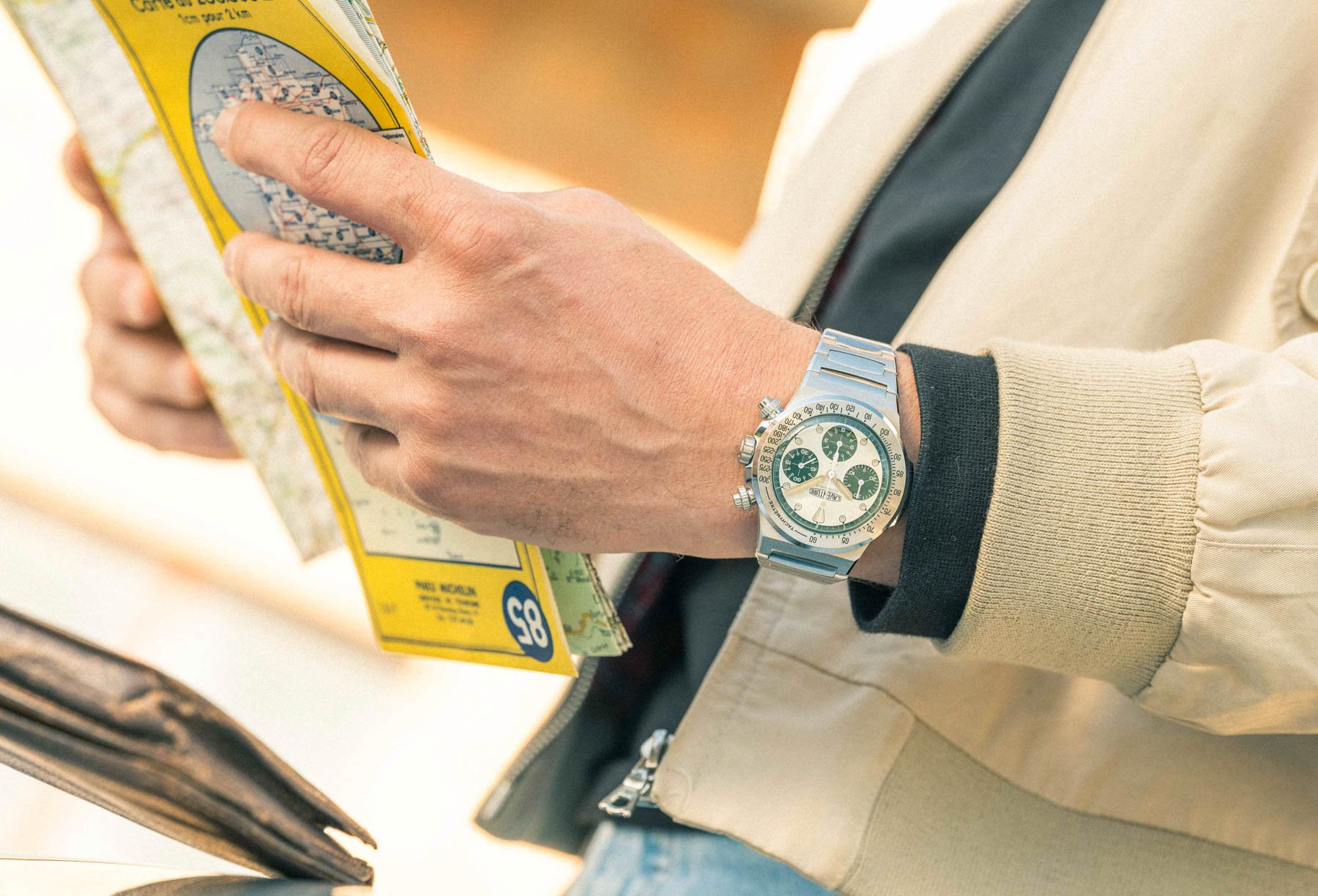 Those watches could now retail at their previous prices or even a little more without feeling like a stretch now, and that's all thanks to the marker established by the Laventure Automobile Chronograph. Perhaps they will receive movement upgrades that align the brand's "classics" with the Automobile, leaving the bought-in-movement era firmly in the past.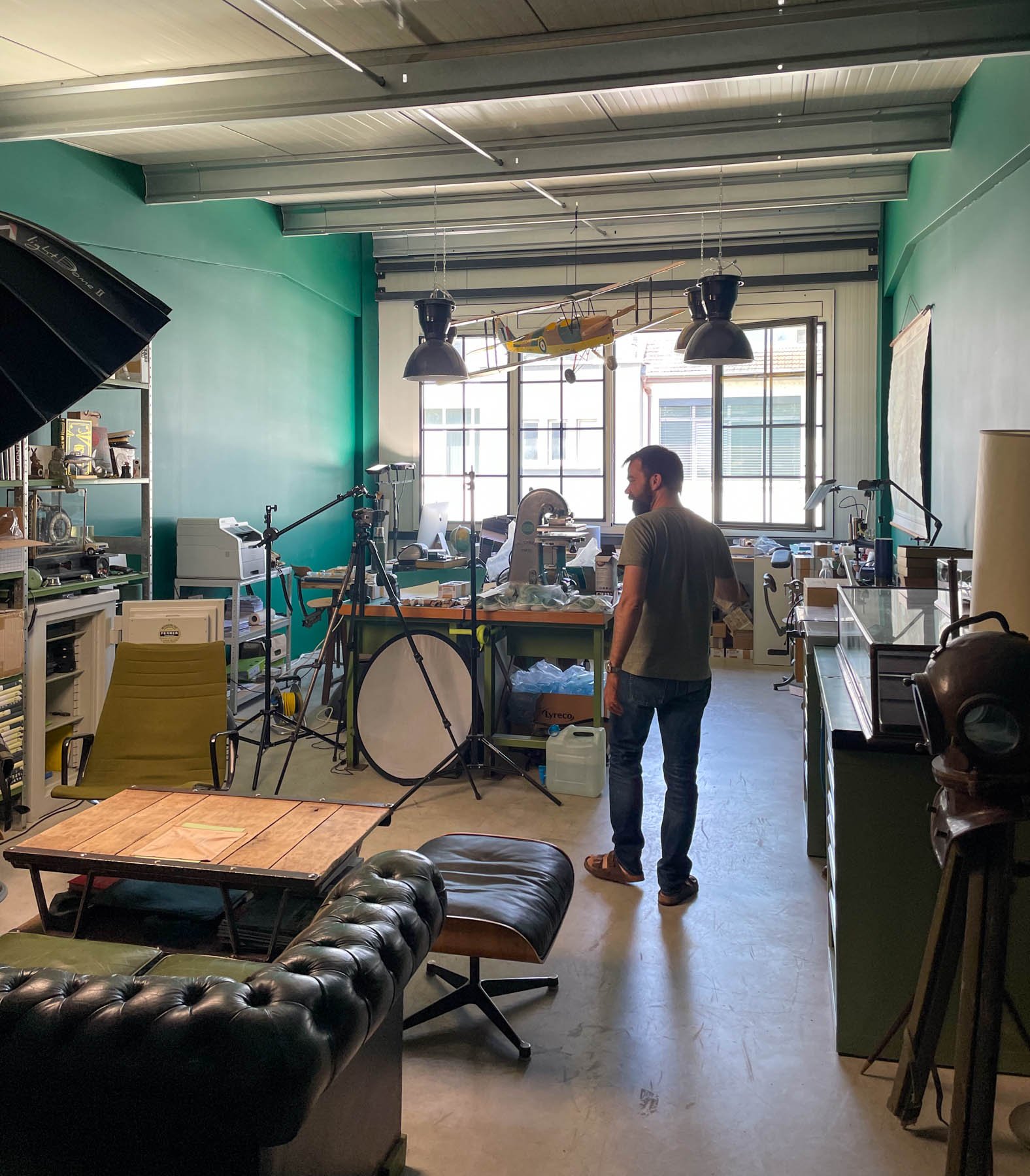 And they would sell out in an instant. I dithered over the Transatlantique (my favorite "entry-level" release thus far) because I already had a green-dial Marine. If a blue-dial Transatlantique drops any time soon for anything in the region of €4K, you might as well regard it as part of my collection already. The fervor surrounding and desire for the older models have gone through the roof thanks to the Automobile Chronograph. And the possibilities for the brand's future have now truly taken flight.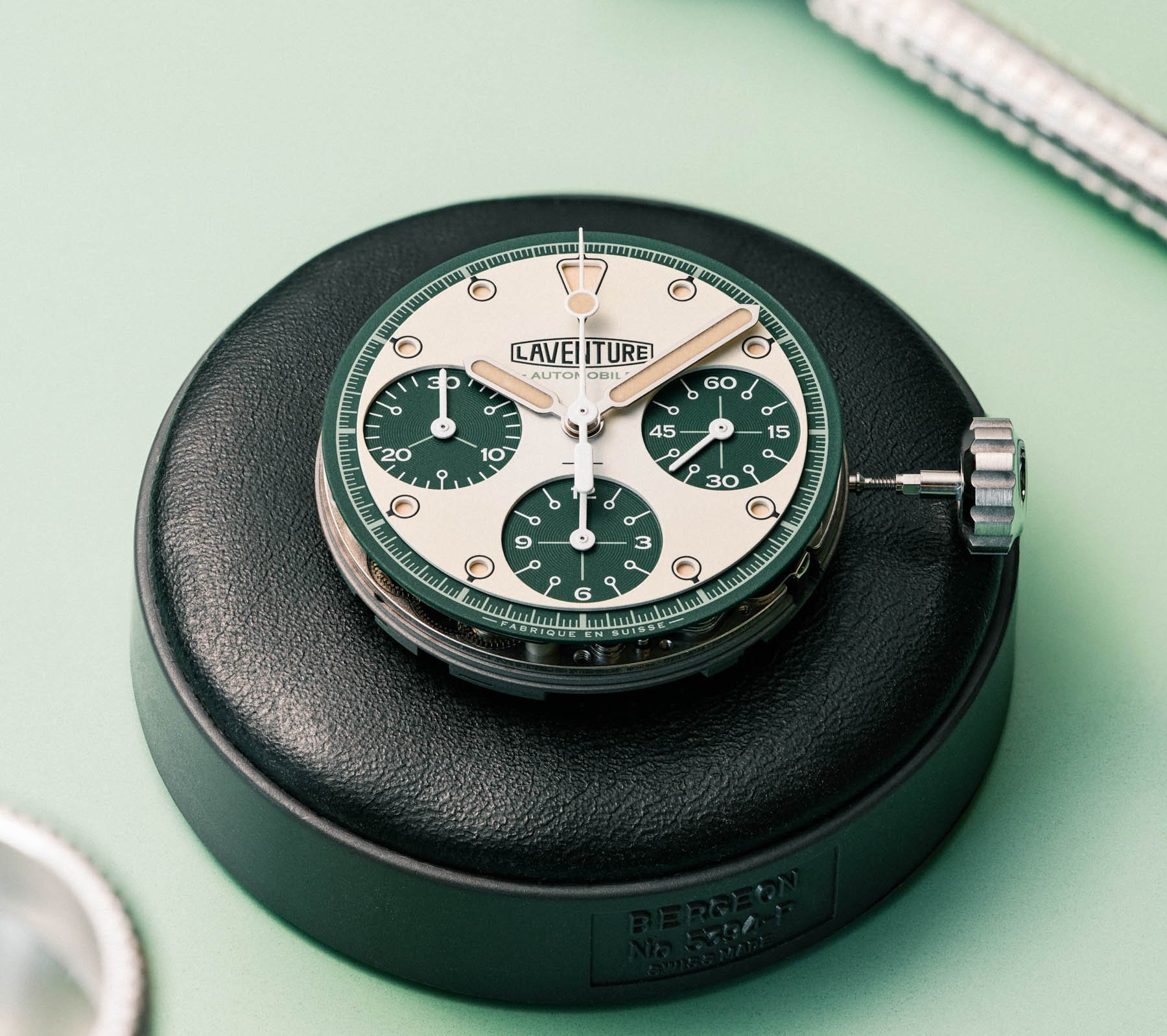 The Laventure Automobile Chronograph
So, brand musings aside, what do I think of this watch? I think it's safe to say that the aesthetics are superb as one might expect from one of the industry's most lauded young designers. Laventure watches have always had a clear Nautilus vibe, which I don't think anyone would try and deny or sidestep, but there is a ruggedness to the proportions that very much sets it apart. The Nautilus is a stunning watch. There is no doubt it is one of the greatest designs of all time. However, it does not have the same "Go Anywhere, Do Anything" attitude as the Laventure pieces we've seen thus far. The Automobile Chronograph continues in that vein.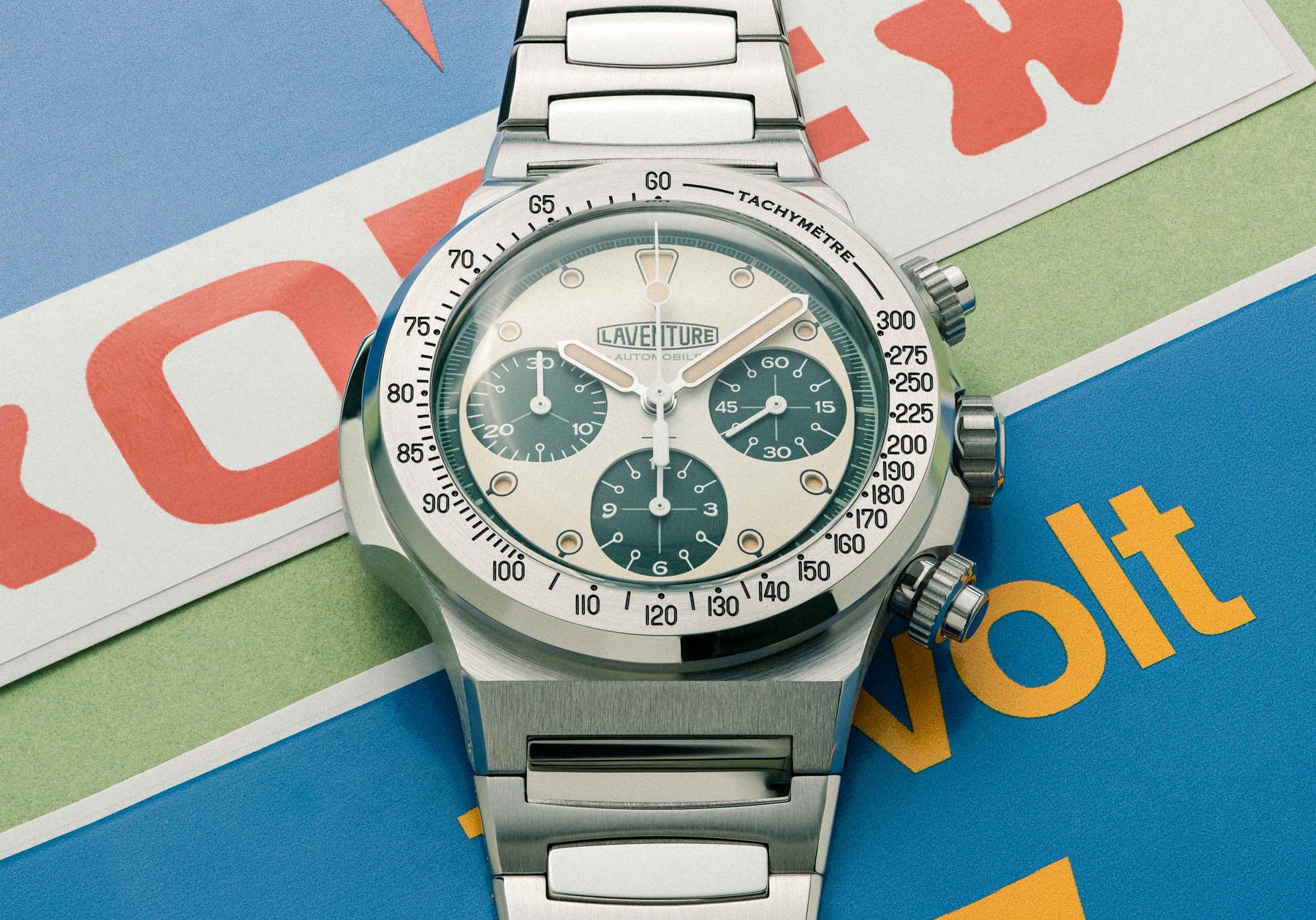 The integration of the chronograph pushers was perhaps less predictable. While these smack more of a Rolex Daytona inspiration (threaded and locking as they are), I hadn't expected it. I had simply assumed Clément would follow the Nautilus path, but the Daytona-esque pushers nod to another classic while making the silhouette of the Automobile something entirely different.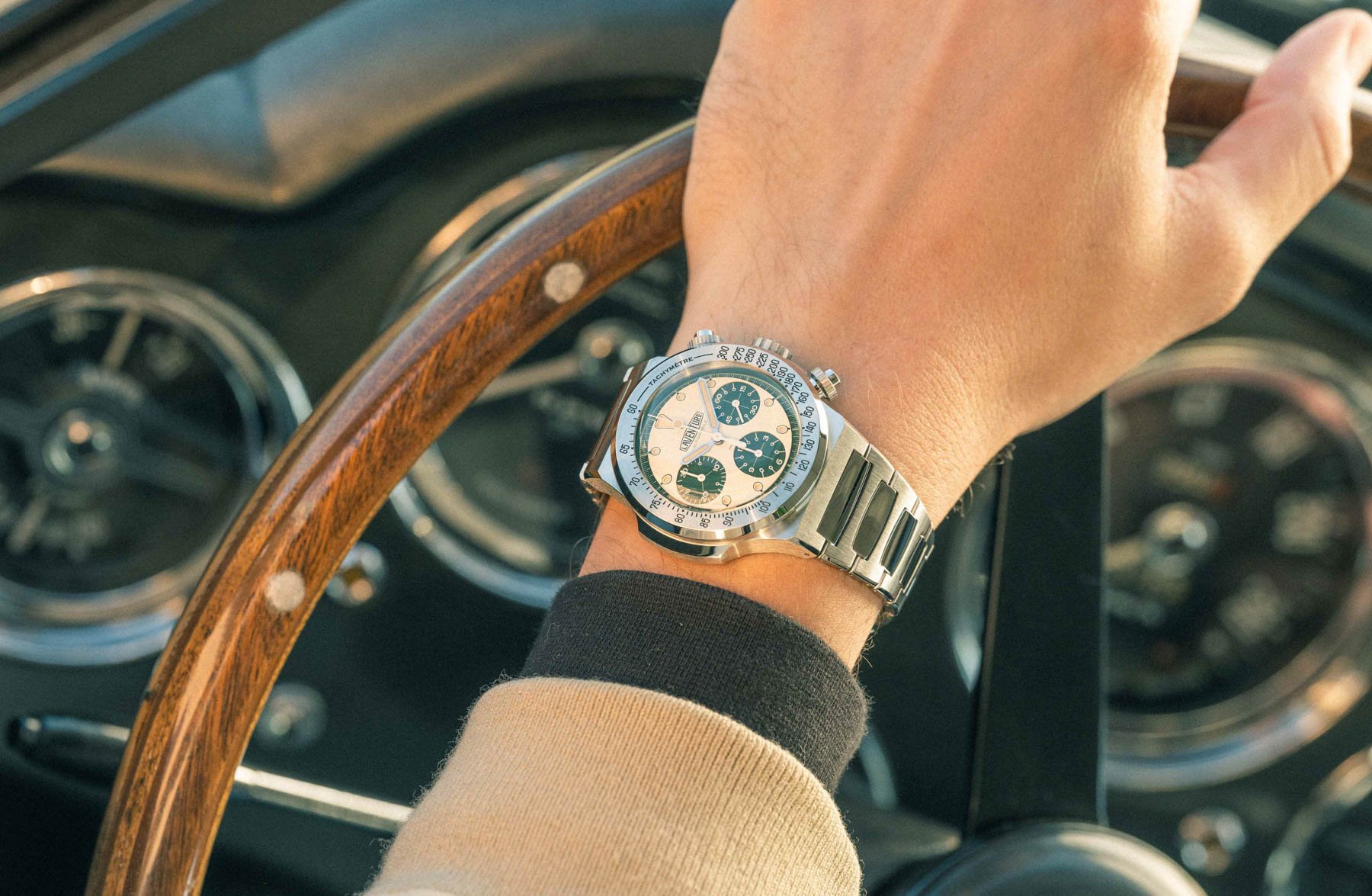 A truly classic watch
Regardless of this obvious departure from the Nautilus-inspired core, there will be accusations of "homage" surrounding this piece. Brands "ripping off" designs annoys me intensely, but I don't see that to be the case here. We can all see where this watch (and brand) has drawn its inspiration, but the reason why Gaud has been successful in his attempt to create something familiar yet new is that Laventure watches don't just look like one thing. There are callbacks to classics riddled throughout the watch, and calling it out as a Nautilus clone is nothing short of lazy (perhaps worse still, it would be wrong).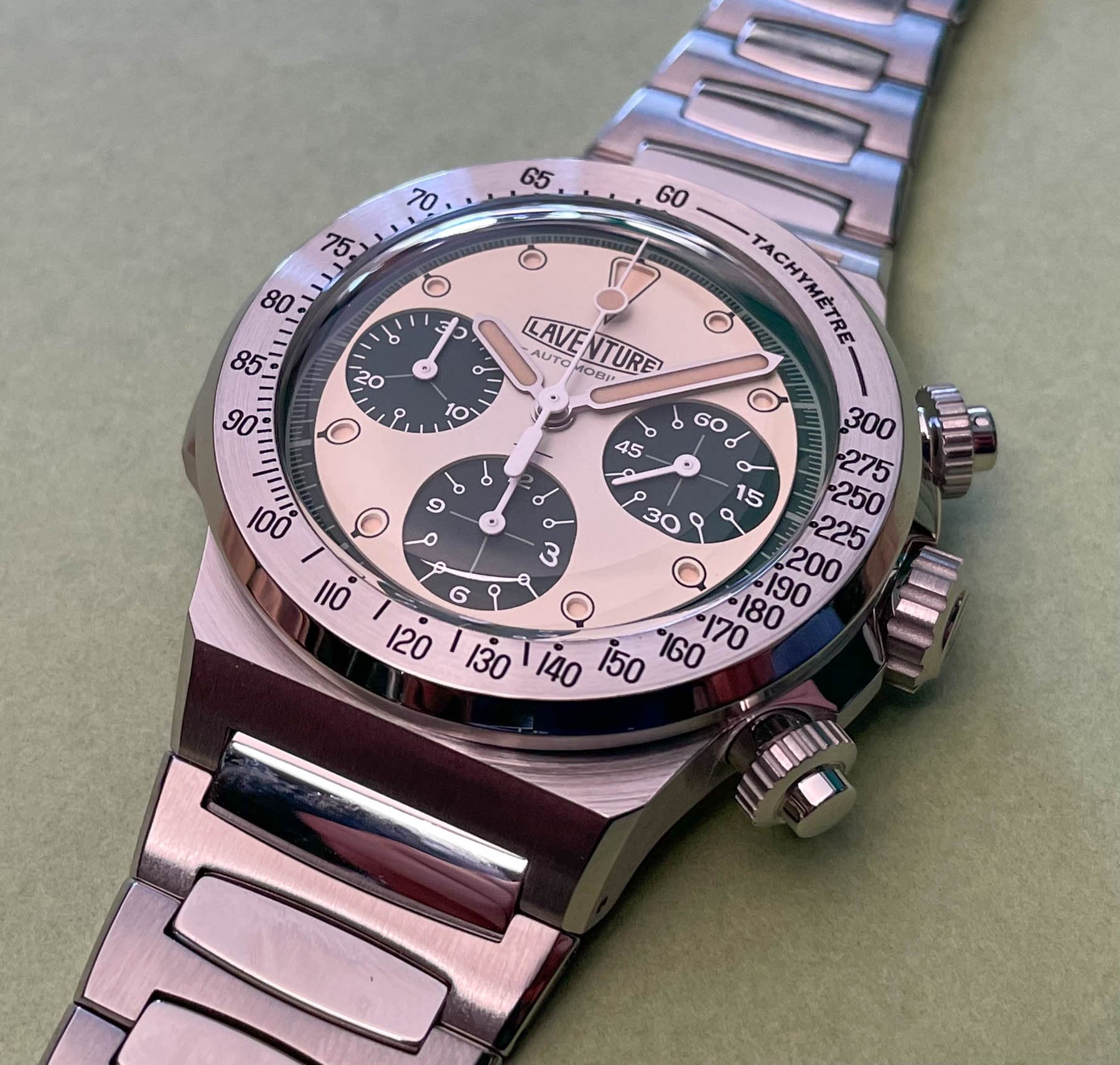 When I first saw the watch in person, just five days before its launch, I joked with Clément that I would nickname it the "Nautona". And while it appears very much its own watch to me, I think the calling cards of two classics can do nothing but increase this watch's appeal.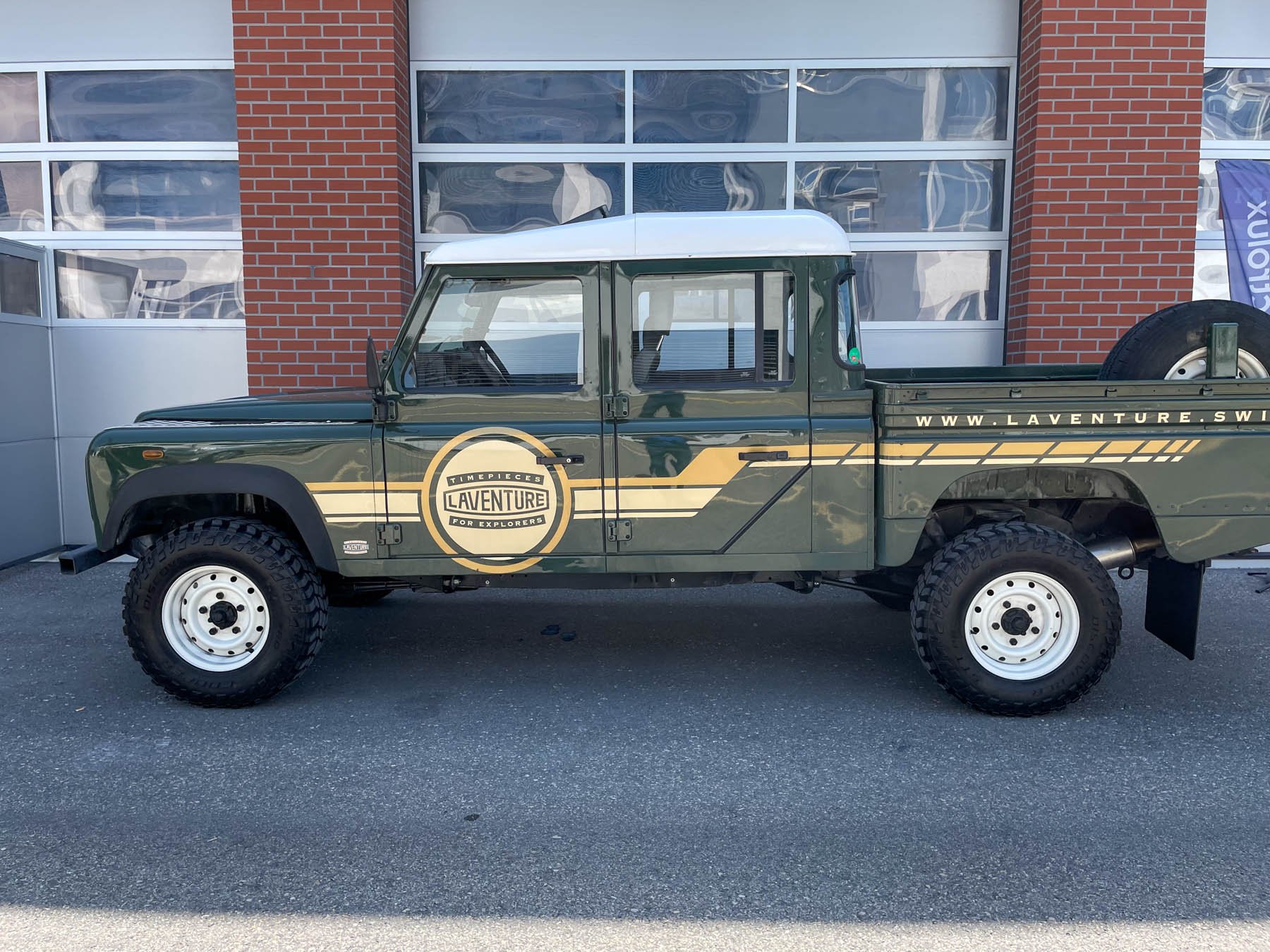 On-point and off-guard
The color choices are, again, simultaneously comforting and challenging. Gaud works with a softer palette than many other sports-watch designers, choosing instead earthier, more natural tones and pairing them in a homely fashion. The objects on the wrist are, as a result, odd fusions of daring and downtime. I see my Laventure most at home nestled next to the rolled back cuff of a chunky woolen sweater, read through the milky glass of an old bay window, illuminated by the last light of a day filled with wet-through adventures out in the wild.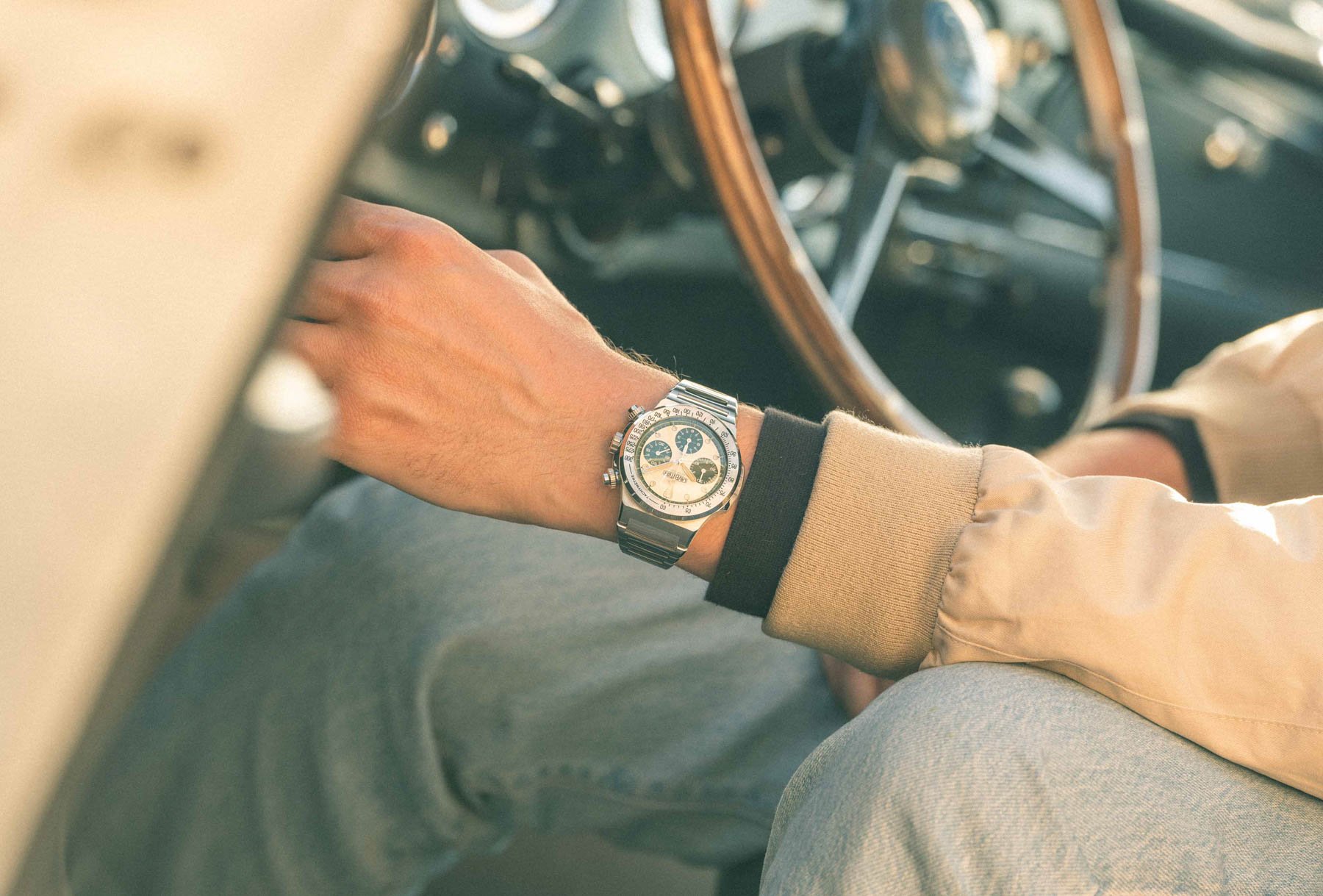 At 40.5mm, the case is somehow the same diameter as its predecessors. Its lug-to-lug is a predictably stout 48.8mm. However, Gaud has finally been forced to depart slightly from the original proportions. The height of this watch, excluding the crystal, is up to 12mm to accommodate the new chronograph movement, but it doesn't feel unwieldy on the wrist. That movement has been developed by Chronode. On top of the base caliber (which has a frosted green plating on the bridges), there sits a Debois Dépraz 12-hour chronograph module.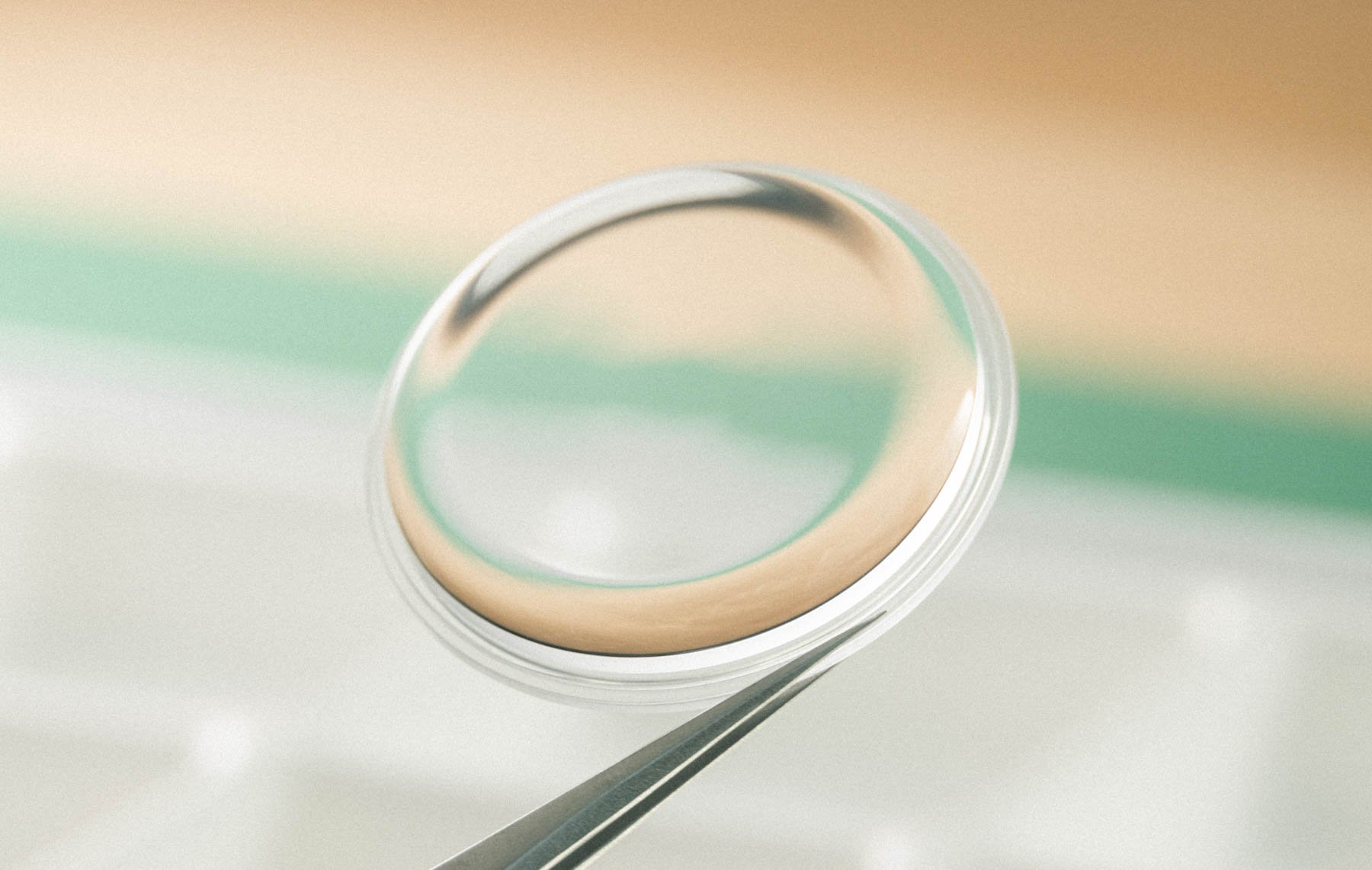 Those screw-down pushers guarantee a water resistance of 200 meters, in line with previous releases. And, as we saw with the Transatlantique and Marine II, the originally relied-upon sapphire crystals seem very much a thing of the past. Once more, the Swiss-made Plexiglass protects the dial. In my opinion, it's the right choice. I almost wept when I saw the watch for the first time for how brilliantly everything hangs together.
A monument of watchmaking
The case shape, the pushers, the dial design and colors, the broad bezel with its crisply engraved "Tachymétre" markings, the integrated bracelet, a totally novel movement view from the back, the warmth of the crystal, and the maintenance of that deliciously deep sandwich dial… Those elements wowed me. I felt like I was holding several classics in my hands at once. Images of the Daytona (thanks to the pushers and sub-dial layouts recalling, somehow, a "tropical" design), the Nautilus (case "ears"), and the Speedmaster itself (the way the Plexi adds such an inviting character to the dial) flashed through my mind.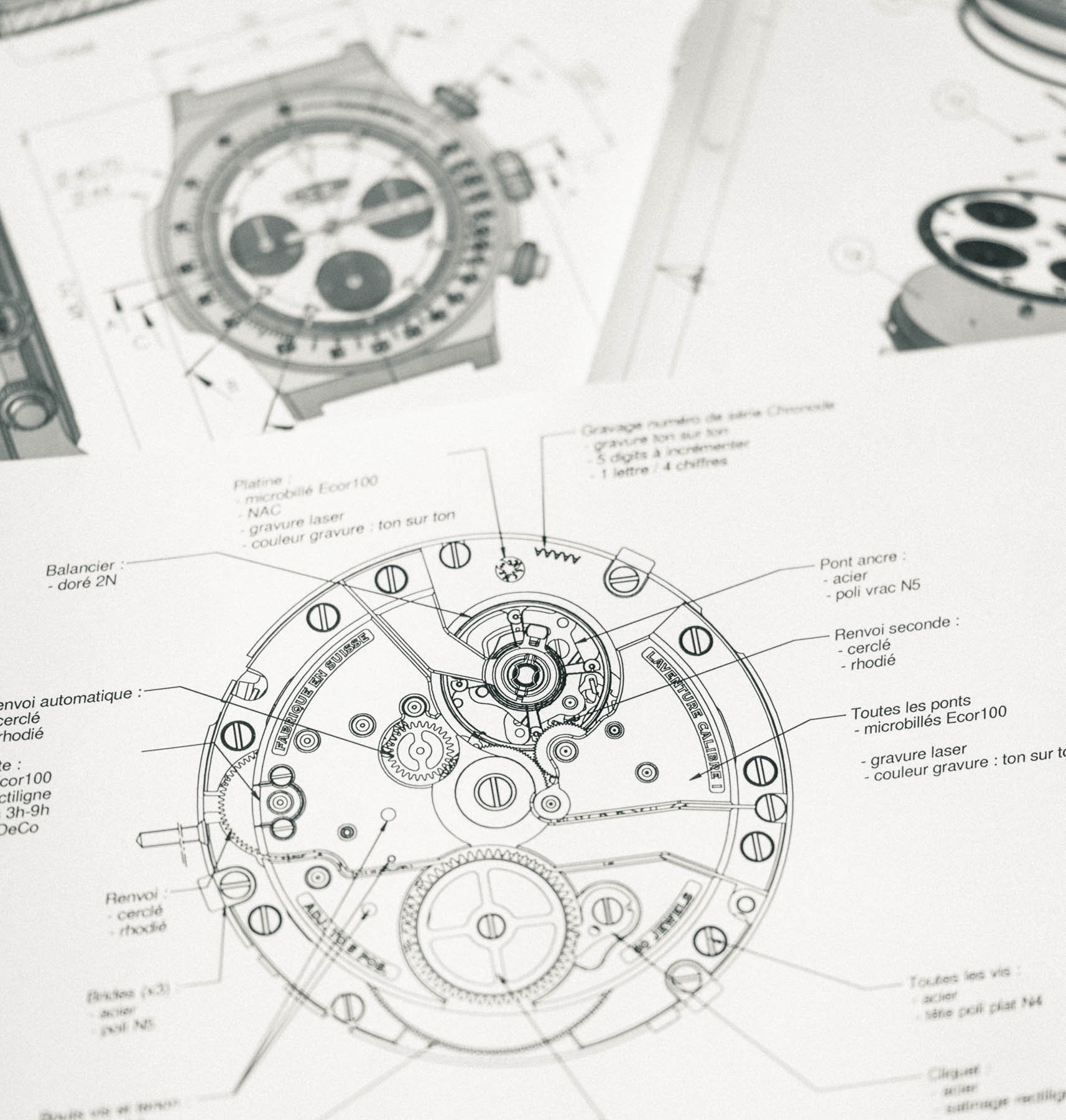 I was hooked. If I'd been convinced that this brand was going places before, I felt like I finally had proof. This is the kind of place many new brands can only dream of reaching. It has felt like a heartbeat, but it took five years of patient product releases to get here. It seems that every second was worth it.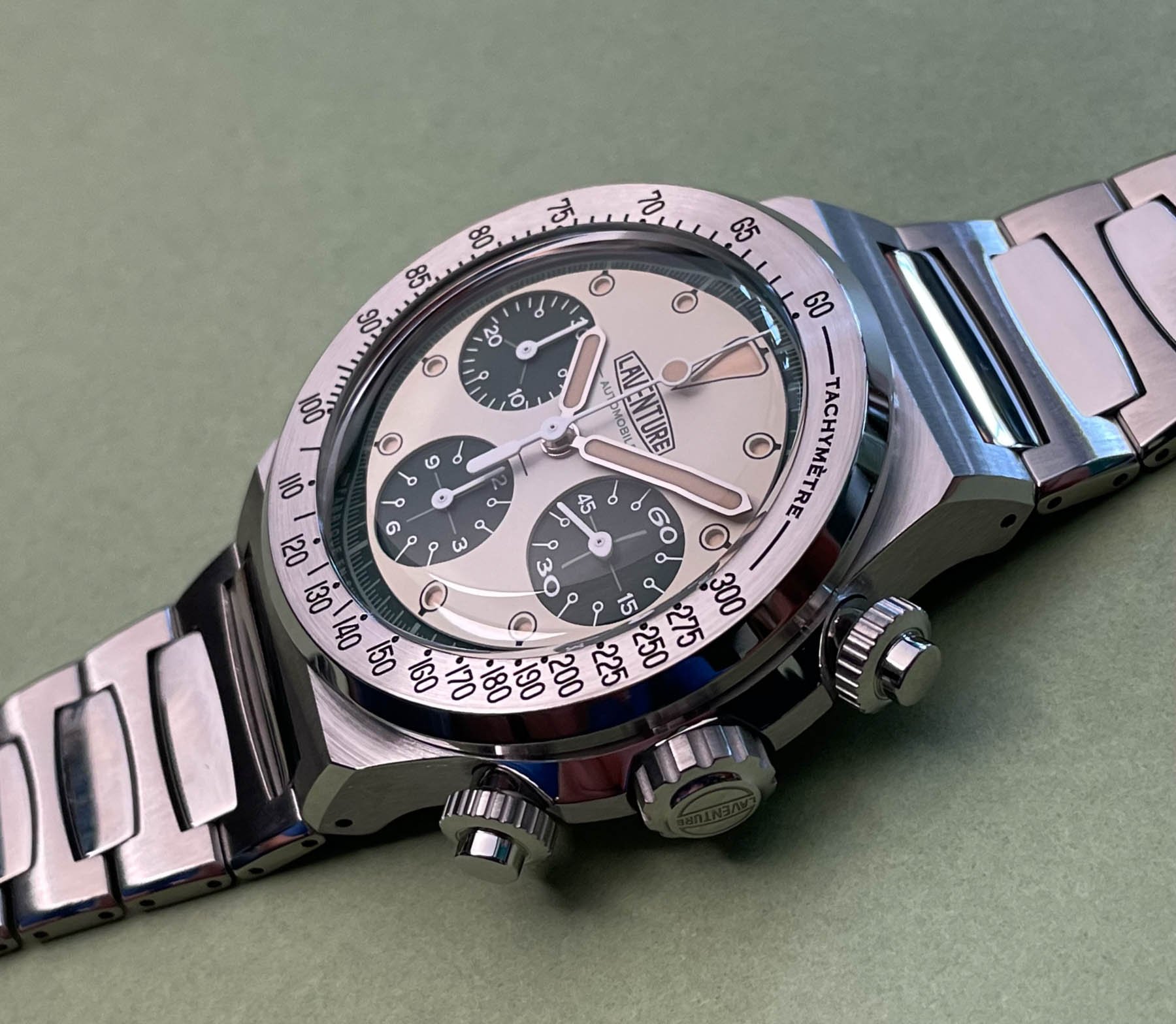 At home anywhere
The release of the bracelet (which integrates perfectly here with unchanged lugs) was a necessary forerunner to this piece. While you can certainly wear this chronograph on one of the fantastic FKM rubber straps (I'd advise trying it on the dark green to harmonize with the minute track and sub-dials), it is most at home on the bracelet, which balances out its potentially top-heavy weight on the wrist expertly. At CHF 8,200 excluding taxes, this piece will inevitably price out a large portion of the original consumer base (including myself at this moment in time thanks to having spent every penny I had on other things), but I hope, like me, those early adopters are not switched off by it.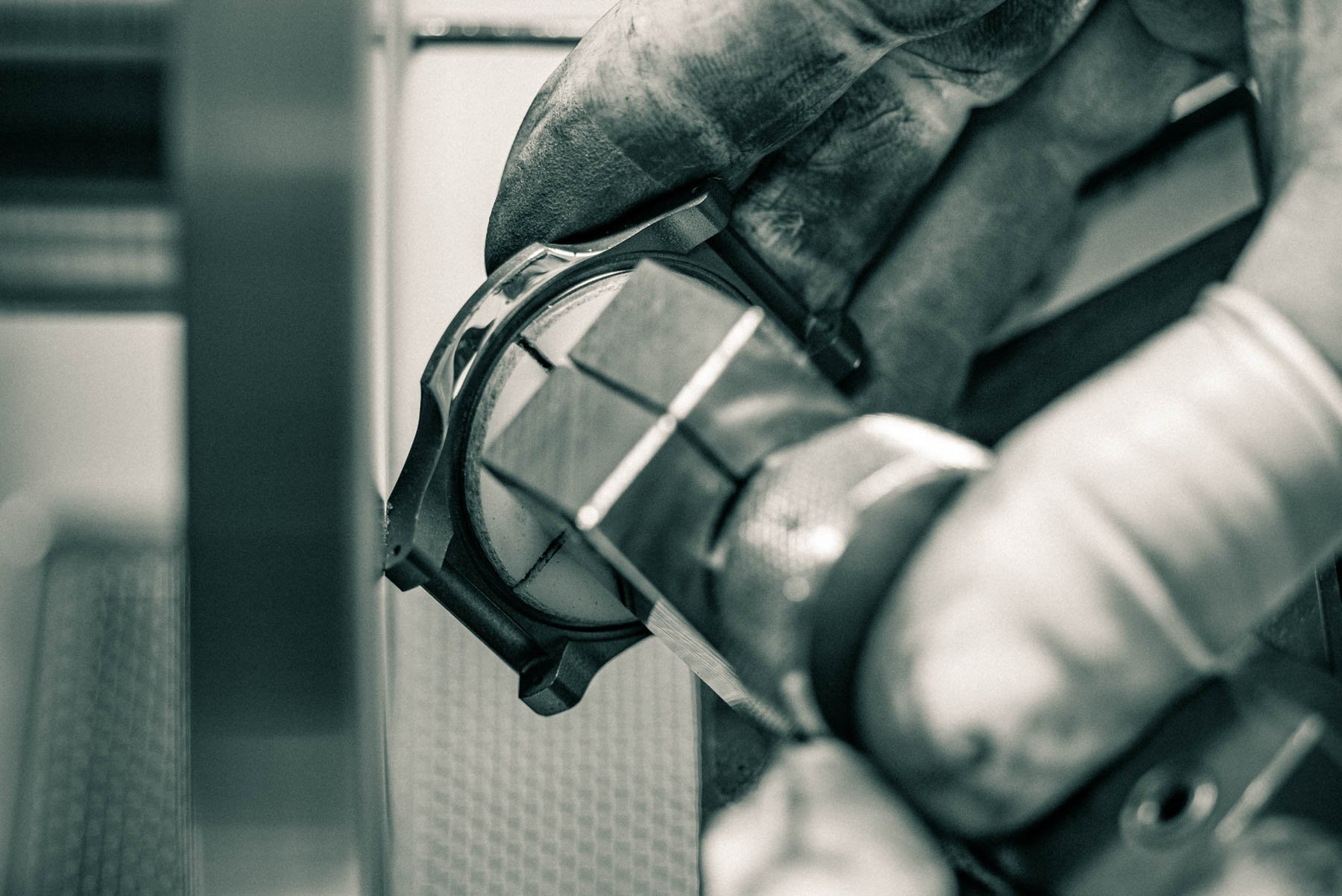 Jacked up and ready for the next phase
In fact, this is as enthused by the brand as I've been since the Transatlantique blew us all away with its stunning good looks. This was a bold move, but it was the right one. Yes, it hurts I can't afford one of these right now (perhaps by the time this article comes out, I will have managed to sell enough watches to accrue the funds — who knows?), but I am fully behind Gaud in his efforts to build a proper brand with genuine horological interest. I am in this for the long haul and am proud to stand by the brand even when it releases watches that remain out of reach for me and those like me.
UPDATE: I wrote the bones of this article speculatively following the press announcement of this piece. Having seen it in real life, I decided to throw caution to the wind. I have sold a chunk of my collection and purchased the watch. Aside from absolutely loving the aesthetic, I wanted to put my money where my mouth is. It means a lot to me personally to continue to support a brand I've followed from the get-go. Let me know what you think of that decision in the comments below. There will be a hands-on, long-term review of the piece following its projected delivery in December.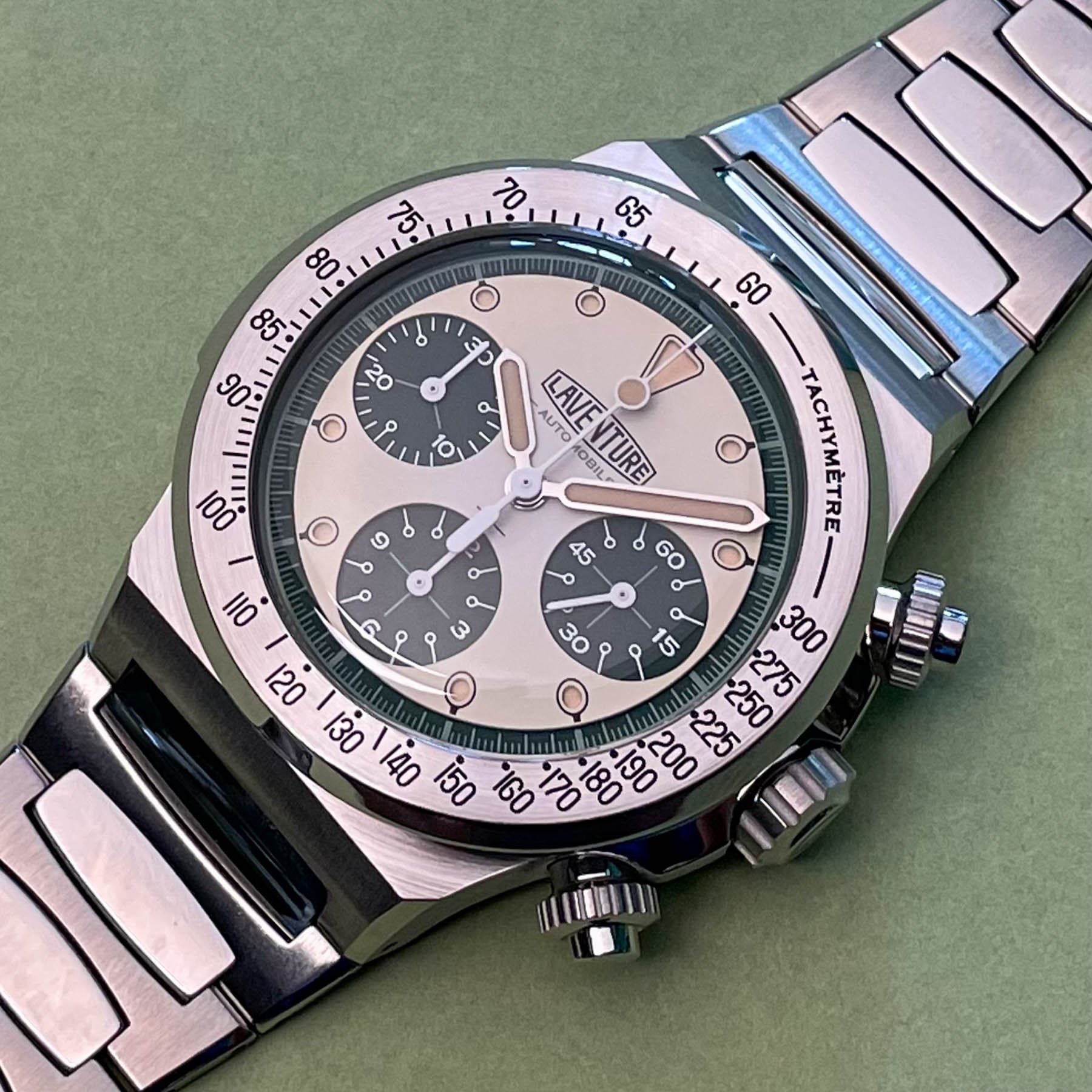 What's next?
Last time around, I did a half-decent impression of a soothsayer. I'll try my luck once again, but I'm happy to be wrong this time. I think what we'll see next will be one or two more colorways from the Transatlantique and Sous-Marine. It seems quite possible now, that one or both lines could also see a movement upgrade.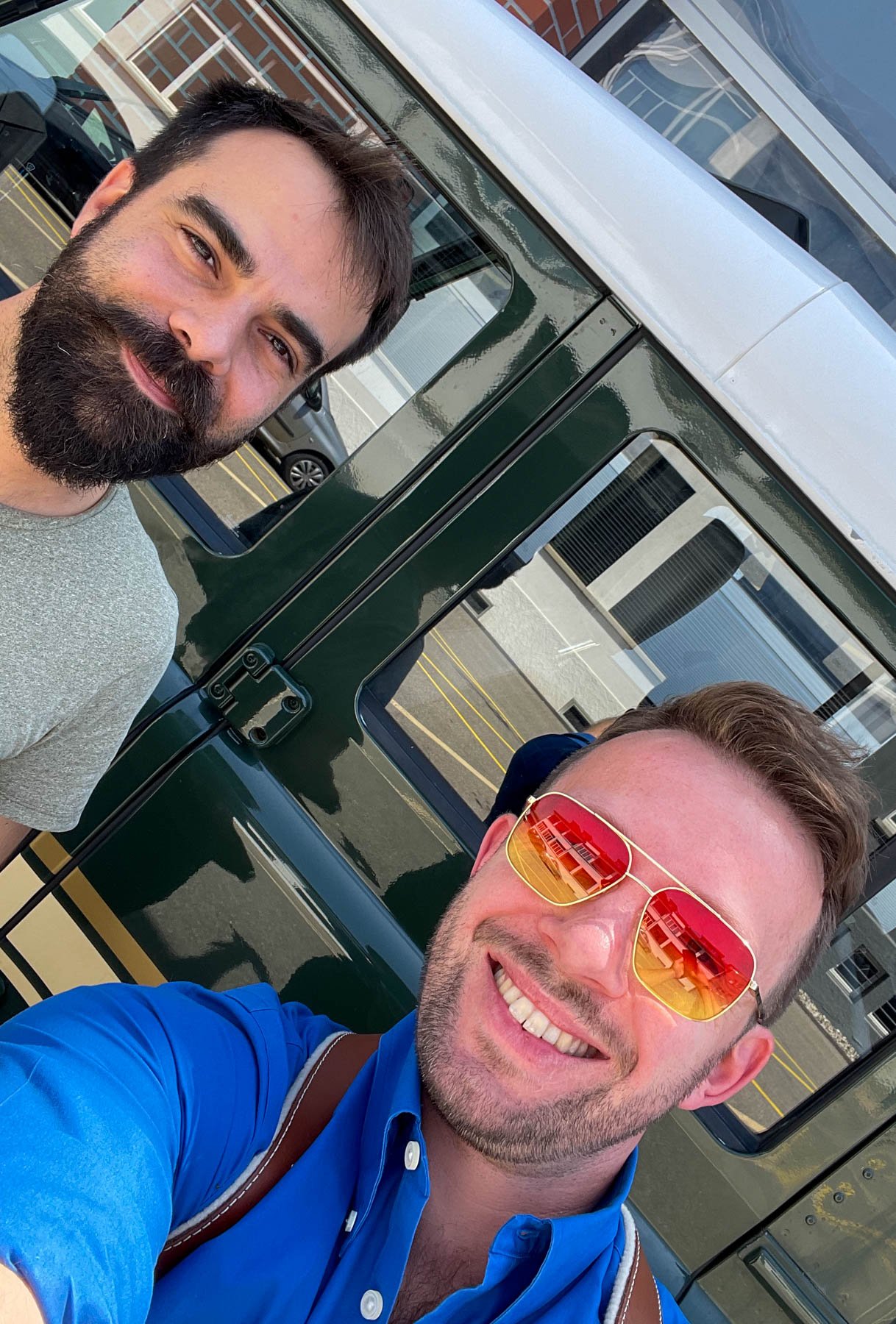 When it comes to colors, I'm biased. I'm going to say we'll see a blue palette, possibly a "Pepsi", but, knowing Clément Gaud, I wouldn't be surprised to see the same color theory that we saw with the green models applied here. How about a navy blue/dusty sky blue bezel split? One surrounding a dark blue dial and another model with a flat off-white/cream dial? Both those models would work with the existing blue and cream straps, after all…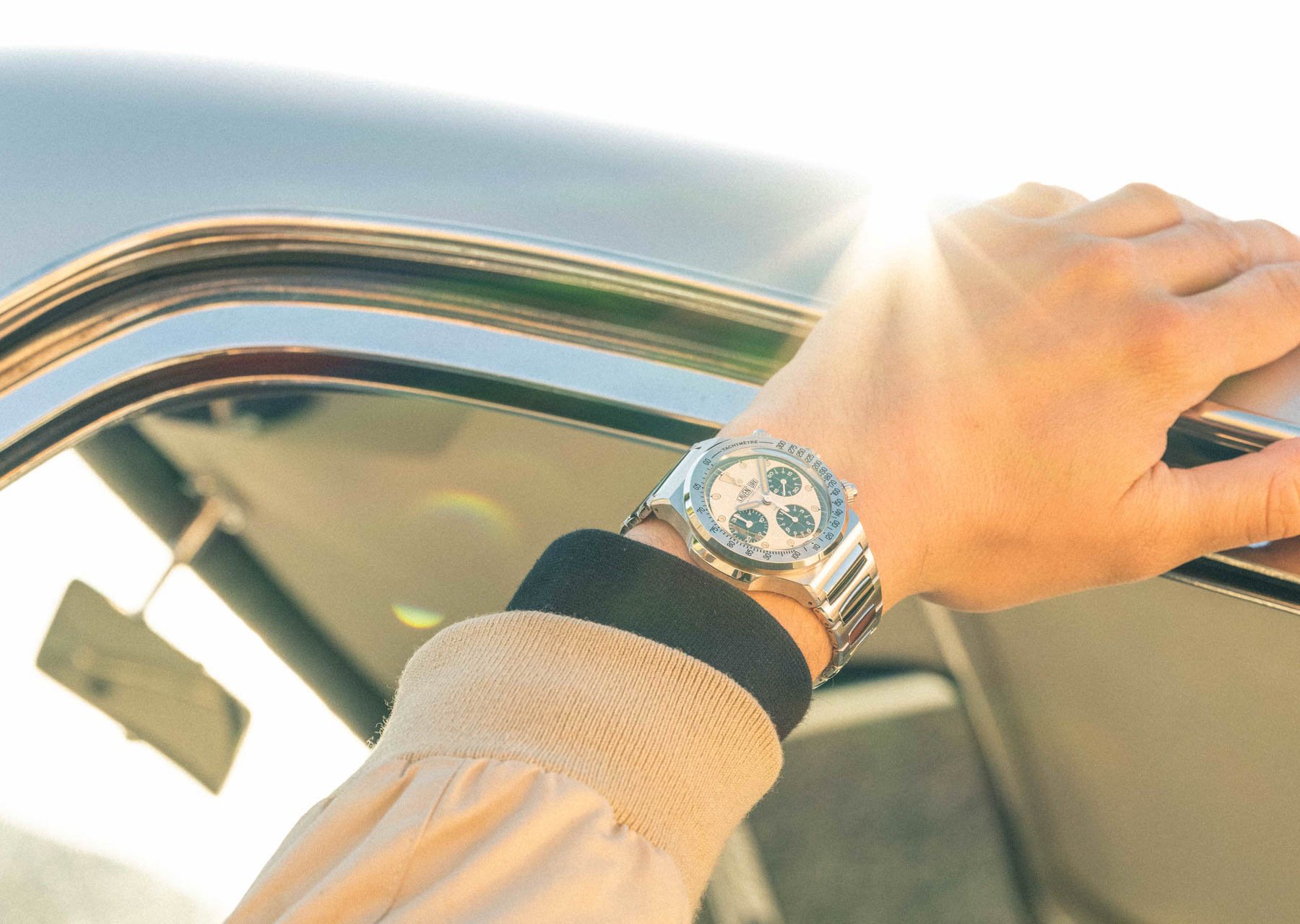 Of course, the other alternative is that we end up with another complicated model right off the bat. Who knows what form that could take? I'm unconvinced we'll ever see a Laventure Tourbillon (it doesn't jive with the "spirit of adventure" in my book). Perhaps, however, there is now scope to consider an annual or even perpetual calendar? Neither would seem too out of place now…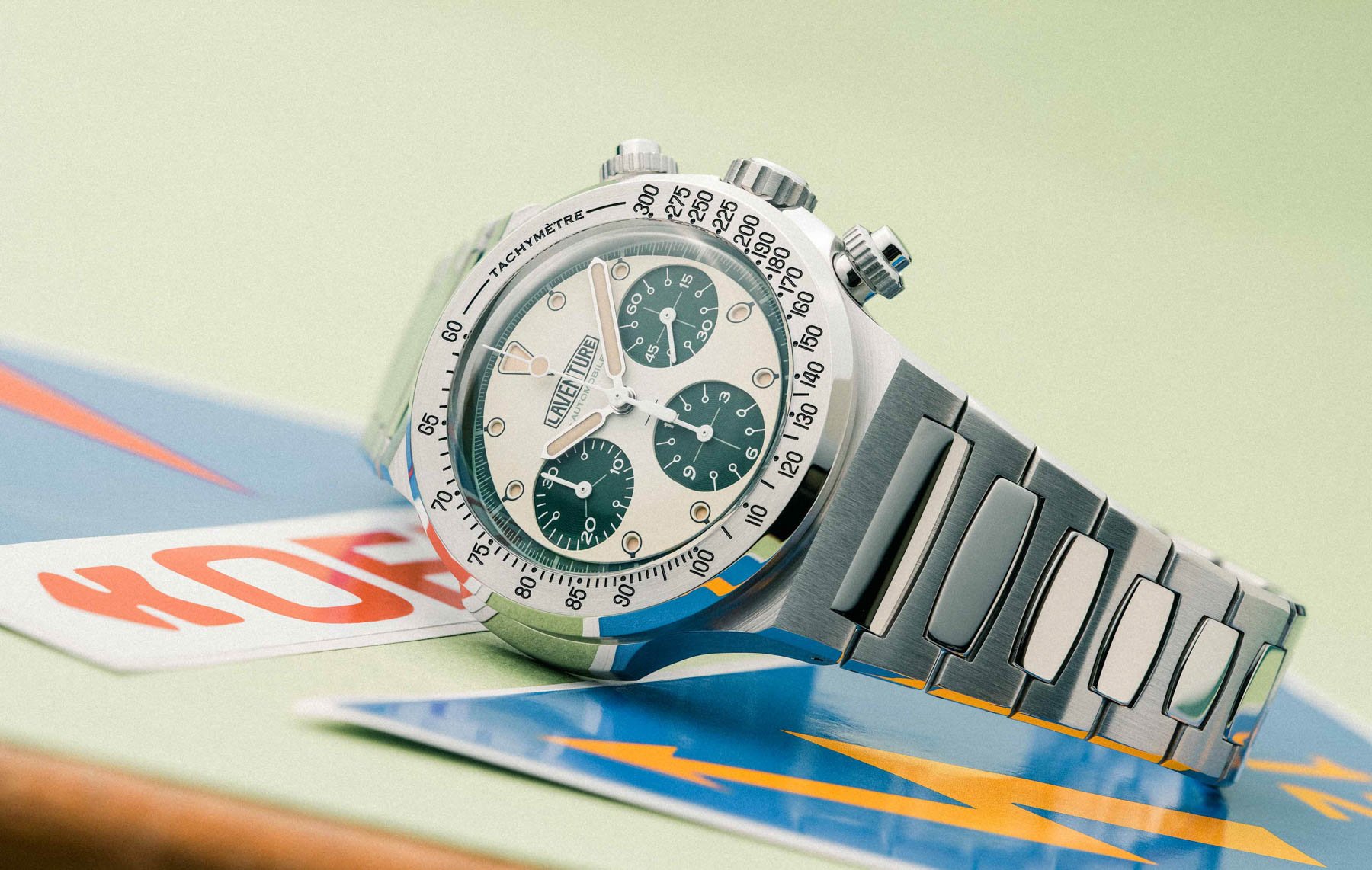 But what would you like to see? Would you prefer a return to affordability so it's easier to can join in with the Laventure adventure? Or would a wild, boundary-pushing, horology-first model that keeps the foot on the gas be more your kind of thing? Let us know in the comments section below and learn more about Laventure by following this link here.