Laventure Sous-Marine Hands-On Dive Watch Review
Dive into the second watch from the up-and-coming Swiss independent
My fondness for the Laventure brand is, by now, probably well-known. I've been an avid supporter of Clément Gaud and his watches since I first stumbled across the Laventure Marine on Kickstarter what feels like an eternity ago (it was actually June 2017). Buying off (mostly) renders as I was then, I had no way of knowing what kind of product I would receive. Would it live up to the lofty expectations its uncommonly high price tag had unavoidably fostered, or would it fall short and be consigned to the ranks of "what if?" As I've expressed ad nauseam, the former bore out. My satisfaction with the green-dialed Marine (I snagged the last one available, ha!) made the decision to buy the next model — the Laventure Sous-Marine — a cinch.
As you can see from the images, I chose the bronze case with the black dial. For Gaud's second release the options expanded to six. The initial brand launch saw three versions of the Marine released. Green, blue, or brown degradé dials with vertical graining were the choices. For the Sous-Marine, the popular green and blue remained, but the brown was replaced with a solid black option. At that point in my collecting career, I was beginning the shift towards darker dials. As such, the black option in the adventurous bronze case (my first) seemed a no-brainer.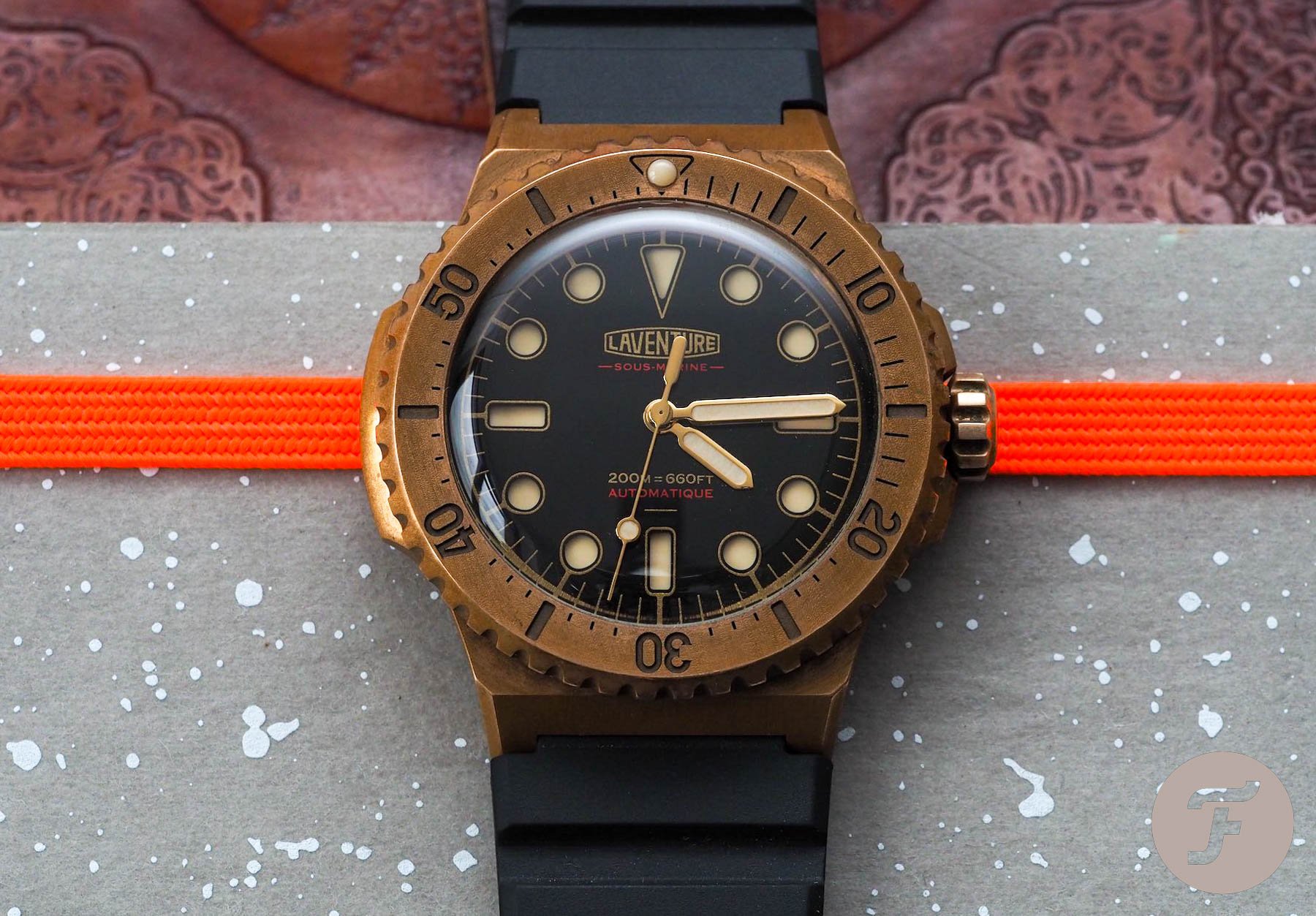 In the minority
I was a little surprised (maybe even a little miffed) that the community didn't agree with me. The green dials with the bronze cases sold out in the blink of an eye. The green in the steel and the blue in the bronze soon followed. I'm told by Clément there was a window of opportunity to pick-up the blue dial in the steel case (something I regret not doing to this day) had I acted faster, but soon they were gone too.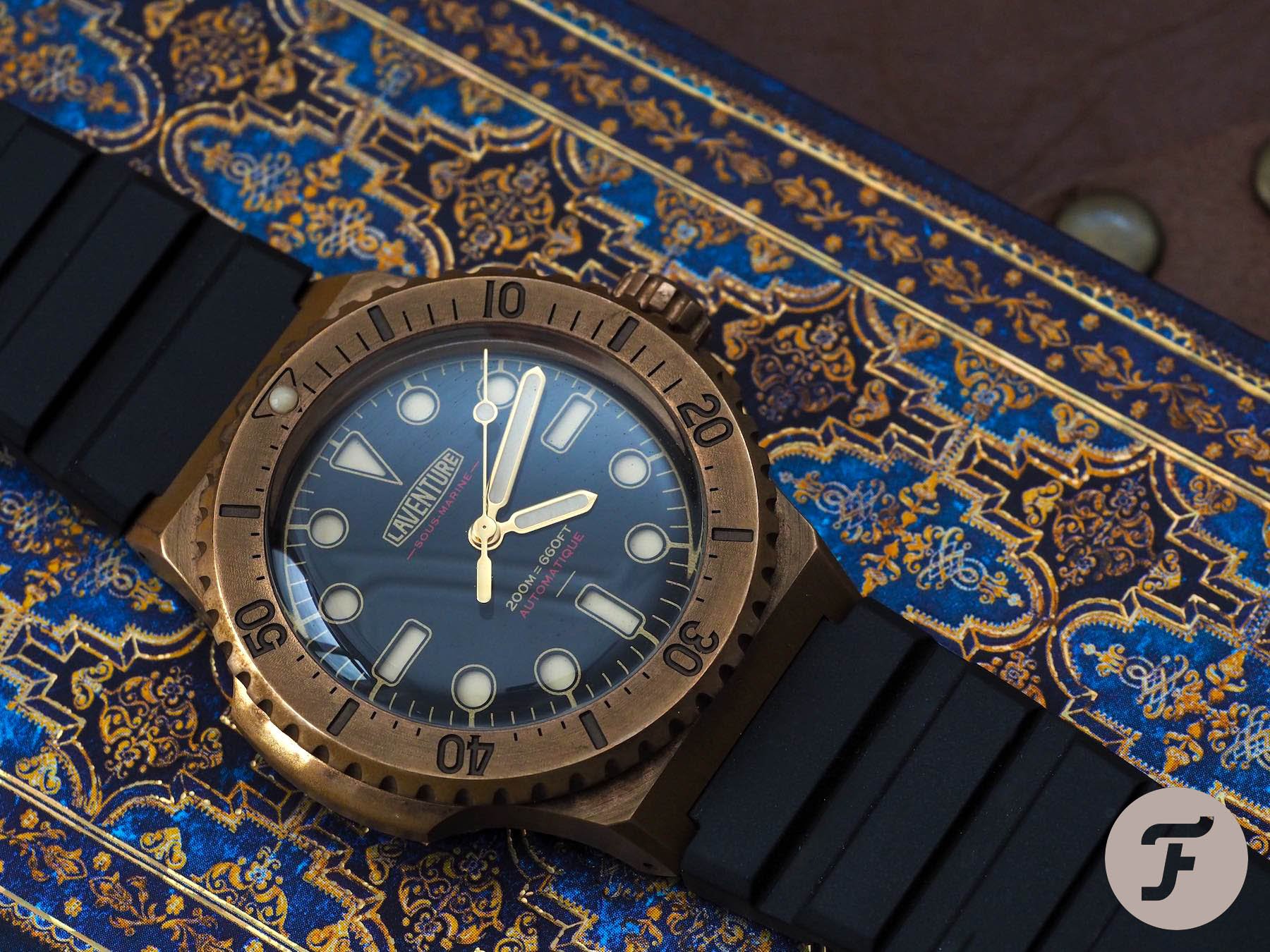 Both black dials sat on the shelf for a few weeks, with ten or so pieces of each refusing to budge. I could certainly see the attraction of the blue and green models (the dials were just so unusual at this price point), but the black one in bronze was, for me, the most cohesive and enduring design (and the most significantly different from the Marine family).
Still, I needn't have worried. Within a couple of months, all six variants (limited to 50 pieces each) were sold out. And it would seem, in doing so, the Laventure family grew to the point that Gaud's next release (the Transatlantique we wrote about here) sold out in about two hours. As I always say: branding gets you the first sale; the product gets you the second.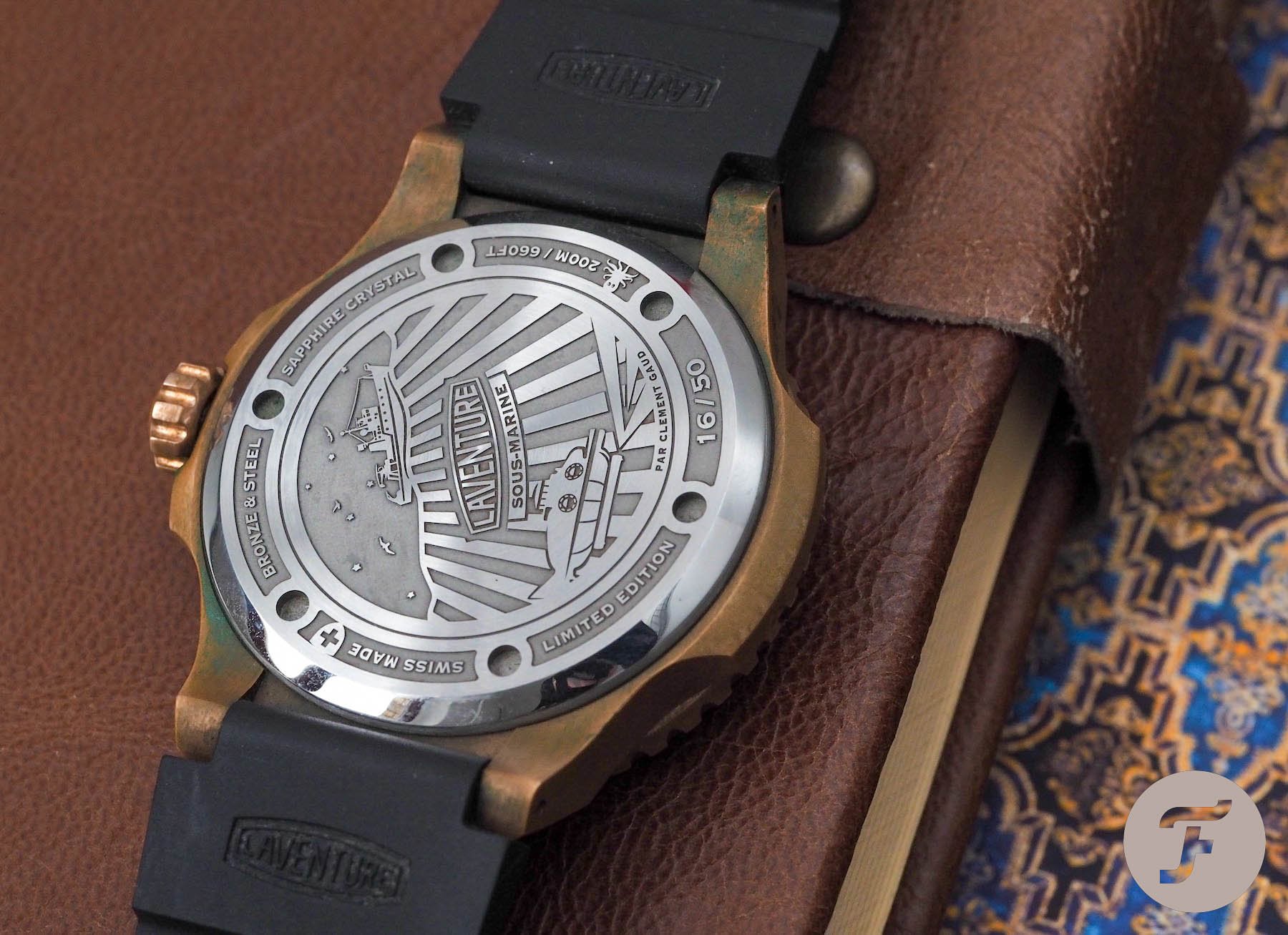 Two criticisms
Since I bought my Laventure Sous-Marine I have not regretted it (or my selection) once. I have proudly shown it to all my watch-loving friends and they all agree with me that it is — front and back — a triumph of design. Before I go down the fan-boy rabbit hole too far, however, I want to say that I do not think this watch "perfect". I have two criticisms. In fact, in both regards, the Marine is the superior watch, but I do think the addition of the uni-directional rotating bezel and the sumptuously engraved case back makes the Sous-Marine an altogether more attractive timepiece.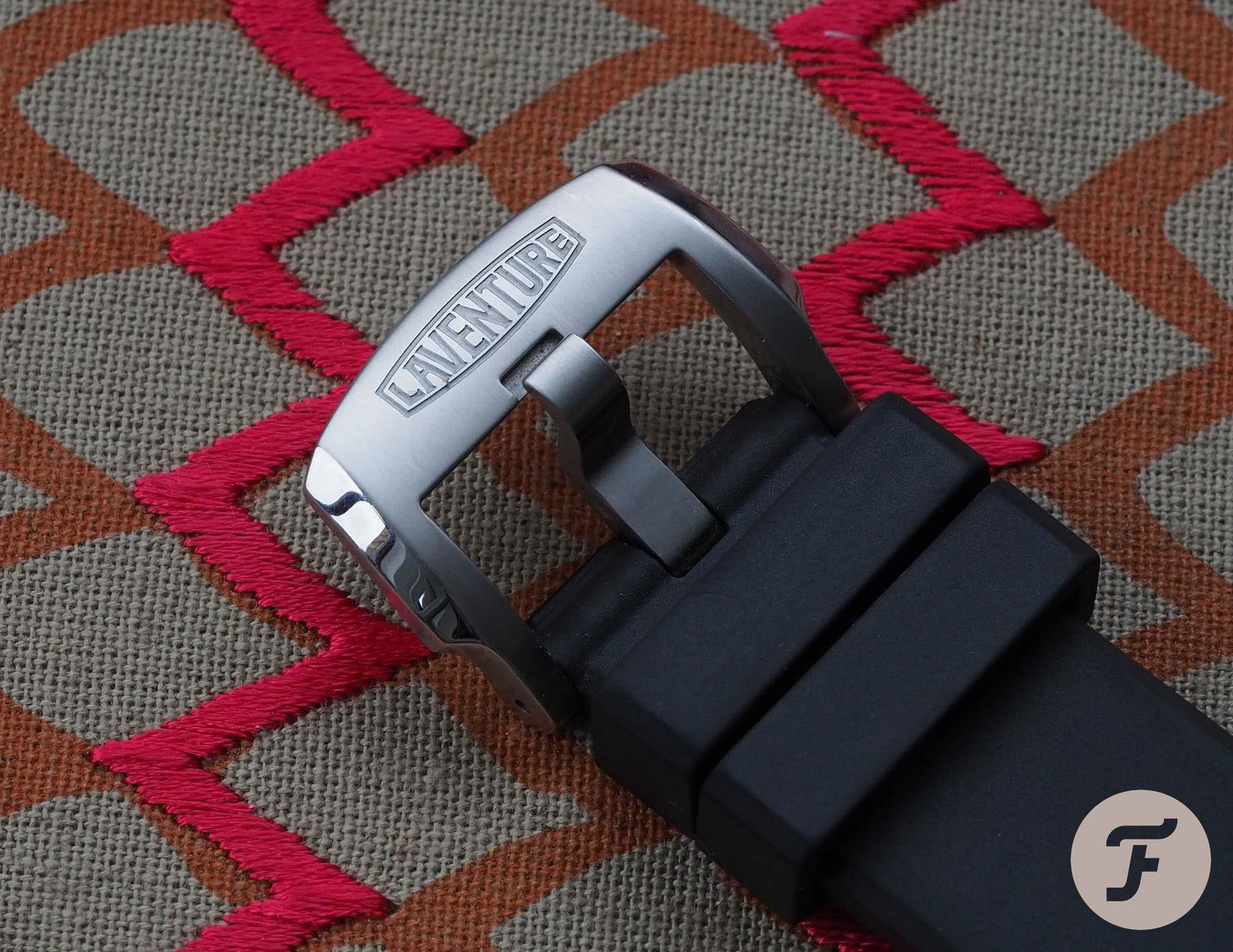 Buckle-up
So what would I change? Although I fully, 100%, entirely support the stainless steel case back for this and all bronze watches, I cannot understand the reluctance of brands to pair bronze cases with bronze buckles. Now, this one is an easy fix. All Laventure needs to do, is to manufacture a bronze buckle and sell it along with its other (amazing) accessories for a hundred euros or so. I would buy it in a heartbeat. I get that the often communicated reason for not having a bronze buckle is because it is handled so frequently it will patina more quickly than the case, but so what? It still looks more at home next to the warm tones of the CuSn8 housing that brilliant white stainless steel.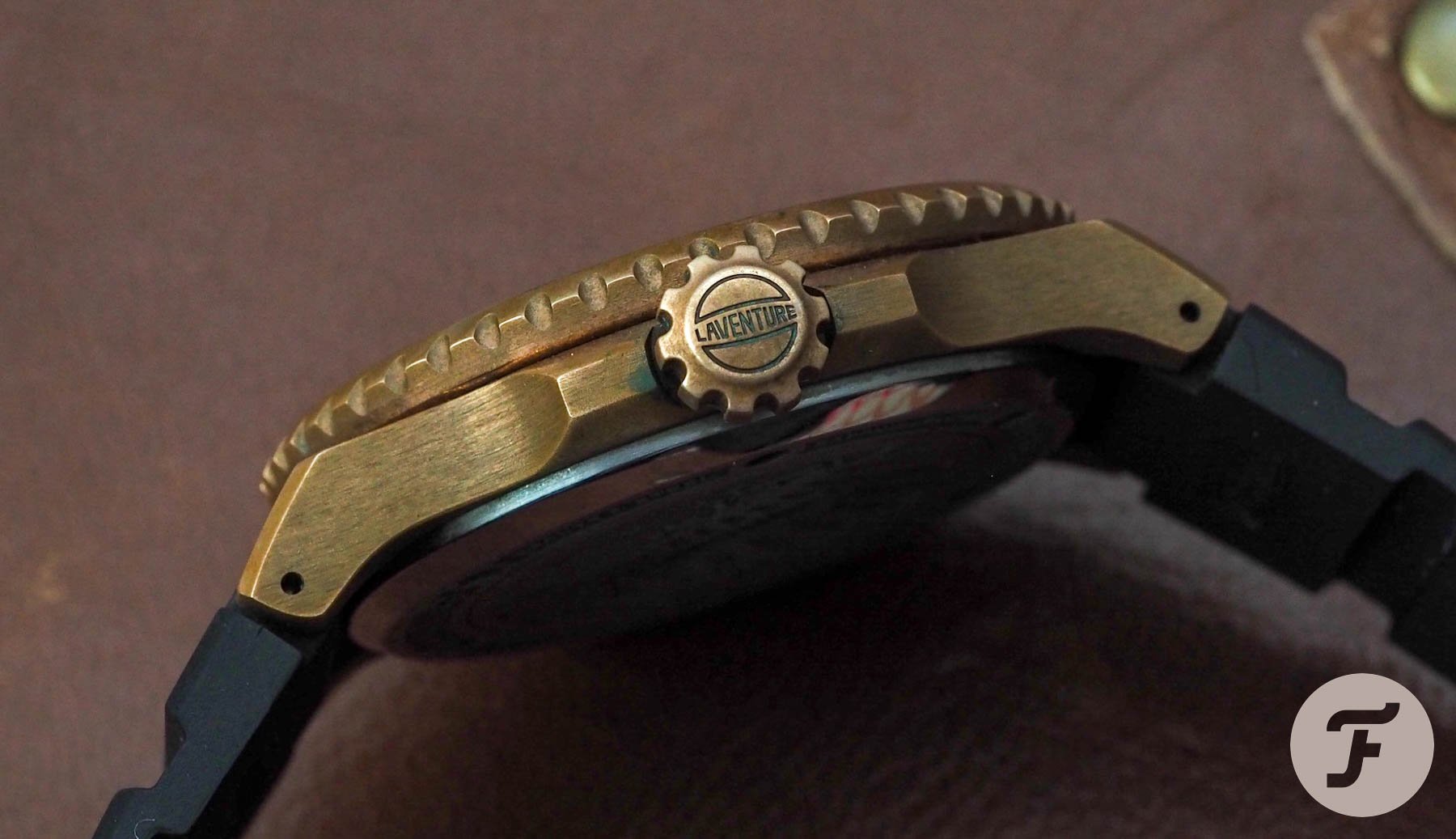 Dating is never easy
The second gripe I have is the dead crown position where a quick change date would be were this a date watch (as the Marine was). I do not need a date. In fact, in a div watch not intended to be used by saturation divers (as this one is not), I actively prefer to have no date. But I also prefer the correct setting lever to be used. That is the kind of area I'm a real stickler for. I'd sooner use a different movement that is appropriate for the watch design than have a non-functional crown position.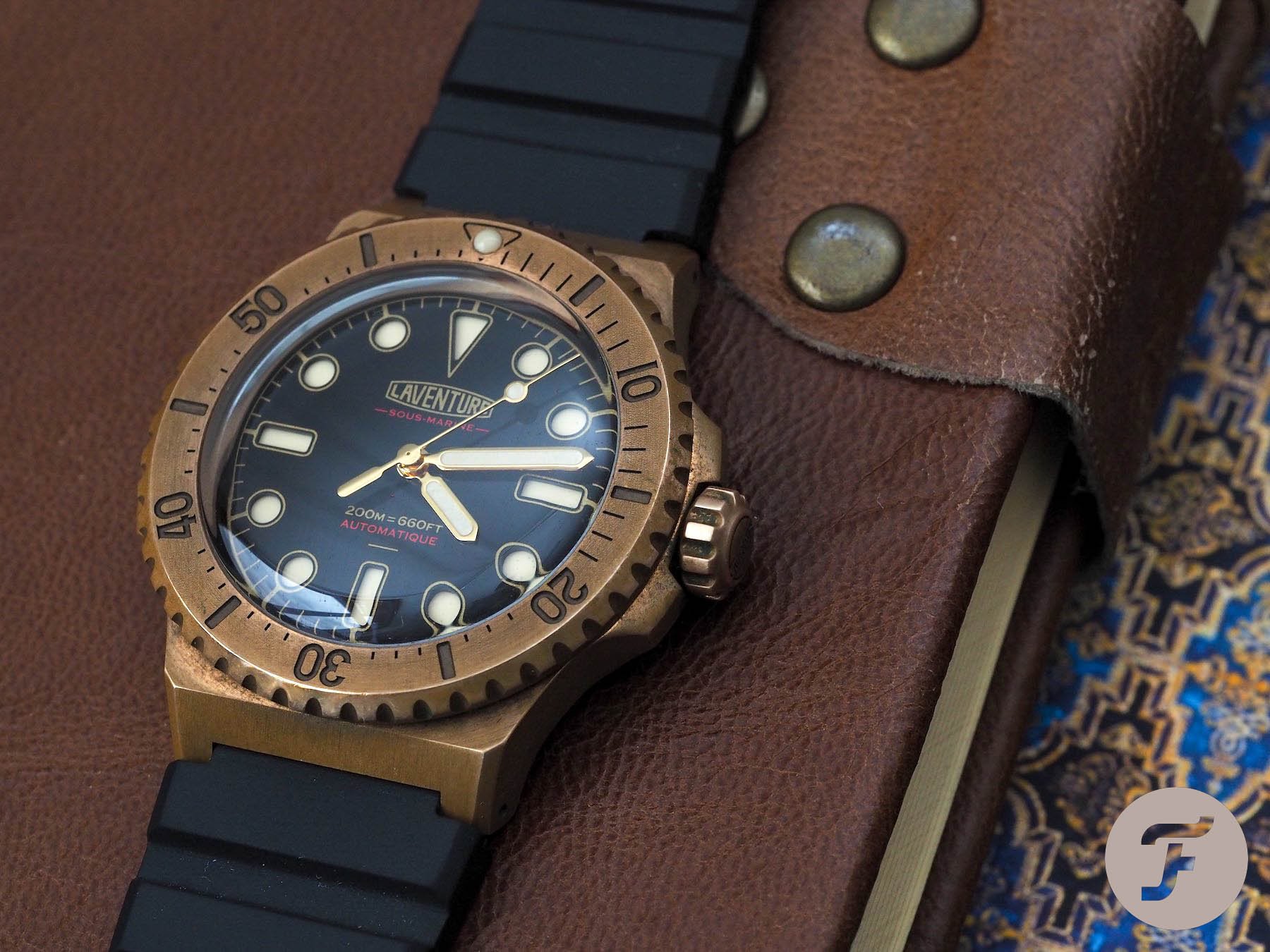 Product quality
The product quality, however, is beyond reproach. The products turned-out by Laventure since its foundation have been, as much as it is possible, flawlessly made. I'm not commenting on the design in this paragraph. Of course, design is subjective. If you hate dive watches, you will likely hate the Sous-Marine. If you hate the Patek Philippe Nautilus, it is unlikely the Marine would catch your eye either. You can say what you like about the aesthetics, but trust me when I say, the way these things are made is truly superb.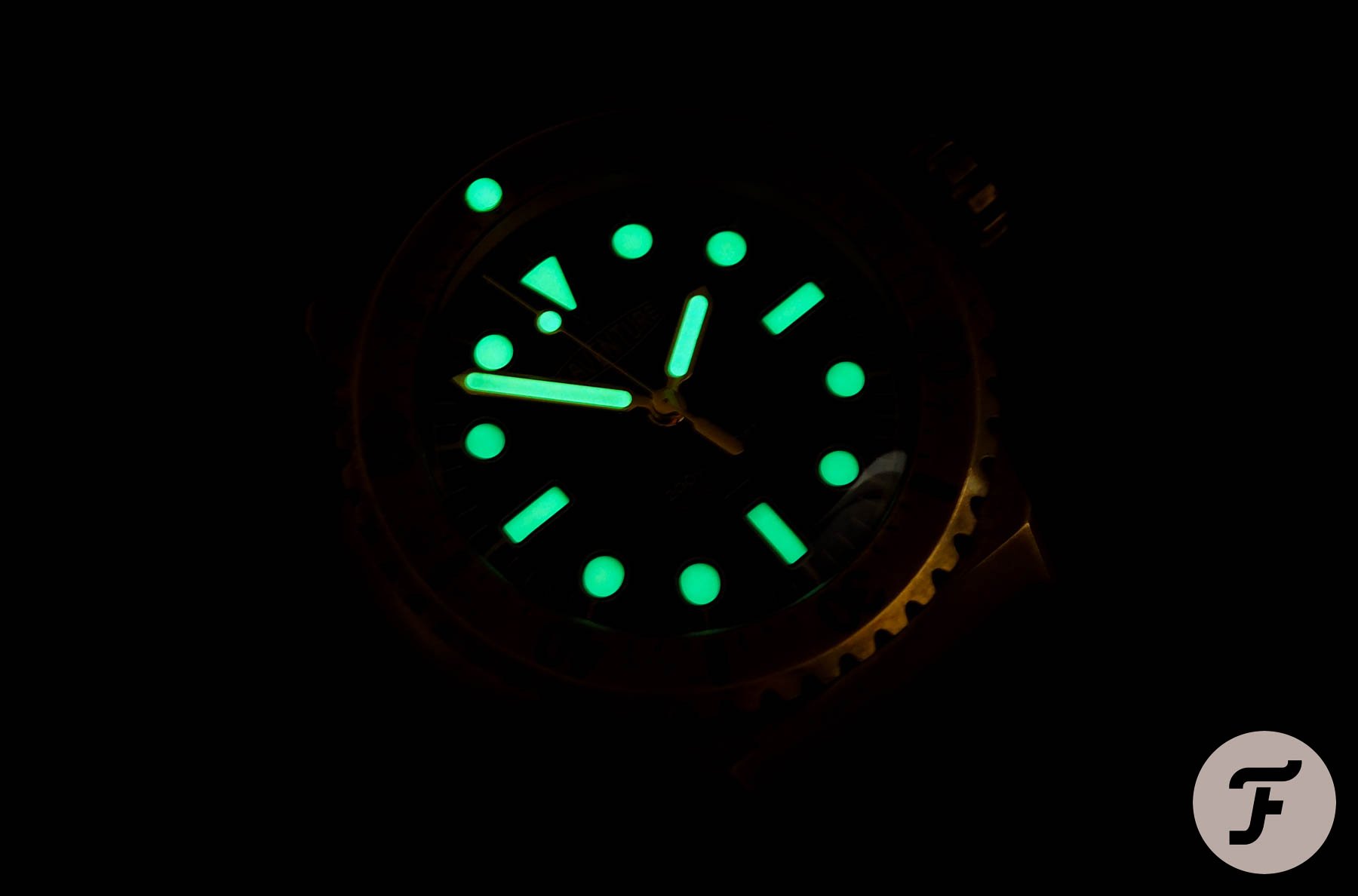 I've taken a lot of heat for sticking by this assertion over the years. A great many watch lovers do not see the "value" in a heritage-less independent that charges around €3,000 for its wares. Clearly, that comes down to one's definition of value. If you believe value and affordability are synonymous, then you would be perfectly correct in pointing out there are many other dive watch options at much lower price points.
I choose the Sous-Marine over an Omega Seamaster 300M…
If, however, you do not believe every dive watch is created equal, the "value proposition" of Laventure becomes a lengthier discussion. Given that I choose the Sous-Marine over an Omega Seamaster 300M (a watch I have worn, disassembled, refinished, serviced, assembled, and sold hundreds of times) should tell you something.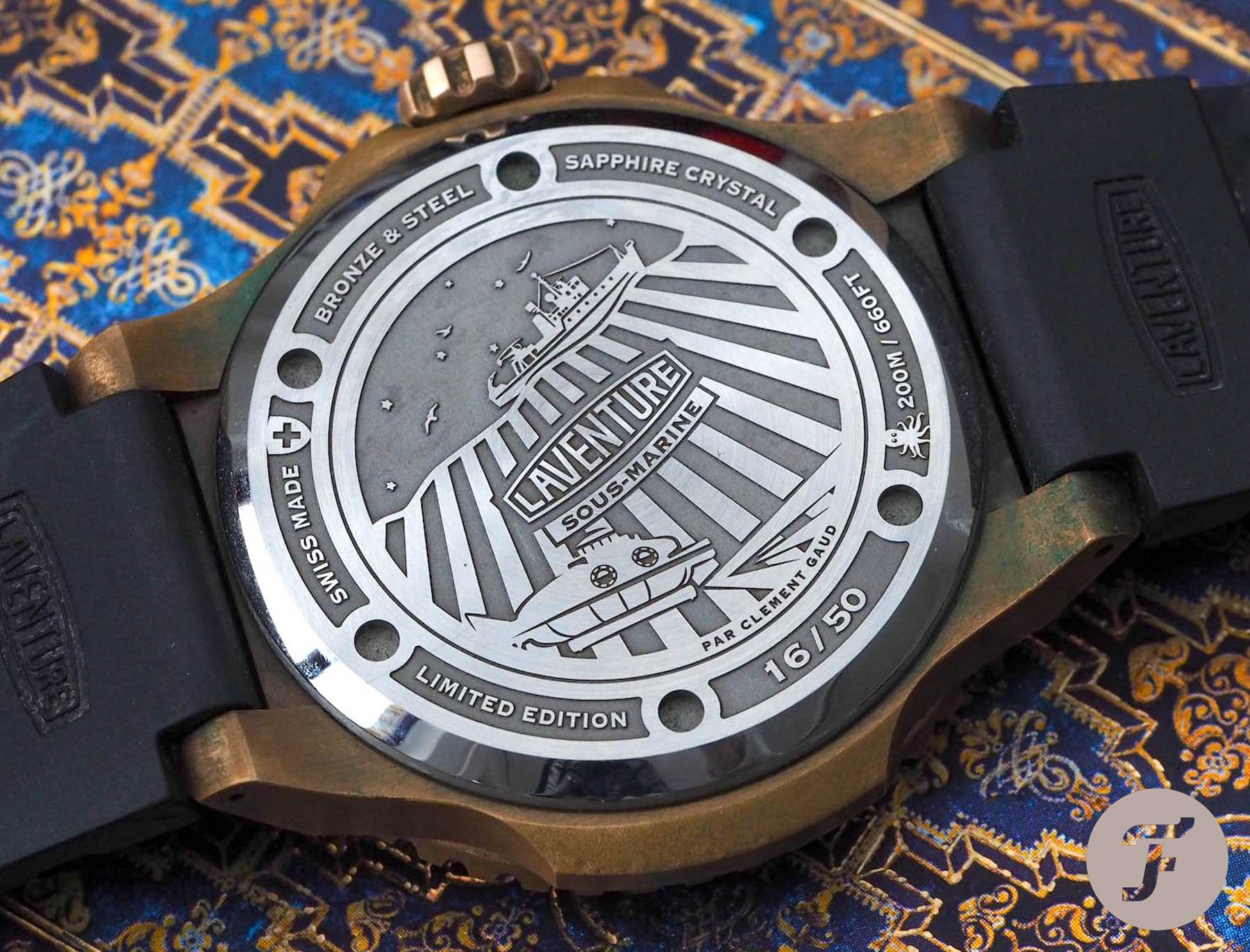 Ambassadors on the wrist
Do I love the Seamaster 300M? Yes, I adore it. I want one in my collection. I just wanted the (strictly limited) Sous-Marine more. Why? Because it was just as well executed and more characterful. It was more distinct. It certainly wasn't as impressive technically (the Seamaster 300M is powered by the stellar co-axial 8800, which is streets ahead of the ETA 2824 used here), but when it came down to deciding which watch would give me more pleasure to look at on my wrist every day, the decision was swift.
A watch of character, of personality, of quality, however, really lasts.
I buy watches to wear. I do not buy watches to flip. Rarely do I consider the value retention or appreciation of a potential purchase. You might think that's silly. If you do, you probably think me mad for spending this kind of money on a no-name micro. That's fine. Based on those beliefs, you have a point. But I look at watches as something that enriches our experience on Earth.
People don't think much about spending the same amount on a holiday. Why? You don't get anything back from a holiday except some dodgy photos, irksome tan lines, and food poisoning (of course, I jest, but you know what I mean). The feeling of sand between your toes is terribly temporary. A watch of character, of personality, of quality, however, really lasts.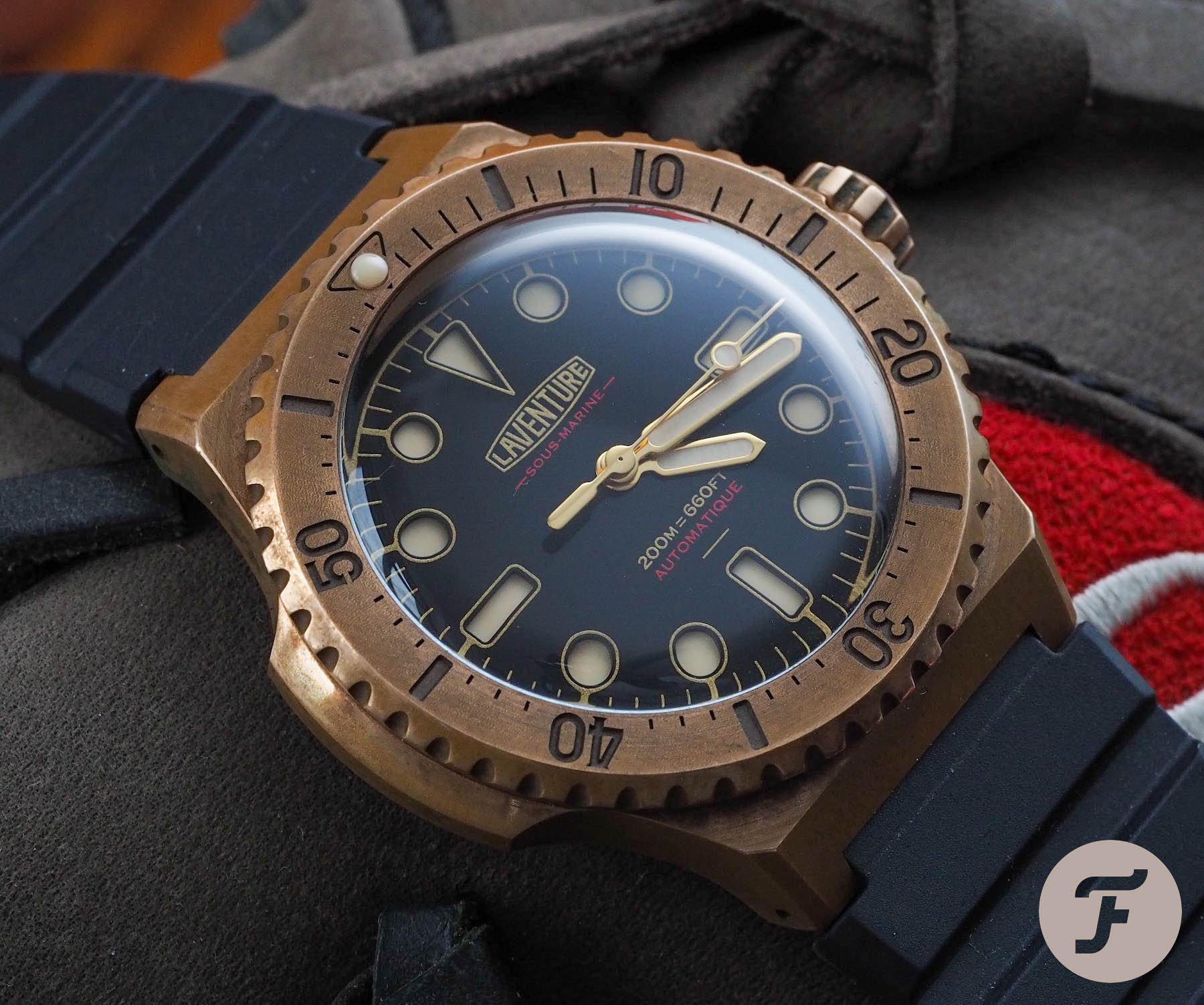 Design wins
For me, perhaps surprisingly given my more technical background as a watchmaker, design is everything. The movement in a dive watch does a job. I need it to do that job well. Beyond that, I don't pay it much mind. What I do care about, however, are the aesthetics of a tool designed to be used and read in all manner of conditions.
It is 41mm of pure harmony.
I was keen to test out the Sous-Marine (water-resistant to 200m) in saltwater, so went snorkeling with it the first chance I got. It performed really, really well, and although there was no need for the lume at those depths, it passed every test I could throw at it.
The comfort of the FKM rubber strap is unrivaled in my collection, and the balance of the watch on the wrist is superb. What I enjoy most, however, is how well this design works with the bronze case. It is 41mm of pure harmony. If Laventure continues on its current trajectory one can only imagine the kind of future that lies in store. I'm looking forward to being part of it. Learn more about Laventure here.
Watch specifications
Case Material
CuSn8 Bronze
Case Dimensions
41mm wide, 10.2mm thick without glass (12mm thick including crystal), 48mm lug-to-lug
Crystal
Domed sapphire type "Superdome" internal anti-reflective coating
Case Back
Closed and laser engraved with ship and submarine motif
Movement
ETA 2824-2, top grade
Functions
Time and 120-click unidirectional bezel
Special Note(s)
Rubber strap can be cut to fit. DO NOT cut too soon. Always wear the watch for a few days on a setting you might think is a little big for you to see how your wrist expands and contracts due to temperature. I cut mine too soon and had to get a second strap as a result.