The Watch I Will Take On My Summer Holiday — Lex's Casio G-Shock GW-M5610NV-2F "Military Navy"
Travel light, travel easy, travel casual
What do I like to do during my summer holidays? Well, first and foremost, I like to travel light, and after that, take it easy and keep it casual. And that's why the watch I will take on my summer holiday is the Casio G-Shock GW-M5610NV-2F "Military Navy". Yes, you read that correctly. I will take one watch, not multiple watches. My rugged all-rounder in a classy shade of navy blue satisfies all my vacation needs.
In December of last year, I talked to Rob in a video about purchasing my blue G-Shock GW-M5610NV-2F "Military Navy" in Tokyo back in 2016. I told the story about it being a JDM (Japanese Domestic Market) model and all that. I won't repeat that here. But I can't emphasize enough that even after nearly six years of use, my blue "square" still feels fresh and fine. It didn't cost me the world — I can't remember what it cost me in yen, but it must have been something around €130 — but my square traveled on my wrist to quite a few places on different continents and never failed me.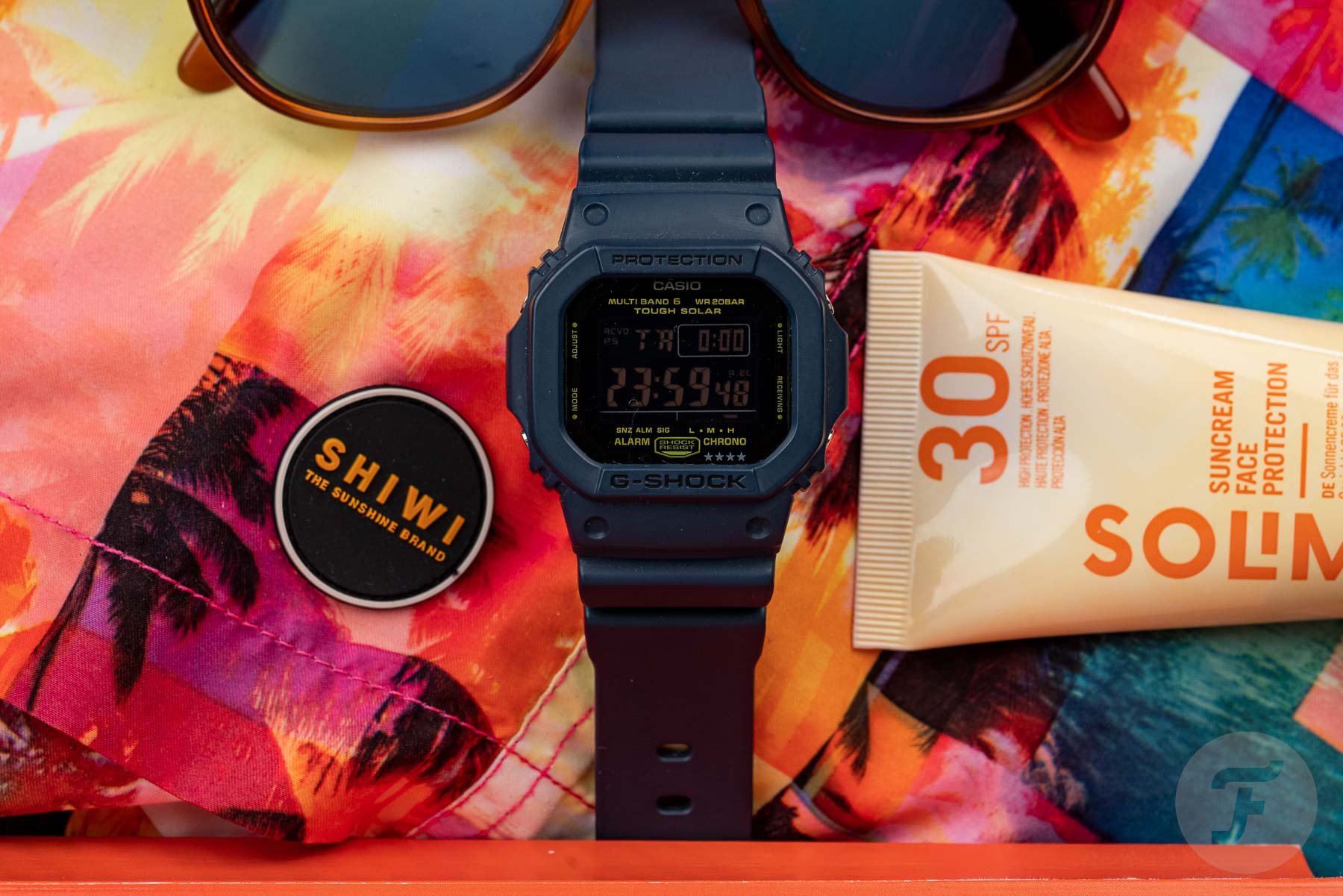 Casio G-Shock GW-M5610NV-2F "Military Navy" for my summer holiday
The great thing about my blue square is that it's a wear-and-forget kind of watch. You can strap it on before your morning coffee and take it off when you fall asleep, and in between, it won't break a sweat. It will be fine in the sea, on the beach, on a terrace, playing volleyball, on a bike, in a restaurant, on a hike, and in a bar. That's because the 43.2 × 12.7 × 46.7mm polymer case can take a beating, and its rectangular shape is also remarkable enough to get noticed. I'm not going to say it has the charisma of a Cartier Santos — you understand why I bring up this particular watch, right? — but it does have an attractive combination of looks and character.
In other words, it adapts to a wide range of situations. Part of its versatility also lies in the sophisticated navy blue color. It's not too dark and not too light, just a perfect shade of blue.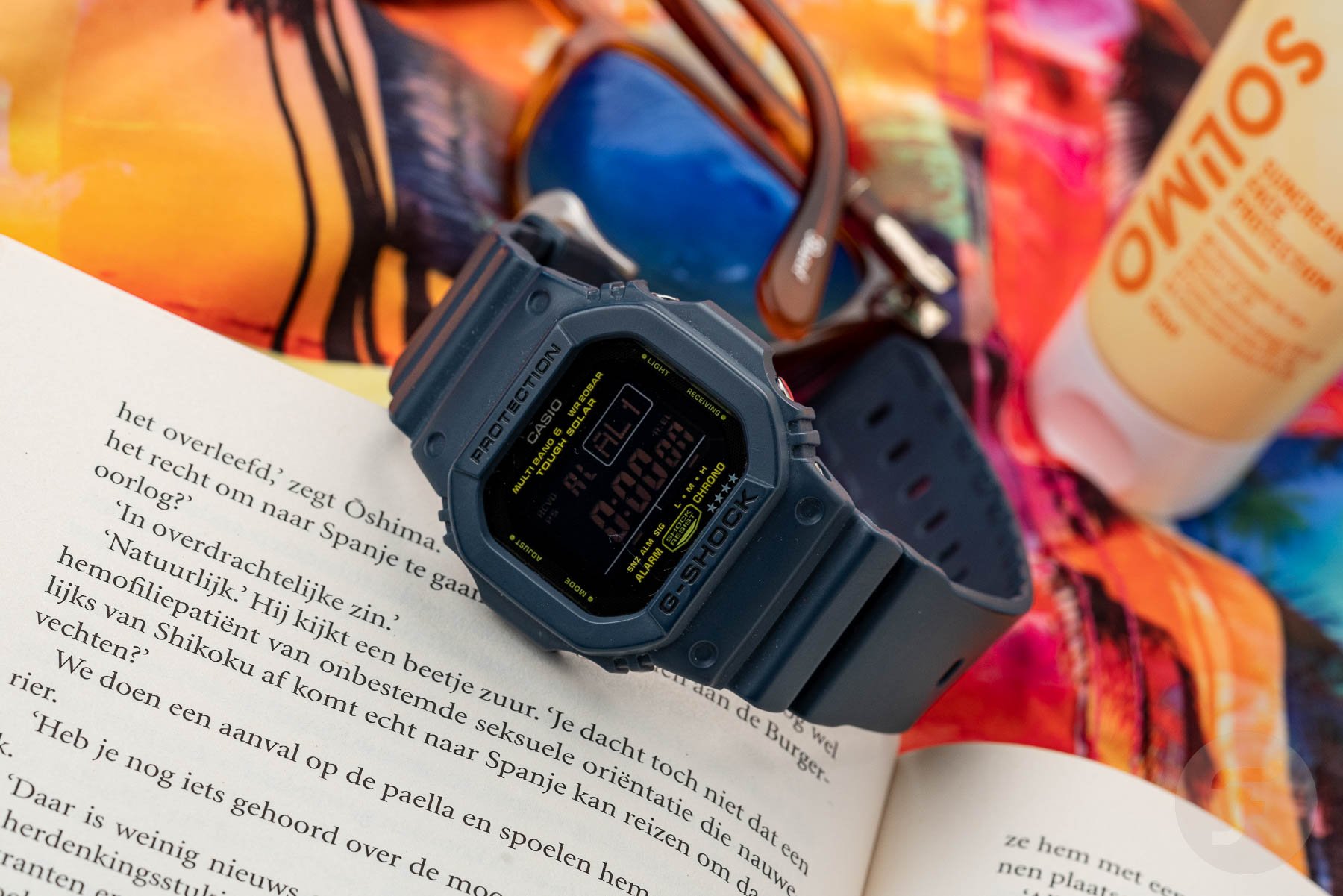 I'm on holiday, remember?
I said I will take it swimming, and of course, that's no problem because the 51.7g GW-M5610NV-2F is water resistant to 200 meters. And because it's lightweight and the polymer strap is surprisingly comfortable, it functions as the perfect summer watch. A little sweat is no match for it and is easily wiped off. And then there are other functions as well, like 48 time zones, a chronograph, a countdown timer, and an alarm. But I won't be using any of these functions. I'm on holiday, remember?
Not that easy to read and therefore perfect
There are, of course, other functions that I will use. My beloved blue square has an incredibly handy backlight for when I need to know if it's already time for the last round. What I also like is that my navy blue 5610 has a negative LCD display behind a strong mineral glass. Unlike the positive or lighter display, the dark version in my square is not very easy to read. However, that is perfect during a time of the year when keeping track of time is pretty far from being a priority. If you want to relax and detach from your worries, get a watch that doesn't scream the time in your face. Instead, get one that takes a bit of effort, and you will find that a couple of days into your vacay, you can't be bothered anymore.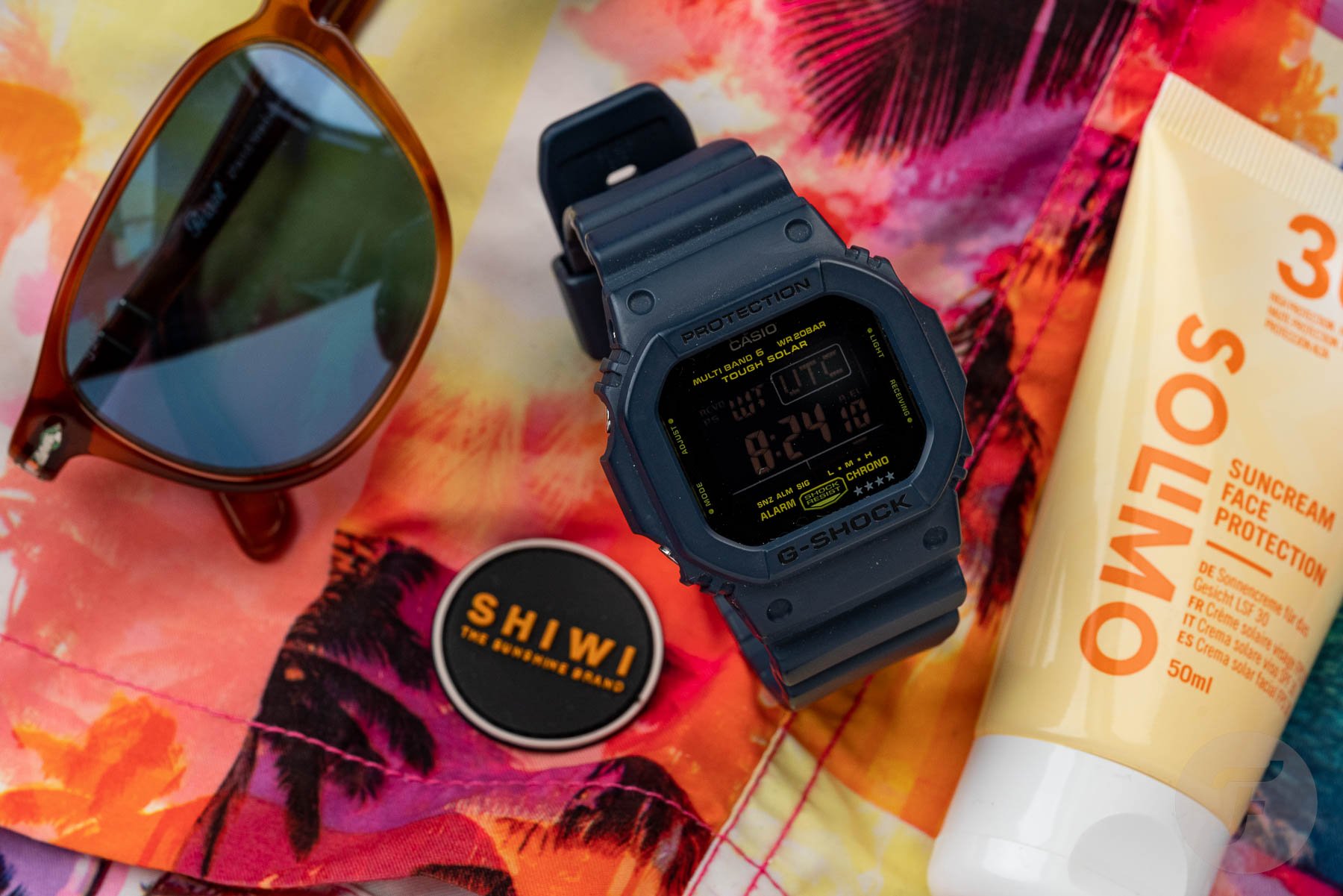 The power of the Sun
But if you persist, the timing is spot on in the case of my "Military Navy" JDM square. That's because of the Tough Solar caliber outfitted with Radio Multiband 6. Connected, accurate time wherever you are, and no batteries needed. A summer watch powered by the Sun — how appropriate. I think my Casio G-Shock GW-M5610NV-2F "Military Navy" is just perfect. It will do its job of making me forget the time perfectly. And since it's so tough, I don't have to worry about what's on my wrist. A timeless, worry-free holiday is all I need.
Tell me your idea of a perfect summer holiday watch. Will you also pack light and fly solo, or will you take several pieces along? Let me know in the comments, and have a great vacation.
Find and follow me at Lex Stolk • Instagram