Monday Morning Limited Editions By Oris, Chopard, Armin Strom × Horomariobro, And Hublot
Celebrating the sharp eye of the "King of Macro," the crystal-clear sound of sapphire, and the power of gold while wearing the Oris Divers Sixty-Five Fratello Limited Edition
Which of today's three new limited-edition watches is the rarest? The transparent blue Chopard L.U.C Full Strike Sapphire is a limited edition of just five pieces. Twice as many Armin Strom Pure Resonance Ultimate Sapphire × Horomariobro watches will be made. And these very limited numbers make the Hublot Big Bang Unico Full Magic Gold almost look like a regular-series model with its 200-piece production run. To align with the three novelties highlighted today, I'm wearing the Oris Divers Sixty-Five Fratello Limited Edition.
As you might know, I'm quite fond of my Oris × Momotaro Divers Sixty-Five, but I didn't pay that much attention to the Divers Sixty-Five Fratello LE. That was for two reasons, the first of which was self-protection. I didn't want to like it too much because I was scraping funds together for another watch. The second reason was that the looks of the watch were a bit too vanilla for me. But with my 2023 watch budget fully spent, I felt it safe to give the Divers Sixty-Five Fratello Limited Edition a second chance. It matches the limited-edition watches in this write-up quite nicely, too.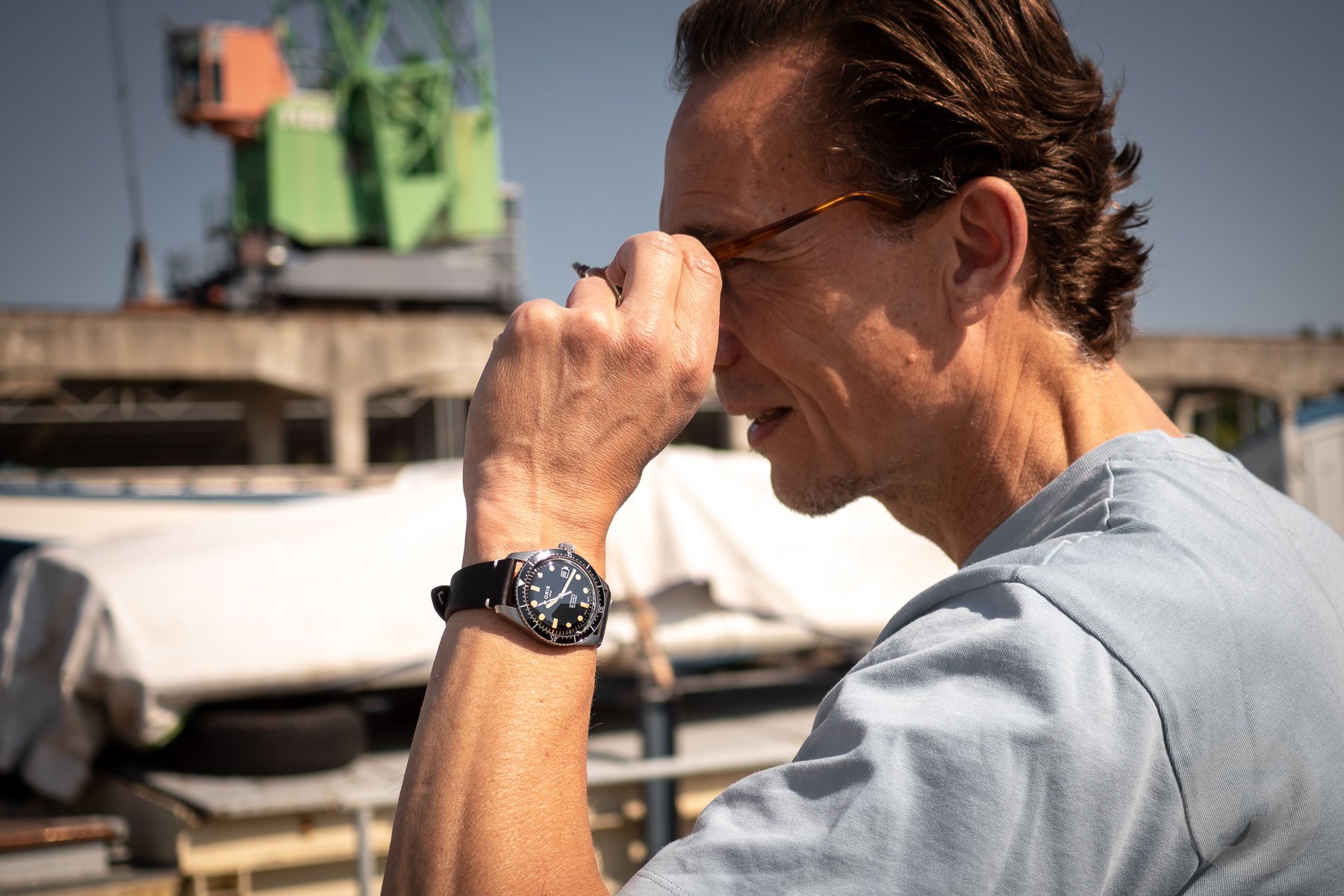 Oris Divers Sixty-Five Fratello Limited Edition
The second watch we did with Oris is a tribute to the Star dive watch from 1968. That year has a special meaning to me, but I'm not going to tell you why. As I wrote in the previous paragraph, I kept my distance from the Divers Sixty-Five Fratello LE (€1,900 excluding VAT). But because we have a few left in our shop, the watch caught my eye and ended up on my wrist. And I have to admit that its understated appearance looks surprisingly nice.
The sunny weather and the watch are a match made in heaven. This is a perfect vacation watch. At 40 × 13mm, it's neither too big for daily wear nor too loud for a restaurant visit. And with a 100m depth rating, it isn't so fancy or flimsy that you need to take off before a dive in the waves. Sure, the calfskin strap is not ideal for wet conditions, but the quick-release spring bars make swapping to the included black tropic strap a 10-second chore.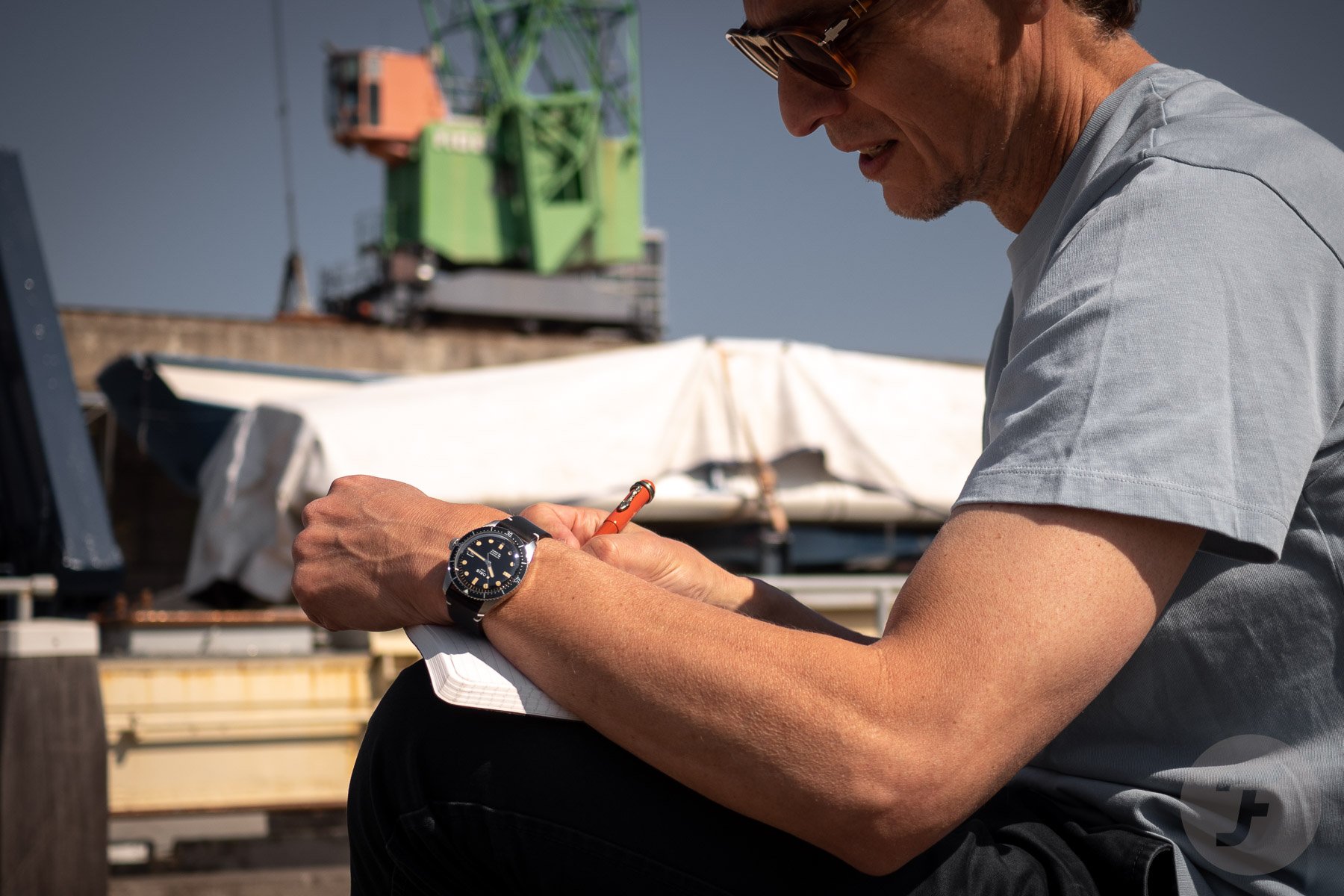 The objections I have to faux patina — there's quite a bit of beige lume on the dial — abate as the temperature rises and my tan gets darker. It's been nice to see how a second impression could change my mind when love at first sight didn't happen. But if I were to buy the Divers Sixty-Five Fratello LE, would that be the beginning of a beautiful love affair or a friendship? I'm not really sure how to answer that question. Yes, I'm a self-proclaimed watch romantic, but I also value friendship. While pondering the question, I will just enjoy my Oris × Momotaro and find a matching tropic strap in our shop.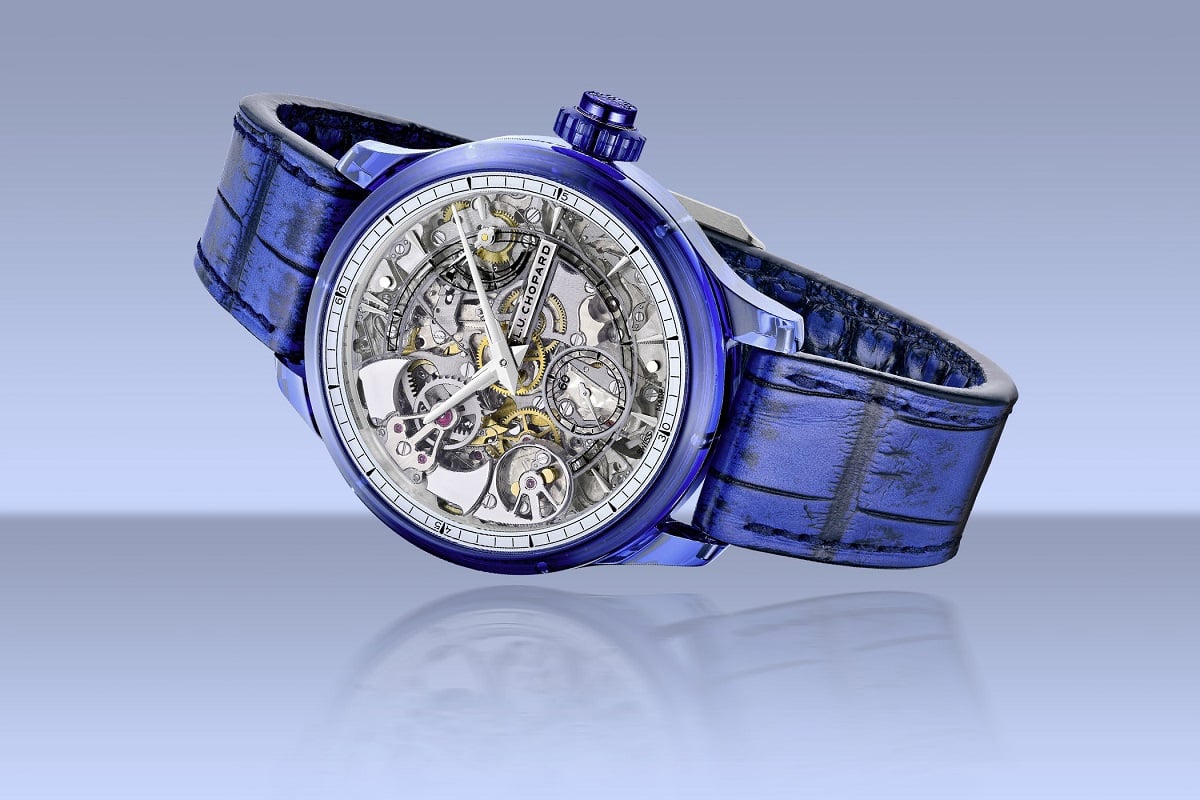 Monday-morning limited-edition watches: Chopard L.U.C Full Strike Sapphire
Can something be discrete and striking at the same time? A minute repeater can manage it. The queen of complications can be hidden away in a relatively simple-looking watch, only revealing its mesmerizing technical features by chiming the time softly, clearly, and discretely. The Chopard L.U.C Full Strike Sapphire is not like that. This "queen" is dressed in a striking blue "dress" that won't go unnoticed wherever it goes.
The 42.5 × 11.55mm case of the L.U.C Full Strike Sapphire is executed in transparent blue sapphire crystal, including the bezel, crown, middle case, and case back. These take on this color because the sapphire contains small doses of chromium and other rare-earth elements that Chopard wishes to keep secret. Inside the watch beats the L.U.C 08.01-L, a chronometer-certified, Geneva Seal-bearing caliber with — you guessed it — gongs made of sapphire. If you drink your claret from crystal glasses, you know the musical sound that these glasses make. Well, the full-sapphire construction of this exclusive Chopard creates a rich, musical sound when the time chimes.
The price of the L.U.C Full Strike Sapphire is on request, but if you want to know more, you can visit Chopard's official website.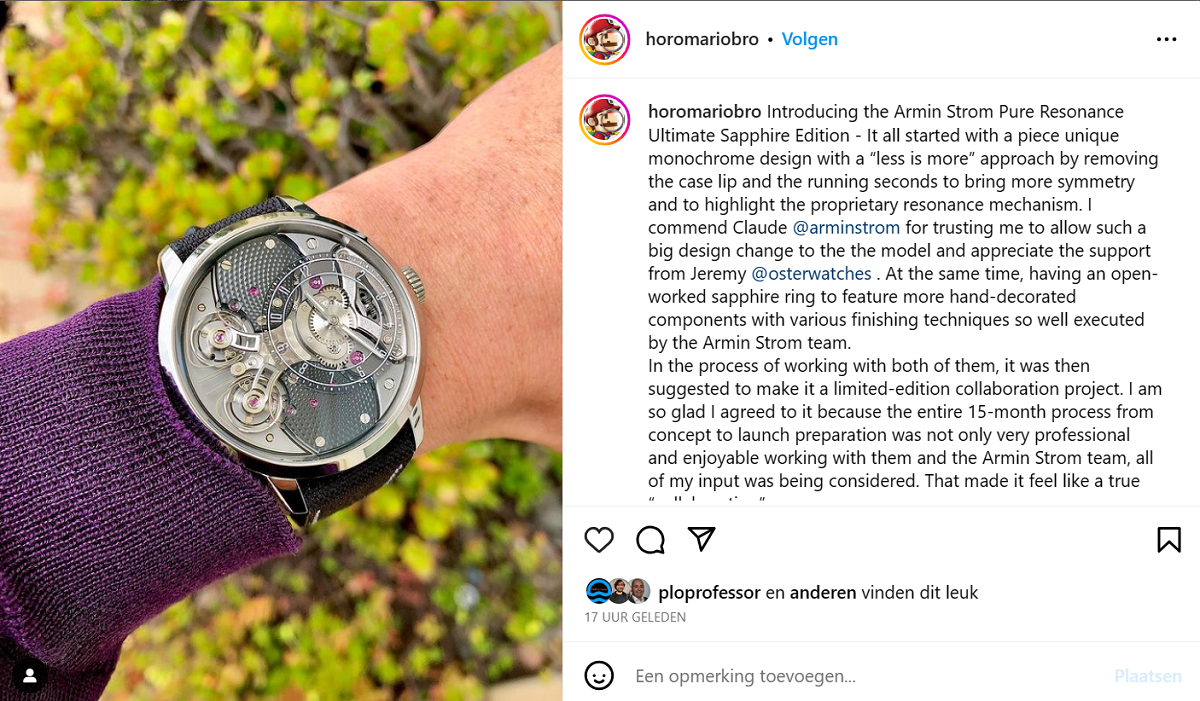 Armin Strom Pure Resonance Ultimate Sapphire × Horomariobro
When independent watch brand Armin Strom and the unofficial "King of Macro photography" @horomariobro team up, a special version of the Pure Resonance Ultimate Sapphire is the result. Anyone interested in watch photography probably follows @horomariobro on Instagram. Not just a photographer but also a watch collector, he approached Armin Strom to create a unique timepiece.
The result is the Pure Resonance Ultimate Sapphire, a watch with a sapphire dial, a striking symmetrical design, and exquisite hand-finished decorations. Intended as a unique piece, the two parties thought the result was so good that it would be a waste to not share the goodness. So ten pieces will be made to go on sale exclusively at Oster Jewelers in Denver, USA, the retailer who also played a role in the realization of the watch.
The Armin Strom Pure Resonance Ultimate Sapphire × Horomariobro has a price of US$59,000. That buys you a steel 42 × 13mm watch with an Armin Strom manufacture movement that displays hours and minutes. The 213-part caliber ARF16 has two independent regulation systems connected by a patented resonance clutch spring. The caliber also has two mainspring barrels, providing a 48-hour power reserve.
For your viewing pleasure, the baseplate and bridges are decorated to the highest level. The gray metallic sapphire dial ring matches the black fabric strap with light gray stitching perfectly, making the Armin Strom Pure Resonance Ultimate Sapphire × Horomariobro a very tasteful and balanced composition.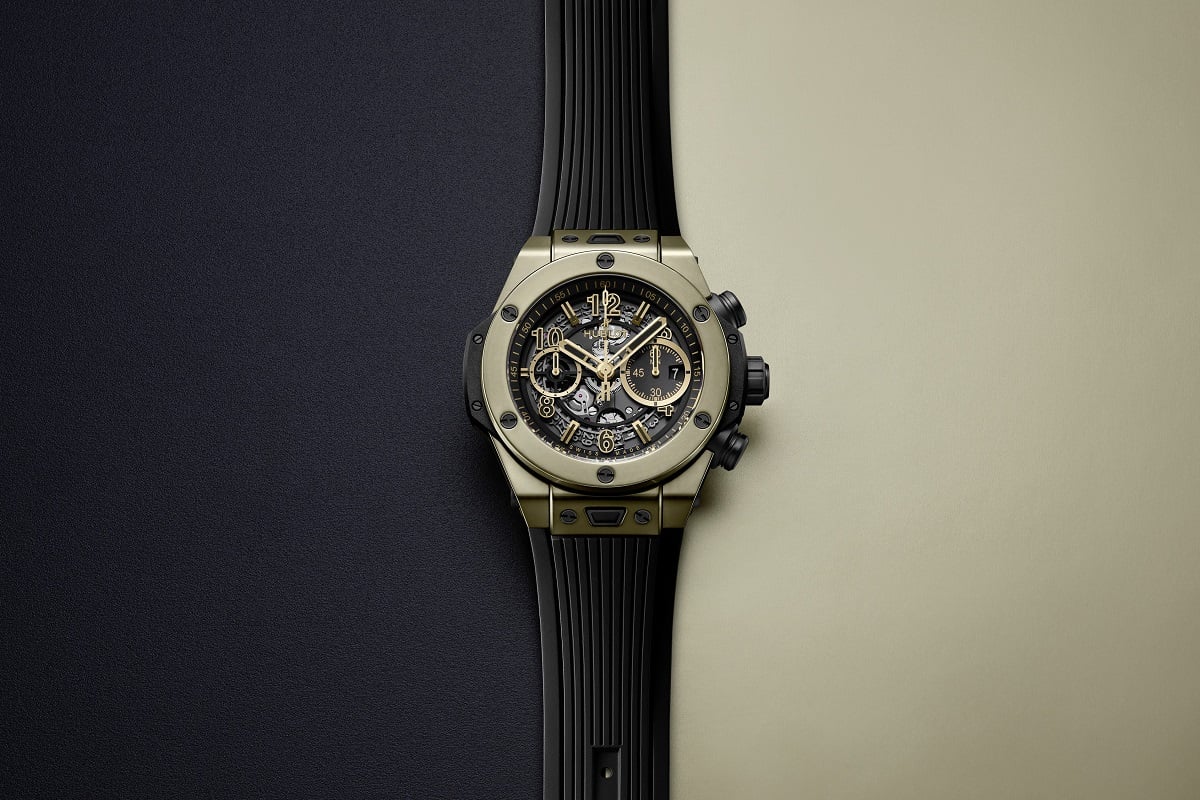 Hublot Big Bang Unico Full Magic Gold
I don't believe in magic; I trust science. Still, the name Scientific Gold is not nearly as intriguing as Magic Gold, so I understand why Hublot went with the latter. But the fact remains that the "magic" behind this gold is science. I was at the manufacture when it was revealed to the world in 2012 and remember being seriously impressed. Earlier this year, I was back in Nyon at the Hublot manufacture, and when the in-house scientist/alchemist explained the process to the visitors, I was impressed once again.
Hublot managed to create real gold with the hardness of ceramic. How? The simplest explanation is this: Hublot first makes a pre-shaped case out of ceramic, a material with very tiny pores. After that, Hublot fills the pores with gold under extremely high temperatures and pressure, and voilà — Magic Gold! Standard 18K gold has a hardness of 140 on the Vickers scale. Magic Gold, on the other hand, scores way higher at almost 1,000 on the Vickers scale. That means a watch in Magic Gold will not scratch and, therefore, will keep its shine and luster.
It all started with the Big Bang Chrono Magic Gold in 2012, and now there are 200 watches to celebrate not only the creation of an extraordinary gold alloy but also the in-house chronograph Unico caliber. The Big Bang Unico Full Magic Gold (€40,600 / US$38,800) has a 44mm case and bezel in Magic Gold. Another subtle shade of gold — 3N gold this time — shows on the satin-finished and micro-blasted indices, chronograph counters, and hands. You also get titanium pushers, guards, and screws. The rubber strap in black provides a stark contrast with the gold elements and that easy-to-spot Hublot look.
The Big Bang Unico Full Magic Gold 44mm is an online exclusive. You can find out more on the official Hublot website.
Which of today's limited-edition watches tickles your fancy the most? Let us know in the comments section below.