How The Oris Divers Sixty-Five Fratello Limited Edition Came To Life
A peek inside the development process of our latest collaboration
After the announcement of our second collaboration with Oris last week, the watch went live for sale this past Tuesday. I am so happy to see so many great responses to this special edition of the Divers Sixty-Five. Some of you asked us to give some more insight into how this watch came to life and the steps that needed to be taken during the design process.
Oris is a great brand, and we were incredibly happy with the collaboration on the Big Crown Pilot watch in bronze that we did in 2020. But to do a second collaboration, there needs to be a solid foundation or reason to do so. And for that, we need to leap back in time.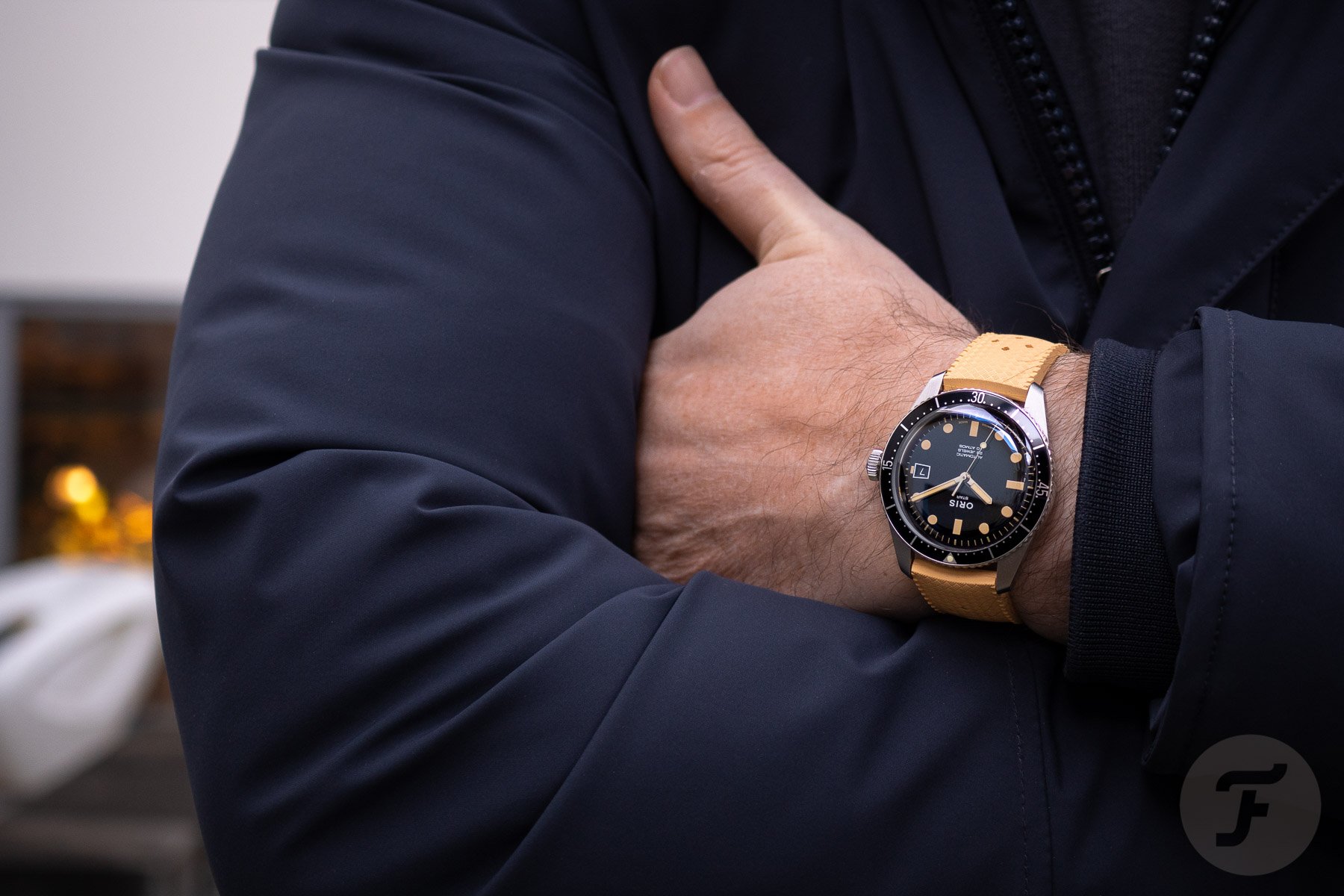 The 2015 resurrection of the Oris "Waterproof"
When Oris introduced the Divers Sixty-Five in 2015, we were incredibly excited. But what many people didn't (and still don't) know is that the Oris brand manager for the Netherlands influenced the resurrection of that watch. He is an Oris collector and often also curates watches for the little (non-public) Oris museum in Hölstein, Switzerland. One of these watches was an original 1965 dive watch from Oris, which we now know as the Divers Sixty-Five. The original 1965 model was an Oris "Waterproof" with a 17-jewel movement. This watch was the inspiration for the Divers Sixty-Five collection that Oris introduced in 2015. Since then, the brand has released numerous variations.
How this Divers Sixty-Five came to life
In 2021, our vintage specialist and writer Tomas Rosputinsky found a beautiful Oris Star from 1968, an iteration of the 1965 "Waterproof" diver's watch. As I explained here, the Star designation indicated the use of a Swiss lever escapement instead of a pin-pallet (or pin-lever) escapement. Oris had spent years fighting to repeal a Swiss law that had prevented the upgrade from happening sooner, so it was a big step forward for the company at the time. Also, you will find that instead of chromed cases, Oris started to use stainless steel cases at that time. It was this Oris Star dive watch that Tomas covered in this article right after he got it. Tomas also purchased the new Oris Divers Sixty-Five Fratello Limited Edition, and he loves it. It's a nice modern addition to his (mainly) vintage collection of watches.
Then, at some point, the Oris brand manager for the Netherlands was visiting the Fratello office and told us that he loved the Oris Star a lot. Yes, the same one that Tomas covered on our site. During the discussion, we thought this might be a very neat version to reproduce, not only because of the Star designation but also because of some design features.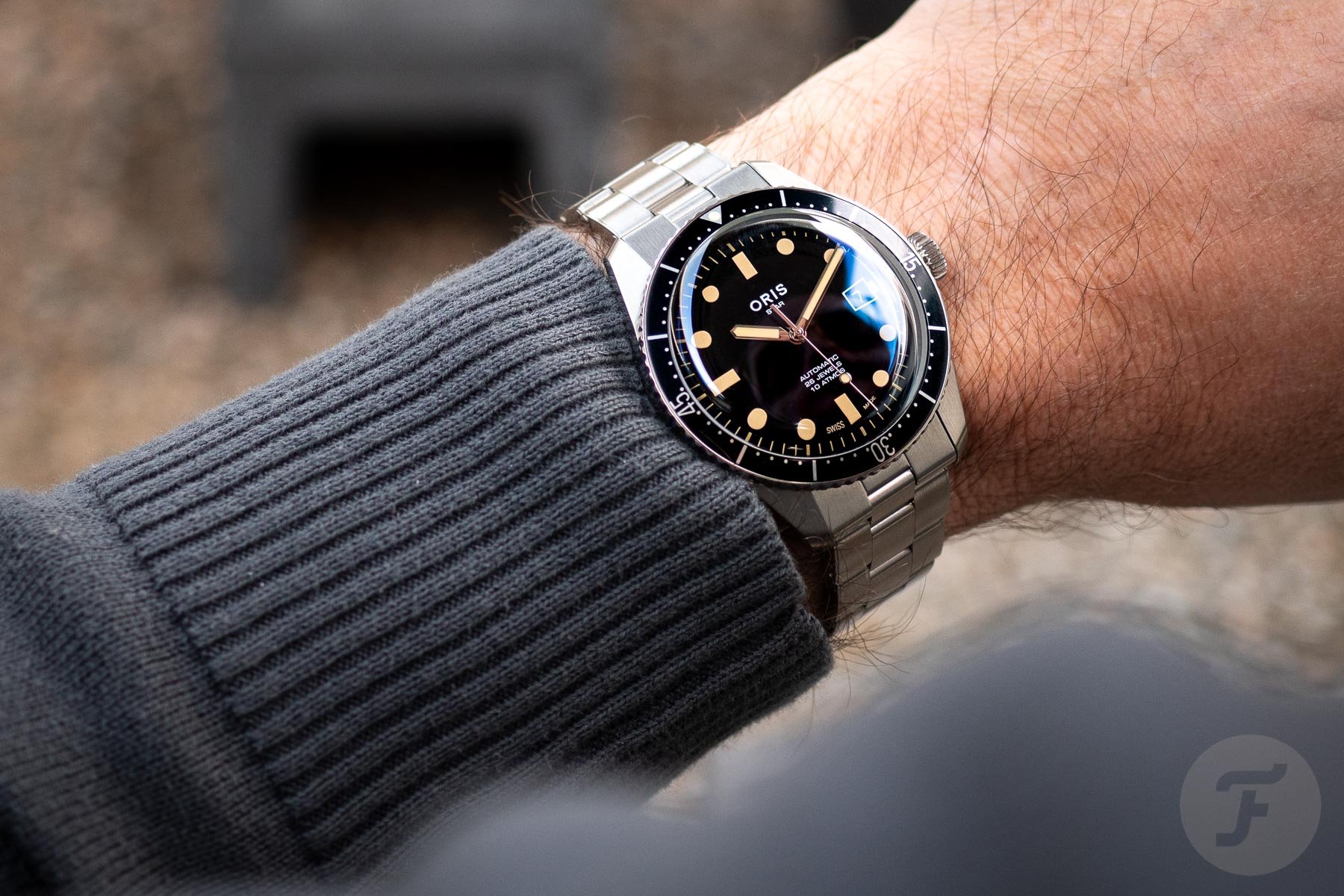 A 40mm diver
We decided to use the 40mm case size for this Divers Sixty-Five Fratello Limited Edition because we felt the 36mm size of the vintage original was a bit too small. It's not that a 36mm case is too small per se; I wear my 36mm dress watches and Day-Date with pleasure. But a dive watch in a 36mm size just seems not quite right due to the (wide) bezel and black dial making it look even smaller. The 42mm case also seemed too big for us. It caused the dial to appear a bit too large and spacious with only three hands and a date window.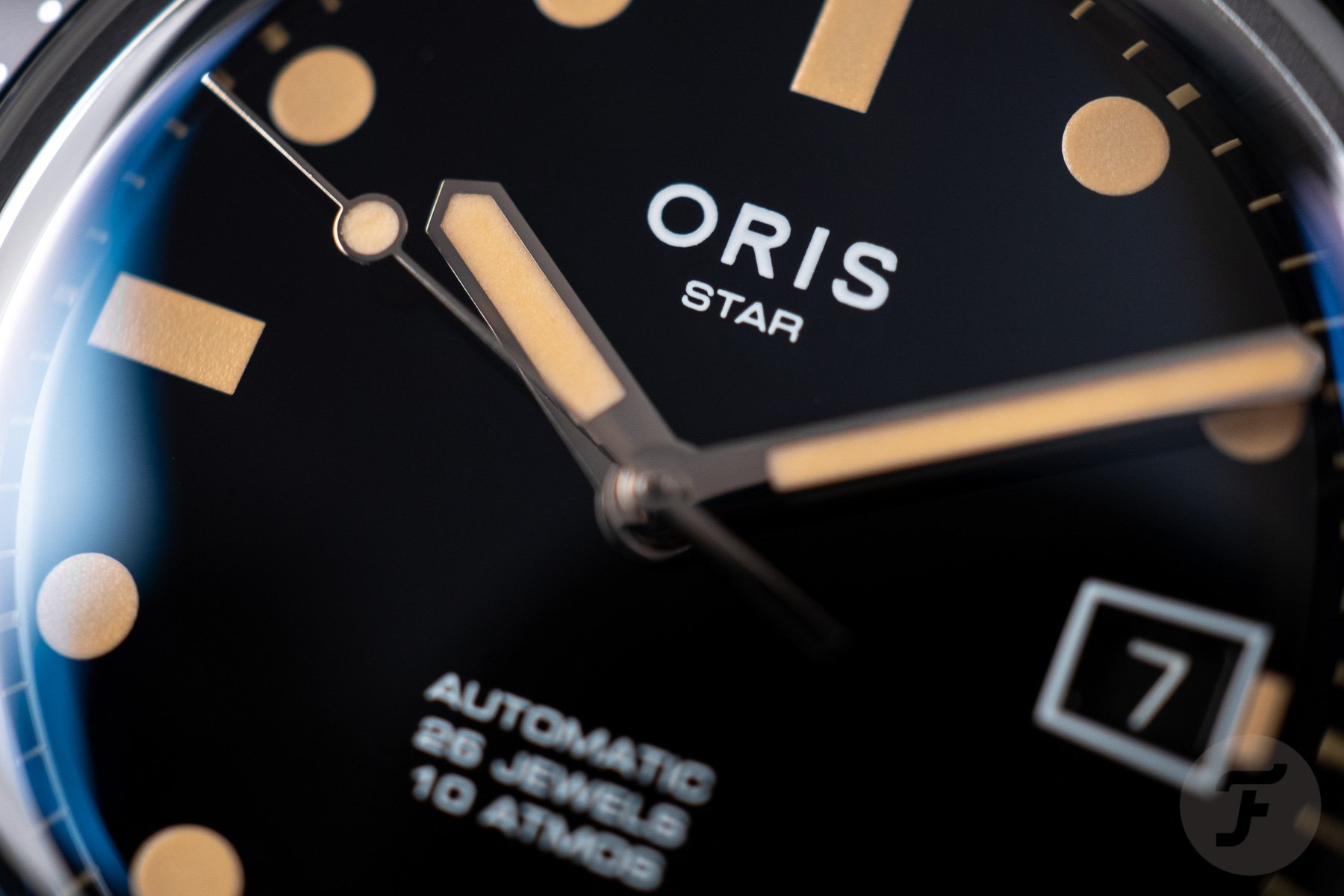 Design details based on the 1968 Oris Star
The black bezel inlay with dots all around instead of the stick markers was something we really fancied, as was the glossy black dial with printed hour indices. And we also thought it would be cool to use the old typography on the dial. This is something that brands are normally not so keen on (we tried it with others as well). Last but not least, we weren't so crazy about the date at 6 o'clock on the 40mm Divers Sixty-Five models. Since the 1968 Oris Star had the trapezium-shaped date window at 3 o'clock, we wanted to move the date to that position as well. We also played around with the colors of the date disc but decided to go with black, despite the original being white. This is a slightly modern twist, perhaps, but it keeps the dial cleaner.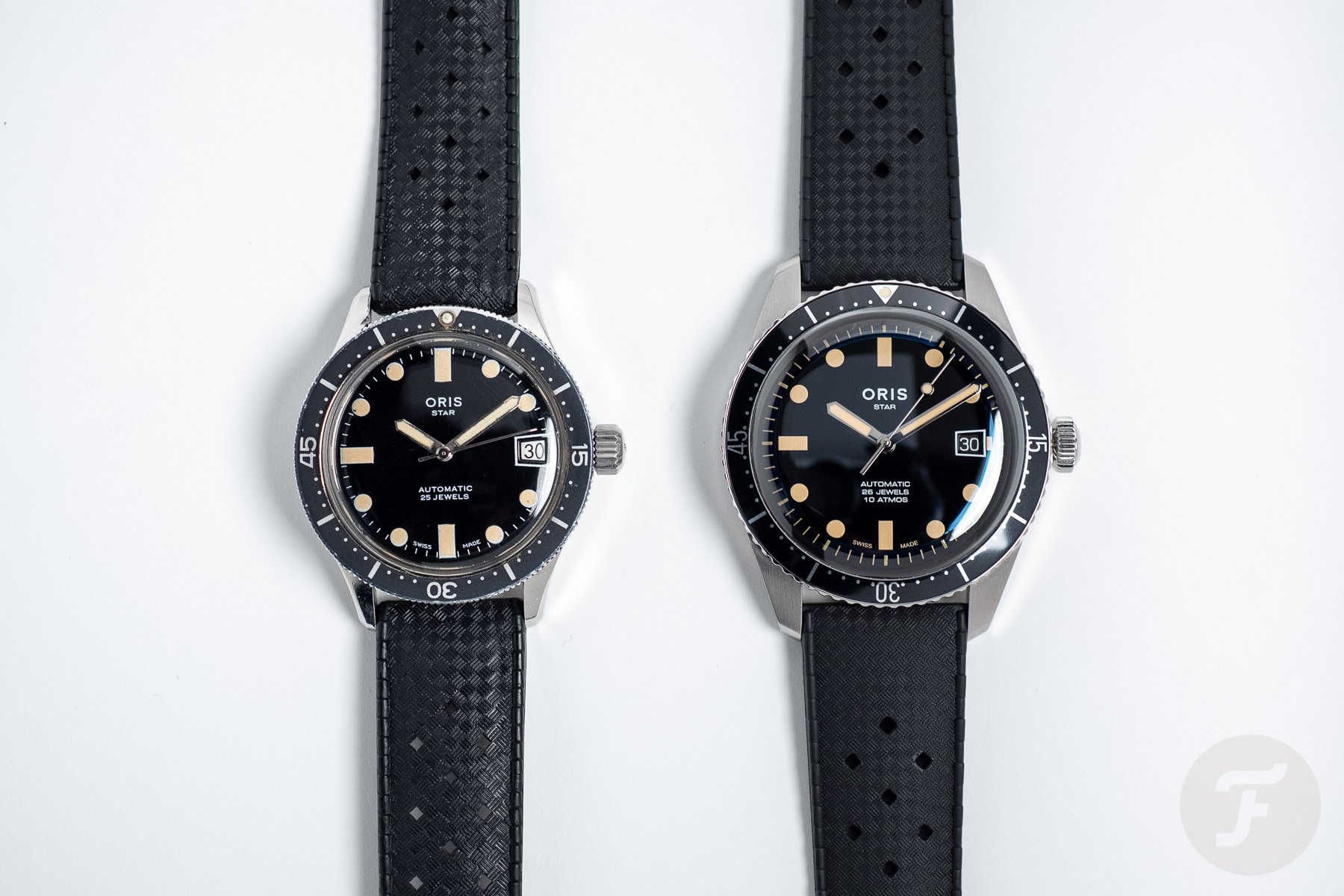 We had the original 1968 Oris Star in the office, took photos of it, and created a mock-up of the watch in a modern Oris Divers Sixty-Five case with all the design elements as described above. We sent it to Oris, and then the wait started because these things need to be discussed internally, as you can imagine.
Talking to Oris legend Ulrich Herzog
A few months later, we found ourselves in Geneva for the Watches and Wonders 2022 show. And Oris was also there, of course, in a nice big "piazza" with the brand's new collections. Thanks to our Oris contacts, we sat down with Chairman Ulrich Herzog to discuss our idea of the re-edition of the Oris Star. Herzog is quite the legend, as he came to Oris in 1978 with the "quartz crisis" raging. In 1982, he acquired the brand through a management buy-out and can be seen as the mastermind behind Oris today. Together with co-CEOs Rolf Studer and Claudine Gertiser-Herzog, Ulrich Herzog is leading the Oris watch company in Hölstein.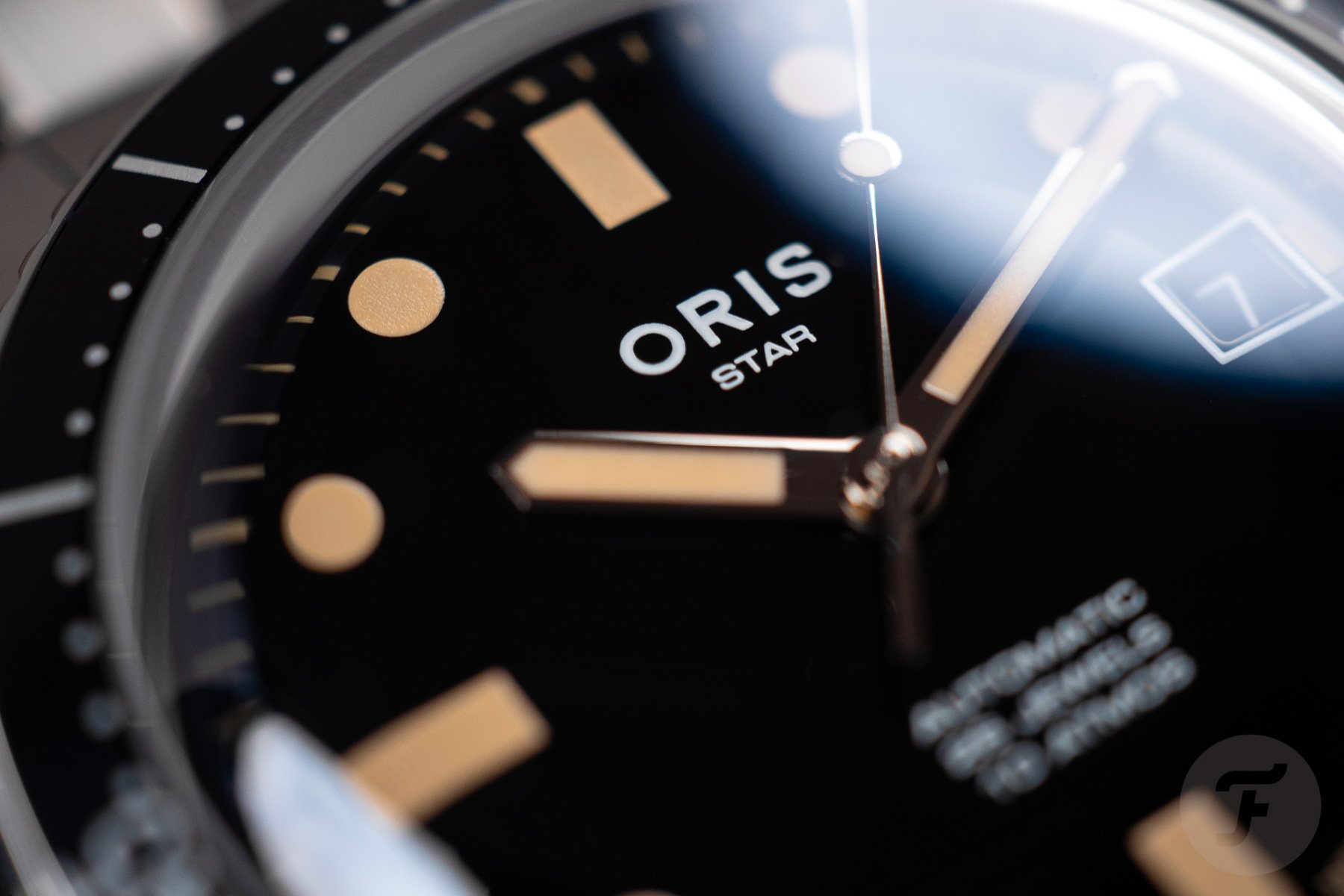 Discussing the details
We discussed the design of the Fratello × Oris collaboration watch during the Watches and Wonders show, and we also discovered how much Herzog liked the details that we chose for it. Not everything was a given, like the typography and bezel. But by going back and forth with his team in Hölstein, we quickly found out that they could make the design that we had in mind. Some answers needed some time, but being in Geneva for Watches and Wonders for a whole week allowed us to have several appointments with Herzog and Rolf Studer as well. It was quite special to have such important figures in the company at the table during a crowded show to discuss this limited edition. All parties involved shared in the excitement, so luckily, we were able to move forward quite quickly.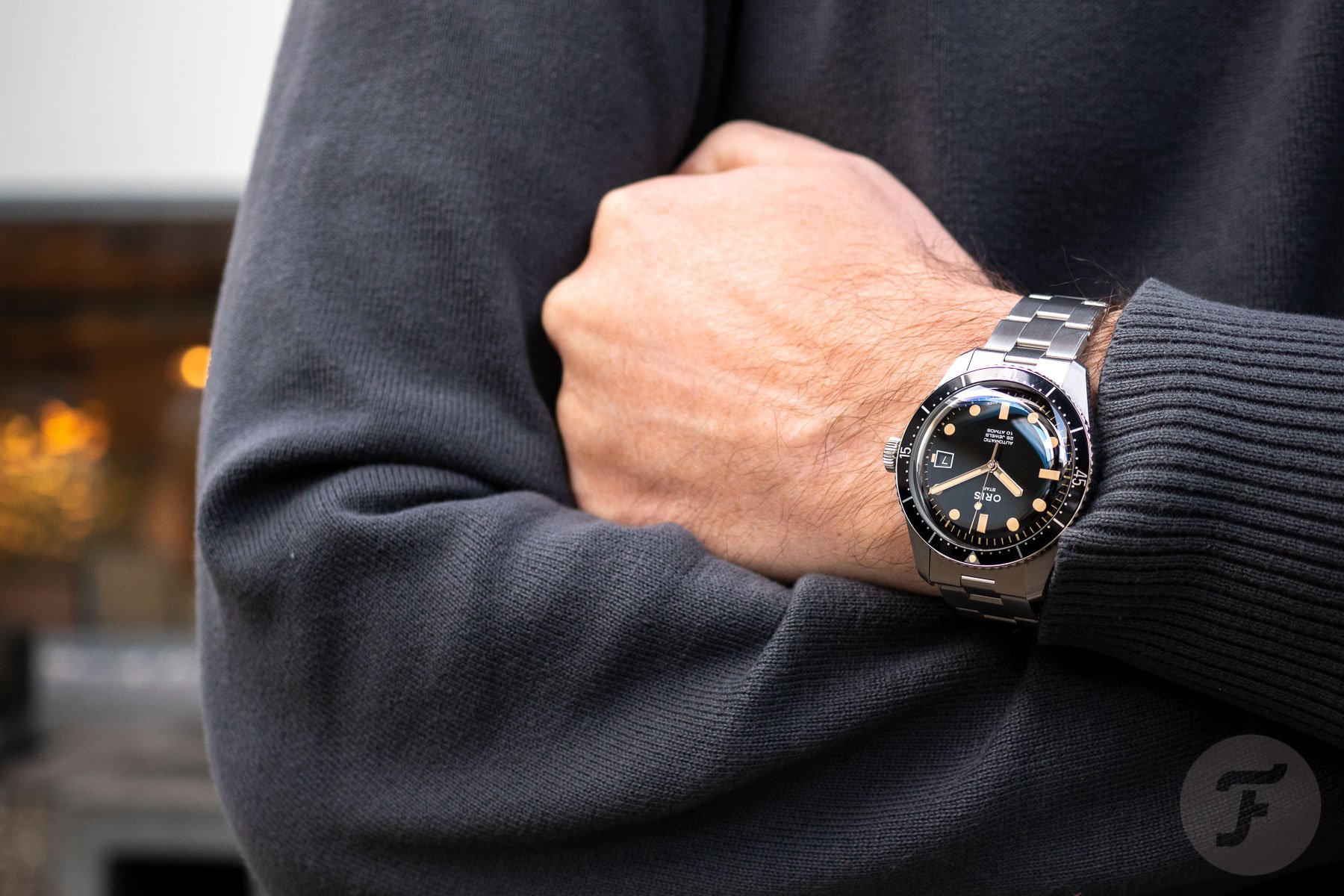 A different hour hand
Every time we met with the leaders of Oris, they showed us a new design on paper. They moved incredibly fast, and we could discuss all the details and make changes almost on the fly. We wanted a yellowish Super-LumiNova for the indices and hands, and we played with the color of the text on the dial. One of the last things we had to check was if we could get rid of the split in the hour hand. Normal Divers Sixty-Five models have a little partition near the end of the hour hand. The original Oris Star from 1968, however, did not. And we liked that because it looked so clean. Ulrich Herzog just smiled and confirmed we could have it. Everything is about production quantities, and 300 pieces aren't much for a company like Oris. But they were enough to fulfill some of our wishes, for sure.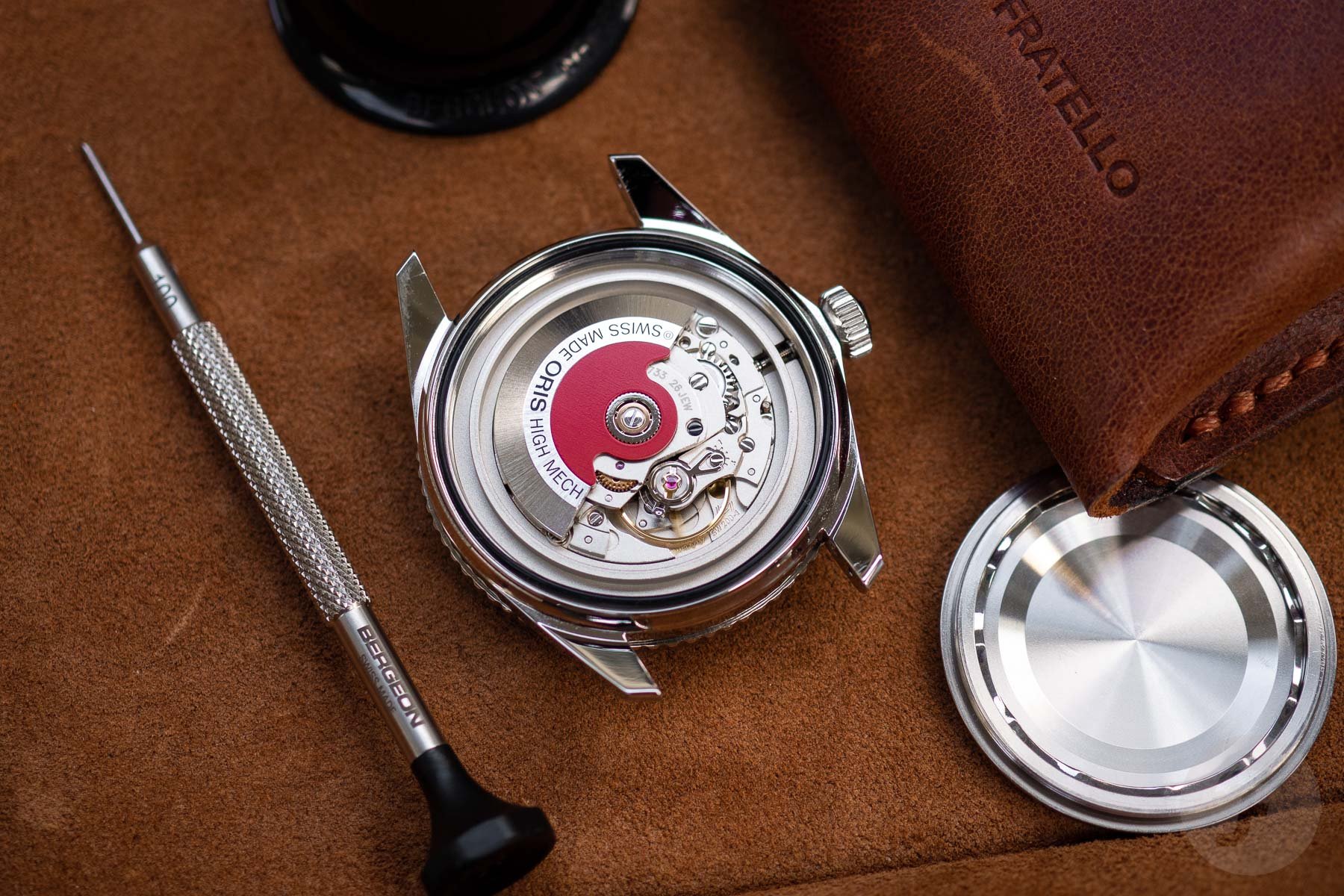 Oris caliber 733
We also discussed the case back of the watch at length — should we show the movement or not? Inside is the Oris caliber 733, which is based on the Sellita SW200-1. This is a solid performer which itself is based on the ETA 2824-2. I know that many people love to look at the movement, but we also thought that this watch might speak to enthusiasts who know and have their stuff.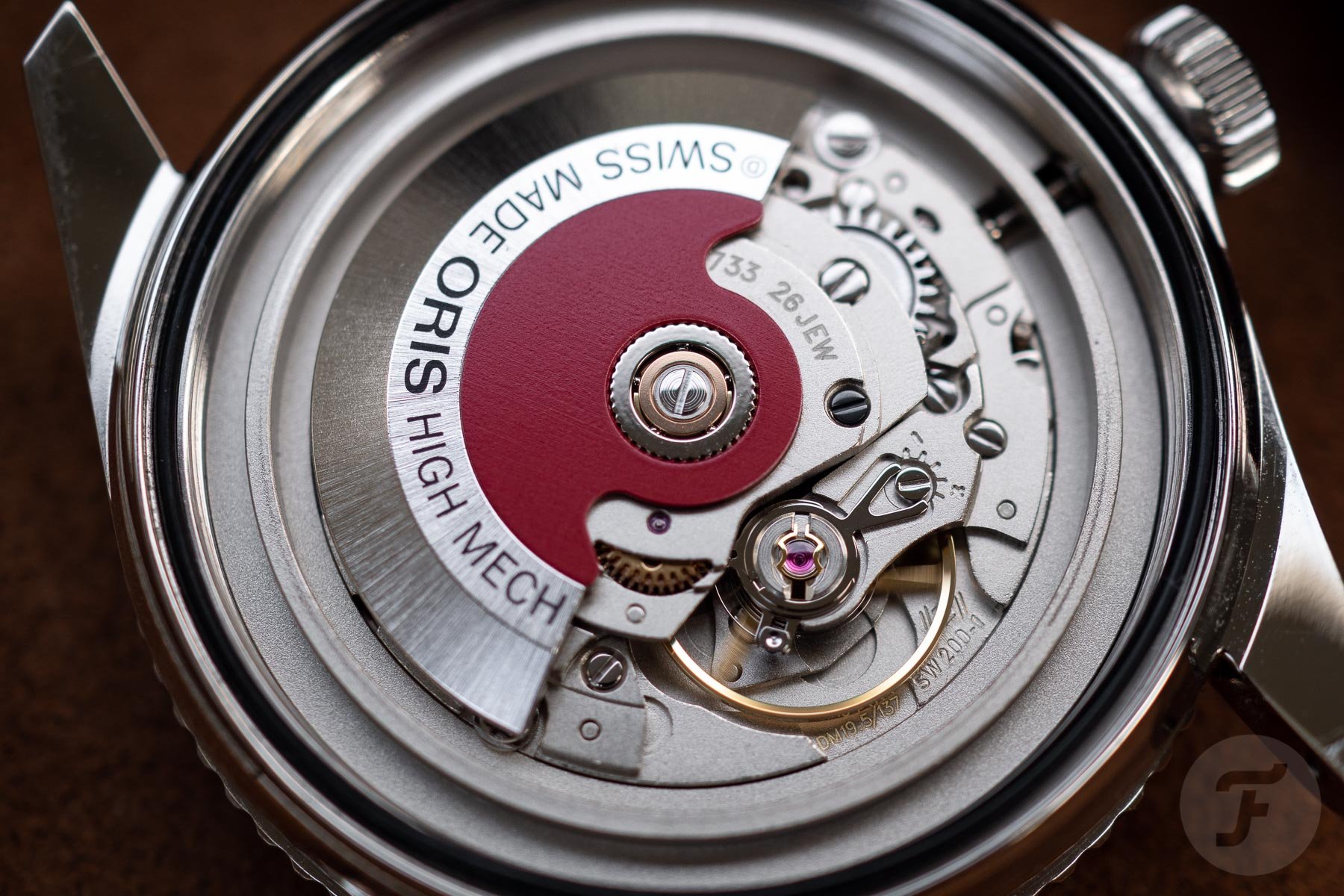 It's not a movement I necessarily need to see, but that's also because I have seen a lot of them and have other watches with sapphire case backs. And to be honest, I often just prefer a nicely engraved case back, so we decided to go with that. We opted for a steel case back with a Fratello logo medallion in the center  — not too big, but large enough to be a present element.
However, I still opened the case back of my own Oris Divers Sixty-Five Fratello Limited Edition to get a look at the movement. I actually forgot that it has the red color on the rotor and the "High Mech" wording on there as well.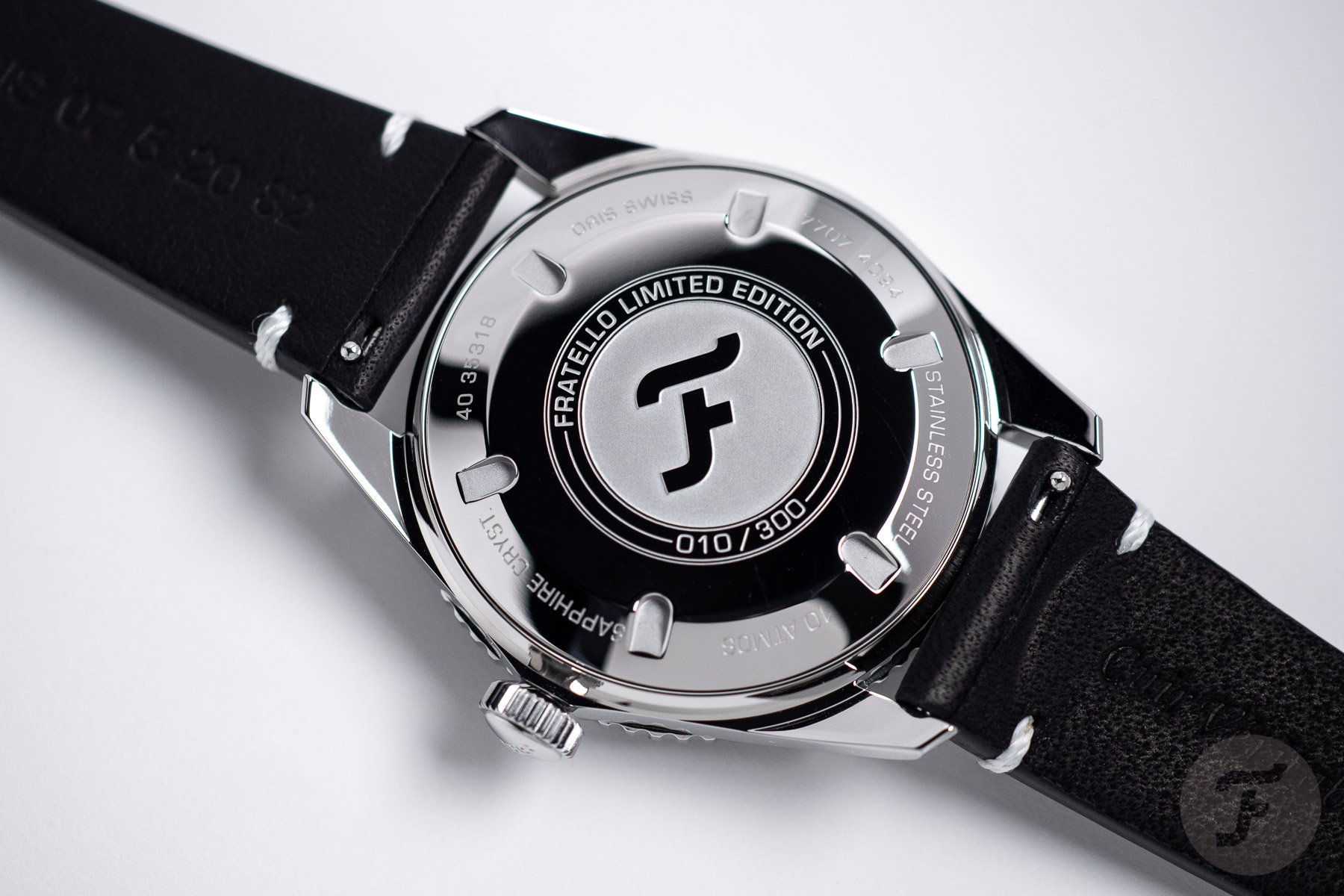 A smooth production run
Anyway, after all the discussions and decisions that followed, the production process started. All the specific parts needed to be manufactured. Luckily, production times have improved a bit over the last two years, so I was happily surprised that we received a prototype from Oris very quickly. We were all incredibly happy with the result, and in our opinion, it was one of the nicest-looking Divers Sixty-Five versions ever made.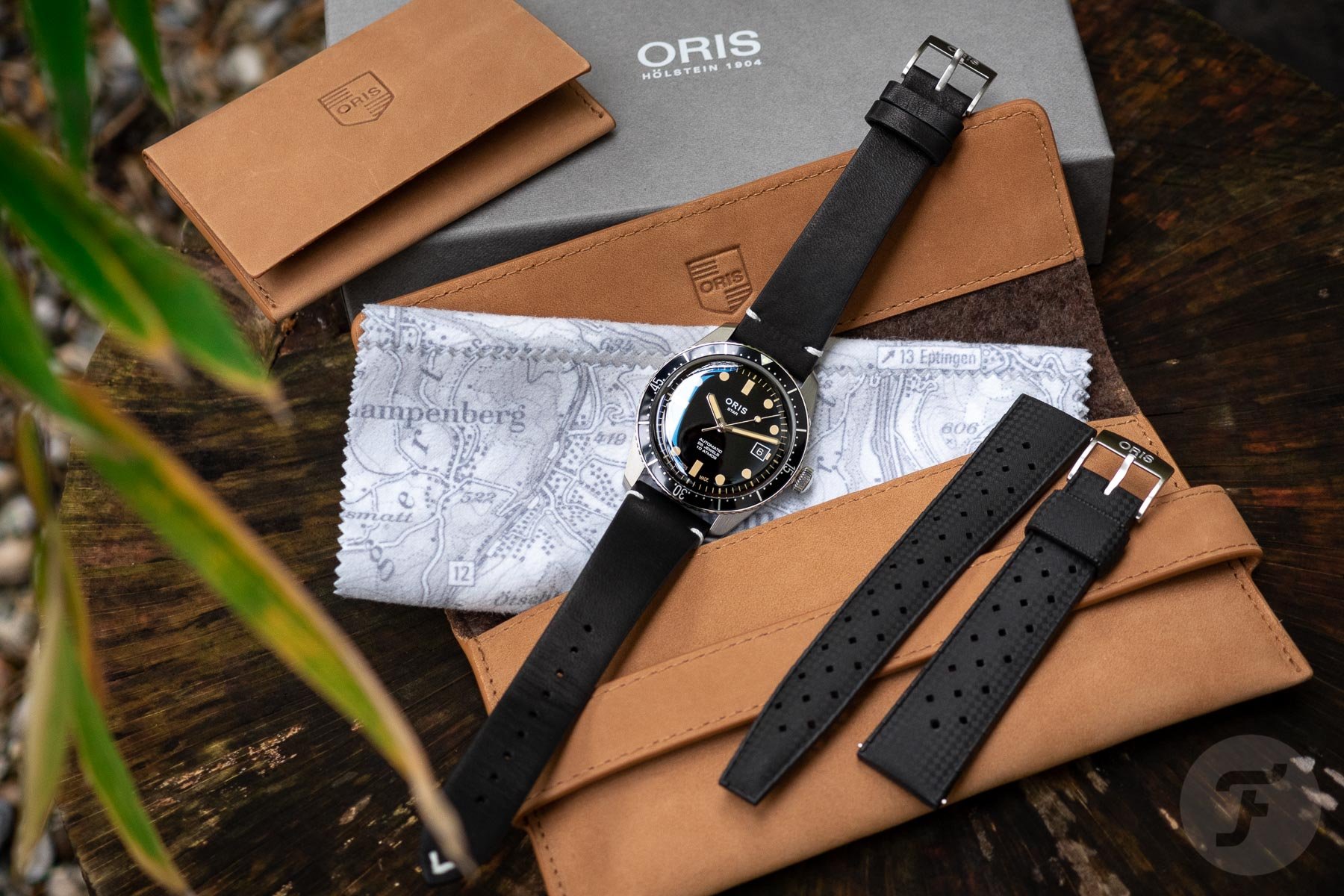 Two straps and a pouch
We decided to offer this Oris on a black leather strap and a black rubber Tropic-style strap, both with Oris-signed buckles. It all comes in a nice leather pouch that you can use when traveling so you can safely carry an additional watch with you. However, I also wondered how the watch would look on the Oris bracelet, so I ordered a separate stainless steel bracelet for the 40mm Divers Sixty-Five.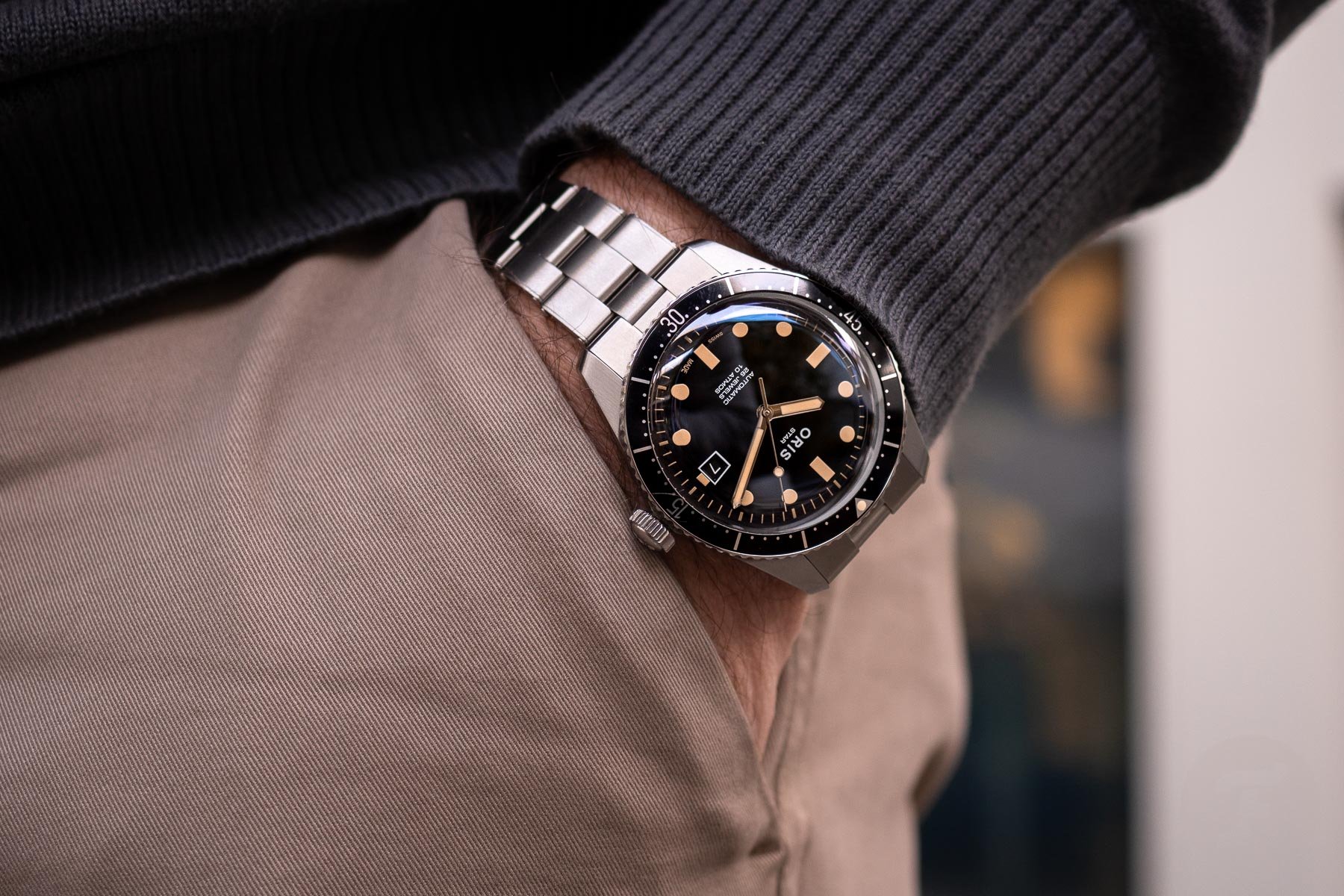 Wearing it on the Oris bracelet
This bracelet carries reference number 0782018. It comes with 20mm end links and can be ordered through Oris for €300. Well, you can judge the look for yourself, but I quite like it. Another strap that I found in our strap collection that works very well is the rubber Tropic-style strap in beige. It perfectly matches the luminous material on the dial and hands and wears incredibly comfortably. Whereas a rubber or leather strap gives the Oris Divers Sixty-Five a bit of a casual look, in my opinion, the stainless steel bracelet makes it more sporty for a slightly more vintage look.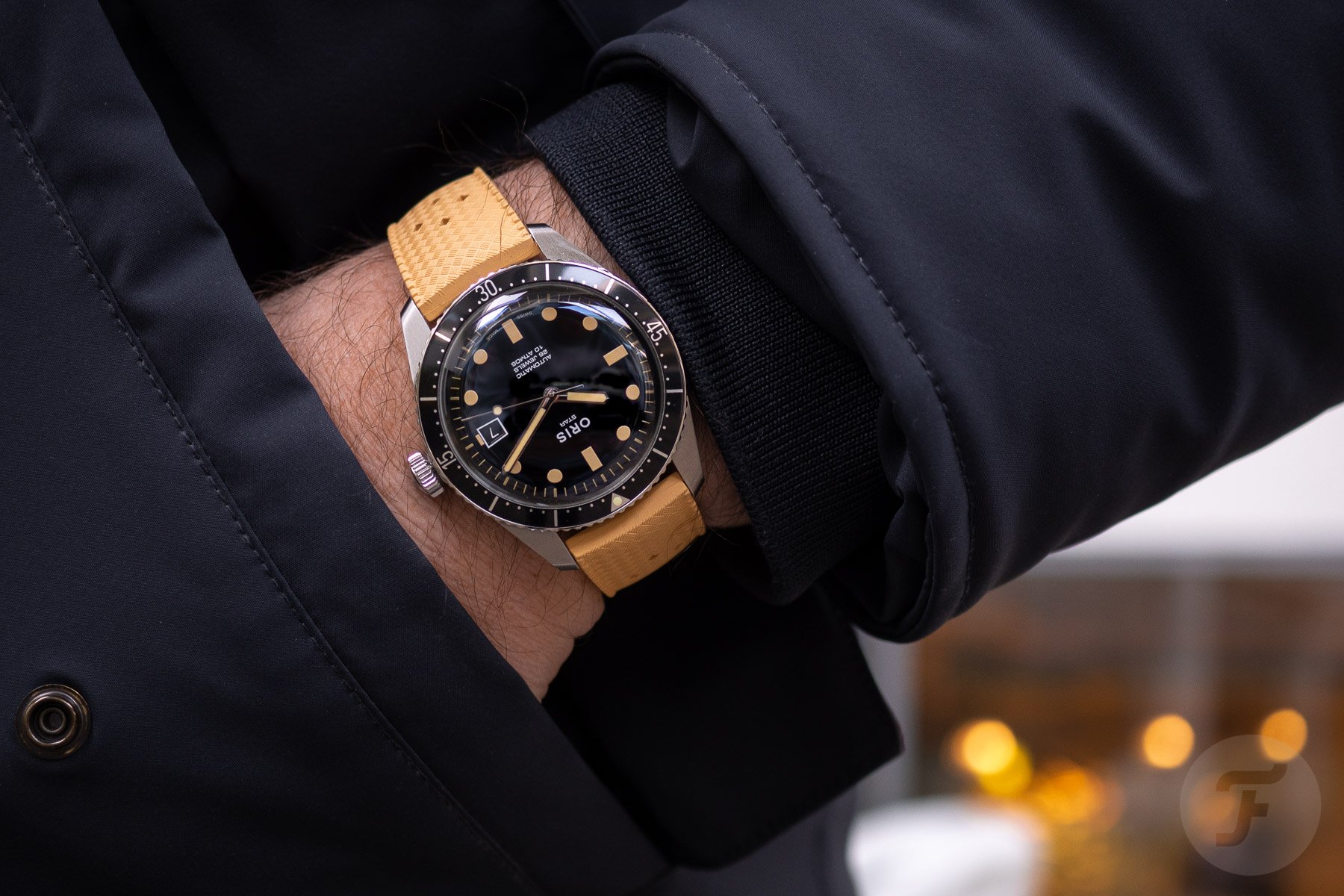 Free worldwide shipping
I've been wearing mine since I received it (already before the announcement), and I am in love with it. It's very different from our previous Oris collaboration, so it's something new to add to our portfolio, despite being from the same brand. This week, we sold most of the Oris Divers Sixty-Five Fratello Limited Editions, and many have already reached their new owners. I want to thank everyone for their purchases and support. We still have some left in our shop, and each sells for €1,900 excluding VAT. We ship worldwide, insured, and free of charge, and when it comes to VAT, it will be calculated upon checkout for your country inside the EU. For countries outside the EU, there's no VAT added by us. Every watch comes with a two-year international warranty and an additional year if you register for the brand's MyOris program.
Click here to order the Oris Divers Sixty-Five Fratello Limited Edition.