Linde Werdelin SpidoLite II Tech Photo Essay
Linde Werdelin SpidoLite II Tech Green and Gold
Just before Baselworld, Linde Werdelin introduced the new SpidoLite II Tech watches, part of the Spido Family. An updated version of the first SpidoLite collection and a more technical version of the previous SpidoLite II collection (which we reviewed here). In Basel, Bert sat down with the Linde Werdelin team and was able to shoot some photos of the new SpidoLite II Tech Green and Tech Gold.
All technical information and pricing information can be found in our previous post, here.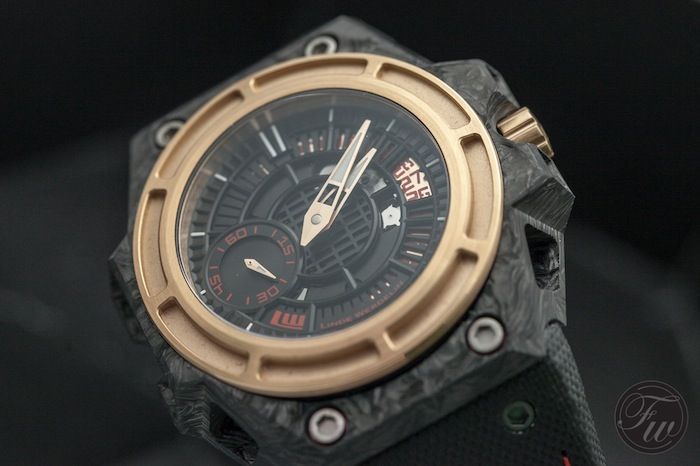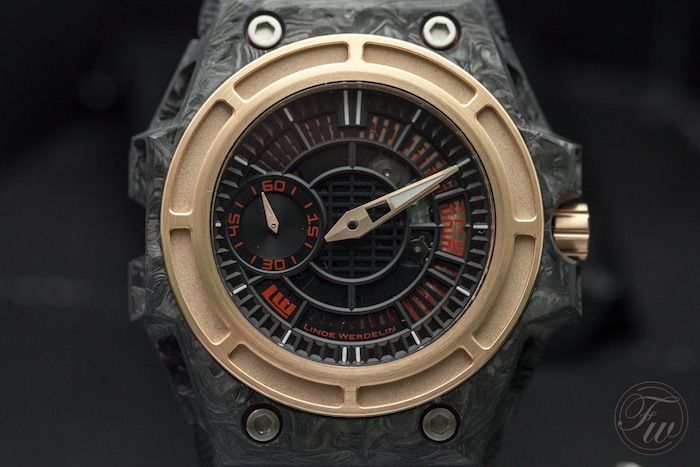 As you can see on the picture above, the material of the case shows resemblance of the forged carbon material that brands like Audemars Piguet have applied to some of their Royal Oak Offshore watches. As we wrote in a previous article on the SpidoLite II Tech models:
"The inner case has been made out of ALW while the outer case has been made out of carbon. The SpidoLite II Tech Green has a bezel made out of ceramic. ALW stands for Alloy Linde Werdelin and is made out of this metal alloy/composite that has originally been developed for the aerospace industry." As you can see on the pictures above of the SpidoLite II Tech Gold, the model with the red accents has an 18 carat gold bezel. Both models have a gold crown.
Just like all other Linde Werdelin watches we've reviewed on Fratellowatches in the past couple of years, the SpidoLite II Tech models also snug comfortably on your wrist despite the fact that the specifications might sound like it is a huge and clunky watch. The shape of the case and long lugs, pre-shaped strap and the light weight of these Linde Werdelin SpidoLite II Tech pieces make it an extremely wearable large watch.
More information on actual pricing can be found on the official Linde Werdelin website, where you can also order these watches directly. Go www.lindewerdelin.com/watches/spido