Long-term Test – Monta Oceanking
Is this lauded diver worth its praise?
In order to truly get a feel for the quality of their watches, I recently had the opportunity to wear and use the Monta Oceanking for an extended month-long period.   
Monta, as a brand, has undergone more changes in its brief 3-year history than most brands encounter during multiples of such a span.  Designing and selling a line of watches began as a non-obvious step for the team behind the well-known Everest straps that adorn so many Rolex today.  The first watch, the Monta Oceanking, was met with some of the most polarizing comments from readers of popular online sites.  Journalists, including ourselves, sang the praises of the upstart company despite high pricing of around $3,500 because the overall product was so well executed.  While they're clearly not battling over the same space, the adulation received reminds one of the age-old thoughts about Grand Seiko in that "you need to see them to truly appreciate them".  And in the beginning, Monta did want you to be able to see their watches all over as they brought the brand up with a strategy to go the authorized dealer route.  Unfortunately, reality came in to play regarding the costs of setting up such a network, advertising, and the like.  Let's also not forget that Eterna, Monta's original movement supplier, went through (and is going?) through serious trouble and was no longer beneficial to the new company.  So, Monta did what almost no micro brands do, they hit the restart button.
Monta Oceanking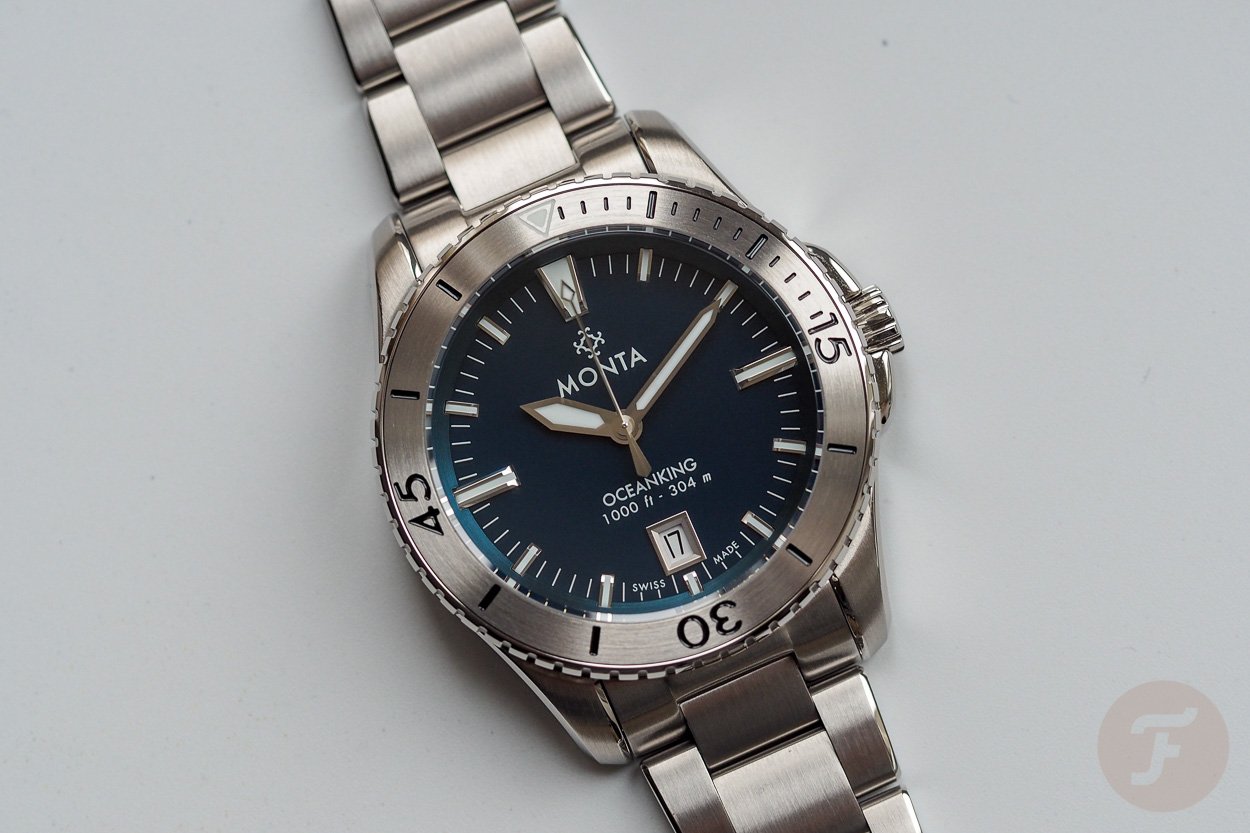 Reinvention after a tough start…
Monta came back in 2018 with the same high-end finishing, a lineup of three (now four after Baselworld 2019 with the new Atlas) models, direct sales via online, Sellita movements, and lower pricing.  They even wrote checks to those who bought earlier pieces at higher prices.  And so far, the strategy has worked.  From our vantage point, the company enjoys a truly positive reputation amongst owners and that led me to request a Monta Oceanking for an extended period of time.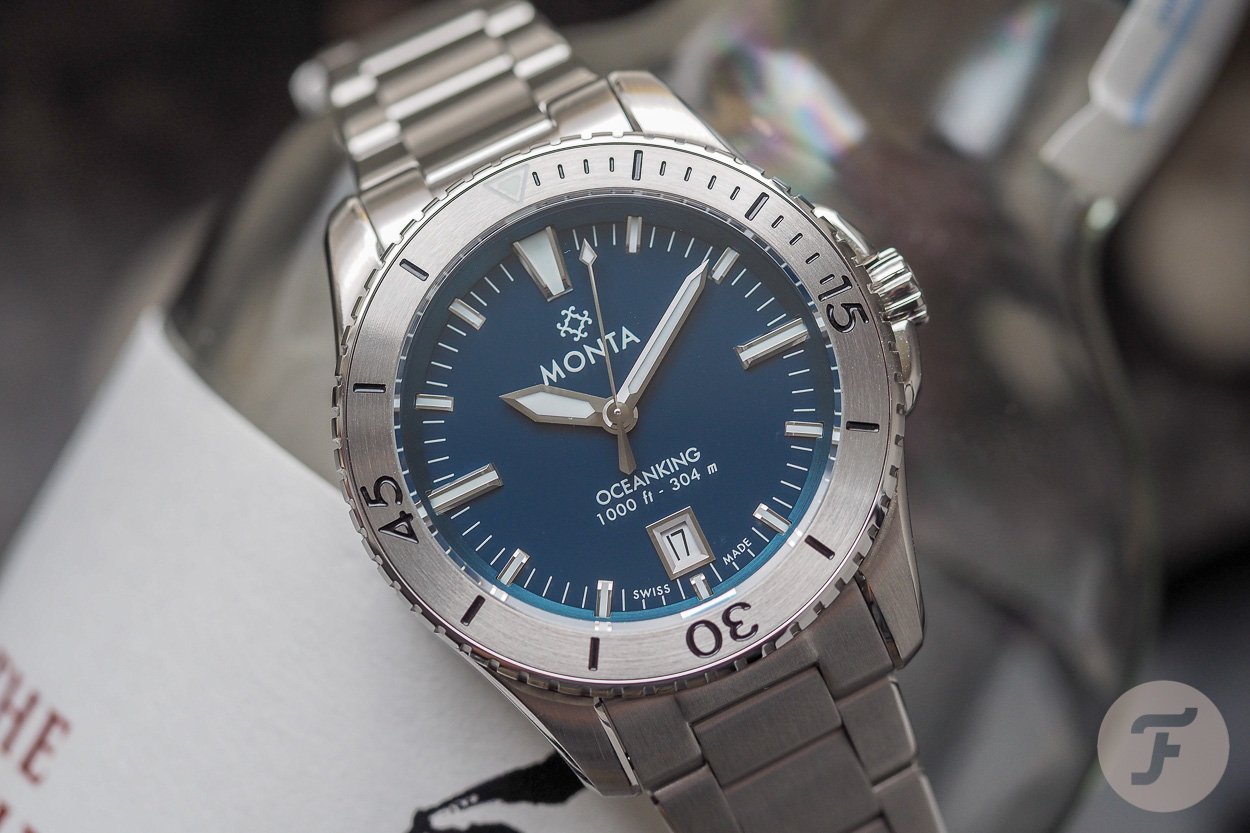 A Long-term Test of the Monta Oceanking
I interfaced with Justin Kraudel, the ever helpful President of the company, and chose a Monta Oceanking with a "Monta Blue" dial and steel rotating dive bezel. Sure, a black dial and black ceramic bezel is on offer, but I wanted to stray a bit in order to keep from making too many comparisons to the brand of diver that looks great with an Everest strap.  I received the Oceanking in mid-February and I had it for a month.  During this time, the watch traveled to the USA, Germany, the Czech Republic, Austria, and back to Switzerland where I handed it back to Swiss Customs Monta.  It came on a steel bracelet, but the Monta team was good enough to send a rubber strap, NATO strap, extra spring bars, spring bar tool, and screwdriver.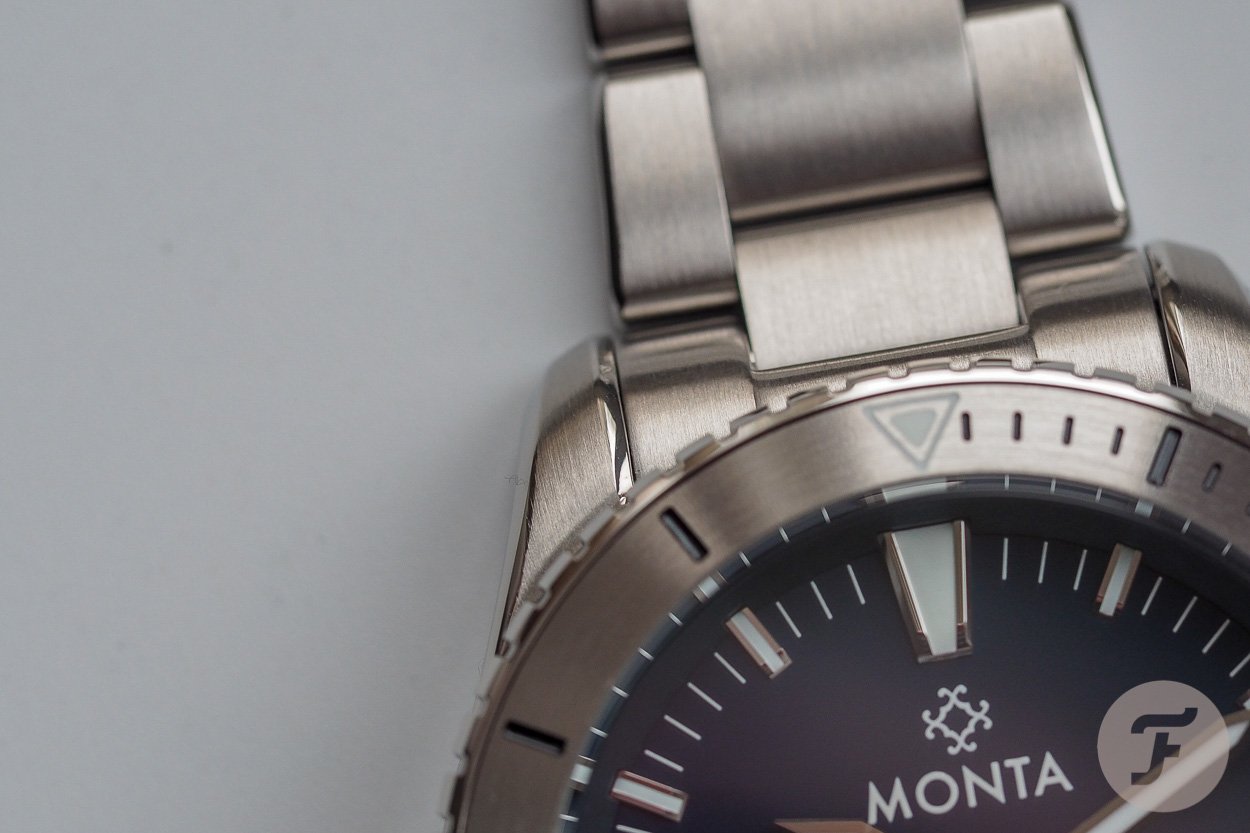 A Cut Above the Average Micro Brand
It's not as easy as you'd think to explain the differences between a $2,000 micro branded watch such as the Monta Oceanking and a run of the mill $500 Kickstarter diver without the author sounding like they're making excuses or giving the higher priced brand a pass for "having passion", but I'll give it a try.  For starters, closing one's eyes and running your fingers all over a watch is one of my favorite initial impression tests.  But first, in order to do this, the watch must be picked up, so heft enters the equation.  I typically find that there's a real sweet spot when it comes to the weight of a steel diver, although I'll admit that this is highly subjective.  A tinny, cheap watch often weighs too little whereas a lot of sub-$1000 micro branded watches add serious ballast to portray a feeling of quality.  High quality everyday – "one watch" – divers tend to straddle the line and it's here that the Oceanking lives.  If you've held a Submariner, a Seamaster 300M, or an Oris Aquis, then you probably get my drift.  The watches give off an immediate feeling of solidity without having to overdo things.  Plus, at 40.7mm in diameter, 49mm lug to lug, and 11.9mm thick with 20mm lugs, it fits in the size sweet spot that most buyers like.  That thickness below 12mm is a real boon for every day wearing, something achieved with a very flat sapphire crystal.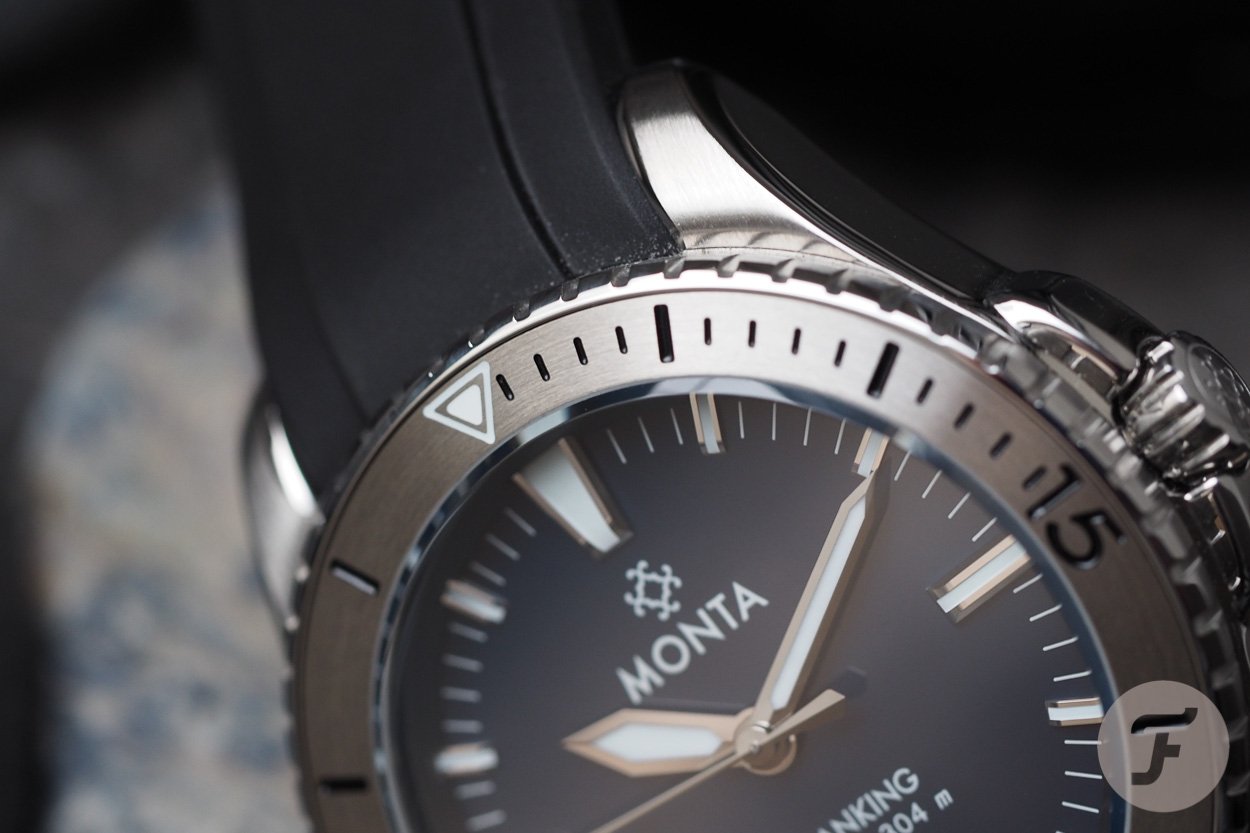 A High Degree of Finishing
And there are the surfaces.  As previously mentioned, one's fingers can do the talking here and it's once again a game between details that feel too sharp or unfinished and those that are so rounded that they're obvious concessions to the cost of manufacturing.  Even amongst the big companies out there, there's often the odd detail that feels overlooked, but the Monta Oceanking does well.  I might wish for a tad more definition on the lug chamfers, but the current shape feels more like a design choice instead of a nod to the bean counters.  So, if we're talking about the physical feel of the Oceanking, I'm onboard with those who feel that it boxes well above its weight class.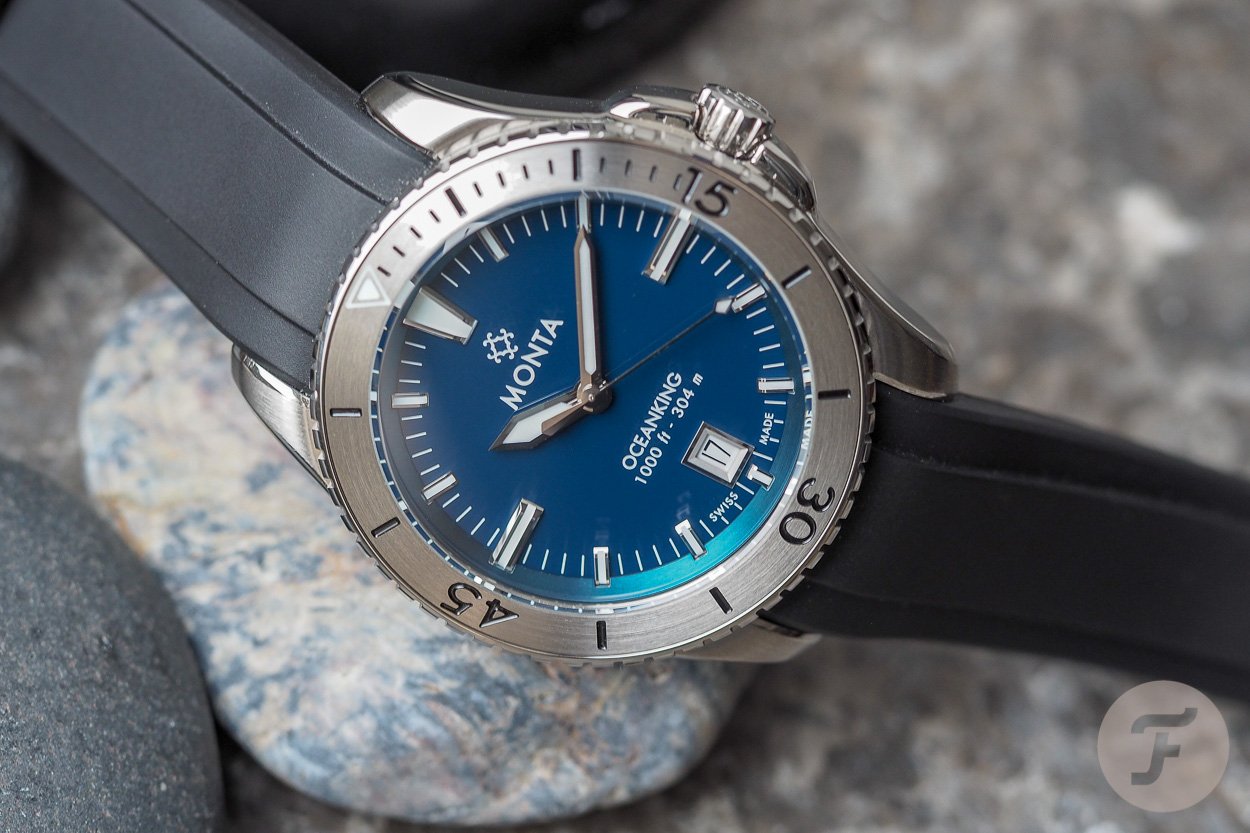 Strong, No-nonsense Looks
But how does the Monta Oceanking look?  Well, it looks like a diver and that's appropriate.  When it was first released with only a black dial and black ceramic bezel (and a far higher price), the brand received plenty of flack for creating something a bit too resemblant of the Submariner.  And while I can see some vague similarities, it's a bit lazy to liken every black bezel black dial diver to the 800 lb gorilla.  Of course, the fact that Monta has released additional models in trying to, and I think successfully, establish a design DNA has helped quiet the copycat concerns.  With the Oceanking, more colors and the introduction of a steel bezel option contributed to the diversification.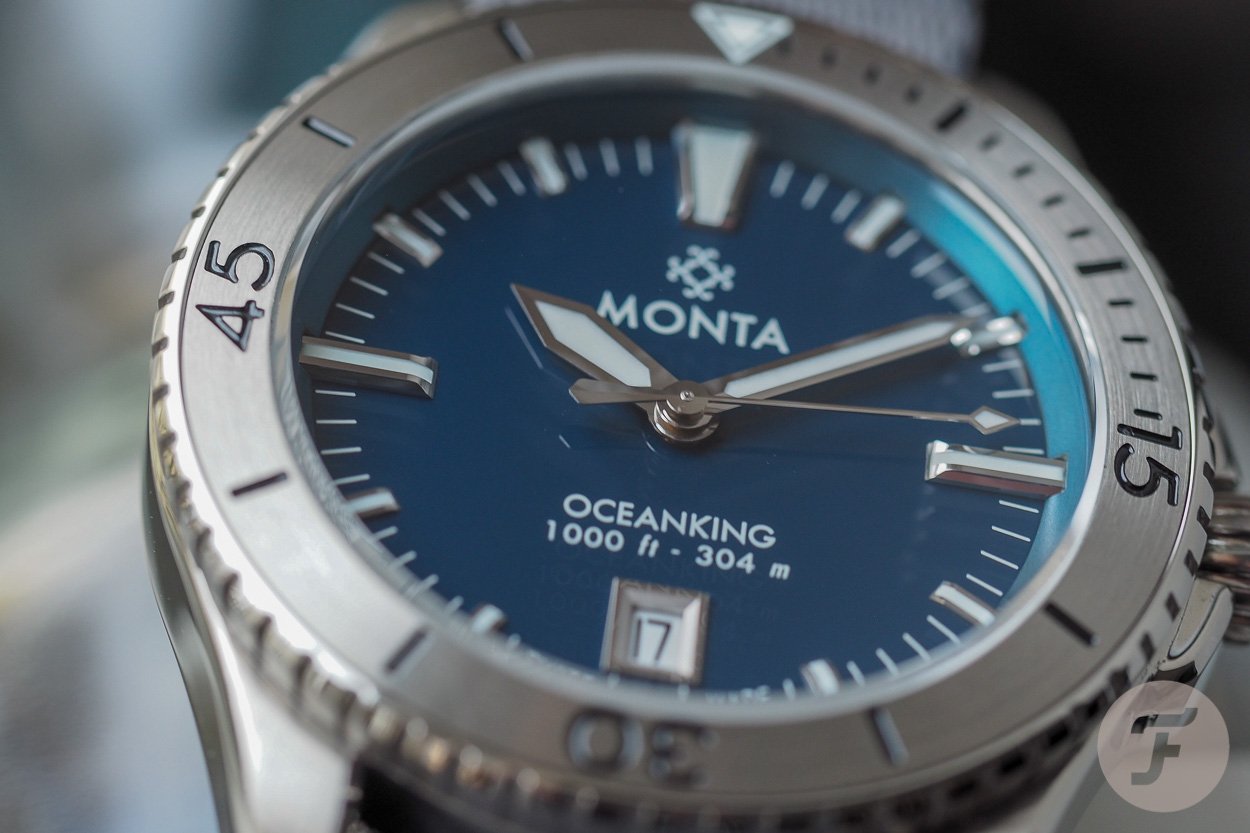 I like the design of the Monta Oceanking.  It's a seriously clean watch and if there's a real tribute being paid to Rolex here, it's the lack of extraneous crap – whether it be naming, goofy colors, or technical geegaws like a helium valve – that even the largest brands can't seem to help but add to an otherwise nice-looking watch.  So, yes, Monta excels in showing restraint throughout their designs and offers a level of maturity not usually seen on a young brand that's trying to make name for itself.  The applied indices are bold, exude quality, and help create a highly legible look.  The writing is kept to a minimum and comes off as appropriately toolish.  I do enjoy the quirky American-centric decision to go "feet first" and then to call out the watch's metric capability as 304m.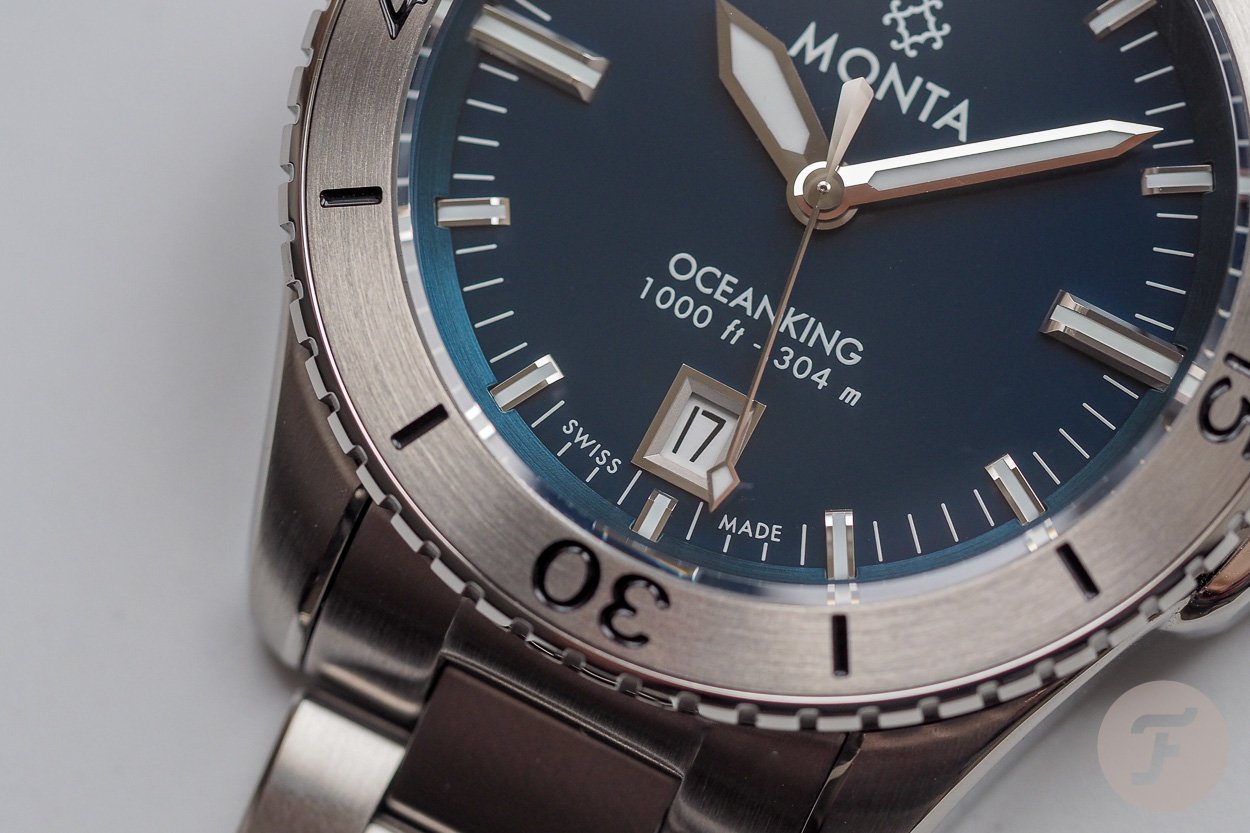 Even the date window, the feature of any watch containing such a complication that garners the most hatred from cork-sniffing watch grouches, is hard to argue with.  It's elegantly done and I, for one, like the symmetrical look it supports with its placement at 6:00.  Its white background matches the lume found on the watch, so the entire thing blends into the overall design by mimicking the larger indexes at 3, 9 and 12:00.  But, if you're not a fan, Monta will now sell you a time-only Oceanking for about $150 less, although the dial options are limited to black at present.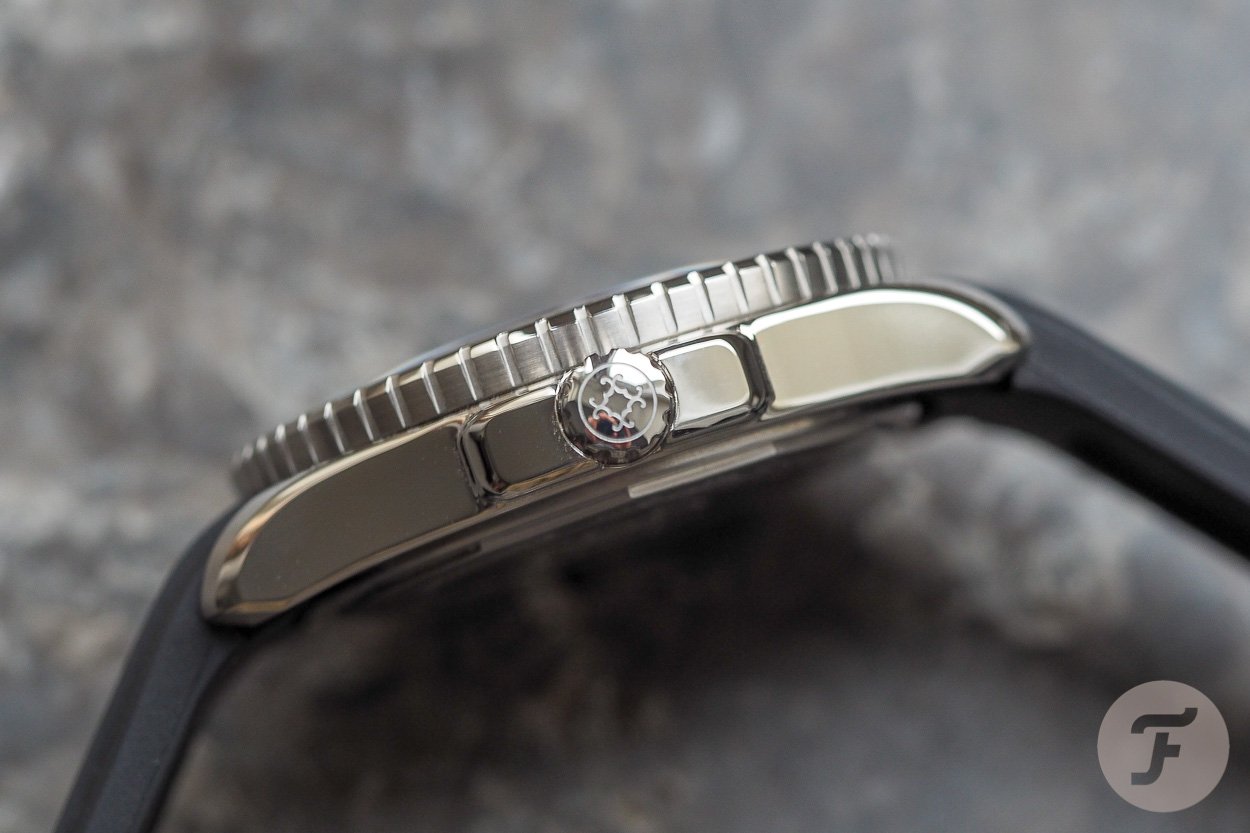 Highly Legible and Lacking Gimmicks
Does this mean I think the Monta Oceanking is designed perfectly?  No, I do have a couple minor quibbles.  First, I find the turnip(?) shaped crown a little small for a diver.  I know that changing the time doesn't occur frequently, but I moved throughout time zones with the watch and I wished for something larger and more tactile.  It was tough to grip at times, but I do admire the screw-down mechanism.  There was no slop and it felt as good as such systems on far more expensive watches.  Regarding the hands, this is purely personal preference, but I almost find them too plain with the sweep seconds hand in a shape that isn't overly dive watch typical.  They're finished beautifully and they don't jump out as offensive, but I'd like to see some sort of bisecting line (vertical or horizontal) on the hour hand.  Again, that's just me, so if you like the look, know that there's no issue with execution.  I also liked the uni-directional bezel, but found the clicks just a touch lighter and springier than expected.  That's a hard one to explain, but here again, if you're able to get your hands on a Submariner or a 300M, it almost feels like mechanical gearing.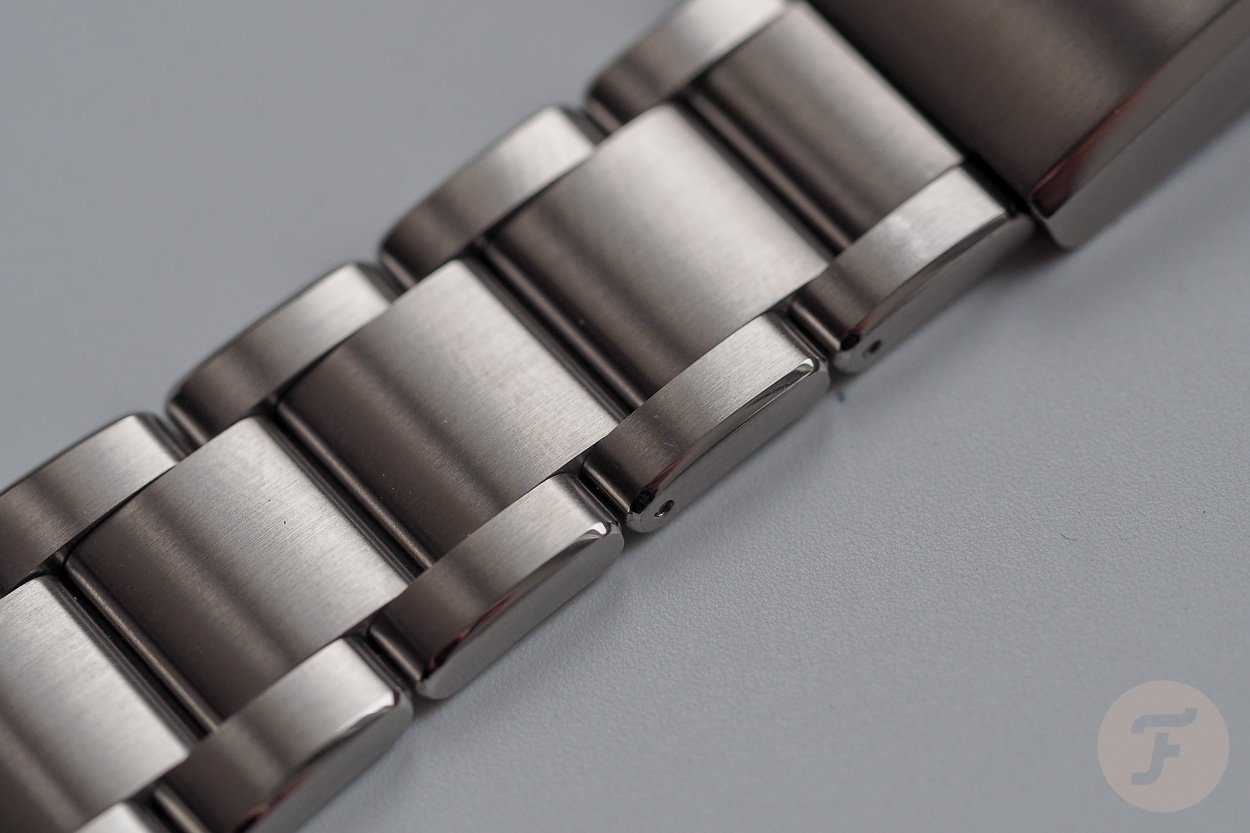 Monta Knows Straps and Bracelets
If the team from Monta chipped in to buy Powerball Lottery tickets in their home state of Missouri, won, and decided to close up shop, we could discuss the brand's legacy.  I think the watches on their own would fare well, but I'd bet that another item would seriously contend for the title of "best remembered" and that's the bracelet.  One only has to look at the overall company's success with Everest and it may lead you to wonder whether an orthopaedic surgeon is on the payroll.  These guys know what they're doing when it comes to making a comfortable wearing bracelet or strap (I shouldn't leave out the fact that the watches are well-shaped to boot).  From a distance, it's easy to write the Monta Oceanking bracelet off as yet another Oyster reproduction, but this would be incorrect.  The center links actually articulate within the outer links.  So, if you're familiar with an Oyster, you'll know that each link is actually a combination of a center link that's fixed to offset outer links.  With the Rolex, the trio is curved to help fit the wrist, but articulation is limited to the ends of the center links.  With Monta's design, the pivoting outer links help create an even more sculpted fit while still carrying off a solid look.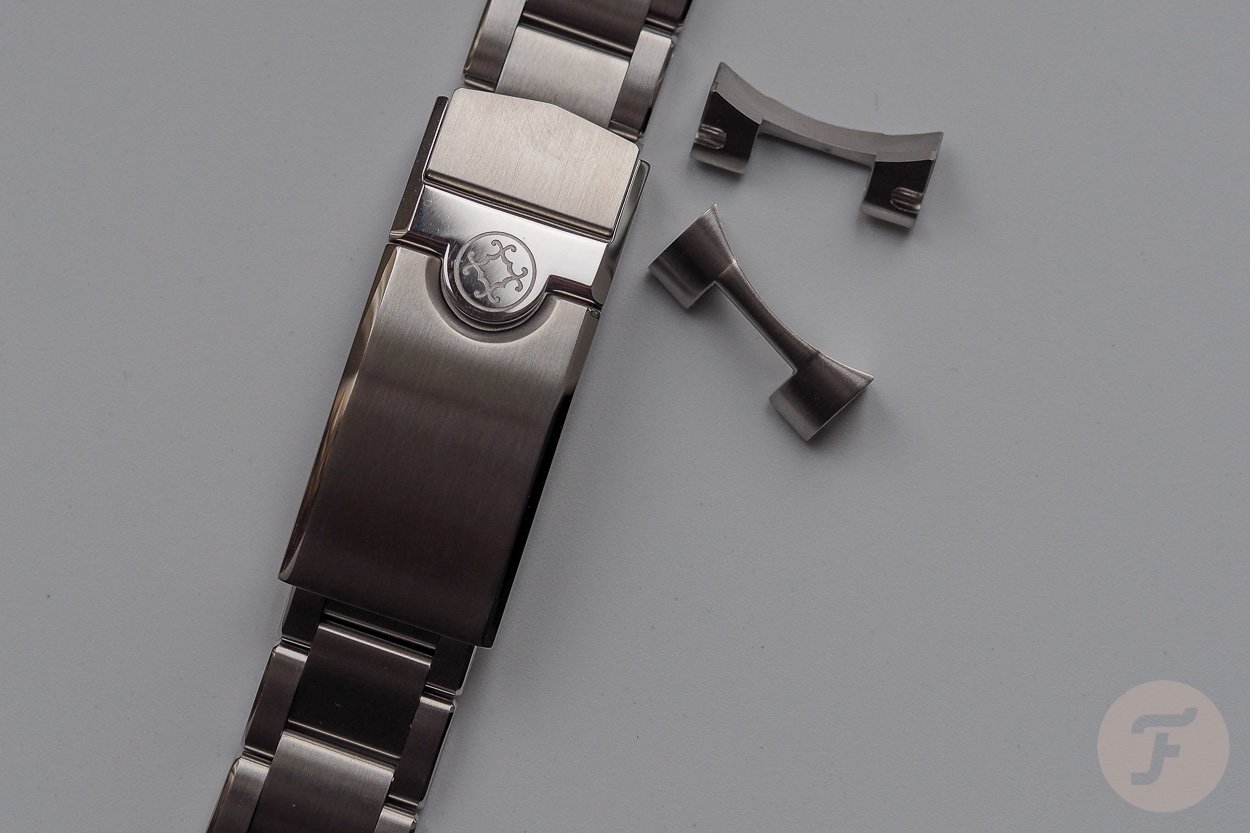 Great Articulation – and Finishing
But it's not just the links on the Monta Oceanking bracelet that impress.  The highly finished safety clasp eschews the stamped quality of many brands and features a high-end sliding micro adjust.  Even the undersides of the clasp and deployant lack sharp edges and show signs of money spent.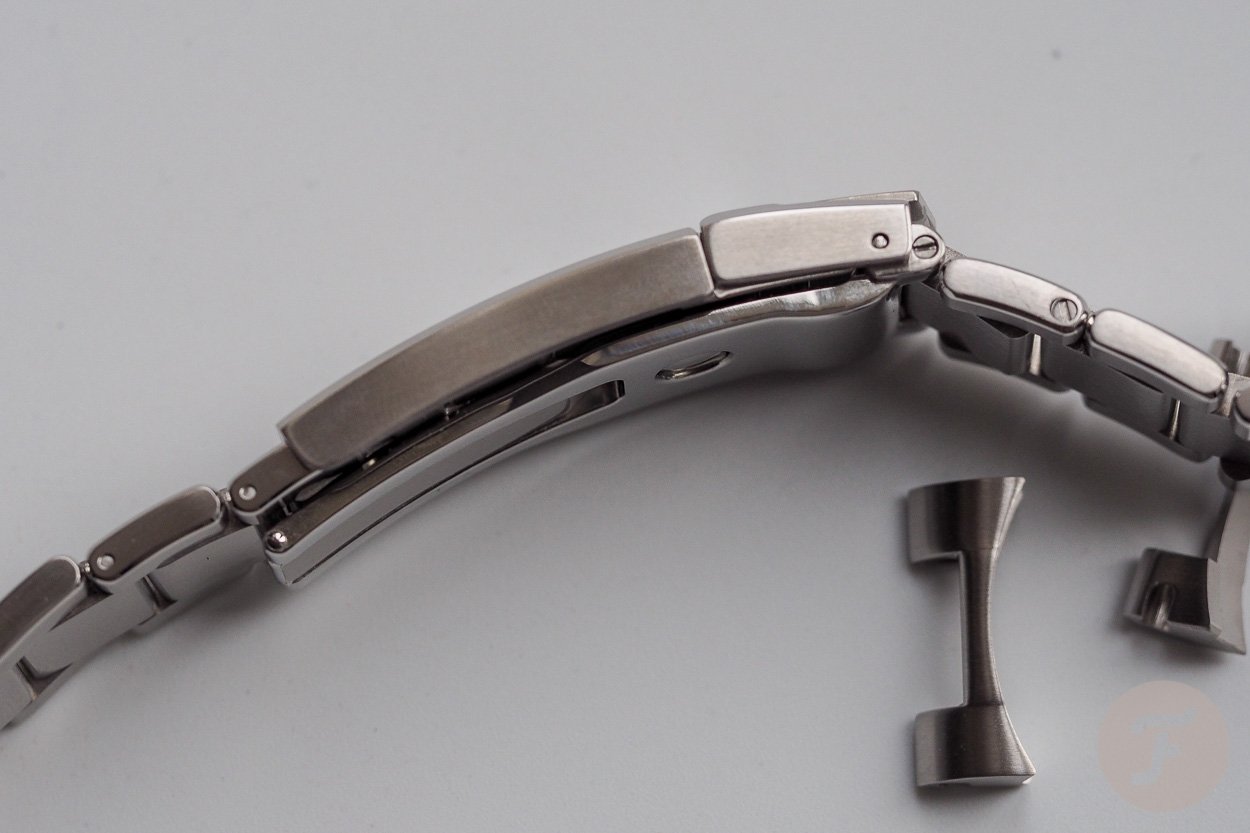 My one beef with the clasp itself is that for a person with a very slim wrist like myself, the deployant portion, which is longer than the clasp itself, caused the back end of the clasp to catch on things and activate the micro adjust.  It would take some getting used to, but it's yet another case of genetics getting in the way again.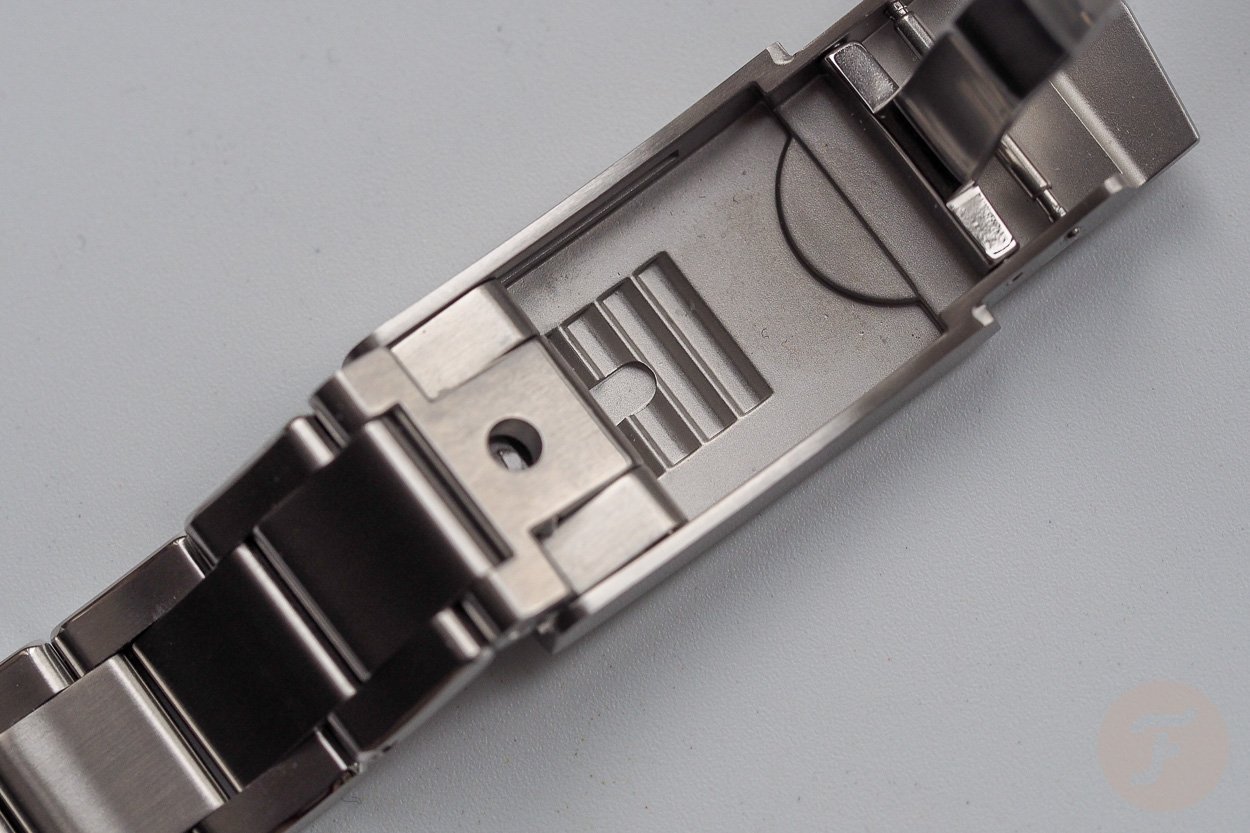 Oh, and I should mention that Monta employs screws for its links that run the full width of the link.  The result is a bracelet that's extremely easy to size; I did it in under five minutes.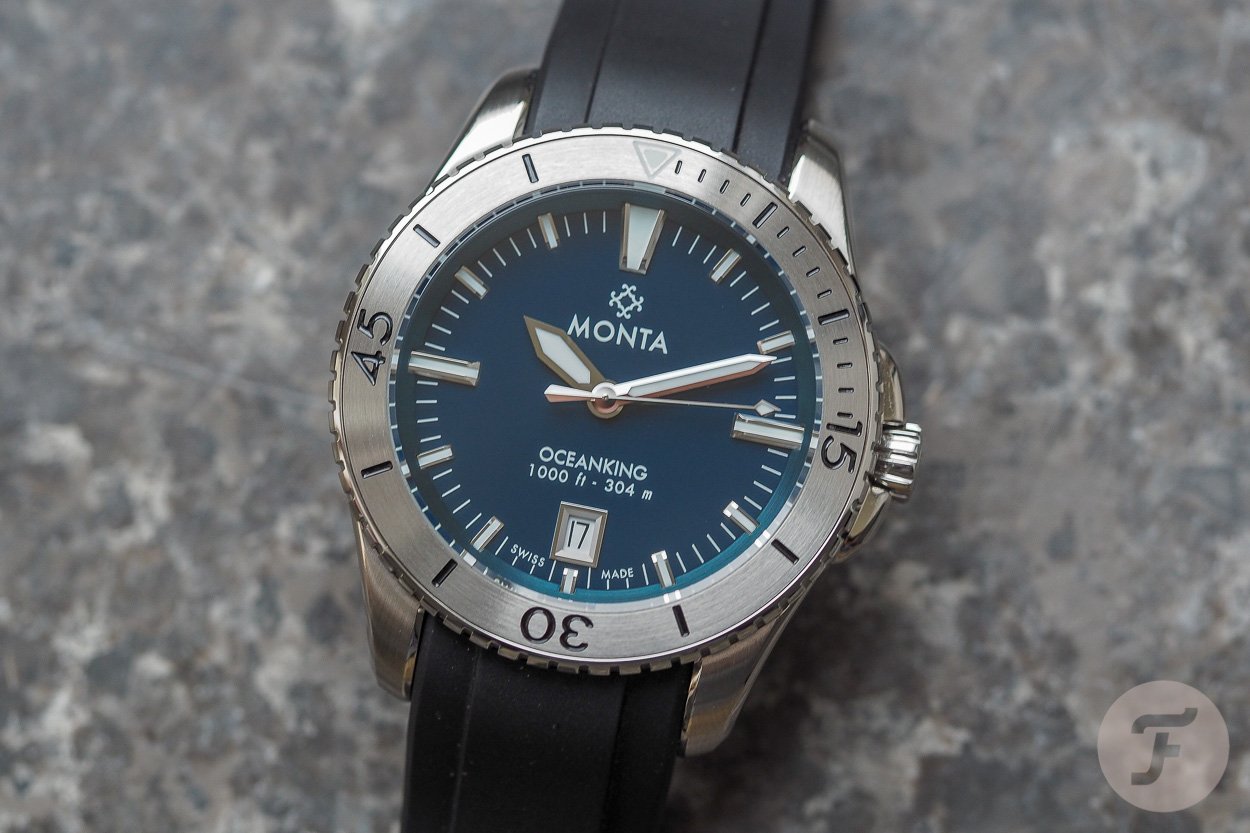 Possibly the Best Strap I've Tried
All is not lost though for me because, as mentioned, my Monta Oceanking tester came with both a rubber strap and nylon NATO.  I don't often choose either of those types of strap for any of my other watches, but with the bracelet a tad too large, I chose to spend serious time with the rubber strap.  After all, with companies like Rolex and Omega offering sports watches on rubber, it's no longer just for G Shocks.  And I'm glad I switched to the rubber because, once on, it was easily my favorite.  What you're getting here is the same technology you'd find on an Everest and that means a rigid core, a design that's fitted to the lugs of its intended watch, and some underside contouring that helps it breathe on the wrist.  Honestly, that all sounds good, but I never really understood how a $200+ piece of rubber could be worth the money.  Everests are often sold at Rolex AD's and I simply figured that when one was spending in excess of $10K on a watch, an extra $200 must seem like chicken feed, so why not?  Well, I get it now.  I'll do my best not to sound like a sycophant here, but this just might be the most comfortable strap I've ever fastened to my wrist.  And, it transformed the watch.  At times, the steel bracelet, when combined with a steel case and bezel, possibly overwhelmed that beautiful chameleonic dial.  But with the black rubber, the watch really stands out as the star of the show.  But damn, I can't get over how comfortable it was and because it's vulcanized rubber, it's not a dust collector like the vast number of silicone straps that most brands offer.  And finally, with the way the strap fits to the case, the watch simply felt like one continuous, solid piece of hardware.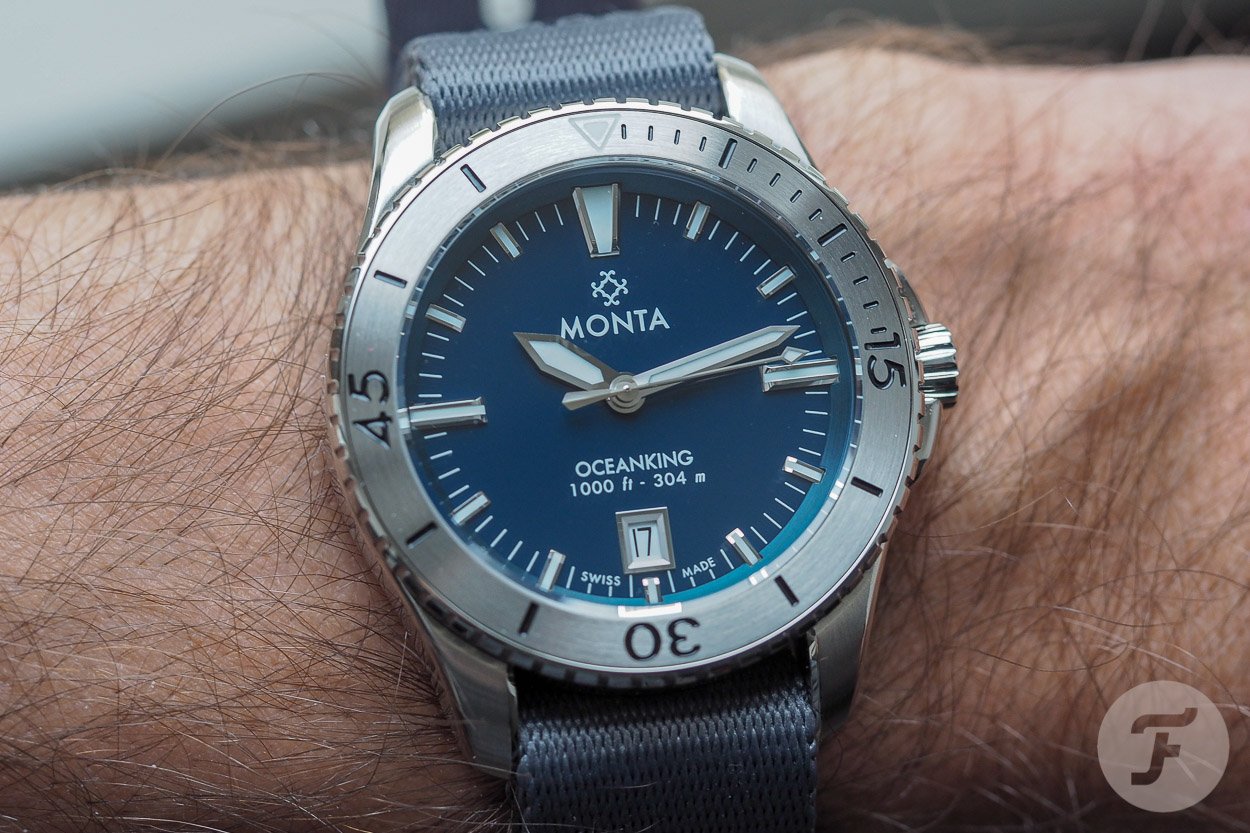 I won't spend a ton of time on the grey NATO strap that came with the Monta Oceanking.  It was plenty nice, thick and well made with a seatbelt webbing style.  The hardware also echoed the rubber strap's pin buckle design with a raised center section.  I did struggle a bit to get two layers of the strap through the keepers when bending the strap back over on itself, but some additional time fidgeting with it would have likely solved the issue.  Apologies, but I just spent that much more time with the rubber strap.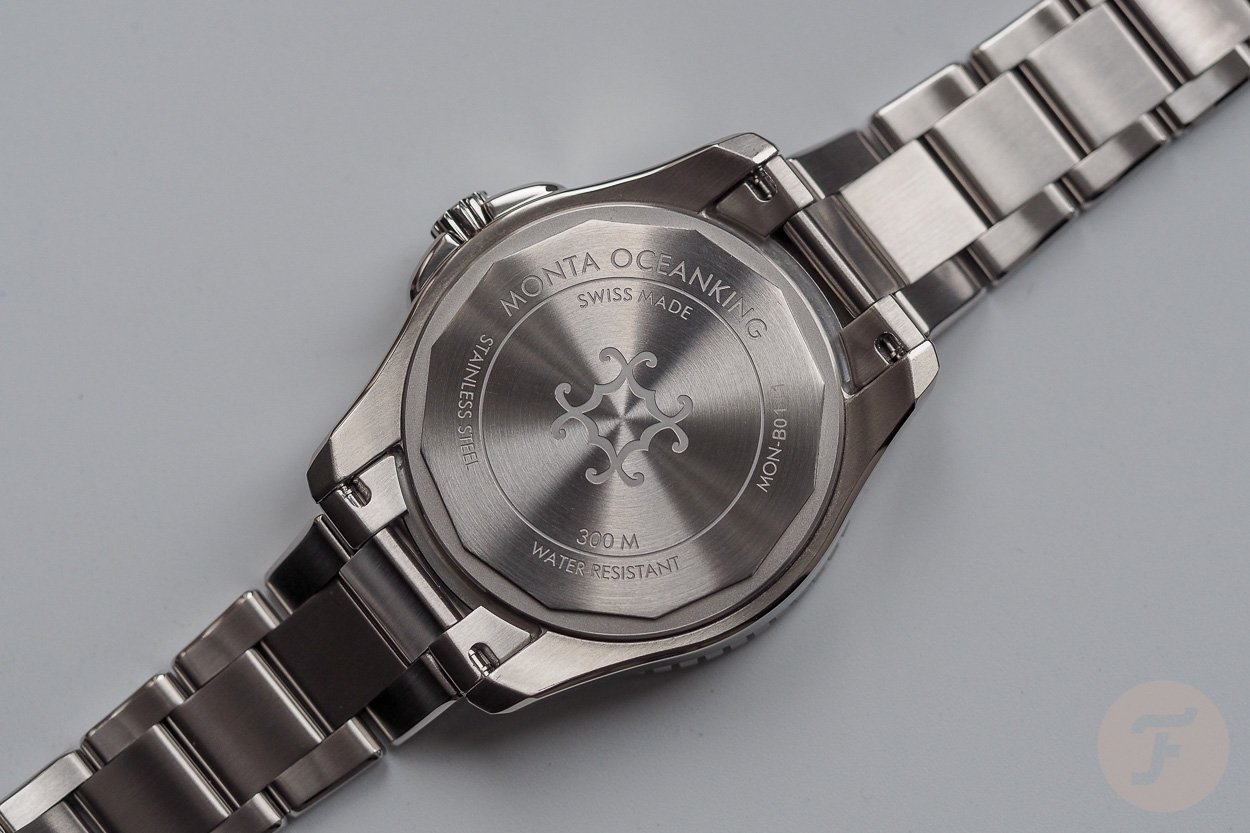 High Grade Sellita Internals
Underneath the nicely done, but not too showy, inscribed solid screw-down caseback lies the Sellita SW 300.  It's a movement that's gaining more and more usage in the industry as ETA's supply of 2824's seems to be on again off again affair.  Opinions on the Sellita may vary, but Monta tells us they're having good success with it reliability and warranty wise.  As expected, the watch hacks, features a quickset date function, and can be hand wound.  It has a power reserve of 42 hours and is accurate to +5/-5 seconds per day.  Speaking of warranty, Monta offers 2 years.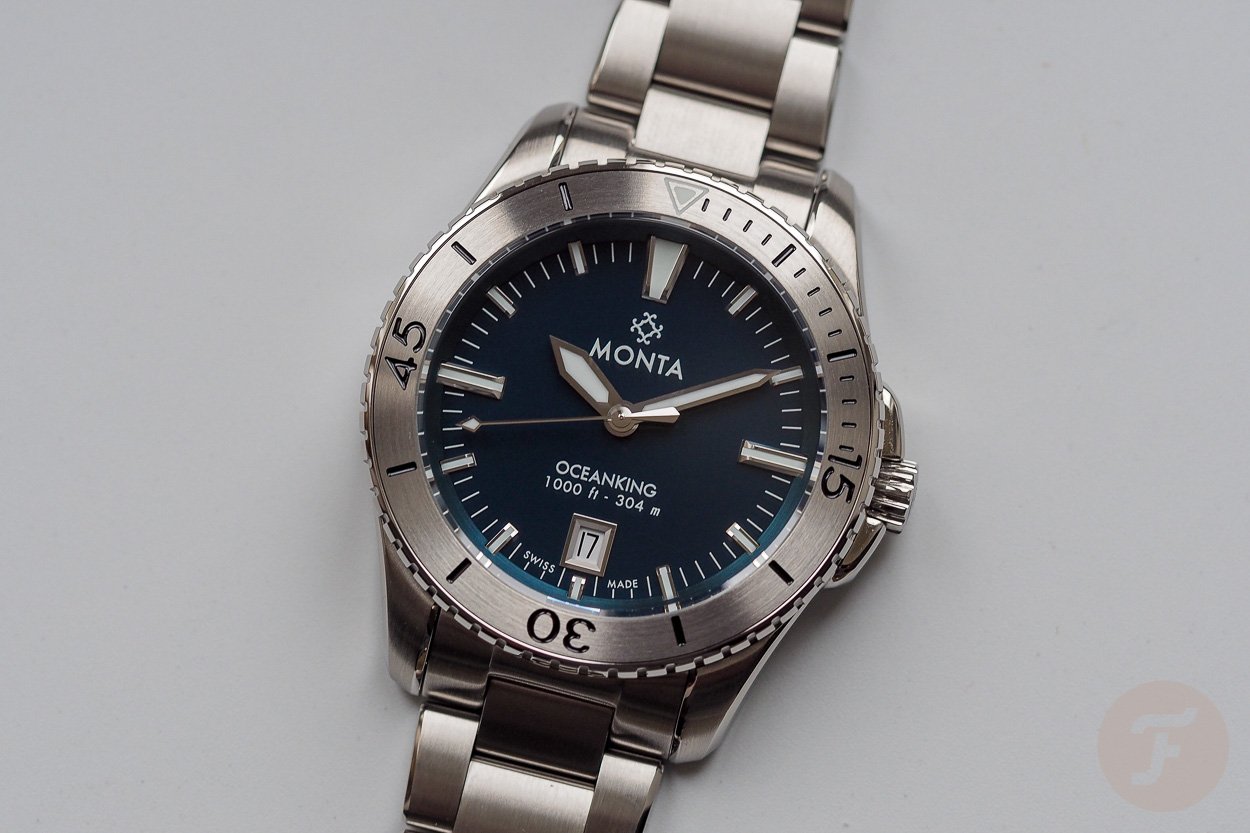 Pricing and Final Thoughts
At $1,925 on bracelet ($1,700 on rubber), it's hard to justify spending that level of money on any watch to a person unless they're a watch lover.  If you are someone who enjoys watches, enjoys a well thought out design, and most importantly, high quality execution, the Monta Oceanking is definitely worth your consideration.  I won't sit here and tell you that it's better than an Omega or a Rolex.  No, those watches have serious pedigree on their side, in-house chronometer movements, and they do a lot of advertising.  Plus, there's a ready market for them.  But, if you're shopping for a diver in the sub $2,000 range, you'd be wise to give the Oceanking a look.  It's an extremely satisfying and solid wear and it doesn't hurt to think that you're supporting a company that actually loves what they do and that includes interacting with their customer base.  Who knows what Monta will look like over the next few years, but I'm glad they've successfully reinvented themselves after a tough start.
For more information on the Monta Oceanking including ordering, pricing and customization options, head to their official site.
Watch specifications
Model
Oceanking - 60-Minute Bezel With Date
Case Material
316L Stainless Steel
Case Dimensions
40.7mm Diameter, 49mm Length, 11.9mm Thickness, 20mm Lug Width
Crystal
Sapphire with Anti-reflective Coating
Case Back
Solid, Screw-down
Movement
Sellita SW300, automatic winding, 25 jewels, 42 hour power reserve, hacking, quick set date, +5/-5 seconds per day accuracy
Water Resistance
1000 feet, 304 meters
Strap
Stainless Steel Bracelet with safety clasp & micro adjust or Vulcanized Rubber strap with pin buckle. Nylon NATO strap is included.
Functions
Time (HH:MM:SS), Date, 60-click unidirectional diving bezel with minutes.
Price
$1,925 on Bracelet. $1,700 on Rubber Strap.
Special Note(s)
2 year warranty.