Longines Saint-Imier Retrograde Moon Phases Hands-On
Longines is one of those brands that clearly marked certain eras in the past when it comes to watchmaking. This brand from Saint Imier in Switzerland has a rich history in timekeeping that goes back as far as 1832. However, from our own interest in the brand we can say that in the 1950s and 1960s, Longines had these wonderful Conquest watches with a beautiful gold and [hand painted] green medallion on the caseback. In the 1970s, Longines followed the Swiss industry with sports watches featuring integrated bracelets. In the 1980s, Longines was a well known name in timekeeping and sponsoring of Formula 1 racing (Ferrari). Furthermore, they developed and introduced their VHP (very high precision) quartz watches to the Conquest range.
Today, some of the names of the past are still prominently in the Longines collections (consisting of Elegance, Watchmaking Tradition, Sport and Heritage). The aforementioned Conquest is part of the Sport collection and the watch we have been testing is the Saint-Imier which belongs to the Watchmaking Tradition collection.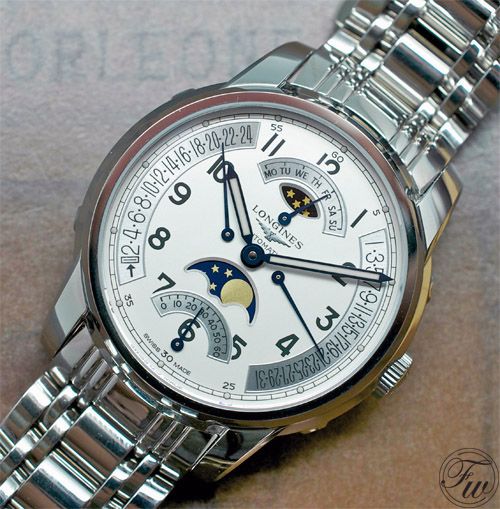 In March, during the BaselWorld exhibition, Longines showed us their collection of new watches. One of the watches that struck us the most was this beautiful moon phase complication timepiece with four different retrograde hands on the dial. The Longines Saint-Imier Retrograde Moon Phases.
This watch is packed with complications: moon phase indicator at 6 o'clock, day/night indicator at 12 o'clock, retrograde day indicator at 12 o'clock, retrograde 24-hour indicator at the left side of the dial and retrograde date indicator at the right side of the dial. All these complications are powered by an automatic caliber L707.2 movement. This nicely finished movement of Longines prestigious moon phases watch is based on ETA's caliber A07 L31 movement. From what we've understood, ETA is making this movement exclusively for Longines. This is something we will probably see more often, as ETA will supply mostly Swatch Group brands now. This means they can probably do more of these special collaborations with their 'own' brands.
Longines sent us one of their first finished Saint-Imier Retrograde Moon Phases watches they had and we've worn it for almost a month. As soon as we unboxed this watch, we were delighted that they sent us the silver dial version with blued steel hands. Just a matter of personal preference, as they also have a black dial version with silver colored steel hands.
Setting the time and functions on this watch is – although it might appear different – very easy. Besides the setting and winding crown, the watch has two small pushers on each side of the watch for correcting the complications.
The case diameter of this Longines Saint-Imier timepiece is 44mm, which – although we should be used to it by now – still looks big when you read the specifications of a watch. When wearing the watch – the model we received came on a stainless steel bracelet as you can see – we didn't find the 44mm case to be too big. It suits the watch and it is probably also the reason that the dial has so much space left despite the four retrograde hands, day/night and moon phase indicator. If we were to buy a Saint-Imier Retrograde Moon Phases ourselves, we probably would order one with a leather strap. The high polished and heavy bracelet makes the entire watch quite heavy and too shiny for us. The bracelet – with safety clasp – has been well finished though and seems to be very tough.
Seeing so much movement on the dial when wearing it is a lot of fun. Everything visually changes and increases on the dial as seconds, minutes, hours and days are passing by. Some people love the simplicity of just an hour and a minute hand on a dial, but a mechanical watch like the St Imier Retrograde Moon Phases is making a mechanical movement with so many complications truly coming alive!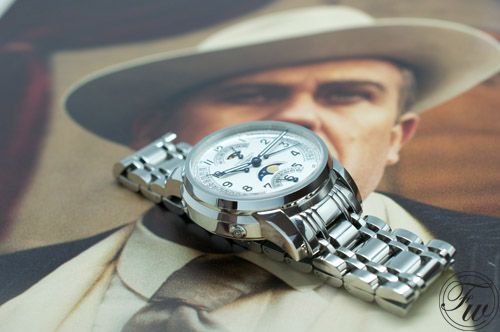 As you can see in the picture above, the Saint-Imier Retrograde Moon Phases timepiece is a thick watch, which is something you should really experience yourself before you buy. Also, decide whether the bracelet is something for you (to keep it in balance with regards to weight) or that you prefer a leather strap. Longines also delivers this watch on a wonderful alligator strap with deployant clasp.
Besides the great classic look of this timepiece from the Watchmaking Tradition collection of Longines, there is another aspect that will please a lot of people. As you probably know Longines is positioned within the Swatch Group as a serious watchmaking brand with a lot of heritage to show but also one that is still affordable. This particular Saint-Imier Retrograde Moonphase has a price tag of 2950 EUR, which is approximately $3700 USD (we don't have the official list price in USD at this moment).
Any other big name brand – in the same league – with a watch with the same complications and similar finish of the watch case and – in this case – bracelet, would have an entirely different price tag. We applaud Longines for being able to pull something off like this and think this watch could become one of their top selling watches for men in the near future.
If you will visit the official Longines website (after reading this review), you will see that they have selected a number of ambassadors for their brands. We've found that Simon Baker, Australian actor and probably best known for his role in TV hit series 'The Mentalist' (CBS production), is the ambassador for this Saint-Imier Retrograde Moon Phases watch according to the Longines website.
Although we normally do not pay much attention to ambassadors of brands, we think the link with Simon Baker is spot on. Just like the Saint-Imier timepiece, classic look with a modern twist. We are looking forward to see the Longines watch popping up in the upcoming (fifth) season of The Mentalist. Other ambassadors of Longines are Andre Agassi, Steffi Graf, Kate Winslet and a number of other sports people and movie stars.
The Longines Saint-Imier Retrograde Moon Phases (ref. L2.764.4.73.0 for the white dial, ref. L2.764.4.53.3 and L2.764.4.53.6 for the black dial versions) is a timepiece that we really enjoyed wearing. Great timekeeper, easy to operate, nice complications and a watch that is definitely a conversation maker. We experienced that both watch enthusiasts and people who don't have much going on for watches showed interest in this timepiece. In the end, the price tag of 2950 EUR for this type of watch is just awesome and will be a very convincing argument.
More information about this watch can be found at the official Longines websites: