Louis Moinet Plays "Jigsaw Puzzle" With The Savanna Tourbillon Tiger
A unique piece nominated for the GPHG Artistic Crafts category
You may know about the Emoji watch featuring a jigsaw-puzzle-inspired dial that set the watch community abuzz earlier this year. Following hot on the heels of that whimsical release was another, more sophisticated jigsaw creation, one in a very different league. A unique piece equipped with a tourbillon, its dial is not merely a multicolor motif but a true jigsaw of an exquisite miniature work of art. It is the Savanna Tourbillon Tiger by the upscale brand Louis Moinet, now contending for the Grand Prix d'Horlogerie de Genève (GPHG) 2023.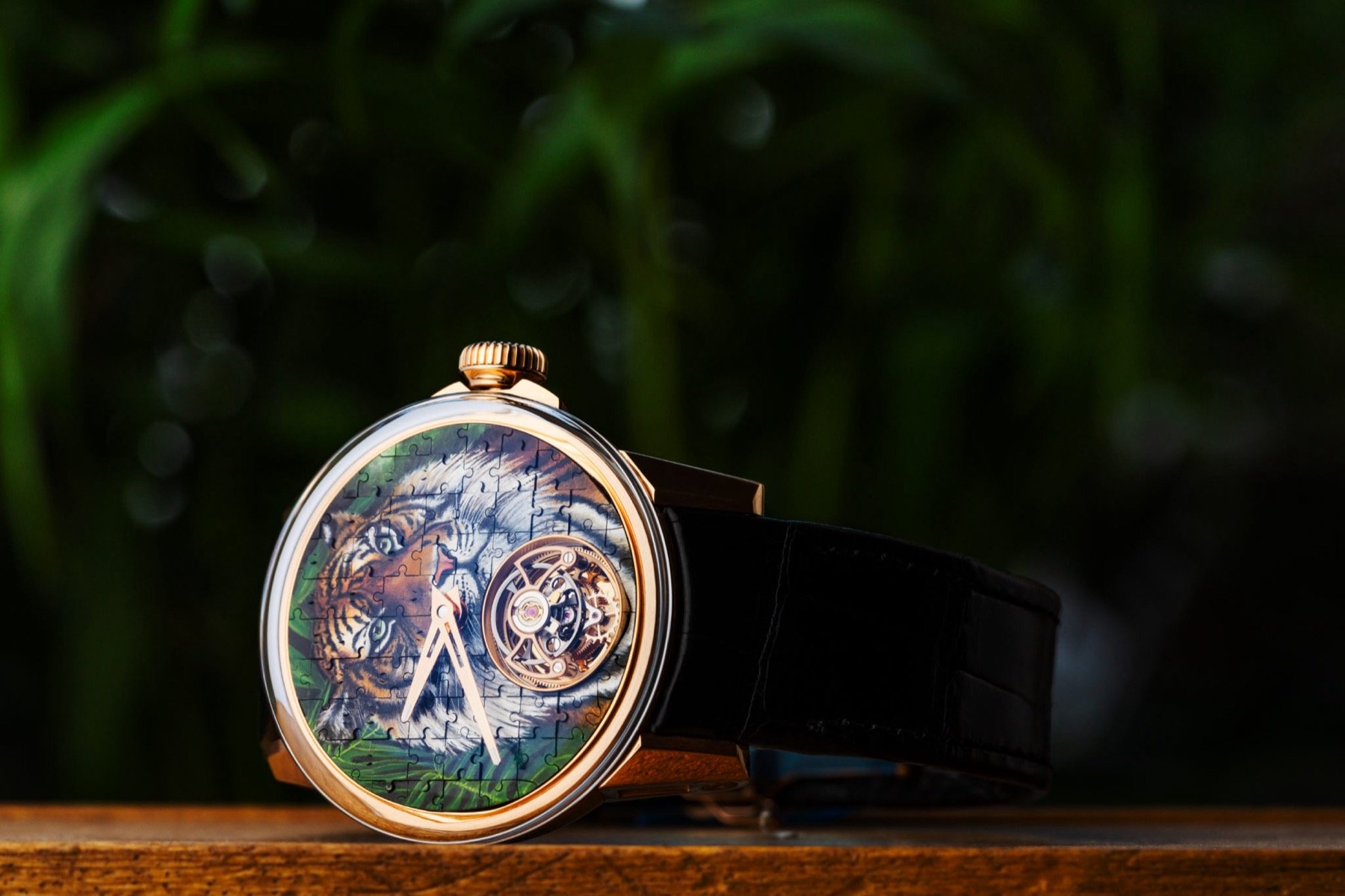 The Savanna Tourbillon
Louis Moinet's Savanna Tourbillon collection is a homage to the wilderness of nature. The dial of each edition is conceived as a true jigsaw puzzle, creating a canvas where iconic African animals take center stage. This collection introduces a fresh creative concept and technique, pushing the boundaries of métiers d'art in watchmaking. Each Savanna Tourbillon is a masterpiece, requiring dexterous and meticulous skills performed by only a handful of artisans.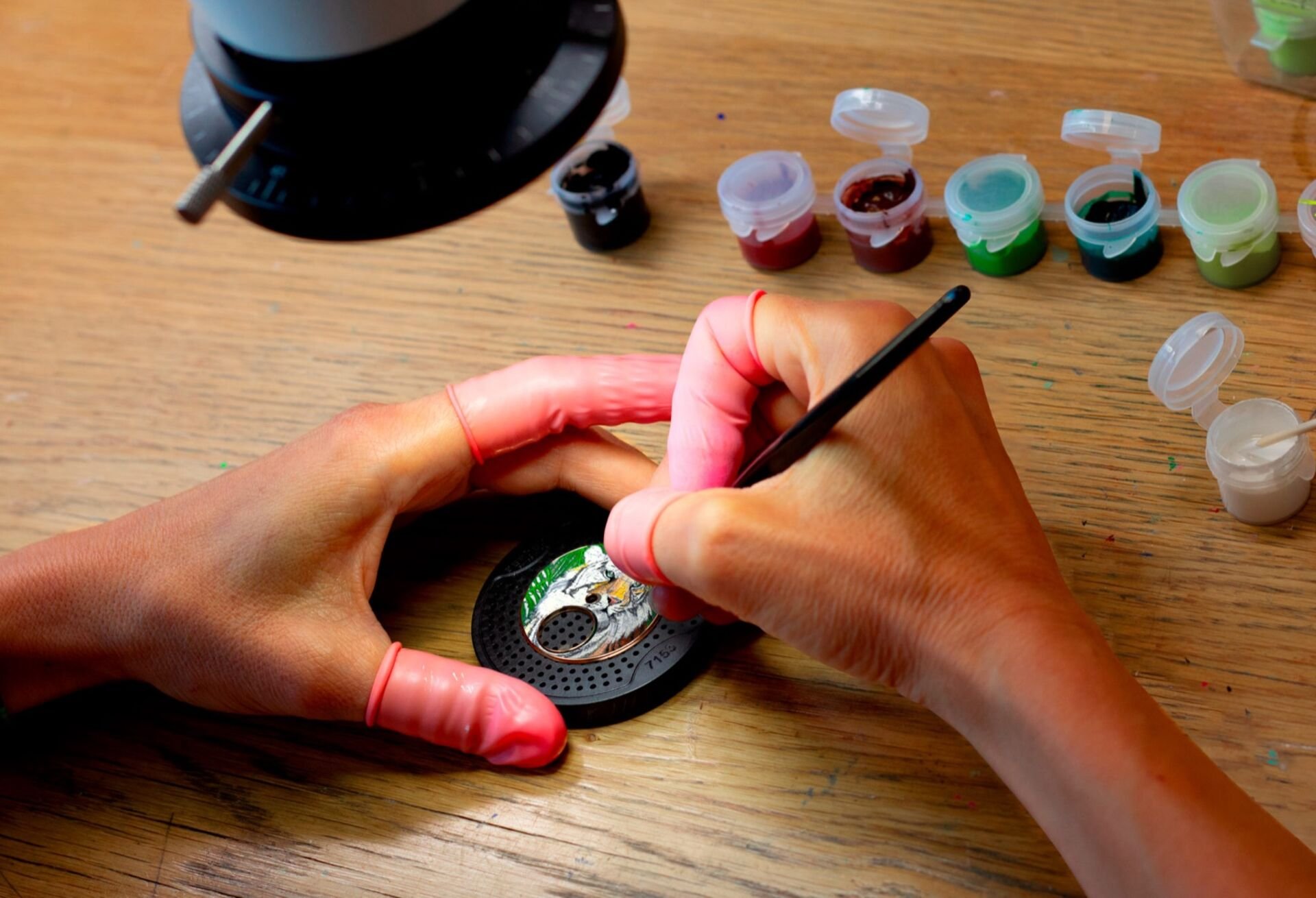 Métiers d'art is a time-honored tradition, especially in Swiss watchmaking where timepieces displaying it remain highly coveted by collectors. True to form, this one-off creation is the kind of inventive and eccentric artistry that Louis Moinet is renowned for. The brand specializes in technically advanced, high-end timepieces, incorporating rare and exotic materials like lunar or Martian meteorites or fossilized palm trees. Every watch is either a unique piece or belongs to an exceptionally limited series. We have covered two such examples just recently here and here.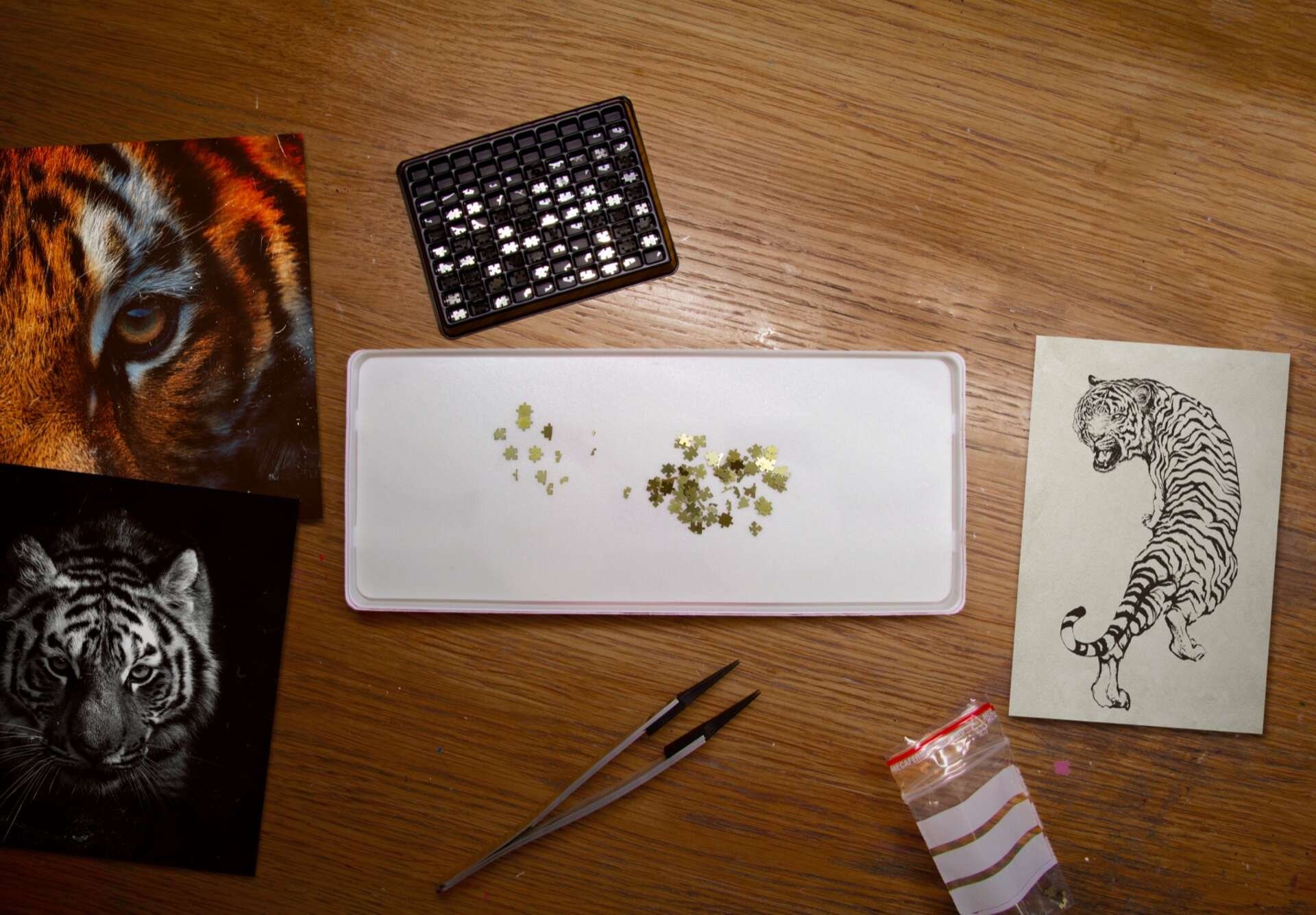 The métiers d'art dial
For this one-of-one Savanna Tourbillon watch, the dial comprises 81 jigsaw pieces depicting a stunning tiger through micro-painting in acrylic. As if the concept were not intricate enough, this miniature jigsaw has a complex construction of four levels. The metal pieces interlock securely across all layers, resulting in a jagged terrain with visual depth and a nuanced sense of elevation. Due to variations in height, some pieces have exposed edges. Thus, the artisan must disassemble the puzzle and individually apply microstrokes to each diminutive piece's visible surfaces with precision. The next step involves reassembling the pieces to recreate a jigsaw dial. This is an artisanal feat demanding remarkable skill, and this painstaking work showcases the artist's sheer mastery.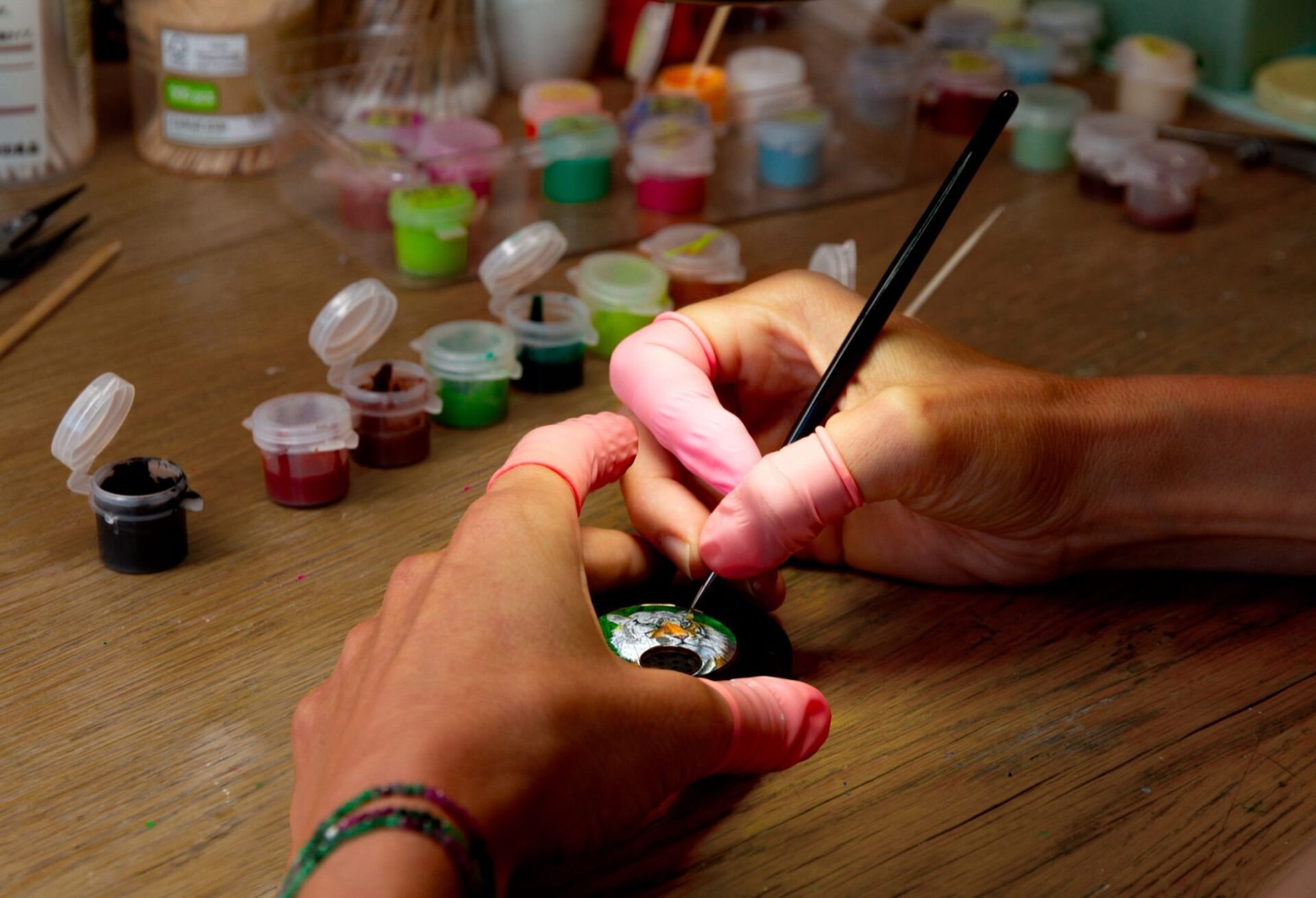 The Savanna Tourbillon collection celebrates the untamed beauty of nature. The portrayal of the tiger, with its intense gaze, intends to beckon and draw us into its realm. Adorning the dial are two skeletonized hands with luminescent tips. The dial also remains devoid of any hour markers, allowing the miniature painting the most unhindered display possible.
To help you visualize the creative process, Louis Moinet has put together a short video about the making of this dial:
The flying tourbillon
Flaunting itself on the dial is also an unmissable flying tourbillon in an off-center cage at 6 o'clock. This gravity-defying feature operates via a hand-wound mechanism furnished with dual mainsprings. The two barrels are stacked head-to-tail on top of each other — known as volte-face in French — to release energy simultaneously. This configuration beats at 28,000vph (4Hz) and promises a 96-hour power reserve.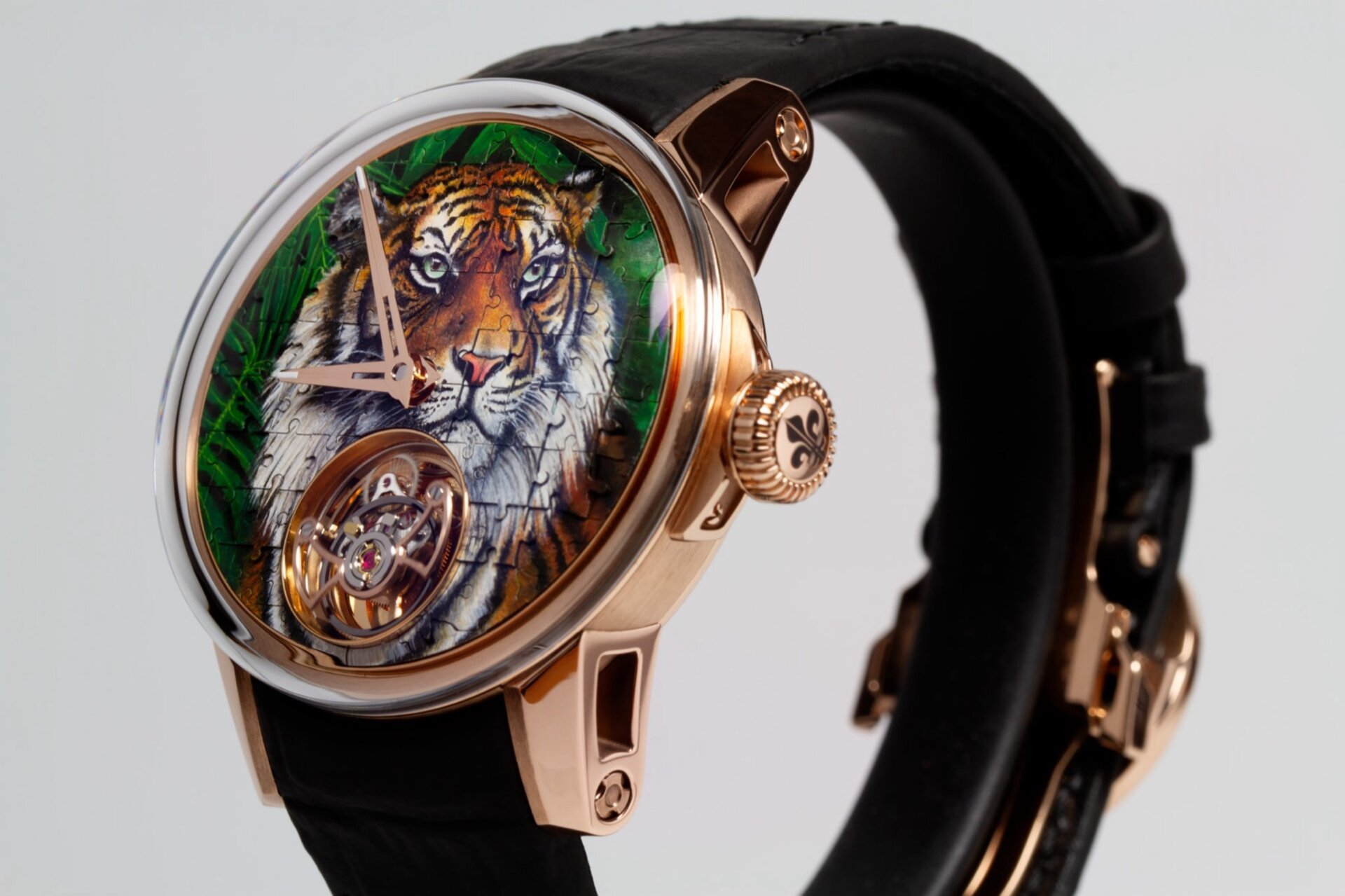 As with Louis Moinet's recent flying-tourbillon models, the Savanna Tourbillon Tiger has a 40.7mm case diameter. The polished and brushed 18K 5N rose gold case boasts well-defined, fluid curves. Despite its hefty presence, the open-worked lugs lend a sense of lightness and allow for seamless strap integration. From the top, the absence of a bezel and the presence of a pronounced domed sapphire crystal showcase the jigsaw painting and tourbillon in their full glory.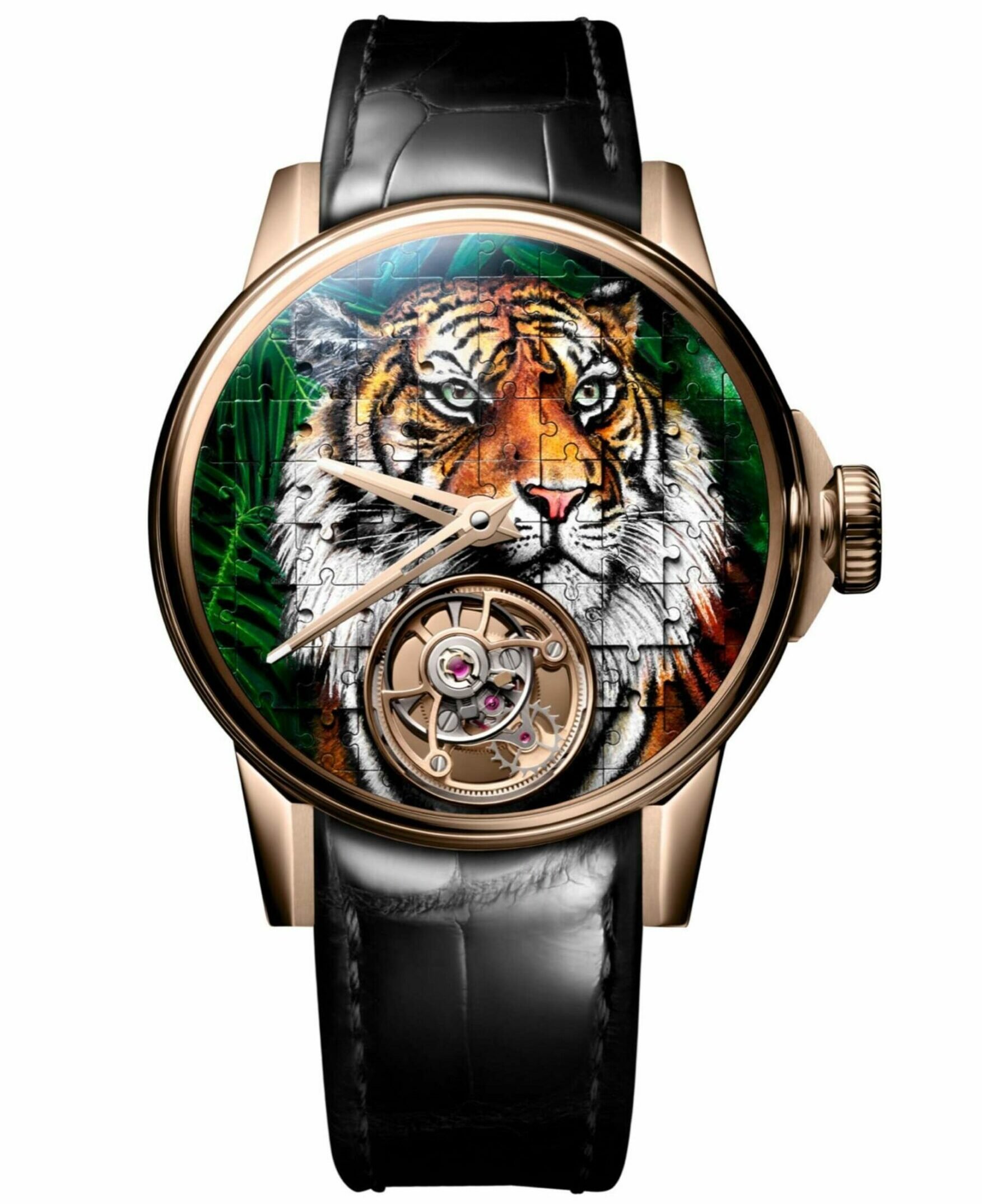 It's showtime
The Savanna Tourbillon collection has introduced four unique editions — the Leopard, Lion, Elephant, and Tiger. While the first two are no longer available, the Savanna Tourbillon Tiger is participating in the GPHG pre-judging roadshow for public previews in various major cities. So seize the chance to witness this exceptional timepiece in person if you cross paths with the exhibition. This horological marvel comes with a befitting price tag of CHF 140,000 (excluding VAT), but its true value undoubtedly lies in the eyes of its beholder.
For more information, visit Louis Moinet's official website.