Maitres du Temps, Chapter One.
More and more haute horlogerie brands are demonstrating their haute-ness to make sure that you know how to be different from other fortunate watch collectors. Although I would feel very frightened with an expensive haute horlogerie timepiece on my wrist, there are probably enough fortunate people that don't. During my trip to Singapore earlier this year, I have seen a number of haute horlogerie timepieces that really struck me. I also wondered why we didn't have these timepieces closer at home, in The Netherlands, Benelux or even the rest of Europe. But that thought crossed my mind for only a few seconds. North-America, Asia, Russia and only some parts of Europe is where the money 'is at'. Or at least to be spend on watches. Not here.
That's too bad, because I would really love to see the Chapter One watch, made by three master watchmakers for a brand new player on the market, called Maitres du Temps. These three master watchmakers are Christophe Claret, Roger Dubuis, and Peter Speake-Marin. I have to admit that I only knew about Roger Dubuis before and heard about Peter Speake-Marin. However, a press release of 8 pages (text!) contained a nice introduction of all three of the master watchmakers and about Steven Holtzman, owner of Maitres du Temps.
These three master watchmakers have been carefully put together by Maitres du Temps. As Steven Holtzman said in an interview with the European Luxury Blog, "Every one of the three watchmakers has a particular skill. Mr. Claret has the capacity and ability to create a watch and come up with solutions. Mr. Dubuis's traditional perspective is from the old school of Geneva watchmaking, and utilizing his traditional watchmaking experience meant we were able to blend different views. Mr. Speake-Marin's ability to set up and manage the process, bringing us in contact with the right suppliers and helping us with the decisions, was a natural fit. That we were able to bring the three watchmakers together was like a dream for us." The complete interview can be read at the European Luxury Blog, who also hold the copyrights of the interview.

Pictured left to right: Mr. Peter Speake-Marin, Mr. Roger Dubuis, Mr. Christophe Claret, and Mr. Steven Holtzman.
The philosophy of Maitres du Temps is symbolized by a tree, with each branch representing a fresh opportunity to work with new masters, another collaboration, a future project. And as the branches intertwine and the tree bears fruit, so a new timepiece is brought to life. This philosophy (or tree-symbol) means we can expect some more horological wonders in the future, created by other (or in different combinations) master watchmakers. Actually, the Maitres du Temps website already mentions that Chapter Two is being launched in 2009! Great!
As you can see in the picture at the top of this article and the blow-up picture below, the first piece from Maitres du Temps is, a combination of complications with tourbillon, mono-pusher chronograph, retrograde date, retrograde GMT, and two rolling bars at 6 o'clock and 12 o'clock, indicating the day of the week and phase of the moon, respectively. The movement (caliber SHC02) of this watch consists of 558 components and the case of the watch (18ct red gold, 18ct white gold or titanium) consists of 108 components. An overview of all technical specifications of this watch can be found here.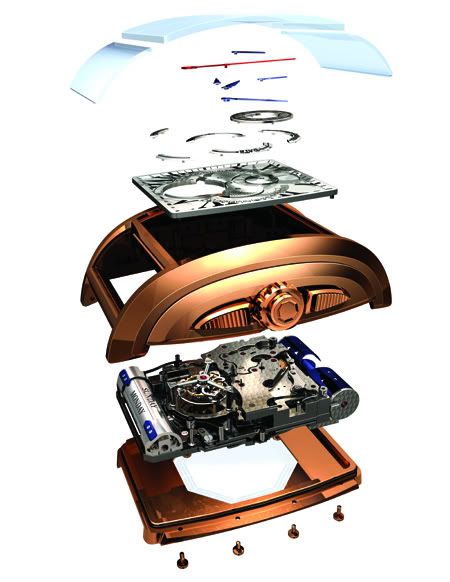 The Chapter One will be available in only a few carefully selected boutiques, so please keep an eye on the website for these places if you want to catch a glimp of this shiny beauty. There will only be 50 pieces of the Chapter One and the list price will be around 400.000 USD (excluding VAT). You are probably not in the banking business if you are currently on the look-out for a piece du haute horlogerie from Maitres du Temps. 😉
Jokes aside: myself and probably most readers would buy a cool German or Italian sportscar (or a home) for this amount of money and a nice Rolex or Audemars Piguet on the side to go with it, but for the wealthy collector with a nose for haute horlogerie, the Chapter One is undoubtly the way to express this. It definately sets you apart from other fortunate watch collectors with Patek Philippes or Vacheron Constantins stuffed with neat complications.
Let me show you this beautiful timepiece once more:
Thanks to Sylvia Gelton, Mary Beth Tomko and Steven Holtzman for providing me with all the Chapter One information. All pictures are copyrighted by Maitres du Temps.