MeisterSinger Astroscope Watch Released At Inhorgenta Fair
A constellation of treats hits Münich. My pick? The new Astroscope.
MeisterSinger is welcoming a new model to its line-up. Building on the success of the recent Lunascope, the MeisterSinger Astroscope keeps the focus well and truly on the skies above.
I like MeisterSinger for its uniqueness, but I often find it hard to get excited about the watches themselves. Why? The single-hand concept is cool (and brand-defining) but, for me, it is too limited for many novelties to be, well, novel. Here, however, with the release of the MeisterSinger Astroscope, the brand succeeds in presenting useful dial information without sacrificing its core values. That's a lot harder to do than one might think. And whenever a brand succeeds in pulling off a clever fix in a tough situation, that brand deserves props.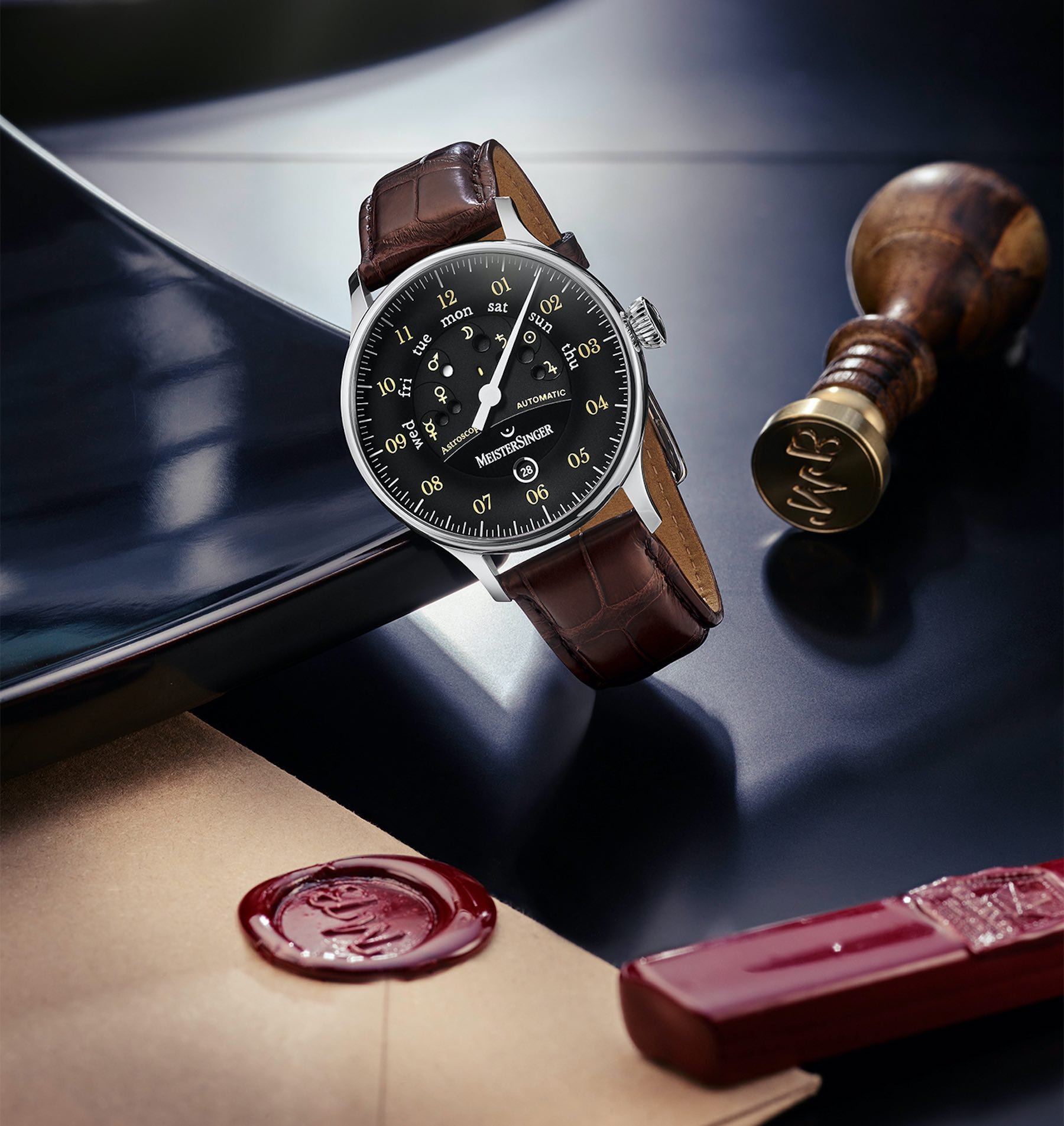 Astronomical Symbols
What is particularly cool about the Astroscope is that it brings something totally new and unexpected to a catalog I've often found a bit too predictable. The single-hand look is clean but perilously restrictive. In the past, I've preferred the models that utilize dial apertures (like the Salthora Meta jumping hours complication), because they play a perfect supporting role without stealing the limelight from that centrally-mounted hand. In this instance, the dials (available in two delicious colorways) are decorated with astronomical symbols representing the days of the week. Above six o'clock, a small, unintrusive window shows the date. In the center of the dial, the days are indicated by their own aperture. These apertures are either filled by a white dot (when it is that day in question) or blended in with the base color of the dial.
It's not displaying anything revolutionary (no age of the moon indicator here). But what it does do, it does very nicely. The weirdest thing about it is the fact that the days are not arranged in their regular running order. Instead, Wednesday kicks off proceedings around 9 o'clock. Following that, the week runs Friday, Tuesday, Monday, Saturday, Sunday, Thursday. This makes a lot more sense when you try and visualize the day disc printing.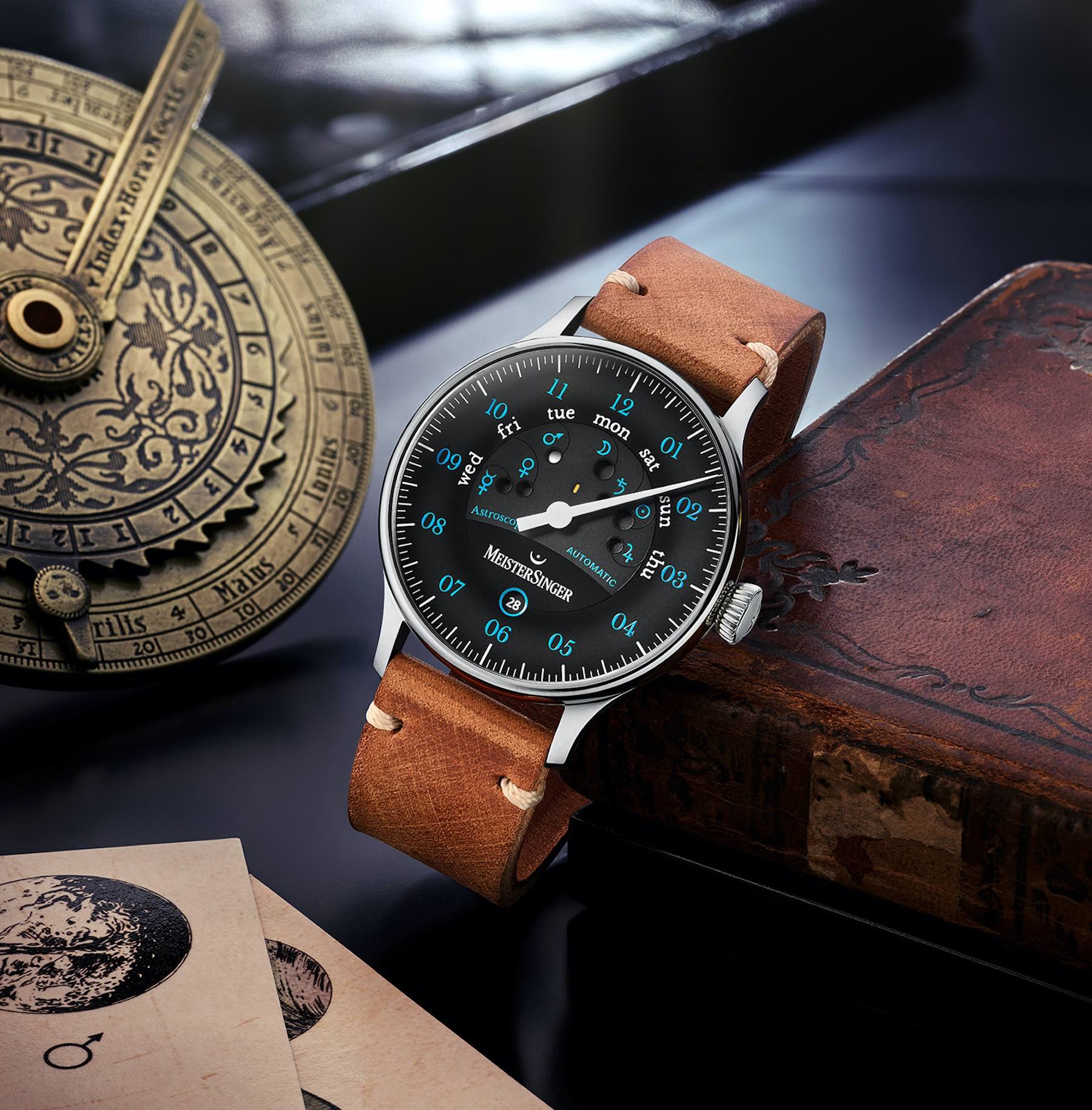 A very positive addition
The Sellita SW220, which has a 38-hour power reserve, drives the MeisterSinger Astroscope. It sits within a 40mm stainless steel case, which is water-resistant to 50 meters. There are two dial options: black/blue or black/old radium. Brown leather straps (one chestnut, one tan) pick out the dial colors nicely. This model will be unlimited and priced at a rather tempting €1,990. This is a very positive addition to the catalog and a nice follow-up to the Lunascope. The dial information is useful and displayed in a visually-engaging way. For me, it is one of the strongest pieces in the MeisterSinger collection. The toughest choice regarding this watch? Which of the awesome colorways to choose! Learn more at MeisterSinger's official website here.