Mitch Mason Maelstrom Compressor-Style Dive Watch Builds On Brand's Initial Success
And I wish I'd thought of it first...
Hmm. I don't know if I have any right to be annoyed by someone else's endeavors rounding into shape so delightfully, but I must say that the first thing I thought when I saw the new Mitch Mason Maelstrom dive watch was, "damn, I wish I'd come up with that." Why am I so impressed? To put it simply: this brand, with its second model, has done what I think all microbrands should try and do; it has taken an old-school idea and brought it right up to date with a clear focus on execution.
Smart design decisions. I talk about them all the time. What are they? They are "clever sacrifices". Smart design has nothing to do with microchips or screens in this context: they are about knowing your audience. They are about knowing your goal and sticking to it through thick and thin. Sentimentality or wishful thinking doesn't get you far in this game. Mitch Mason has shown that it's not afraid to make the tough calls when necessary to deliver an engaging product and a compelling value proposition.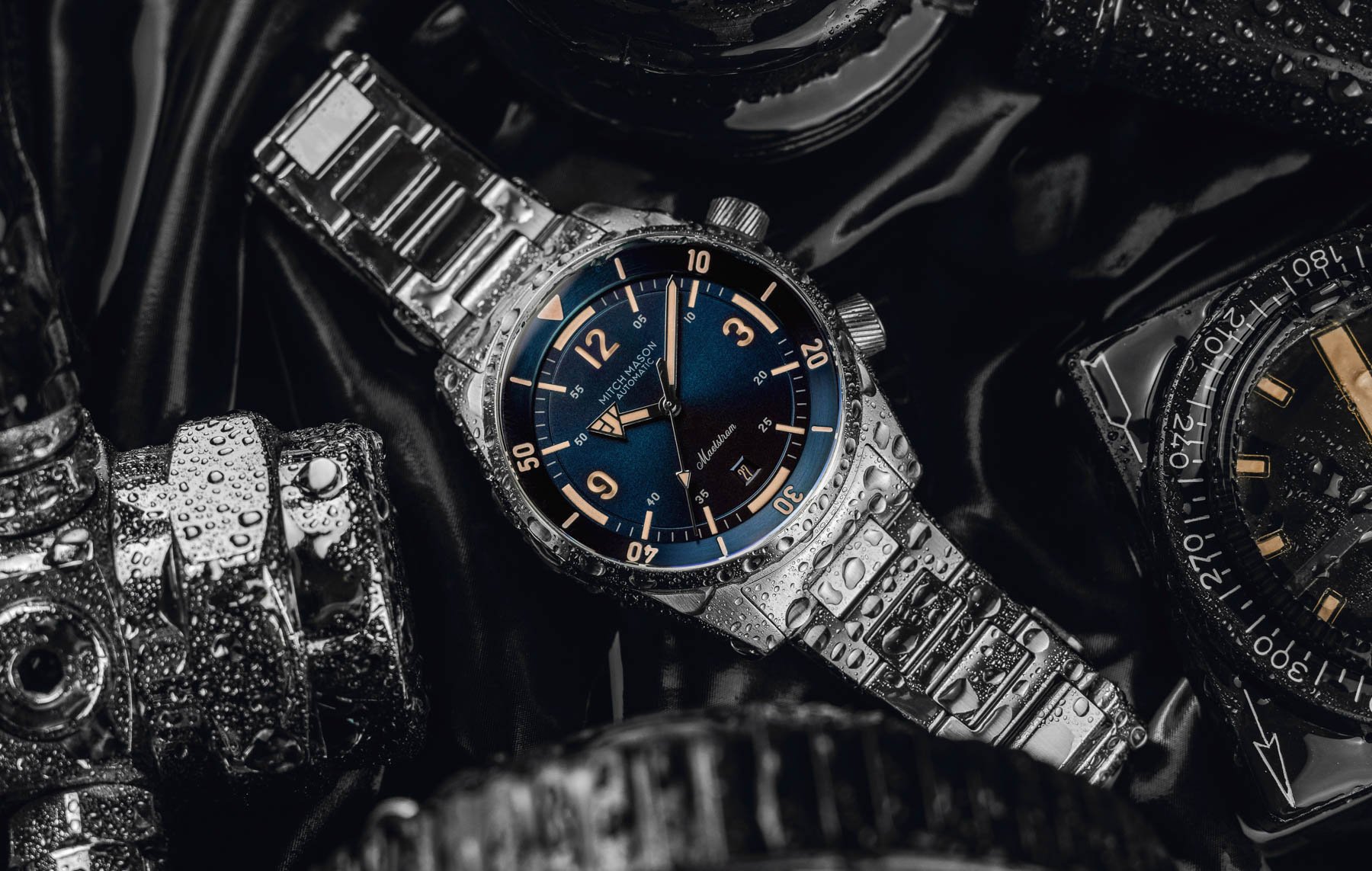 The Chronicle was good; the Maelstrom dive watch is better
I was a fan of the first Mitch Mason model (the Chronicle) because its design stopped me in my tracks. I picked up on some strong Grand Seiko vibes right off the bat, which impressed me. However, it was the all-cream dial that really piqued my interest. It's not a watch I was 100% convinced I'd wear all that often, but it was something I wanted to hold. As an object, it was very appealing. I found it both totally odd and oddly alluring for that exact reason.
The brand succeeded in establishing a strong visual identity with one release. Here, with the Maelstrom dive watch, that visual identity is retained in the hand design and the wide cardinal hour markers that complement the more traditional Arabic numerals. However, the rest of the watch head is far more traditional than that of its forerunner. And I mean that wholly to the watch's credit.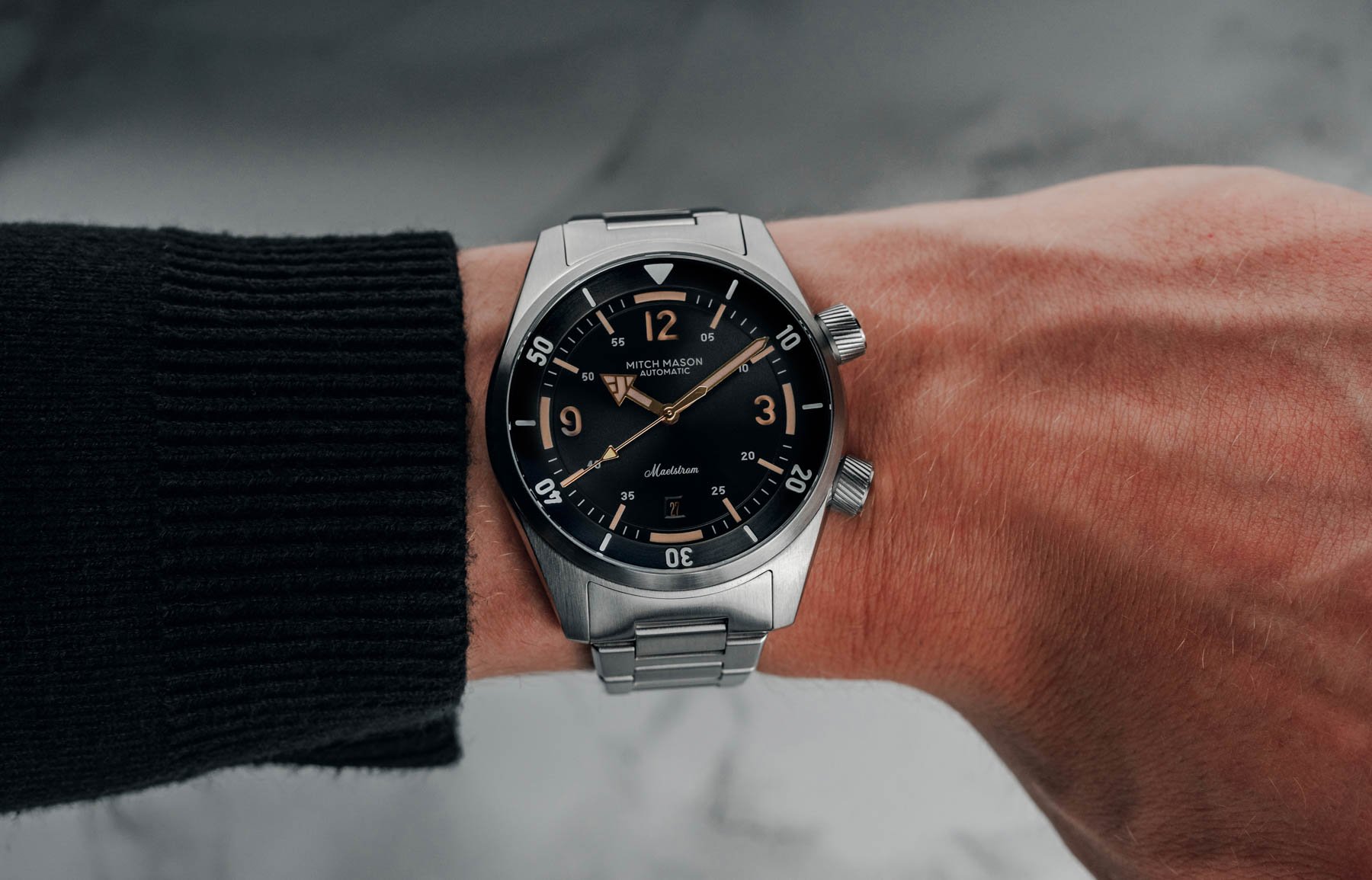 While the original Mitch Mason was able to grab people's attention, the follow-up is much more likely to grab at their cash. This is a highly digestible, very classic, excellently made compressor-style diver with a recognizable dial and wearable proportions. The lume quality, being a sandwich dial, is good and the glow homogeny is pleasing. The color options once more range from the conservative (blue and black) to the slightly "out there" (a slate gray with icy blue markings and a rich apple sunburst that is rarely seen in watchmaking).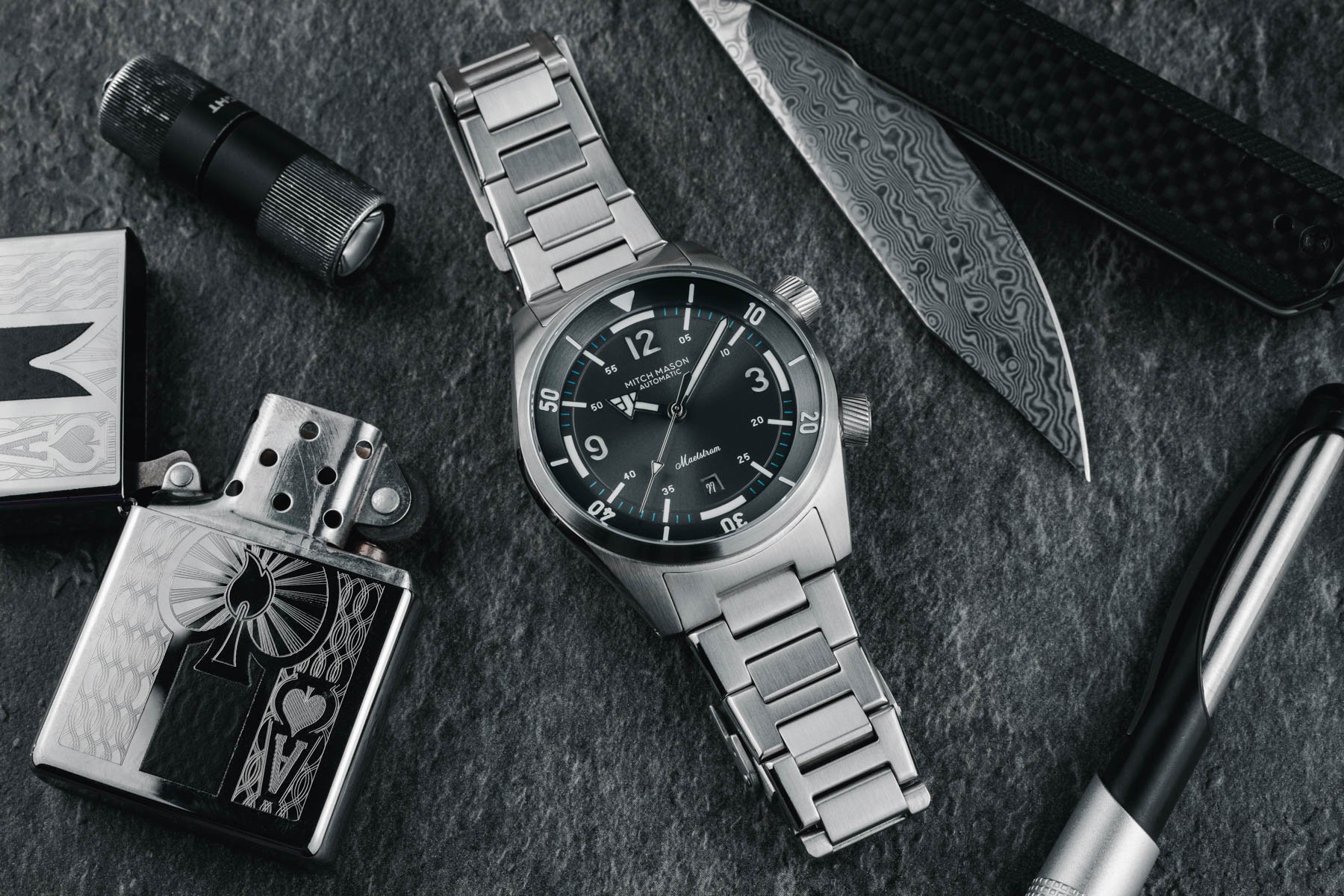 Color me impressed
What I really like about the way Mitch Mason uses color is how it meshes so comfortably with the brand's price point. When NOMOS released the Aqua series back in 2017, the press couldn't get enough of the Signalrot and Signalblau dials adorning the Ahoi and Club neomatiks. Commercially, however, the more conservative colors (the white and the inky blue NOMOS calls Atlantic (or Atlantik in those days)) far outperformed their vibrant range mates. Behind the scenes, I commented that had those vivacious shades been deployed on the Club Campus model (which started at €1,100) they would have flown off the shelves.
A couple of years later NOMOS released a very limited range of Club Campus models with bright dials via Cool Hunting in celebration of Pride. They were gone in the blink of an eye. Sure, the limitation helped, but so too did the price point. I'm not saying any watch over 1K is "cheap", exactly, but a 1K watch is inarguably more accessible than a 3K watch. Similarly, a $599 watch (the super early bird price on Kickstarter will be $449( is inarguably more accessible than a 1K watch. That means people are a little bit more willing to have some fun with their dollars. And for that price, you get a pretty darn versatile diver.
Wearable proportions
The 40mm case diameter is fine (although I would love to see more 38mm skin divers out there), but it is the charmingly compact 47mm lug-to-lug and relatively demure 12mm thickness that keep this thing looking so at home on the wrist. The drop lugs really help with the wearability and both crowns (at 2 and 4 o'clock) are nicely stamped and knurled to facilitate easy operation. The fact they are both screw-down helps secure the 300-meter water resistance, as does the closed case back boasting a fearsome blue whale crashing through the deep.
And behind that case back is the Miyota 9015. That's the smartest of the smart design decisions. There will be some that will lament that this watch doesn't have a Swiss movement because it looks very worthy of such an "upgrade", but the truth is, it doesn't need one. With a Swiss movement, you'd expect the price to leap up to closer to $1,000 and it's just not worth it. I can well imagine the thought processes of the designers, wondering whether their latest baby "deserved" a more prestigious movement, only to keep their feet on the ground and their eyes on the prize before settling on the right decision.
The Miyota 9015
I think about $600 is the comfortable ceiling for a Miyota 9015-powered watch (that's just my opinion), but to command that sum the rest of the piece has to be very much up to scratch. For my money, this piece meets those expectations. I would personally choose the blue sunburst because I think it looks divine next to the old radium lume. And while that "faux-rad" will rankle some, MM has wisely added the slate grey version with ice white lume to appease fans of a crisper aesthetic. All in all, this is a smashing second release and provides the budget-conscious customer with a sterling alternative to the Jaeger-LeCoultre Polaris.
And while that might seem like unwarrantedly high praise, let's just remind ourselves that the model I'm referencing here retails for €17,545, so for about thirty times less money, I'm not sure it's fair to say it delivers thirty times less the wearing experience (you can have a bit of fun with that in comments if you like). The Mitch Mason Maelstrom will launch on Kickstarter in October. You can sign up to the mailing list and learn more about the campaign and the brand here.
This is a preferred position post. Learn more.