Monta Watches – A Small Brand Enters the Big Leagues at Baselworld
Admittedly, we at Fratellowatches have been a bit slow to pick up the story on Monta Watches. The founder of Everest Bands – universally beloved by Rolex wearers for their attention to detail – decided to go in the direction of releasing a line of high quality watches. In 2016, they debuted a 1000ft water resistant dive watch called the Oceanking and it has received high levels of praise for its thoughtful design and build quality (it's all done in Switzerland), but we had not really seen one in person (actually, Robert-Jan is in the middle of testing the Oceanking as I type this). All that has changed, though, as Monta made a splash this year by exhibiting at Baselworld 2017. Let's take a look at a lineup that's quickly grown from one model to three.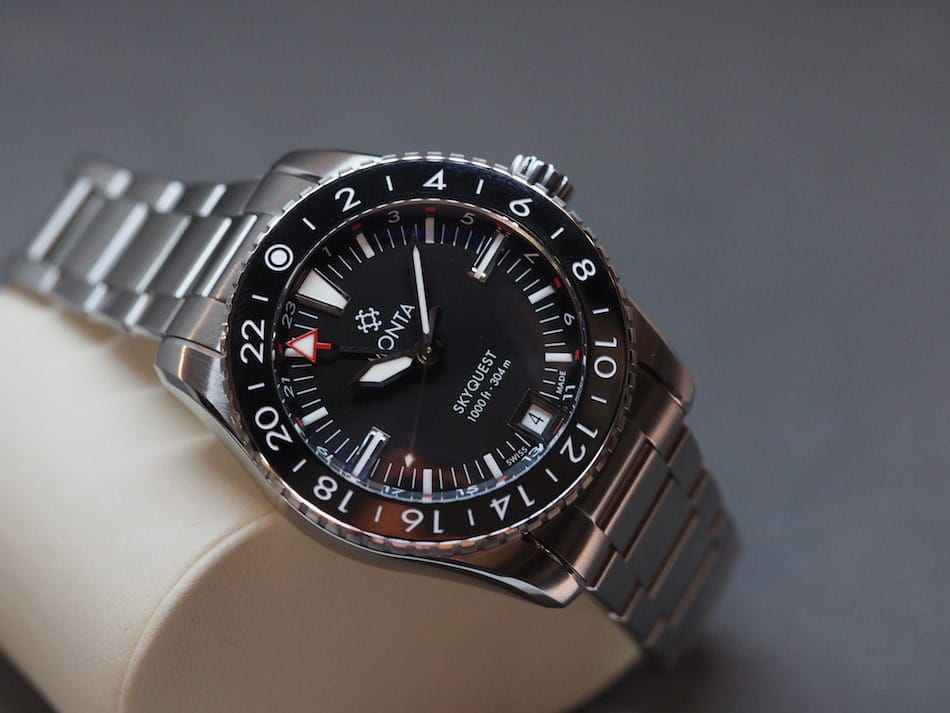 Monta Watches Skyquest GMT
The first of the Monta Watches we'll take a look at is the Skyquest. This is the brand's entry into the GMT market and from my handling and viewing of the watch, it's a compelling one. At first glance, one could accuse the Skyquest of being a bit derivative, especially with its Rolex-esque GMT hand, oyster bracelet and semi familiar case, but there's more to it than that. Upon closer examination, one can see a rather detailed dial with a steeply sloped 24-hour internal rehaut – making this a true 3 time zone watch. The case is also well executed and where something like a Rolex has grown in girth and lost a lot of its elegance, the Skyquest is a 40mm watch that features more finely tapering lugs. There's also some seriously nice chamfering both on the outside and inside of the lugs that's visible when viewed from most angles.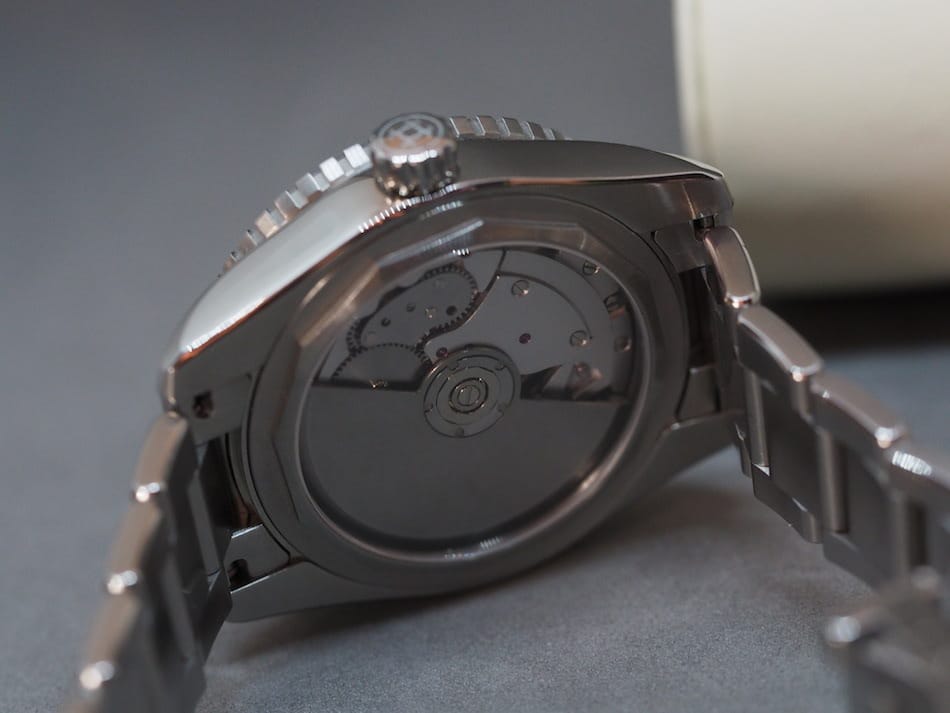 Monta Watches seems to favor Eterna calibers and the GMT is no different. The 3945A movement is employed and features a quick set hour hand and independent GMT arrow hand. It's all set up gripping the nicely tactile neo-onion styled crown. Bezel-wise, a bi-directional bezel is used and the feel is extremely solid; there's no slop and it's just difficult enough to turn to prevent unintended adjustment. Small details such as the hour marker and date window surround are applied and feature polished brightwork. Incidentally, the date window at 6:00 is an unobtrusive feature – one that the main designer felt was practical and more integrated into the overall theme. The case back is see-through, although we saw undecorated prototypes that were "hot off the press" for Baselworld.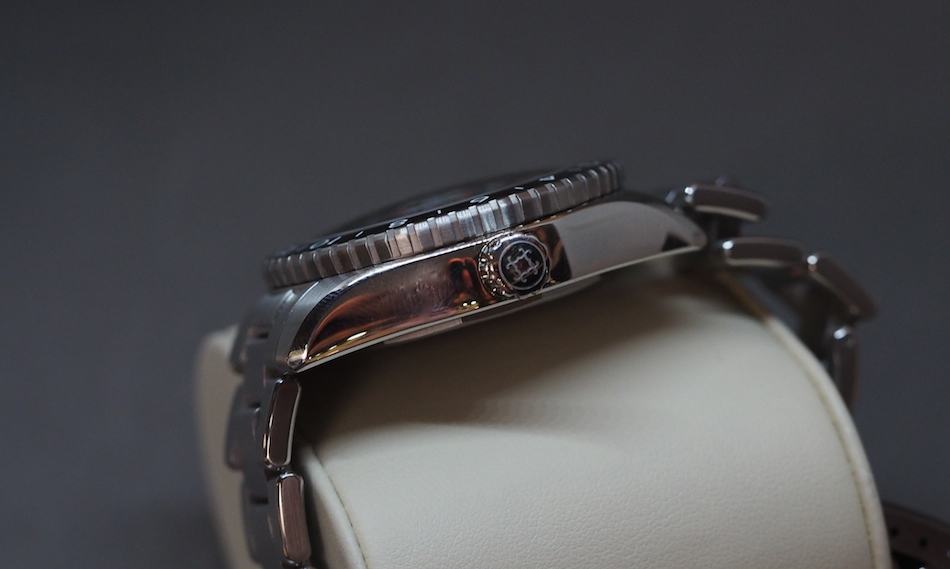 What do I think?   My take with Monta Watches, and this certainly applies for the Skyquest, is that these watches need to be seen in person to be fully appreciated. The passerby glance might dismiss the Skyquest as a watch that's similar to the GMT-Master but, again, a closer look reveals differentiating details and thoughtful design. The watches are comfortable and, again, lack the bulk and blocky design that so many tool watches now contain. At $3,775, the Monta Skyquest isn't a bargain basement watch, but the packaging (wood box, Everest Strap, leather pouch), a 4-year (!!) warranty, the fact that the brand is pursuing more authorized dealer agreements, versus the typical online approach, tells me that they're serious about making the brand into a long-lasting venture. A damn well executed watch.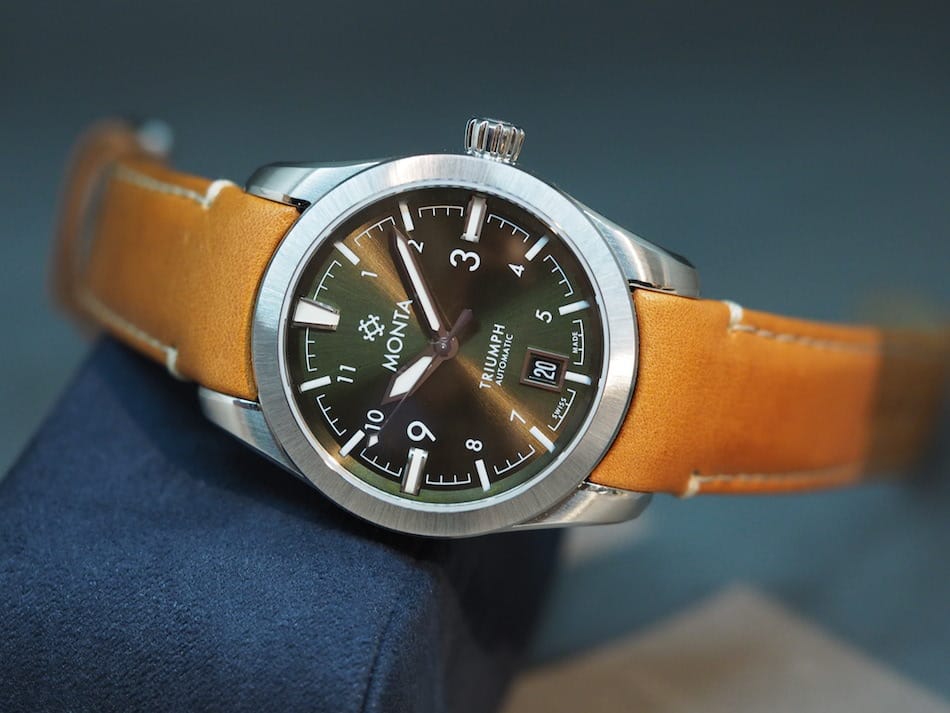 Monta Watches Triumph "Field Watch"
Next up from Monta Watches is the Triumph – a 3-hand stainless watch that comes with an Everest rubber strap and a leather strap, and, soon, an available bracelet. This is a 38.5mm watch featuring a see-through caseback, 150M of water resistance, date function and a Selitta SW300 automatic.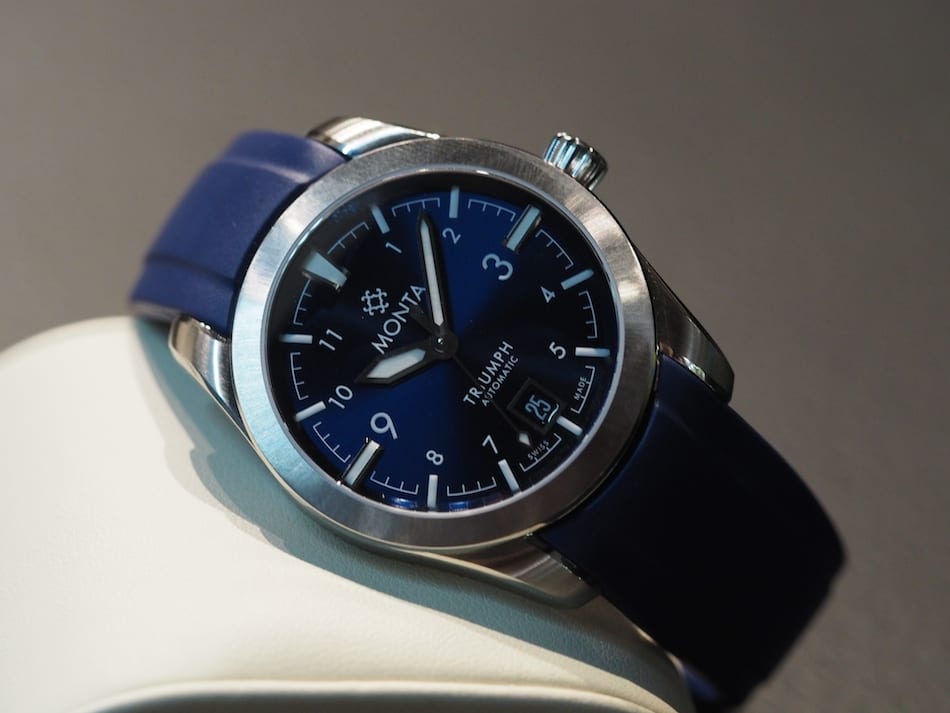 Best of all, it's available in a dizzying array of dial colors – blue, dark green, grey, matte black and a white/cream. The watches feature Monta's signature hands and date location at 6:00. The crown, once again, is screw-down.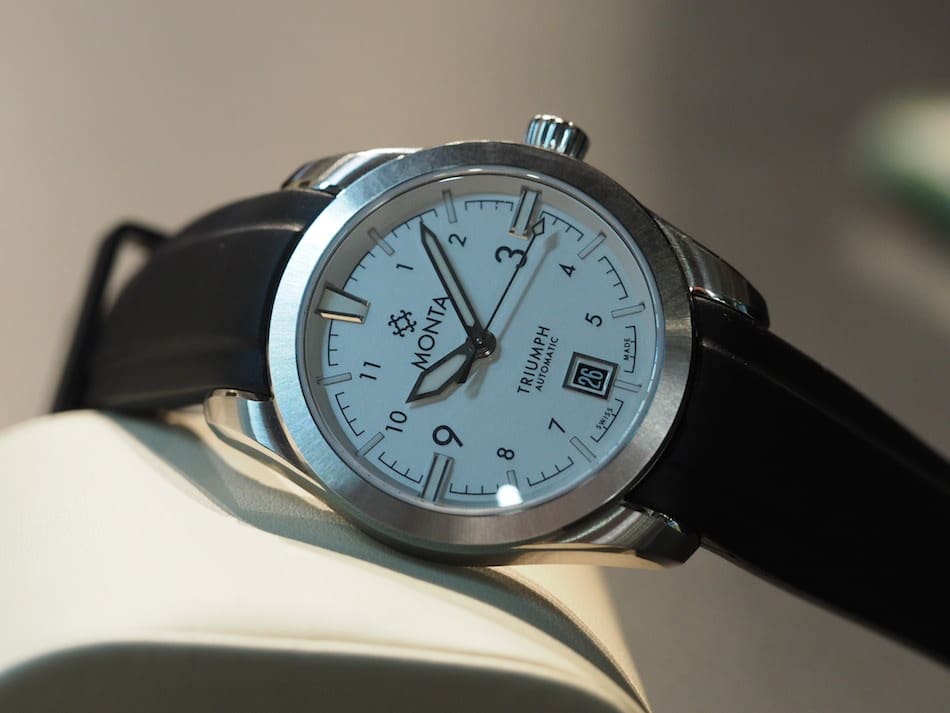 What do I think?   This is the watch that created a lot of buzz as people strode by or picked one up while we were doing our photo shooting. The more affordable $2,150 pricing plus the sunray dials (aside from the matte black and white) and bezels are gorgeous in person. Adding the pop of red printing on the dial on colors such as the grey edition helps it stand out even further.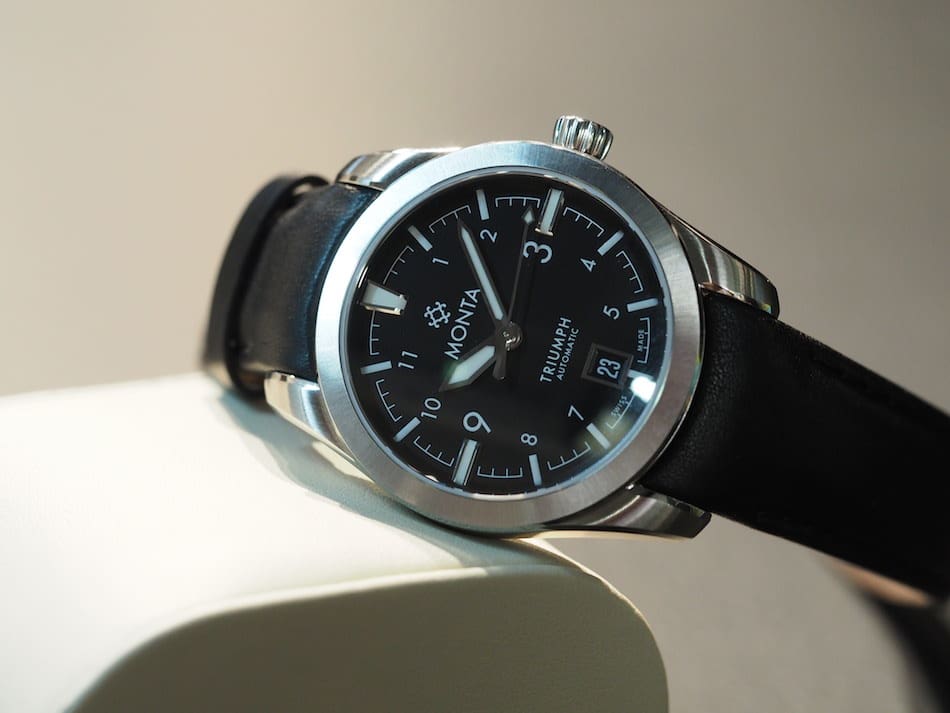 Considering something like an IWC Pilot's watch? You'd be wise to at least do a comparison with the Monta Watches Triumph. The dials are that good and the bezels are incredible.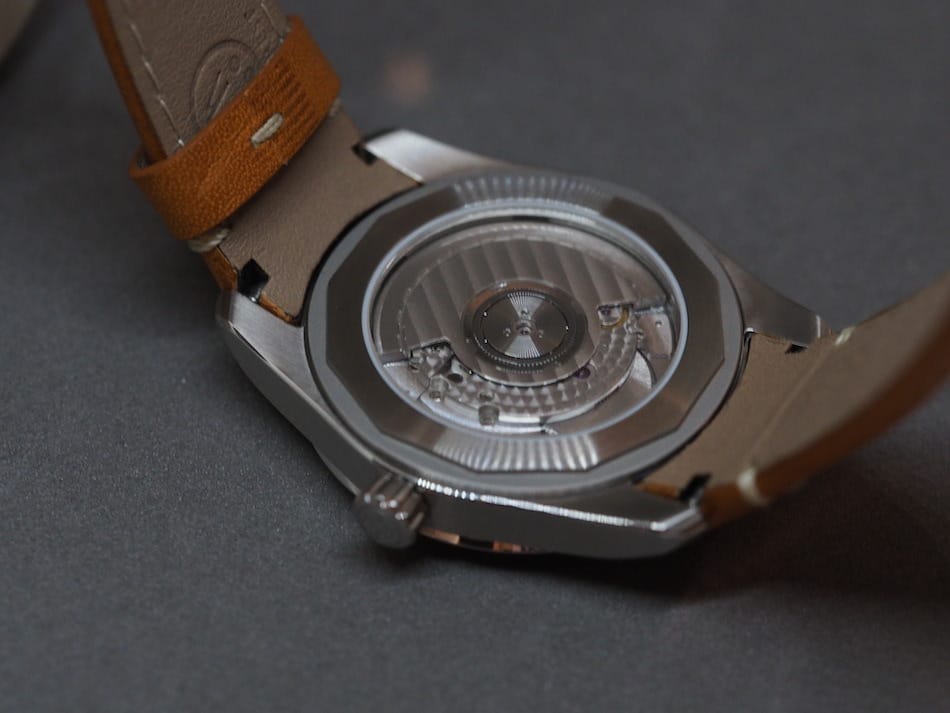 The straps, this is the brand's home turf, are easily on a par with anything else double the cost as well. I particularly like the fact that the watches are slim and hug the wrist – they'll make great everyday wearers and I'd expect that this is where the brand will see volume in sales.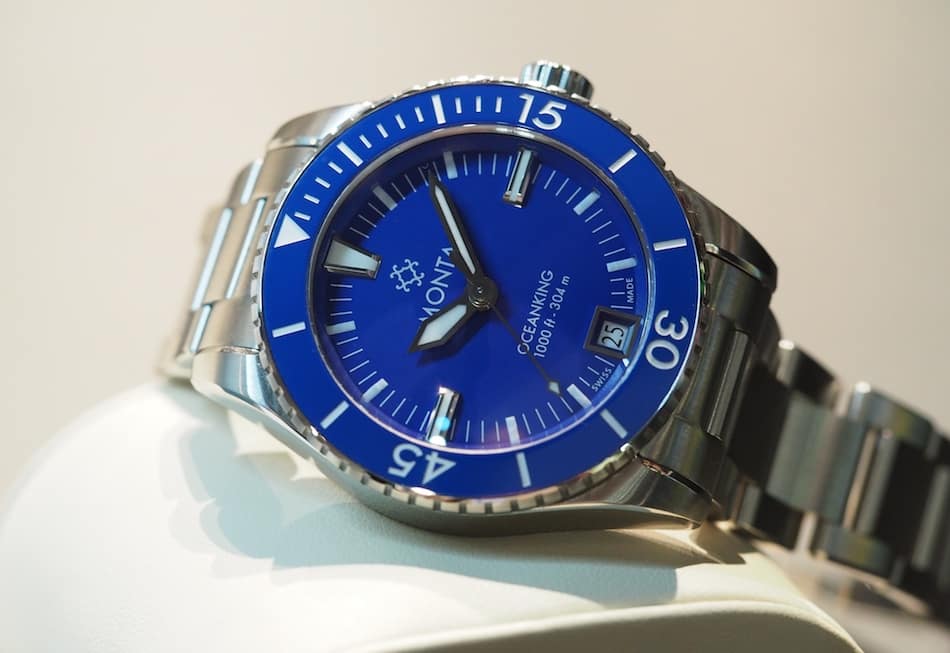 Monta Watches Oceanking in Blue
Blue was the color at Baselworld 2017 with many brands introducing models with dials in this hue. Monta Watches took the opportunity to follow suit and, frankly, lobbed a shot at Tudor, with their blue Pelagos, by showing its newest flavor of Oceanking. It's technically exactly the same as the original black version – 40mm, 1000 feet of water resistance, and using the Eterna 3909A caliber. It's a rich blue, not navy, and has a polished ceramic bezel. Pricing is the same for blue or black at $3,550.
What do I think?   This was a smart move from Monta Watches to offer their diver in a color that's clearly the hot topic right now. As mentioned, under the bright lights, this is a bold blue – almost royal blue – and it definitely stands out on the wrist. If I were to head down the path of an Oceanking, this would be my choice as black divers are relatively common. Again, I appreciate the fact that Monta chose a relatively slim 40mm case design that sits well on the wrist versus the "porpoising" that often afflicts my small wrists. The bracelet is nicely done with a relatively slim buckle. No, it doesn't have a quickset microadjust, but the brand is working on something for the future.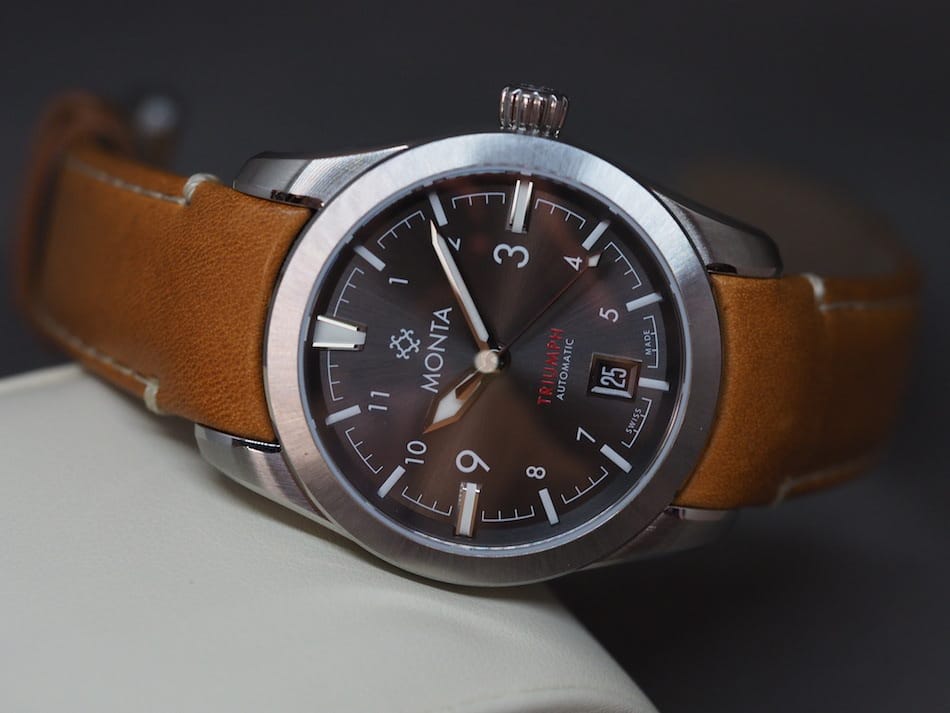 Overall, for a brand that was only launched in 2016, Monta Watches has put out a serious and compelling lineup. I can't overstress this enough, but the fact that they're signing up dealers so that people can actually handle their watches is significant. It's a huge investment – think about all the marketing materials and assets that need to be created in order to support a dealer network versus solely relying on online sales – and it shows serious intent. Before seeing the watches and speaking with the St. Louis-based owners and enthusiastic team, I was skeptical of another brand that is trying to enter what is a very tough and crowded market full of established players. But – this brand seems to have the right attitude regarding customer service (just ask anyone who has ever had an issue with an Everest strap and the brand's responses are legendary within forums) – and, again, the watches are seriously credible when seen in person. We'll look forward to spending more time with the new models when they're out in the next several months. Until then, enjoy the photos.
For more information on Monta Watches, visit their site here.