MoonSwatch Hunting In Switzerland — A Road-Trip Journal
Although it is minor, there is indeed hope
A few weeks ago, I had to travel to Switzerland for some Fratello (and other) business. Those who follow me on Instagram (@ferenczibazs) might have seen my trials and tribulations with Deutsche Bahn, for instance. This time, in addition to a few gray hairs, it cost me my rather-expensive Persol sunglasses, so thanks again, DB, for your "service." However, I'm not here to rant about the German public train company. It just so happened that I passed by a few cities with Swatch boutiques during my time in the Swiss mountains. So, I thought to myself, "Let's see if any of them have a MoonSwatch and perhaps get a nice story out of it."
As a disclaimer, I don't want to comment on production, availability, online versus in-store sales, and all that. Many have discussed those things at length before me. I'll simply tell you what I experienced there. Make of it what you will.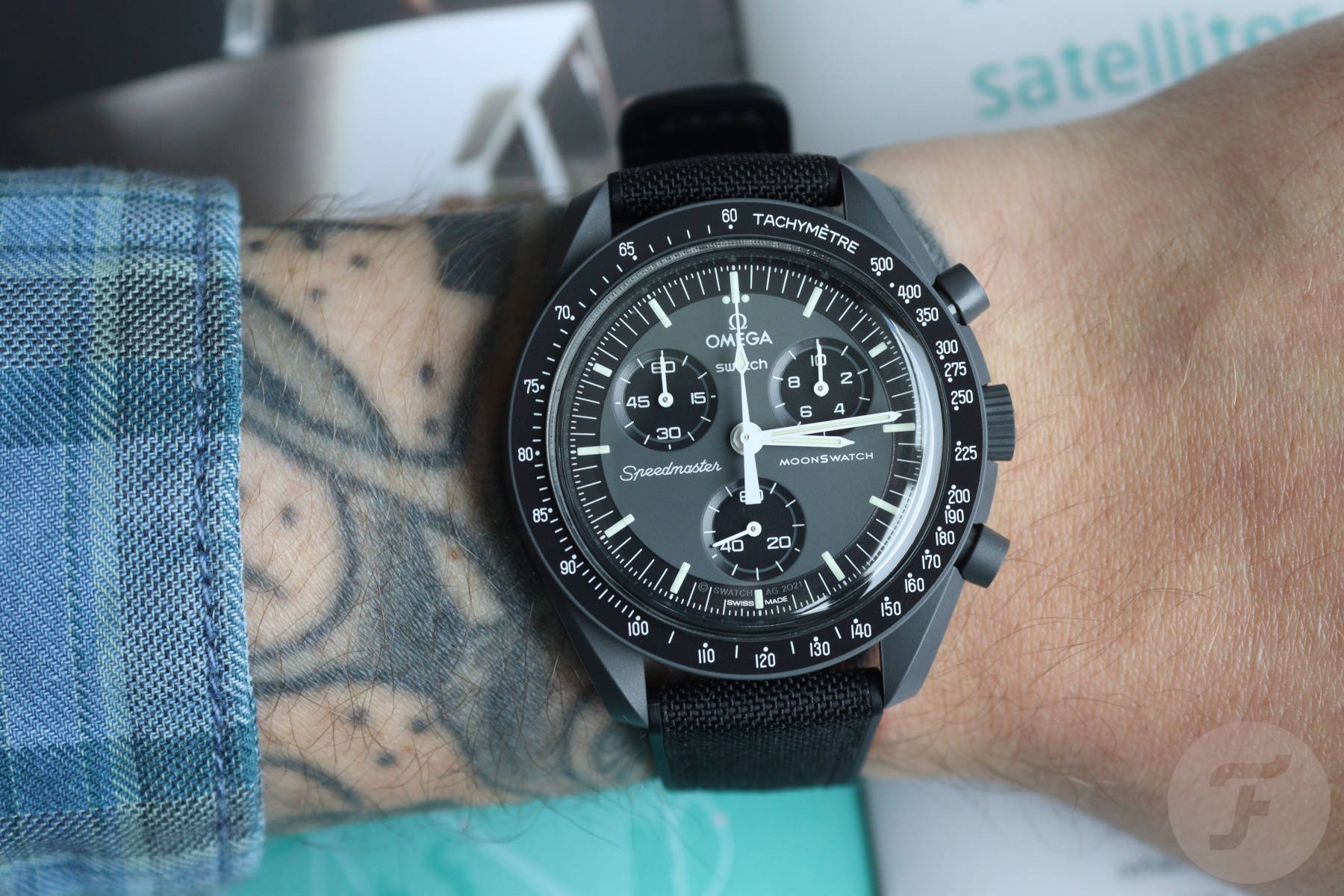 Background
The first stop of the trip would be in Le Locle. From there, my colleagues and I would drive to Zürich where we would spend another two days before heading home to Germany. The trip was not related to the MoonSwatch, and it didn't even have anything to do with the Swatch Group. So, my impromptu hunt was something like a side gig, albeit a simultaneously fun and eye-opening one. The initial idea was to try our luck and see what Switzerland had to offer regarding the MoonSwatch. Spoiler alert: we did find some, but this might have only been a stroke of luck.
Off to a great start
On a Thursday morning, we set sail from Le Locle. As I mentioned, the plan was to drive from there to Zürich. If you don't know much about Le Locle, it is a city right in the belly of watch country where Tissot, among other makers, has its headquarters. Back in the day, Le Locle was also the home of one of my favorite brands, Angelus. As a matter of fact, the old Angelus factory building, which is now a lavish apartment complex, sits right near the modern and somewhat ugly Tissot HQ. Le Locle is a picturesque little French-Swiss town with narrow streets, impressive old buildings, and the watch industry all around you. At the same time, Tissot's mothership is anything but nice looking. But this article is not about mid-century Swiss architecture, so let's move on.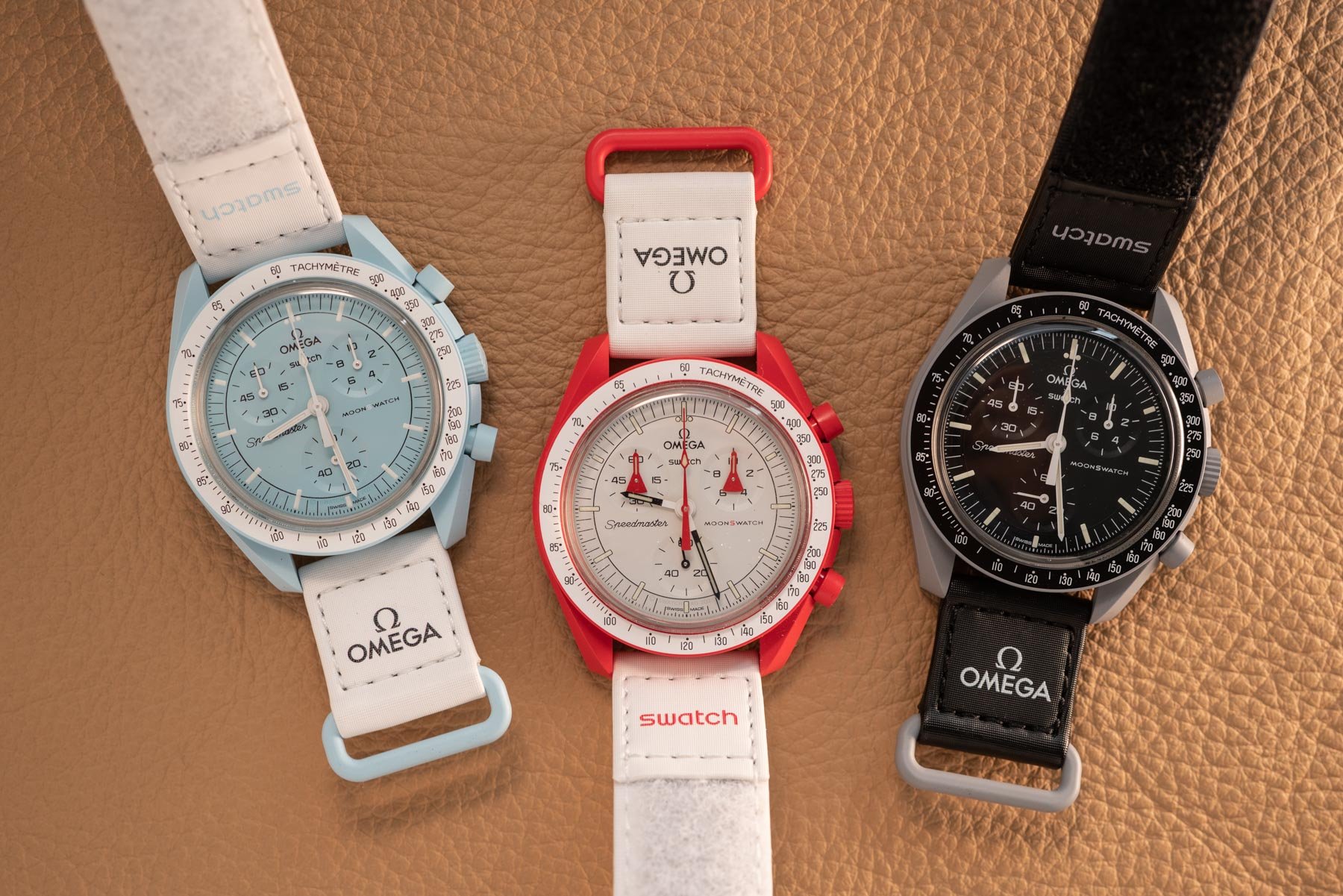 Stopping at a drive-in
As you'd have to drive past Biel/Bienne on your way to Zürich, I thought of stopping at the Omega/Swatch building. This was partly because some of my companions had never been there or seen the new facilities. But it was also because, right in front of the Swatch building, there is a small boutique that has a drive-in. Yes, you can drive up to the menu board, order your watch just like you'd order a burger, go to the window, and pick up your timepieces after you've paid. Instead, we parked the car and casually walked into the shop, where we were immediately greeted with the MoonSwatch display suitcase that many of you know already. To our surprise, when we asked the lovely ladies if they had any MoonSwatch available, they answered yes. OK, it's time to go shopping, then!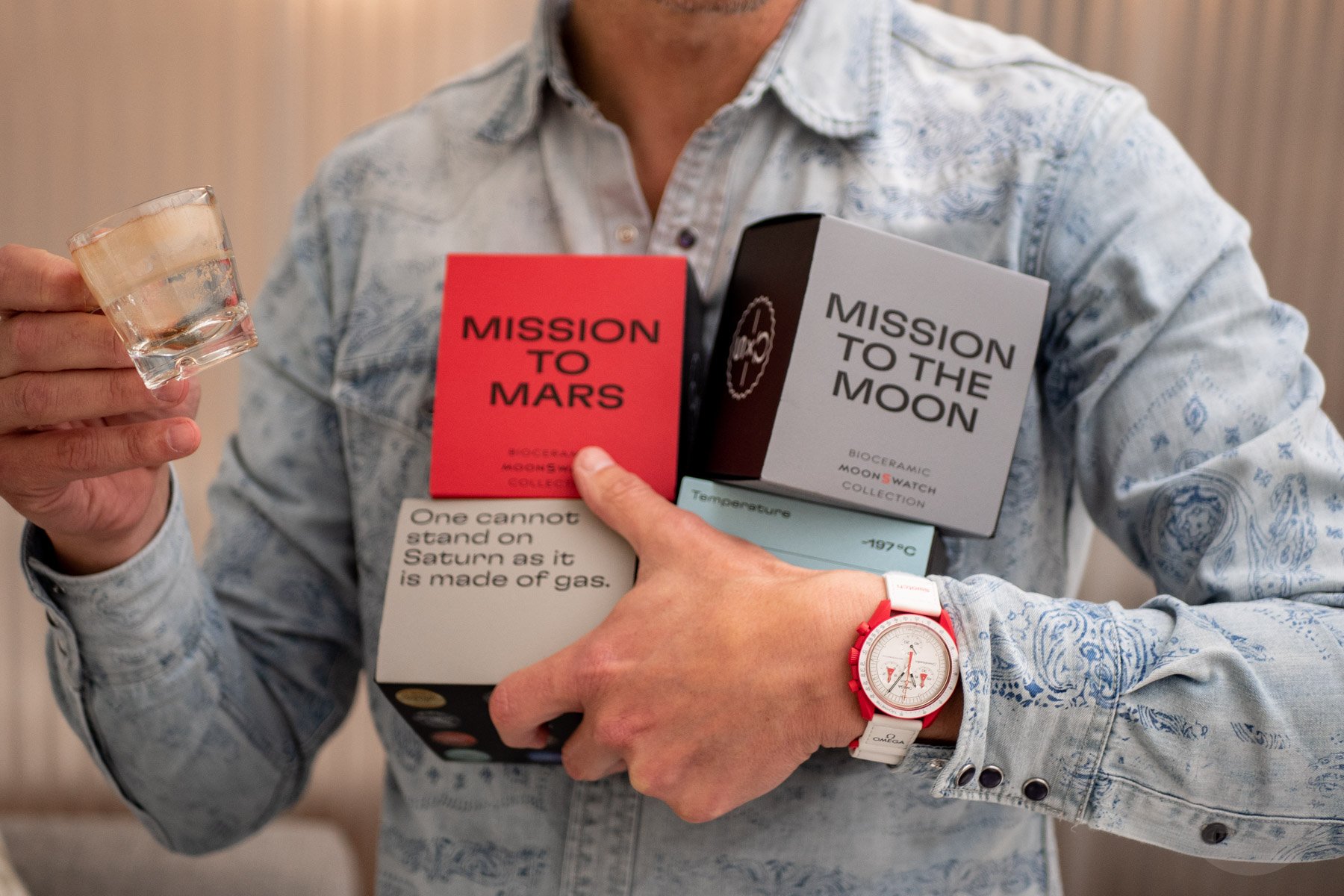 Mars, Earth, and then some
Sadly, they did not have all of them, only a few colors. I was after the Mission to Mars, and luckily, they had that in stock. I opted for that model, and my colleague went for the Saturn, taking the last one of that "planet." Aside from that, Earth and one other color were also in stock, but that's about it. Still, it was a pleasant surprise that they had some and there was no queue in front of the shop. I know, usually, this should be the case anyway. I'm with you. But we know how things are with the MoonSwatch these days. We only bought one each — I guess that's the rule, anyway — and continued our trip to the lovely city of Zürich.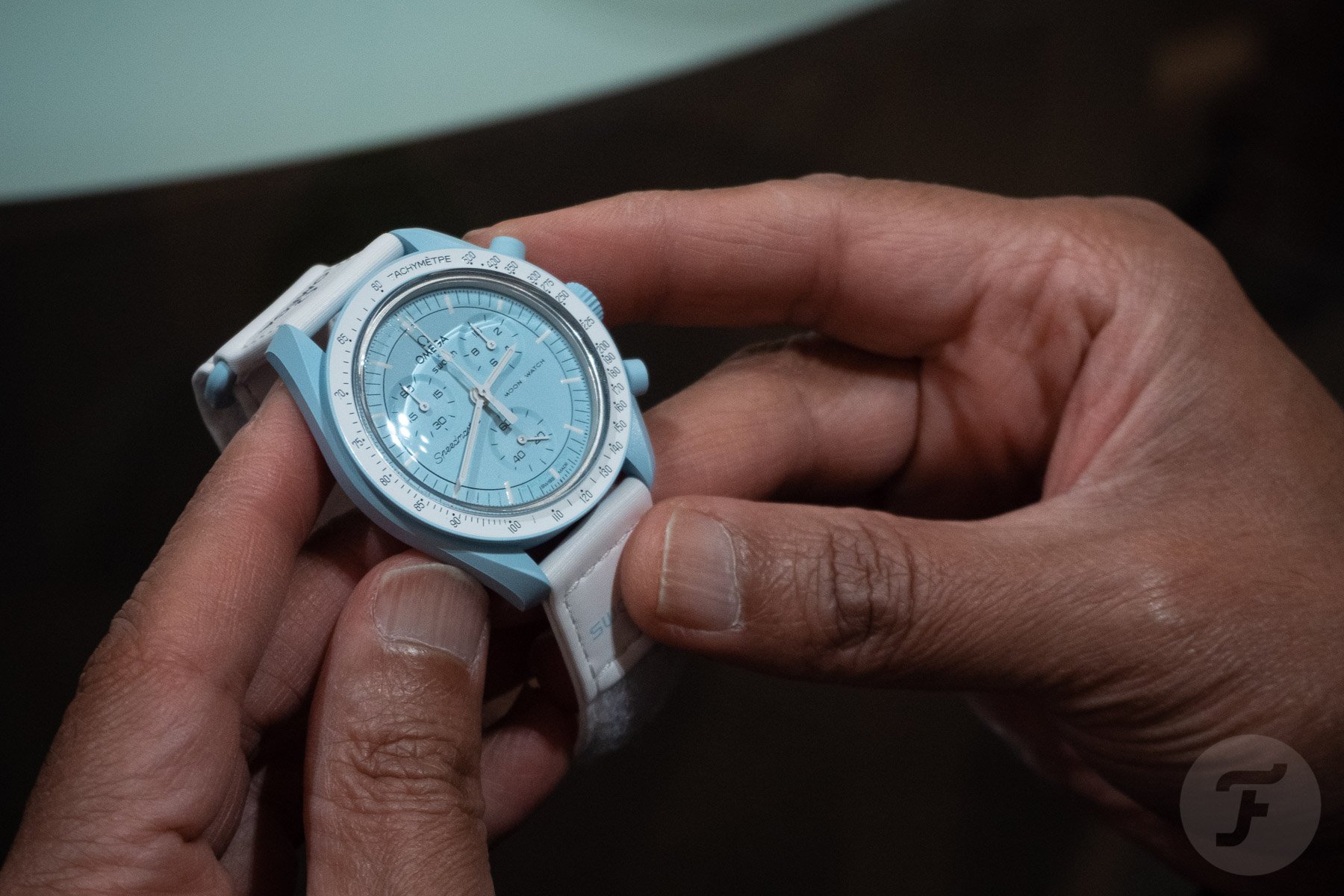 Luck is melting away
Zürich has two Swatch stores. One is at the iconic Bahnhofstrasse where you find shops like Omega, Beyer, Cartier, and more. Another one is inside the mall under the central train station. If you travel to Zürich, do not even bother with the latter. That shop did not have MoonSwatches and will not have them, or so we were told. Feeling confident about our luck in Biel, we casually walked into the Swatch boutique at the Bahnhofstrasse and asked if any MoonSwatches were available. The lady there calmed our horses immediately, telling us that they were sold out for the day. "For the day? So, does that mean you will have some tomorrow?" She told us that yes, it was possible. OK, great. Let's enjoy the city and visit the shop tomorrow before heading home to Germany.
Time traveling
The following day, after a refreshing shower, a quick breakfast, and checkout, we walked to the shop once more around 10:00 AM when it opened. To our surprise, we were greeted by a queue of about 30+ people, just like we were back in March. Thirty isn't too bad, and worst-case scenario, the experience would come in handy for the article, I thought. I calmly stood at the back of the queue and waited. During that five minutes that I was part of the MoonSwatch craze, two pedestrians walked up to me, asking if they were giving out something free. Once I told them what the fuss was about, their response was a puzzled look and a "Danke" before they walked away. Sadly, I had no time to enjoy the view of the buzzing morning in Zürich in the queue as the Swatch lady from the day before appeared and started to give us a PSA.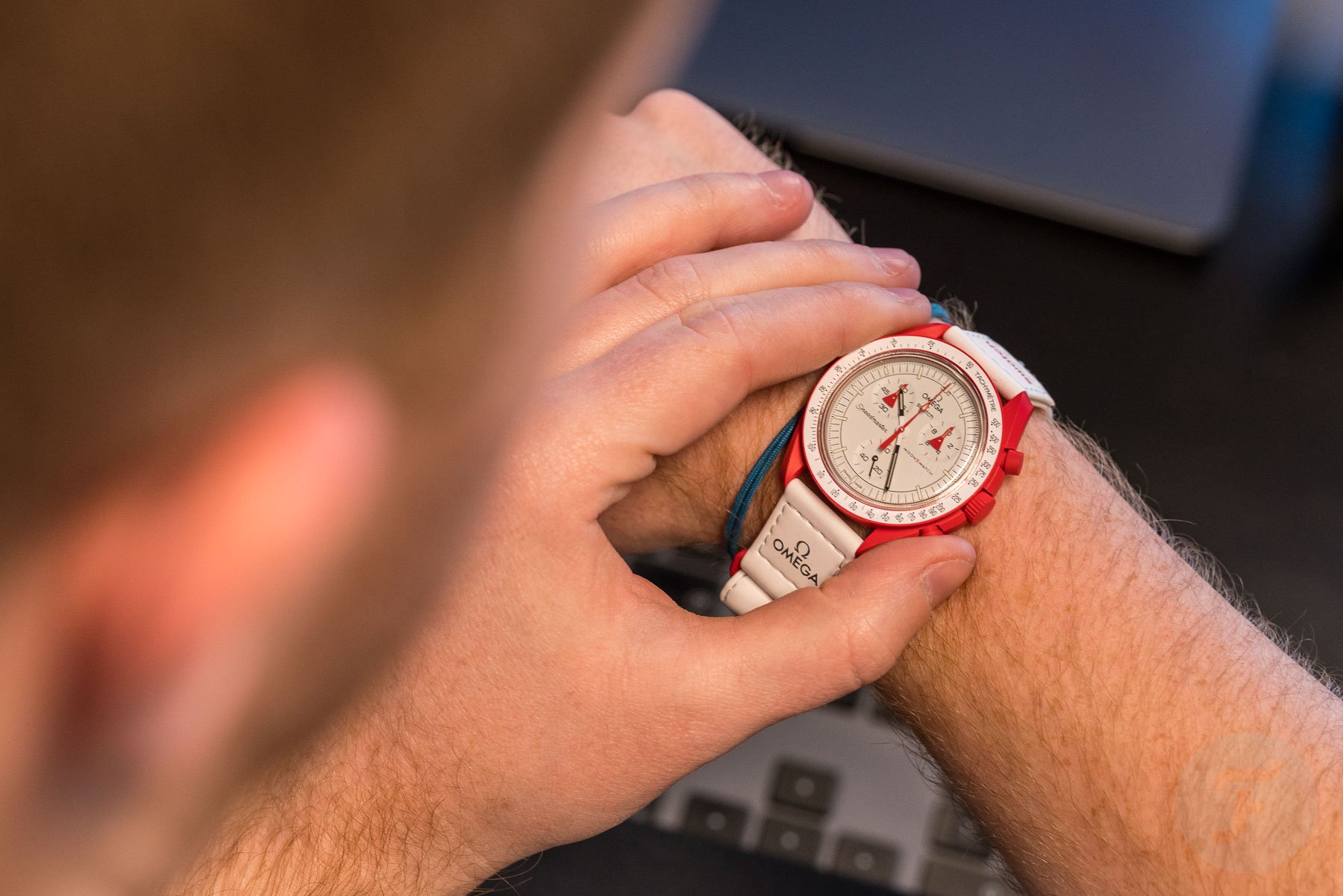 Yes, no, possibly, maybe
She told the crowd they might have a new batch coming in that day, but it had not arrived yet, so we should not queue up. Unless, of course, we are in the line to pick up another model or perhaps a pair of cool, new CHF 50 Swatch sunglasses. I wasn't, so I stepped out, and we walked back to the car to head home. Granted, she did not tell us there wouldn't be any that day. All she said was that she did not know when/if they would arrive. It was a bit less of a sure-shot than the day before when we asked her, but I suppose it had been worth a try. Anyway, our last chance to secure another MoonSwatch — or the first for the third person in our group who missed out on buying one in Biel — was in Basel.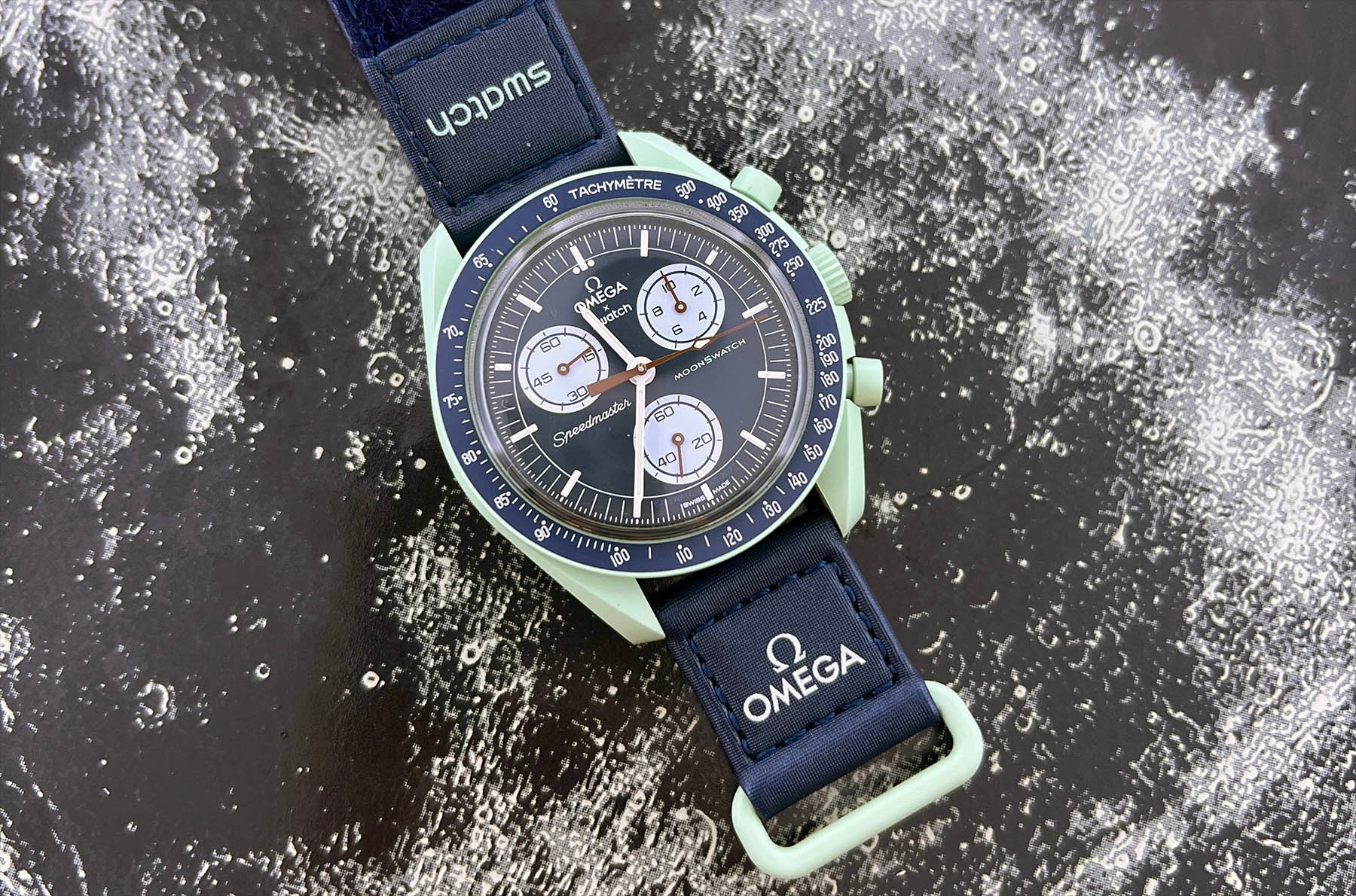 Hope is futile
You usually pass Basel when you drive back to Germany (we do, at least). So, I thought, why not check it out as well? It would be great for the story, and technically, we drive through the city anyway on our way to the Autobahn. Hence, it's not that much of a detour. When we made our way into the shop, we sadly realized it was not our lucky day. The MoonSwatch display was empty with not even a single model in it. The staff said that they had not had one in days and didn't know when or if they would get any more. We got back in the car with a bittersweet but interesting experience under our belts.
Why did I tell you all about this? Was it to brag about my luck or encourage you to give up on your pursuit? Absolutely not. I think this little experiment tells us a few things:
There are MoonSwatch watches out there. You just have to be lucky.
Just because one shop has them doesn't mean the others will too (and vice versa).
The demand is still incredibly high months after the initial release.
I wish you good luck with your MoonSwatch-tracking endeavors., and as one of our friends and OG watch guy, Bill Sohne, always says, good hunting.