The Story Of My First And Only NOS Excelsior Park EP-4
Sometimes vintage-watch dreams do come true
I will not create a Top 5 or Top 10 list of the best chronograph movements ever produced. Like most Top XYZ lists, it would be utterly subjective. However, if I had to create such a list, Excelsior Park, as a movement manufacturer, would be on it. Next to the likes of Valjoux, Lemania, and Venus, EP sits on the top of the mechanical-chronograph-caliber mountain. In my time as a vintage collector, I have acquired many timepieces with calibers from the previously mentioned makers. Yet, I never had the luck of scoring an EP-4 (much less an EP-40)-powered timepiece… Until recently, that is. Yes, sometimes watch wishes come true, and luck shines on you in the form of a NOS Excelsior Park EP-4 chronograph.
Back in June, Tomas shared his article about his lovely tropical EP-4. He cleverly pointed out that aside from his write-up, there has not been much coverage on vintage Excelsior Park-branded watches. Well, dear reader, you are in for a surprise if you think we will leave it like that. Following Tomas's wonderful timepiece, here is the story of mine.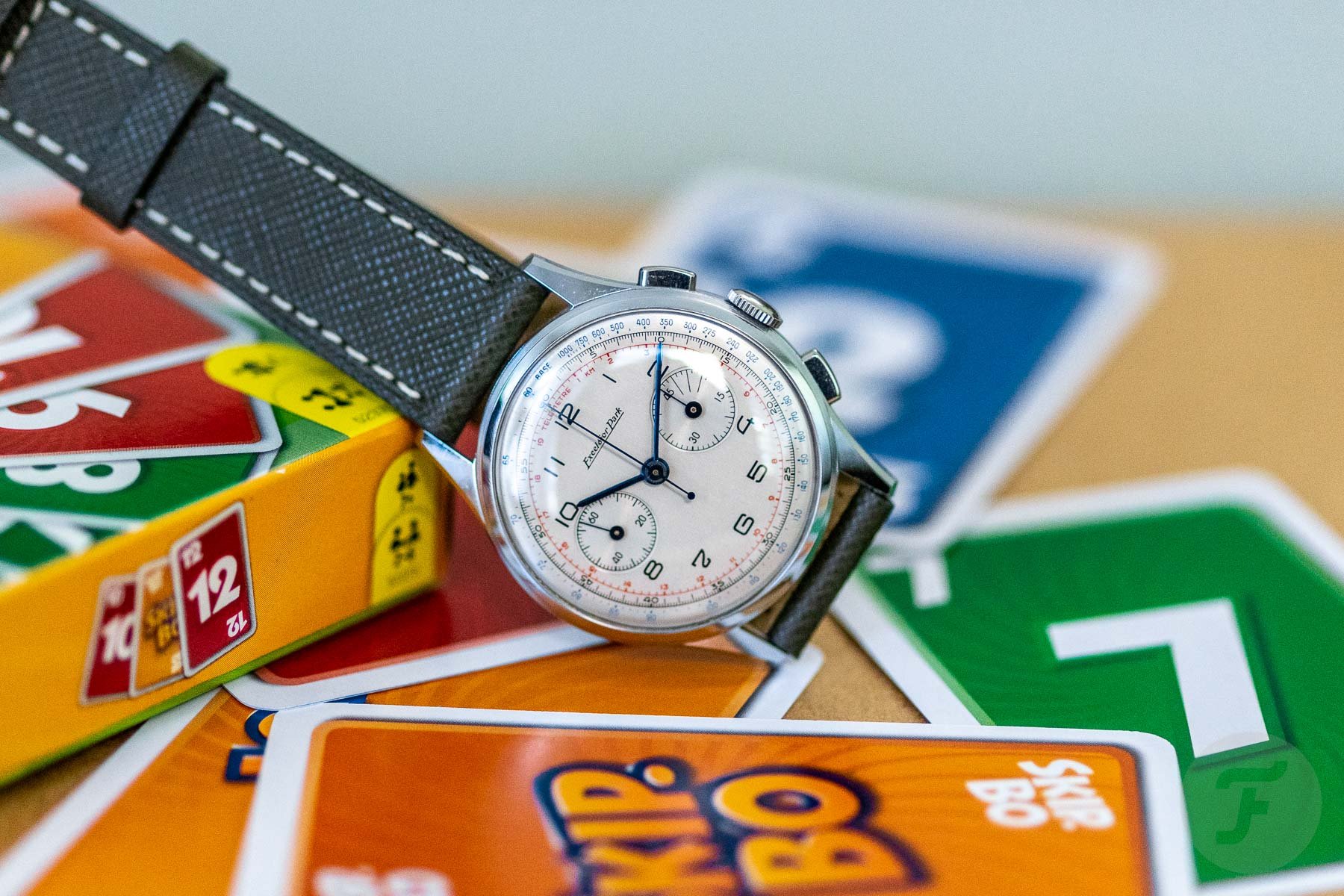 Something is missing
Throughout my collecting "career," I have been lucky enough to own practically every iconic chronograph caliber at the same time. A few exclusive ones were missing, but still, I have had my fair share of Lemania, Venus, Valjoux, and Angelus-powered timepieces. However, for whatever reason, the Excelsior Park EP-4 or EP-40 calibers were missing from this lineup.
Sometimes it was because the prices were crazy. In other instances, the timing was off. Again, other times there was simply nothing on the market. Then, a few months ago, everything changed when I saw a post on Instagram by @dodawatches. He was selling an NOS (new old stock) dual-register Excelsior Park chronograph. Now, I happen to know the fine gentleman behind the account, so I immediately shot him a DM. After a short but pleasant negotiation, the watch was reserved and eventually sold to me. There, simple as that. Well, not quite.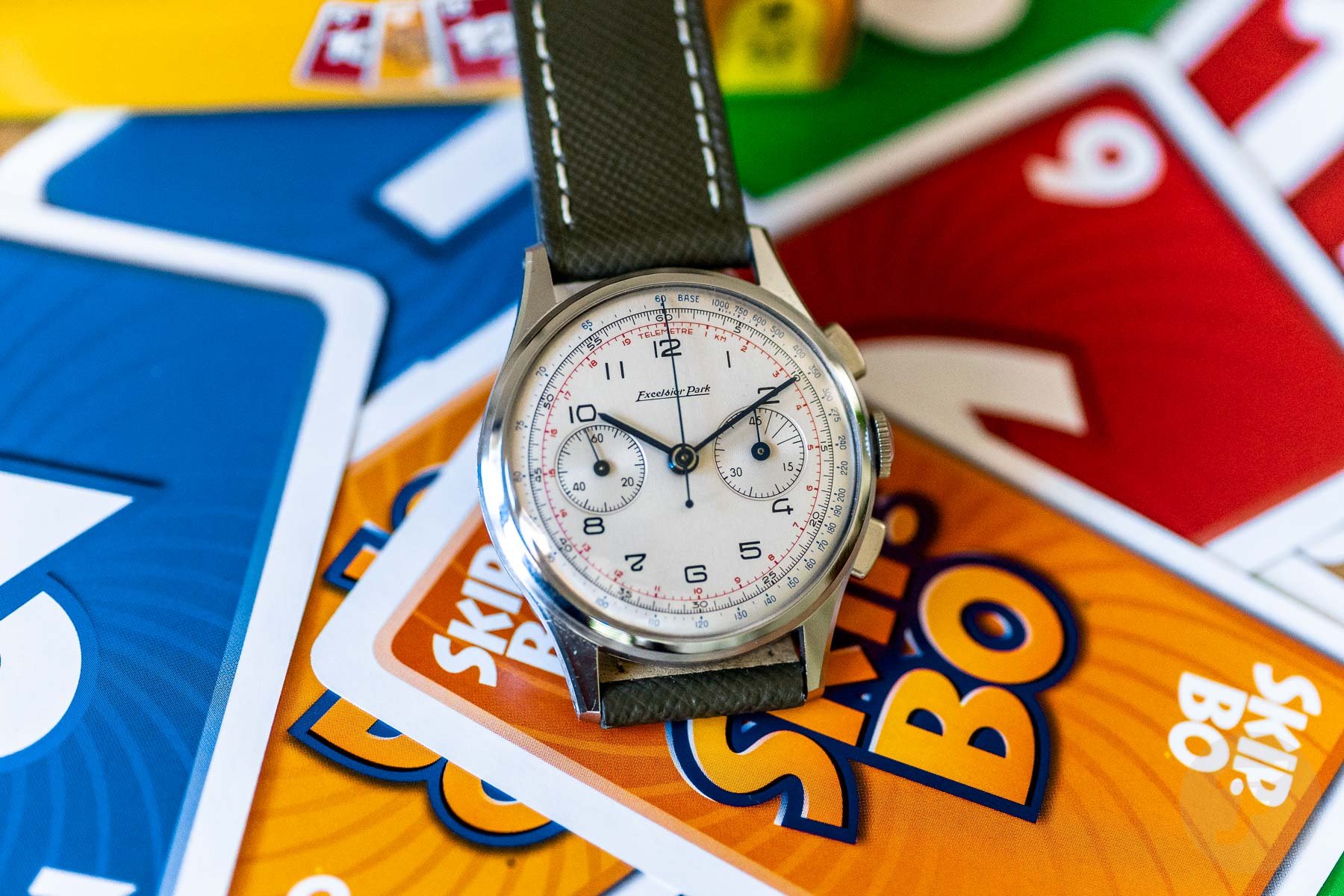 Due to unforeseen logistical issues, I had to wait months before I could finally strap that beauty on my wrist. I talked about it on the Fratello On Air podcast; Mike even teased me by wearing one of his for an episode.
Now, I have seen a few NOS watches in my life, but never had I come across an Excelsior Park. This one was part of a private collection, and the seller had a pair of identical timepieces. "As rare as hen's teeth" is the correct expression here, I believe. I had no reason to doubt him, and foul play was out of the question. Funnily enough, the watch arrived in its original little canvas bag. I have seen many of these in the past; watches were sold/stored/transported in these tiny sachets decades ago.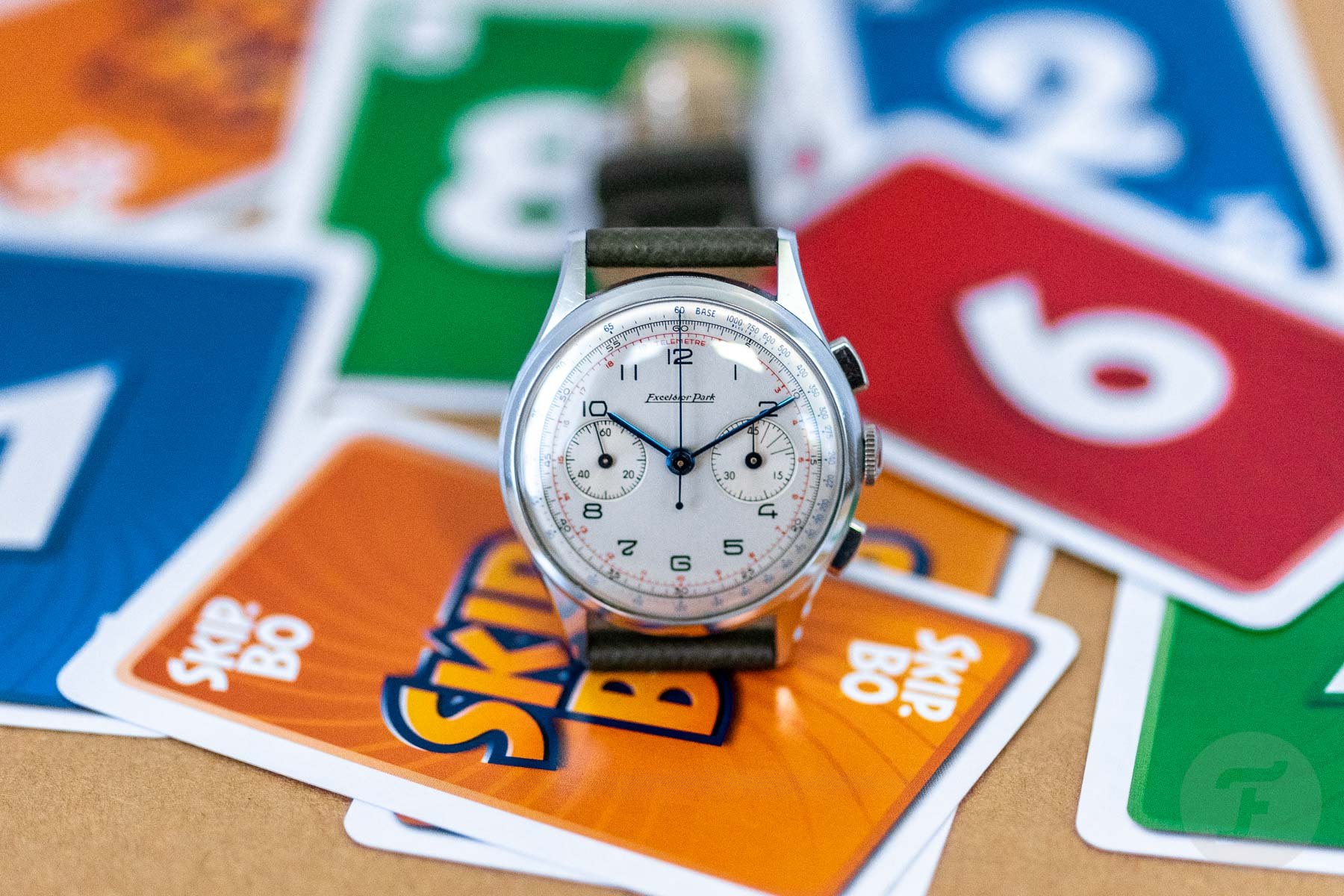 NOS Excelsior Park
The timepiece arrived at my office, and finally, I could hold it in my hands. There's something about Excelsior Park dials. That unmistakable hook at the bottom of the number 7, the beautiful trinity of red, blue, and black prints… It's just wonderful. The case looked untouched. It was polished where it should be and brushed where it was supposed to be brushed. Unlike Tomas's tropical EP, this one has blued steel hands and both telemeter and tachymeter scales printed on its dial. Still, the timepiece is highly legible. There is no lume anywhere, which I do not mind as it often causes trouble. Most importantly, there are no signs of aging, fading, or other blemishes on the dial. My Excelsior Park EP-4 was simply perfect. So much so that even today, I have a hard time wearing it. But a watch is made to be worn, so I will.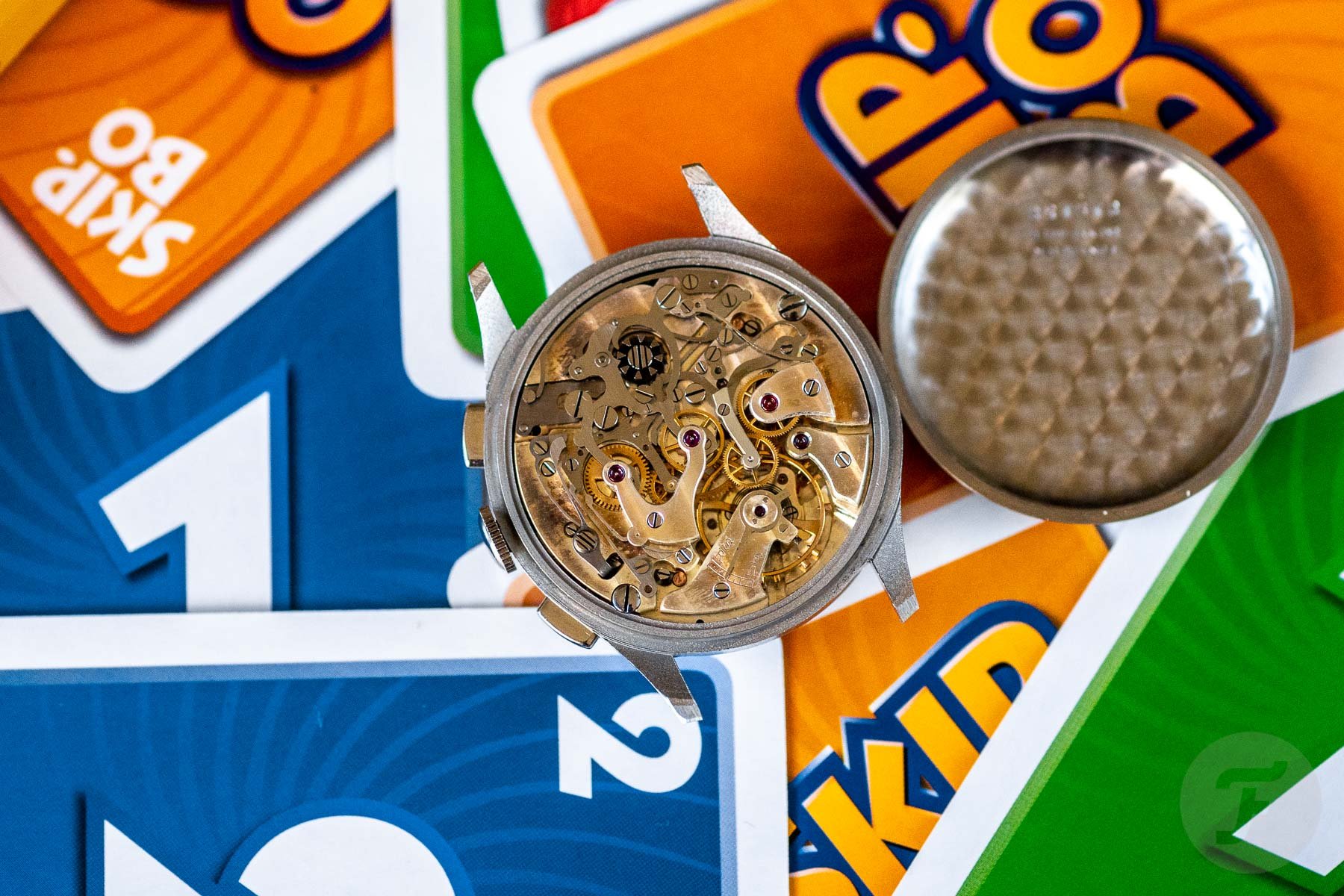 EP-4
As strange as it may sound, until I held my NOS Excelsior Park EP-4 in my hand, I don't think I had ever experienced how this movement felt. I might have in the past, but I simply can't remember. My favorite vintage chronograph movement is the Angelus 215, so I know how that feels. The same goes for a Valjoux 72 or any Venus caliber. Still, there is something about these EP movements that makes them different. I cannot explain the feeling; you must try one for yourself. Venus calibers might be the closest in feel, yet they feel less sturdy compared to this EP-4. Excelsior Park calibers are worth an article of their own. There's a bunch, including the EP-4, EP-40, EP-42, and not to mention the ones with the "-68" designation after the caliber number. Still, the consensus is that EP-4 calibers have two sub-dials whereas the EP-40 calibers have three.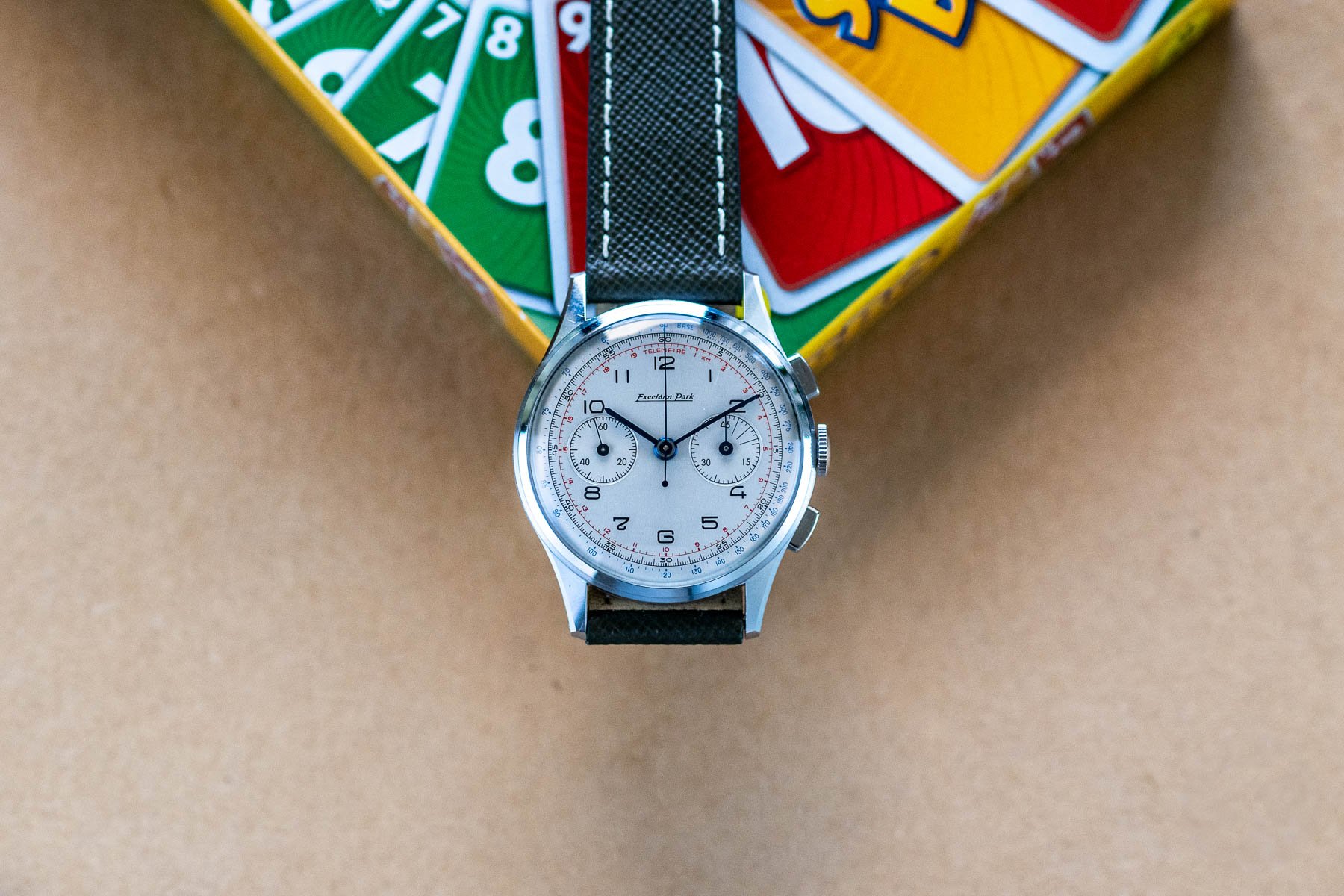 As such, my NOS Excelsior Park has an EP-4 caliber inside. These are incredibly robust movements for their age. Even compared to today's standards, they hold up well. Regarding the specs, you have 17 jewels and a frequency of 18,000vph. And yes, we are talking about manual-wind, column-wheel chronograph calibers. The sub-dial at 3 o'clock measures 45 minutes, while the one at 9 o'clock is for running seconds. On EP-40 movements, there's a third register at six, which is the 12-hour counter.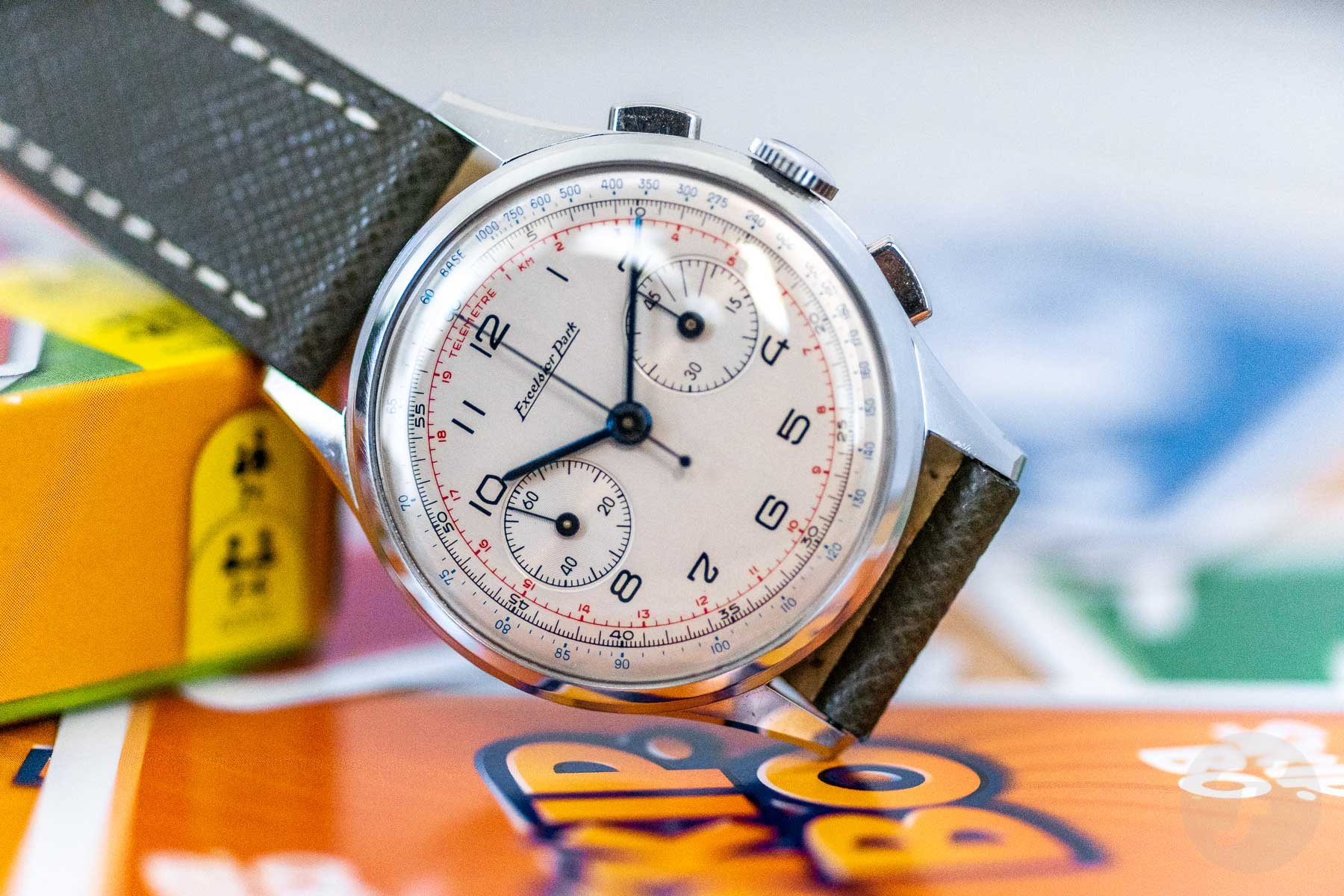 Size matters (?)
In the past, I was strictly focused on chronographs over a specific size. I don't pay too much attention to that nowadays. Still, I think that under a particular diameter, watches look silly on me. Having said that, my NOS Excelsior Park EP-4 is not the largest timepiece. The width is only 35.5mm, but due to its bright dial color and thin movement, it wears much larger. Thanks to the hand-wound movement, we have a case that's only 11.3mm thick, and from lug tip to lug tip, it measures no more than 43.3mm. Overall, it is a comfortable watch, it wears well, and it is highly legible thanks to the blued steel hands that contrast with the dial. I'm all for pump pushers, but for whatever reason, the flat pushers look great on the watch, and I enjoy them quite a bit.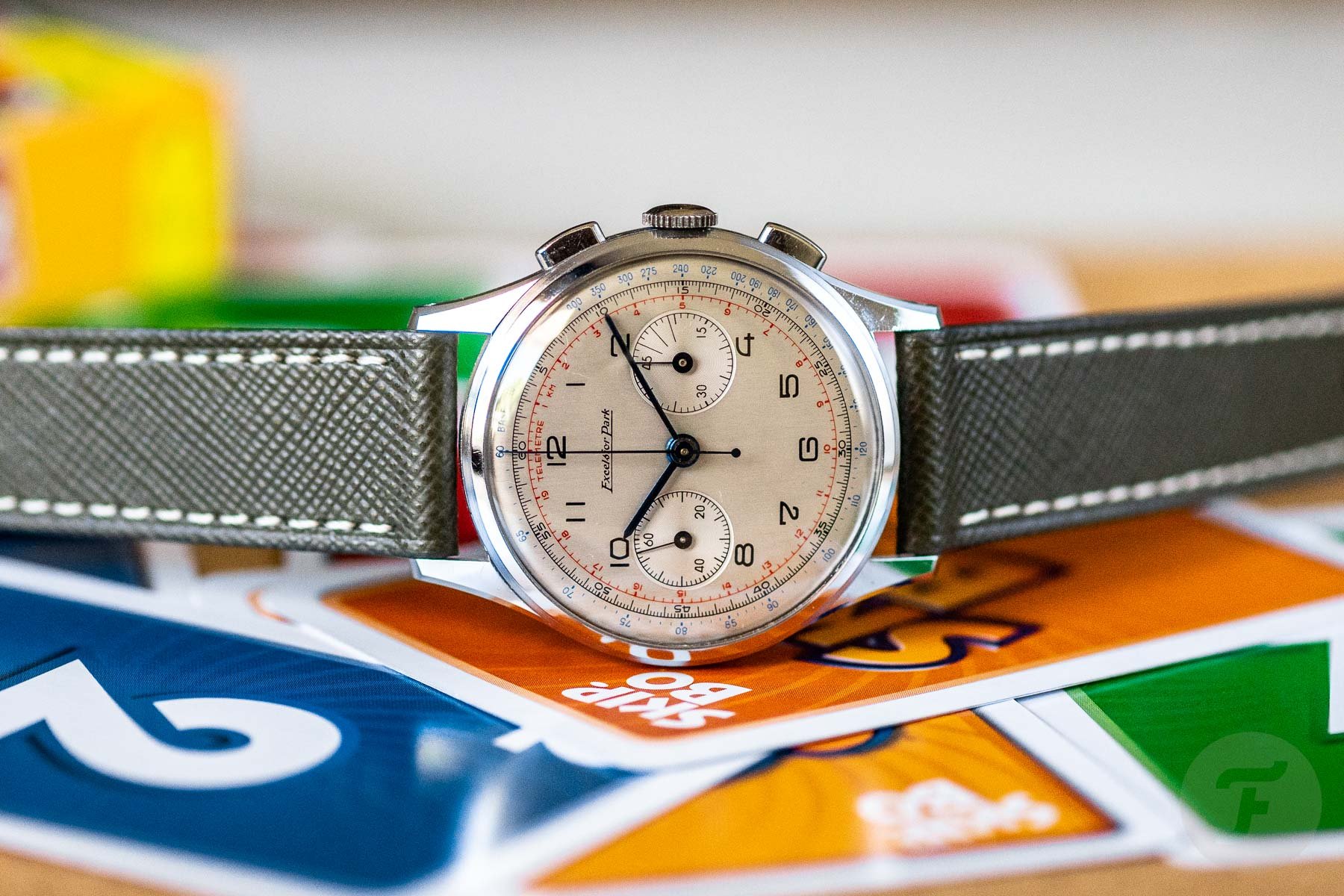 If you are into vintage, having an Excelsior Park-powered timepiece in your collection is the way to go. It can be an EP-branded model, one from Zenith, Gallet, Girard-Perregaux, or one of the many small companies that used these calibers. This NOS Excelsior Park EP-4, however, was the first of four EP-operated chronographs that I now have in the collection. So beware: they're extremely contagious!