My Grail Watch: Why I Long For Nothing But The Watch I Can't Have
After a decades-long quest, "satisfaction" leaves me yearning for an out-of-this world piece
In this series, our editors will each share their personal grail watch. It's the watch they want the most, their "exit watch," or whatever you want to call it. For now, let's stick to grail watch. I will kick it off by sharing my own grail watch, my journey to "discovering" it, and the grail watches (I thought) I had.
In the late 1990s, my grail watch was an Omega Constellation. Funnily enough, it wasn't a pie-pan or any vintage model, but the standard model Omega introduced in 1995. There was no influencing, and there was no proper website about watches. Watch brands' websites looked like they were made in Frontpage 1.0, and perhaps they were. There was just the authorized dealer and its stack of brochures. It was the watch I could talk about all day long. I also liked the tradition of every Broer family member having a Constellation (yes, my dad, grandfather, and great-grandfather also have or had Omega Constellation watches). Anyway, in 1998, I received my grail watch as a graduation present from my mother, who also owns one. I decided this watch was the one for me, and no other watch was needed. How silly and naïve of me.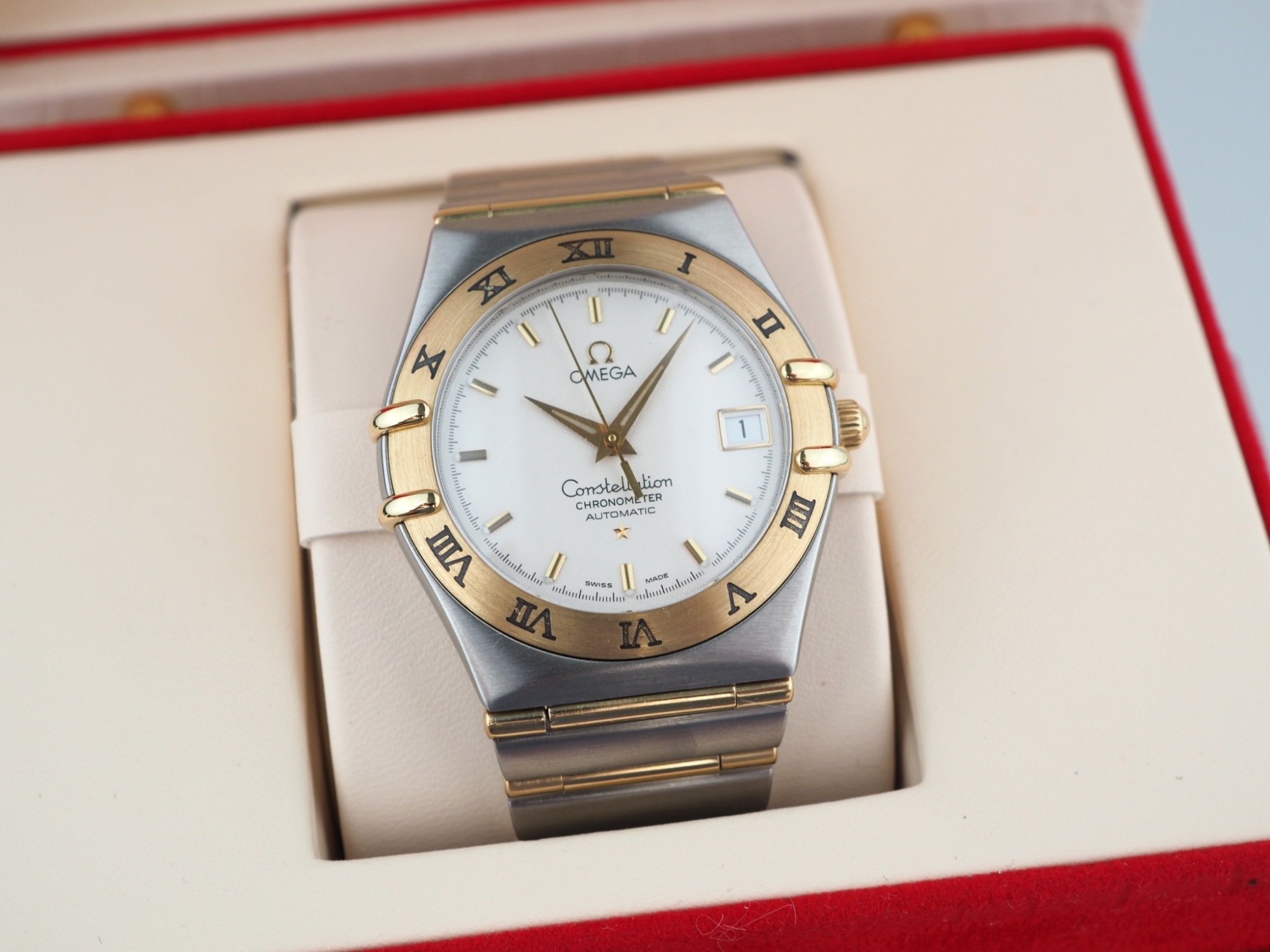 The journey begins
That grail was the kickstart of my passion for watches. As a kid, I always loved watches, like my Casios and Swatches. But I always maintained a certain amount of sanity, and I certainly was not too obsessive. With the Constellation, however, this changed. Around that time, I started to buy watch magazines in order to get myself educated on the topic.
Not long after I received my Constellation, I moved from the east to the western part of my country to go to university. The density of boutiques and shops with nice watches was much higher here. Browsing through the Omega catalogs and looking at the displays at the local jewelers, the Speedmaster Professional was something I started to lust after. It was the watch that was worn on the Moon! But besides that, I felt it was just the best-looking chronograph out there. Not to mention, the legibility couldn't be any better, with a black dial, white printing, and white baton hands.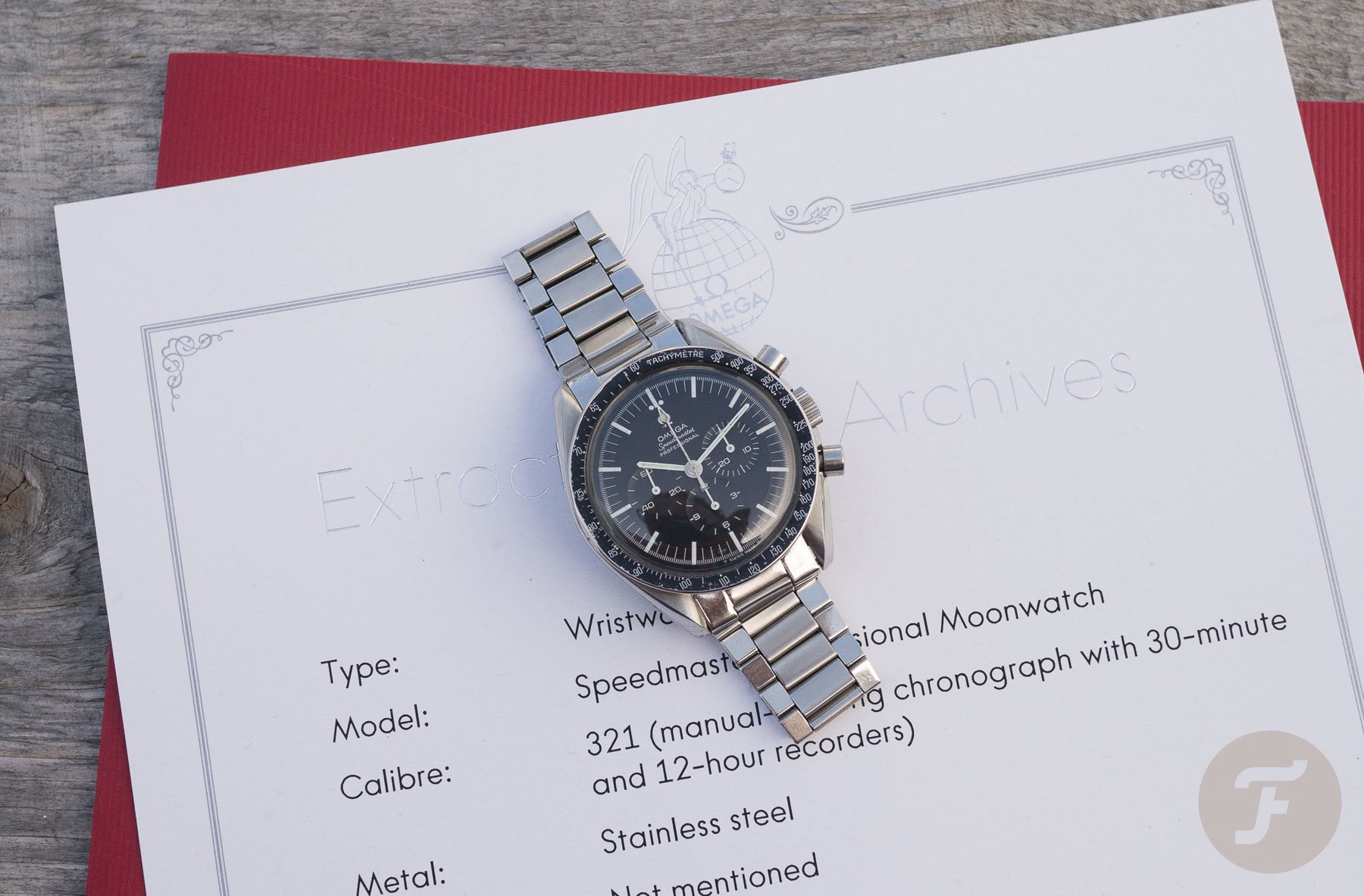 Moving the goalposts — the Speedmaster Professional
It was in the city of my university where I saw this vintage Omega Speedmaster Professional. It was in the window of a watch shop, which belonged to Gerard, one of our writers today. And the watch tempted me greatly. As a student with no money, this was going to be an issue. But then, it dawned on me — a way to afford my true grail watch.
In the part of the country where I used to live, a car was somewhat necessary. Public transport over there meant a bus going to a larger city (or village) once every hour. In the western part, however, it was much easier to get around using public transport or a bicycle. So, I decided to sell my Peugeot 205 GTI (which wasn't worth much at the time) and use the money to purchase the Speedmaster. This also meant I had to take a three-hour train ride to visit my parents from then on. Though it was less direct than my former two-hour drive, I thought (and still think) the tradeoff was worth it. From that moment on, I had my grail. And I wore it almost daily for years, despite it being a vintage reference 145.012-67. At the time, it was cheaper than a new Speedmaster, or even a young, pre-owned one with caliber (1)861.
Dreaming of the Royal Oak
As I became more interested in watches, websites like TimeZone and WatchUseek ensured an unhealthy daily dose of watch discussions and reviews. These made me realize that there's more out there than just that one brand. Perhaps you recognize this, but I started to make little lists of watches I would love to own one day. The order changed quite often, but it always showed the usual suspects. It is also at this point in time that I fell in love with the Audemars Piguet Royal Oak.
After scoring a brochure at the local AP dealer (fully stocked with watches back then, of course), I fell madly in love with the design. But even back then, although the prices were just a fraction of those today, a Royal Oak was unobtanium for a guy stuck between studying and his first professional job. Above, you can see parts of the catalog I picked up and scanned. It is my favorite testimonial of a watch, ever.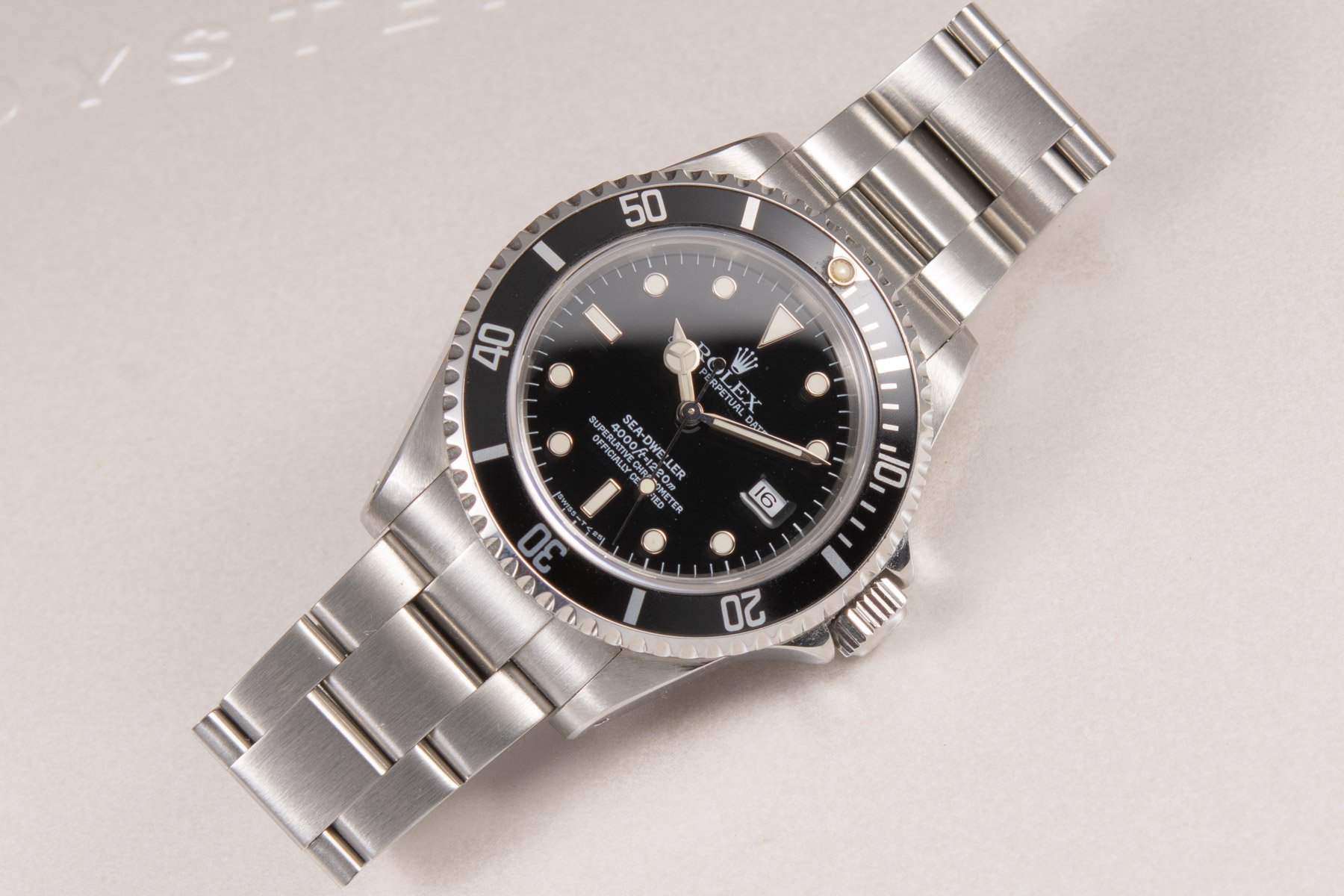 But first, a Sea-Dweller!
Before that grail though, I needed a more immediate one — the Rolex Sea-Dweller 16600. I never had many feelings for the Submariner 16610(LV), and still don't, but this Sea-Dweller was something else. It was a more professional version of the Submariner 14060, but with a chronometer-certified movement and a date with no cyclops. It also had an automatic helium valve and water resistance of 1220 meters (so useful for someone who avoids swimming pools like the plague).
Then, there was the fact it was a Rolex with a bunch of firsts to its name. The Sea-Dweller 16600 was the first widely produced model to use 904L steel and solid end links. It was the watch I wanted to have, and thankfully, I managed to buy one back in 2003. I had just started working after finishing my studies, and with the money I'd put aside from my first few salaries, I was ready to buy this watch. At the time, I paid a whopping €2300.
Where the heart goes, the wallet must follow
I wore the Sea-Dweller 16600 like there was no tomorrow. Although a bit wobbly on my (then) slender wrists, it was a great daily companion. It really took a while before I realized that a grail is either always your next watch, or the one you have when you realize there's nothing to wish for. At that point, there was one grail — the Audemars Piguet Royal Oak. It took me quite a few years to get there, but at some point, I was able to purchase the Royal Oak 15300 in steel with a silvery-white dial for €5500. This was back in 2008, and that was quite a chunk of money for a steel watch!
If my memory serves me correctly, I sold my Rolex Yacht-Master 16622 that I bought a few years earlier to make some (financial) room for the Royal Oak. Though I was happy with my 15300, I also knew deep down that my grail was actually the reference 15202 "Jumbo" that we today know as the "Extra-Thin." The diameter of my 15300 was identical to that of the 15202 "Jumbo," but mine had a thicker, less elegant case and bracelet. Not to mention, the movement in the 15202 was more special. It was an ultra-thin automatic movement with a rotor using a rail instead of the typical ball bearings. But the difference in price was just a bit much for me. I'd have to wait until one stumbled across my path.
That happened in late 2009 when a watch dealer called to tell me that a client traded his Audemars Piguet Royal Oak 15202 for an IWC in his shop (he was an authorized IWC dealer). I asked if he was willing to trade in my Royal Oak 15300 plus some cash, and he was. This was during work, and I decided to make myself invisible for a few hours and go to the dealer before it was too late.
The Royal Oak to rule them all
I was now the proud owner of a Royal Oak "Jumbo". As a little side note: I also tried the Patek Philippe Nautilus 5711/1A at the time, just to make sure I would make the correct choice between these two watches. In the end, my vote went to the Royal Oak, as I felt the bracelet and case were more "integrated" than those of the Nautilus. I also like the caliber 2121 from AP a little bit better, and it had no second hand. This was the grail watch, and I was proud to have it, as I had been looking at the "Jumbo" for years. I do admit that I started to miss the silvery-white dial of the 15300 a little bit and added a new Royal Oak Chronograph 26300 in 2010 or 2011. But that was never my grail. It was just something I wanted to add to the collection.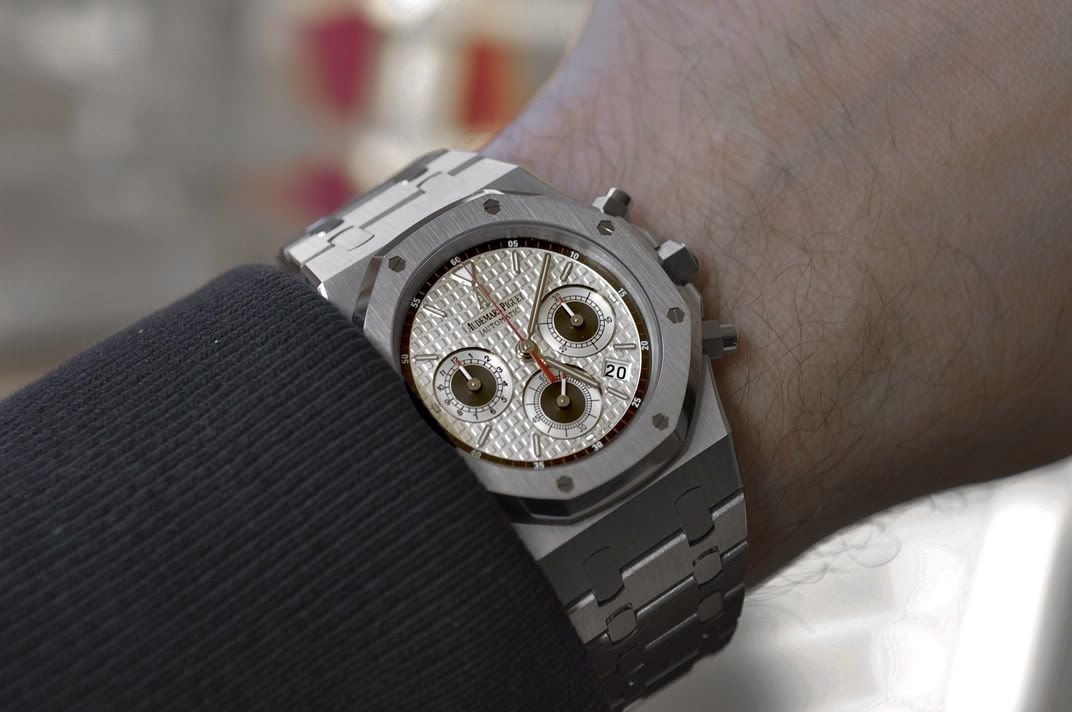 Move over, Oakey!
For many years, the AP Royal Oak 15202 was the one. I wore it as a daily watch for a few years at least, and I traveled around the world with it. Nobody ever commented on it, funnily enough. How different that would be today! But, in 2019, I ended up selling it for a few reasons.
The first one is easy: I found a new grail. The second one may make no sense to you, but you need to understand that I work in this industry full time. To me, it's all about the people. I want to like the people behind a brand. Sometimes, it means I want to buy a watch from a brand where the people are just super nice, even if their watches don't really sing to me. But, it can also mean the opposite. That's part of the reason I let go of the AP, and why it's unlikely I'll want to add another. Nevertheless, 75% of the reason I let it go was simply that I had found a new grail.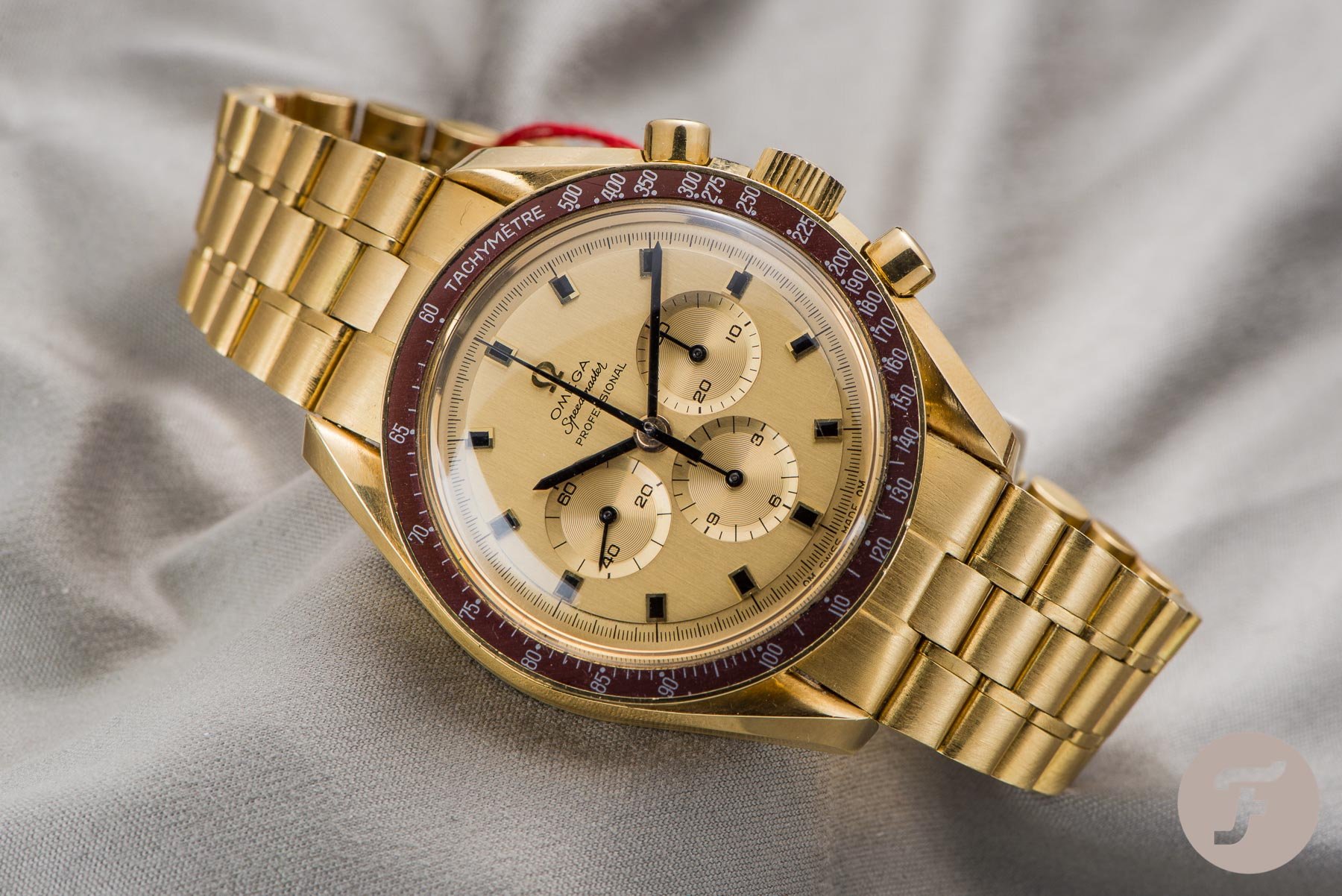 The golden era
When I just had bought my first Speedmaster Professional, back in 1999, I met a watchmaker and fellow Omega fan who owned the original 1969 model in gold (as pictured above). I was flabbergasted when he showed it to me. I had never seen such a thing of beauty. But it was full gold, something I wasn't comfortable with at the time, and then, of course, there was the price.
Fast forward 20 years to 2019, just before Baselworld started. Omega invited me for a lunch at its headquarters in Biel, Switzerland. It had to be something special, as it was a Tuesday and the year of the 50th anniversary of Apollo XI. Right before 12:00, when the watch went "live," it lay in front of me — an 18ct Moonshine gold limited edition, commemorating not only the Apollo XI moon landing but also the first gold Speedmaster from 1969 that was given to the active NASA astronauts the same year. I counted my money (in my head) already. Sure, I could pull off the steel version with Buzz Aldrin's behind on the dial, climbing down the ladder of the lunar module. But the gold version? There was no way.
Making the impossible possible
With a price of €32K at the time, it simply was not going to happen. But then I picked up the watch in front of me, tried it on, and it was too late. I said, "Let's do it. Number 13 please." Before I knew it, Mr. Aeschlimann (Omega's CEO and President) smiled and wrote my name down on a piece of paper. "I need to sort out how I will pay for this, but I need it," I added. "No worries," he said. But I did worry — not only about how to find a way to pay for this gold chunk but also how to tell my wife what I had just done.
I am not sure which of those worries kept me awake more the following night. Perhaps you have been through the same phases of collecting, where you sometimes make a quick scan of what you have, what you still like and wear, and what has been collecting dust in the safe. I have a modest collection of watches, mainly Speedmasters, but those are very close to my heart. Although my AP Royal Oak 15202 was and perhaps still is grail material, it never gave me the same rush as the Speedmaster Moonshine gold watch did. So, the easiest way to finance the new grail was to let go of the old one.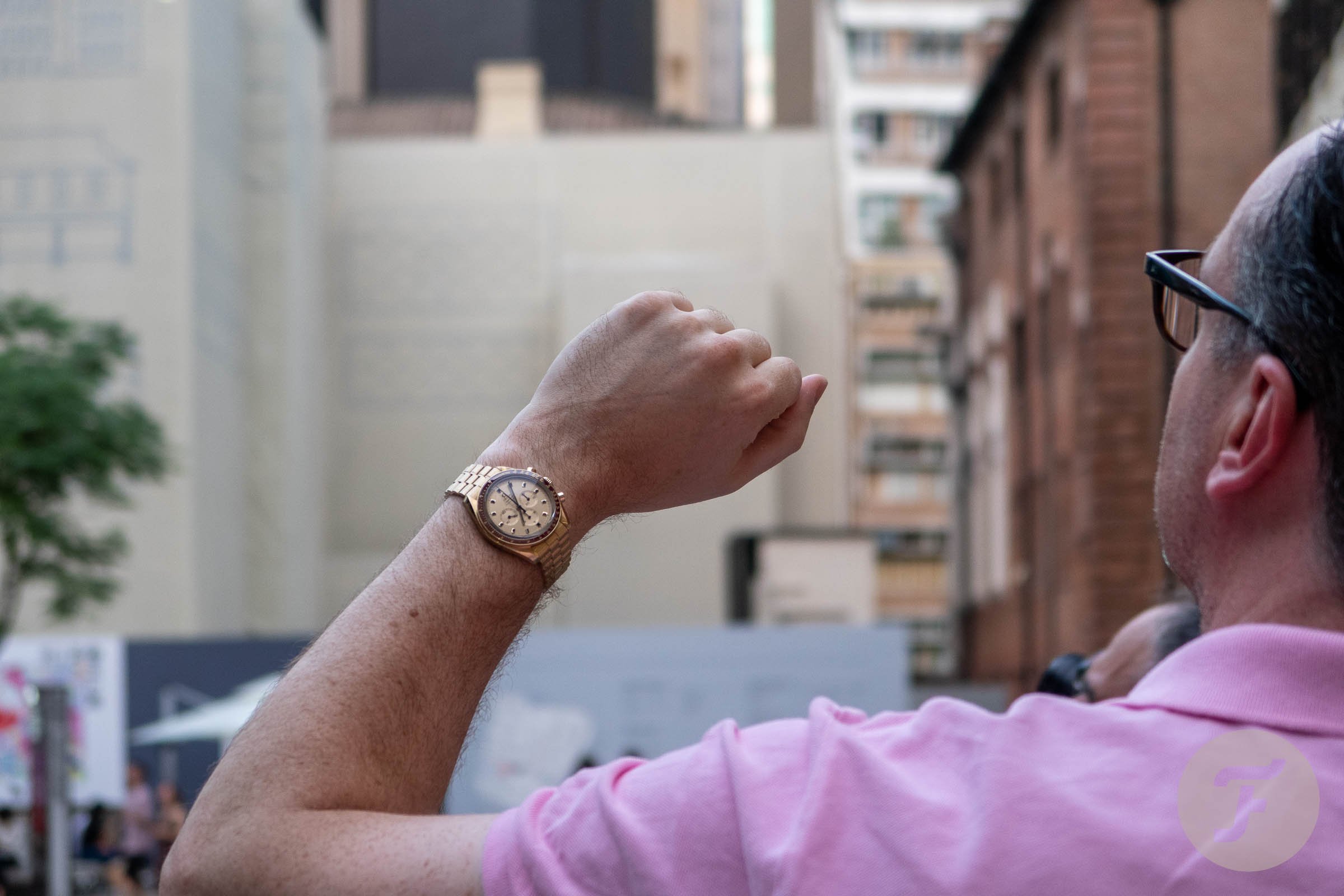 I have been wearing the gold Speedmaster more than any other watch I currently own. And while I have bought watches since I got the 18ct Speedmaster Professional Moonshine gold, and I do wear them, I always go back to the Apollo XI 50th anniversary watch.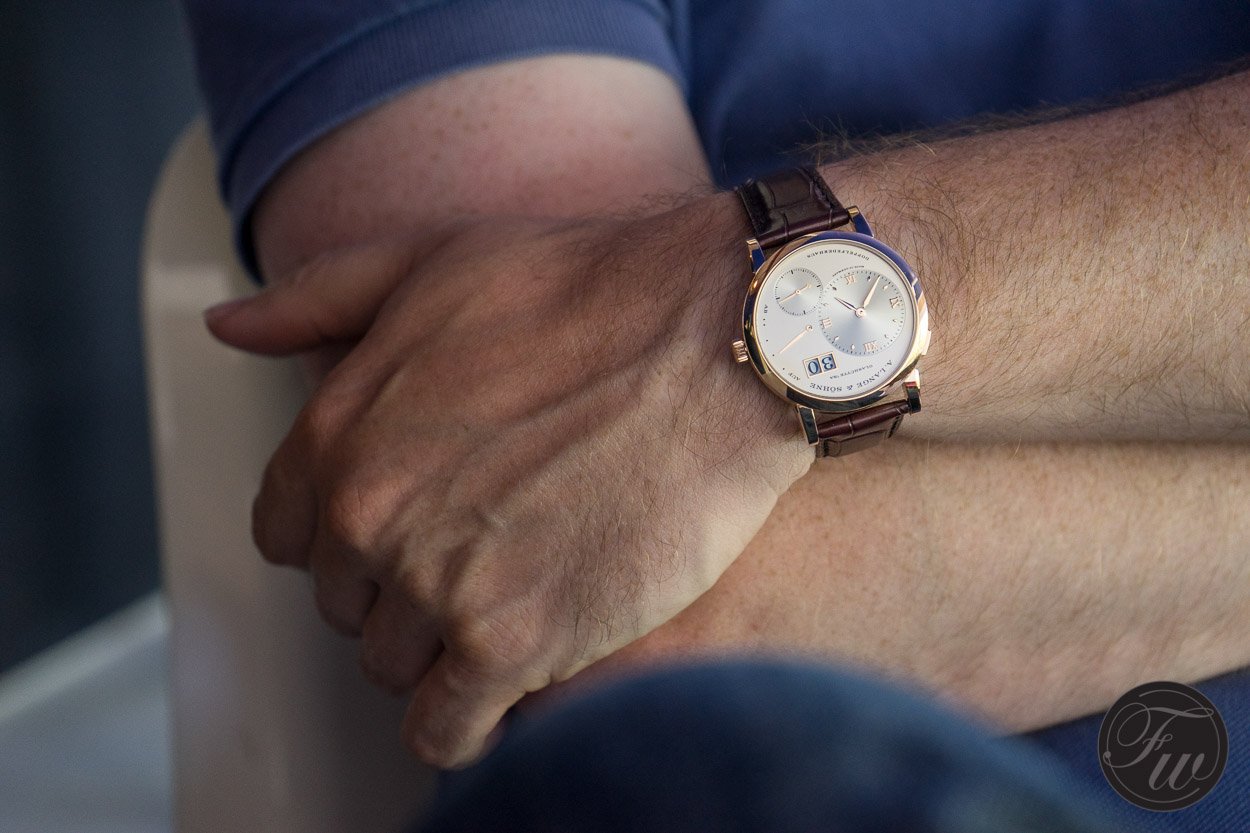 No more grail watches
In the past, I used to make lists of watches I would love to own. Those I dreamed of it included a Lange 1, a Calatrava, a Day-Date, a gold GMT-Master II, a 3970J, and some other exotic models. And while I wouldn't mind owning any of these watches, I wouldn't trade my Speedmaster Moonshine for one. I just have no urge to save up for something "big," and I don't crave that next watch. That might sound spoiled, but it also feels quite good. I have and have had what I wanted; I am happy. On top of that, Omega allowed us to work on two Speedmaster watches, the Speedy Tuesday "Tribute To Alaska III" in 2017 and the "Ultraman" in 2018. These are not only grail-worthy watches, but they were grail projects as well.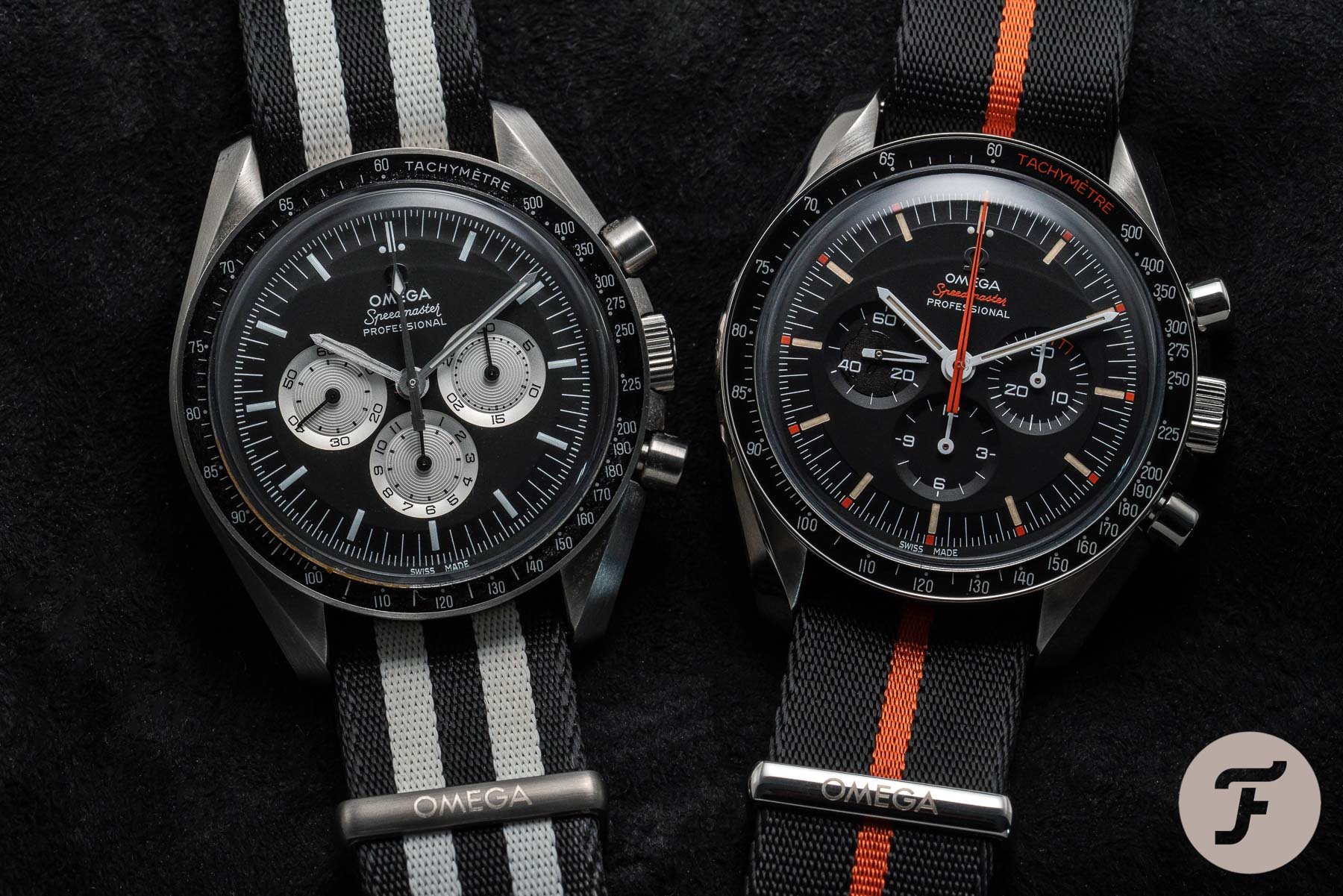 I can think of some very nice watches, but I am currently in a very comfortable space. There's nothing on my grail list. I can enjoy a beautiful Blancpain Fifty Fathoms No Radiation, a Breguet Classique in rose gold, or a Lange 1 in platinum. But I don't feel this incredible urge anymore to do a quick scan of my watch collection to see what needs to leave or how to get the money for one of those pieces. Still, there needs to be a grail watch, right?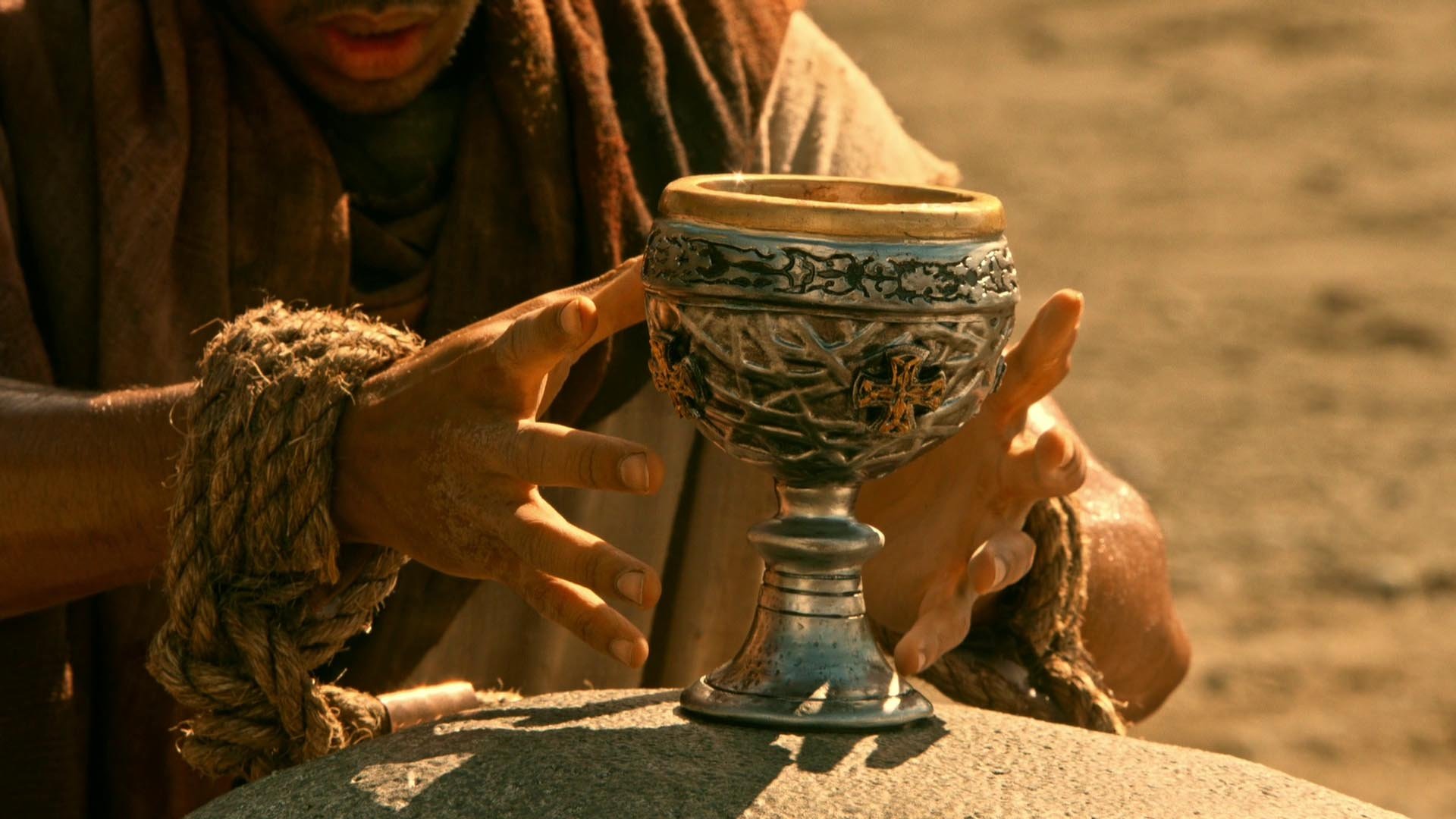 The Holy Grail watch
Perhaps a grail watch needs to be the watch you simply can't get, or will never be able to own. That might have to do with a price tag, but also with a lack of availability. No, I'm not talking about the type of scarcity we see from "The Crown from Geneva," but real unobtanium. In that case, the grail watch for me would have to be a Speedmaster Professional that had seen real, extra-terrestrial action.
I have a Speedmaster X-33 that once belonged to an astronaut, but he only got it after he went into space in the 1980s. He was "just" one of those childhood heroes, and I merely had the opportunity to buy his Omega Speedmaster X-33. No, I don't mean that type of watch. What I'm talking about is a Speedmaster that was actually worn in space, preferably on one of the Apollo missions. Putting the Speedmaster Alaska III from 1978 on the wrist was already pretty special. But wearing a watch that was actually on the Moon? Now that is something else.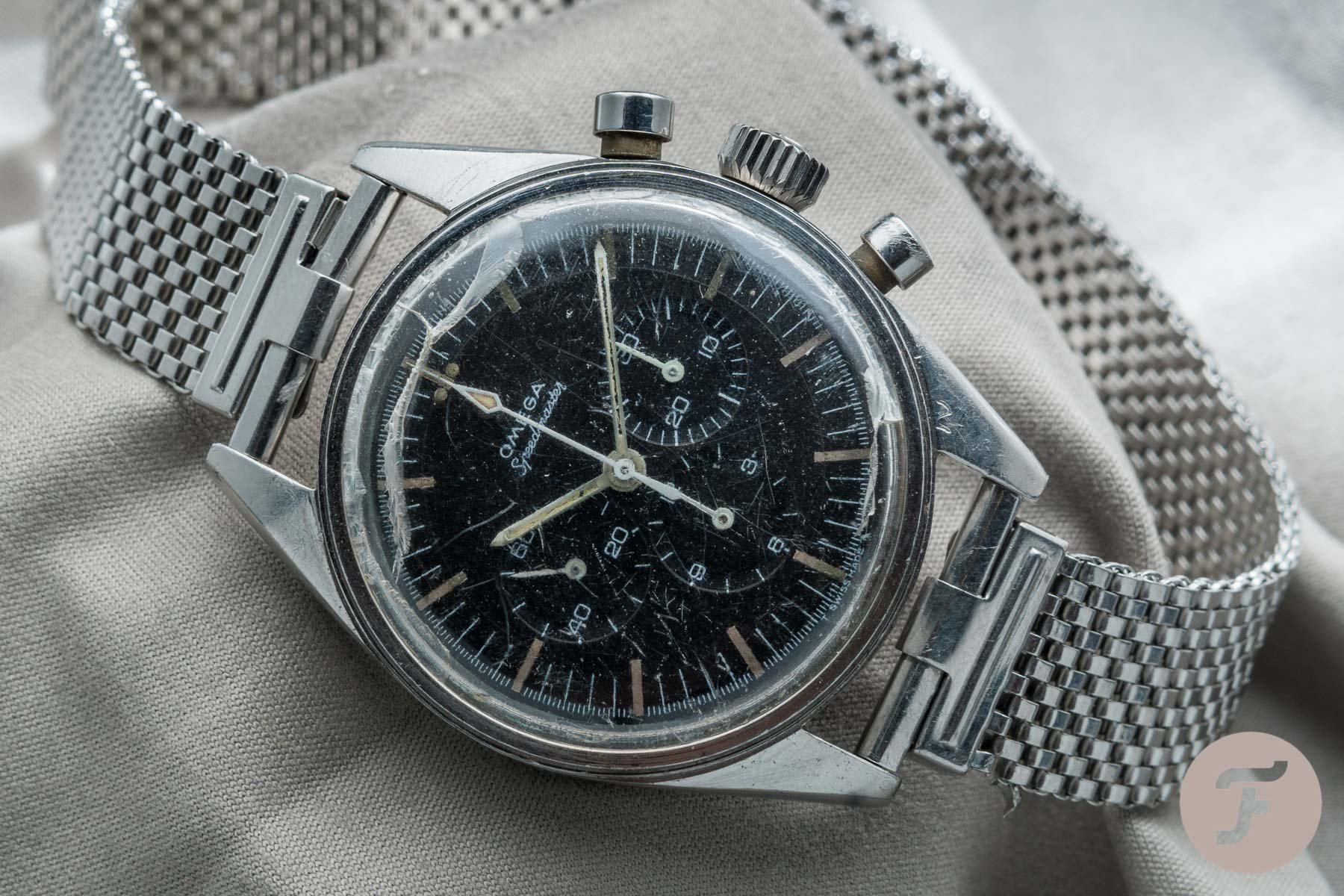 I once had the pleasure of wearing Gene Cernan's Speedmaster reference 105.003. It was the watch he was wearing when he dropped to his knee to etch his daughter's initials on the lunar surface in 1972 (such a lovely story). Wearing a watch with that kind of history and emotion attached to it is just sensational. A flown Speedmaster, like Cernan's 105.003, would be my holy grail watch. But until I can get lucky enough to snag one, I am incredibly satisfied with my current collection of watches from Omega, Rolex, Oris, Breitling, Nomos, Seiko, Grand Seiko, etc. I consider the Moonshine to be the grail that I actually own.
What is your grail watch, and what are your thoughts on grail watches? Please share with us in the comments.
*The header image has been taken from NASA's website.