My Seiko Diver Journey — Part Two: From Titanium Shogun To Baby Marinemaster… And "The One"
If the Marinemaster 300 is all it's cracked up to be, could it be the end of my journey?
After a hectic couple of years documented in My Seiko Diver Journey — Part One, I started to feel torn. In an increasingly diameter-reducing media environment, I felt like Jekyll and Hyde, with dressy, 36mm vintage-inspired pieces for the office and big Seiko divers for the weekend.
And they felt increasingly too big, so the Turtle had to go. Nevertheless, the green Sumo remains. It's the largest, but it's still the one I am smitten with every time I put it on. Then I read an article on the quite un-Seiko-like titanium Shogun. I found a bargain-priced one in Denver from an Instagram buddy and was blown away, bored, and confused at the same time.
Seiko Prospex SBDC007 Shogun
The discontinued Seiko Prospex SBDC007 Shogun is pretty much a perfect diver, but of a more Western design. Gone are the dramatically sloping sides, crown at four o'clock, and smooth coin-edge bezel. And gone is all that weight! Wow. The same 6R15 movement as in my Sumo, but moving upmarket. The Shogun was about $1,500 retail, pre-owned at $700-900. I clearly moved up a notch on the Prospex ladder. Nothing will prepare you for your first titanium watch, as the weight is simply not there. As a 43.5mm diver, the weight on its smooth bracelet is less than a Turtle on rubber. Considerably. It's still big, but with huge comfort.
Does a lack of weight make a difference?
The bold lugs angle down to hug your wrist with a slightly long 50mm span. The weight can't make it shrink, but it sure seems like it. DiaShield protects the case well, though getting a scratch means it can't be brushed out. This is one I miss, even if it looks more Swiss than Japanese. It has swooping crown guards, a crown at 3 o'clock, and a tough bezel. This may have a scratch-prone aluminum inlay, but with its sawtooth edge, the grip is phenomenal. Battle-ready is the name of the vibe, and the polished chamfers on the case top are seriously precise. The dial is traditional monochrome with superb legibility, and let's get into the Hardlex vs Sapphire discussion.
With its matte black surface and large indexes, my Shogun had the most perfect visibility, but I jumped on the sapphire crystal-swap bandwagon. Then what happened? The purple AR on the rather expensive domed sapphire crystal drove me MAD. It had double the reflections of the standard Hardlex, so I swapped it back to my local watchmaker's amusement. It was perfect again, and what did you ask? No, I have never encountered any more scratches on a mineral Hardlex crystal from Seiko than a sapphire one, Swiss or otherwise. My sapphire crystal-snobbery has long vanished, but do you know what? I never quite got used to the unearthly comfort of the lightweight titanium, so while the green Sumo stayed, this was sacrificed. Why? I fell in love with the Baby Marinemaster, with a deep blue dial inspired by the Great Blue Hole.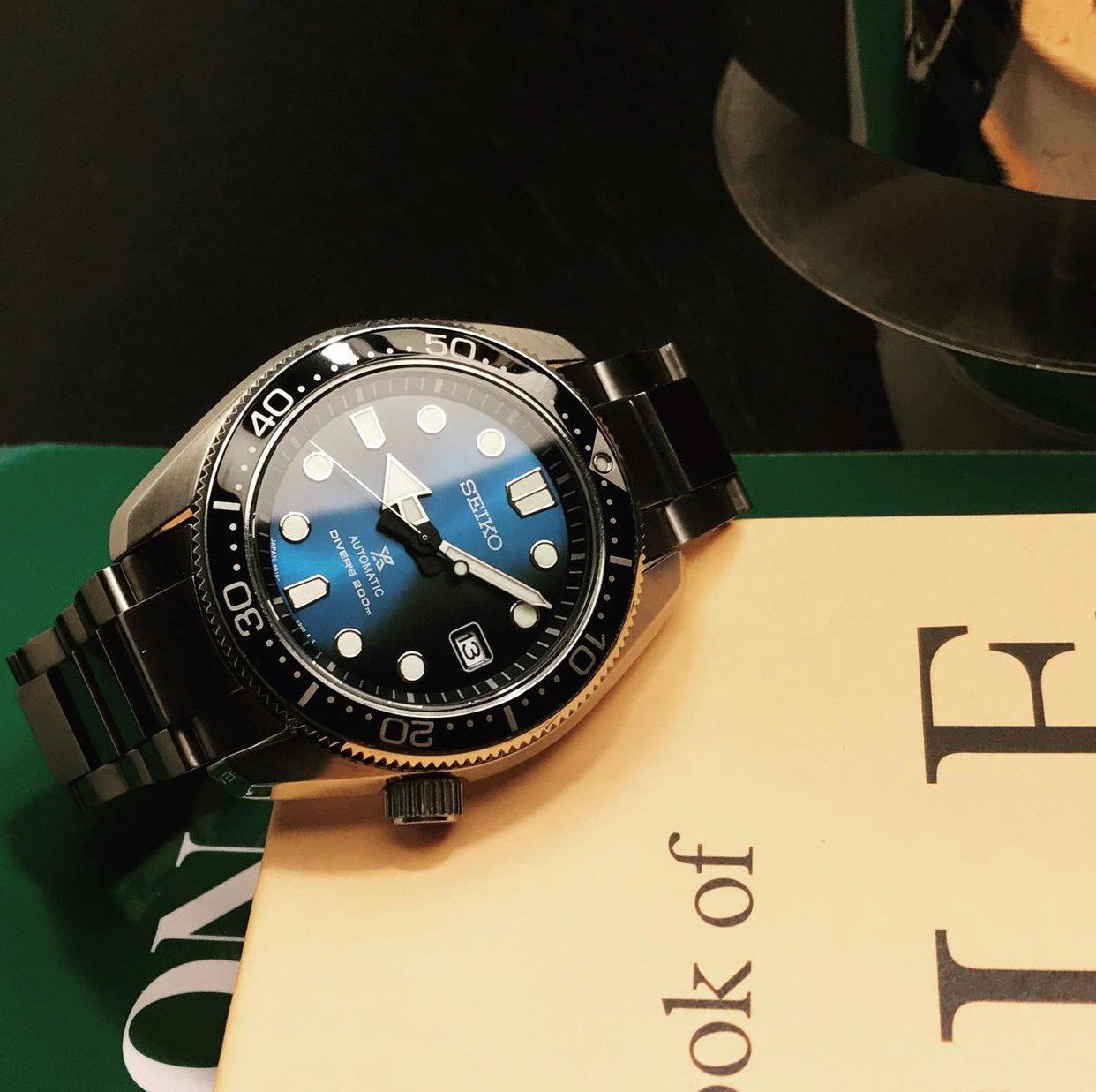 Seiko Prospex SPB083J1 Limited "Great Blue Hole" Edition
Covered by Jorg in our story here, and compared by Mike to the Marinemaster 300 here, this is a superb tool watch. For me, the so-called Baby Marinemaster is the peak of Seiko's large-case ergonomics, even with the extra weight of steel. With the shapely, broad-shouldered case still softly angled with an inset crown at 4 o'clock, 44mm is not 44mm. This series is a modern re-interpretation of the 62MAS diver, with debatably cooler Monster-ish hands and a softer case. The 6R15 movement yet again surprised me with a scarcely believable +/- 4 secs a day, beating COSC standards and in-house. For around $1500, this is a Planet Ocean beater, both in the finish and comfort and with that dial. It was limited, but you might still find a new one at an AD or on Chrono24.
The most comfortable Seiko diver around?
The vertical dégradé effect of the dial is simply hypnotizing, and the lume lasts all night. What about Seiko bracelets? Issue solved. Seiko Prospex bracelets are a point of contention, I'll happily agree to that. But, the combination of a fat, angular TAG-like design and a solid milled clasp was my best so far. Yes, it does beat the rather more expensive Marinemaster 300 bracelet. There, I've said it. You'll notice a slightly darker, odd shine to the 316L steel here too. That's the Seiko DiaShield scratch-proofing again, and yes, it works a treat. An easy side-by-side comparison to the Sumo bracelet would reveal a serious difference in hairlines and nicks, so it does work. I did have a renaissance with this watch in the South of France this summer, where I rediscovered its tough dive-ready demeanor and details sharp enough to go with that nice Italian shirt.
Being a limited edition, it came with a dive-ready soft rubber strap in addition to steel. I fell back in love with it, but it also made me consider the "Final Upgrade" once again, the Marinemaster 300. A quick Instagram poll got 80% in favor of the deed, so I sold it off to a good friend.  Off to find the final piece of my personal Seiko puzzle, or to reach the top of the stairs — use a simile of your own choosing.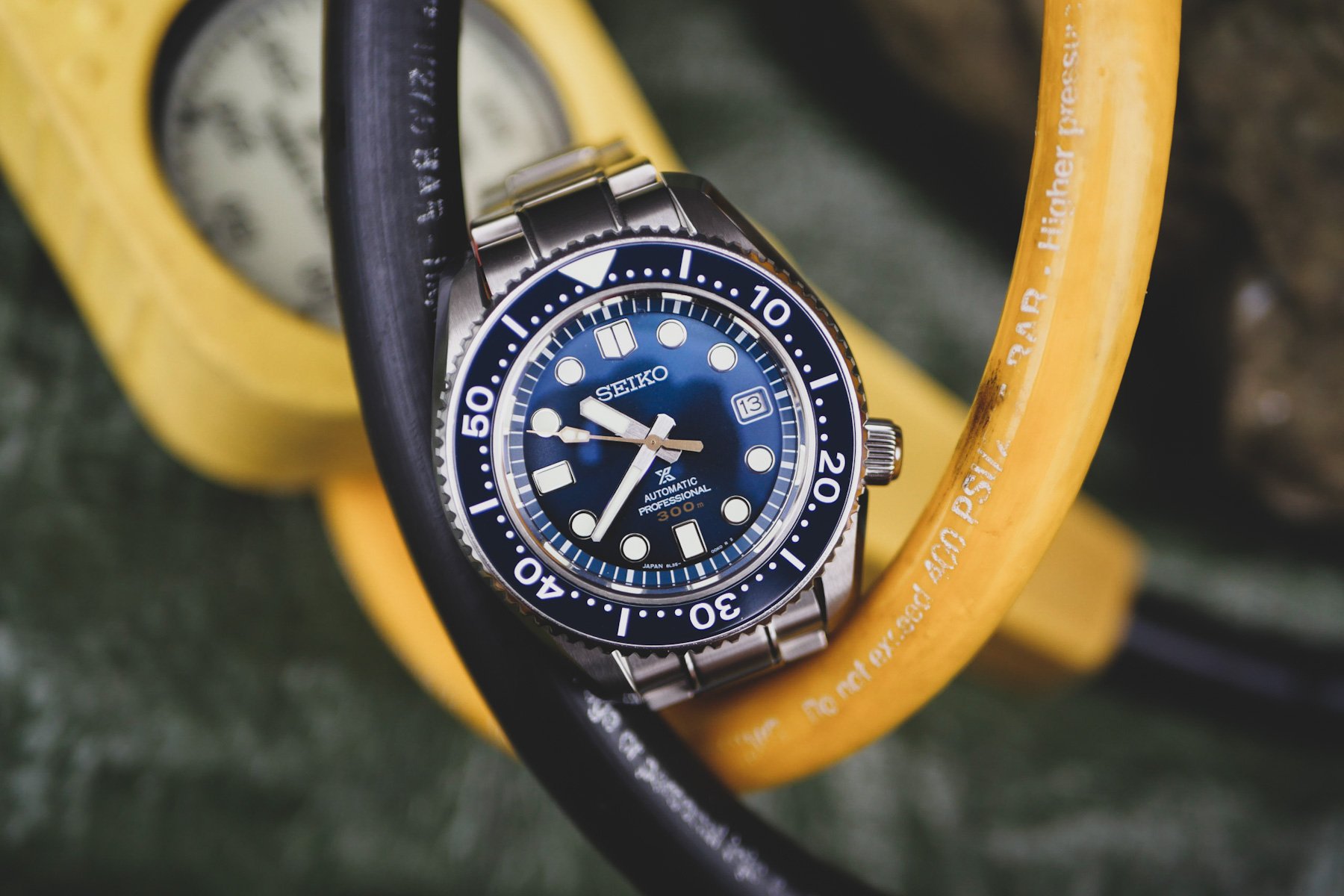 "The One," my Seiko Prospex SLA023 Marinemaster 300
Now there is only one Seiko diver in my box, and I love it — the current iteration of the mythical saturation diver, the JDM Marinemaster 300. Long before the premium Seiko divers were available, this was a watch forum legend, and the SBDC001 is a cool tool. So fervent is the fan base that I had a petition being started when I wanted the blue dial. THE SHAME! "It HAS to be black or you might as well be wearing a G-Shock!" they said. "The horrendous X on the dial and crown! The sacrilege!" Come on guys, really? I love the BMW 3-series, but really? Would you expect every car rolling out of the factory today to still be the E21 launch model in silver metallic? Maybe all Ferraris should indeed be red, but seriously! I love blue dials, and God forbid Seiko is allowed to keep the Marinemaster 300 up to date.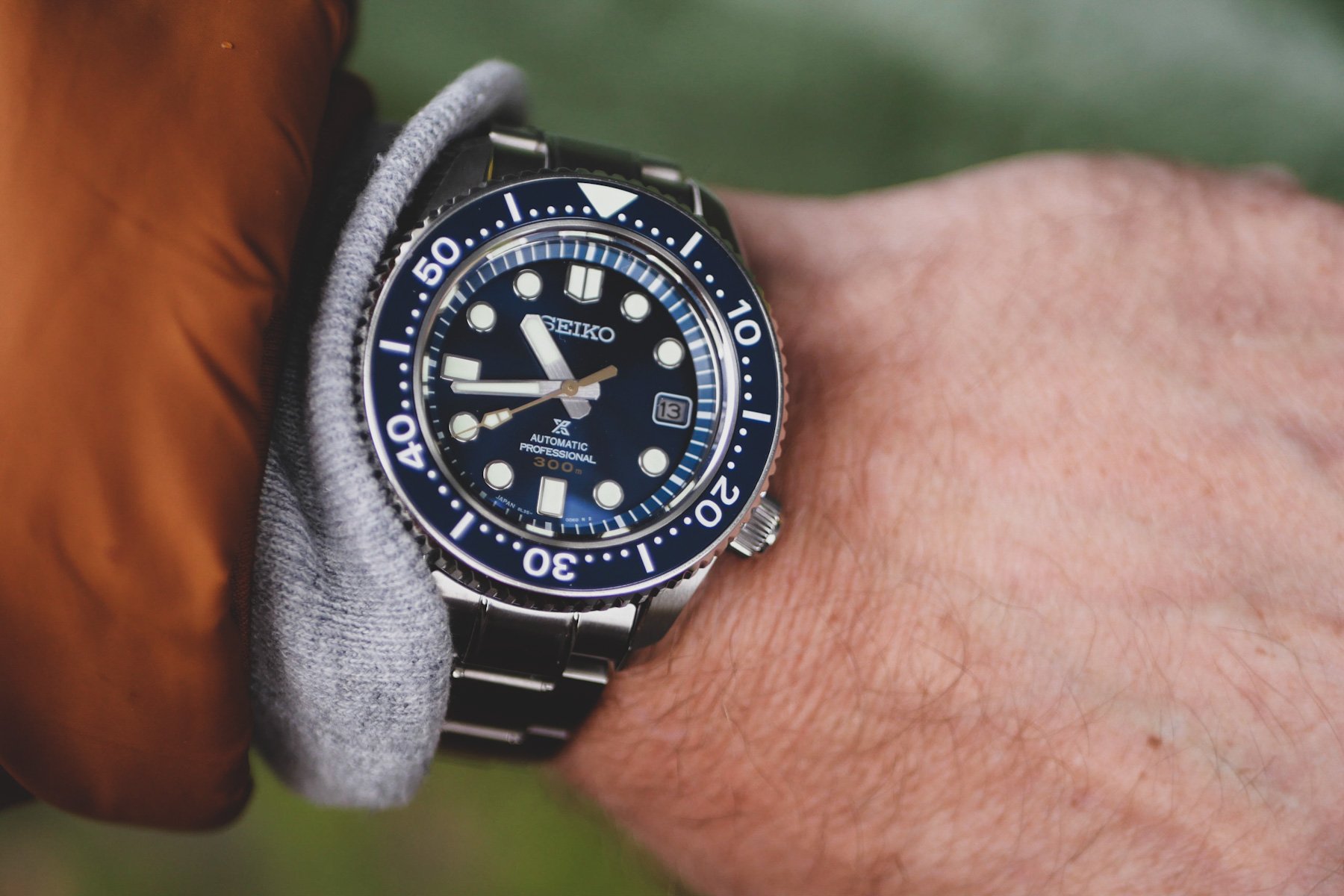 The same, but different
Yes, the dial might be lacking that iconic MARINEMASTER text, swapped instead for the scary X-like Prospex symbol, but I really don't care. Hell, the size is exactly the same as 20 years ago, and have you looked at the chunky 2021 Porsche 911 compared to the original? The changes are not to be sniffed at either. A sapphire crystal and perfectly matched ceramic bezel now complete the picture. And that blue dial? To me, this chameleonic color is one of the few perfect variants of navy, dark yet with a subtle twinkle. The sunray surface is semi-matte, and the perfect stage for large, polished indices and beveled, brushed stubby hands. The pièce de résistance (the purists are wincing) for me is the gold 300m text and the brushed gold seconds hand.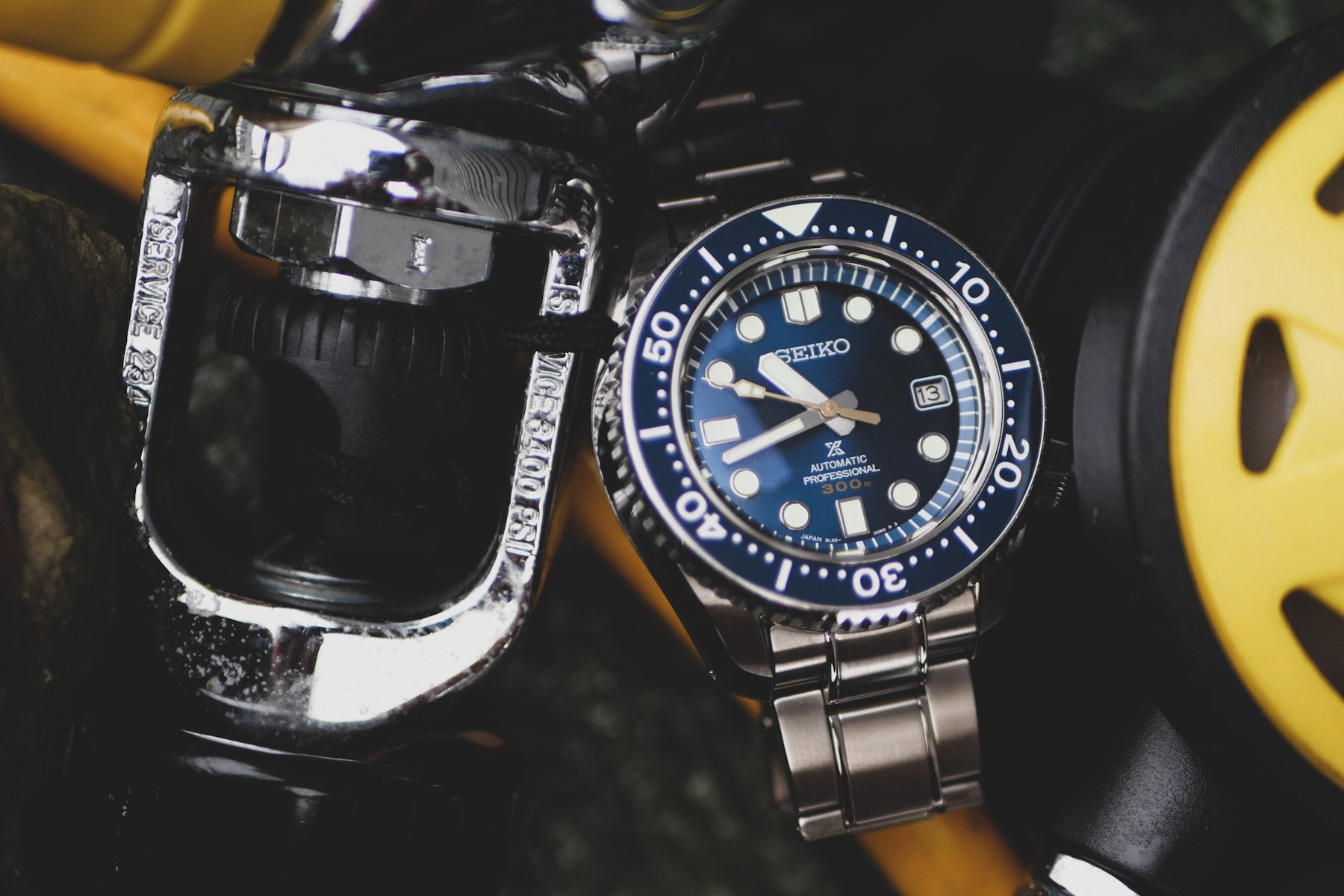 Too much flair and panache for a serious tool?
Polished details and gold touches bring too much panache for a tool watch, you say? I seriously disagree. I find a Pelagos yawn-inducing. The brushed case and matte, printed dial could send me to sleep. I enjoy sports and tool watches with tees and jeans, sure, but even with a suit. I like a watch to exhibit that brand's craftmanship, and why not show it off with a sharp bevel on a minute hand, and an applied, polished index? The Grand Seiko-produced, Zaratsu polished case? It is a work of art. Show me a Swiss brand with this design flair and obsessive finishing for less than $4,000 and I'll shut up. There is a flaring, flat, brushed section about 2 millimeters at its narrowest, visually dissecting the fat case side angles. Its's a pure Japanese vision of purity with style, and I love it.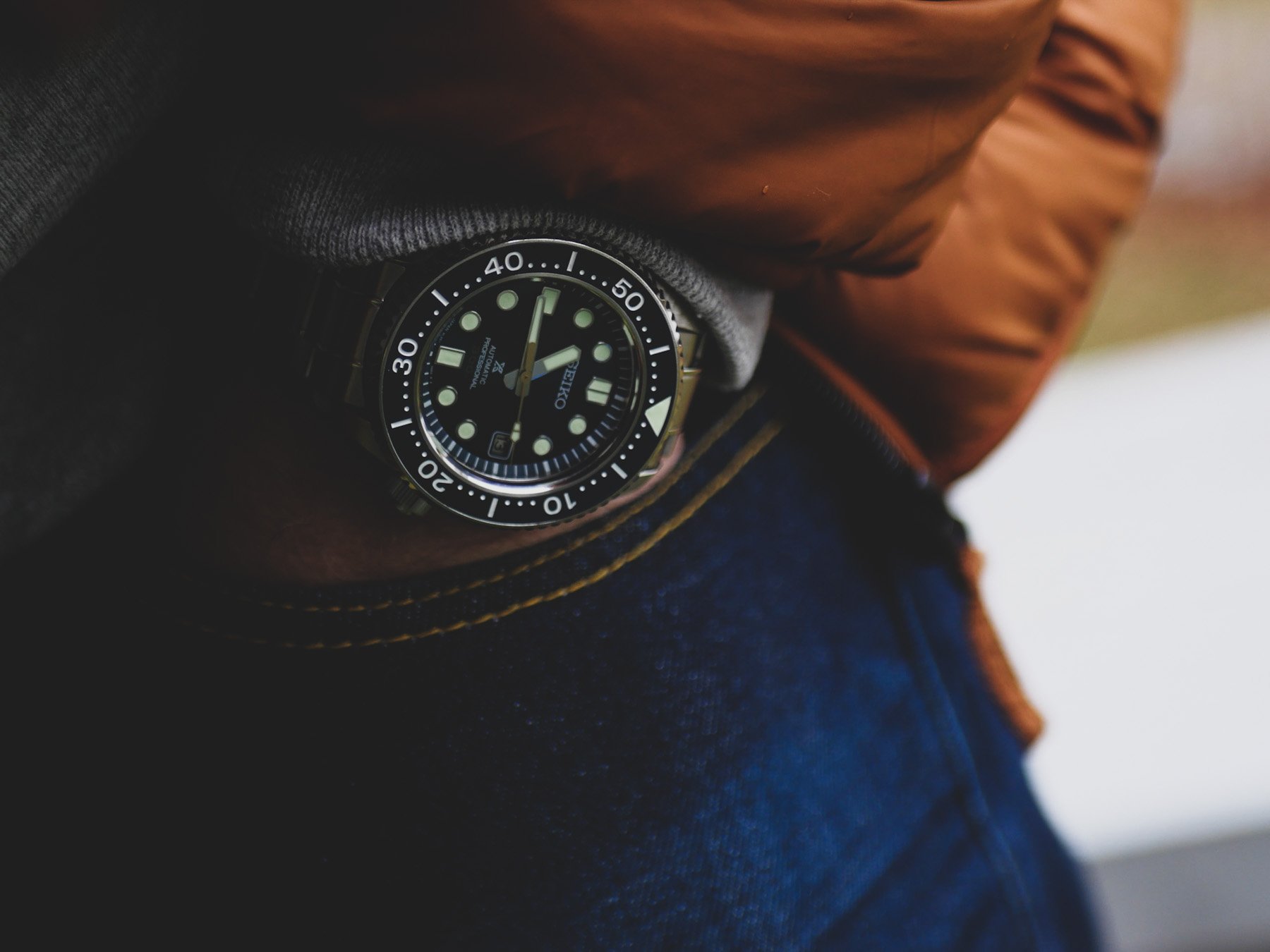 A Grand Seiko caliber in plain clothes
The movement is an undecorated Grand Seiko 9S55 caliber, here called the 8L35B, with a solid 50 hours of power reserve. The 8L35 movement beats at a rate of 28,800vph and exhibits hacking and hand-winding properties as expected. Unfortunately, though, it beats out of view, set inside the monobloc case. This case construction with no case back means everything has to enter and exit through the front, so that temptation to get your eBay-found case back opener out is negated. The flip side of this is that it's a clean slate to design what 20 years ago must have been one of the smoothest, most comfortable wrist interfaces around.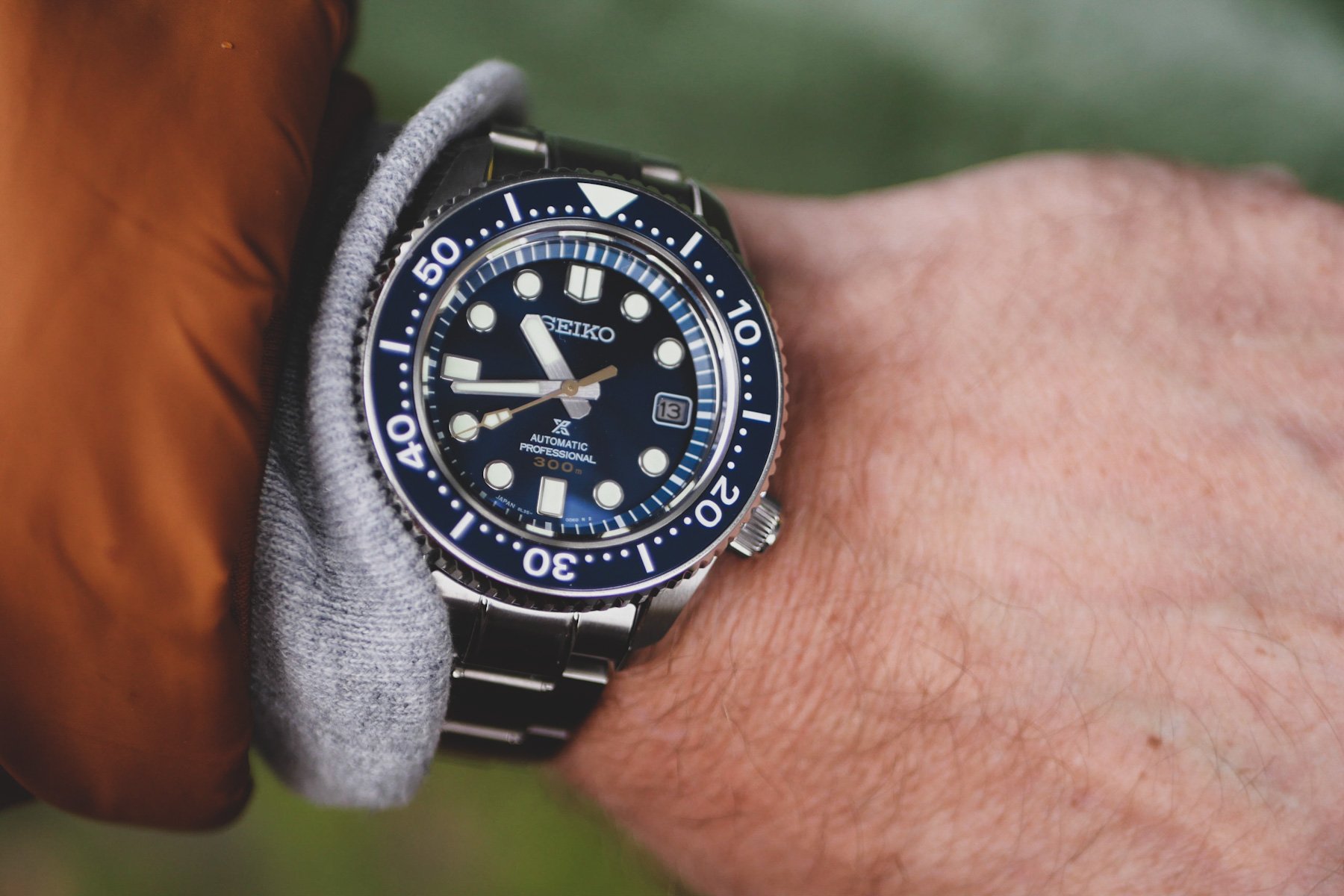 I tried the Marinemaster on, and it made a lasting impression
At my local AD a couple of years ago, I tried on this very model. At the time, I had the Baby MM on my wrist, and side by side, they are alike. Very much so. I even confess to feeling that the SLA023 was quite top-heavy and tall. But, I kept thinking about it. A lot. The thought kept being pushed aside through my love for smaller watches and the ease of wearing a 38mm slim piece of timekeeping. Hell, my favorite was a deep black Grand Seiko SBGR053 that was my entry ticket to Fratello last year. Small and perfect, not Godzilla. How then, did I end up at my perceived top of a virtual Seiko Prospex ladder with the SLA023 on my wrist? It was rather similar to my SPB083J1 Baby MM, with superb finishing, but at more than double the price? Yes, it is worth it. It is a Grand Seiko without the name, and it seriously shows.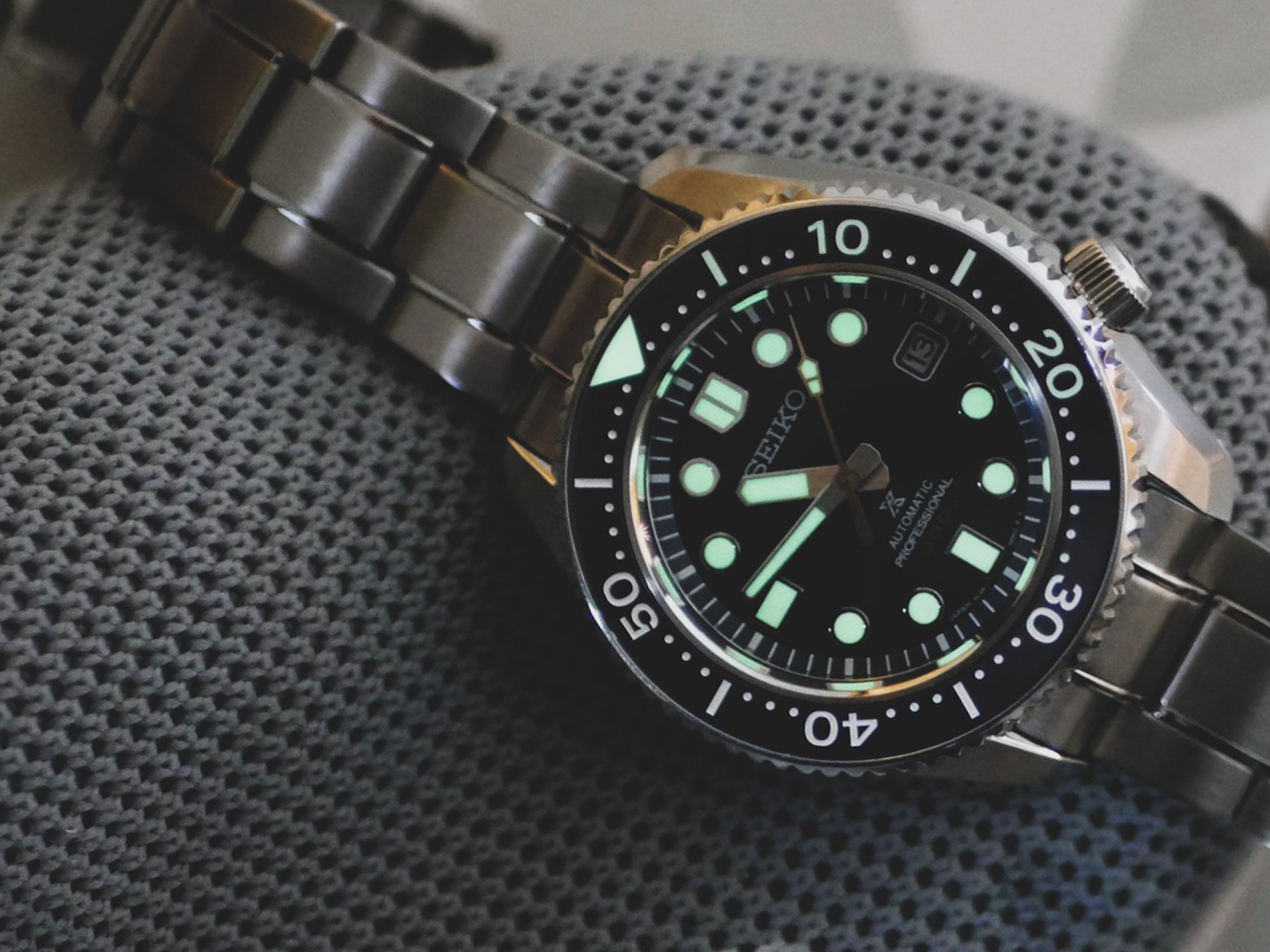 A 15mm thickness is big on spec, but visually? Even with its 44.3mm diameter, it does not look it. The bezel is about 42mm at its side, but just 40mm across the top. The dial opening is slightly less than 30mm, so go and compare this to one of your 40-41mm pieces and do the visual math. Is the Omega-ish bracelet fantastic? No, but for some reason, it seems perfectly matched, even at 20mm. While slightly thin for the massive watch head, it's smoothly comfortable. When you feel your wrist expand in the summer sun, the ratcheting clasp will easy-click your SLA023 back into the comfort zone in three seconds.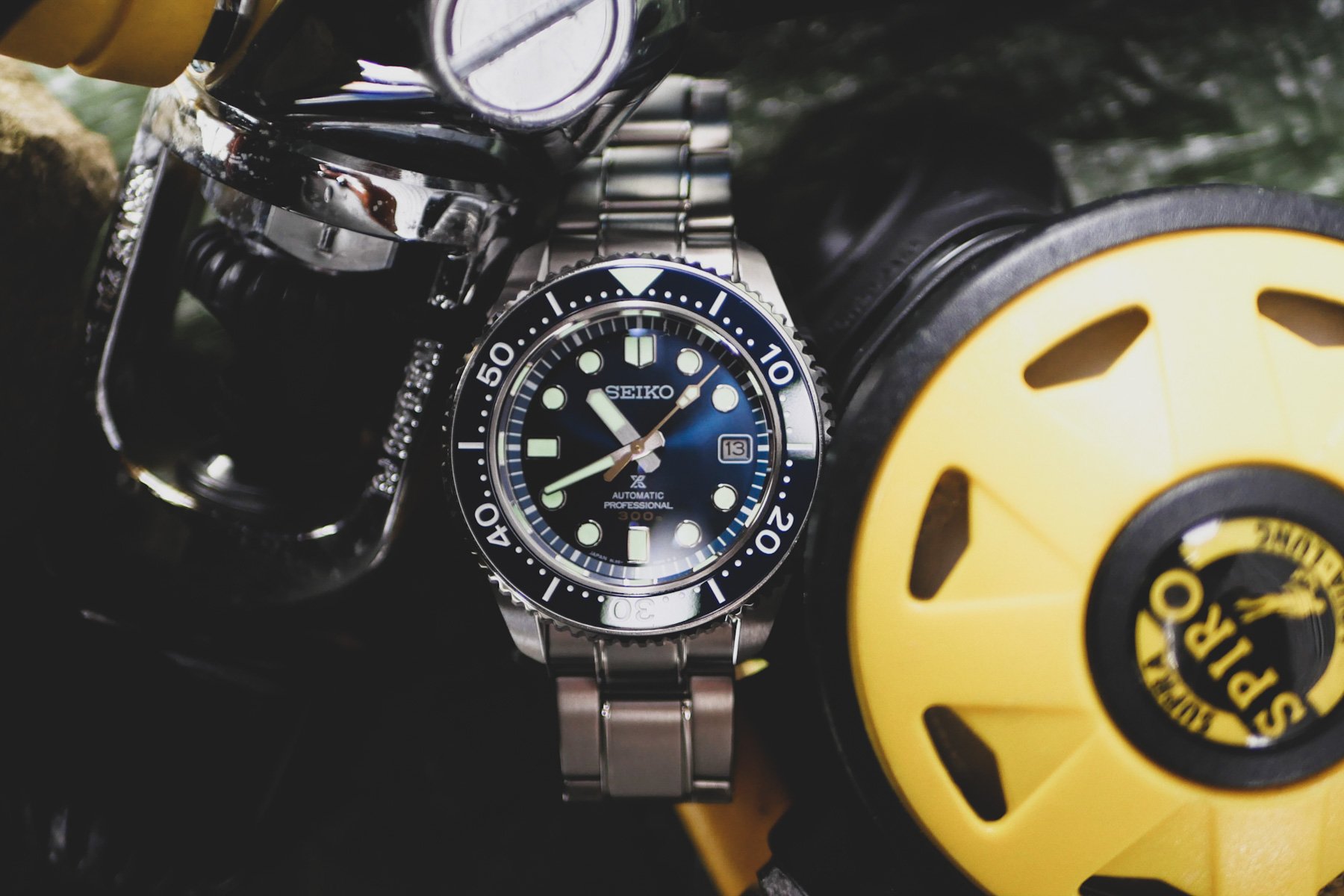 Have I reached the top?
I've had this now for about a month, so why does this beast push 38mm Goldilocks watches aside, surprising me as it happens? Nothing will hide the weight, but yet again, comfort is king. I'll admit to sleeping with a watch on, and this big brute, what does it feel like? The SLA023 has the uncanny ability to feel like a security blanket for a grown man. The feeling is one of a substantial presence and warm security. At the same time, it does not have a single sharp, unrefined, or unfinished edge touching the wrist. The result is a big tool that will take anything you throw at it, all while being nigh on impossible to take off except when that shirt cuff is just too tight.
Sidenote — yes, the LX series is perceivably better. But to me, it remains a lateral Seiko series without the direct bloodline of the Marinemaster, which is a purely subjective viewpoint. Have I tried a Tuna? Well, yes, but I enjoy the muscular-lug Seiko diver case design too much, and the Tunas just too dang round. It would make a cool beater though (food for thought). And then you have the Grand Seiko divers, but I'd better not start down that path. Do have a look at the SLA023, available for around $3,000, even in (yawn) black.
Let's hear from you
Have you made a similar journey through the Seiko diver catalog, or with another brand? Share your experiences below or share your love for the in/house magic of Seiko.
Follow me at: @thorsvaboe