Nacho's GADA Watch — The Omega Seamaster Professional 300M 2254.50.00
Because GADA isn't just specs — it's also a state of mind
While I was off on holiday a week and a half ago, RJ and the editorial team decided to tackle the topic of "go anywhere, do anything" (GADA) watches. Now that I'm back from my "go anywhere, do anything" scenario, I feel I'm more than prepared to share with you both my definition of the term and my GADA watch itself. When it comes to the latter, let's not beat around the bush. It was only ever going to be my Omega Seamaster Professional 300M ref. 2254.50.00. It's my latest purchase and a watch that has been enjoying a six-month (nearly) exclusive honeymoon on my wrist. Other than the watches I've worn for my duties as a watch journalist and the occasional (yet rare) times when I've worn another one of my private watches, the 2254 has dominated in terms of wrist time. And it's no coincidence.
If you want a more in-depth look at all the reasons why I love the SMP 2254, you can watch the YouTube video where I laid them all out. Now, a GADA watch is generally defined as one that is never inappropriate. "From the beach to the boardroom" (a phrase I despise), it should never feel out of place. However, everybody's life is different. Even within the Fratello team, we all lead vastly different lives; therefore, our GADA watches will likely be dissimilar. It's a very broad term that must be defined subjectively. To me, it has a lot more to do with how a watch makes you feel than the specs and styling of the watch itself.
The GADA feeling
Paul McCartney said it best when he sang, "I've GADA feeling, a feeling deep inside, oh yeah!" And though the watch that gives him that feeling is a Patek Aquanaut, for me, it's the 2254. As you may have read, Lex's pick was his Oris × Momotaro Divers Sixty-Five. His reasoning is completely different from mine, and that's all right! Because what a GADA watch is will always vary from person to person. For me, it's not about versatility, the perfect case proportions, specs (though they do matter somewhat), or even having it work well on all kinds of straps and bracelets. No. In my mind, a GADA watch is one that makes me feel like I can go anywhere and do anything — hell, it even inspires me to do so. And this is exactly what the Seamaster 2254 does for me every time I put it on my wrist.
It's a sense of freedom and inspiration all at once — a feeling worth pursuing. If you don't GADA with your GADA watch, then it's only just another watch. In the six months that I've had my Seamaster, it has already come a long way. I've worn it to Norway, where it shrugged off double-digit negative temperatures and snow while spectating the FIS cross-country skiing World Cup. I've dressed it up, slipping it under the cuff of a dress shirt and suit to some of the more formal happenings at Watches and Wonders. And I've dressed it down on a NATO strap over a neoprene cuff while going surfing for the first time at Alaïa Bay. I've enjoyed warm, wine-soaked evenings with friends in Germany, hiked up a snowy peak in the Dolomites, and canoed down the Main, all that with my 2254, the infallible companion, strapped to my wrist.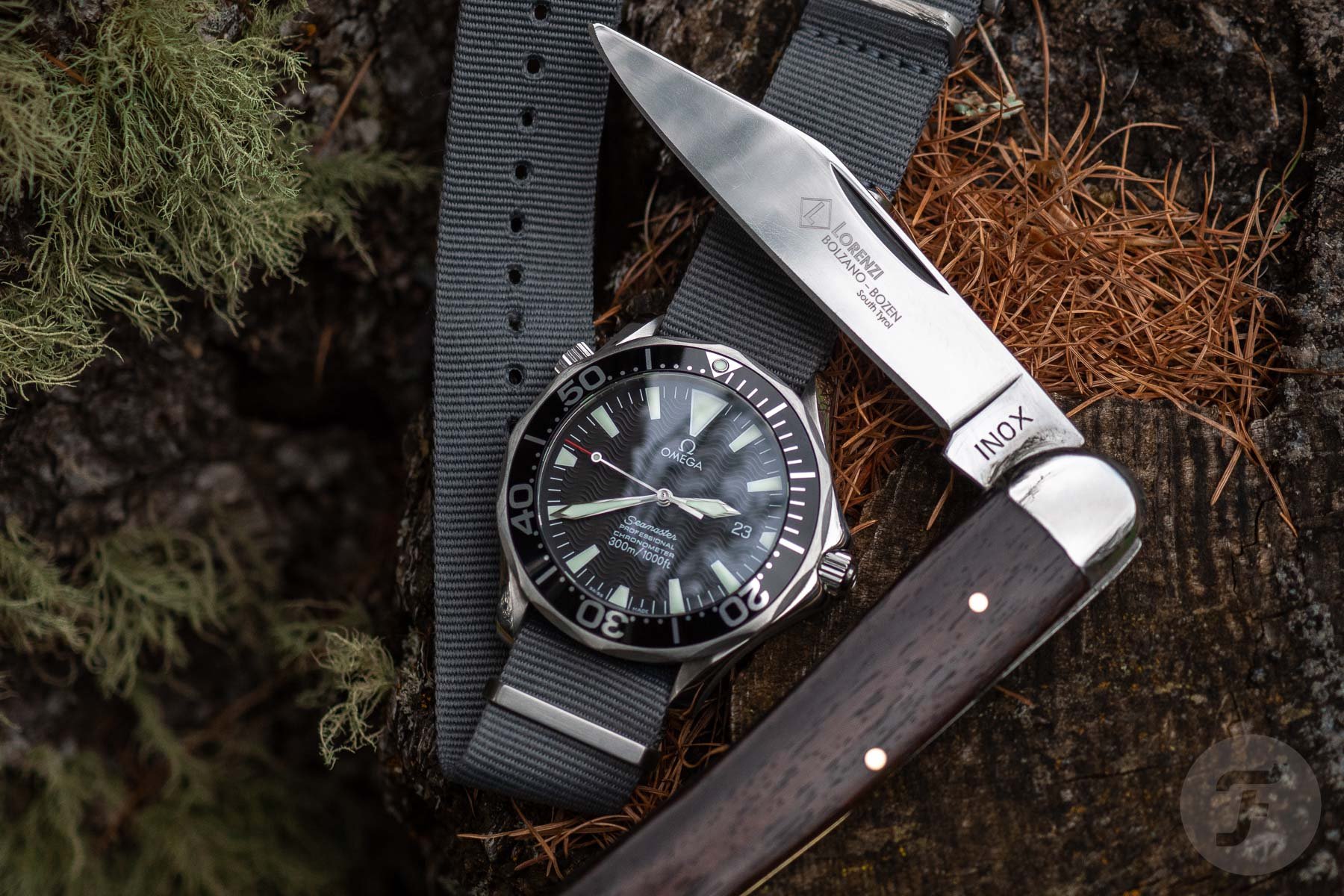 Nacho's GADA watch: Omega Seamaster Professional 300M 2254.50.00
I count myself lucky. That's not just because I've been able to do all these things while wearing my favorite watch or because I know that this is only the beginning. It's also because I still get that feeling even now, half a year on. It's there every time, whenever I look down and see those sword hands and wave dial. But as strong as it may be, sometimes a feeling is not enough. Objectively speaking, a GADA watch must also be up to the task. I won't bore you with a rundown of all the specs of the Seamaster, but as you might imagine, it can take just about anything you throw at it and look good doing it.
Additionally, thanks to the chronometer-spec movement inside, it won't miss a beat. I didn't set it for two weeks while I was away, and it was only running 10 seconds fast when I returned. Certified accuracy is matched by its water resistance, which came in rather handy in South Tyrol. It didn't involve a dive into the icy, crystalline waters of the Fernsteinsee but rather a dip into the much-warmer thermal baths in Merano. Still, it's the worry-free feeling of knowing that whether I spend 20 minutes in the steam room or an hour swimming laps beforehand, I don't have to worry about my watch one bit. And as it gathers nicks, scuffs, and scratches, I can think back fondly to the moments that put them there. To me, this is what the concept of a GADA watch is all about.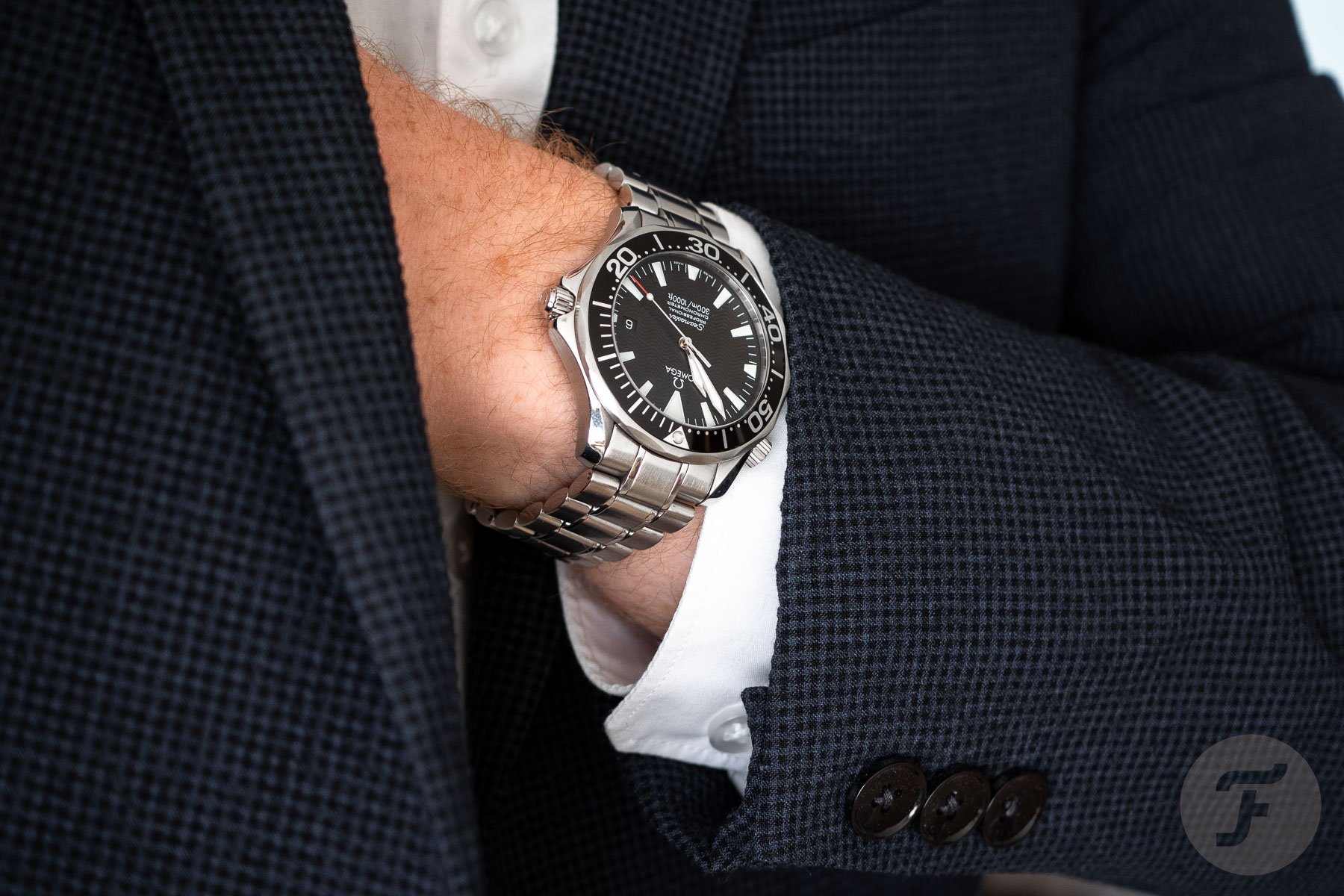 Final thoughts
The only potential oversight you might have spotted is the lack of formality in my endeavors. But in my current lifestyle and routine, I only wear a suit maybe two or three times a year. This means it's not too much of a concern, but I'd happily wear my Seamaster when suiting up. You might roll your eyes at a dive watch worn with a suit, let alone anything more formal. However, rules are meant to be broken. And if everyone's favorite double-0 agent can turn this faux pas into an iconic look, I believe that grants us all carte blanche to do the same. With your GADA watch on, nothing should feel impossible.
Here's a gallery of wrist shots of me and my Seamaster going anywhere, doing anything:
What's your "go anywhere, do anything" watch? And what do you think about mine? Do you agree with my take on the GADA philosophy? Let me know in the comments below.
Follow me on Instagram: @ncgwatches