Graduated GADA: Luxury Do-Anything Watches From Rolex, Grand Seiko, And More
One-watch collection, anyone?
This week is Fratello Collector's Week version 2.0! We're going to see a lot of content about personal collections, approaches to collecting, and other things multiple-watch-related. This article is about watch collections in a way as well, except here, the focus is on watches that could serve as one-watch collections. I'm talking about GADA (Go Anywhere, Do Anything) watches, a cult genre of watch feverishly pursued by many a watch enthusiast (myself included). Today, I'm focusing on watches that truly can go anywhere (including formal occasions and along the progression of the owner's life) and can truly serve as one-and-done choices. To me, that necessitates a certain luxury that other, more affordable GADAs — while perhaps just as capable — can't compete with. Here, we have entries from Rolex, Omega, and others that bridge the gap between luxurious and capable.
I love a good deal. My GADA and daily wearer, which I mentioned often in my article about collecting Seikos, is a Seiko Alpinist SARB017 that I bought at an excellent price. I have Swiss watches as well, but none of my watches feel as "right" to me for daily wear as my Alpinist. But recently, I've been thinking that perhaps, while totally fitting and appealing to me now, a Seiko Alpinist isn't necessarily where I want to stop on my GADA journey. I'm progressing along my various professions (and age), and a higher-quality, luxury GADA is beginning to look really appealing to me. So it's time to survey the landscape to see what exactly is available.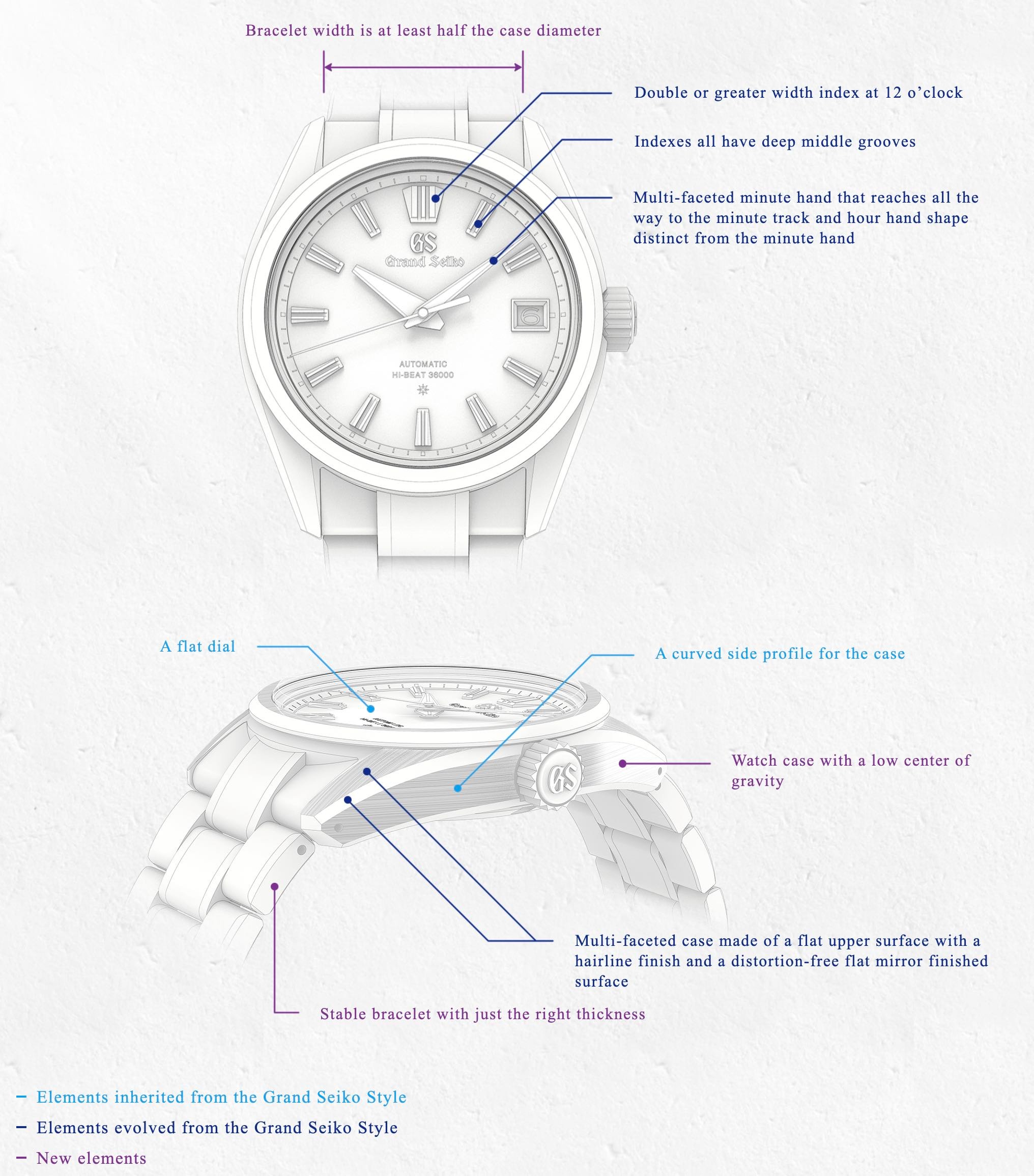 Some clear luxury GADA parameters
The particulars of what makes a watch a GADA are loosely defined by group consensus. Really, a watch that can accompany the wearer wherever they go and in whatever they do is a GADA, even if it has a water resistance of 3 ATM. Maybe the wearer doesn't swim. But typically, GADA rules dictate at least 100 meters of water resistance and a refined appearance. No complications except often a date indicator, and no tool bezels, rotating or stationary.
For this exercise in luxury GADAs, I've set out some clear rules. This was primarily to keep the selection pool as limited as possible. I still ended up with eight watches. For a luxury GADA, each watch must have at least 100 meters of water resistance and a sapphire crystal. Automatic winding is a must. Each entry must come on a bracelet, adding to the luxury experience. Accuracy can't have a variance greater than a total range of 10 seconds per day (though some beat that by a long shot) And entries can't be less than 35mm in diameter or larger than 40mm, hitting that sweet spot and erring towards the more formal end of sizing.
Parameters for the list
These watches must cost more than $2,000 and less than $10,000. I've kept entries to one watch per brand to diversify the list. Also, it was important to me that there are no repeated calibers. You'll only find one ETA 2824-2 base in this list, and even it's been regulated for better performance.
I'm not a stickler for date indicators one way or another. It just happens that every entry on the list except two comes with a date window. If having a date on a GADA makes you want to pull your hair out, you might want to scroll down to the Tudor and Cartier and save yourself the premature balding. Otherwise, enjoy the journey through the watches (and the prices). We start with the most affordable on the list: The Citizen.
Citizen "The Citizen" Eco-Drive AQ4020-54Y
Citizen sets a high bar with a JDM (Japanese Domestic Market) exclusive luxury Eco-Drive. "The Citizen" Chronomaster at 37mm in diameter with white Washi paper dial (ref. AQ4020-54Y) does a lot of heavy lifting behind the scenes. First off, let's talk about accuracy. Yes, Citizen's Eco-Drive technology is based on quartz timekeeping in conjunction with solar power. But the A060 caliber within is extremely accurate even for quartz standards with an accuracy of ±5 seconds… per year. The battery's power reserve is 7 months, but considering the A060 can charge via any light, anyone would be hard-pressed to deplete the charge. The AQ4020-54Y actually employs a perpetual calendar with lightning-fast date change at midnight. That means no adjusting the date at the end of every other month.
It's a stunning execution of a watch, though it won't turn heads unless you're in a room of watch nerds.
If the technical side of the watch is impressive, Citizen did an excellent job matching it with impressive elegance. The dial is made from a white traditional Japanese Washi paper, which has a loose-enough weave to let light permeate to the solar cell underneath. The dauphine hands and indices (applied to a transparent cover over the paper dial) are finished to sharp, precise edges. The scratch-resistant titanium case and bracelet have a mix of Zaratsu-polished and brushed surfaces.
I particularly appreciate the inclusion of crown guards on such an otherwise austere watch (though the crown is push/pull), hinting at the 100 meters of water resistance and the expectation that the Citizen "The Citizen" AQ4020-54Y is meant to go anywhere. It's only about $2,100 from your JDM watch retailer of choice, which I consider a good deal for what one gets in this watch. It's a stunning execution of a watch, though it won't turn heads unless you're in a room of watch nerds. In today's social climate, that may be the only attention you want your watch to attract.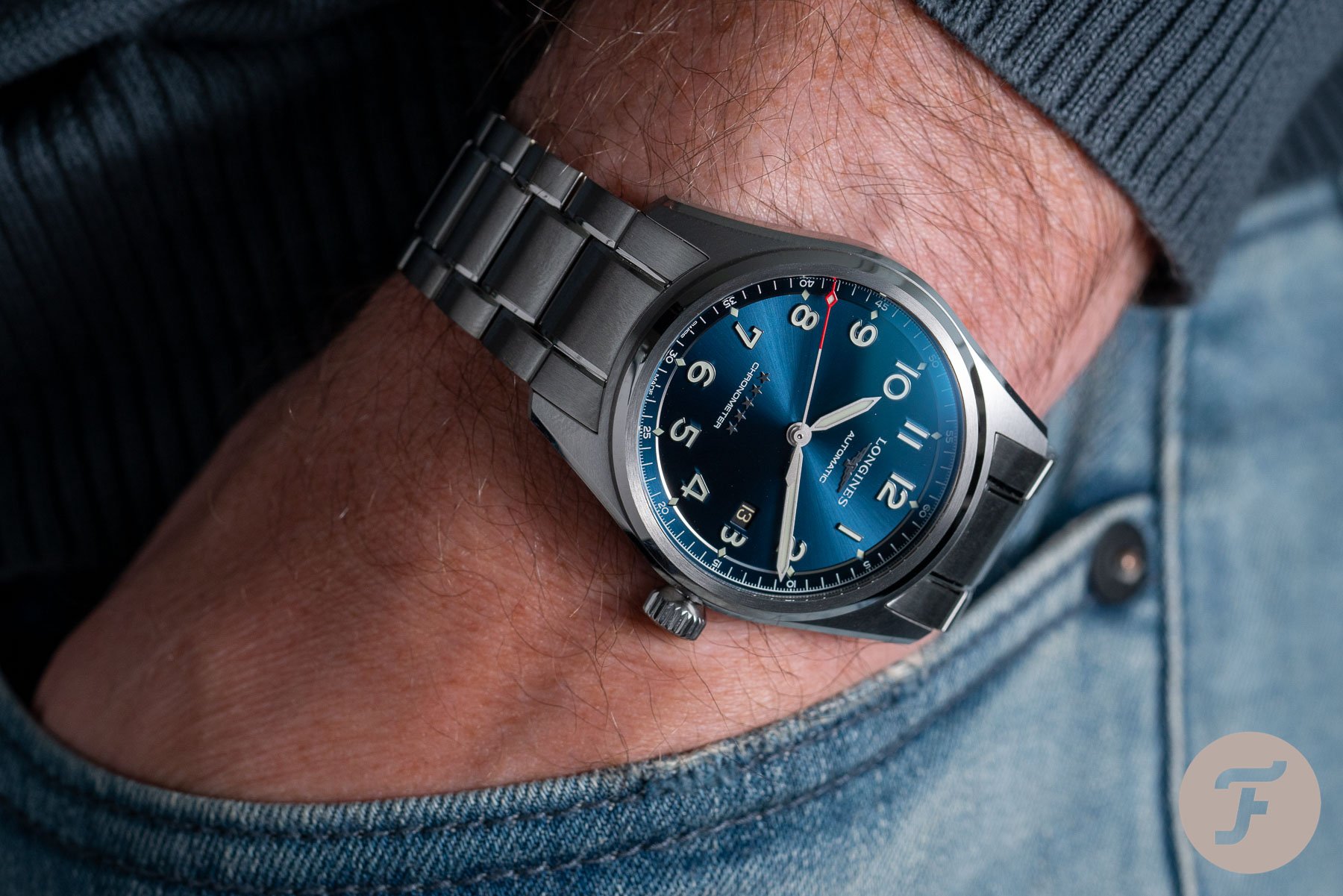 Longines Spirit 37
The Longines Spirit is a polished example of a "standard" watch. It harks back to an aviation past but doesn't scream about it as some Fliegers do with their exaggerated sword hands. Instead, with its slim hands and Arabic numerals, the Longines Spirit line is a casual watch that can dress up or down. Now available in 37mm (ref. L3.410.4.93.6), Longines has perfected the formula, delivering a watch that flies under the radar with its ease and wearability but doesn't skimp on the specs.
Inside that brushed stainless steel case with polished accents is a COSC-certified chronometer, Longines caliber L888.4. Beating at 25,200vph with its silicon balance spring, magnetism shouldn't be a problem. The power reserve is an impressive 72 hours. The L888.4, though presented as a Longines caliber, is only the latest iteration in a long history of movements. It's based on the ETA caliber A31.L11, itself based on the ETA 2829-A2, a highly regarded movement that many enthusiasts considered superior to the 2824-2.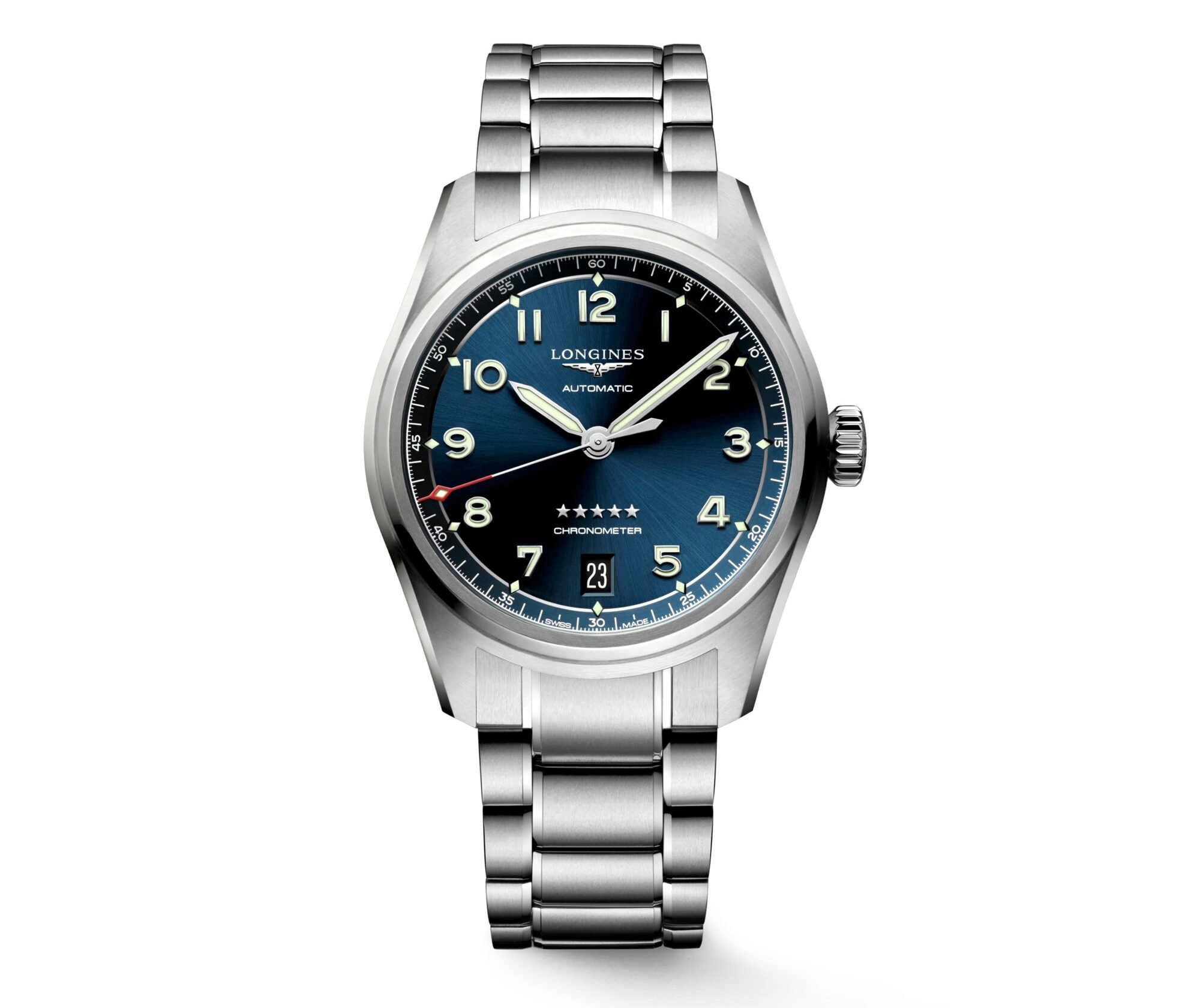 Casual, capable, and good looking
The watch itself is similarly full of little details that elevate it from a simple field watch to a luxury GADA. The sunray dial, for instance, is bordered by a raised chapter ring. The chapter ring has cutouts for the diamond-shaped hour markers that sit just outside the applied numerals. Polishing on the 100m water-resistant case and bracelet exists only on the thinnest surfaces, serving more as accenting pinstripes than that catch the light (and the eye).
The generally brushed nature of the case and bracelet lend the Spirit 37 to adventuring without looking too rough when all is said and done. Finally, the screw-down crown on the Spirit models resembles half of the hourglass found in between the wings of the Longines emblem on the dial. These are all subtle yet appreciated design choices that further lend a sense of elegance. At $2,400, that elegance doesn't have to cost as much as one might think.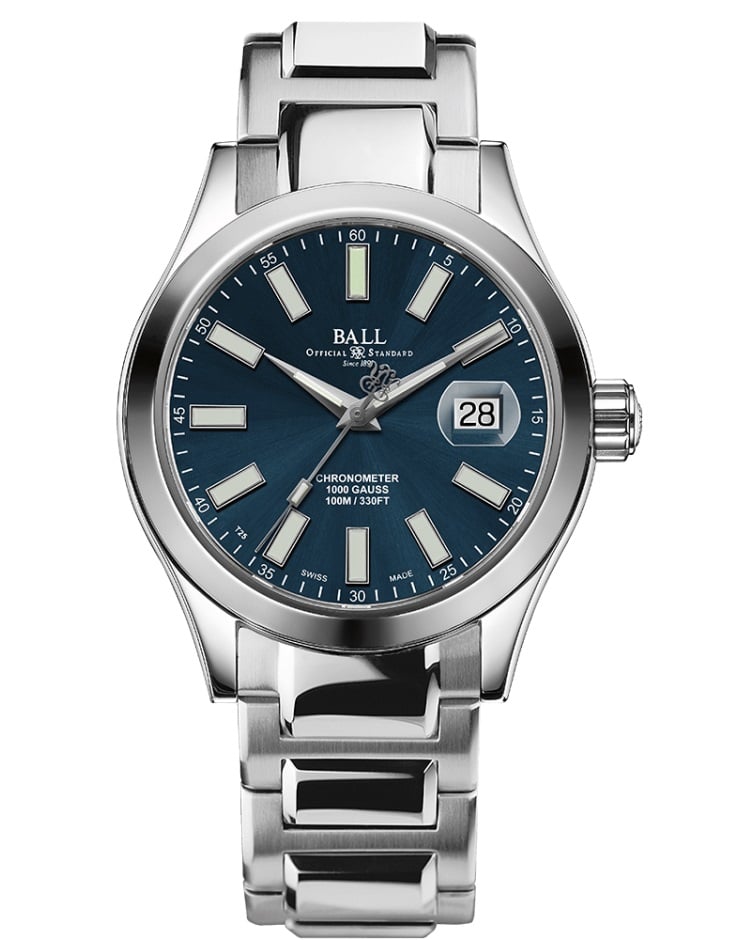 Ball Engineer III Marvelight Chronometer
Ball takes an almost opposite approach to Longines when it comes to a reasonably priced luxury GADA. The Ball Engineer III Marvelight Chronometer (ref. NM9026C-S6CJ-BE) is shiny with its polished case surfaces and bracelet center links. The dial has a minimal approach to telling time, with big rectangular indices and dauphine hands. The only ornate element is the counterweight on the seconds hand, Ball's trademark "RR". The only visible similarity to the Longines Spirit is the sunray dial finish.
As reserved as the Engineer III Marvelight Chronometer might look, it's a tool watch through and through. The 904L steel case is a full-sized 40mm in diameter for housing the mu-metal shield insulating the movement from up to 1,000 gauss of magnetism. That movement is Ball's RR1103-C caliber, based on an ETA 2824-2 or Sellita SW200-1. The movement is COSC chronometer certified with an accuracy of +6/-4 seconds per day. Other specs are standard for an ETA 2824-2 base — a 28,800vph frequency and a 38-hour power reserve.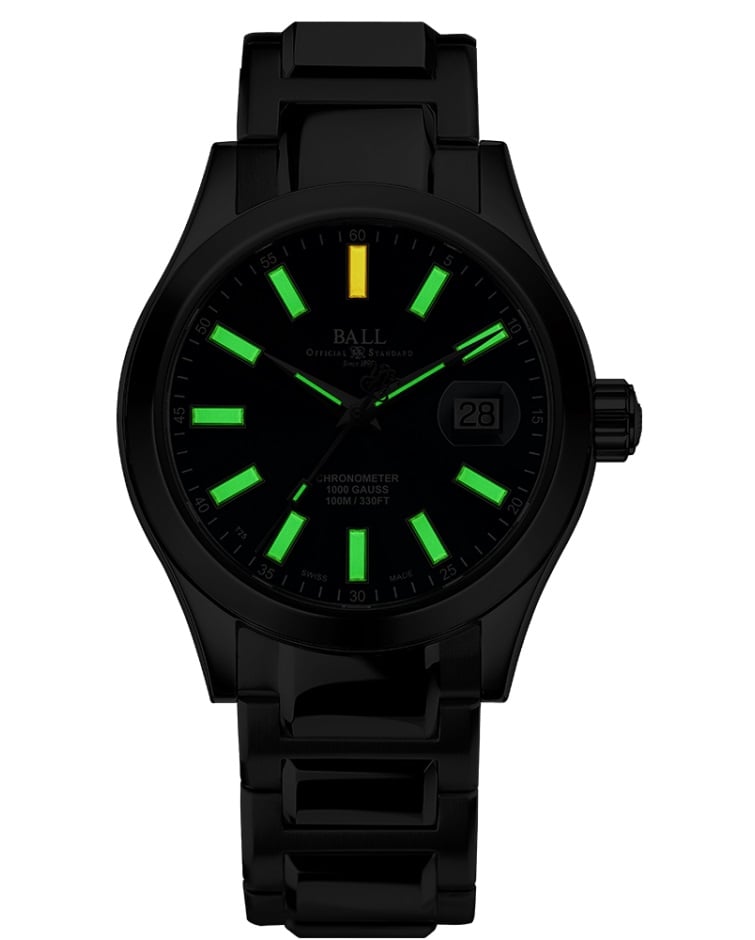 Fun and functionality
What makes Ball watches a lot of fun is their unique illumination. All Ball watches use micro-gas tubes filled with tritium for illumination. This technology differs from painted lume like Super-LumiNova in that it is constantly giving off light and doesn't need the sun to charge. During the day, the light the tubes give off isn't visible, but they positively glow throughout the night. On the Marvelight Chronometer, all hands and indices use micro-tube illumination in green, except for the index at 12 o'clock, which glows yellow.
Ball takes a standard workhorse movement, adjusts it to COSC certification, and protects it from magnetism in a shiny, smart-looking case, screw-down crown, and bracelet combo that is water resistant to 100 meters. I usually wouldn't tout the strengths of an ETA 2824-2 against the other, more impressive calibers on this list except that the ease of servicing almost anywhere in the world certainly adds to the Engineer III Marvelight Chronometer's GADA status. For $2,350, one can have ETA ease and reliability in Ball's robust, elegant case.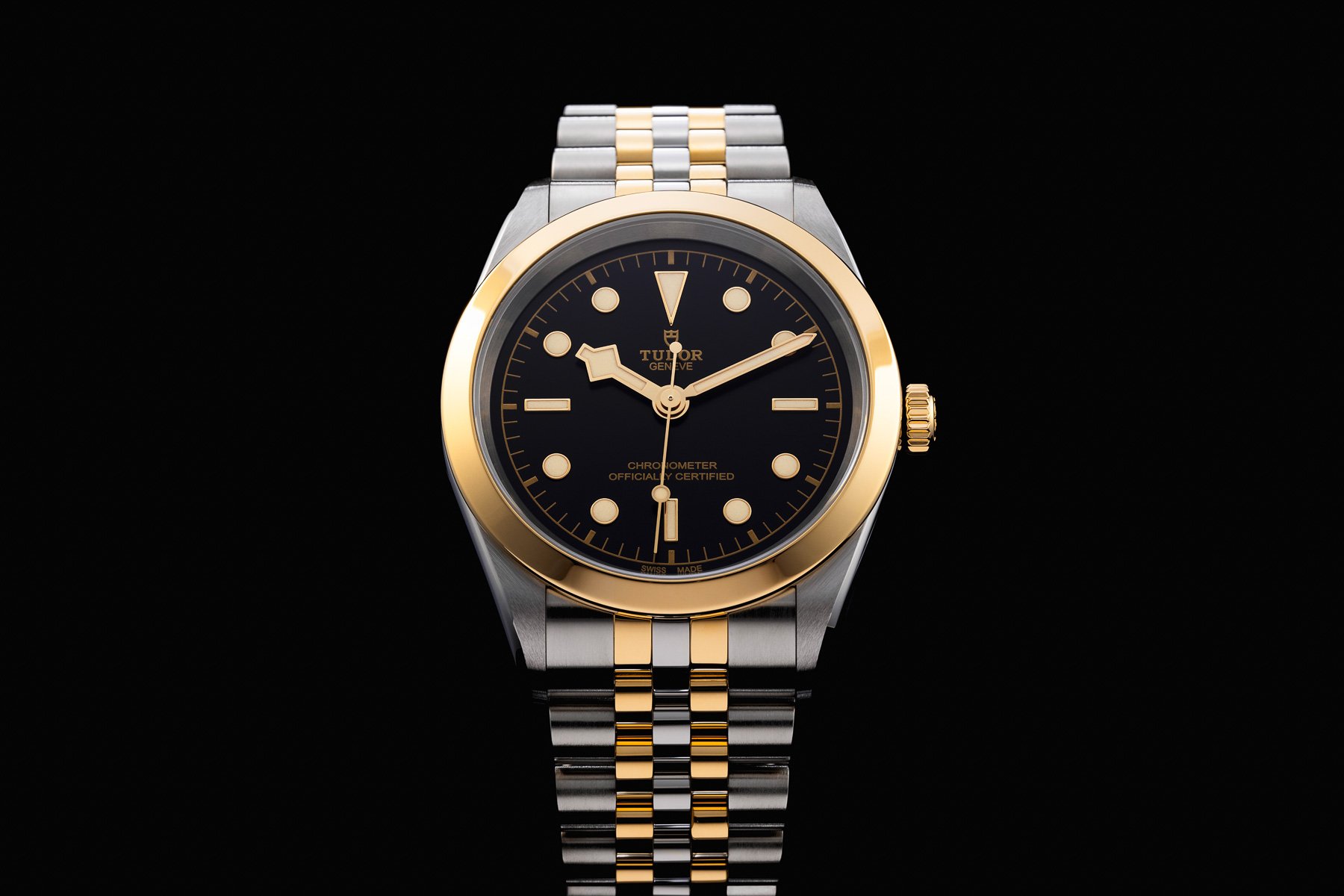 Tudor Black Bay 36 Steel and Gold
Of course, Tudor was going to make it onto this list. Tudor, little brother to Rolex, delivers plenty of watches that are prime for one-watch collections. The Black Bay 36 is perhaps the most GADA of them all, coming closest to resembling Rolex's 36mm Explorer. In steel and gold (ref. m79643-0001), the Black Bay 36 is a luxury GADA with some serious presence.
This Black Bay comes with Tudor's manufacture caliber MT5400. It has a power reserve of 70 hours, a 28,800vph beat rate, and a silicon balance spring for enhanced magnetic resistance. The Black Bay 36 Steel and Gold is a COSC-certified chronometer, but Tudor takes accuracy a step further and adjusts the movement to +4/-2 seconds per day after casing.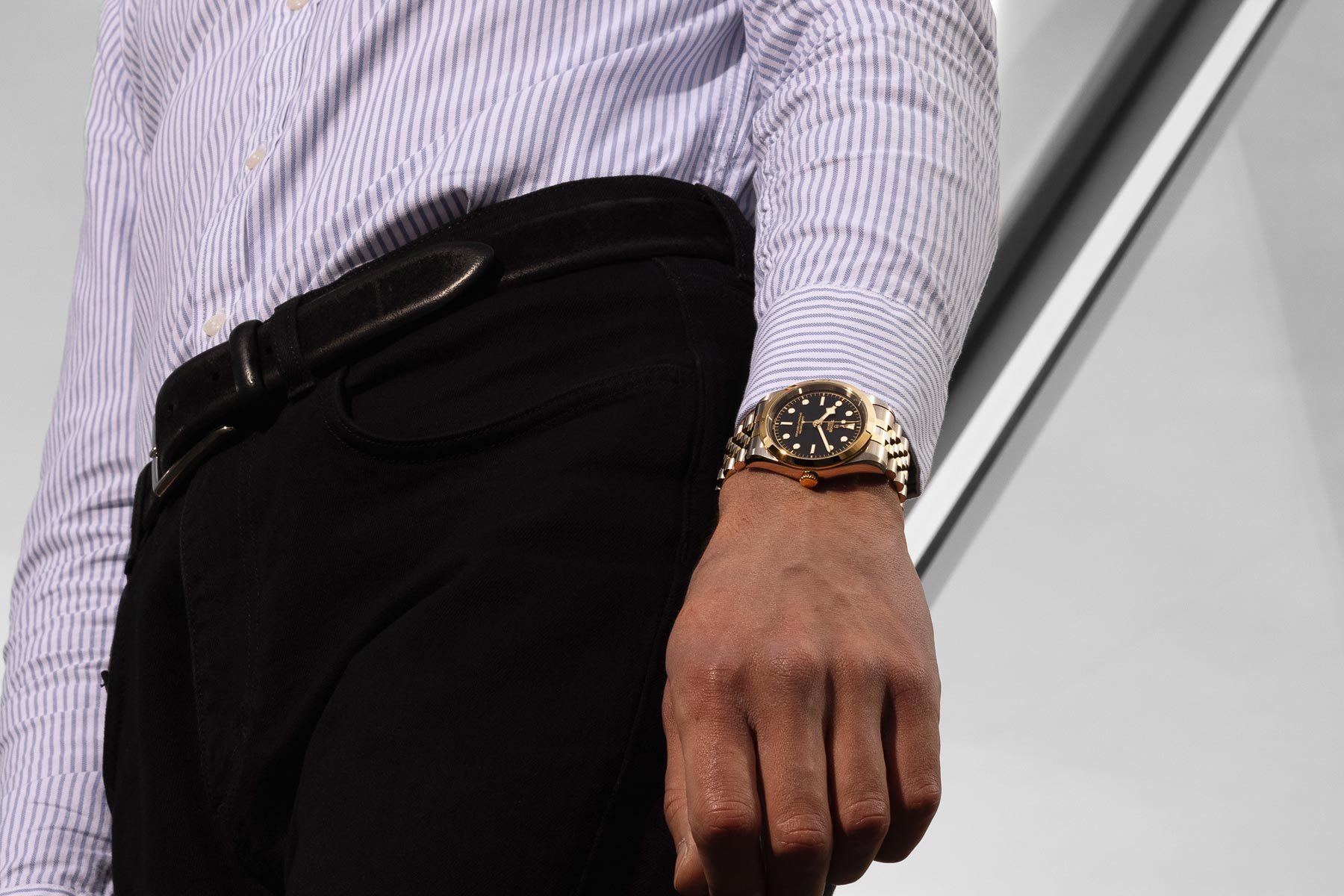 The flashiest GADA on the list
The watch itself is a stark departure from the understated GADAs on the rest of this list. The bright gold bezel, crown, and links in the bracelet contrast with brushed and polished stainless steel surfaces. The black dial is adorned with gold accents in the form of the edges of the indices, hands, and dial text. Missing from this luxury GADA is a date function, which only adds to the elegance with the perfect balance of the dial.
At 36mm, the Black Bay 36 Steel and Gold is smaller but certainly tough enough. Like its cousin, the Rolex Explorer, the Black Bay 36 is water resistant to 100 meters. Unlike the Rolex Explorer, even in steel and gold, the Tudor Black Bay 36 costs $5,025. Plus, it's available to buy today.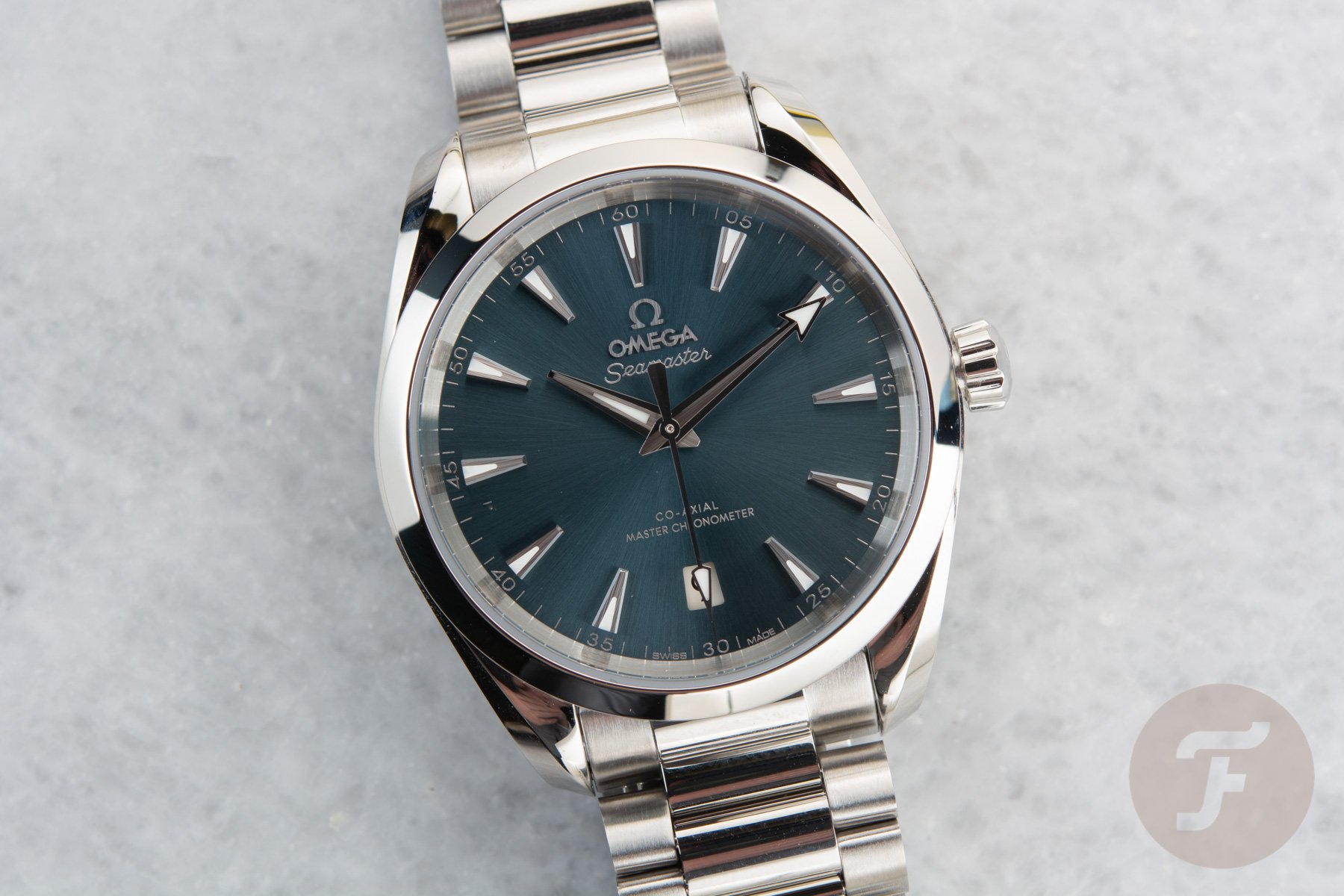 Omega Aqua Terra 150M Co-Axial Master Chronometer 38mm
The Omega Aqua Terra line is known and beloved by many. Like any good GADA, the Aqua Terra 150m watches are simple yet attractive affairs. Our selection today, the Co-Axial Master Chronometer 38mm (ref. 220.10.38.20.03.003) is no different. It has Omega's twisted lyre lugs, a straightforward dial, and an elegant Omega handset. Paired with a perfectly matched brushed and polished bracelet, it perfectly matches the definition of a luxury GADA.
This has the greatest water resistance of our contenders so far with a rating of 150 meters. Inside is Omega's Co-Axial Master Chronometer caliber 8800. The 8800 resists magnetic fields to an incredible 15,000 gauss with its bounty of silicon components. The power reserve is 55 hours. The 8800 beats at 3.5 Hz, which is standard for most of Omega's Co-Axial calibers. Accuracy is +5/-0 seconds per day, following the METAS-certified Master Chronometers requirements.
While not as flashy as the two-tone Tudor, we're entering a realm of wider public recognition with the Omega Aqua Terra. If you want others to know your GADA is fancy, the Omega may be the way to go. It may slide back and forth between leisure and business better than some of the more affordable and less well-known GADAs featured already. But you pay for that brand recognition (as well as those specs). You can join the Omega GADA club for $6,000.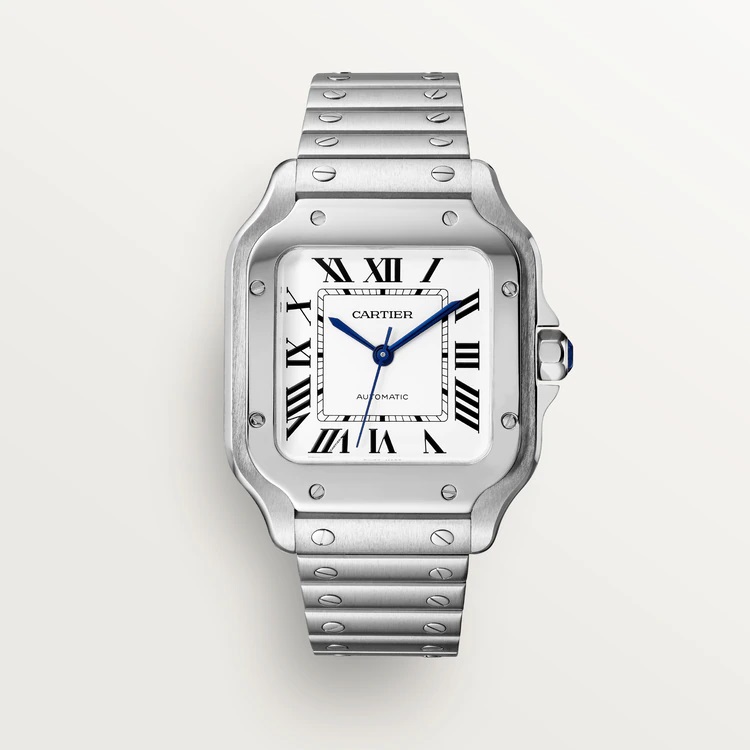 Santos de Cartier Medium
This is the GADA that has almost got me. Or rather, I've been back and forth to the brink deciding that I want to get it. I had the chance to try on a medium Cartier Santos at an event a few months back. It's an excellent watch. Beyond that, it's every bit as tough as I'd need an elevated GADA to be.
Cartier does not impart a lot of technical information about its watches on its website. That makes sense. Cartier is as much (or more) a jewelry company as it is a watch brand. The medium Cartier Santos in stainless steel (ref. WSSA0029) has a water resistance of 100 meters, is 35mm wide, and employs Cartier's caliber 1847 MC. It has a faceted synthetic blue spinel cabochon and uses Cartier's "QuickSwitch" bracelet interchangeability system. That's about all the information one can get from Cartier easily. Other, more persistent watch bloggers have found out more.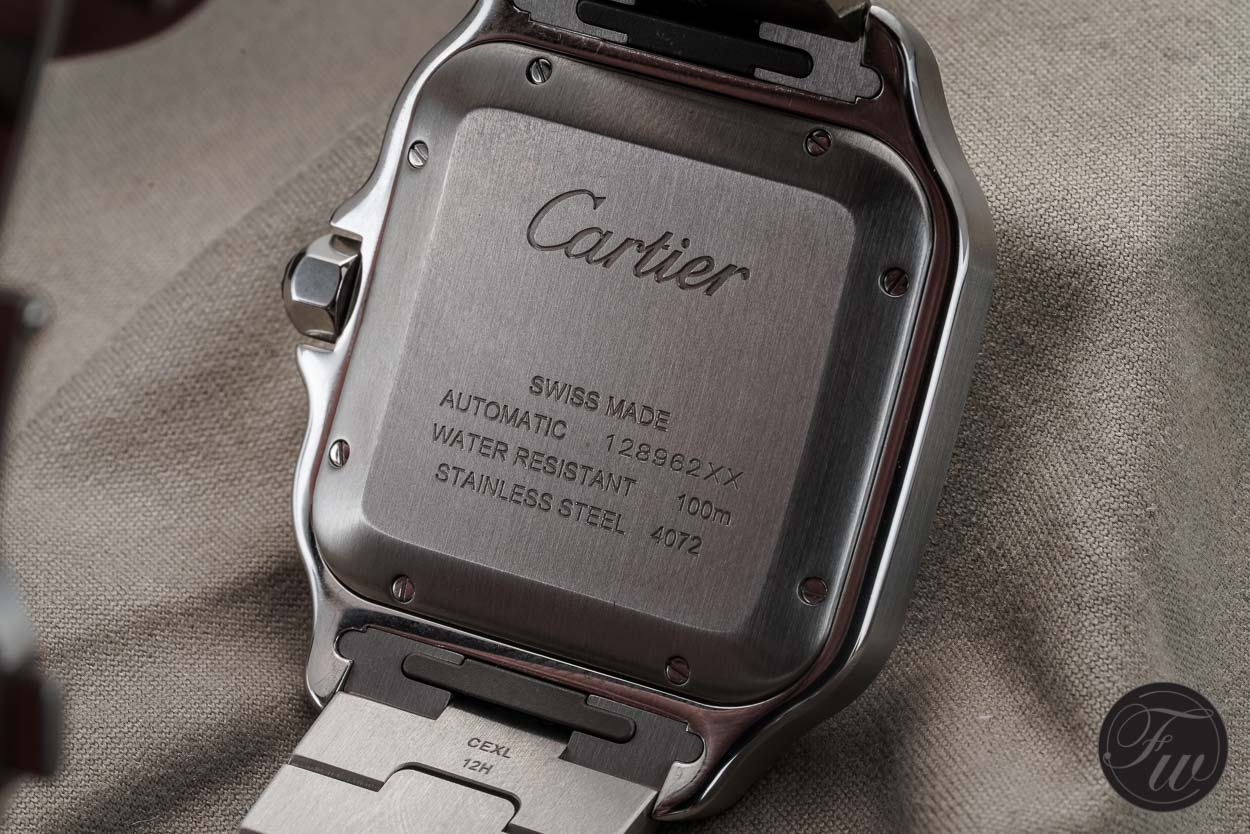 The specs they don't want you to know
Jason Swire over at ChronoChatter.com politely but persistently plagued (his words, not mine) Cartier for more details about caliber 1847 MC inside the Cartier Santos. After some back and forth, he learned that the 1847 MC is resistant to magnetic fields up to 1,200 gauss! Other watch enthusiasts have pinned Cartier down on accuracy, which they note is +7/-3 seconds per day. Why Cartier wouldn't advertise these impressive specs is beyond me. But maybe it comes down to selling an icon more than selling a movement.
And the Cartier Santos is iconic. It's a long-lived watch that has gone through many iterations in its design. It bares Cartier's name (which does a lot of heavy lifting by itself), and Cartier's iconic approach to square dials. If the watch specs were not so robust, I'd have trouble understanding how Cartier could justify a price of $6,800. As it is though, and not excluding the Cartier brand element, $6,800 makes more sense to me. Whether or not I can justify spending $6,800, well, that's another thing entirely.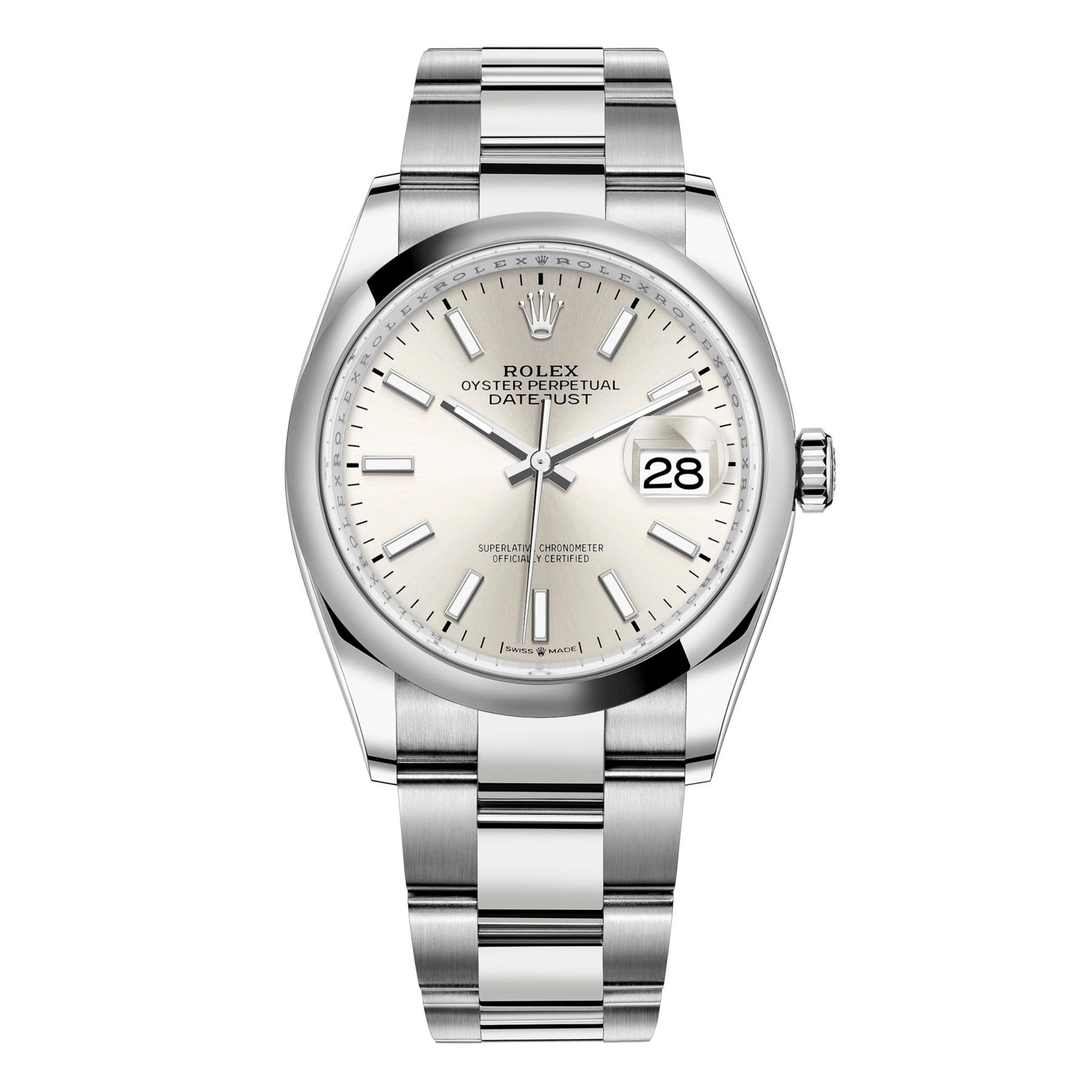 Rolex Datejust 36mm
What, did you think it was going to be an Explorer? While the Rolex Explorer makes an excellent GADA, I wanted something a little more dressy for the Rolex entry today. Enter the Oystersteel 36mm Rolex Datejust (ref. 126200). Rolex watches generally are built to go anywhere except dark alleys in city centers. But aside from the risk of them getting stolen, they can withstand most conditions an owner can subject one to.
If you want everyone to know you know what's excellent as well, or if you just enjoy excellent watches, the Datejust is just as good a candidate as any to accompany you through life.
The Datejust 36mm uses the famous Oyster case, water resistant to 100 meters. Inside is Rolex's caliber 3235, with a 70-hour power reserve, magnetic resistance, and accuracy of ±2 seconds per day. I certainly don't need to say it, but Rolex's movements are superlative. It even says so on the dial.
Everything Rolex does in a watch is objectively excellent. The level of precision, the finishing, the fit. There's a reason everyone knows Rolex. If you want everyone to know you know what's excellent as well, or if you just enjoy excellent watches, the Datejust is just as good a candidate as any to accompany you through life. It can go from ocean to board room to party without missing a beat. But one has to pay for excellence. It costs $7,200 for this champagne-dialed Datejust, and the availability issue is a factor as well.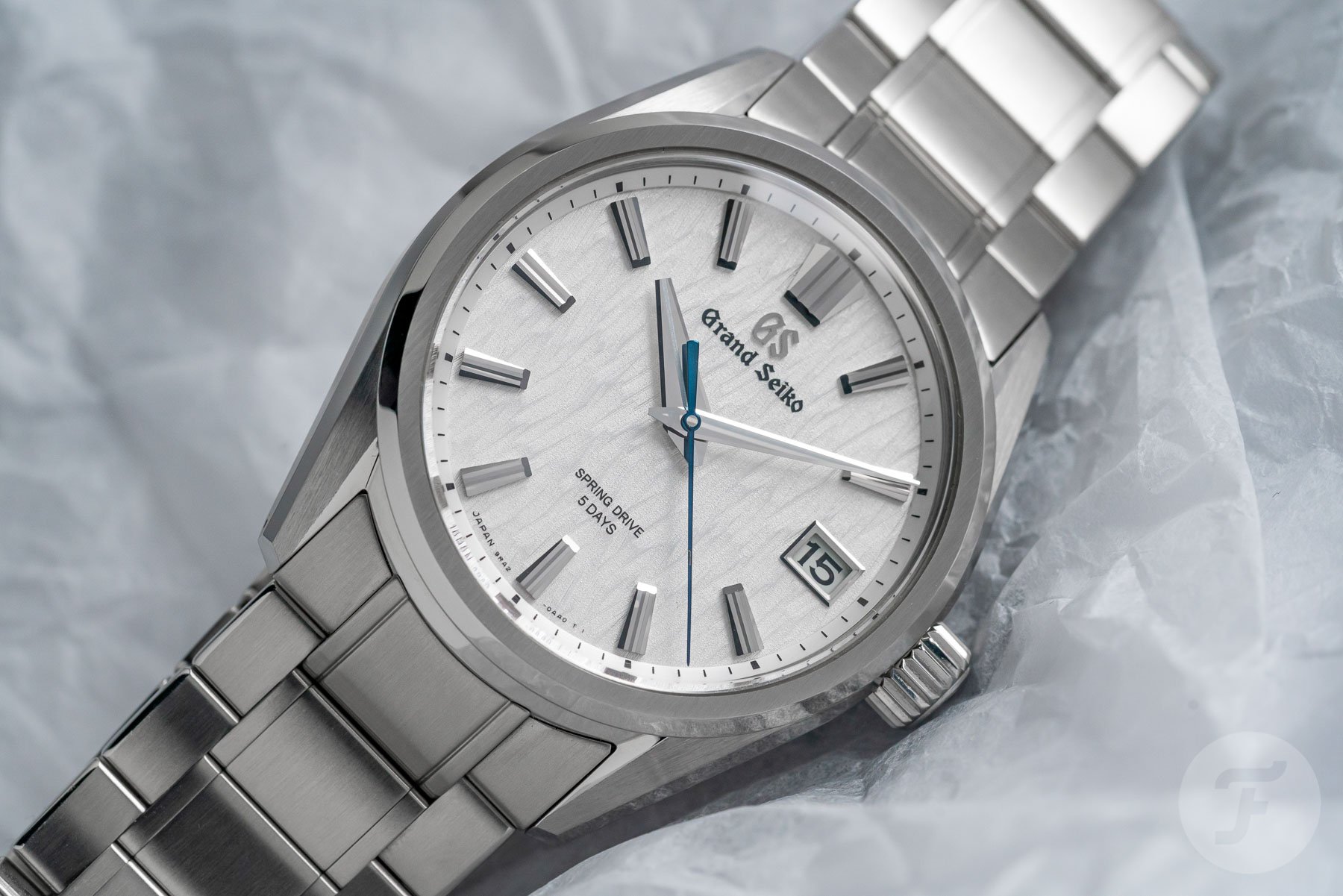 Grand Seiko White Birch SLGA009
Of course, the list doesn't stop with Rolex. While the Datejust is incredibly accurate and excellently finished, it may not match Grand Seiko in finishing and certainly can't beat the accuracy of Grand Seiko's SLGA009. Then again, that isn't entirely fair, considering it's a Spring Drive.
Grand Seiko's newest line of watches, "Evolution 9", is where the brand is directing a lot of its creative energy, releasing new case designs and movements. The SLGA009 "White Birch" is one such model exhibiting Grand Seiko's new Evolution 9 case design, along with the new Caliber 9RA2, one of Grand Seiko's most impressive Spring Drive movements to date.
Calibre 9RA2 boasts a power reserve of 120 hours or 5 days. The power reserve can be tracked by the indicator on the back of the movement, visible through the SLGA009's transparent case back. As a Spring Drive, combining mechanical power with quartz accuracy, the 9RA2 is accurate to ±10 seconds per month, an improvement from older Spring Drive's accuracies of ±15 seconds per month. Though it's partially a quartz movement, the 9RA2 is finished to a high quality with diamond cut bevelling.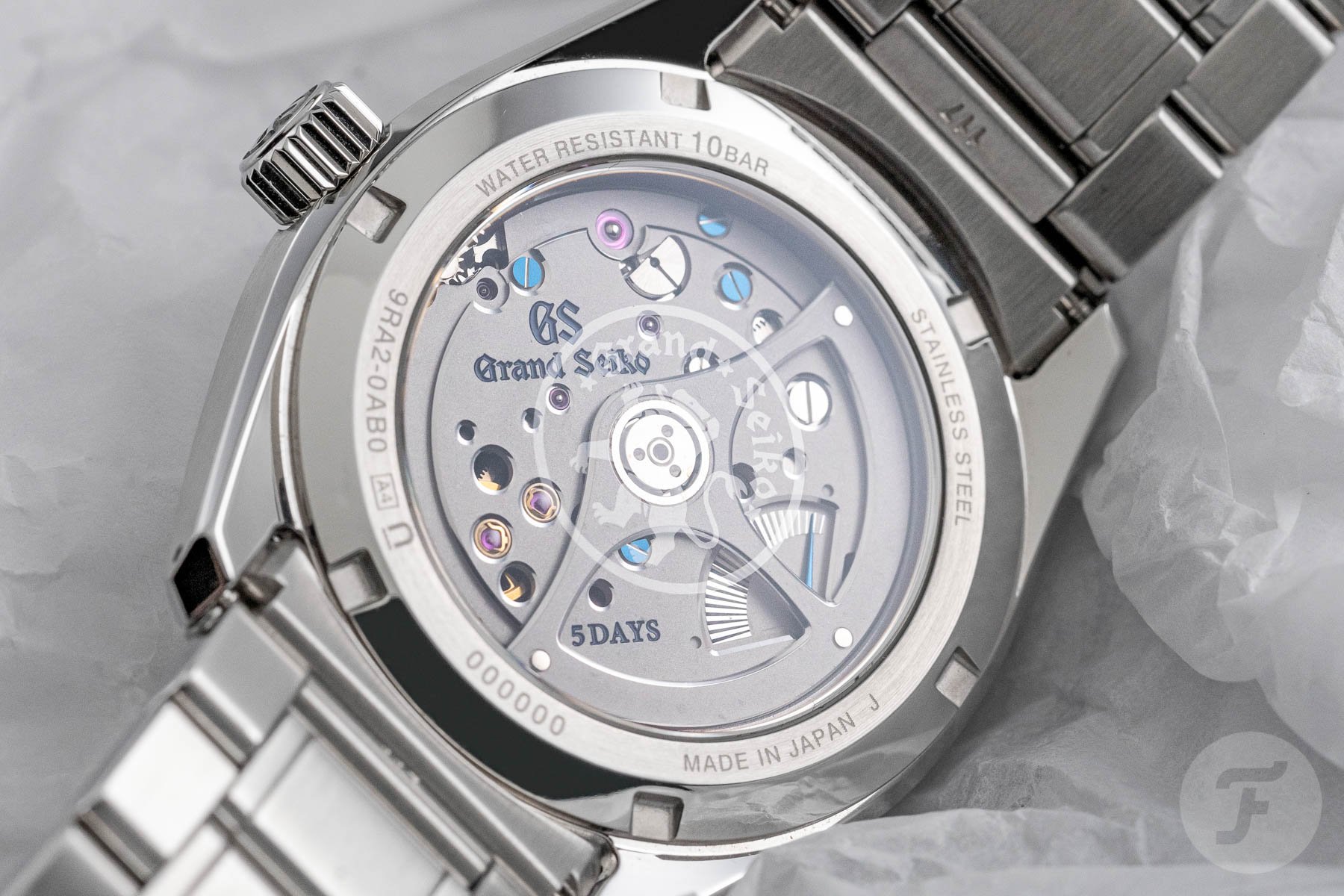 Gorgeous on the outside too
A high level of finishing is standard procedure for Grand Seiko. Immaculate may be a better descriptor. Grand Seikos hold up famously well under a loupe, where magnification reveals the same sharp, clean lines devoid of imperfection. The handset is a modified dauphine style with a blunted and bisected hour hand. The applied and polished hour indices sit atop the dial that gives the "White Birch" its name. Organic, vertical grooves on a white metal dial impart the qualities of a birch's white bark that gives the tree its unique look.
The 40mm case is another exercise in perfect finishing. As with the Citizen that we began with, the SLGA009's sweeping stainless steel case is a mix of brushed and Zaratsu-polished surfaces. The Zaratsu process imparts a distortion-free, mirror-like quality to the polished surfaces. As beautiful as it is, it is still water resistant to 100 meters. It's a well-known anecdote that Grand Seiko watches don't really need lume, as any available ambient light catches the polished surfaces on the hands and indices to adequately tell the time. All of this Grand Seiko wizardry doesn't come cheap, though. At $9,100 and the top price on our list, the folks at Grand Seiko are letting the world know that they make the most impressive stainless steel luxury GADA. I don't disagree.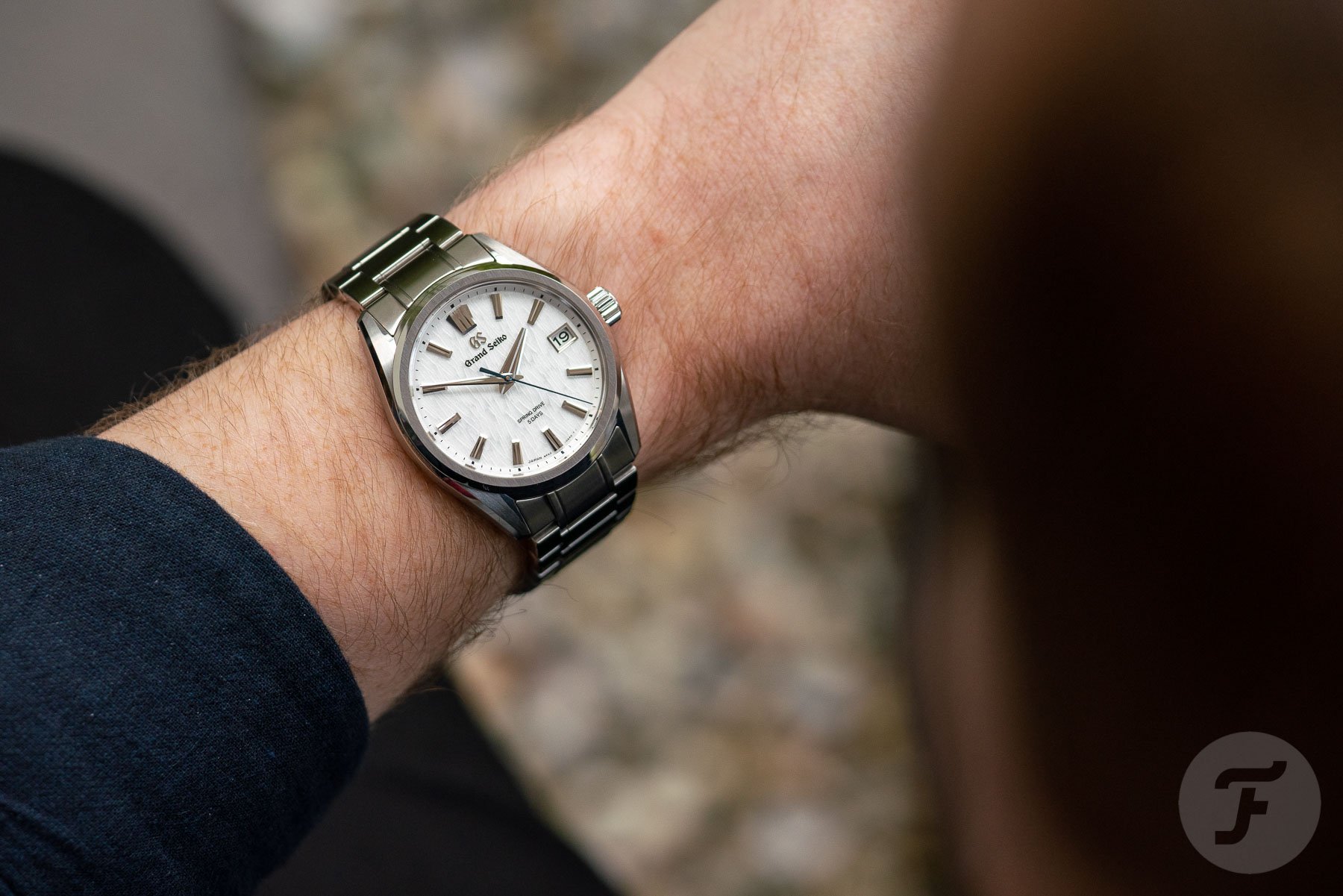 Which luxury GADA?
With the parameters I set, these are the watches that make the cut. They're capable, they're well-made, and they certainly can go anywhere, even to some of the fanciest places. Which one will I choose when the time comes? I don't know yet, though I'd love to have more time with the Cartier Santos. Will getting the Cartier Santos help me to bring my watch collection down to one piece? Not a chance.
What is your luxury GADA of choice? Is there a Go Anywhere, Do Anything watch out there that could convince you to have a one-watch collection? What have we missed in this list? Let us know in the comments below.
You can find more of me on Instagram @WatchingThomas.