The New Audemars Piguet Royal Oak Concept GMT Tourbillon
In 2002, Audemars Piguet introduced their first Royal Oak Concept watch to celebrate the 30th birthday of the famous Royal Oak. Made out of Alacrite 602, which is an alloy of cobalt, chrome, tungsten, carbon, silicon and steel. The Concept watch gave the Royal Oak a more rounded and oversized look & feel. Basically, it had nothing to do with the 1972 based Royal Oak model except for the octagonal bezel and its eight hexagonal screws. In 2014, during the Salon International de la Haute Horlogerie (SIHH) in Geneva, Audemars Piguet will introduce a new Royal Oak Concept timepiece.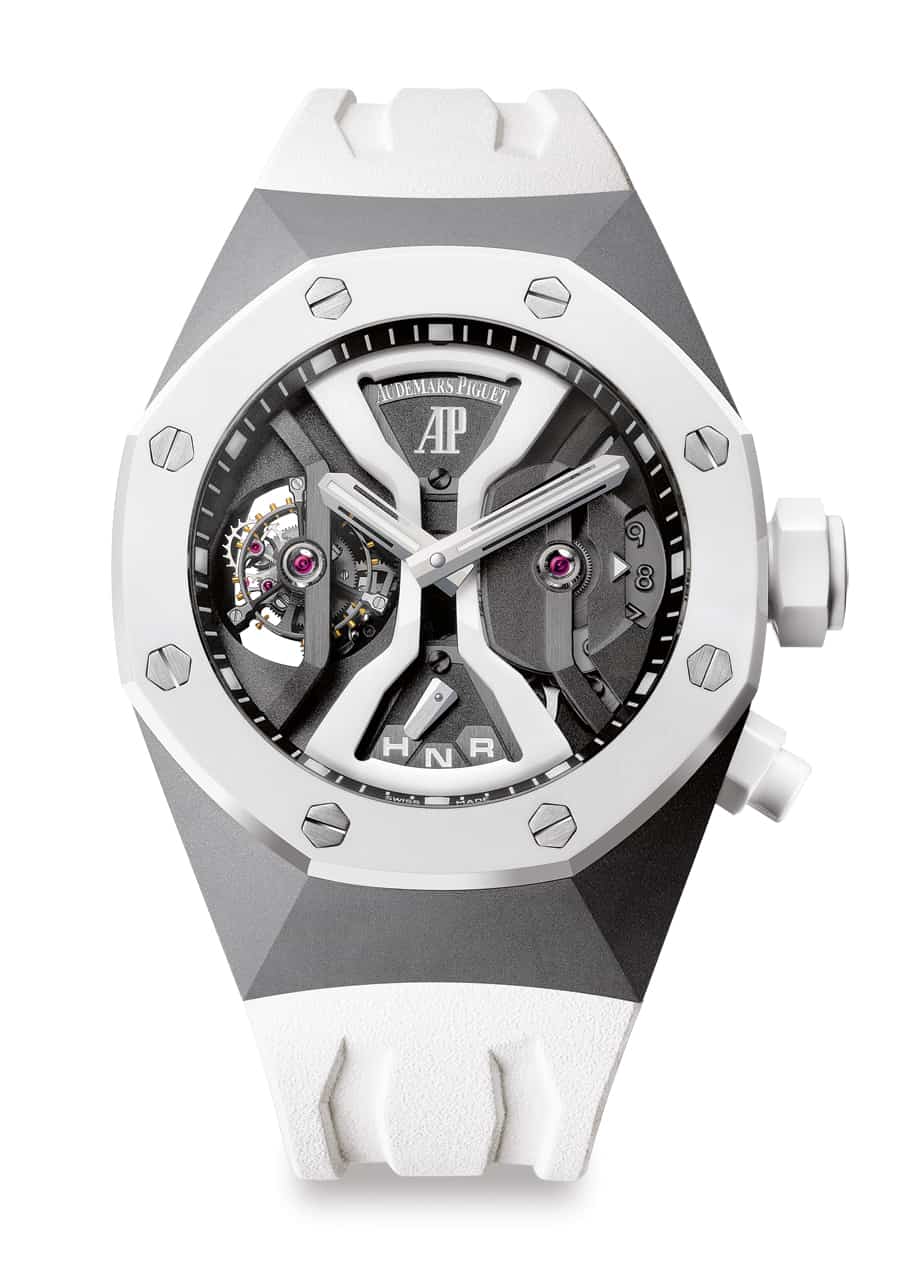 The Audemars Piguet Royal Oak Concept GMT Tourbillon will feature (as you can see) a white ceramic bezel, crown and pusher. The real novelty is in the movement though. Audemars Piguet now embedded the use of ceramic into the movement. The white ceramic has been used for the upper bridge of the caliber 2930 movement. Why? Ceramics have the advantage of being very scratch resistant, but that can't have played a roll when using it for movement parts. In any case, it looks very cool combined with the white ceramic (and rubber) outer parts.
This year's Royal Oak Concept GMT Tourbillon features a white ceramic bezel, crown and pushpieces instead of black, all heightening the contrast with the titanium case middle. However, in typical, trailblazing style, the Manufacture has now gone one step further and incorporated ceramic into the movement itself, replacing the blackened upper bridge of Calibre 2913 with white ceramic. As a result, the new Calibre 2930 is visually transformed, its dazzling, hourglass-shaped bridge further enlivened by the double symmetry of the tourbillon bridges and GMT display.
The caliber 2930 movement has a tourbillon carriage located at 9 o'clock that shows the escapement making a full rotation every 60 seconds. This tourbillon carriage consists of 85 parts but only weighs 0,45 grams. AP claims that it takes their watchmakers up to 3 days to only complete the tourbillon part of the watch.
Just like the very first Royal Oak Concept watch in 2002, this 2014 version also has the crown setting indicator (perhaps AP was actually the first one to use this in a watch? Not sure). At 6 o'clock you see the H, N and R indications for the crown. This means time-setting, neutral and winding. Below a picture of the very first Audemars Piguet Royal Oak Concept from 2002 (picture from Antiquorum).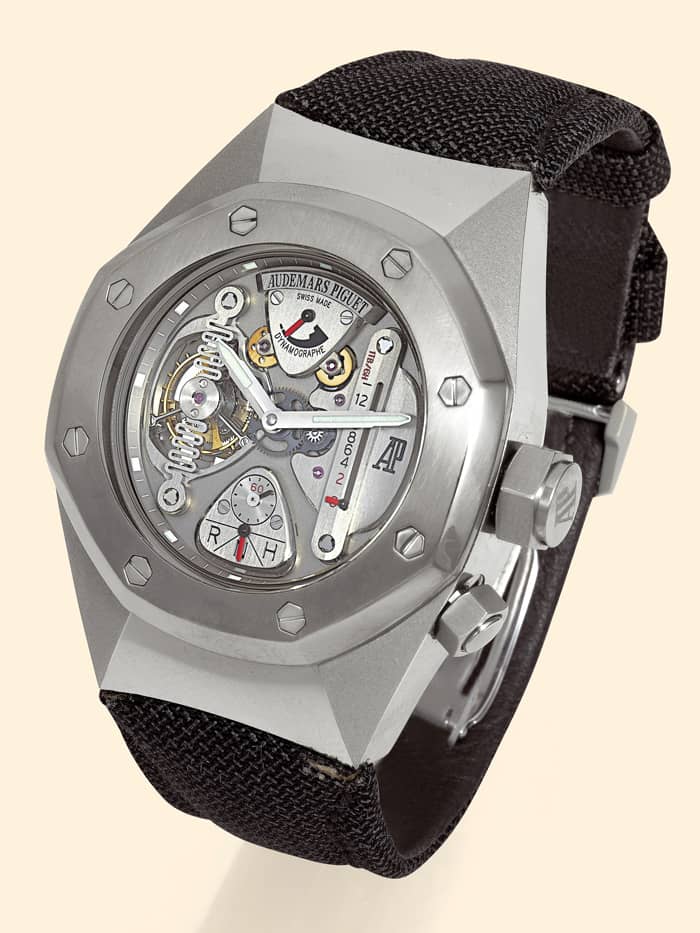 The 2014 Audemars Piguet Royal Oak Concept Tourbillon GMT (reference 26580IO OO D010CA SDT) also has a 2nd time zone indicator as its name suggests. It is located at 3 o'clock and can be operated by the pusher. It also has a day/night indicator, which is quite useful with a GMT function.
We will bring you more news and an in-depth opinion on this timepiece during or right after the SIHH in January 2014.