New Blue Alpina Horological Smartwatch
Smartwatches
Let's admit it. There is no escape from the smartwatch, everywhere you look there's someone with an Apple Watch. Even the recently announced Apple Watch Series 2 is a hot topic. Not among watch enthusiasts per se, but a lot of people who watches the Apple novelties (iPhone 7 and Apple Watch Series 2) on September 7th, are talking about these new products. A friend of mine, who has nothing with (mechanical) watches, even ordered his iPhone 7 and Apple Watch Series 2, just because. His iPhone 6S and Apple Watch are still perfectly functioning devices, but the 'want' and 'wow' factor were simply irresistible.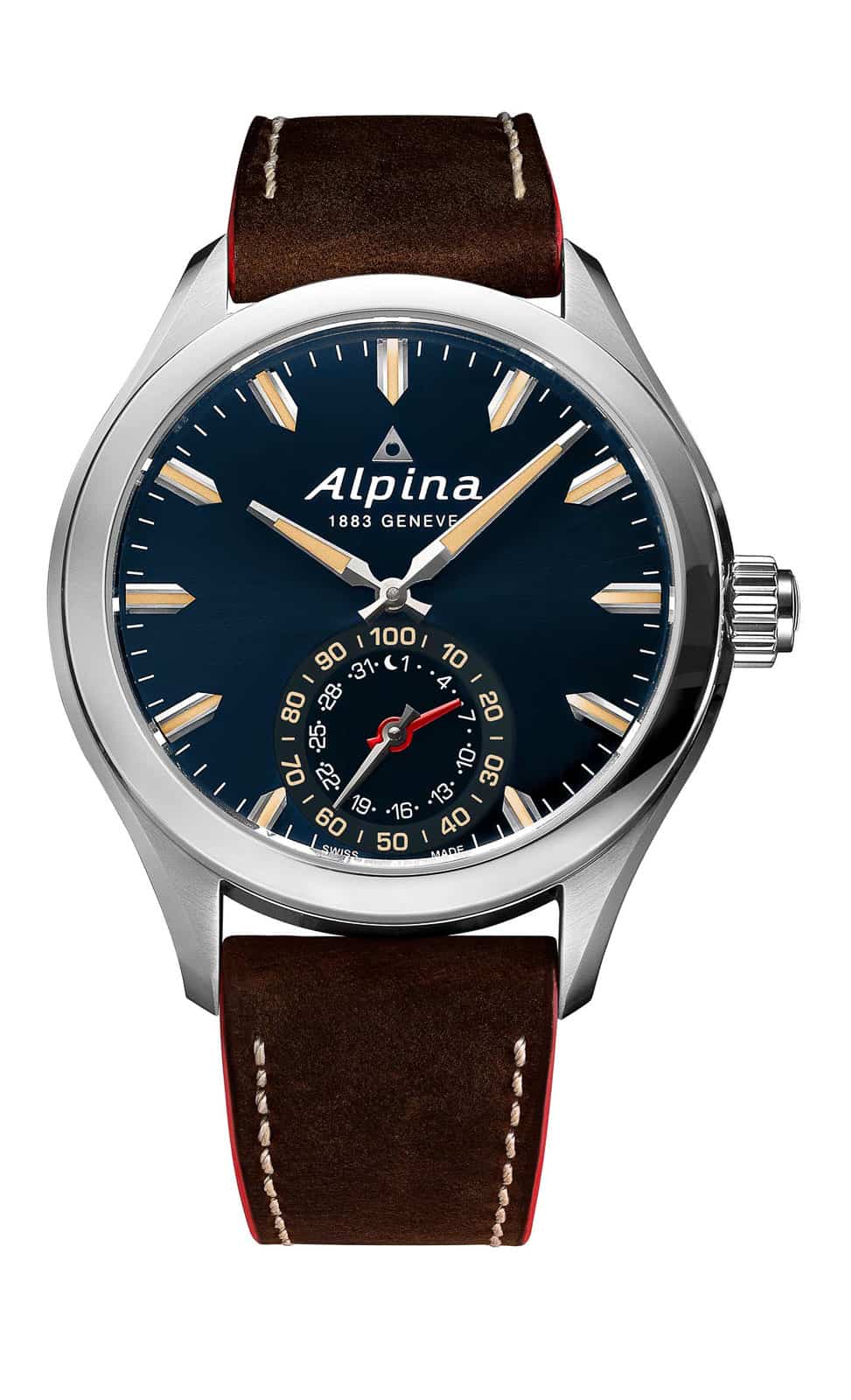 Alpina Horological Smartwatch
On the same day, September 7th (and we don't believe in coincidences), Alpina introduced their new blue Alpina Horological Smartwatch. It was only last year that Alpina (and Frederique Constant) introduced their first smartwatches. Their 'Swiss' answer to Apple's Watch. Not long after, my colleague Balazs did a review on the Smartwatch from Frederique Constant and Alpina in this article.
Alpina (and FC) call theirs 'horological' smartwatches, as it still has the appearance and style of Swiss luxury watches. Besides having an array of functions and features, these Alpina watches have a classic look & feel to it.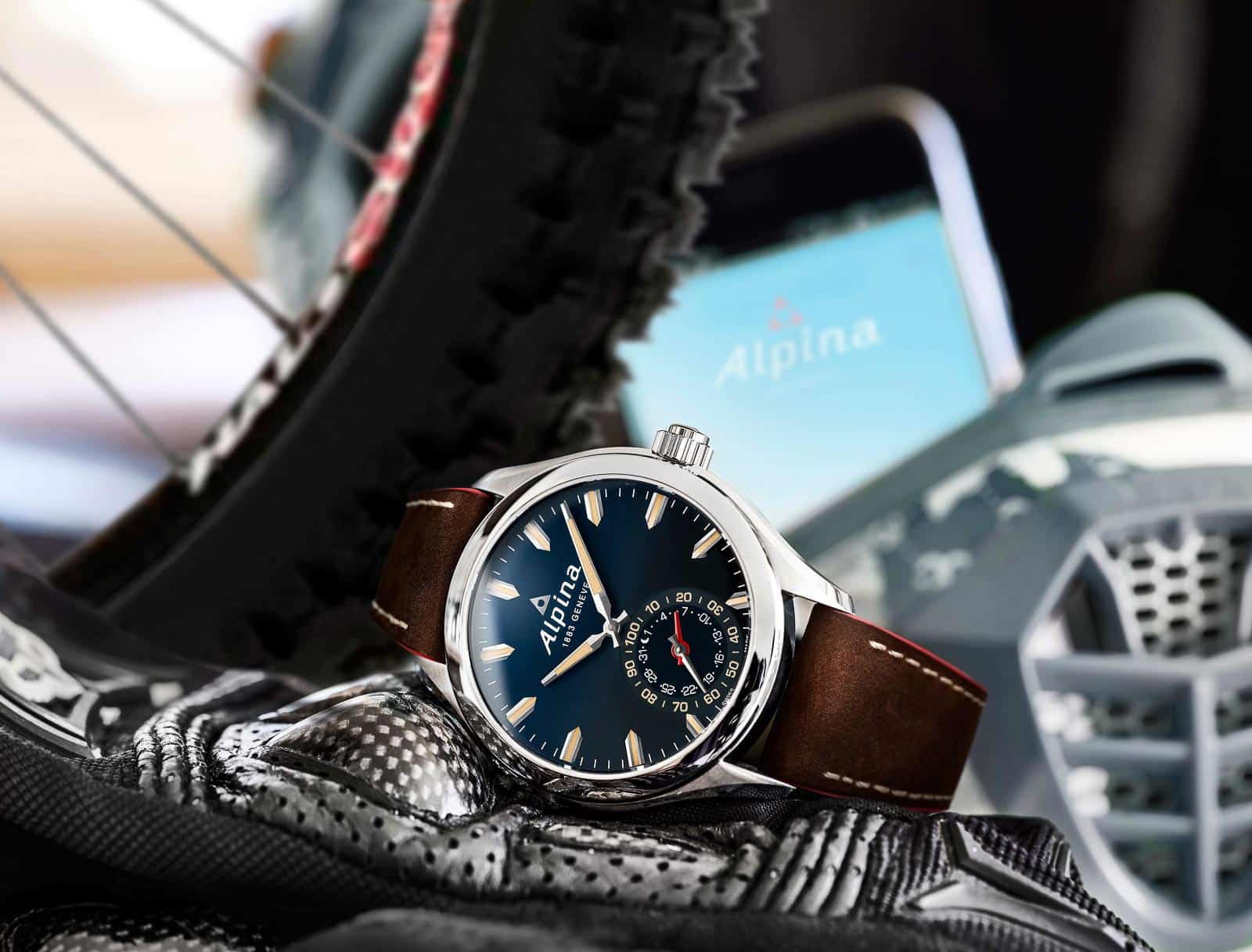 Specifications
The new blue Alpina Horological smartwatch is a 44mm timepiece. It is a very cool looking watch, with its blue sun ray dial and beige (faux patina-ish) luminous indexes. If you wouldn't know any better, it could have been a cool new mechanical Alpina timepiece. The sub counter at 6 o'clock reveals that we are dealing with a smartwatch from the Frederique Constant & Alpina manufacture here. The small red hand indicates the date during the activity tracking mode and will point out the moon during your sleep tracking mode, while the small steel hand shows you the percentage of your activity or sleep goals achieved.
The battery life of the new blue Alpina Horological Smartwatch is 2 years. You don't have to (re)charge it every night, like most of its digital smartwatch competitors.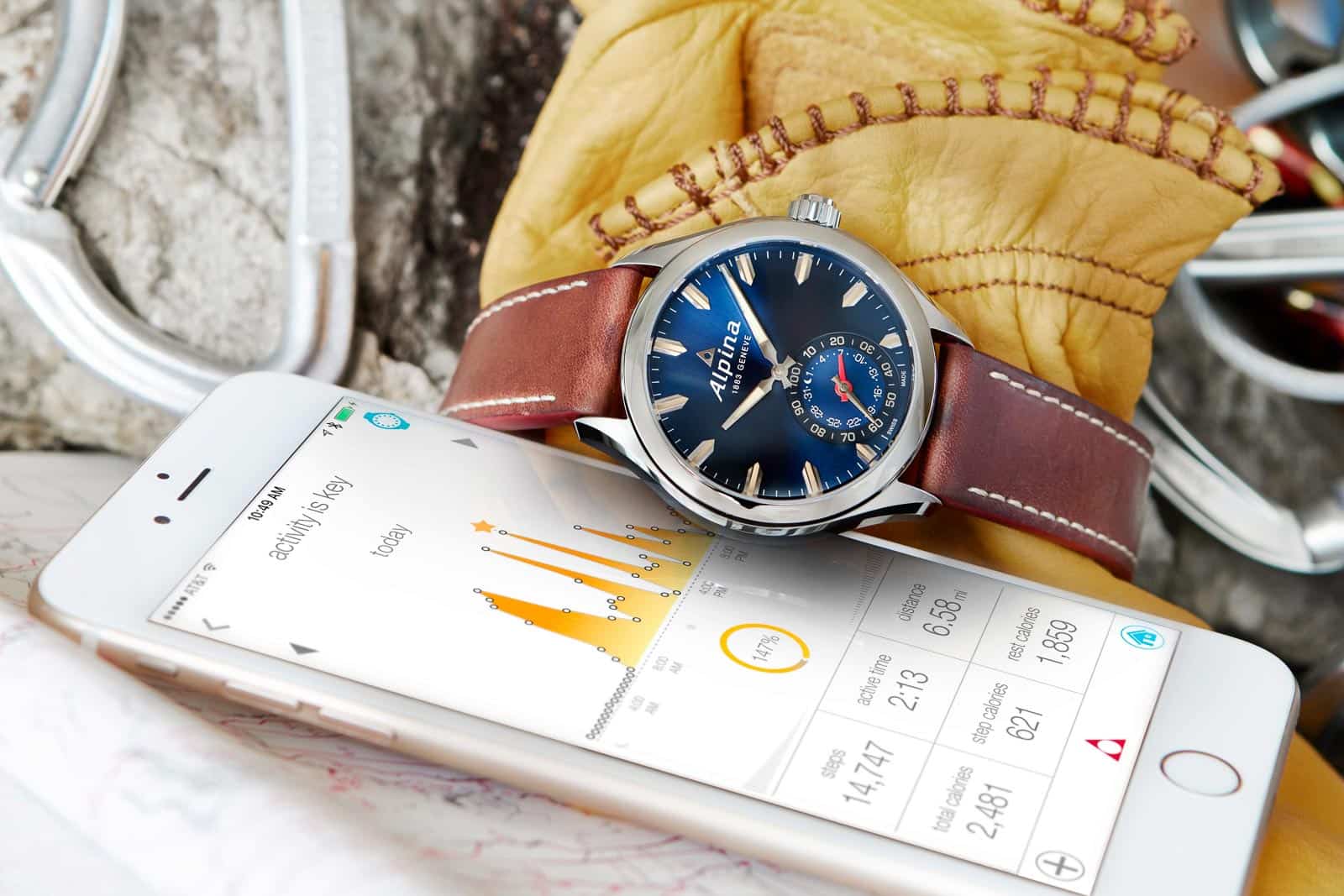 Functions
Let's have a look at the most important functions of the new blue Alpina Horological smartwatch.
Activity Tracking: Keep track of daily steps, calories burned, and total distance.
Sleep Tracking: Wear your watch at night or put it under your pillow to record your sleep. Sleep tracking function provides details on how much time you spent in deep sleep, light sleep, or awake.
Always On-Time & Date: you never have to set a time and date – traveling across time zones, the Alpina Horological Smartwatch picks up the time from your smartphone and displays new time automatically.
Smart Sleep Alarm: set a smart sleep alarm that will help you to wake up at the best appropriate time in your sleep cycle so that you wake up refreshed.
Get Active Alerts: set an alert to remind you to move if you've been idle for a set amount of time. Customize your Get Active Alerts from the MMT-365 app.
Dynamic Coach: get suggestions, tips, and information catered specifically, to you based on your activity and sleep goals
Cloud: recover all of your data, even if you lose your watch or phone. The Horological Smartwatch independently stores your activity and sleep for 30 days without having to synchronize it to your smartphone. A great way to collect and keep your data on-the-go!
Worldtimer: Frequent traveler? Keep track of your hometown's time by simply entering your city into the app.
This or That
The price of the new blue Alpina Horological Smartwatch is around 1000 Euro. Although that isn't a lot of money for a good Swiss watch, the fact that it is a smartwatch, changes that perspective a bit. For less than half of that price tag, you will be able to buy the new Apple Watches Series 2. That watch, or device, has certainly a lot more functionality. But is it as classy as the Alpina Horological Smarwatch? Or do you need all that functionality? That is up to you. We will get back to you with an in-depth review in the near future.
More information via Alpina Watches online.