Since this year's Basel World I was eager to try the Frederique Constant Horological Smartwatch. I had a quick glimpse of what I can expect from it at the fair earlier this year (here is the article of that) and I really liked what I saw there. We visited their stand after TAG Heuer announced their collaboration with Intel and Google to come up with something interesting. Apple watch was already around and we heard rumors that some other major brands are developing their versions of a smart watch, so I was all hyped up about the issue. At the end of July, I received my review watch, the new Frederique Constant Horological Smartwatch.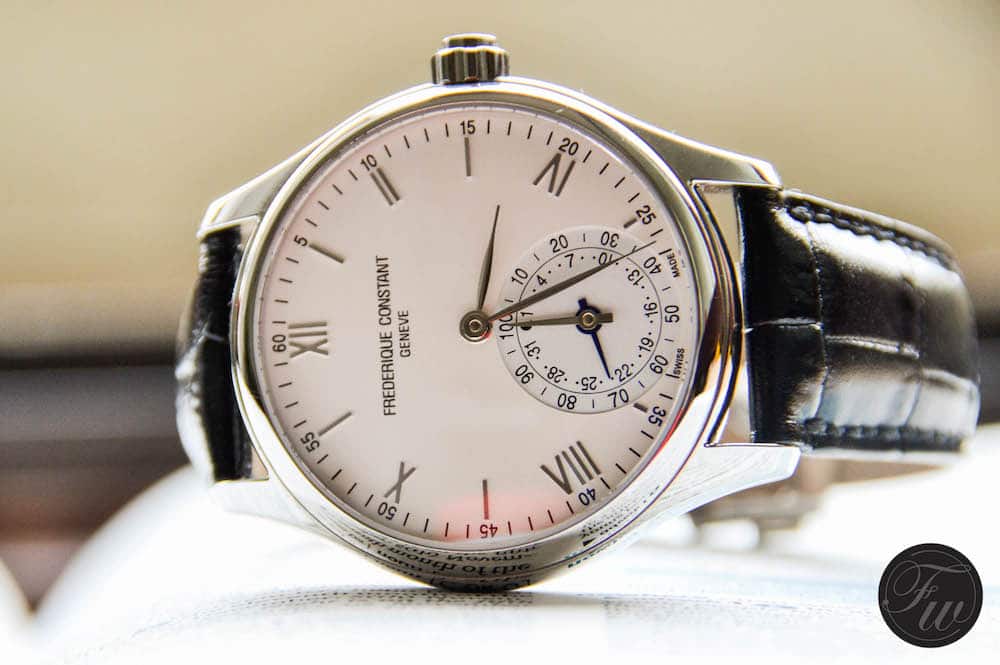 Frederique Constant Horological Smartwatch
In today's life we are getting use to the term "smart" attached to various things. We have smart phones, that's where it all started. You can buy smart TVs, smart washing machines and slowly smart cars will be offered to us. Of course the watch industry also realized there is a market gap when it comes to smart watches. Apple started to develop their version of a watch and we could be sure that the watch industry will come up with numerous answers to that soon. For all of you who are loosely associated with the term smart watch; it is a watch that has a bunch of added features that can monitor your daily activity and give you feedback on that on a regular basis. It can count the steps you took per day, show you your heart rate, monitor your sleep and even help you develop your daily routine to become more aware of your body and its needs. All this is achieved with a watch strapped around your wrist during the day – and even at night.
The first Frederique Constant Horological Smartwatch deliveries in the World hit the stores on 27 July in The Hague. Robert-Jan did a nice write up about the event. My watch arrived on the same day BUT it was due to delivery problems on the couriers end. The review piece should have arrived to me the previous Friday so technically speaking I was the first man to receive the watch even before it was handed out to the lucky owners on that hot July day in the Netherlands.
Anyways, the watch came with a little booklet that explained the basics and the different features of the piece. I have to say it is really easy to set up everything, you need about 5-10 minutes and you are ready to go. The watch comes in 2 dial colors (black and silver) on metal bracelet or leather strap. You can choose from stainless steel or rose gold plated steel case too. My timepiece is the most elegant version, in my opinion, with silver dial, black leather strap and deployant. The watch is pretty large at 42mm and the thickness of the case is 13.5mm. It is not bad for a timepiece that has to house the movement as well as the MotionX sensor underneath. Speaking of the movement it is the MMT-285 connected caliber with hour, minute and date display as well as some other functions which we will look at in a second.
The movement is quartz of course and has a 2 year+ battery life (25 months according to the mother brand). The dial as I have mentioned is very dressy, plain and simple. It has applied indexes, numbers are displayed in roman numerals. The only thing missing is the lume so in dark the watch is useless, but this is a dress watch not a sports model so it is no big deal at all. At 6 o'clock you find the sub dial and this is where it gets interesting; it does not only serve as the date display but also shows you some information regarding your activity.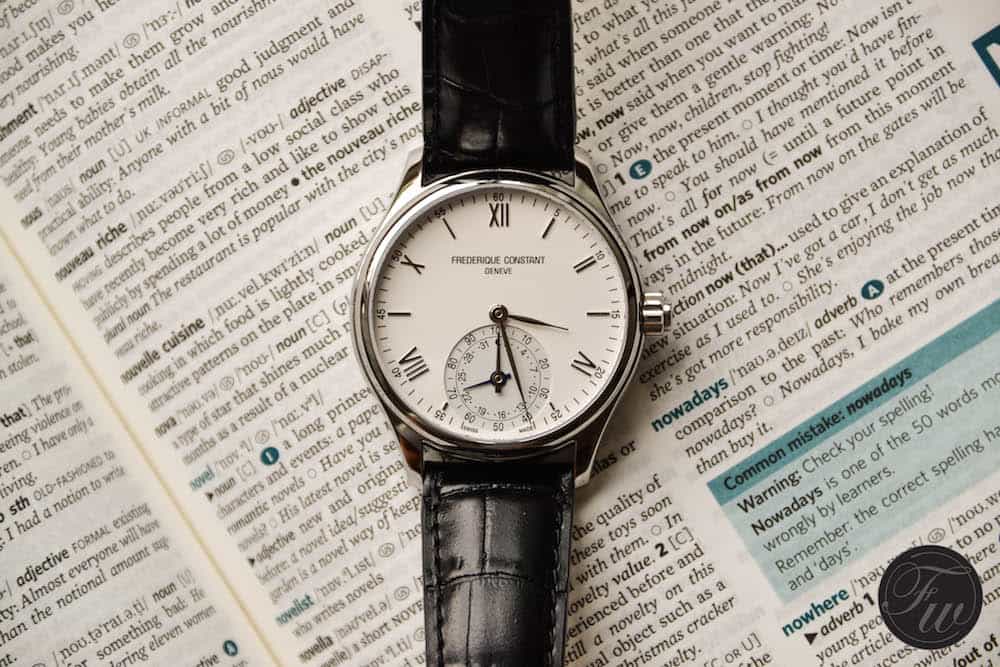 Silver dial, raised silver indexes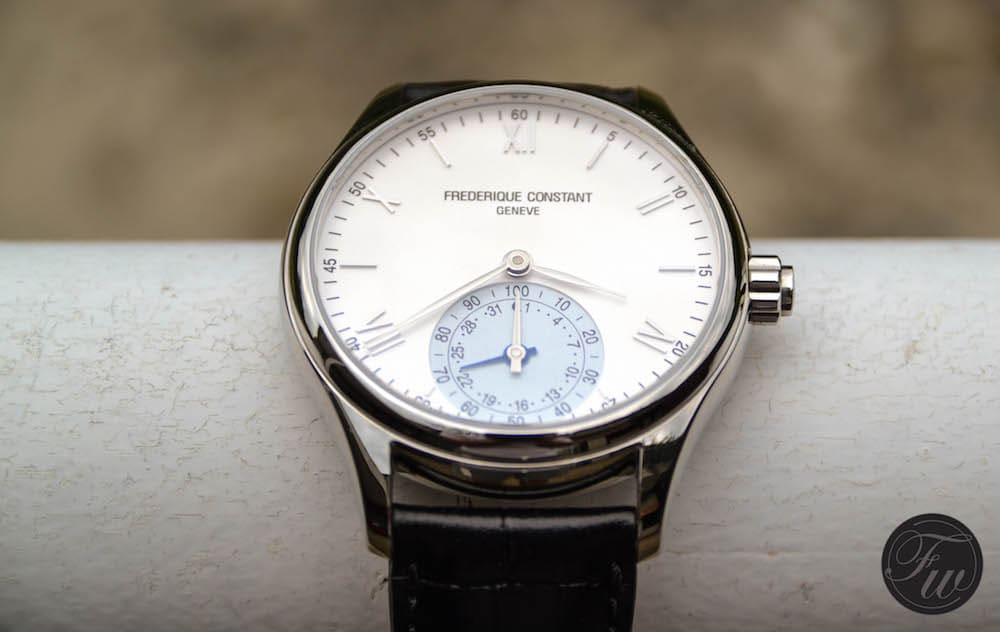 MotionX
We will look at the features in more detailed but first a few words about the concept. MotionX is a Silicon Valley company specialized in wearable sensor based technology. This is the company that is used by Nike Fuelband, Jawbone and in some ways even Apple Watch. The idea is pretty simple; you have the device – in this case, a watch – that has the MotionX sensor built in. This device is then connected to another Bluetooth enable device, like a smart phone or a tablet, where the data, the sensor picks up and stores, can be displayed. This means that the Frederique Constant Horological Smartwatch is a connected device, meaning it is not functioning on its own, just like the Apple Watch for that matter. It needs to have a host that can display the results. On this app-based platform you can set your goal for the activity or the time of the watch, alarm and so on. You do not have to keep the phone on you at all times though but the watch cannot store significant amount of data.
How it works
Once you install the app and connect your watch via Bluetooth you have to follow the instructions on the screen to set up the device. You have to give the necessary details about you like gender, age, weight and height. There are 3 main areas for the watch to measure: activity (basically day-mode), sleep (night-mode) and goals. In activity mode you can set how many steps you want to take, which in my case was set to 10.000 by default. In sleep mode you set how many hours you want to sleep, which was set to 7 hours again by default. The last feature, goal, will show if you managed to achieve the above numbers. In order to success and gain 100% the watch measures your activity in a whole day, so combines activity and sleep. Meaning that if I did step 10.000 and slept at least 7 hours my goal is succeeded and I can see 100% or even more if I over slept or overstepped that given day.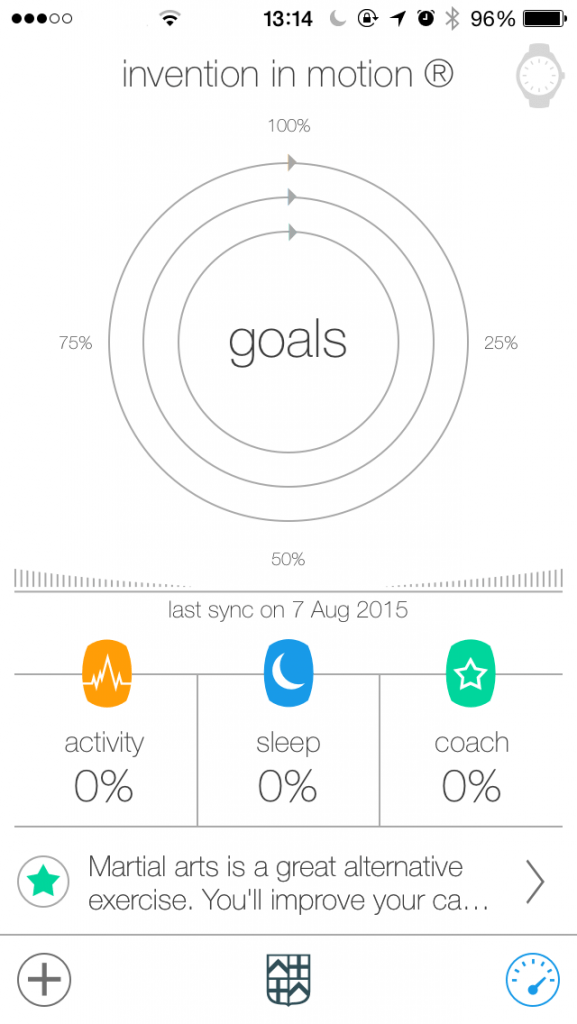 Connecting the watch is very easy; the crown is actually a button. If you push it once the watch starts to connect and synchronize with your phone. Using the time of your phone sets the time on the watch. If you travel and change time zones as soon as your phone detects the new times you push the button and the watch automatically sets to the new times too. Every time you want to change a setting either on activity or on the watch you have to connect it to the phone and do it via the app – which is free to download of course both for android and apple devices.
Activity
When the app opens on the main screen you see a circle-like diagram that tells you your activity. Under this diagram you find a menu bar with 3 icons; orange heart rate icon for "activity", blue moon icon for "sleep" and green star for "coach". You can also tell the percentage of achievement on each feature. Under that there is a bar on which if you click it gives you some tips and trivia regarding health and such. The last bar has again 3 icons; this is where you find settings ("+" icon) Frederique Constant's main page (FC crest icon) and the back to main page icon (little speedometer). If you click on "activity" you'll get a new page with some more detailed information. Again on a diagram you can see the steps you took that day, you can distinguish between your active and your passive hours (as I work in an office it clearly shows my lack of activity). Under the diagram you find the steps you took, the calories you burnt and the distance these steps equal in. By scrolling your finger through the diagram you have a detailed info of the exact steps you took by that point and what time it was.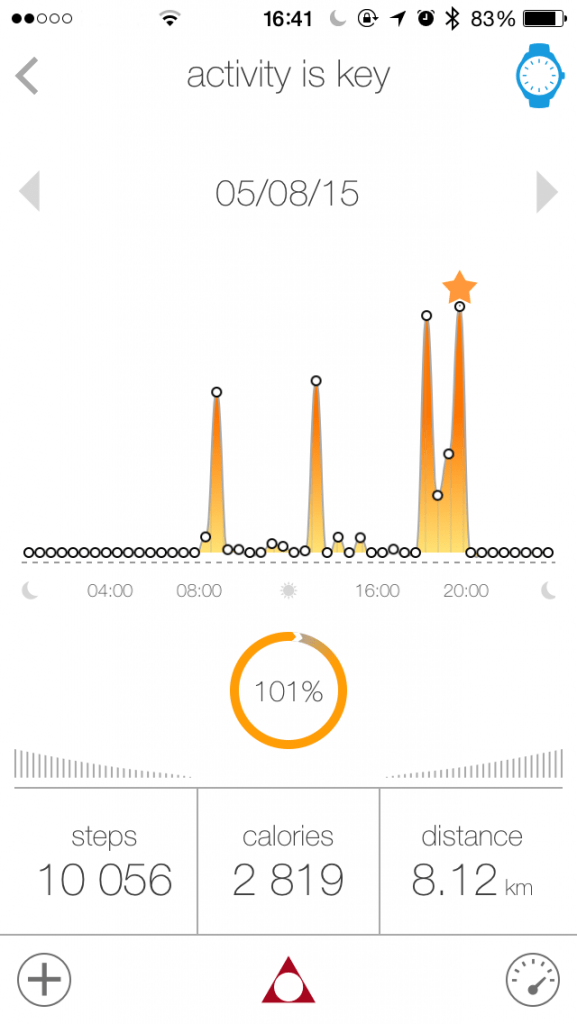 Sleep
You can monitor your sleep with the Frederique Constant Horological Smartwatch too. You can choose between 2 options; wear your watch on your wrist while sleeping or place it under your pillow. You have to choose this in the settings menu. I usually take off my watch as soon as I get home so I chose to put the watch under my pillow. Just like in "activity" you have the diagram on top and the detailed info on the bottom. The watch can differentiate between deep sleep and light sleep, how long were you awake (if you were at all) the total hours you slept, how long did it take you to fall asleep and how many times you woke up. Same with "activity" use your finger to scroll through the times to see detailed results.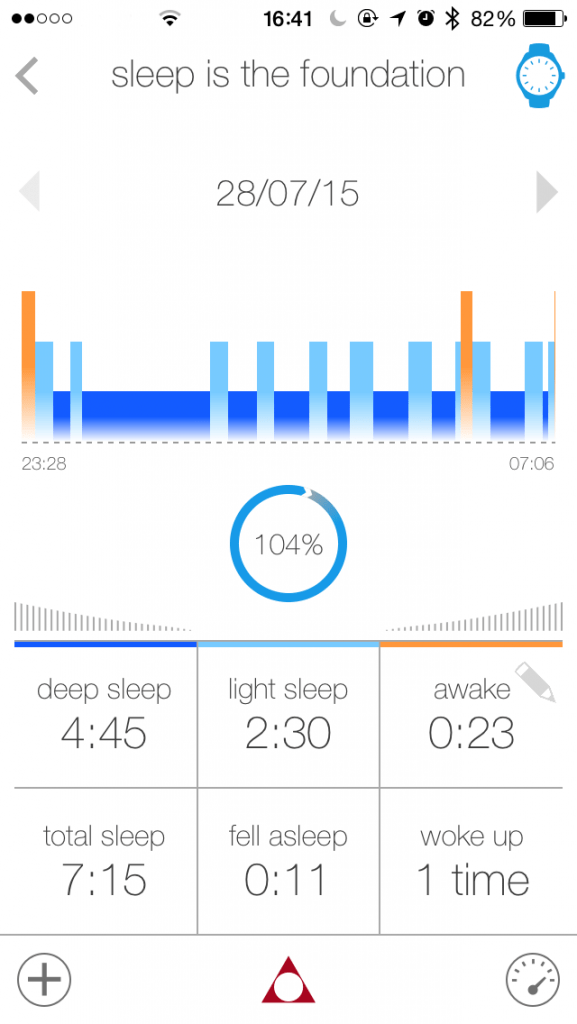 Coach
This combines all the above data. You can set the displayed time frame between daily, weekly and monthly, next to the diagrams you find your average steps, calories burnt and sleep time. This can help you realize whether you achieved the goals you (or your personal trainer) set you for every day in case you want to loose weight, live healthier, stop being a couch potato – or all the above.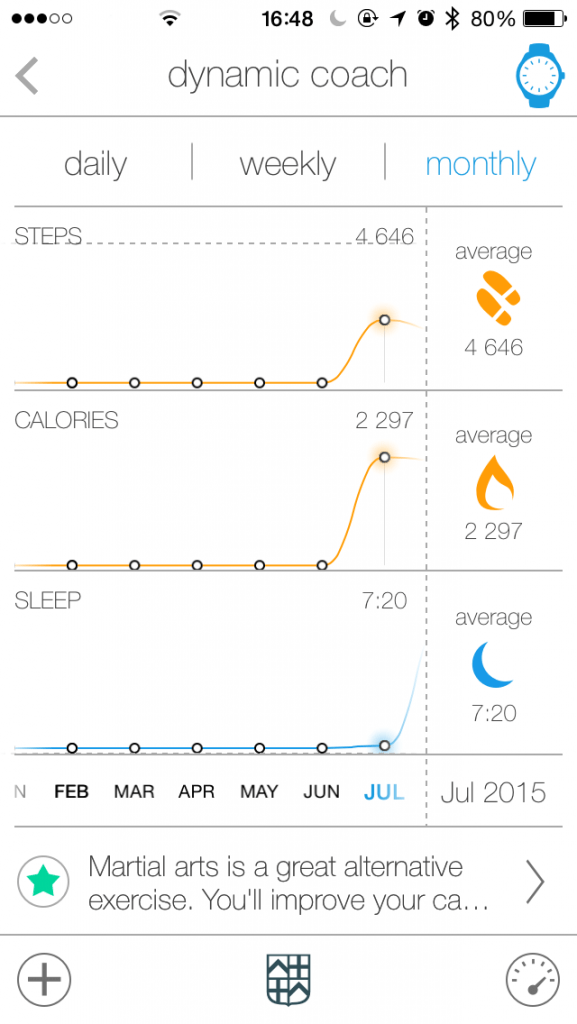 Sub dial
Remember in the beginning of my article I told you the sub dial has a key feature in this watch. The outer scale of the sub dial is marked from 0-100. Under it the inner scale has the date and a little blue moon icon. You see 2 hands as well; the longer silver hand is pointing to the outer- while the shorter blue hand is to the inner-scale. In "activity " mode the silver hands shows you the percentage you have achieved of your goal so you can always keep track of how much more you have to move (step) to reach your daily target. The blue hand shows you the date in this setting. Press and hold the crown for 3 seconds and both hands align to twelve o'clock. The date scale has the moon icon there. This means the watch is now in "sleep" mode. You can take your watch off and place it under your pillow. When you wake up in the morning you press the crown again and you are back in "activity" mode and the 2 hands align to the date and the percentage again. This is a fun little feature that gives you some info even if you do not have the phone on you to see the updated results.
To buy or not to buy
The Frederique Constant Horological Smartwatch is not the only connected smart watch on the market by the company. The FC family consists of some other brands like Alpina. The 2 brands will come up with an astonishing 13 different smart watches this year. Alpina represents the sporty version while  Frederique Constant brings the elegance in the line as always. The price is more than friendly at €995 for the models on leather strap (€ 1295 for the rose gold plated version) and €1095 for the models on bracelet. Some argue that the features I have highlighted (and more) can be found in a normal iPhone 6 and while I'm not saying otherwise this watch is not for those people. If you care about your health or just want to control your body and keep an eye on it, this is the watch for you. You can loose the Jawbone or the Nikefuel as you won't need one anymore. Even though your phone might measure some of you activity firstly, it is not strapped to you (for more accurate results) and secondly, there are situations where you simply don't have your phone with you, but your watch. After listing all the pros and cons of a smart watch and you come to the conclusion that you need one I'm sure you will find the one from the line up of these 3 brands that suits your needs. The great price/watch ratio is already there all you have to do is put it to the test.
For more information of the watches please visit Frederique Constant's site.
Editor
at
Fratello Watches
Balázs joined Fratello Watches in 2014 and he has been a fan of watches as long as he can remember. His passion for watches really took off in 2007 when he purchased his first fine Swiss timepiece. From 2007 up to recently, he was also an active and involved member of a number of on-line watch communities. Balázs has a weak spot for vintage Omega watches and vintage watches in general.
Latest posts by Balazs Ferenczi (see all)