NEW: The Fears Garrick Sets The Bar High For The Renaissance Of British Watchmaking
British watchmakers Fears and Garrick join forces, and it's even better than we expected
Nicholas Bowman-Scargill is quickly moving up the ranks of a new wave of British watch manufacturers with the Fears family brand. Watches from Fears feature traditional styling and are spot-on for today's vintage resurgence. One could say the same about the timepieces from Garrick, and that can mean only one thing: the Fears Garrick has the potential to set the collaboration bar pretty high.
Fears watches have a distinct language, and Garrick pieces remind me of marine chronometers and Breguet, a brand that has long fascinated me. When Nicholas from Fears reached out, revealing a secret that was four years in the making, I had a feeling it would be good. And I wasn't wrong. In fact, the two brands' collaborative effort has me swooning.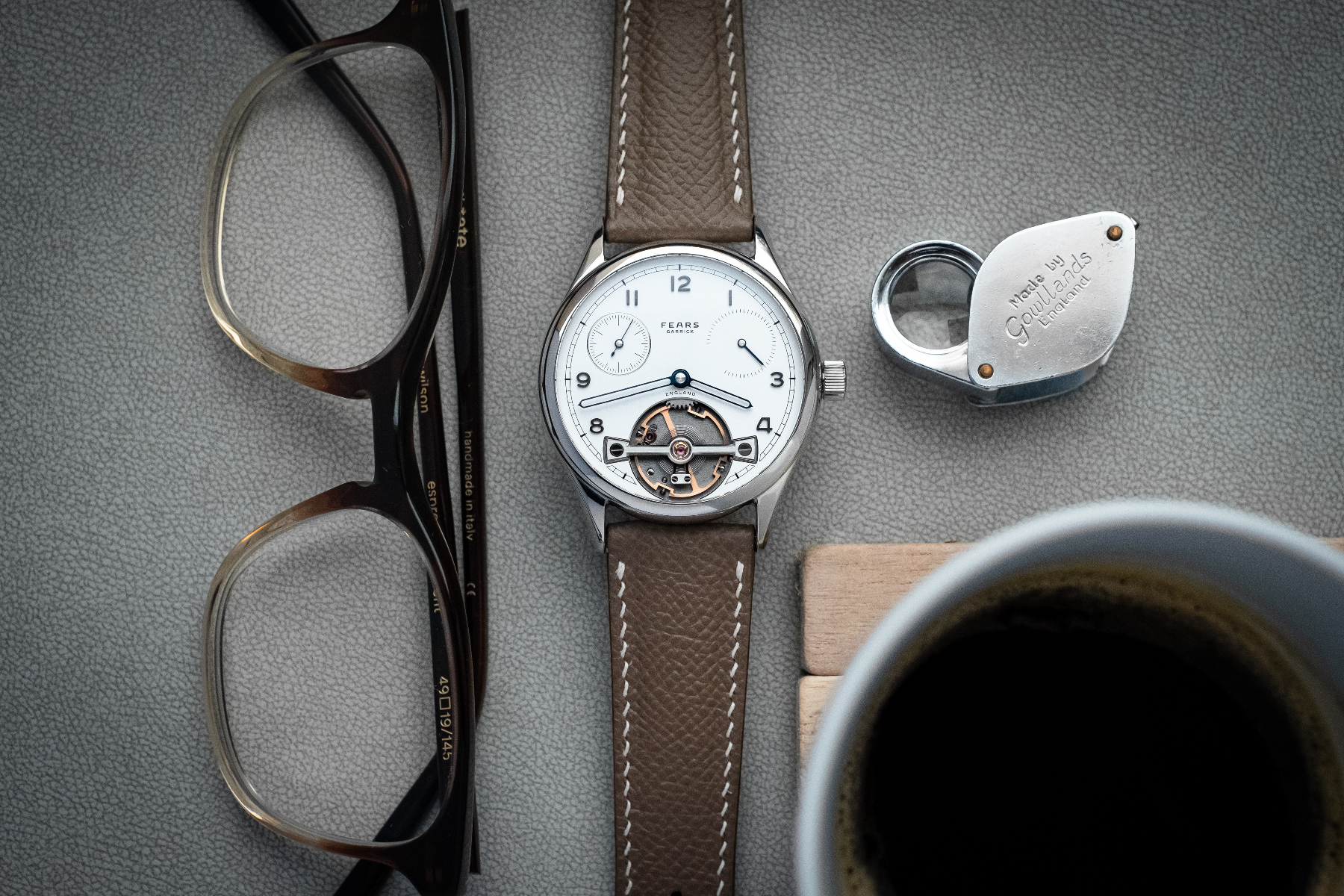 Codename "Project Costa"
David Brailsford of Garrick and Nicholas Bowman-Scargill of Fears have been friends for years. And while their two brands have different styles, they are prime examples of the renaissance of British watchmaking. Could this be the new Roaring Twenties of horology, with the British Isles once again a focus of attention? It seems both brands have only become stronger after the one-two punch of Brexit and COVID, and the Fears Garrick is proof positive. The seed of this collaboration was sown back in 2018 over coffee in a branch of Costa, hence the codename "Project Costa".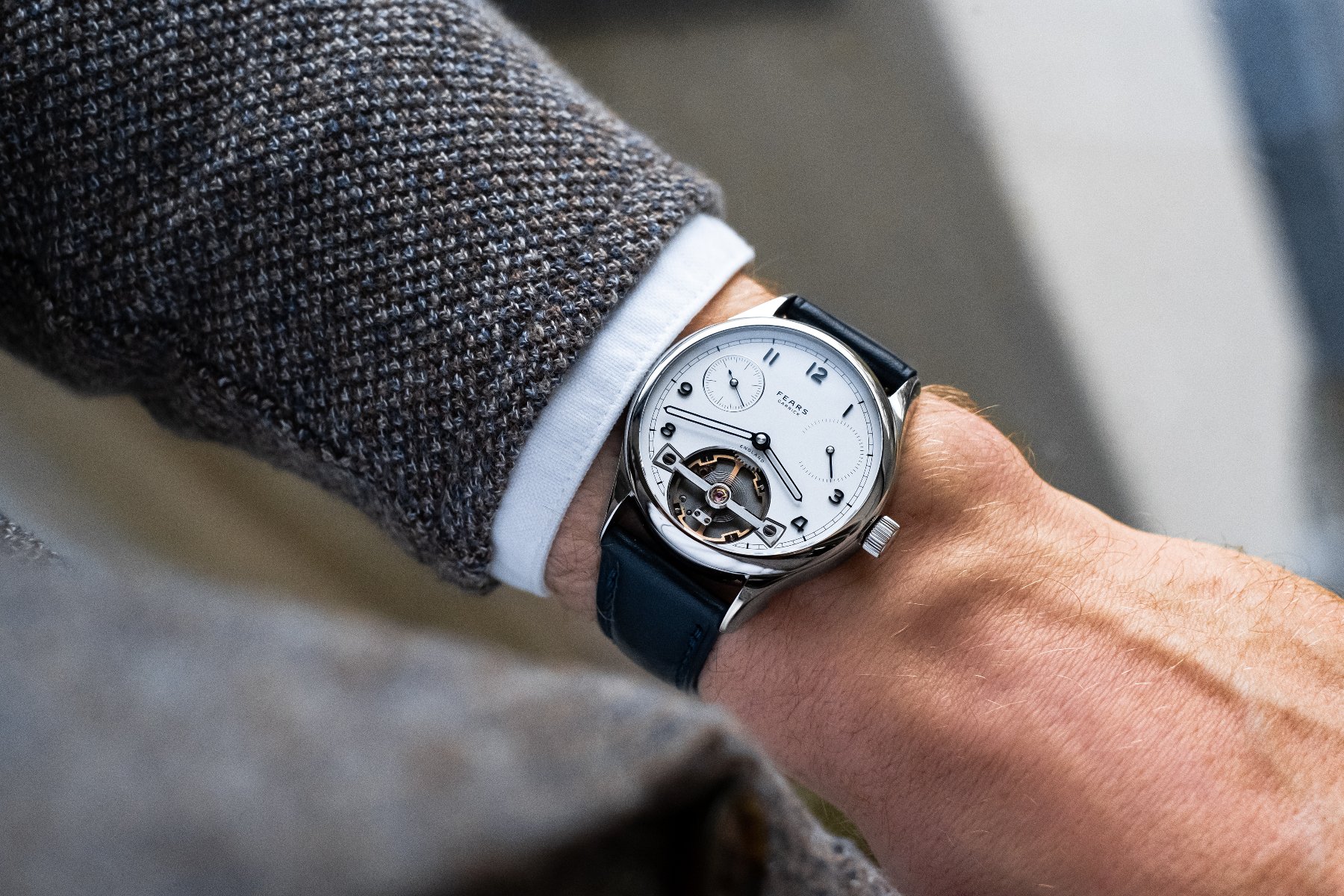 The best of both worlds
To be fair, the Fears Garrick is beyond clichés for me. Nevertheless, the above term still says it all. You would be hard-pressed to see this as strictly a Fears or a Garrick creation, but therein lies its beauty. The Fears Garrick has a design language of its own, proving the value of independent brand collaborations. I am not particularly objective, as I do have a soft spot for the smaller ateliers of Europe, and my first €3000+ watch was a Schofield. But let's have a look at what makes the Fears Garrick a serious alternative to top-tier Swiss traditionalism. The first look is one of elegant formality, but the 100m depth rating even makes this a tempting everyday proposition.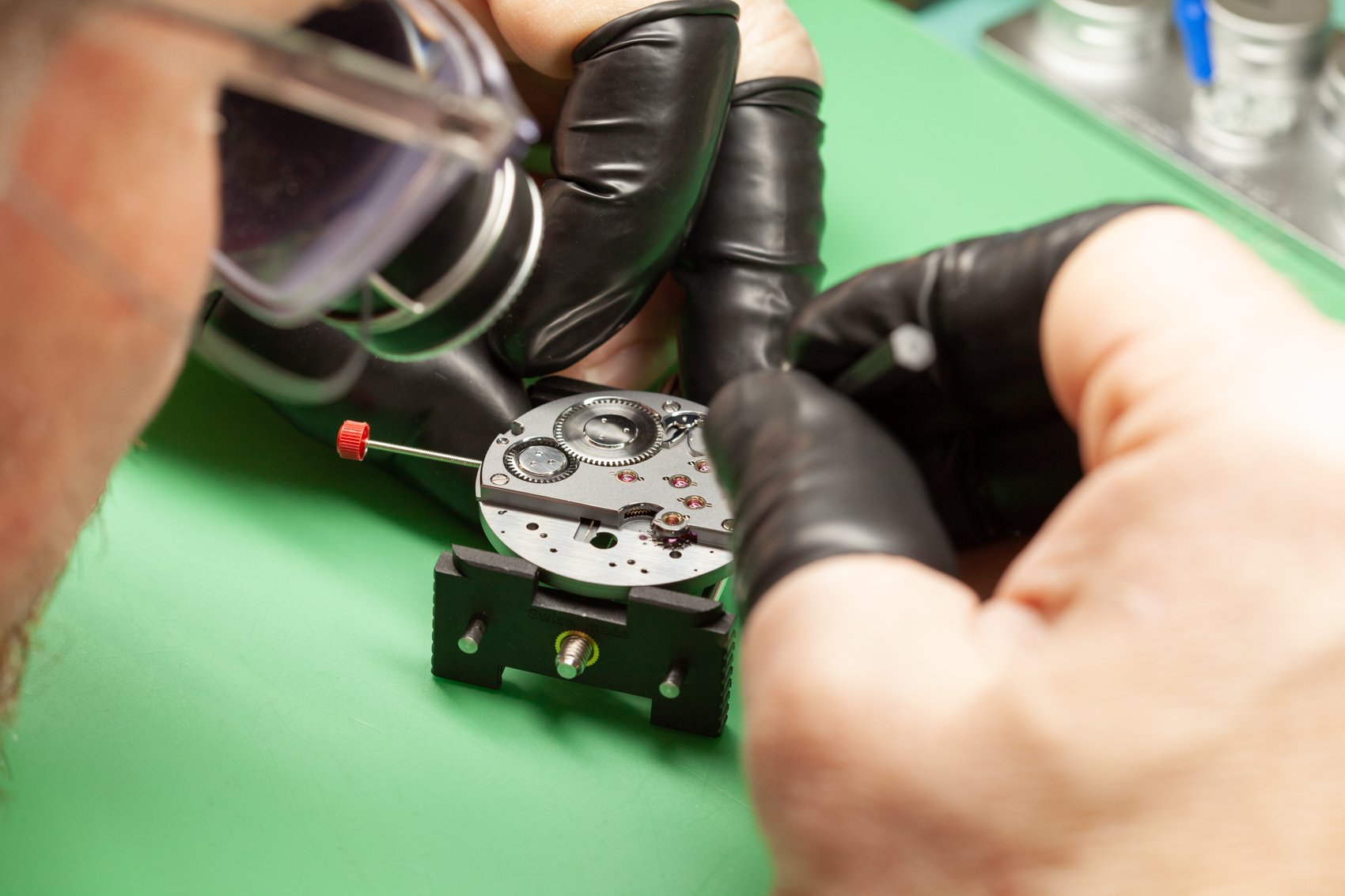 The case and dial
The Fears Garrick has a curvaceous 42mm case that remains nice and slim at 10mm thick. The case comes from Garrick's Norfolk workshop, and it dons AR-treated sapphire crystals on the front and rear. A 22mm hand-sewn leather strap sits between sweeping lugs, lending it a contemporary air, while the crisp, matte white dial is the star of the show. You will have to seriously concentrate to move your eyes away from the attraction at 6 o'clock, so we might as go there next. With intrinsic detail in its execution, the free-sprung balance appears within a large, rhodium-beveled opening. As the star component of the hand-assembled UTG04 caliber, the oscillating life within will surely distract many a Fears Garrick owner. Sitting behind a hand-crafted traditional large balance bridge, this mesmerizing heart easily helps one forget both mundane timekeeping and important appointments.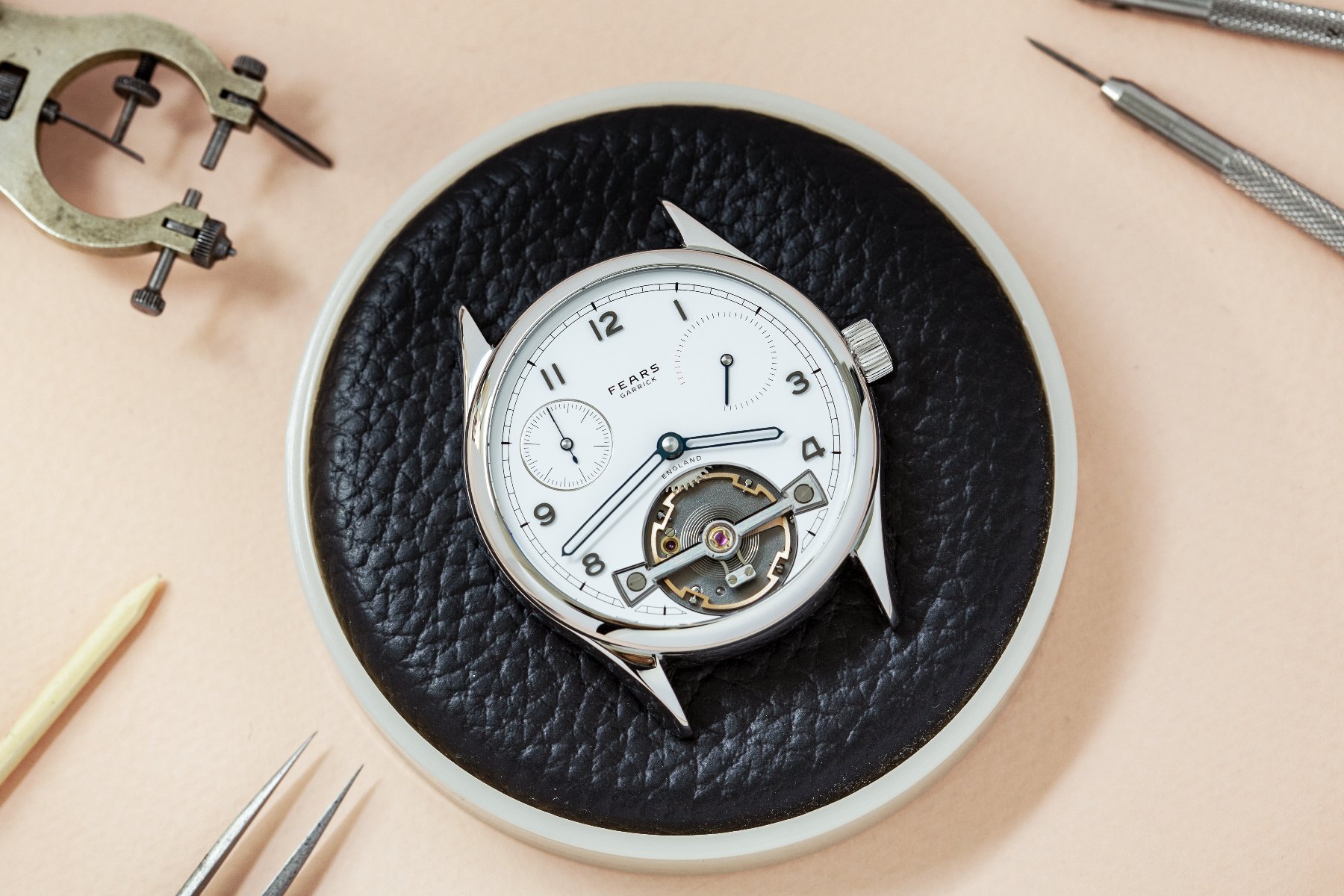 More than a pretty face
The clean dial is Old English White in color and framed by a chemin de fer (railway) minute track. The black gold-coated modern applied numerals and blued skeletonized hands are Fears trademarks. They work great in setting up a juxtaposed image of modern traditionalism within the "watch face". And a face is exactly what I think of at first glance — nothing like a Chaykin character, but a face nonetheless. The rather quirky but balanced placement of the running seconds at 10 o'clock is a distinct move. Countered by a 45-hour power reserve indicator at 2 o'clock, it can only be described as a textbook design for a pleasing graphic balance. The seconds sub-dial is recessed and framed by a rhodium beveled edge, and the Fears Garrick logo is centered under 12. Finally, a charming, arcing "ENGLAND" print sits just above the balance opening.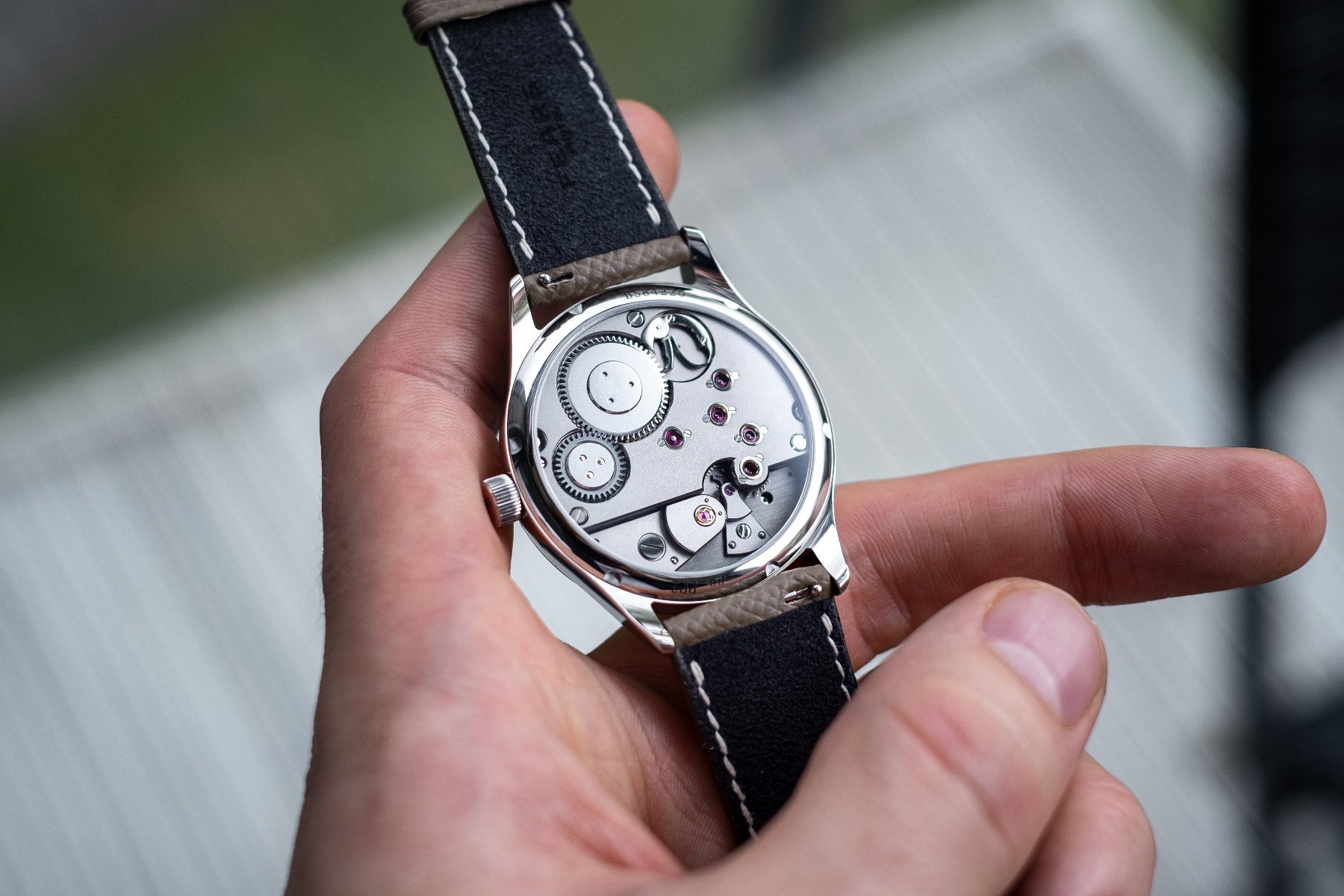 Would I wear it inside out?
That is an unusual question, but one that does bear consideration when turning the watch around. I get distinct Laurent Ferrier vibes from the quiet elegance of the frosted three-quarter plate, the execution is that good. Polished anglage contrasts nicely with the soft surface, while the six screwed-in chatons are a distinct mark of its craftsmanship. The movement is an in-house Garrick production, and regulated within +5 seconds per day, making this a top-tier caliber. The accuracy is helped by the free-sprung balance, which gives superior rate stability by the nature of its construction. The obsessive attention to detail is a testament to the friendship and watchmaking acumen of brand owners Bowman-Scargill and Brailsford. Bravo, gents.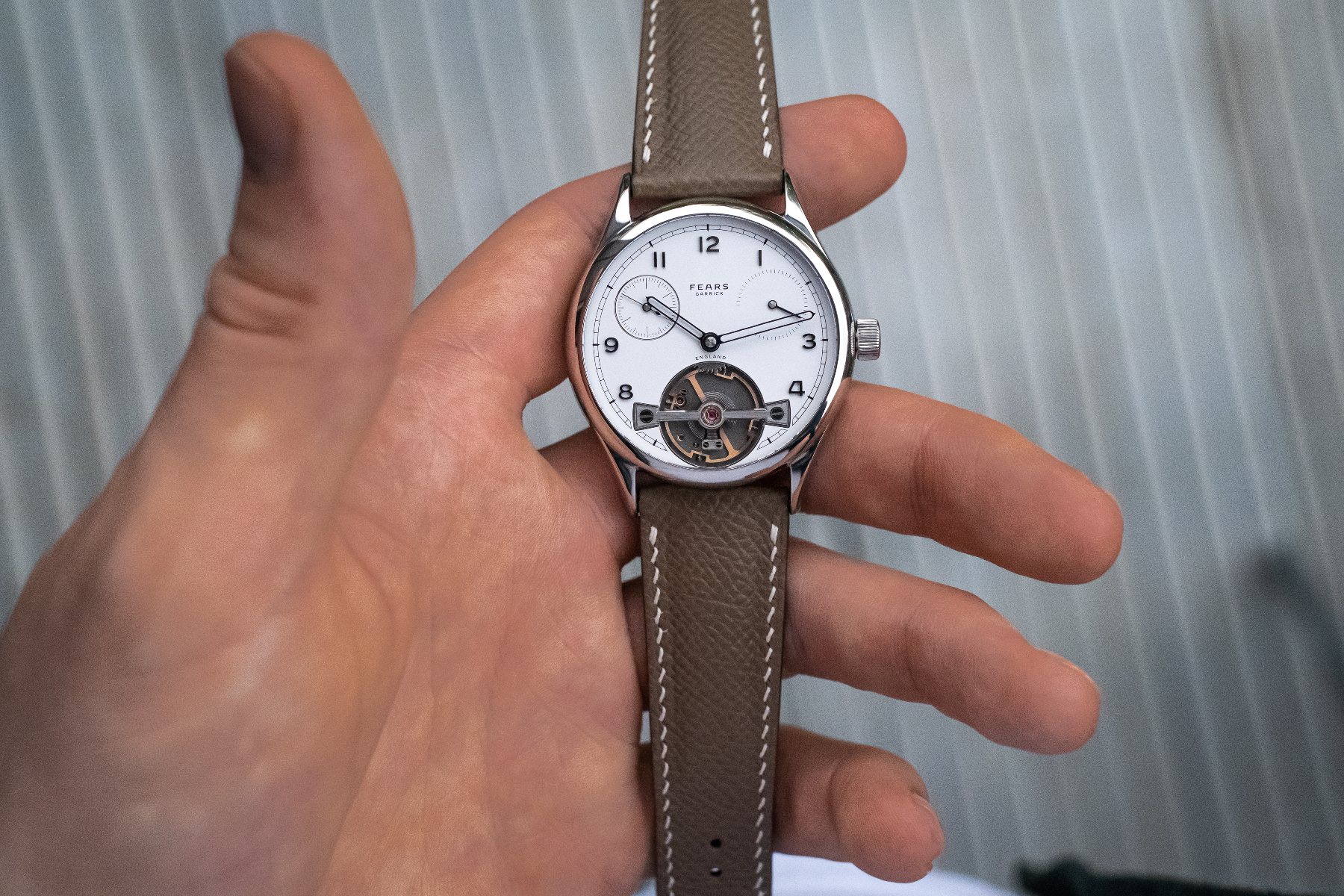 An inspiring conclusion
The Fears Garrick has an image of pleasing, formal modernity, and only 10-15 pieces will be produced each year. This will no doubt deservedly be a success for the two brands, even at a considerable £19,500. Consider the Fears Garrick is an astute investment in British watchmaking. Is this an indication of the resurgence or even renaissance of wrist-worn craftsmanship in the UK? If so, then exciting times are indeed upon us. Let this be an inspiration for ascending small brands and colleges alike. Believe me, the future of the watchmaking profession needs sparks like these.
What about you, dear Fratelli? Would you rather invest in small-numbered craftsmanship than mass-produced luxury sold above retail? Let us know in the comments. And yes, I will keep bringing up this question throughout the year. Consider it my mission.
Find me and follow me at @thorsvaboe